As a new film starring Meryl Streep is released, Clemency Burton-Hill finds out what made Florence Foster Jenkins so popular – and inspirational.
F
Florence Foster Jenkins was a 20th-Century US socialite and music-lover who styled herself as an operatic coloratura soprano and became a sensation. One of the most famous singers of her day, she was incredibly rich, a generous philanthropist, and garnered legions of fans including celebrities such as Noël Coward. Florence's fame, however, rested not on her musical talent, but rather its opposite. Her astonishingly bad voice and abject inability – seemingly unbeknownst to her – to pitch correctly became the stuff of legend as she worked hard to lovingly massacre her way through gems by Mozart, Strauss and other leading composers.
Having previously only been seen in private at New York women's clubs or in her own establishment, the Verdi Club, such was the demand for her performances that she went on to sell out Carnegie Hall in a 1944 concert that has entered the annals of music history. While her public performances also raised millions of dollars (in today's terms) for charity, the abiding image is that of polite society guffawing, jaws clenched, trying not to roll down the aisles with laughter as they showered her with thunderous applause.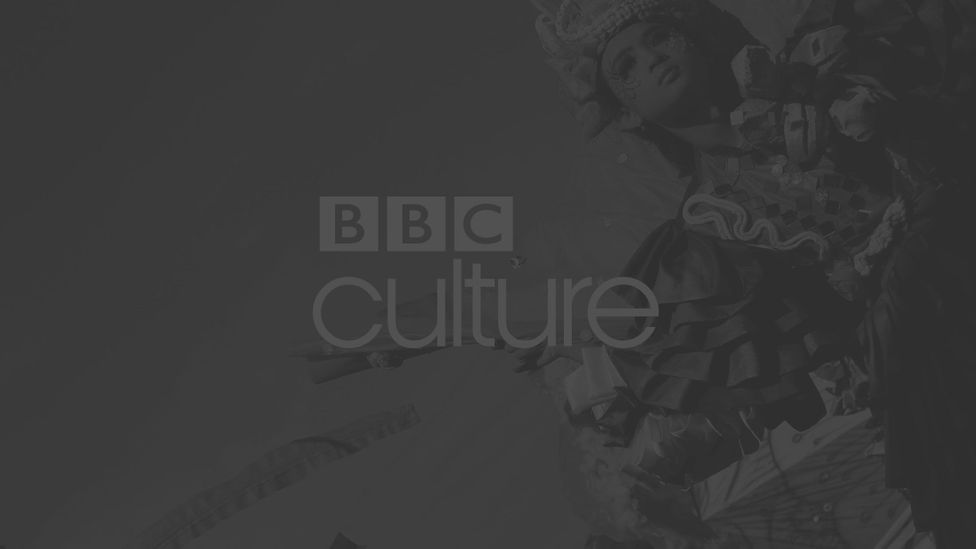 This video is no longer available
Florence Foster Jenkins remains, it is widely agreed, 'the worst opera singer in the world'. But the most incredible thing of all is that she had no idea. The illusion that she was a truly great artist was maintained, thanks in no small part to her second husband St Clair Bayfield, throughout her life. She loved what she did and she believed she was bringing great pleasure to her adoring audiences – which, in a way, she was.
She was ridiculous and touching – Stephen Frears
Her extraordinary story has long held a fascination for writers, directors and musicians. Works based on Florence's life include the US plays Precious Few and Souvenir, which ran on Broadway; Goddess of Song, by the South African playwright Charles J Fourie; Viva La Diva, which appeared at the Edinburgh Fringe; and Glorious! by Peter Quilter, which opened in 2005 in London's West End and was nominated for the Olivier Award for Best New Comedy. (It has since been translated into 27 languages and performed in more than 40 countries worldwide, such is the international nature of her appeal.)
'Bad with heart'
More recently, Florence's life has been the subject of two major feature films: Marguerite, a French-language offering from late 2015, and now the utterly fabulous Florence Foster Jenkins, directed by Stephen Frears (The Queen, Philomena, Dangerous Liaisons). It stars Meryl Streep and Hugh Grant and is already being tipped for Oscar glory. When I asked Frears why he was drawn to make this film, he told me: "I loved the script I'd been sent, and I then listened to the real Florence on YouTube. She was ridiculous – and touching." Streep herself has described Florence as "aspirational and terrible, moving and amusing." Florence was not just bad, she points out: "she was bad with heart." And it's this heartstring-tugging combination of hilarity and pathos that proves so winning, especially in Frears's brilliant film.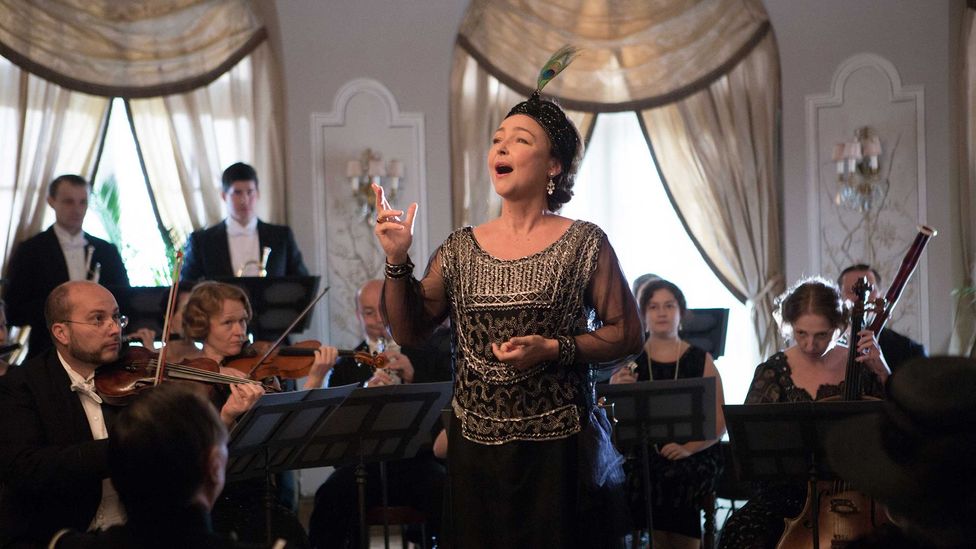 Florence's life has recently been the subject of two major feature films, including Marguerite, a French-language offering (Credit: Fidélité Films)
This year also sees the publication of the first full biography of Foster Jenkins, by Darryl W Bullock, whose blog about bad music inevitably led him to "Madame", as she was sometimes known. "Florence is one of my favourite bad singers," he tells me; like Frears he is clearly brimful of warmth towards his complicated subject. For Bullock, her notoriety boils down to much more than her being perhaps the ultimate example of the 'it's so bad, it's good' phenomenon that we still see in television talent shows today.
"Most people probably went to see her in order to scoff," he says, "but it's clear that they were won over by her charm and the sheer joy she got from performing. Florence loved music and wanted others to love it too. She was absolutely sincere, and she was a 'good sort': it's said of her that she never had a bad word to say about anyone. People genuinely liked her."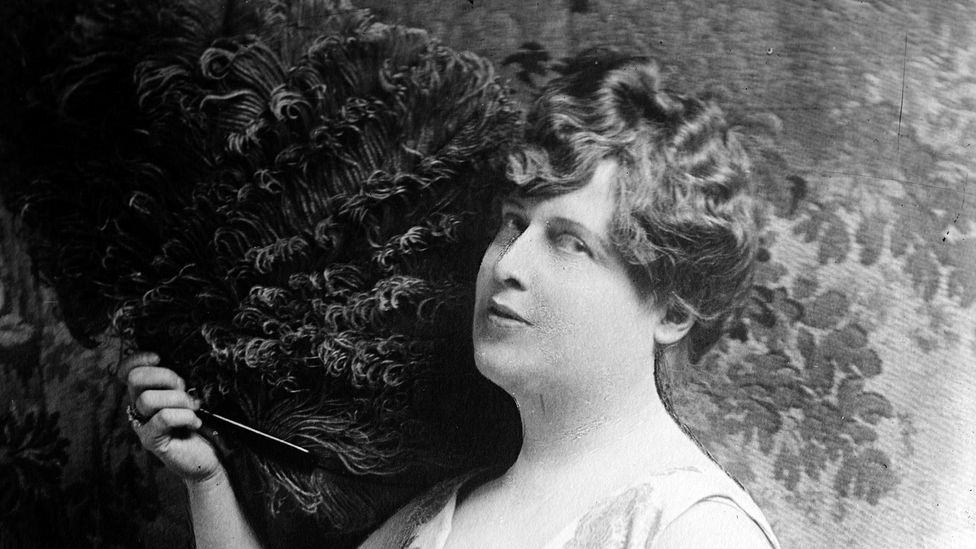 Florence Foster Jenkins' extraordinary story has long held a fascination for writers, directors and musicians (Credit: Alamy)
That's important: her likability and her absolute, authentic passion for the music she sung. "The idea of finding joy in what you're doing… [is] something everybody can understand," says Streep. Florence's story raises questions that must resonate for any amateur who's ever worked hard at doing something they truly love; who's ever tried to will themselves into being becoming something, anything, regardless of their levels of talent.
With Florence most people see the enjoyment she got and gave, not the wretchedness of the performance itself – Darryl W Bullock
Florence is the opposite of, say, Susan Boyle. (Remember Boyle's audition for Britain's Got Talent, when the audience laughed mockingly as she announced she had a dream to sing, while the judges had to stifle giggles? She opened her mouth, blew everyone away, went on have the most popular album in the world in 2009 and very much had the last laugh.) Foster Jenkins is rather closer to someone like Donald Bell-Gam, whose own audition for that show, with its screeching hack of of Amy Winehouse's Valerie or incredible stab at Whitney Houston's I Will Always Love You made excellent TV and defies description other than: 'so bad he was brilliant'.
Murder on the high Cs
"Florence's story is about self-belief," notes Bullock. "It's about the idea that anyone can achieve their goals so long as they believe in themselves. Obviously it helped that she was massively wealthy, but that's not everything. She immersed herself in her art from a very young age: for her music was a calling, not something she did for fame. Like all true artists she was compelled to practice her art. Of course people laughed at this ridiculous old lady, her ludicrous costumes and terrible singing; in these instances you either find the fun in what the artist is offering up or you feel revulsion at the ineptitude. With Florence most people see the enjoyment she got and gave, not the wretchedness of the performance itself."
David Bowie described her LP as one that 'changed his life'
He explains that Florence's audience "was usually split between people who genuinely cared for her and forgave her eccentricities, people who came to laugh and others who treated the whole thing like some sort of perverted, absurd cabaret. Most of her performances were given to forgiving audiences – friends, other clubwomen, musicians she patronised and so on. People came to have fun but not to be spiteful. The Carnegie Hall show was her only proper public performance, and happened at a time (1944, in the midst of war) when people were desperate for a laugh and a distraction from the horrors of real life."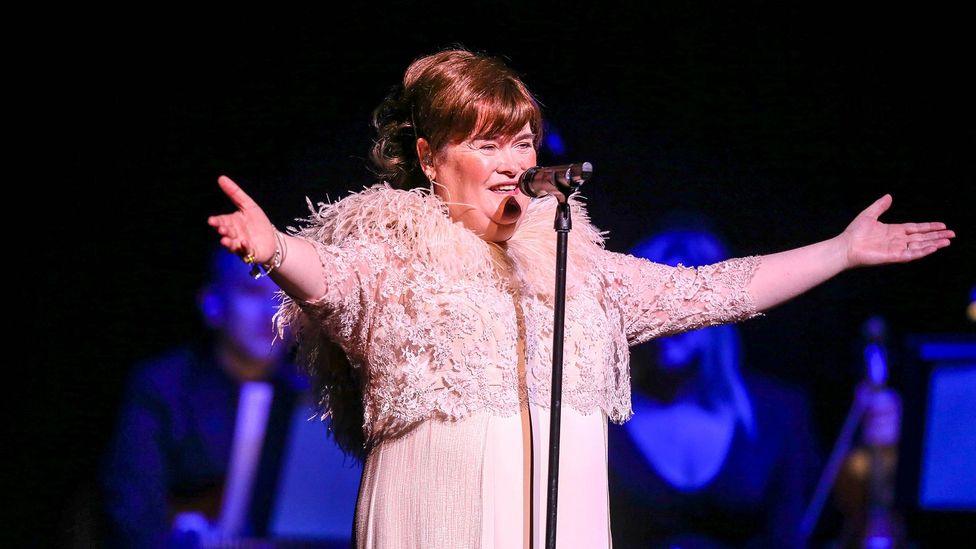 Like Florence, Susan Boyle faced giggles from the audience – but these were soon silenced when she opened her mouth to sing (Credit: Rex Features)
Even those of us who never heard Florence in the flesh can be grateful to her legacy for one perhaps unexpected reason. The late David Bowie described her legendary self-titled 1962 LP as one of his favourite records of all time; indeed one that "changed his life".
"She is an inspiration," agrees Bullock. "She would have loved that. She's the patron saint of artists who have to create, and will create, despite the criticisms. She knew what she wanted and she knew how to get it; she didn't let anyone get in her way. She was single-minded and utterly determined to perform, no matter what brickbats were thrown at her. She was aware of her critics but rose above them. "He adds: "And hey, we're still listening to – and discussing – her more than seventy years after she died. I defy 99% of the public to name one other opera singer from the 1940s! If there's a lesson to be learned from
Florence's life it is simply to live your life to the fullest, and enjoy every opportunity that comes your way."
If you would like to comment on this story or anything else you have seen on BBC Culture, head over to our Facebook page or message us on Twitter.
If you liked this story, sign up for the weekly bbc.com features newsletter, called "If You Only Read 6 Things This Week". A handpicked selection of stories from BBC Future, Earth, Culture, Capital, Travel and Autos, delivered to your inbox every Friday.