She's been around for nearly 60 years, and taken on every form from a cheerleader to an astronaut. Katya Foreman takes a look at the enduring appeal of the plastic doll.
M
Move over Hillary Clinton. Another female presidential candidate is set to enter the race this Autumn: Barbie. Make that Barbies, because, for her sixth run for the Oval Office, the plastic pop-culture icon will be sold as a two-doll Barbie president and vice-president set in a range of skin tones.   
The concept is in line with what Richard Dixon, president and chief operating officer of Barbie's California-based maker Mattel, described as an ambitious "diversity revolution" for the plastic icon. "It's a far cry from the Barbies of dated ethnic old," he declared at a recent conference in Los Angeles.
Stepping down from her princess pedestal with the aid of a new flexible flat foot that, according to Dixon, has "liberated Barbie from high heels", the new Everywoman Barbie (recently resculpted in three "real woman" body types – tall, petite and curvy) even comes with her own Darwinesque hashtag, #TheDollEvolves and slogan: "Imagination comes in all shapes and sizes. That's why the world of Barbie is evolving."
Curiously perhaps, the brains behind the original Barbie in all her pneumatic-breasted glory, was a woman
Leading the pack is Hello Barbie, the world's first artificial intelligence-enabled Barbie doll, a hi-tech conversationalist that landed the cover of The New York Times Magazine in the run up to its November release, accompanied by the headline "Now I have a Brain!" With sluggish sales and Mattel's blockbuster American Girl, a somewhat more wholesome PC rival nipping at her candy pink mules, it's time for Barbie to get real.
Barbie girl
Curiously perhaps, the brains behind the original Barbie design, in all her pneumatic-breasted glory, was a woman, Ruth Handler. The visionary entrepreneur and saleswoman is credited as the driving force behind her inventor husband Elliot Handler, co-founder of Mattel. But Barbie was her project and her idea, confirms Anne Monier, curator of the current Barbie exhibition at Les Arts Décoratifs in Paris, where visitors get to explore the doll's many 'lives' within a historical and sociological context to the helium soundtrack of '90s Aqua hit Barbie Girl.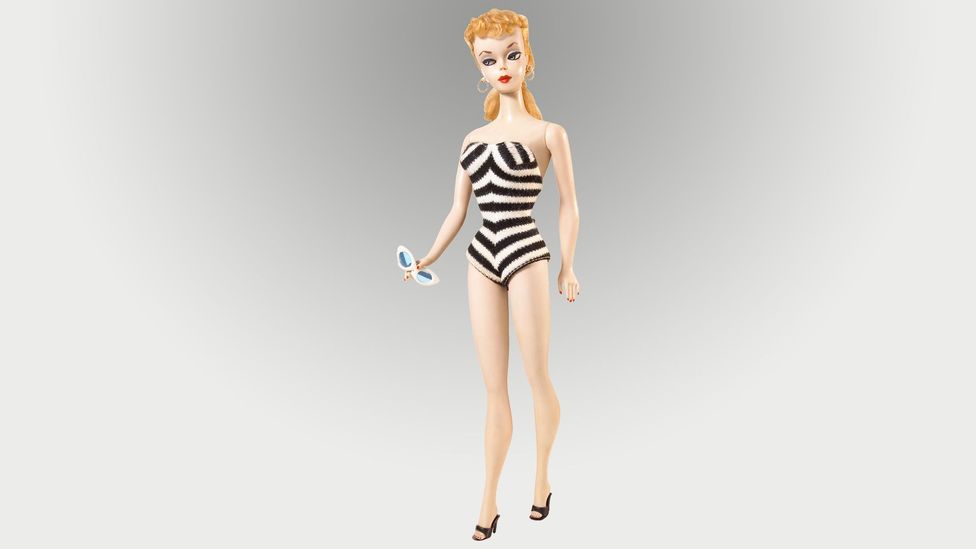 The first Barbie, a teenage fashion model, was released in 1959 (Credit: Mattel)
Ruth Handler was watching her daughter Barbara (after whom Barbie was named) playing with paper dolls when she came up with the idea of a doll based on a woman, as opposed to a baby or child. The concept was to revolutionise the toy market but it had links to tradition, says Monier, who chose to open the Barbie show with a collection of adult dolls from the early 19th Century dressed in the fashions of the day.
Ruth Handler, Barbie's creator, spent trying to convince Mattel management she was onto a winner
Handler's idea crystallised on a trip to Switzerland in 1956 when she came across a doll produced by the German tabloid Bild, based on the character in its popular comic strip, Lilli. "She was this saucy pin-up who was always getting into situations with men," laughs Monier. "For example, there's one episode where she's in a white dress with hand prints over her breasts and bottom with the caption "My car broke down and if the mechanic hadn't been there to give me a hand, I would still be waiting by the roadside."
Ruth Handler, the wife of Mattel co-founder Elliot was the brains behind the original Barbie design (Credit: Mattel)
Ruth Handler's daughter was a married woman by the time Barbie – full name Barbara Millicent Roberts; profession, teenage fashion model – was finally released in 1959 after years spent trying to convince Mattel management she was onto a winner.
Boasting a physique based on the dream (read: unrealistic) vital statistics of Hollywood stars like Liz Taylor and Marilyn Monroe, Barbie's first outfit, a zebra-striped bustier swimsuit, was designed to be telegenic for the brand's black-and-white TV commercials. From the cat-eye shades to hoop earrings and mules, everything was removable, with a wardrobe of itsy-bitsy creations lined up for fans to splash their pocket money on. The idea took off. A wall at the end of the exhibition in Paris presents 7,000 Barbie wardrobe designs arranged in a rainbow spectrum.
In the '60s Barbie was receiving more mail than a Hollywood star – around 20,000 letters per week
Bowing to pressure from fans eager to meet Barbie's boyfriend, Mattel launched Ken Carson (named after the Handlers' son) in 1961. Soon, Barbie was receiving more mail than a Hollywood star, around 20,000 letters per week. With the release through the early '60s of novellas set around her life, family and friends in Malibu (continued today in the animated television series Barbie: Life in the Dreamhouse), the Barbie myth was in motion.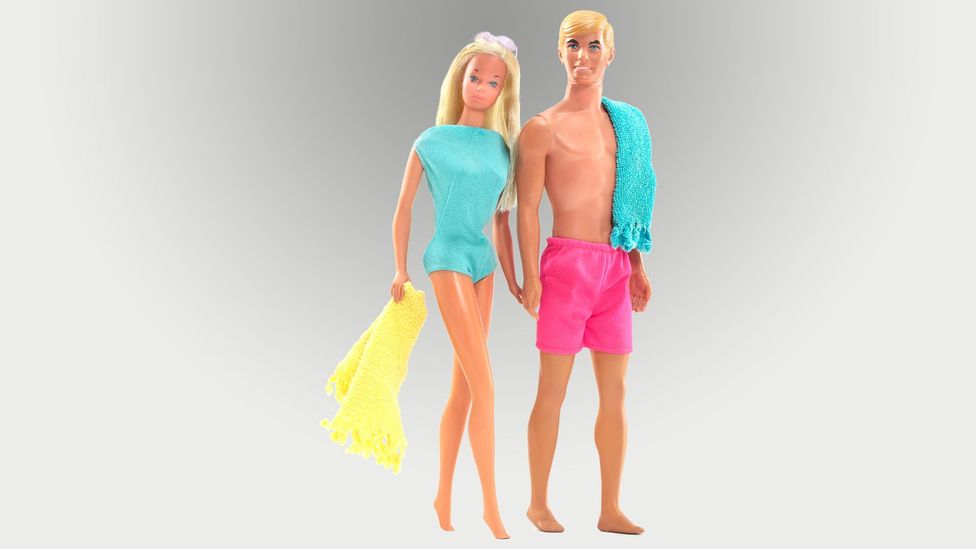 Barbie's boyfriend Ken – named after the Handler's son – was launched in 1961 (Credit: Mattel)
Body talk
The very first Barbie was sold in both brunette and blonde forms with diversification played out through friends and family members who floated in and out of her life, according to Monier. 'Colored Francie', the first black doll in the Barbie universe, released in 1967 and based on Barbie's hitherto blonde or brunette cousin Francie Fairchild, was a flop, says Monier. "They picked the wrong character." But the release a year later of Christie, the first black Barbie in Mattel's eyes was a major success, hitting the market during the rise of the civil rights movement in the US.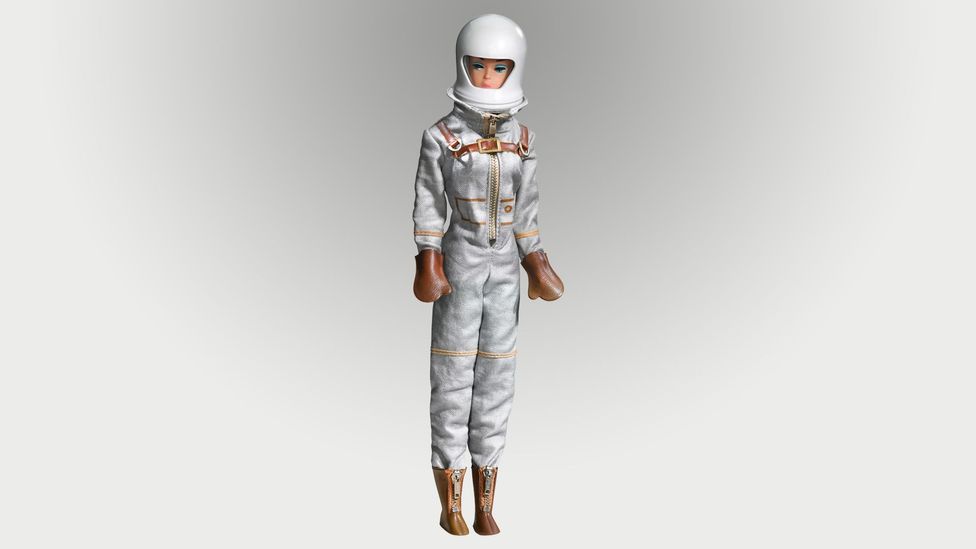 Barbie adopted the Jackie Kennedy bubble cut and an astronaut look in the 1960s (Credit: Mattel)
Barbie's first major makeover was in the early '60s when she adopted a Jackie Kennedy bubble cut. As women grew increasingly independent, working, driving and wearing shorter styles, Barbie loosened up. The decade saw the introduction of 'sleep eyes' that opened and closed, bendable legs and a 'twist and turn' waist. The release of Malibu Barbie in 1971, with a new face sculpt, sealed the doll's image as the blonde, bronzed Californian surfer girl. Her previously pursed lips had broken into a full pearly-white smile, her gaze, formerly turned discreetly to the side, now faced forward. By the late '70s, Barbie was also established enough to be declined in different skin tones without confusing the market, explains Monier.
If Barbie was a real woman, she'd have to walk on all fours due to her proportions – Galia Slayen
Another key shift came in 2000 with Jewel Girl inspired by adolescent stars like Britney Spears and introducing a more athletic physique with a bendable waist and belly button. Debates about the doll's warped body image continue to rage. In 2011, the Huffington Post's Galia Slayen, who built a life-sized Barbie doll for National Eating Disorder Awareness Week, calculated that if Barbie was an actual woman she would be 5'9" tall, have a 39-inch bust, an 18-inch waist, 33-inch hips and a size three shoe and concluded: "If Barbie was a real woman, she'd have to walk on all fours due to her proportions." Time Magazine, in a tongue-in-cheek jibe, recently ran a curvy Barbie cover with the headline "Now can we stop talking about my body?"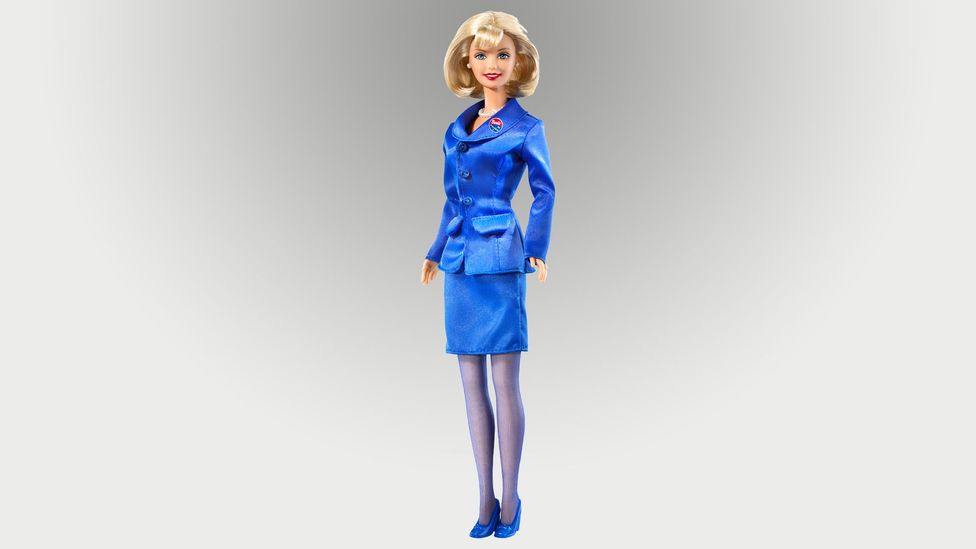 Recent incarnations have included presidential dolls and Hello Barbie, an AI-enabled model (Credit: Mattel)
As visitors to the Les Arts Décoratifs show can see, Barbie has a thousand faces. She is hard to pin down, with perceptions ranging from plastic airhead to figure of empowerment. An army of Barbies under glass domes show some of the more than180 occupations from across the doll's lifetime: her CV that spans McDonald's cashier, football coach, computer engineer, pop singer, surgeon, firefighter and paleontologist. Barbie has been a cheerleader and Miss America, but her first major career move came in the 1960s when she became Miss Astronaut Barbie, a giant symbolic leap for womankind released four years before the first man stepped on the moon. In the 1980s she turned working girl as Boardroom Barbie, while her first presidential campaign back in 1992, rocking a Clintonesque electric-blue suit, came before any female candidate had ever made it onto the presidential ballot, according to Mattel.
She has always been a doll that allows children to project themselves into life as an independent woman – Anne Monier
Monier is quick to point out that positive Barbie news tends to get less ink than the ongoing body-image debate. Case in point, the hairless Ella Chemotherapy Barbie conceived for children suffering from cancer. "There's still this pink, glittery image of her from the '90s during her princess phase but she has always been a doll that allows children to project themselves into life as an independent woman. She's a bit of a feminist. She's not married, she doesn't have kids, she's totally free in terms of what she wants to do as a career - anything is possible," says Monier winding through the exhibition, moving past a constellation of Barbie spin-offs from collector Barbies to fashion designer Barbies including Andy Warhol's final work, Barbie, Portrait of BillBoy (1986) and a miniature rendering of Yves Saint Laurent's 1965 cocoon bridal dress inspired by Russian nesting dolls.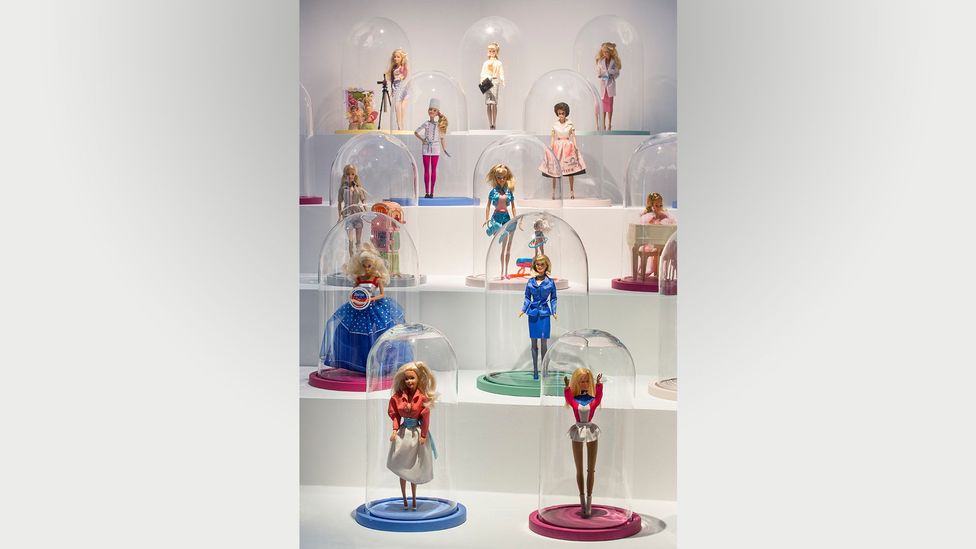 The exhibition at Les Arts Décoratifs features 7,000 Barbie wardrobe designs (Credit: Les Arts Décoratifs)
In one vitrine, Barbie 'looks', each a mirror of their time, rub shoulders with similar creations from the museum's fashion collection. In another case, Barbies on podiums take on a range of iconic roles including Queen Elizabeth I, Audrey Hepburn and Tippi Hedren in The Birds with seagulls stuck to her head. Towards the show's end a 50th anniversary series photographed by Karl Lagerfeld and featuring Barbie with model Baptiste Giabiconi in the role of Ken prompts the question: which one is plastic?
"There has been a lot of controversy around Barbie's body and appearance, as if she's a real person, but very few dolls have realistic body proportions when you think about it. It's quite remarkable," muses Monier. "She is just a toy, after all."
If you would like to comment on this story or anything else you have seen on BBC Culture, head over to our Facebook page or message us on Twitter.
And if you liked this story, sign up for the weekly bbc.com features newsletter, called "If You Only Read 6 Things This Week". A handpicked selection of stories from BBC Future, Earth, Culture, Capital, Travel and Autos, delivered to your inbox every Friday.