The monument was 'finished' in 1941 when the project ran out of money. The man who oversaw its creation was a member of the Ku Klux Klan, writes Jonathan Glancey.
T
Teased, parodied, used and satirised over and again in books, comic strips, theme parks and films, the Mount Rushmore National Memorial is also one of the best loved visitor attractions in the United States and a fondly held image in the minds of people worldwide.
The stern faces, each 60ft high, were carved between 1927 and 1941
It depicts, of course, the faces of four great US presidents – George Washington, Thomas Jefferson, Theodore Roosevelt and Abraham Lincoln – looming from a granite rock face, set 5,725ft (1745m) above sea level, in the Black Hills of South Dakota. The stern faces, each 60ft (18.2m) high, were carved between 1927 and 1941. Their composition has never been anything less than dramatic.
Alfred Hitchcock certainly thought so, spreading the monument's fame through the final scene of North by Northwest (1959) in which murderous spies pursue impeccably dressed Cary Grant and Eva Marie Saint across the silent, stony faces of Washington and company.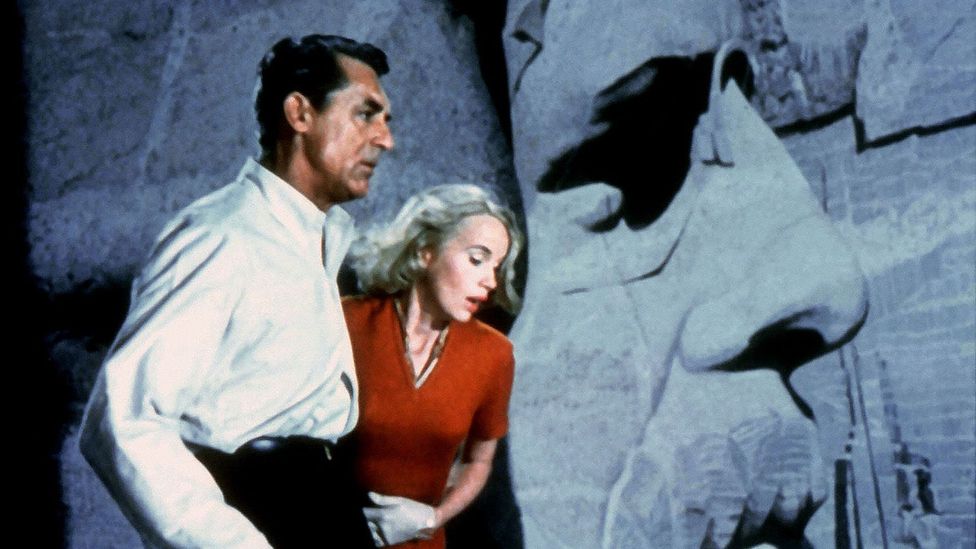 Alfred Hitchcock set the climax of North by Northwest on the faces of Mount Rushmore, although he shot the scene in a studio (Credit: Alamy)
In reality, this scene was filmed in a studio, but if it helped boost tourism in South Dakota, this was wholly in the spirit of the giant sculpture. Why? Because, the original idea, proposed in 1923 by South Dakota state historian Doane Robinson, was for a giant artwork that would bring visitors to this remote area appropriated by the US government from Lakota (or Sioux) Indians after Sitting Bull and Crazy Horse's defeat of Custer at the Battle of the Little Bighorn.
Robinson's preference was for giant figures of Wild West heroes – like Buffalo Bill Cody – carved into granite pillars elsewhere in the Black Hills. He approached the monumental sculptor, Lorado Taft, who, ill at the time, failed to respond. Robinson turned to Gutzon Borglum, the son of polygamous Mormon parents from Idaho territory, who had trained at the École des Beaux-Arts and the Académie Julian in Paris. A freemason and Ku Klux Klan member, Borglum thought Robinson's pillars too thin for the demands of monumental sculpture and that, in any case, images of US presidents would be preferable to those of cowboys, showmen and soldiers.
Carving history
Congressional and presidential approval for the project were granted well before the 60-year old Borglum and 400 assistants – miners, rock climbers, sculptors – set to work with jackhammers, chisels and dynamite, blasting 410,000 tons of rock from the mountainside. George Washington's face was completed in 1934 with Jefferson's – a second attempt after cutting into rock that proved too unstable – following two years later. Abraham Lincoln, whose beard was a challenge, was next in 1937, with Teddy Roosevelt staring through granite glasses in 1939.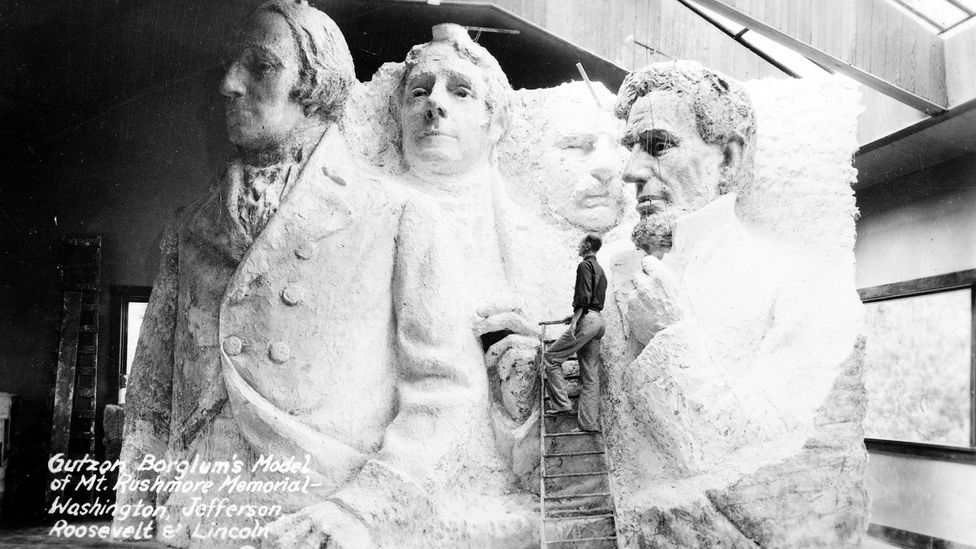 Some wanted the monument to feature Western heroes like Red Cloud and Buffalo Bill Cody, but the US presidents, initially to have been carved to mid-torso, won out (Credit: USL)
While Borglum was busy at work, Congress rejected a bill that would have added Susan B Anthony, the social reformer and votes for women campaigner, to the presidential quartet. Although Anthony's profile was perfectly statuesque, Borglum was not keen on the idea.
The larger Crazy Horse memorial was designed to "show the white man that the red man has heroes too"
Meanwhile, Luther Standing Bear, an Oglala Lakota chief who had appeared on the big screen in numerous westerns and whose books helped nurture the idea that Native American culture was holistic and in tune with nature, wrote to Borglum in the hope of adding Crazy Horse to the memorial. Receiving no answer, the chief's son Henry Standing Bear, approached Korczak Ziolkowski, one of Borglum's assistants.
The upshot was the Crazy Horse Memorial, a much larger sculpture than Borglum's, hewn from Thunderhead Mountain in the Black Hills 17 miles (27.3km) from Mount Rushmore. It was intended, according to Henry Standing Bear, to "show the white man that the red man has heroes too."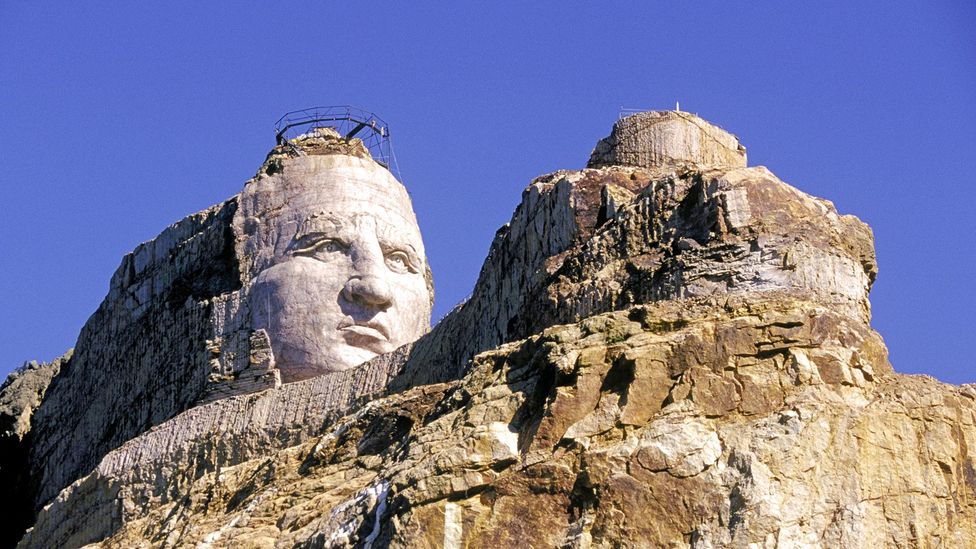 The Crazy Horse Memorial 17 miles from Mount Rushmore depicts the face of the Oglala Lakota leader 87ft high, compared to the presidents' 60ft faces (Credit: Alamy)
When Ziolkowski died in 1982, Ruth Ziolkowski, his wife and their children picked up his chisel. Sixteen years later, the 87-ft (26.5m) head of Crazy Horse was completed.
Although work continues on what will be the world's largest sculpture, not everyone is happy with the idea, least of all Elaine Quiver, a descendant of an aunt of Crazy Horse. In 2003, she told Voice of America, "We didn't give permission for someone to carve the sacred Black Hills where our burial grounds are. They were there for us to enjoy and they were there for us to pray. But it wasn't meant to be carved into images… the more I think about it, the more it's a desecration of our Indian culture. Not just Crazy Horse, but all of us."
Out of place?
Quiver had a point. In 1998, an imposing new visitor centre opened at Mount Rushmore. Sited just 30 minutes off the transcontinental Interstate 90 freeway, the centre draws heavy traffic with visitors hungry for its café's bison burgers and 'monumental scoops' of vanilla ice cream made to Thomas Jefferson's personal recipe of 1780. Four years earlier, this great American statesman had drafted the Declaration of Independence.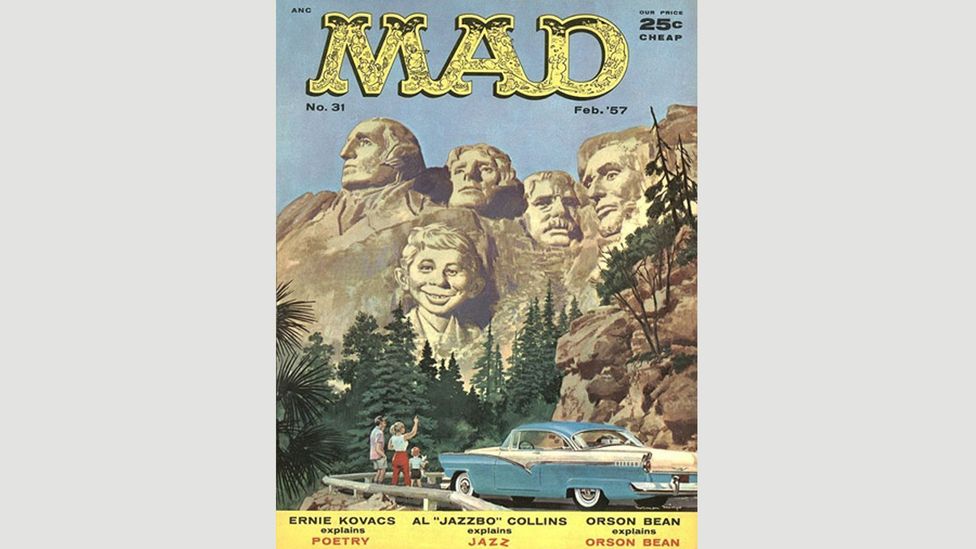 Mad Magazine is just one of many magazines, films, and TV shows to make fun of Mt Rushmore, which was initially intended to drive tourism to South Dakota (Credit: Mad Magazine)
The memorial can feel like a theme park while the sweeping South Dakota landscape seems somehow lessened by these commercial intrusions. It is not hard to imagine how descendants of Crazy Horse feel about the memorial shaped in his name in what should be an even more remote stretch of the great American West.
Behind Lincoln's head is the beginning of what was to have been a Hall of Records
Work on Mount Rushmore itself came to a halt in 1941, the year Borglum died and the US entered World War Two. The plan had been to extend the carvings down to the presidents' waists. Since then, alterations to the memorial have been nothing more than spoof. In 1957, a fifth face – that of the all-American idiot Alfred E Neuman – appeared on the cover of Mad magazine. The longhaired, bearded faces of English heavy rockers replaced Washington and co on the album sleeve of Deep Purple in Rock (1970), while in Tim Burton's Mars Attacks!, Martians replace the faces of the president with those of their own madcap leaders – as does General Zod and his Kryptonian warriors in Superman II. In California's Legoland, you can sail past a model of Mount Rushmore in a boat, observing miniature figures cleaning one of George Washington's ears with a giant Q-tip.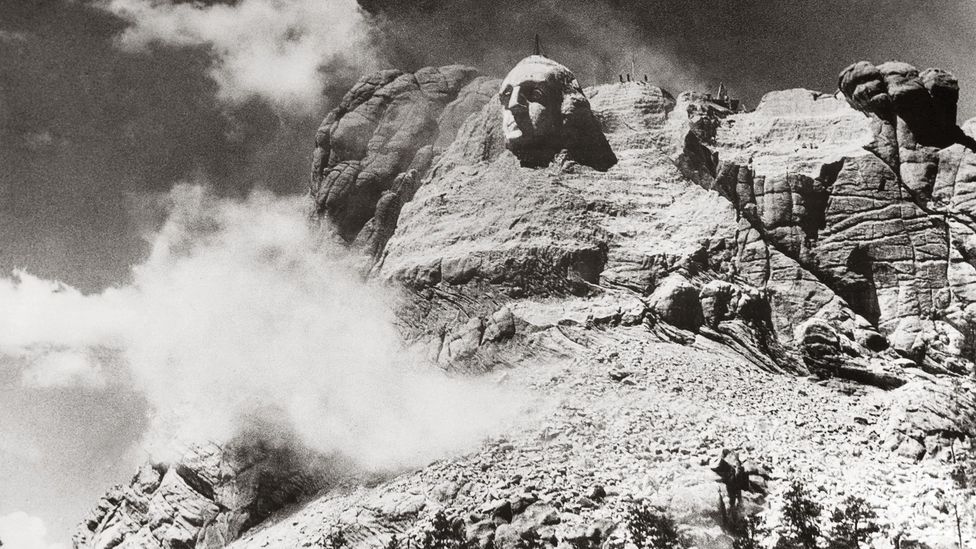 The Lakota Sioux originally referred to Mount Rushmore, named after a New York lawyer, as The Six Grandfathers, and the carving began with Washington's likeness (Credit: Alamy)
Gutzon Borglum had been altogether more serious. Behind Lincoln's head is the beginning of what was to have been a Hall of Records where original US charter documents were to have been stored. A source of dungeons and dragons hokum – notably National Treasure: Book of Secrets (2007) starring Nicholas Cage – in 1998 this man-made cavern finally lived up to Borglum's dream. A 1,200 pound (544.3kg) granite capstone was laid over a titanium vault concealing a teakwood box containing 16 porcelain enamel panels etched with the Declaration of Independence, the US Constitution, biographies of the four presidents and of the sculptor together with a history of the United States.
Words on the capstone, written by Borglum, read "let us place there, carved high, as close to heaven as we can, the words of our leaders, their faces, to show posterity what manner of men they were. Then breathe a prayer that these records will endure until the wind and rain alone shall wear them away."
While the Mount Rushmore Memorial continues to be teased, and even though it has become more of a tourist attraction than Doane Robinson could have imagined, it still speaks to Americans, if not to all Native Americans, of the way they founded and extended their country, right and wrong, through the giant steps of the presidents whose faces stare from the granite of the Black Hills.
If you would like to comment on this story or anything else you have seen on BBC Culture, head over to our Facebook page or message us on Twitter.
And if you liked this story, sign up for the weekly bbc.com features newsletter, called "If You Only Read 6 Things This Week". A handpicked selection of stories from BBC Future, Earth, Culture, Capital, Travel and Autos, delivered to your inbox every Friday.