As the Olympics come to a close, Fiona Macdonald looks at a new book and exhibition featuring images that have celebrated the human body in motion for almost two centuries.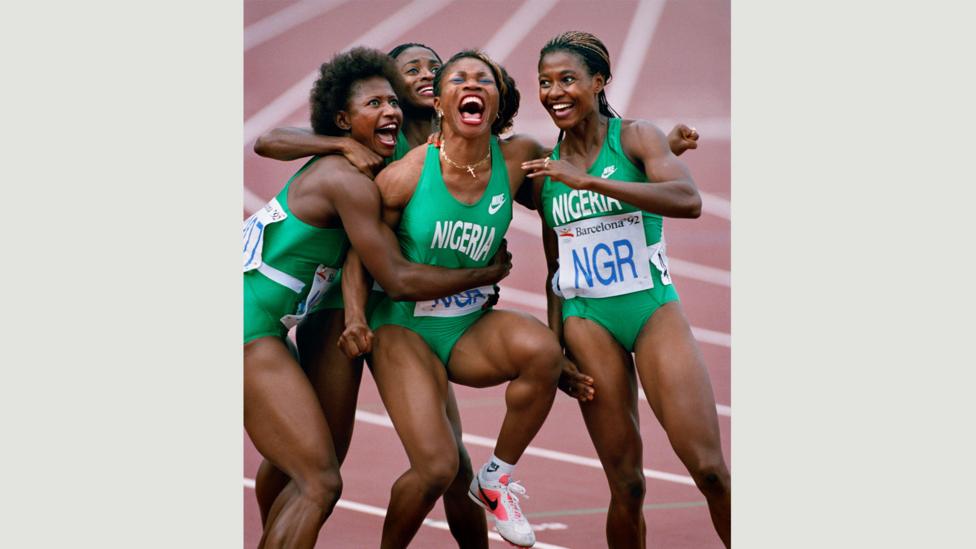 This image was taken by Ken Geiger, now deputy director of photography for National Geographic. "We share these women's achievement; we sense that it was arrived at through a combination of training, camaraderie, willpower, and bodies that can fly," writes Buckland. "And their euphoria isn't because they won the gold. They got the bronze and could not be happier."
She adds that the photograph is significant for another reason. "In the history of art, women are Madonnas and domestics; royalty and bent-over reapers and gleaners; wives and mothers; fashion plates and streetwalkers – but rarely great athletes. These four women are 20th-Century Muses."
The Golden Arm, Johnny Unitas, 1958 by Robert Riger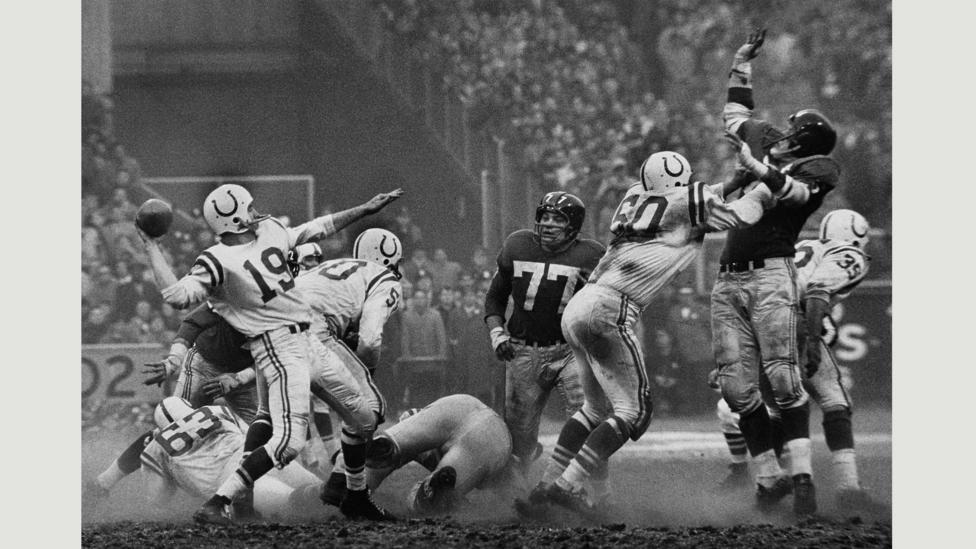 A trained artist, Robert Riger was initially hired by Sports Illustrated as an illustrator. "When he started using a camera, he set the bar high for sports photography," writes Buckland. "Riger's children observed when their father made a photograph that had universal qualities, one that transcended the skill of the athlete or the dramatic moment, he titled it, as would an artist naming his work. Mudhead, Over the Top, and The Golden Arm are the most famous Riger pictures."
In a 1980 book, he said that "'Sports pictures', as they are called, are a national language. They are as continuous and rhythmic as the seasons and as faithfully changing and as surely recurring. They never stop. With each passing year, in each sport, they give us another hero. A few of these photographs find the true character of the action and the sensitivity of the athlete. Others are only evidence."
"Many of Riger's action shots are art," writes Buckland. "They are clear and precise when they focus on a single player or action. They assume the quality of a great historic painting when the frame is full of bodies suspended in movement."
Far from being snaps that got lucky with timing, the greatest sports photos are carefully thought through. "Henri Cartier-Bresson coined the phrase 'the decisive moment' to describe the instant when the action before the lens is not simply captured by the photographer, but organised in such a way as to give it power and grace, balance and form," writes Buckland.  
"In addition to satisfying their editors and the public, who often want to see only the highlights of the game, the finest sports photographers are seeking to make pictures that are greater than a single defining action, pictures with aesthetic qualities that last through time."
World Cup, Netherlands vs. Brazil, July 2, 2010 by Mark Leech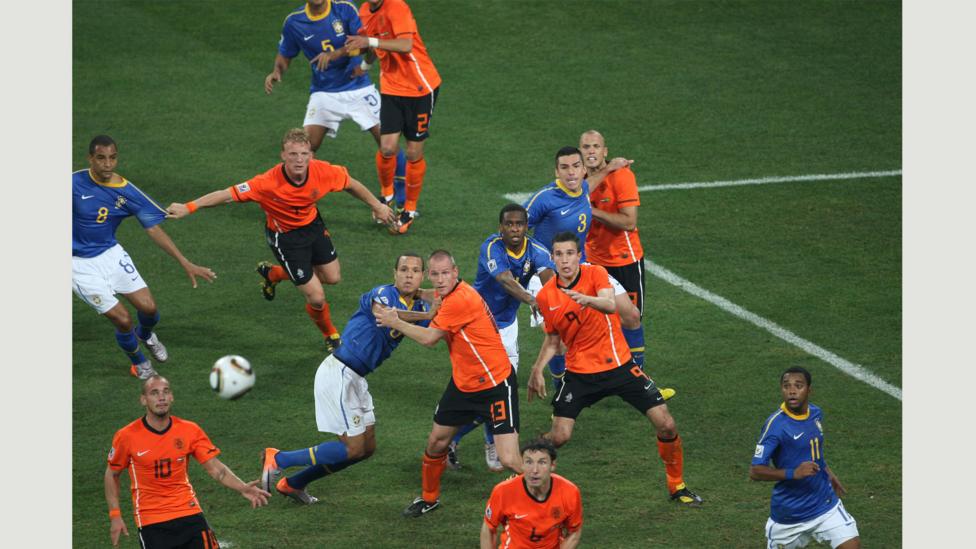 This image shows players from both teams holding each other as the ball is delivered from a Brazilian free kick in the quarter-finals of the 2010 World Cup. "It's a terrific football photo where everybody is doing something illegally, but they didn't blow the whistle because both teams were committing fouls," Buckland tells BBC Culture. "Every face is focused on the ball, with such intensity."
She doesn't believe that to be a coincidence. "Leech knew where to stay to get exactly the right position to bring you in almost as a participant." She describes the photographer who first put cameras just behind the net, to give the goalkeeper's point of view. "None of this just happened. These photographers work so hard to create this kind of dynamic imagery."
Avi Torres of Spain sets off at the start of the 200m freestyle heats, Paralympic Games, Athens, September 1, 2004 by Bob Martin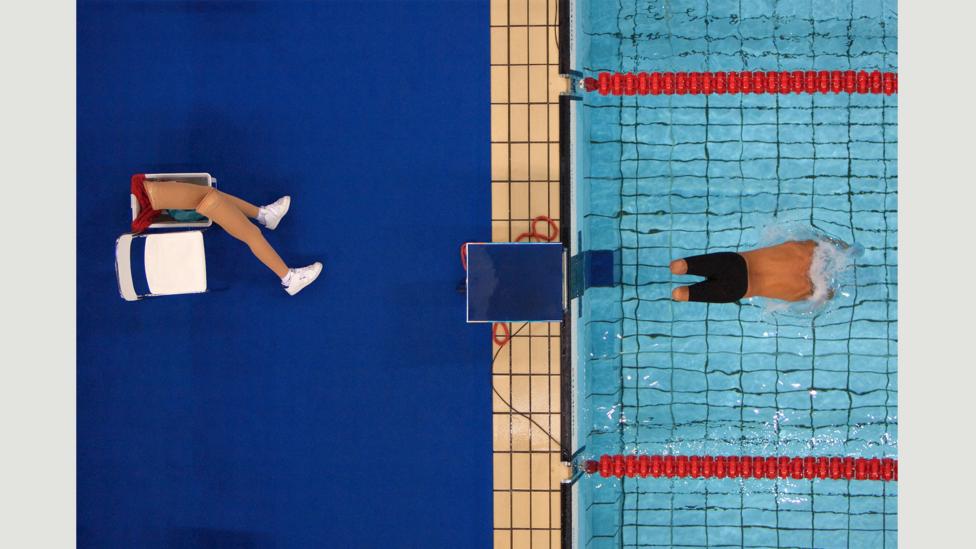 "Bob Martin's photograph is so beautifully composed, so structured, that it is only afterward the details come into focus," writes Buckland. "This is the Paralympics. The rules of swimming are almost identical to the regular Olympics but no prostheses are permitted. Torres has left his legs behind."
"A similar analogy may be made watching athletes with disabilities compete. They run so magnificently, they ski with such speed, they play team sports with such skill that the viewer may only afterward notice the physical obstacles each athlete overcomes."
Again, that's no accident. "All of these things don't just happen," she tells BBC Culture. "Martin studied art, he studied photography – he's probably the world's greatest sports photographer right now." Images like this should be celebrated, says Buckland. "These people really care about composition, colour, balance, form: they're not just capturing moments, they're making pictures, and to the best of my knowledge no exhibition has really shown the art of sports photography, it's always about the athlete, the moment, the famous event."
Australian Swimmer Matthew Dunn, 1993, by Tim Clayton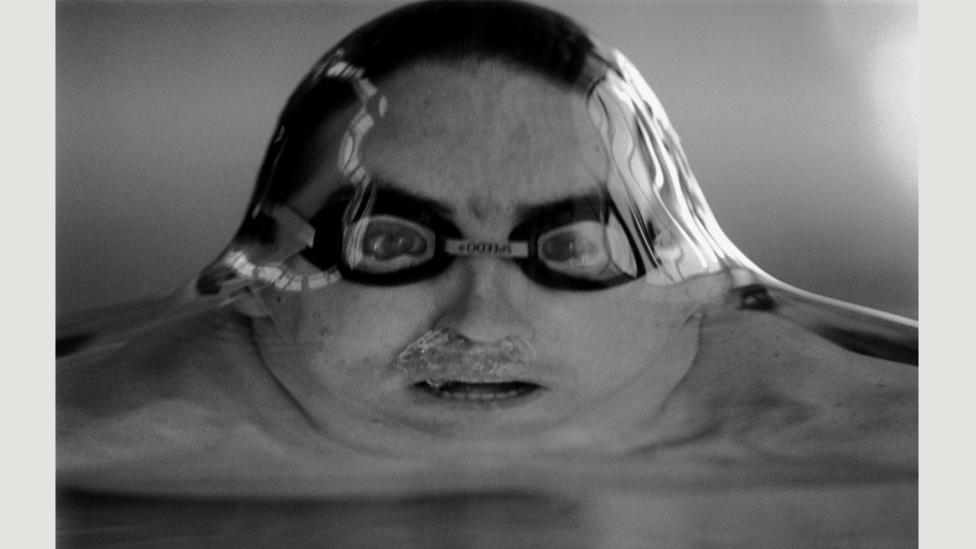 This image is known as 'Bubble Boy'. "Clayton had not seen a photograph like this before (they are now quite common)," writes Buckland. "He had observed this effect when swimmers surface at the start of the race. The water settles and the speed of swimmers' dives means they beat the ripples of water, so as they rise, they break the surface tension. Clayton had learned that the Australian swimmer Matt Dunn would be practicing in a fifty-meter pool which would allow him to be close enough with his 300mm lens to get a good tight frame and capture the split second before the swimmer breaks the water tension. Complicated description. Primal image." Clayton's innovative shot won first prize in the sports category at the 1993 World Press Awards.
While researching the book, Buckland realised how much sports photographers have contributed to the technical history of photography. Over time, she writes, they "tinkered with shutters, plates, films, and lenses in order to stop and get closer to the action, and make sharper, more detailed images." Driven by the need to capture motion, they made improvements "in the form of flashbulbs and strobes; underwater and waterproof cameras; remote controls; longer lenses and telephotos; autofocus; motor drives; analog to digital; drones; and software for cameras
and computers for editing and faster transmission gradually appeared".
Chronophotograph of an exercise on the horizontal bar, 1906, by Georges Demenÿ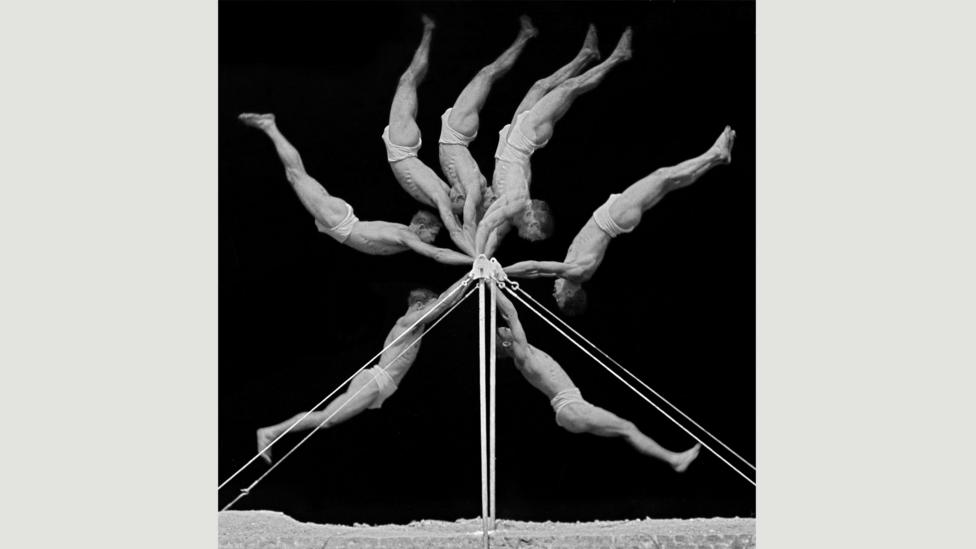 Early sports photographers attempted to show human movement in new ways. "The gauntlet had been passed," writes Buckland. "From the time of Eadweard Muybridge, Marey, Georges Demenÿ, and others in the 19th Century, it would be the photographers who would show the body in motion and depict the drama and beauty of sports."
Working at a college training athletes and soldiers in physical fitness in the first decades of the 20th Century, French photographer Georges Demenÿ captured sportsmen exercising in images not dissimilar to recent composite timelapses of US Olympic gymnast Simone Biles. "It was so hard for photographers at that time – they had to go to studios and use glass plates, and it was before electric lighting," Buckland tells BBC Culture. "With Biles, it's an evolution, but it does look a lot like the early photos."
The innovations have accelerated since then. "When photography was invented, you couldn't even take a photograph of a human being, because the exposures were too long. Then the first photograph that I found of an athlete, from 1843, is one or two minutes' exposure. The story is how do you stop motion? And sports photographers, more than any other group in my opinion, pushed camera technology so that they could show things you can't see with your naked eye."
Boxing Study 1805 Sergio Martinez, 2010, by Howard Schatz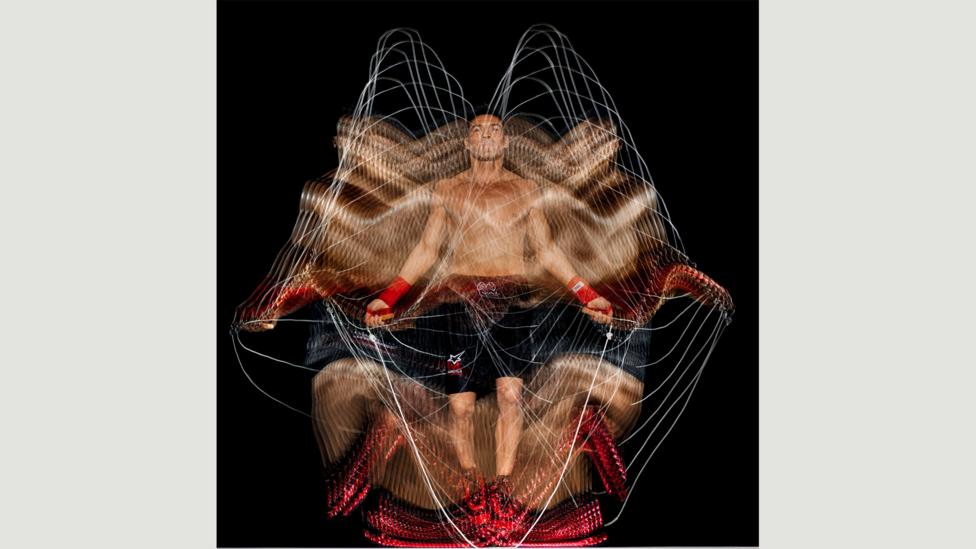 This photo, of the Argentine middleweight boxer Sergio Martínez, was taken in the studio. "Multiple stroboscopic flashes capture the many phases of the jump rope in a single frame; one rear synchronised flash is directed on Martínez," writes Buckland. "Like a snake losing its skin, Martínez's hands and feet seem to peel away. The upward glance of the eyes, body erect and centered, are reminiscent of Russian icons."
The photographer Howard Schatz trained as a doctor. "Experienced in the operating room, he is meticulously prepared, compulsive about details, and precise in every way. He has developed ways
of showing motion that bring greater understanding to human physiology," writes Buckland. Yet, she argues, "Schatz is the consummate artist, seeking beauty and aesthetic expression before all else."
Buckland was keen to reveal the stories of the people who photograph sport, telling BBC Culture that she did this book "not because I'm a sports lover", but rather "because I think the men and women who give sports its image should be recognised, and applauded – they should be included in the larger photographic history. And they've been pretty much sidelined. Their personal history has not been acknowledged: we know the background of the athletes, but I try to tell the story of who the photographers are and what they're trying to achieve."
Mixed Martial Arts Fight, UFC 154, Montreal, Canada, 2012 by Franck Seguin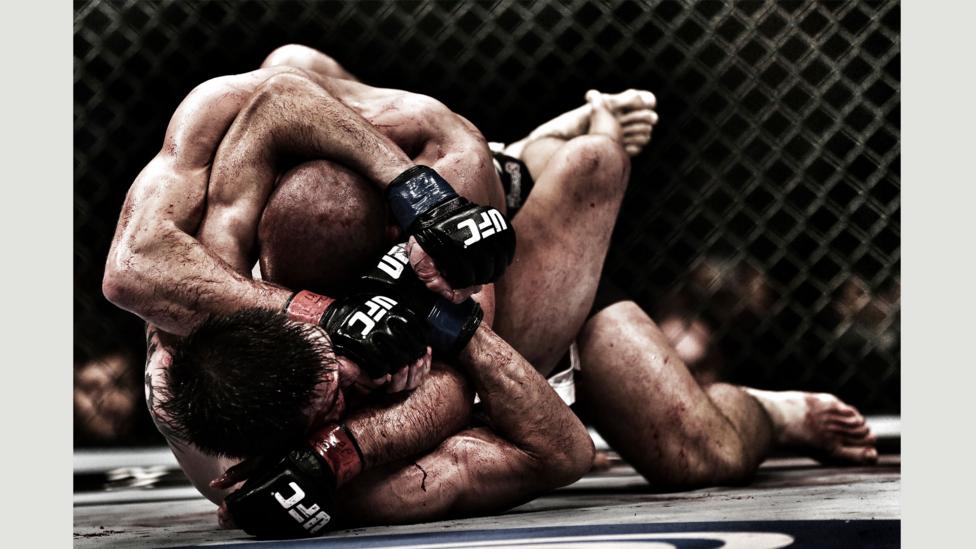 This image shows Georges St-Pierre of Canada and Carlos Condit of the United States fighting mixed martial arts, a modern variant of Greco-Roman wrestling. It was taken by Franck Seguin, a picture editor at the French publishing company L'Équipe SNC Group. Buckland has brought together pictures by photographers on the sports desks of newspapers and agencies with those by artists and film-makers including Andy Warhol and Stanley Kubrick. There are also images by photographers not usually associated with sport, such as Herb Ritts, Henri Cartier-Bresson and Annie Leibowitz.
"It's so interesting how fearful people in the art world are of sports photographs," she tells BBC Culture. "They think 'we've seen sports photos, same old thing'. But everybody is saying 'these are such great photographs'. They're lyrical, they're graceful." In working on the book, Buckland came to see that the sports photo can reconnect us with our bodies, or at least remind us of what they can achieve. "I realised how much sports photographers have enlarged our vision of who we are as human beings," she tells BBC Culture. "Because we all have these bodies, and we can't do what the athletes do, but we can celebrate the potential of a human being."
Narrow Escape – Fire Incident in Hockenheim, German F1 Grand Prix, July 31, 1994, by Arthur Thill
When Dutch driver Jos Verstappen was in the pits during the Grand Prix at Hockenheim, fuel leaked onto the car, and it was engulfed in a ball of flames. No one was seriously injured. Thill, who owns an agency in Luxembourg, shot 25 frames, not knowing if the entire area would explode. He describes it as "professional shooting... very tough."
"The best sports photographers do much more than capture the winning goal, the mind-boggling basketball dunk, the terrifying tackle, the finish of the race by a two-legged human, four-legged horse, or four-wheel vehicle – although their publications demand they do so," writes Buckland. When we see images of a one-eyed bullfighter, or an Alzheimer's patient playing ping pong, or women in Mogadishu playing basketball under armed guard, we think of more than the scoreline or the slow-motion replay. "They are on the front lines of human drama, witnessing and preserving bodies in motion, the refined gesture, the thrill of victory and the despair in defeat," writes Buckland. "These pictures resonate, linger in the mind's eye, and are retrieved from our memory banks when we recall moments of greatness, tension, disappointment, celebration."
If you would like to comment on this story or anything else you have seen on BBC Culture, head over to our Facebook page or message us on Twitter.
And if you liked this story, sign up for the weekly bbc.com features newsletter, called "If You Only Read 6 Things This Week". A handpicked selection of stories from BBC Future, Earth, Culture, Capital, Travel and Autos, delivered to your inbox every Friday.