It's the most famous corporate symbol in the word – but it has a fraught history, writes Jonathan Glancey.
T
There's Trajan's Arch and Marble Arch, the Arch of Constantine and Napoleon's Arc de Triomphe. You can ride to the top of the biggest of them all, the 630ft (192m) high Gateway Arch in St Louis, or, in southern Spain, stare amazed at hundreds of intersecting horseshoe-shaped arches in the hypostyle hall of what was once the Great Mosque of Cordoba.
The world's most famous arches have no claim to high culture, innovative engineering or grand history
And yet the world's most famous arches may well be those – with no claim to high culture, innovative engineering or grand historical narrative – of McDonald's. Under the sign of these arches, currently on display at more than 30,000 restaurants in 119 countries, 68 million customers a day are served variations on a theme of burgers and fries washed down with Coke and shakes. But this famous M logo formed of two intersecting golden arches and developed over a number of years came about more by accident than design.
In 1937, Patrick McDonald, who had come to California from New Hampshire the previous decade, opened The Airdrome, an octagonal drive-up hot dog stand outside Monrovia airport, northeast of Los Angeles. He ran it with sons Richard ('Dick') and Maurice ('Mac') who, in 1940, moved the stand to San Bernardino. Eight years later the brothers re-launched it with their new assembly line fast-food concept, meaning they could sell burgers at 15 cents, half the price of their competitors. A new roof sign boasted "McDonald's Famous Hamburgers".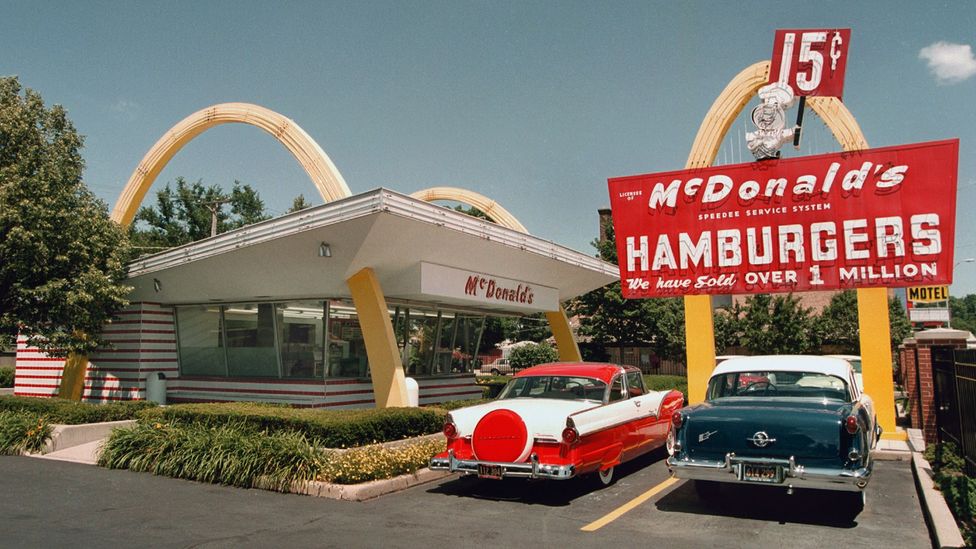 Los Angeles architect Stanley Clark Meston designed a sleek, futuristic McDonald's restaurant flanked by twin golden arches in 1953 (Credit: Getty Images)
In 1952, Dick and Mac sat down with the LA architect Stanley Clark Meston and his assistant Charles Fish. The plan was to design a McDonald's roadside restaurant that could be franchised. Dick had sketched out two half circles he thought would look good at either end of the structure, catching the eyes of motorists and their hungry families. Meston, who had worked as a set designer for Universal Studios and for Wayne McAllister, architect of streamlined 1930s drive-in restaurants, turned Dick's half circles into a pair of striking 25ft high tapered and neon-lit 'golden sheet' metal parabolas. In tune with the latest architectural fashions and engineering inventions, they looked more like a million dollars than 15 cents.
The McDonald brothers even failed to retain the rights to the McDonald's name
Meston's arches, crafted by sign-maker George Dexter, made their debut in 1953 with the first franchised McDonald's at Phoenix, Arizona. The franchisee was Occidental Petroleum executive Neil Fox.  Fox's brothers-in-law and business partners, Roger Williams and Bud Landon, took a franchise on the third new-look McDonald's in Downey, California. Threatened with demolition, this remarkably original building was listed in 1994 and restored by the McDonald's Corporation. At this building you can see how, from certain angles, the twin golden arches intersect, and how the McDonald's logo emerged. 
Lovin' it
The McDonald brothers themselves were content to let the franchise expand slowly and steadily, but not so Ray Kroc, one time jazz musician, radio DJ and paper cup salesman. While selling milkshake machines in the early '50s, Kroc saw the potential of a hamburger chain with a distinctive design and fast, cheap food. Appointed franchise manager in 1955, six years later the energetic Kroc bought the company from Dick and Mac for $2.7m.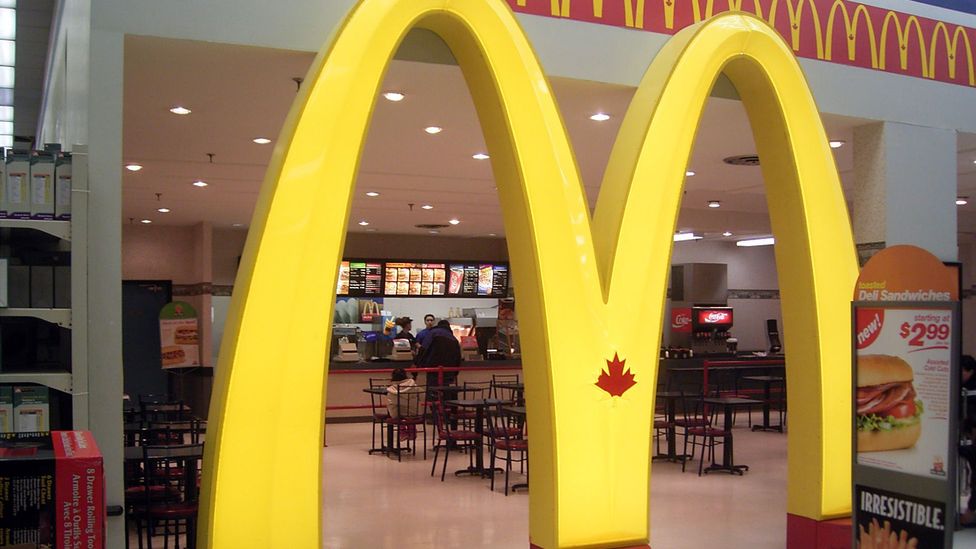 The double-arches, or M logo, was introduced in 1968 after the McDonald's building design with bookending single arches was retired (Credit: René Sinn/Wikipedia)
The brothers lost out big time as Kroc transformed McDonald's into a global corporation. The fast-talking Chicagoan had promised them a royalty on every new restaurant, but the agreement had been a handshake and never written down. They were to be no royalties. Disingenuously, Dick and Mac had also failed to retain rights to the McDonald's name. The story of how Kroc took control of McDonald's, pushed the brothers aside and made his fortune is told in The Founder, a film directed by John Lee Hancock, starring Michael Keaton and due for release later this year. The movie poster reads, "He took someone else's idea and America ate it up".
As America ate, Kroc dropped the parabolic golden arches from the ends of restaurants, transforming them, graphically, into the double arch, or M logo, perfected in 1968. This was the year McDonald's broke away from Meston's forward looking architecture, opting instead for an altogether more old-fashioned mansard roof style that has characterized the burger chain ever since. Crystal clear by 1968, the logo was revised in 2003, the double arches now shadowed and plumper than before.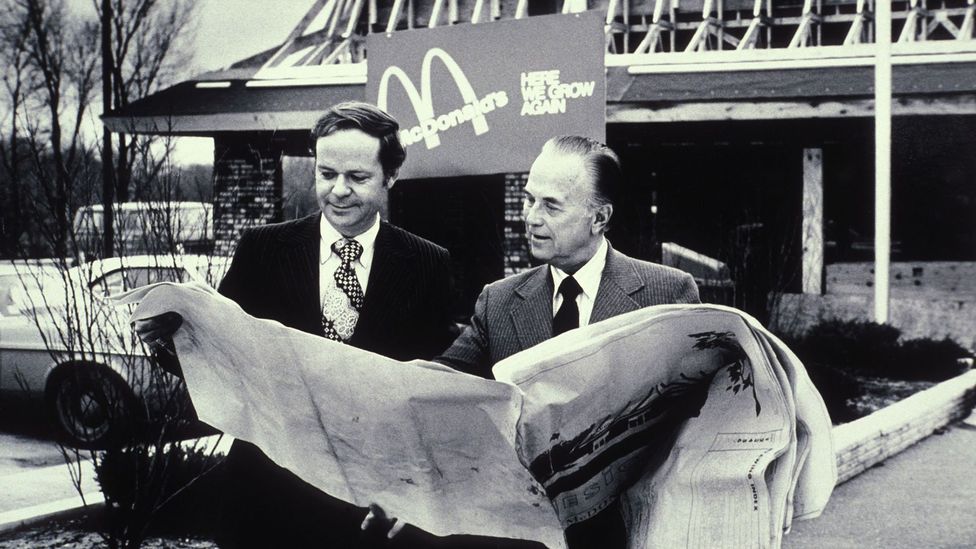 McDonald's CEO Ray Kroc (right) replaced Meston's original ultra-modern building with a more traditional, mansard-style roof (Credit: Alamy)
If McDonald's had lost the elegant simplicity of its original architectural design, the corporation was seen increasingly as both a great US success story and as a bulging threat to health. Although the premise of Morgan Spurlock's provocative 2004 film Super Size Me was easily undermined – no one, least of all Spurlock needed to eat 5,000 calories a day at McDonald's, and eat nothing other than McDonald's three times a day for a month – it did point the finger at the way in which the fast food chain had lost the innocence it enjoyed in the 1950s.
A Nasa mission to an asteroid named Hamburga was to have been sponsored by McDonald's
McDonald's golden arches could now be seen as symbols of aggressive global capitalism, excessive consumerism and of US cultural imperialism. And yet they are not invincible. The arches of McDonald's Sedona, Arizona branch, opened in 1993, are turquoise, to blend by law into the local landscape. For much the same reason, the mission-style McDonald's designed by Fresno architect Gary Vigen in Monterey, California and opened in 2010 features black arches, while on the Champs-Elysées, Paris and in medieval Bruges, the arches are white.
Though McDonald's is very protective of its logo, the company has been willing to alter its colour to conform to local building codes around the world (Credit: Alamy)
The golden arches, however, were to have gone far beyond America and Europe. Cancelled in 1995, a Nasa mission to asteroid 449 – named Hamburga after the Germany city, not the beef patty – was to have been sponsored by McDonald's.
Happy meals
Back on Earth, the arches have attracted the attention of contemporary artists, much as Campbell's soup cans had appealed to Andy Warhol. The Australian artist Ben Frost has used countless McDonald's fries containers as canvases for images drawn from comic books, cartoons and the worlds of fantasy, fetish, manga and super-heroes.
In Freudian terms, it was suggested that the arches symbolised a mother's nourishing breasts
Masato Nakamura's installation of McDonald's arches was first shown at Tokyo's Museum of Contemporary Art in 1998. This crown of arches can mean anything you want, he said. The work was inspired because he had come back recently from a world trip and found the golden arches in many of his photographs. He even had the full backing of McDonald's itself. Presumably, the company saw this enigmatic work as a good advertising opportunity.
Perhaps it was. When in the 1960s McDonald's gave up on Meston's architectural arches, the company nevertheless listened to the American psychologist Louis Cheskin, who had worked successfully for Ford. In Freudian terms, suggested Cheskin, the McDonald's arches symbolised a mother's nourishing breasts. While this might seem a little too much like Carry On or Beavis and Butthead for comfort, McDonald's has certainly played on tens of millions of people's inner child, as well as children themselves, with its Ronald McDonald clown, forkless food – much of which requires little in the way of teeth or chewing – and bright poster colours.
However you view the burger chain, its corporate identity straddles the world. No wonder spoof images of the Gateway Arch in St Louis depicting the biggest arch of all as a pair of giant intersecting golden parabolas can seem, at least for the time it takes to get served at McDonald's, all too convincing.
If you would like to comment on this story or anything else you have seen on BBC Culture, head over to our Facebook page or message us on Twitter.
And if you liked this story, sign up for the weekly bbc.com features newsletter, called "If You Only Read 6 Things This Week". A handpicked selection of stories from BBC Future, Earth, Culture, Capital, Travel and Autos, delivered to your inbox every Friday.