The Open has been filmed in one of the UK's most remote – and forbidding – areas. It looks unlike anything you've seen, writes Clarissa Sebag-Montefiore.
I
In The Open, two tennis players battle it out in the midst of a global war. At stake is the championship. But they play alone – with no audience, no racquet strings and no balls.
Made on a budget of less than 150,000 euros (£129,000) and shot in just three weeks, The Open is a post-apocalyptic drama about what to do – and how to carry on – when facing the end. It is also just one of four fictional feature films ever to be shot in the Outer Hebrides, the chain of Scottish islands famous for its fraught conditions.
As violence engulfs the world they play tennis with nothing but air
When tennis pro Stéphanie (Maia Levasseur-Costil) and her coach André (Pierre Benoist) find themselves in an unforgiving, bleak landscape – camping in tents, washing in streams and hiding from horror just over the hills – they cling to their dream of competing in the French Open. Entrapping guerrilla soldier Ralph, they first coerce, then convince him to put down his gun and pick up a (string-less) racquet. As violence engulfs the world, they play tennis with nothing but
air.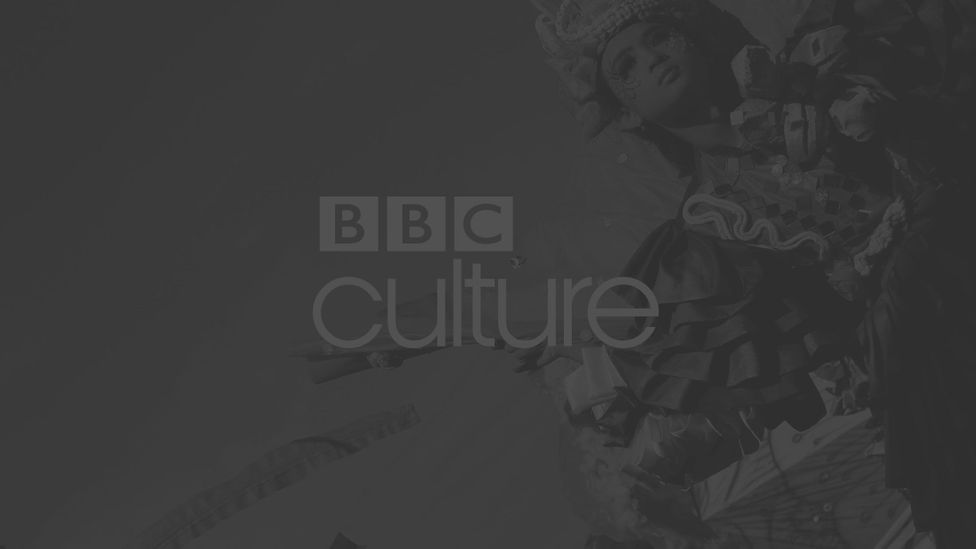 This video is no longer available
Starring English actor James Northcote, who has also appeared in Lars Von Trier's Nymphomaniac and The Imitation Game, as Ralph, The Open has won a string of awards since premiering at the Leeds International Film Festival last November. This year it received Directors Week best film, best director and best screenplay at Oporto International Film Festival, otherwise known as Fantasporto – the first time in their history that the major sci-fi festival has awarded the three main prizes to one film.
The director knew he could only afford three actors
The sport-cum-sci-fi film was borne as a product of its tiny budget. When writing the script for his debut feature The Open, French director Marc Lahore knew he could only afford three actors and a skeletal production team.
Facing those limitations French film-makers would usually set a script inside an avant-garde flat with "long poses and people watching one another," he says. By contrast, Lahore wanted to do a post-apocalyptic take on the American Western with "very few actors in the biggest, most spectacular landscape I could put my hands on."
Game, set and match
Tennis – the upper-class game of Wimbledon, crisp white shorts, champagne and strawberries – was, Lahore says, a natural fit. As when two cowboys face each other and draw their guns, the sport is a physical and mental game of chess, a battle between two opponents to the (figurative) death. It is a duel with balls instead of bullets. Playing on this conceit, at one point Stéphanie hears the balls in her head, before the thump, thump, thump morphs once again into loud gunshots.
For Northcote the air tennis has another reading: a metaphor for the punishing "psychological struggles that we [face] in extreme situations".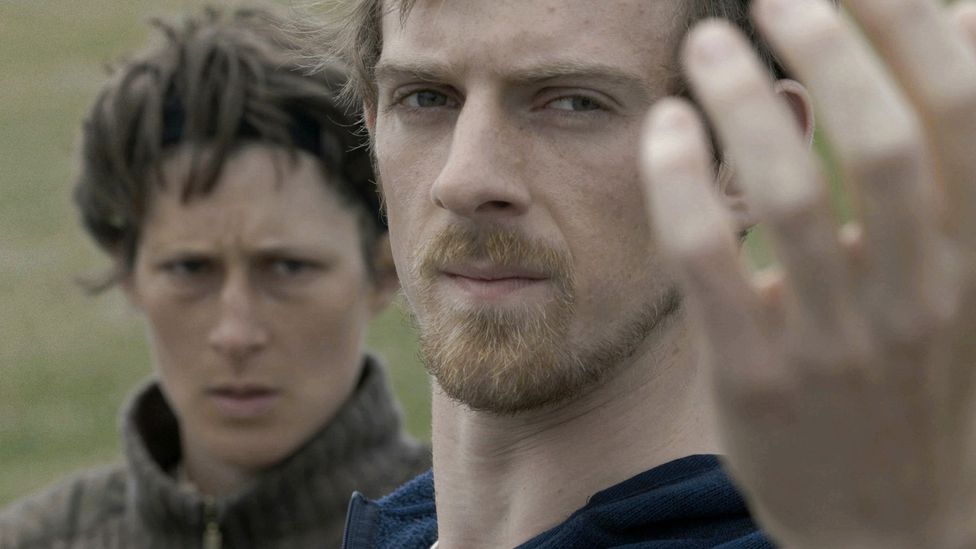 Unlike many post-apocalyptic films The Open trades images of carnage and destruction for an intimate portrayal of existential angst (Credit: Marc Lahore)
Stéphanie and Ralph's desperation to sustain an illusion is a reflection of the need we all have "to believe in something, to tell ourselves and other people stories in order to survive," says Lahore. "This is a movie about fiction."
Although the film is set in the near future (at one point Stéphanie mentions playing against Maria Sharapova) Lahore kept the location undisclosed, making the film both a fantasy and a fable, one that resists providing easy answers. Influences include Samuel Beckett's Waiting for Godot, dystopian action franchise Mad Max, post-apocalyptic drama The Road, and the 1995 black and white film Dead Man, also a subversion of the typical American Western.
A lack of money has also meant freedom in the creative process
With the scant budget, Lahore had to rely on subtle, small reminders of war just beyond the frame. At one point, Stéphanie bathes topless in the lake to reveal criss-crossing scars down her back, hinting at a traumatic past; another scene features a crashed helicopter, barely noticeable, in the background. But a lack of money – and a lack of Hollywood-level expectations – has also meant "complete and absolute" freedom in the creative process. Lahore confesses the film "would have been way different if we had a lot of money".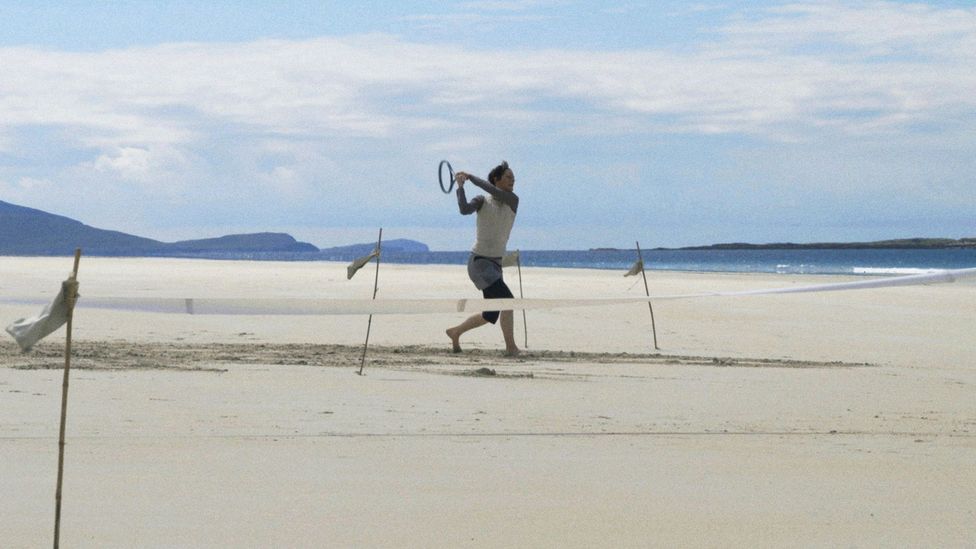 Waiting for Godot and Mad Max influenced The Open, but it also calls to mind Ingmar Bergman's Shame, where, likewise, lonely people face global war (Credit: Marc Lahore)
Still, challenges abounded. Not least for Levasseur-Costil and Northcote, who both had to learn the art of air tennis. In order to appear convincing Northcote worked with a coach and practiced 'imaginary' tennis alone in dreary London municipal courts, rising in the early hours to avoid funny looks. By the time filming started the actor says that he and his co-star "definitely saw the ball" – in their heads, at least.
Acute weather conditions in the Outer Hebrides were a second battle – the reason why so few movies have been set there. (Most notably, the Hebrides' South Harris coastline was distorted into an alien planet in Stanley Kubrick's 2001: A Space Odyssey).
The world's end
Home to 15 inhabited islands that have a total population of less than 30,000, the Outer Hebrides often suffers from lashing rain, lightning and heavy mist. The landscape summons up a sense of 19th Century Romanticism, perfectly reflecting the characters' lost hopes. Lahore loved "the mountains rushing into the sea, the ocean rushing against these black rocks. There was an end of the world feeling, which fitted the movie."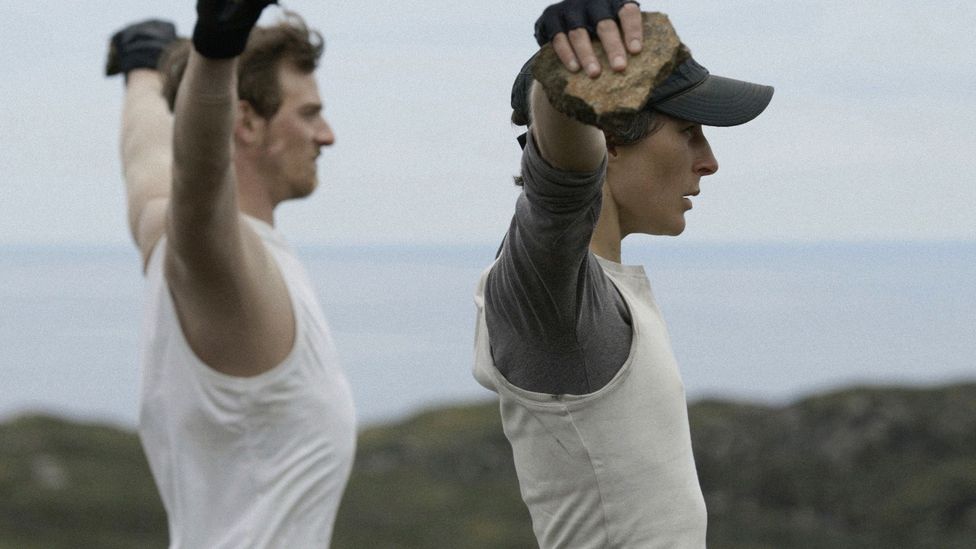 The Open's exhibitions in cinemas have been largely limited to film festivals so far – it just played at the European Fantasy Film Festival of Strasbourg (Credit: Marc Lahore)
Heightened by the haunting music of French electro music duo Damage, the deep, dark lakes, black rocks and white-sand beaches of the Scottish islands – which are among the most remote parts of the UK – become, in themselves, a character in The Open. The terrain represents the restorative yet destructive power of nature standing proud amidst the near total devastation wrought by humans. 
But the director admits the set was "hell on earth". The team of ten lived side by side in tiny cottages (Lahore slept in the living room). Shooting started at 6:00am and wrapped at 11:00pm six days a week. Mosquitos were rampant, highland cows overly curious, and unpredictable storms made scheduling near impossible. To top it off, most of the locations were not accessible by road; instead, the crew hiked for miles with equipment lugged on their backs, wet feet squelching in deep peat.
Northcote remembers one nerve-racking twilight when the crew become lost and disoriented as a sudden blanket of fog descended. "We started this trek across boggy terrain and everyone got split up. All you could see were a line of torches," he recalls. "It was very relevant to the way the film was made – things were desperate and difficult and unbearable and always, somehow, we rose to it and made it to the finishing line."
If there is a moment that sums up The Open, it was when Lahore found himself trapped in a sand hole, which engulfed him to his armpits. "It was really scary. For two seconds I thought, 'I'm dying,'" he says. "Then again," he laughs, only half-joking, "if I died in quicksand the movie would be famous." For now Lahore will just have to settle with being known as the director who made that tennis film without balls. 
This story is a part of BBC Britain – a series focused on exploring this extraordinary island, one story at a time. Readers outside of the UK can see every BBC Britain story by heading to the Britain homepage; you also can see our latest stories by following us on Facebook and Twitter.
If you would like to comment on this story or anything else you have seen on BBC Culture, head over to our Facebook page or message us on Twitter.
And if you liked this story, sign up for the weekly bbc.com features newsletter, called "If You Only Read 6 Things This Week". A handpicked selection of stories from BBC Future, Earth, Culture, Capital, Travel and Autos, delivered to your inbox every Friday.