The International Space Station has just released photos showing lightning flashes in clouds below. Kelly Grovier sees a link with one of JMW Turner's most famous paintings.
I
In a curious little six-line poem he wrote in 1924, the American poet Robert Frost imagines, from a lofty atmospheric perspective, a conspiratorial conversation between the elements to bring about a fearsome storm below. "You push and I'll pelt," the rain says to the wind. Then suddenly, the poet's vantage shifts dramatically from the tempestuous pact above to the soggy suffering of a saturated garden bed where the kneeling flowers "lay lodged – though not dead". "I know," Frost confesses in the last line, "how the flowers felt".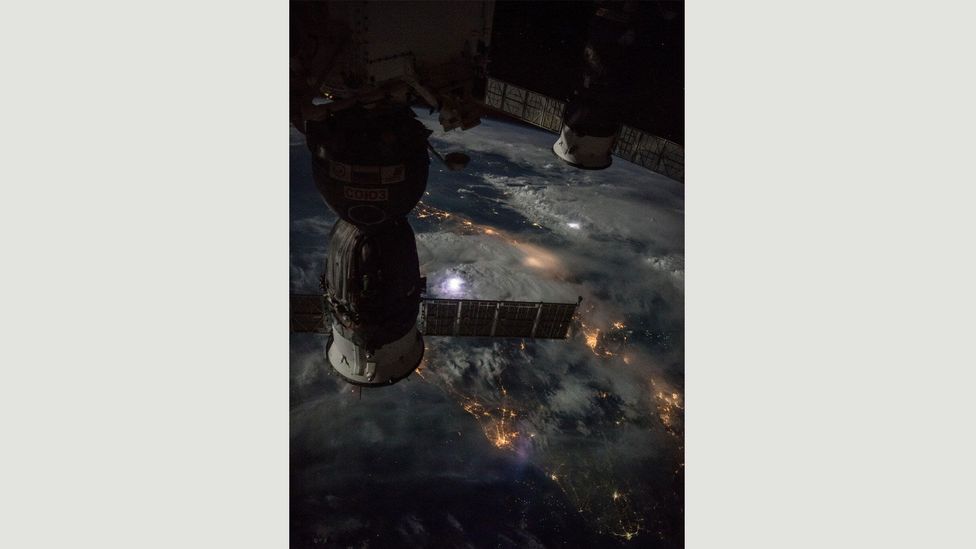 The International Space Station flies approximately 250 miles (402 km) over thunderstorms during a nighttime pass on 18 September 2016 (Credit: International Space Station)
I was reminded of Frost's affecting swivel from the infinite to the intimate by the publication this week of photos taken from the International Space Station of weather systems developing on Earth, some 250 miles (402km) below it. In one image, a seething percolation of clouds punctuated by flashes of lightning can be seen troubling the distant sky. Without the instant zoom of a Frost-like lens to shuttle us from the heavens to the human and to bring into focus the havoc caused by the thunderstorms below, our reaction to the photo is at risk of remaining unfeelingly aloof. At far enough remove, the causes of pain can become aesthetic, even beautiful.
The ethics of perspective routinely rankle the imaginations of artists. In order to reassure viewers that a late storm-scape of his was entirely faithful to meticulously observed meteorology and not fabricated, JMW Turner turned his painting's title into a breathless shipping forecast: Snow Storm – Steam Boat off a Harbour's Mouth making Signals in Shallow, and going by the Lead. The Author was in this Storm on the Night the Ariel left Harwich (1842). Despite repeated guarantees by the artist that the misty vortex was indeed witnessed first-hand – "I got the sailors to lash me to the mast to observe it; I was lashed for four hours, and did not expect to escape, but I felt bound to record it if I did" – critics have long been suspicious of his account.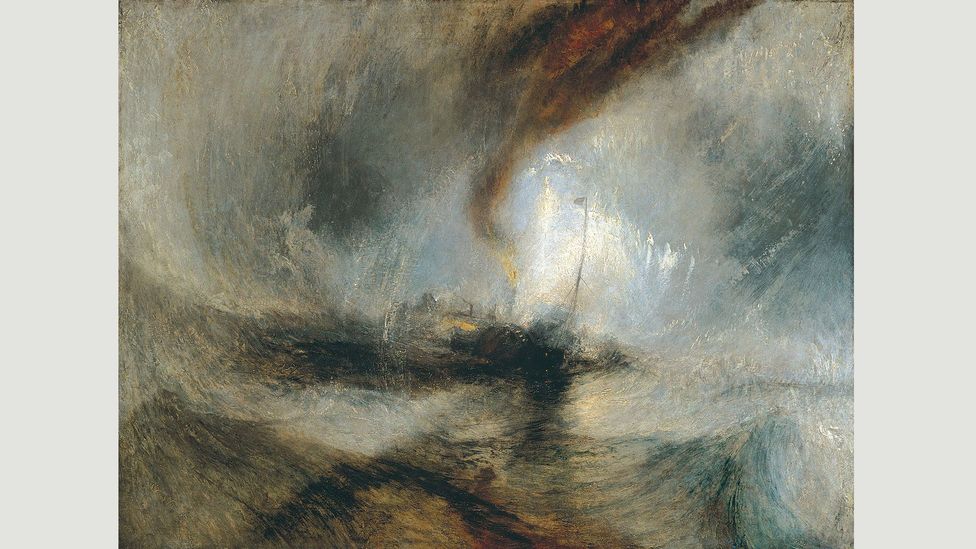 The title of this 1842 painting by JMW Turner is like a breathless shipping forecast: it is usually just called Snow Storm – Steam Boat off a Harbour's Mouth (Credit: Wikimedia)
Rather than being admired for the commitment it allegedly demonstrates to climbing inside the disaster it portrays, the work was derided by gallery-goers when it was first exhibited in 1842 for its blurriness of painterly perspective. Where Turner believed his painting painstakingly documented the elemental facts of what really happened, the public dismissed the canvas as indistinct fantasy. Only the winds and rain know for sure whether Turner was really there. If he was, it is one of the great ironies of modern art that this work, more so than almost any other Turner painted, is credited for sowing the seeds of later abstraction.
If you would like to comment on this story or anything else you have seen on BBC Culture, head over to our Facebook page or message us on Twitter.
And if you liked this story, sign up for the weekly bbc.com features newsletter, called "If You Only Read 6 Things This Week". A handpicked selection of stories from BBC Future, Earth, Culture, Capital, Travel and Autos, delivered to your inbox every Friday.