The film was a hit on its release 10 years ago – but its reception in Borat's homeland was complicated, writes Kazakh Yerlan Askarbekov.
T
Ten years ago, anyone without a job could get a mortgage in the US. Tony Blair was the UK's lame duck prime minister. Al–Qaeda, rather than IS, was Public Enemy Number One. And the satire film Borat: Cultural Learnings of America for Make Benefit Glorious Nation of Kazakhstan was in cinemas. 
The movie made quite the splash. Despite showing only on around 800 screens in the US – a typical wide release plays on three times as many screens – Borat hit number one on its opening weekend. Its earnings were every bit as strong around the rest of the world and it is widely considered the highest-grossing mockumentary of all time.
My relationship with Borat began before he made the leap to the big screen. While I was working for the British Council in Kazakhstan as a public relations manager in the early 2000s, I read in the newspaper about a Kazakh character on a British TV show. I asked a colleague if she knew who he was – she was a volunteer from the UK, who helped me every month to proofread our newsletter. She felt a bit embarrassed about it and explained that it was an actor pretending to be a Kazakh journalist, and that the show exemplifies a special British sense of humour, which perhaps her Kazakh friends wouldn't get. I shrugged.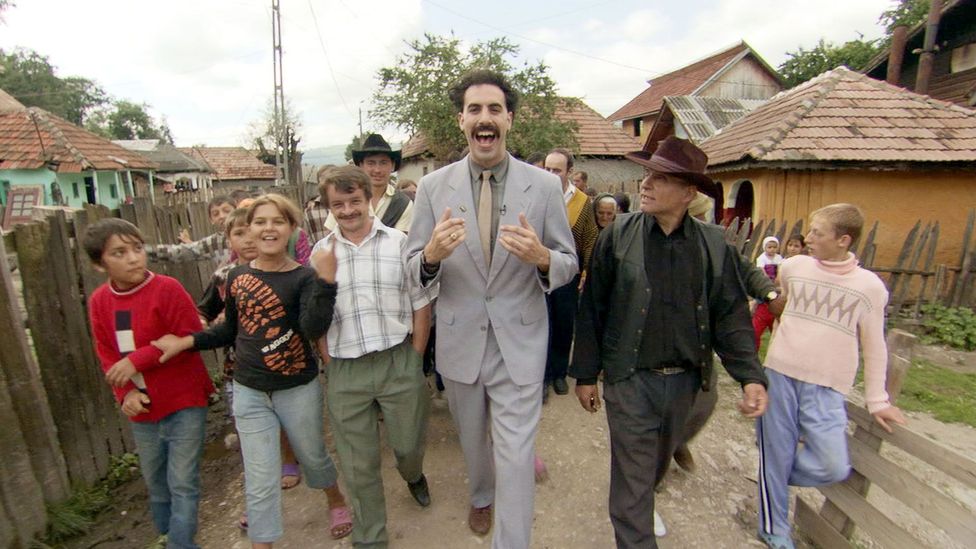 Baron Cohen acts bigoted in order to expose the bigotry in others, such as when he convinced patrons at a US bar to sing the lyrics "Throw the Jew down the well" (Credit: Alamy)
About a year later I was in the UK for the first time. It was then I watched Da Ali G Show on Channel Four – and saw Borat again. Frankly, I found it... very funny. Of course, I realised that this was a satire of British attitudes toward the rest of the world, poking fun at the UK's isolationism. And I still like Ali G and Borat – and even Admiral General Haffaz Aladeen. For me, their creator, Sacha Baron Cohen, is a talented workaholic with a serious message. Another friend of mine, a Cambridge university professor, told me that Baron Cohen was a graduate of the university, and I came to realise the intellectual heft behind his work.
I've even suggested we offer Borat Kazakh citizenship
A number of my colleagues from throughout the Kazakh media world, including top executives, confessed to me that they also watched Borat on Da Ali G Show, and saw the character as a PR opportunity. We wanted Baron Cohen to make the show in the real Kazakhstan. We were in agreement that we Kazakhs should be grateful for any promotion he gave our country. I even offered an – admittedly facetious – idea to recognise Borat as a Kazakh citizen, to give him an ID and tax him. These talks ultimately went nowhere, but the idea of a true collaboration with our most famous 'native son' was one we clung to.
Is nice?
But not all Kazakhs felt that way. After the character was introduced on Da Ali G Show, Baron Cohen's website was blocked in Kazakhstan for a time. Just a year ago, I met a Kazakh fitness instructor who worked at a gym in New York City when the Borat film was released in 2006. He said that he was in a Manhattan crowd just a couple of steps away from Baron Cohen during the film's premiere. And our guy very much wanted to beat the actor up, because he was outraged by the portrayal of Kazakhstan. We've since laughed about the story – he told me how he calmed down and realised that it would be PR disaster for our people if he did.
Maybe the most angry Kazakhs in 2006 were our students in the UK and US. They understood the movie, but their non-Kazakh peers on campus did not. Their fellow students were sure that the movie showed the real Kazakhstan.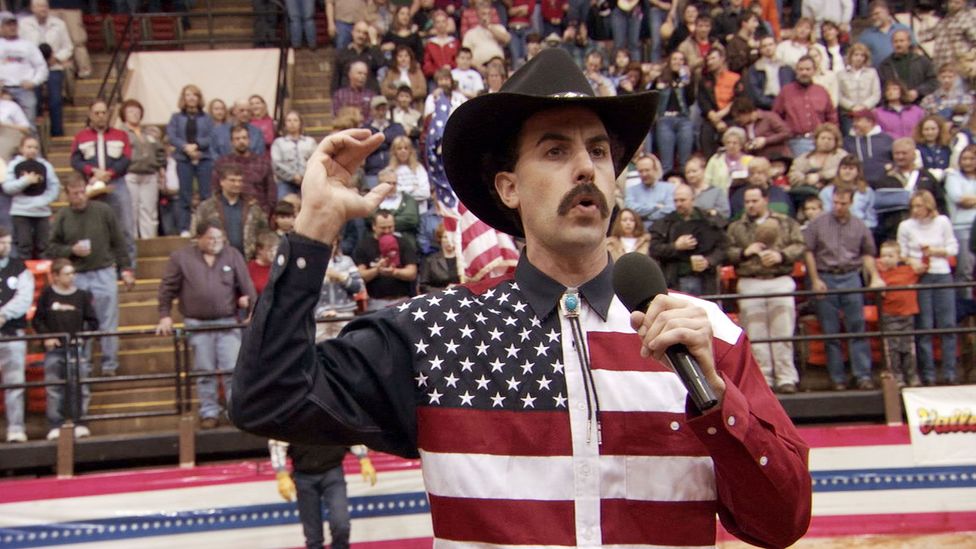 At a US rodeo Borat elicited applause when he declared, "May your George Bush drink the blood of every man, woman and child in Iraq" (Credit: Alamy)
And, of course, the government began various efforts to change the PR narrative. I was involved in that work several times, and I can say that absolutely all high-ranking officials in Kazakhstan understood that they should not be offended by the movie. The main objective they discussed was how to exploit such an unexpected spotlight on the country.
The only thing accurate about Kazakhstan is the country's position on the map
It is important to understand where the truth does and does not lie in the Borat movie. A sudden rush to the map had taken place – Westerners who previously may not have been able to place Kazakhstan wanted to know more about us.  But the fact is that the only thing accurate about Kazakhstan in this film is the country's position on the map.  Even the language is misrepresented, as Borat's name is spelled incorrectly and, as he did on Da Ali G Show, which introduced the Borat character, he speaks Hebrew as a stand-in for Kazakh. The isolated Romanian village of Glod had been picked to stand in for Borat's home town – and Borat's 'neighbours' are actually Roma, the people who Borat derides as "gypsies" throughout the rest of the movie.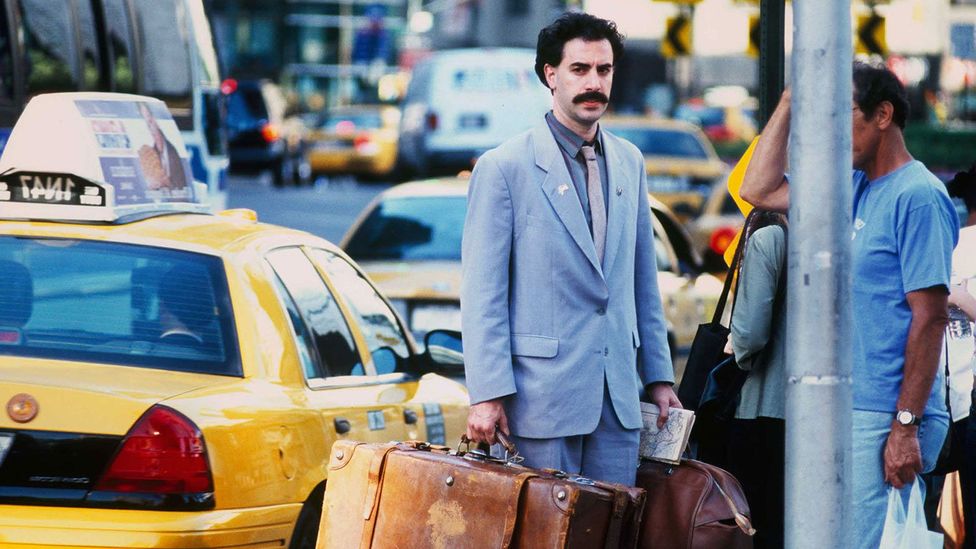 Borat's tour recalls how French writer Alexis de Tocqueville spent nine months touring the US in 1831 and published his findings in the book Democracy in America (Credit: Alamy)
Most people in Kazakhstan realised rather quickly that the film was aimed more at an audience in America than in Borat's homeland. Sacha Baron Cohen's main objective seemed to be to get an outsider's view of the US and reveal the prejudices of the Americans who Borat interacts with – prejudices that most people in the US would like to pretend don't exist. He was functioning as a sort of 21st Century Alexis de Tocqueville. And once it became clear that this was Baron Cohen's aim, most ordinary Kazakhs lost interest in the Borat phenomenon altogether.
Getting real
But many Western-oriented Kazakhs felt a need to talk about the real Kazakhstan. Local public relations experts discussed this topic extensively at professional conferences. I had many questions about the film myself. So I interviewed some leading marketing and public relations experts. Scott Bedbury, formerly of Nike and Starbucks, said, "I do not think anyone from the US believes the movie was actually made about Kazakhstan. It is only a comedy".
We're an easy target – Yerlan Idrissov
Yerlan Idrissov, who was the Kazakh ambassador to the United Kingdom at the time, wrote in the Guardian: "We're an easy target. Borat could have been made a citizen of a country with a truly awful human rights record – say Afghanistan during the days of the Taliban. But that would have been risky for Baron Cohen. Many Kazakhs who saw Borat were offended and incredulous. But in fact, the country's critics, including Baron Cohen, are more likely to receive an invitation to address their concerns at an all-expenses-paid conference in Kazakhstan than they would be to receive a fatwa."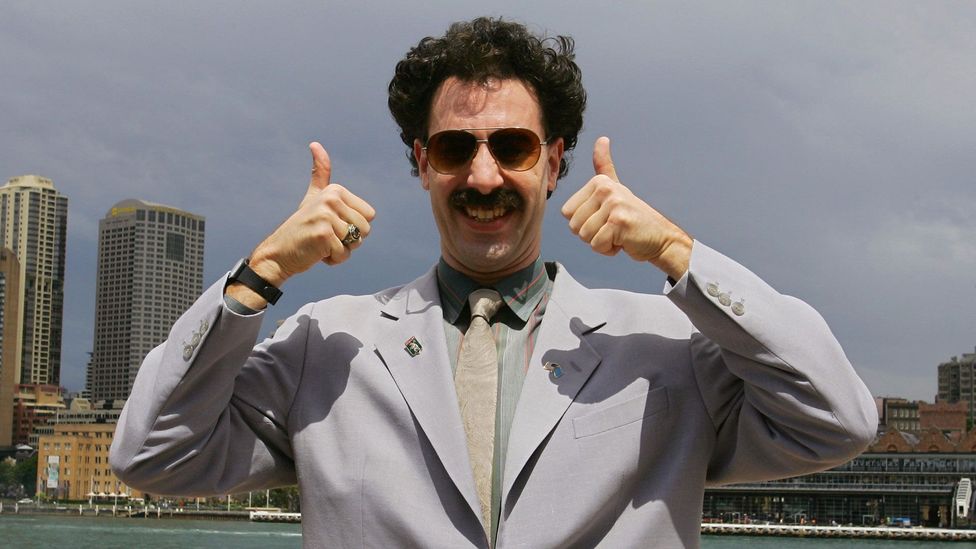 The film has created awkward moments – the winner of a shooting competition in Kuwait was 'honoured' when Borat's version of the Kazakh national anthem played (Credit: Alamy)
Such remarks illustrate the initial strategy for dealing with the film on the part of the Kazakh government – attempting to brush it off as no big deal. But later Baron Cohen was mentioned in a session of Kazakhstan's parliament by the foreign affairs minister of the time, Yerzhan Kazykhanov: "With the picture's release, Kazakhstan increased the number of visas it issues by 10 times. This is a great victory, and I am grateful to Borat for attracting tourists to Kazakhstan."
But not all responses were so positive. In November 2006, well-known Kazakh TV personality Jantemir Baimukhamedov went to London and pledged he would give horse meat and horse urine to Baron Cohen, who, as Borat, had declared those to be national foods of Kazakhstan. But he organised everything so poorly he was unable even to meet with the Cambridge graduate. In 2010, film director Erkin Rakishev promised to make a movie about a young American who visits the real Kazakhstan after seeing the Borat movie. It still hasn't materialised however.
Perhaps the most creative response to the film came from the famous violin player Marat Bisengaliev. Bisengaliev contacted me to raise funds to commission a piece of original music that would meaningfully represent Kazakh culture. 
We asked Sacha's brother, composer Erran Baron Cohen to write the 20-minute piece. Called Zere, it is based on Kazakh folk music. Its premiere took place at London's Saint James's Church in Piccadilly in 2007, with the Turan Alem Kazakhstan Philharmonic Orchestra and Bisengaliev himself playing the violin. News of the concert spread across the world, with write-ups in newspapers from the Daily Telegraph to the Sydney Morning Herald. The gist of the news stories was that at last the Kazakhs have made fun of Sacha.
If you would like to comment on this story or anything else you have seen on BBC Culture, head over to our Facebook page or message us on Twitter.
And if you liked this story, sign up for the weekly bbc.com features newsletter, called "If You Only Read 6 Things This Week". A handpicked selection of stories from BBC Future, Earth, Culture, Capital, Travel and Autos, delivered to your inbox every Friday.