To mark the bicentenary of the British author's death, the British Library has brought together the three notebooks that survive from her early years. Fiona Macdonald takes a peek.
"Jane Austen's earliest writings appear to have little in common with the restrained and realistic society portrayed in her adult novels," writes Kathryn Sutherland, a professor of English at the University of Oxford. "By contrast, they are exuberantly expressionistic tales of sexual misdemeanour, of female drunkenness and violence."
A different side to the British novelist can be seen in the three notebooks of her early writings that still survive. Thought to have been written when Austen was between the ages of 11 and 17, they contain stories, dramatic sketches and a spoof history. For the first time in 40 years, they've been brought together for a display at the British Library. They reveal a precocious talent – copying the format of 18th-Century novels, with 'Volume the First', 'Volume the Second' and 'Volume the Third' inscribed on their front covers.
"Right through her juvenile writing, she's already quite assured in her style – she can imitate the kind of writings that she would have read as a child," Sandra Tuppen, a curator at the British Library, tells BBC Culture. "It's very satirical. She's quite assured in taking off the style – and you find that right through the teenage notebooks."
As well as a table of contents and dedications written in the style of fawning odes to patrons, the first volume lists 12 chapters. "She says it's a novel in 12 chapters – but each chapter is just a sentence or two, so she's taking off the style of the novel without writing a serious novel herself at this stage. It's intentional," Tuppen says.
Funny girl
While the writings take the form of short works, they reveal the humour that lights up Austen's novels. "They're so lively; the stories are so witty," says Tuppen. "They're not what one would expect from an average teenage girl, especially not an 18th-Century teenage girl living in the seclusion that one might imagine of her family."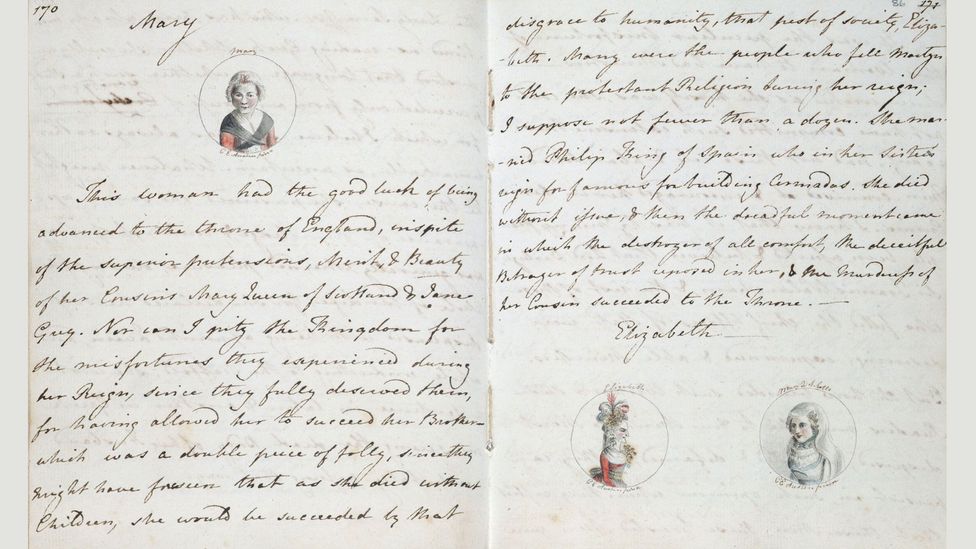 It's been suggested that this portrait of Queen Elizabeth I was based on Jane's mother, and the image of Queen Mary I could be Jane (Credit: British Library)
According to Professor Sutherland, many of the early writings "are comic imitations or parodies of popular novels: of the classic Sir Charles Grandison by her favourite Samuel Richardson; of Oliver Goldsmith's schoolroom textbook, The History of England (4 vols, 1771); of the essayists Joseph Addison and Samuel Johnson."
Austen's History of England – written when she was 16 – is a spoof account of England from Henry IV to Charles I as told by "a partial, prejudiced, & ignorant historian".
"A note on the bottom of the first page marks out the tone of the tale," writes Sutherland. It reads: "NB There will be very few Dates in this history".
Austen's sister Cassandra created illustrated portraits for the history, many of them looking more like men and women from the time of writing than regal figures of the past. "Henry VII looks particularly haggard," writes Sutherland. The portraits might have been modelled on members of their family. "It's been suggested that the rather severe portrait of Elizabeth is possibly Austen's mother," says Tuppen. "There's a charming picture of Mary as young girl, and it's been suggested that could be Jane herself."
Family affair
Austen was given the notebooks by her father, and came from "a family of talented amateur writers", according to Sutherland. "Her mother wrote playful verses, riddles and charades; her elder brothers James and Henry jointly founded and largely wrote a humorous weekly paper, The Loiterer, while students at St John's College, Oxford… The Austen siblings grew up composing riddles, poems and charades to amuse one another."
These are not secret or agonised confessions entrusted to a private journal and for the writer's eyes alone
These notebooks were part of that tradition. "They are semi-public manuscripts intended for circulation and performance among family and friends," writes Sutherland. "Unlike many teenage writings (then and now), these are not secret or agonised confessions entrusted to a private journal and for the writer's eyes alone. Rather, they are stories to be shared and admired by an audience; most are accompanied by an elaborate dedication to a family member or friend, and they are filled with allusions to shared jokes and events."
Austen transcribed what people thought of Mansfield Park in this list (Credit: British Library)
The British Library display includes Austen's handwritten notes on what family and friends thought of her third novel, Mansfield Park. It's a fascinating document, revealing how much she cared about the opinions of others – and the humour she could bring to a list.
"When Mansfield Park was published, she didn't get a review, so this was a nice way for her to find out more about what people thought about it," Tuppen tells BBC Culture. "It is quite revealing she kept them and transcribed them all onto these sheets of paper – she could have just heard what people said and kept a mental note but instead she transcribes them all, and it then becomes a piece of writing of her own. Obviously she's interpreted what people have said, if it's something that's been said to her verbally, and therefore it's a nice example of her own writing as well. Some of them are so witty that you think there's something of Jane Austen in them, particularly when she talks about some of the more negative ones."
Austen's mother, Cassandra, didn't think Mansfield Park was as good as Pride & Prejudice and found the heroine, Fanny, "insipid", while a family friend, Augusta Brownstone, preferred it to Austen's other books, although she "imagined that might be her want of taste – as she does not understand wit".
Feisty women
The stories in the notebooks seem different from Austen's later work. "They are characterised by exaggerated sentiment and absurd adventures," writes Sutherland, and Tuppen argues that "they're racier than her later novels – there's murder and violence, which don't crop up in her later novels – she's obviously got these from the stories that she read, so she must have had access to some racy literature."
Common to all three notebooks is their portrayal of confident, wilful, even rebellious young women
Yet there are some overlaps. "Common to all three notebooks is their portrayal of confident, wilful, even rebellious young women: heroines like Charlotte Lutterell of 'Lesley Castle' (Volume the Second) and Catherine or Kitty… in the longer 'Kitty, or the Bower' in Volume the Third," writes Sutherland. "There is ample evidence that the same critical intelligence that created these satirical depictions of the conventions and stereotypes of late 18th-Century fiction… continued to work within the more realistic framework of her mature novels."
First drafts of books later published as Sense and Sensibility, Pride and Prejudice and Northanger Abbey were written soon after the last of the teenage notebooks. "It is not too fanciful to find traces of the strong-minded heroines of these early experiments in Elizabeth Bennet's unladylike energy ('crossing field after field at a quick pace, jumping over stiles and springing over puddles', Pride and Prejudice, ch. 7) and Emma Woodhouse's dangerously undisciplined imagination."
If you would like to comment on this story or anything else you have seen on BBC Culture, head over to our Facebook page or message us on Twitter.
This story is a part of BBC Britain – a series focused on exploring this extraordinary island, one story at a time. Readers outside of the UK can see every BBC Britain story by heading to the Britain homepage; you also can see our latest stories by following us on Facebook and Twitter.
And if you liked this story, sign up for the weekly bbc.com features newsletter, called "If You Only Read 6 Things This Week". A handpicked selection of stories from BBC Future, Earth, Culture, Capital, Travel and Autos, delivered to your inbox every Friday.