A knitter from Maryland made the headlines this week for his hobby: taking self-portraits dressed in jumpers that match the landscape. Kelly Grovier looks at his artistic precedents.
S
Some people yearn to stand out; others try desperately to blend in. A rare few individuals manage to do both at the same time. Sam Barsky is one of those. Since last weekend, the previously little-known knitter from Maryland has found himself suddenly in the headlines for his ability to stitch himself, quite literally, into his surroundings. Photos of Barsky wearing jumpers he has designed that feature the very location in which he's standing – from Stonehenge to Niagara Falls, from the Golden Gate Bridge in San Francisco, California, to London's Tower Bridge – have gone viral this week.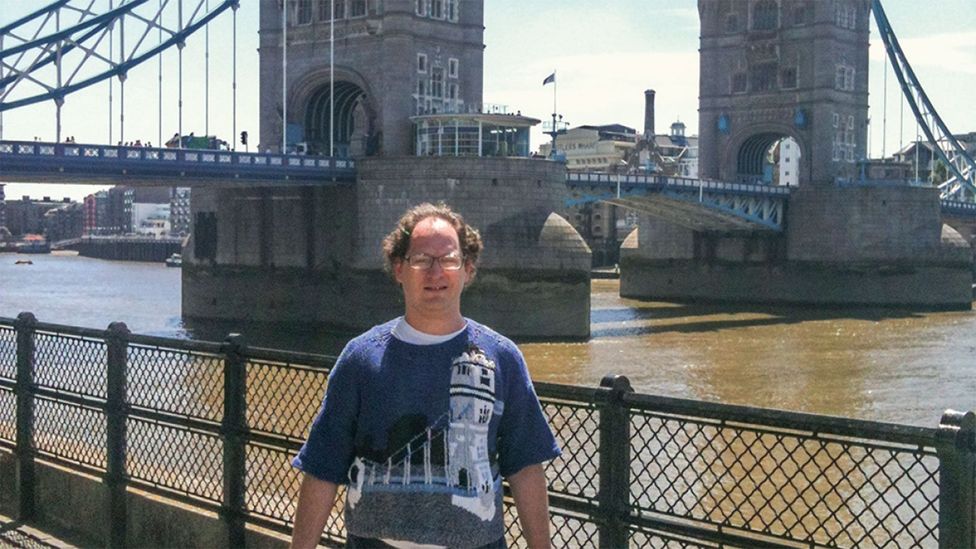 Sam Barsky knits jumpers of landmarks including Tower Bridge (pictured), Stonehenge and Times Square – and is photographed in those locations wearing them (Credit: Sam Barsky)
Barsky's compulsion to weave himself into the very fabric of his environment dates back to 1999 and a transitional moment in his life when, for health reasons, he abandoned plans to become a nurse. Encouraged by staff at a local yarn shop, Barsky soon elevated a mere restorative hobby into a fresh creative medium all his own. Soon, he was collecting photos of himself, now standing at an aquarium while sporting a knitted slither of anemones, now posing among a blush of blossoming cherry trees that appear to have spun themselves from the orchard we see stitched onto his chest.
For all its quirky originality, however, Barsky's curious sartorial art is deeply in accord not only with broader artistic themes of the age but with some of the most powerful instincts in all of art history. As a serial self-portraitist who blurs his being into the world around him, Barksy possesses imaginative urges that might be compared with those of the American photographer Cindy Sherman (best known for countless likenesses of herself disguised in historical and filmic costume) and with those of the contemporary sculptor Antony Gormley, who has installed innumerable cast-iron replicas of his own body in many urban and rural locations across Britain.
For an even more intriguing parallel with Barsky's aesthetic intuitions, one must summon that most celebrated selfieist of all – the 17th-Century Dutch master Rembrandt van Rijn. Creator of more than 80 images of his own countenance over the course of his life, Rembrandt chronicled not only the slow ripening of his face over five decades (from the 1620s to the 1660s), but also his preoccupation with seeing himself as part of the rich tapestry of cultural history.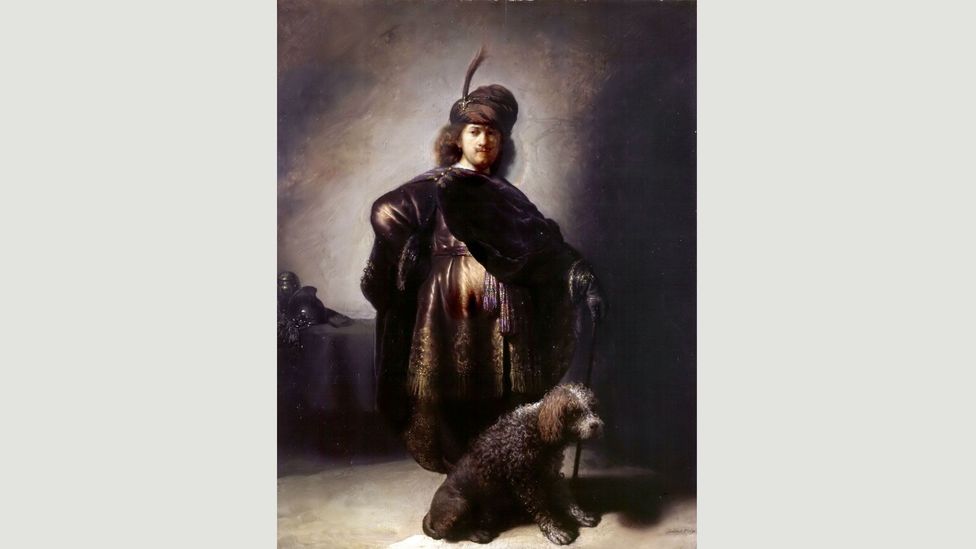 Dutch master Rembrandt van Rijn painted himself in different costumes, as in Self-portrait in Oriental Attire With Poodle (1631) (Credit: Wikimedia)
Likewise obsessed with the texture of textiles, Rembrandt was an incorrigible chameleon who wove his paint into luxurious disguise: from the opulence of oriental dress in one lavish painting from the 1630s, to the humbleness of apostolic garb in his vision of himself as St Paul in the last decade of his life. For Rembrandt, as for Barsky, art became a kind of second skin, a camouflage that made him feel more naturally at one with the universe around him.
If you would like to comment on this story or anything else you have seen on BBC Culture, head over to our Facebook page or message us on Twitter.
And if you liked this story, sign up for the weekly bbc.com features newsletter, called "If You Only Read 6 Things This Week". A handpicked selection of stories from BBC Future, Earth, Culture, Capital, Travel and Autos, delivered to your inbox every Friday.