A new book brings together Steve McCurry's photos of readers, spanning 30 countries. From a steelworks in Serbia to a classroom in Kashmir, they reveal the power of the printed word.
"Readers are seldom lonely or bored, because reading is a refuge and an enlightenment," writes Paul Theroux in the foreword to the new Phaidon book Steve McCurry: On Reading. "This wisdom is sometimes visible. It seems to me that there is always something luminous in the face of a person in the act of reading."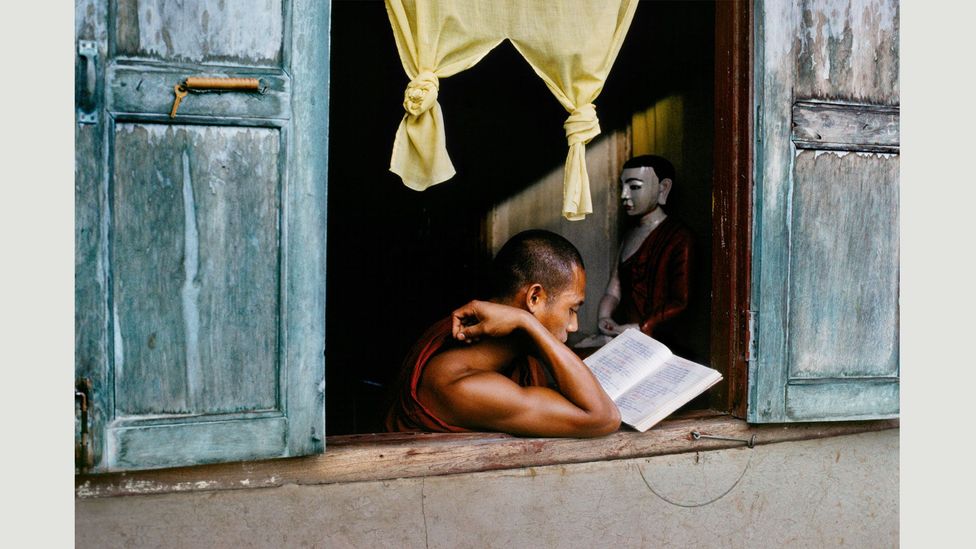 Myanmar, 1994 (Credit: Steve McCurry/Magnum Photos)
That luminosity appears throughout the book, whether in the bowed head of a woman at a museum in Italy or the intent expression of a street vendor in Kabul. Over the past 40 years, the Magnum photographer has amassed a collection of images showing people engrossed in the printed word.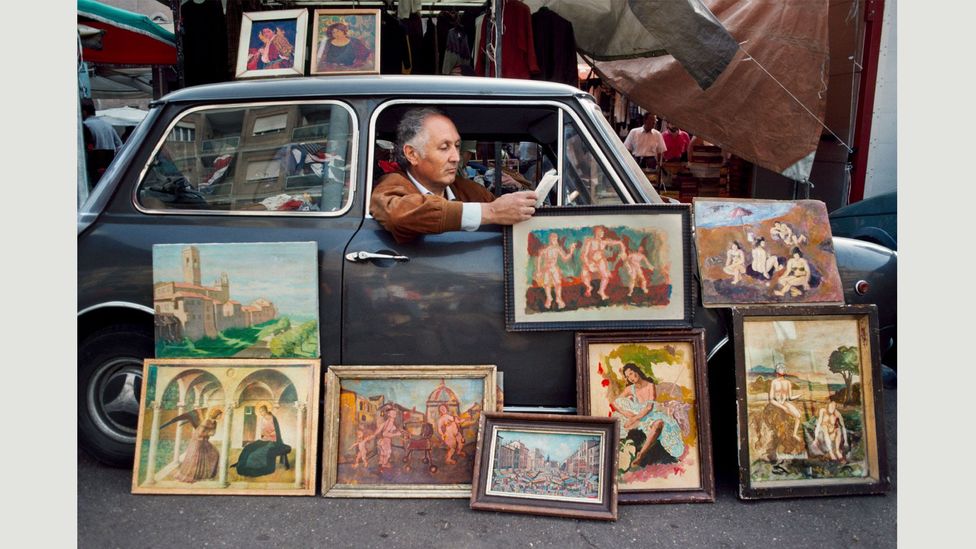 Rome, Italy, 1984 (Credit: Steve McCurry/Magnum Photos)
Some are more casual, like the man in front of a flaming furnace, clutching a newspaper in one hand and a cigarette in the other; others appear entranced, seemingly unaware of a pair of giant skeleton legs or an elephant leaning against them. All are temporarily transported to a different place.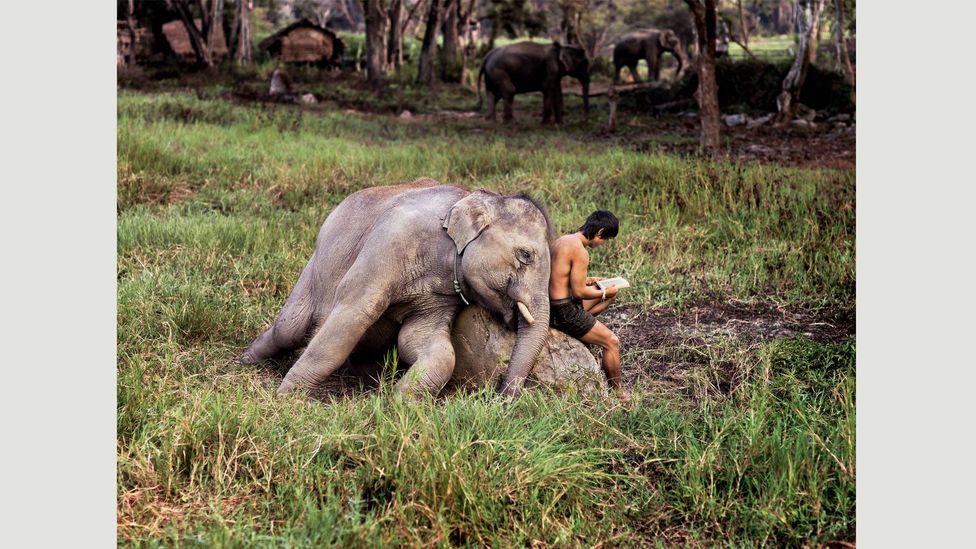 Chiang Mai, Thailand, 2010 (Credit: Steve McCurry/Magnum Photos)
McCurry was inspired by a great Hungarian pioneer. "I met the legendary photographer André Kertész shortly after I moved to New York in my early thirties," says Steve McCurry in the book's introduction. "Some of his most intriguing pictures were photographs of people reading. They were taken over a 50-year period, and were collected in his book On Reading, published in 1971." McCurry's new book is, he argues, "my homage to Kertész's talent, his influence, and his genius".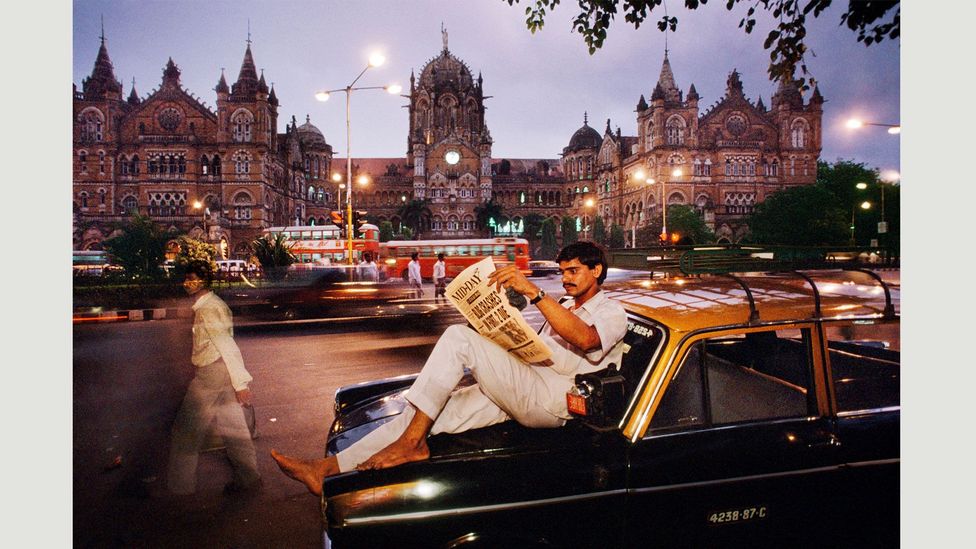 Mumbai, India, 1996 (Credit: Steve McCurry/Magnum Photos)
In the 1973 book Looking at Photographs, the Museum of Modern Art photography curator John Szarkowski wrote that "Kertész had never been much interested in deliberate, analytical description; since he had begun photographing in 1912 he had sought the revolution of the elliptical view, the unexpected detail, the ephemeral moment – not the epic but the lyric truth."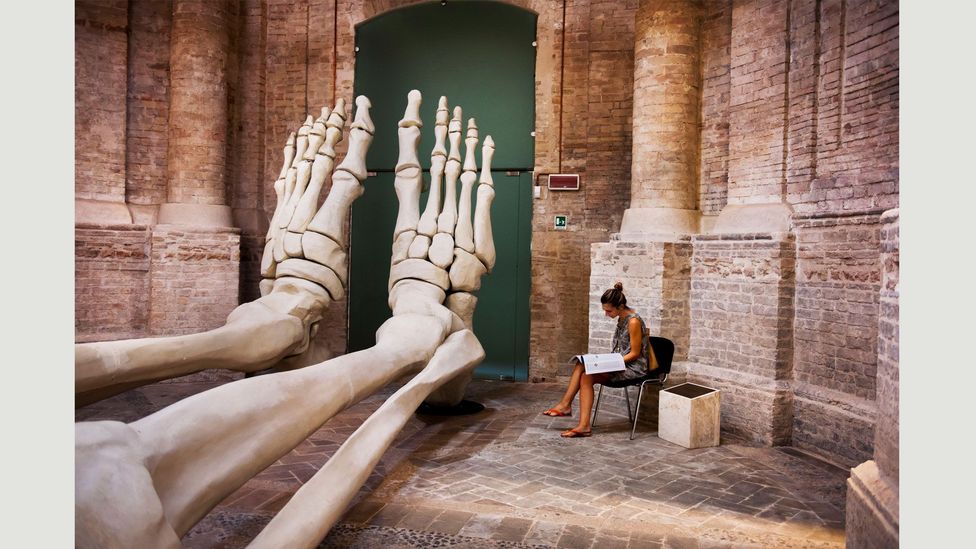 Umbria, Italy, 2012 (Credit: Steve McCurry/Magnum Photos)
McCurry's photos are made up of those moments, glimpses of people absorbed in the written word, many unaware they were being photographed. The Swiss poet, novelist and painter Hermann Hesse gave an insightful description of what can be an all-consuming experience in his 1920 essay On Reading Books. "At the hour when our imagination and our ability to associate are at their height, we really no longer read what is printed on the paper but swim in a stream of impulses and inspirations that reach us from what we are reading."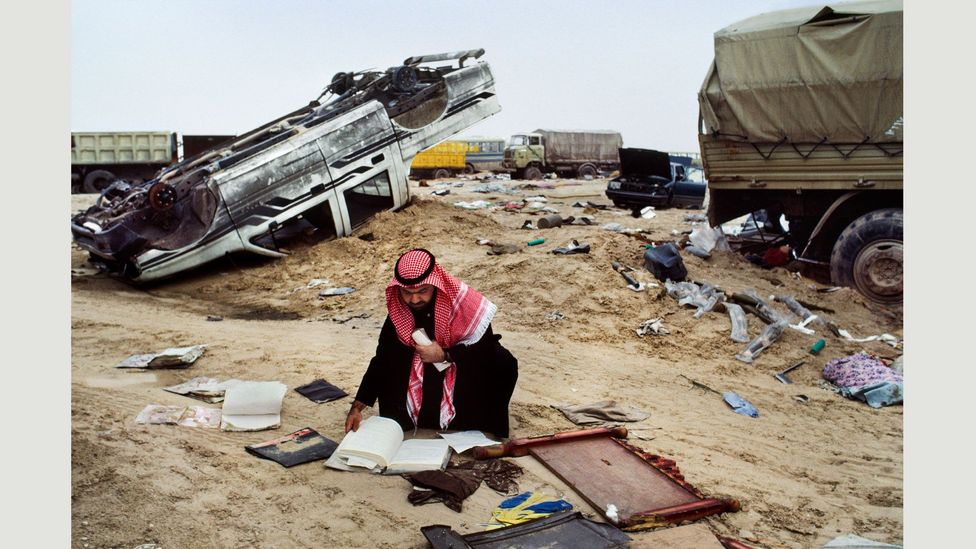 Kuwait, 1991 (Credit: Steve McCurry/Magnum Photos)
The photos in On Reading reveal something that both takes us out of the world and helps us learn more about it. On her Brain Pickings blog, Maria Popova describes the different roles of reading. "For Kafka, books were 'the axe for the frozen sea within us'; for Carl Sagan, 'proof that humans are capable of working magic'; for James Baldwin, a way to change our destiny; for Neil Gaiman, the vehicle for the deepest human truths; for Polish Nobel laureate Wislawa Szymborska, our ultimate frontier of freedom." Galileo, she argues, "saw reading as a way of having superhuman powers".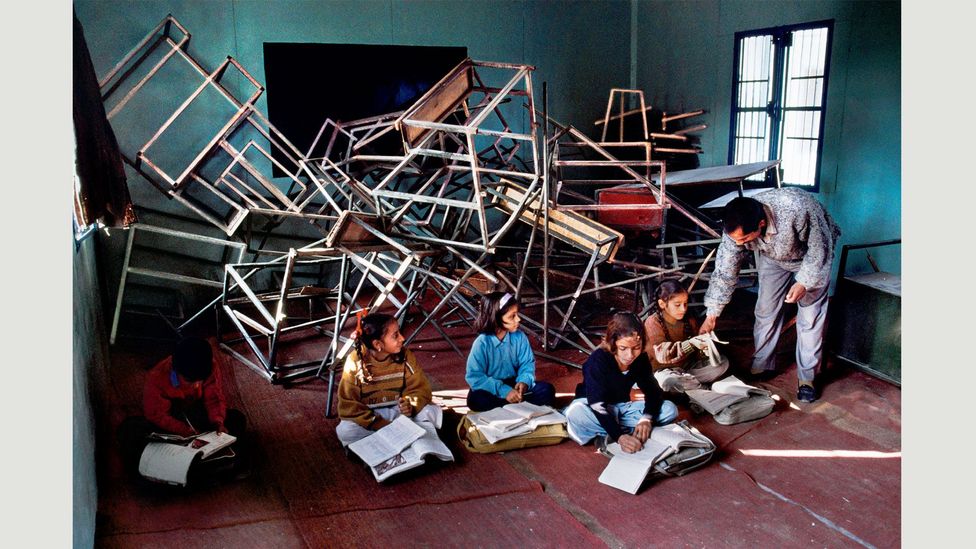 Kashmir, 1998 (Credit: Steve McCurry/Magnum Photos)
In his foreword to On Reading, Theroux recounts how reading the work of Baldwin, as well as writers such as Langston Hughes and Zora Neale Hurston, changed his view of the world. "The way a reader is admitted to the inner life of a fictional character meant everything to me, and shaped my sensibility, and gave me some understanding of racial conflict in American life."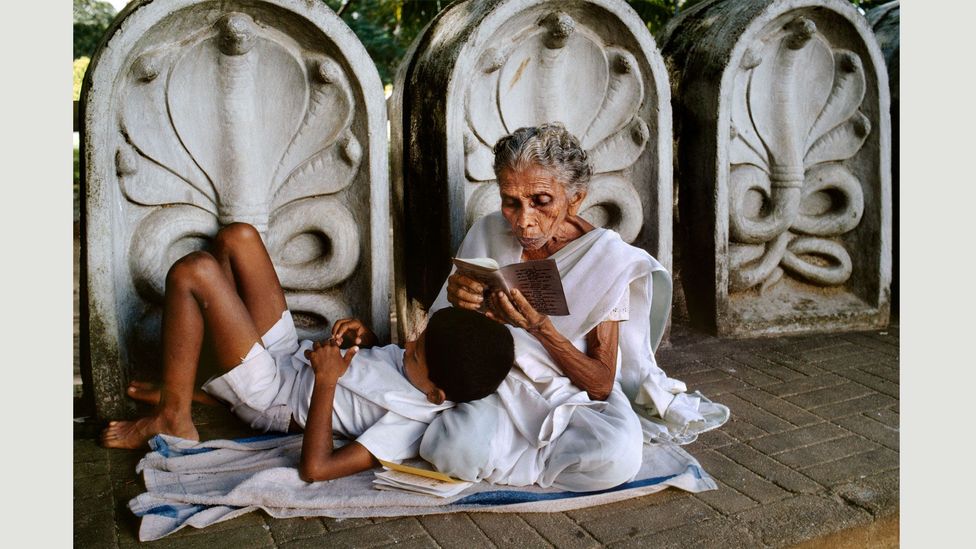 Sri Lanka, 1995 (Credit: Steve McCurry/Magnum Photos)
In this image, McCurry captured a woman reading to her grandson outside a temple. Theroux reveals when he first became a reader. "Most readers can trace their love of books to listening to stories. My father read Treasure Island to my brothers and me at bedtime; my mother read us The Five Chinese Brothers, the Snipp, Snapp Snurr series, Sonny Elephant and the many Dr Seuss books… My interest in the wider world was stimulated early."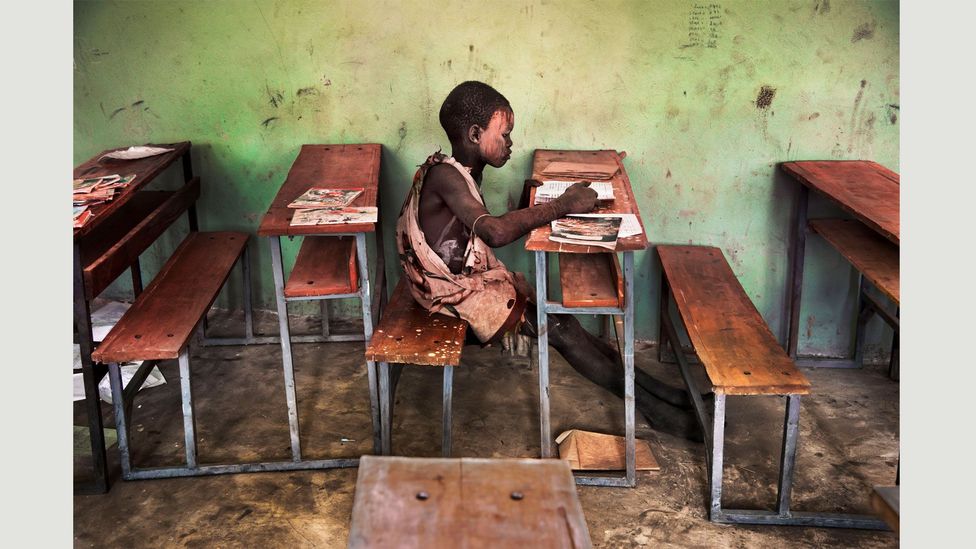 Suri Tribe, Tulget, Omo Valley, Ethiopia, 2013 (Credit: Steve McCurry/Magnum Photos)
Hesse encapsulated the transformative nature of reading in his 1930 essay The Magic of the Book: "Among the many worlds that man did not receive as a gift from nature but created out of his own mind, the world of books is the greatest… Without the word, without the writing of books, there is no history, there is no concept of humanity. And if anyone wants to try to enclose in a small space, in a single house or a single room, the history of the human spirit and to make it his own, he can only do this in the form of a collection of books."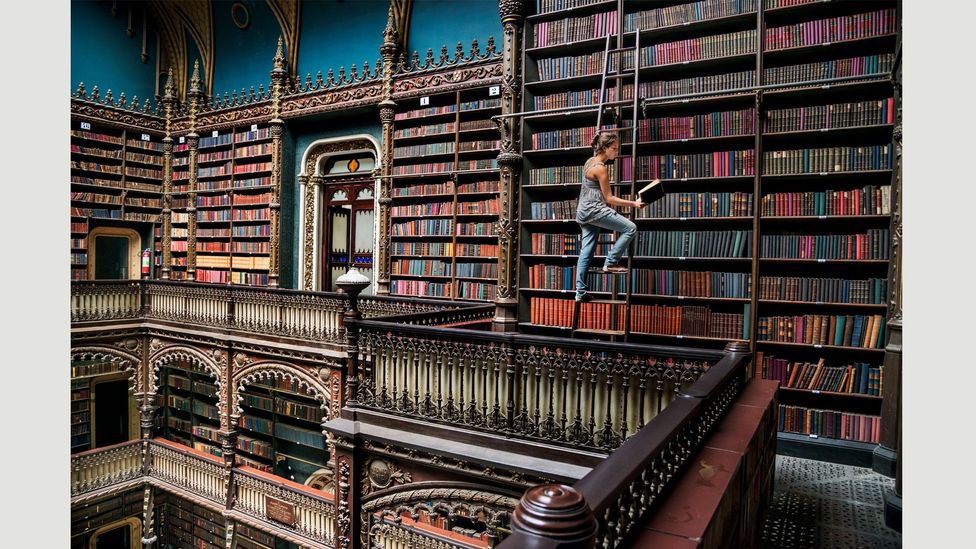 Real Gabinete Português de Leitura, Rio de Janeiro, Brazil, 2014 (Credit: Steve McCurry/Magnum Photos)
"With all peoples the word and writing are holy and magical," wrote Hesse. "Naming and writing were originally magical operations, magical conquests of nature through the spirit, and everywhere the gift of writing was thought to be of divine origin. With most peoples, writing and reading were secret and holy arts reserved for the priesthood alone."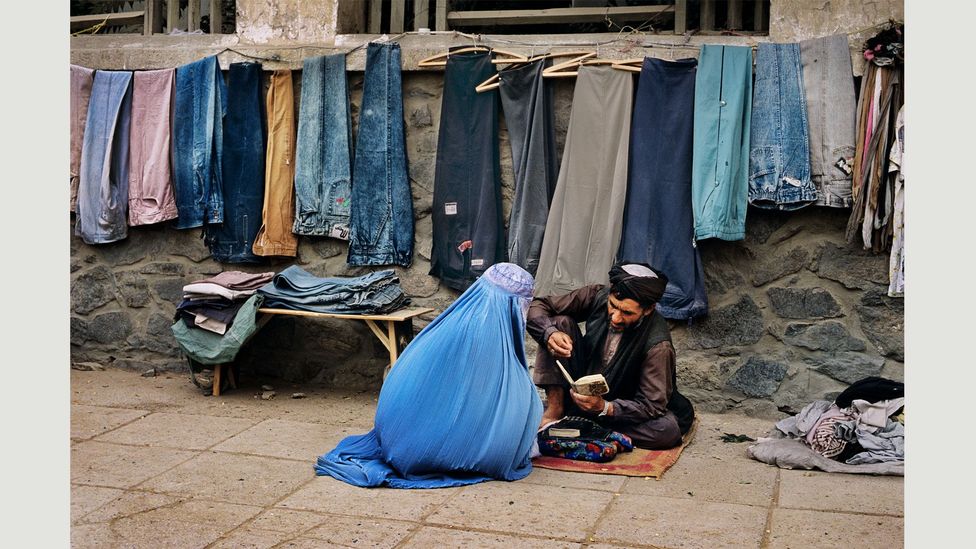 Kabul, Afghanistan, 2002 (Credit: Steve McCurry/Magnum Photos)
Theroux describes the nature of that magic in his foreword. "A great part of the appeal of reading fiction is the discovery that the reader knows much more of the inner life of the characters in the book than of his or her own family members or friends. The intensity of the reading experience, impossible to communicate to a non-reader, is why fictional characters seem real, exemplary, tragic, comic and accessible… The great books cast a spell, admitting the reader to a world sometimes exemplary, like the Polynesian Eden of Melville's Typee, or to the English dystopia of Orwell's 1984."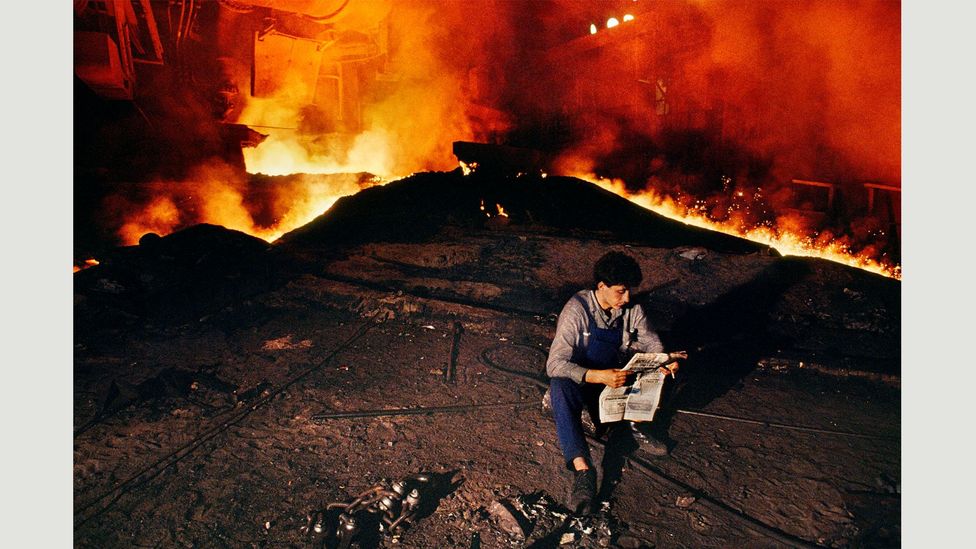 MKS Steelworks, Serbia, Yugoslavia, 1989 (Credit: Steve McCurry/Magnum Photos)
McCurry's photos, claims Theroux, "are visual proof of much of what I have written: the self-possession of the reader, the luminous gaze, the notion of solitude, the relaxed posture, the singularity of effort, the sense of discovery and a suggestion of joy".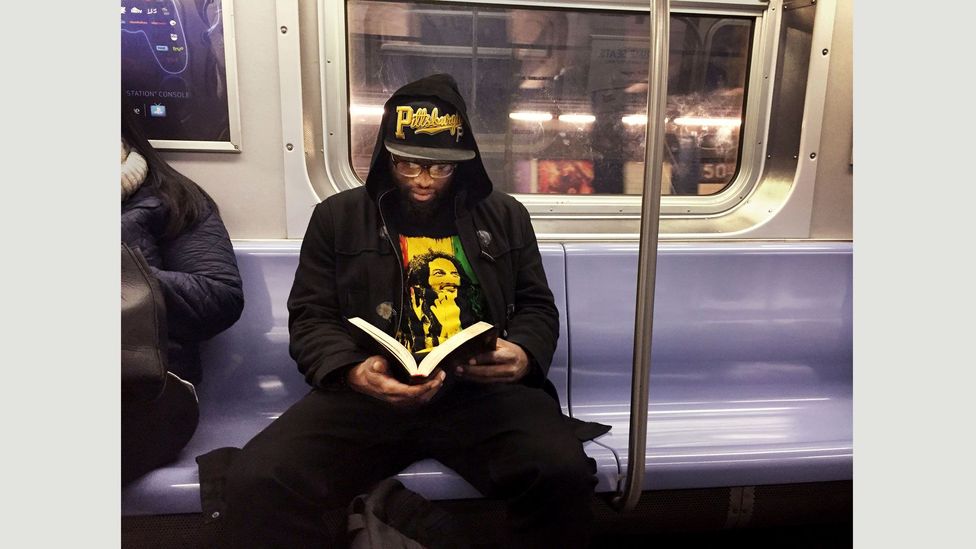 New York City, USA, 2015 (Credit: Steve McCurry/Magnum Photos)
They are also a reminder that many people around the world still choose the printed word over a smartphone. Back in 1930, Hesse argued that "We need not fear a future elimination of the book. On the contrary, the more that certain needs for entertainment and education are satisfied through other inventions, the more the book will win back in dignity and authority. For even the most childish intoxication with progress will soon be forced to recognise that writing and books have a function that is eternal."
Kuwait, 1991 (Credit: Steve McCurry)

Hesse concluded: "It will become evident that formulation in words and the handing on of these formulations through writing are not only important aids but actually the only means by which humanity can have a history and a continuing consciousness of itself."

If you would like to comment on this story or anything else you have seen on BBC Culture, head over to our Facebook page or message us on Twitter.

And if you liked this story, sign up for the weekly bbc.com features newsletter, called "If You Only Read 6 Things This Week". A handpicked selection of stories from BBC Future, Earth, Culture, Capital, Travel and Autos, delivered to your inbox every Friday.

;