Drawing and painting can be acts of personal expression for prisoners awaiting execution. And the works can ask fundamental questions about what it means to be alive, writes Geraldine Cremin.
M
Making art can be a kind of escape, and it's hard to think of a place that begs louder for escape than death row. For inmates facing the death penalty, art offers a way to define their own identity and assert their existence to an audience far beyond the confines of their cell and long after their execution.
The relationship between prison and creative pursuit is long and strong
Almost two years after he was put to death, Myuran Sukumaran is the headline artist at the exhibition Another Day in Paradise, currently showing in his hometown of Sydney, Australia.  Sukumaran's paintings – mostly portraits – were created in his final few years in Bali's Keroboken jail, where he was incarcerated following his 2005 arrest for his role in the drug trafficking group that came to be known as the Bali Nine.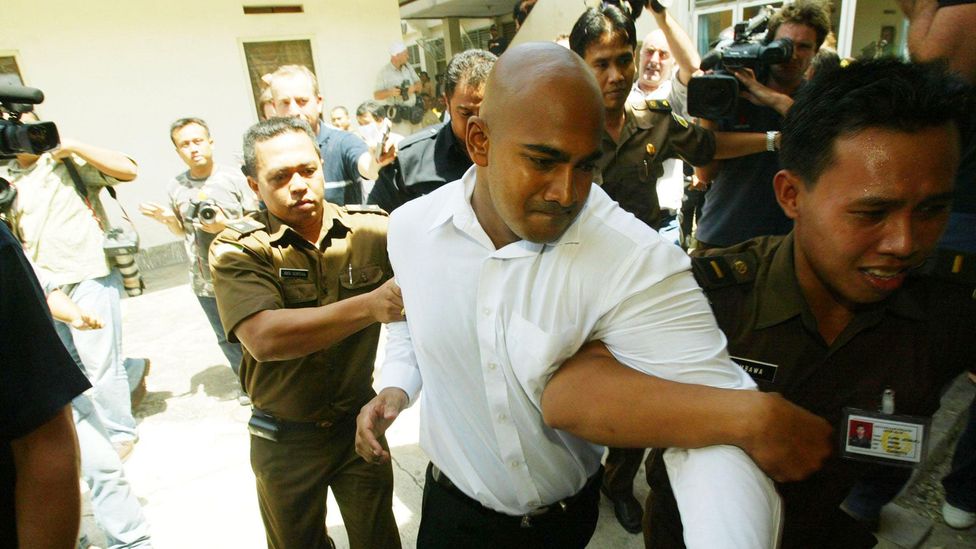 Myurun Sukumaran was arrested as part of the Bali 9 drug ring in 2005 – he was convicted and sentenced to death (Credit: Alamy)
The relationship between prison and creative pursuit is long and strong. Writing has historically been the go-to creative outlet for prisoners, as it can be achieved with minimal resources and the product can be hidden or secreted in and out of cells. Aleksandr Solzhenitsyn wrote The Gulag Archipelago from the forced labour camps of the former Soviet Union. Martin Luther King Jr wrote his Letter from Birmingham Jail while incarcerated in Alabama. And, in a sign of how art and form evolve with time,  US rapper Gucci Mane even recorded some verses of his 2010 album Burrprint 2 over the phone from prison.
If art supplies aren't available inmates can make paint from crushed sweets or instant coffee
In prisons in the US, Europe and Australia, visual art classes and resources are now available to more inmates than ever before. These programmes have been shown to have a positive influence on the immediate and long-term behaviour of prisoners – though often the resources allocated to them are scarce. When these aren't available, innovation often prevails, with paints made from crushed sweets or instant coffee.
Personal statement
The criminal justice system can be dehumanising; the courts and the media often create a narrative that does not align with a prisoner's idea of their actions or identity. Art can offer a corrective. Margot Ravenscroft is the Director of Amicus, an organisation focused on fair trials and other legal issues around capital punishment in the US. Her organisation often receives art from prisoners on death row. She says art is one of the only ways inmates can express themselves from prison.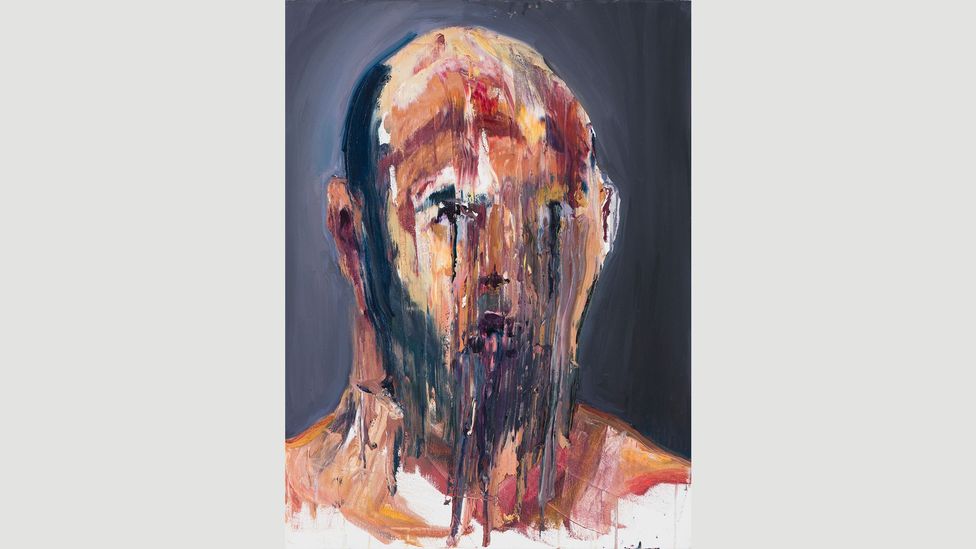 Sukumaran's work, largely consisting of self-portraits, gives a sense of the psychological toll of long-term imprisonment (Credit: Brenton McGauchie)
"Generally, but more extremely on death row, part of the incarceration process involves stripping away your identity as a human being," Ravenscroft says. "The expression of art is a way of redressing that dehumanisation and identifying yourself as an individual and as a member of society."
Myuran Sukumaran's self-portraits do exactly that. Through them, he shows us 'Myu', a sincere young man totally at odds with the intimidating martial arts expert who lunged at photographers on the day his death sentence was first handed down in 2006. "Myuran forced us to see him for who he was," says Ben Quilty, Sukumaran's mentor and an award-winning Australian artist whose acclaimed body of work is a relentless interrogation of masculinity and self-identity.
Sukumaran contacted Quilty in 2013 seeking advice on painting technique. Taken by Sukumaran's curiosity and dedication to his practice, Quilty became a mentor and ultimately a close friend to Sukumaran during the last four years of the prisoner's life.
Most of the artworks that come out of death row in the US show a longing for the outside world
The real Myuran, according to Quilty, was humble and reflective and completely devoted to his art practice. It's that devotion that makes Sukumaran's work stand on its own as good art, regardless of its origin. "He was on a mission to find a calling," Quilty says. "I think he carried the guilt of what he did to his family every single waking moment of his life. Finding his calling was going to give him the opportunity to make his family proud."
Sukumaran was also driven by what Quilty calls "a strong, masculine desire" to leave his mark. "Myuran was very aware that he created a body of work that would go on beyond his physical body. He went to his execution knowing that he had created a visual language that would speak out against the barbarism of the death penalty around the world."
Seen through bars
Prisoners on death row in the US often live in isolation for years and their art practice becomes a lifeline to the outside world. Most of the artworks that come out of death row there show a longing for the outside world; animals, landscapes, wide open spaces that provide an antidote to the solitary confinement most death row prisoners live in for 23 hours a day.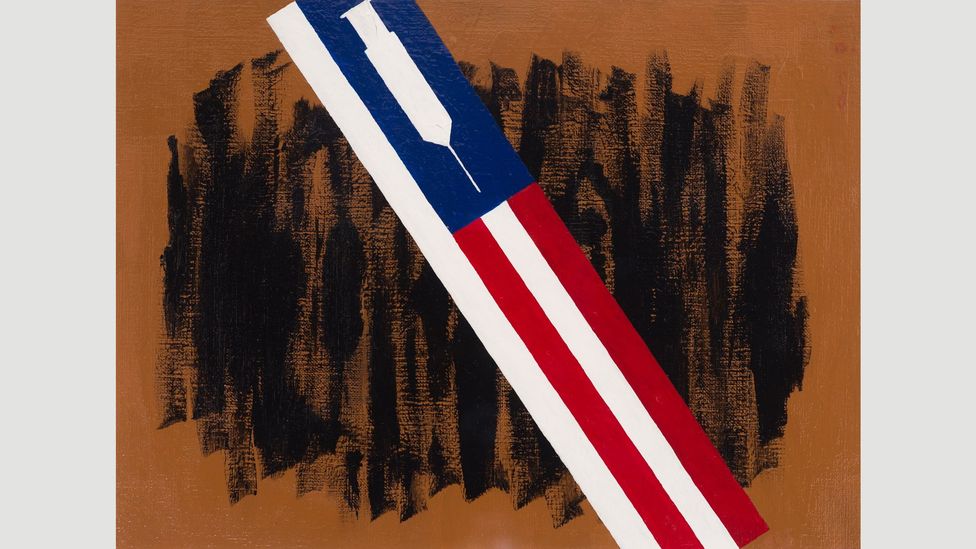 Kenneth Reams has been in prison in Arkansas since 1993, most of that time on death row – his art examines the death penalty head-on (Credit: Kenneth Reams)
But some of the break-through artworks take the opposite approach, tackling the artists' predicament and preoccupations head on.Art and activism often go hand in hand and art from death row naturally speaks to sensitive socio-political issues.
Kenneth Reams is currently awaiting execution in Arkansas for his part in the shooting murder of Gary Turner in 1993 – though it is undisputed that Reams, who was 18 years old at the time of his crime, was not the gunman in the incident. Over his 23 years on death row, Reams has become a prolific artist and poet.Each of his works reacts to a specific capital punishment issue or case. His drawings and paintings show thick prison bars, nooses, bullets and electric chairs.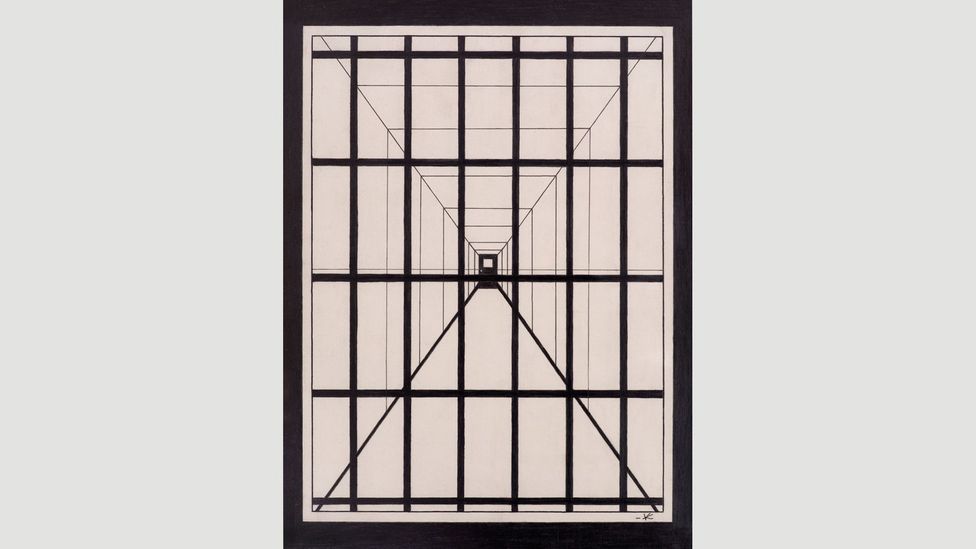 Reams directly addresses capital punishment yet in a deliberately abstract way, such as in this painting titled The Long Mile (Credit: Kenneth Reams)
In November 2014 Reams wrote to a supporter about his aim to employ art as a means to educate society about the death penalty in America, "in a fresh new way". "I am locked in a small cell pretty much 24 hours a day and a big world exist[s] on the outside of my small box," he wrote. "However, from my small box, I will [affect] the world with my work if I am given enough time." 
Running out of time
At the exhibition of Sukumaran's work in Sydney, a collection titled 72 Hours fills one wall of the gallery.
He said he'd created his best art in his final three days
Over Sukumaran's 10-year imprisonment in Indonesia, he exhausted all prospects of appeal. On 5 March 2015 Sukumaran was transferred from Kerobokan prison to Nusa Kambangan, or 'execution island'. On 25 April 2015 Indonesian authorities delivered Sukumaran an obligatory 72 hours' notice of execution. He painted furiously until his final moments.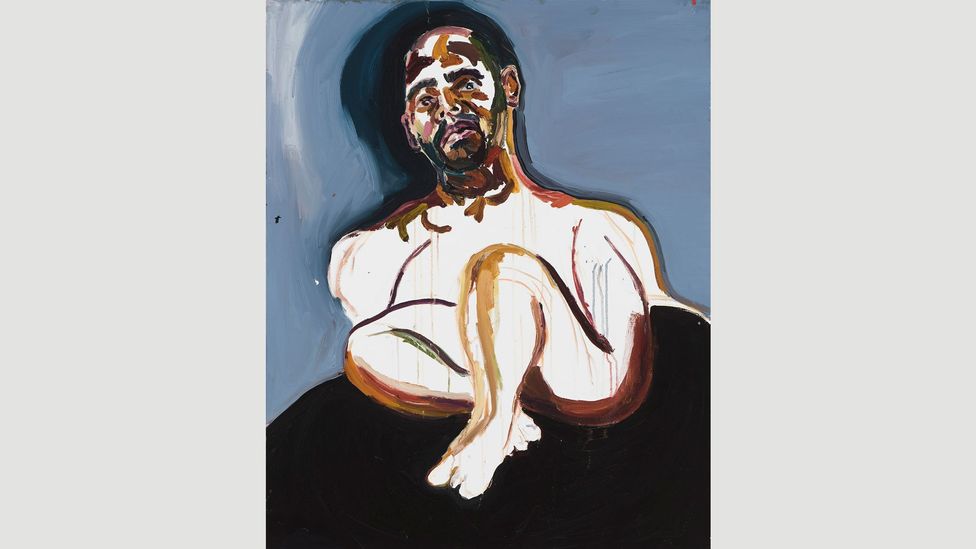 As Sukumaran approached the date of his execution his work depicted himself in a contorted fashion that recalls Francis Bacon (Credit: Brenton McGauchie)
The number and quality of paintings Sukumaran created in his final three days show restless defiance. Quilty says, "I think he just really wanted to communicate this last desperate thing; to put something in the face of [Indonesian president Joko Widodo] and the Indonesian authorities and say, 'I'm alive and I'm human.'"
The titles of the 12 paintings in this collection narrate a torrent of emotions: 72 Hours Just Started, Time is Ticking, Falling Apart. His self-portraits become quite uncomfortable to look at as he introduces cramped and distorted arms and legs. Quilty says the limbs are a nod to the Anglo-Irish painter Francis Bacon, whose work Sukumaran was studying at the time. But Sukumaran's twisted compositions also show a man jammed into the confines of his canvas, or perhaps desperately balling himself up for a return to the womb. 
The last 72 hours of Sukumaran's life were a flurry of painting until he was executed by firing squad on 29 April 2015 (Credit: Brenton McGauchie)
In any event, the deviation from his usual practice in those final 72 hours shows an optimism and ambition that is typical of Sukumaran's work since he first picked up the paintbrush in 2013.
"I've never seen anyone progress like Myuran," Quilty says. "He worked really hard that whole time, but then in the last 72 hours he created these." In Sukumaran's final call to his mentor, he told Quilty that he had made the best art of his life in his final three days and asked, "Imagine if I'd had a couple more years?"
If you would like to comment on this story or anything else you have seen on BBC Culture, head over to our Facebook page or message us on Twitter.
And if you liked this story, sign up for the weekly bbc.com features newsletter, called "If You Only Read 6 Things This Week". A handpicked selection of stories from BBC Future, Earth, Culture, Capital, Travel and Autos, delivered to your inbox every Friday.