When the British artist David Hockney arrived in LA in 1963, he fell in love. The city – and its swimming pools – would become his greatest subject, writes Alastair Sooke.
O
One day in January 1964, when he was still only 26 years old, David Hockney, the Wunderkind of post-war British painting, found himself sitting on a beach in California. It was 24C (76F) and he couldn't believe his luck. Revelling in the sun and sand, he decided to send a postcard to his friend and dealer, John Kasmin, in chilly, grey-skied Britain.
"Arrived in the promised land 2 days ago," he wrote on the back of a card that reproduced the slogan "Greetings from California 'Playground of the Nation'", as well as enticing images of fresh oranges and a Pacific beach swarming with bronzed sun-worshippers. "The world's most beautiful city is here – LA… You must come."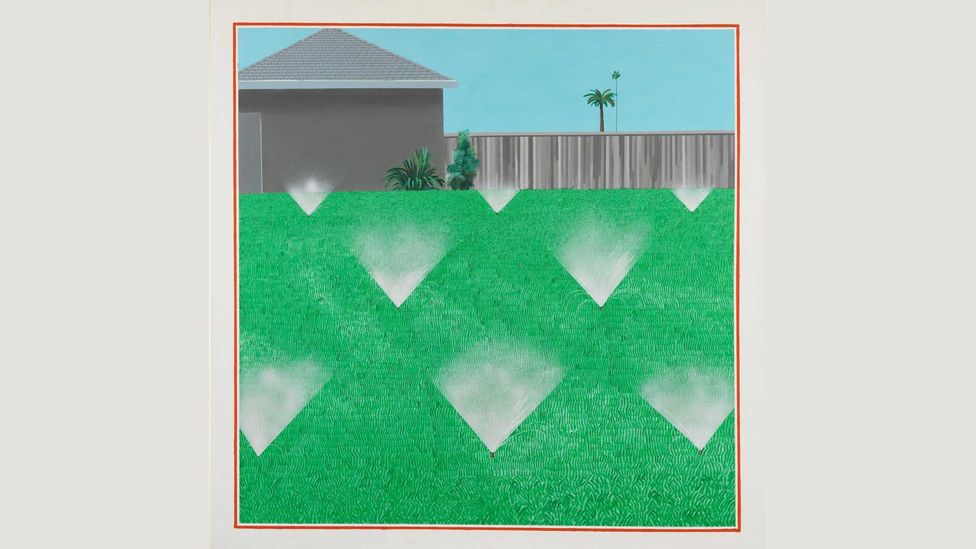 The darkness of Hockney's earlier works were replaced with sunny optimism in LA (Credit: David Hockney / Richard Schmidt)
"California, for Hockney, was everything that England wasn't," explains Andrew Wilson, co-curator of Tate Britain's new retrospective of the artist's work. The most extensive overview of Hockney's career to date, it will then travel to the Centre Pompidou in Paris and the Metropolitan Museum of Art in New York. "California was a place of fantasy for him," Wilson continues, "and he found a way to live it. He still loves the high-keyed colours, the light, the sensuousness and sexiness of California."
By 1964, Hockney had been in love with Los Angeles – or, rather, the intoxicating idea of it – for a long time. Growing up in Bradford in Yorkshire, the fourth of five children in what he called "a radical working-class family", he was bewitched by the flickering spell of cinema, which offered escape from his humdrum surroundings. And the 'Dream Factory' of Hollywood was, of course, the centre of America's film industry.
Hockney recognised that LA was uncharted territory that he could conquer as a painter
Moreover, as a gay man, Hockney was a fan of the cult magazine Physique Pictorial, which was also produced in Los Angeles. As a student at London's Royal College of Art (RCA), he used this beefcake magazine as a source for paintings – and he continued to plunder it for imagery throughout the 1960s. Domestic Scene, Los Angeles (1963), for instance, which Hockney painted before he'd visited the city, was based on a picture from the magazine.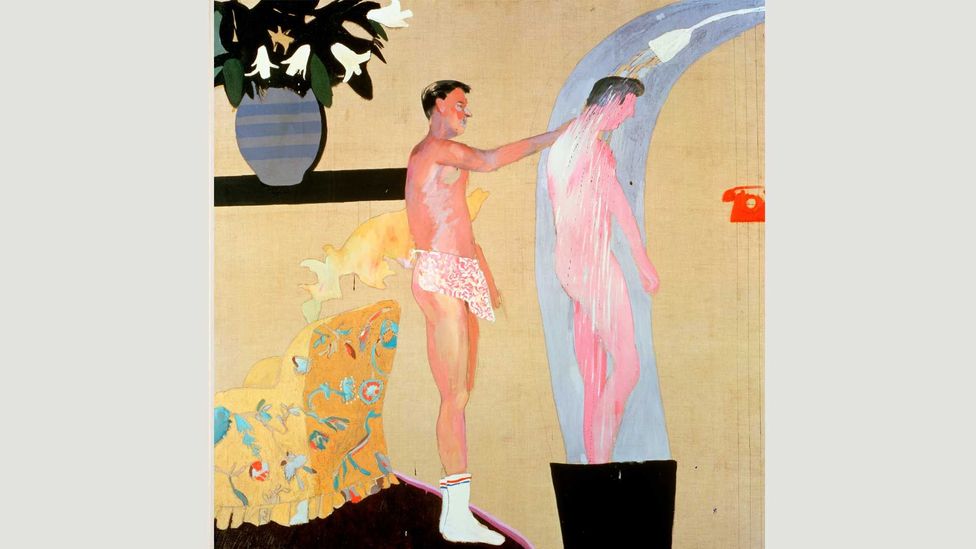 Hockney based his Domestic Scene, Los Angeles (1963) on a picture from the gay magazine Physique Pictorial (Credit: David Hockney)
So, when, in 1963, a year after he had graduated from the RCA with a gold medal, Hockney's first solo exhibition at Kasmin's gallery sold out, he decided to spend some of his earnings on a trip to the US. And top of his list of destinations was the 'promised land' of California – in particular, LA.
"I instinctively knew I was going to like it," he recalled later. "And as I flew over San Bernardino and saw the swimming pools and the houses and everything and the sun, I was more thrilled than I have ever been in arriving in any city."
Making a splash
Almost immediately, Hockney – who, arguably, has done more than any artist to fashion LA's visual identity – sensed an opportunity: he recognised that the city was uncharted territory that he could conquer as a painter.
"There were no paintings of Los Angeles," he once explained. "People then didn't even know what it looked like. And when I was there, they were still finishing up some of the freeways. I remember seeing, within the first week, a ramp of freeway going into the air, and I suddenly thought: 'My God, this place needs its Piranesi [the 18th-Century Italian artist who executed countless views of Rome]; Los Angeles could have a Piranesi, so here I am!"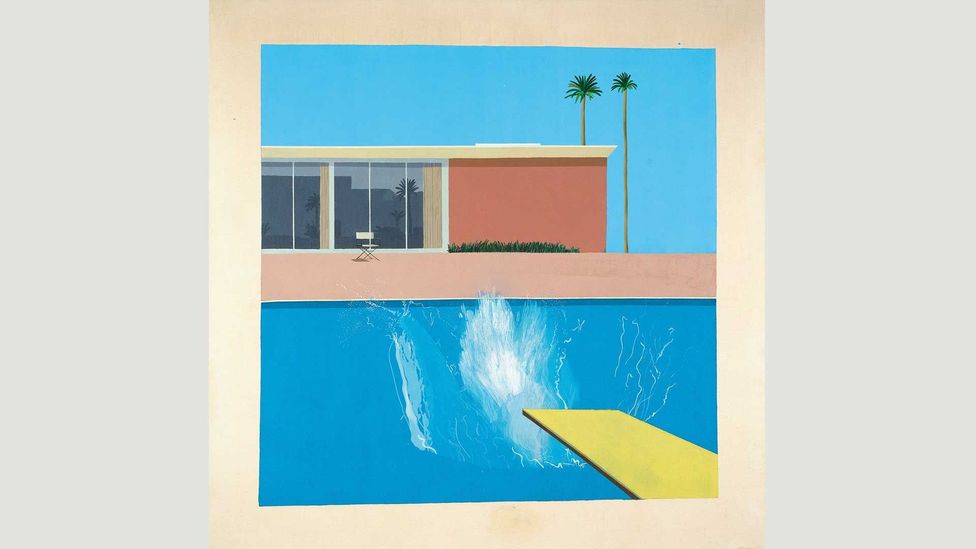 Hockney's most famous paintings of Los Angeles, such as A Bigger Splash, depict a commonplace aspect of the city: private swimming pools (Credit: David Hockney)
Of course, Hockney's most famous paintings of Los Angeles don't depict freeways at all, but rather another commonplace aspect of the city, which became his greatest subject: private swimming pools.
To a young artist who had grown up in Britain during World War Two, experiencing deprivation and the austerities of rationing, LA's swimming pools must have seemed almost impossibly luxurious and exotic. "The swimming pool," says Wilson, "quickly became his sign for California."
The first pool painting that Hockney made was California Art Collector (1964). Inspired by visits to the chic homes of collectors on the West Coast, it depicts a fashionable woman in her garden, beside an ancient carving and a sculpture by William Turnbull. Above her is a canopy that Hockney modelled upon a structure in Piero della Francesca's Nativity (1470-75), in the National Gallery in London.
At first glance, the canopy looks like a piece of glass-walled modern architecture – and this, I suspect, was deliberate: Hockney surely wanted to tweak Francis Bacon's notoriously doom-laden pictures, with their screaming figures imprisoned in glass boxes. Darkness and angst is, here, dispelled by sparkling Californian sunshine – rendered, by Hockney, in vivid, fresh acrylics. Optimism has replaced despair.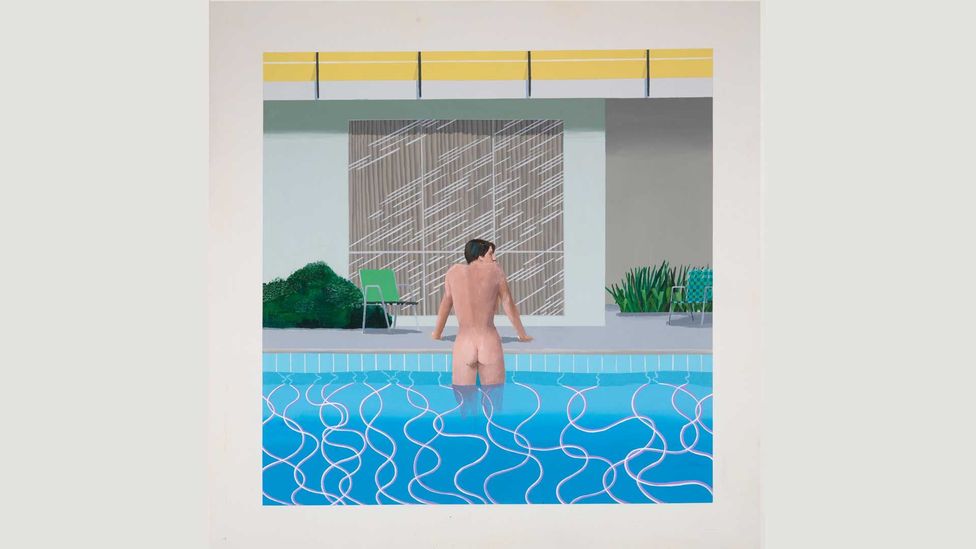 Peter Getting Out of Nick's Pool (1966) is one of a series of swimming pool paintings Hockney made as a visitor to LA in the mid '60s (Credit: David Hockney / Richard Schmidt)
And, there, in the background, as if promising to lead us up to heaven, a fantastical rainbow arches in the direction of a distant swimming pool, overshadowed by palm trees. Hockney based it upon an advertisement for swimming pools that he had spotted in the Los Angeles Times.
Before long, of course, swimming pools had ventured from a corner of Hockney's vision to occupy centre stage. After returning to the UK later that year, he completed Picture of a Hollywood Swimming Pool, from a drawing. In 1965, he was back in LA, and as he spent more time there, during the second half of the '60s (eventually, in 1978, he decided to make the city his permanent home), so swimming pools began to feature more prominently in his work, in paintings such as Peter Getting Out of Nick's Pool (1966), Sunbather (1966), and, most famously of all, A Bigger Splash (1967) – the last of a sequence of three paintings on the same theme.
Swimming pools represent hedonism, sexual freedom, and joie de vivre
While Hockney's most iconic pool paintings date from the '60s and early '70s – Portrait of an Artist (Pool with Two Figures), for instance, was painted in 1972 – Wilson points out that, in fact, he never left the subject entirely behind. A series of semi-abstract paper-pulp paintings, known as the Paper Pools, dates from the late Seventies. Tate's exhibition, meanwhile, features Gregory Swimming, Los Angeles, March 31st 1982, one of Hockney's composite photographic works, consisting of 120 Polaroids arranged in a rectangular grid.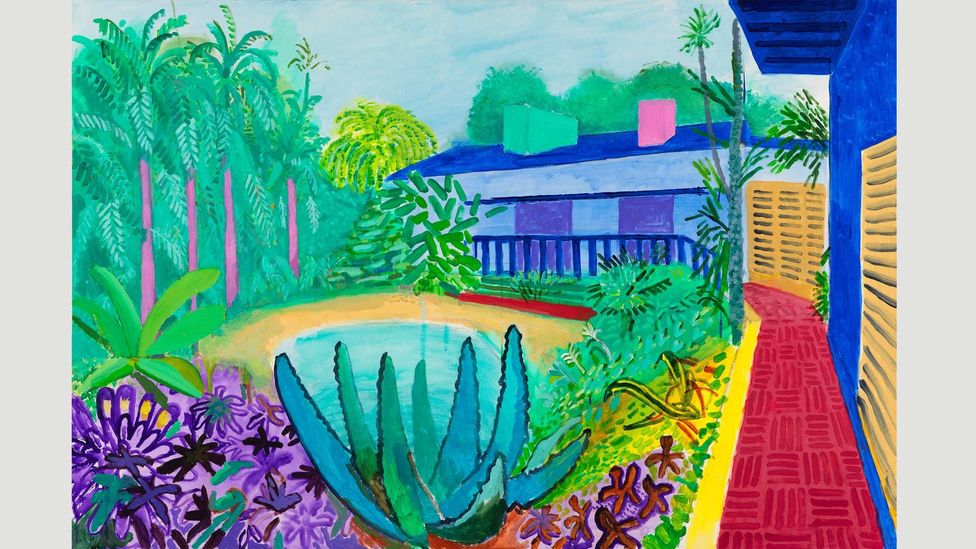 One of the last rooms of Tate's exhibition contains pictures by Hockney of his garden in LA, painted in recent years (Credit: David Hockney / Richard Schmidt)
Moreover, the last room of the show contains recent paintings by Hockney of his garden in LA. "And," says Wilson, "one of the main features of his garden is the swimming pool. So, you could say that painting swimming pools spans the whole of his career, since his arrival in LA in '64."
Hidden depths?
One of the most striking things about Hockney's pool paintings is the way in which, consistently, they stand apart from the dominant tradition, in other art forms, of depicting Los Angeles in a sinister fashion (think of, say, Raymond Chandler's literary noir, or Roman Polanski's 1974 thriller, Chinatown). Swimming pools, in Hockney's world, represent hedonism, sexual freedom, and straightforward joie de vivre.
"To Hockney, LA wasn't a seedy, gritty, dark, noir-ish place," says Wilson. "It was a world of plenty that was absolutely 'other' to the world he knew in London or Bradford. When he wrote that postcard to Kasmin, about the 'promised land', he wasn't being ironic."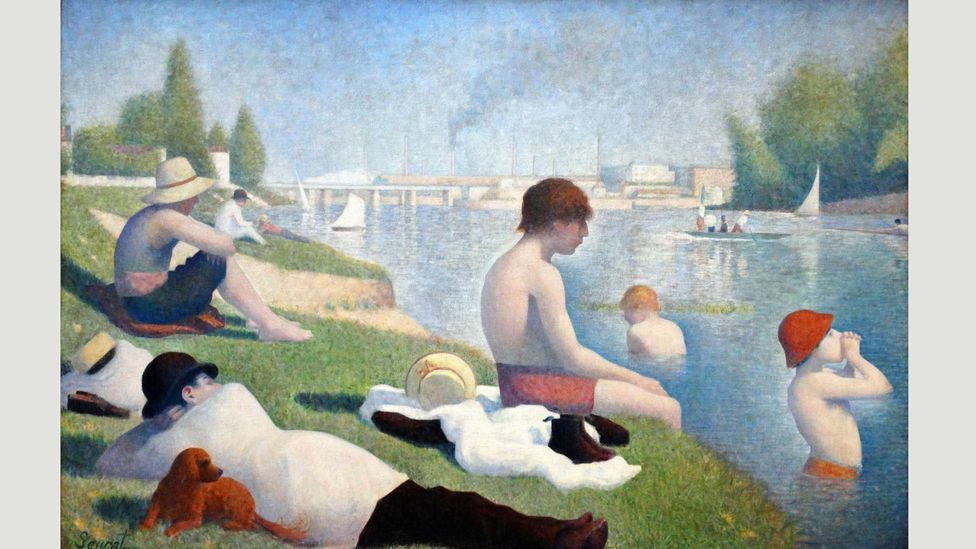 Bathers were an important subject for 19th and 20th Century artists, from Renoir and Seurat (whose Bathers at Asnières is shown here) to Cezanne and Matisse (Credit: Alamy)
Of course, in the '60s, painting swimming pools also allowed Hockney to depict beautiful, semi-naked young men. Arguably, these pool paintings should be understood as an extension of his early work, which he once characterised as "homosexual propaganda" (homosexuality remained illegal in Britain until 1967).
After all, as any fan of modern art will know, bathers were an important subject for 19th and 20th Century artists, from Renoir and Seurat to Cezanne and Matisse. Hockney, in his pool paintings, offered a queer take on this canonical (and heterosexual) tradition.
"The pool paintings are very much about desire," Wilson says. "And Hockney has a strong awareness of art history, certainly back to Cezanne; back, even, to Botticelli's Birth of Venus. So, queering that kind of subject matter is what these paintings are about."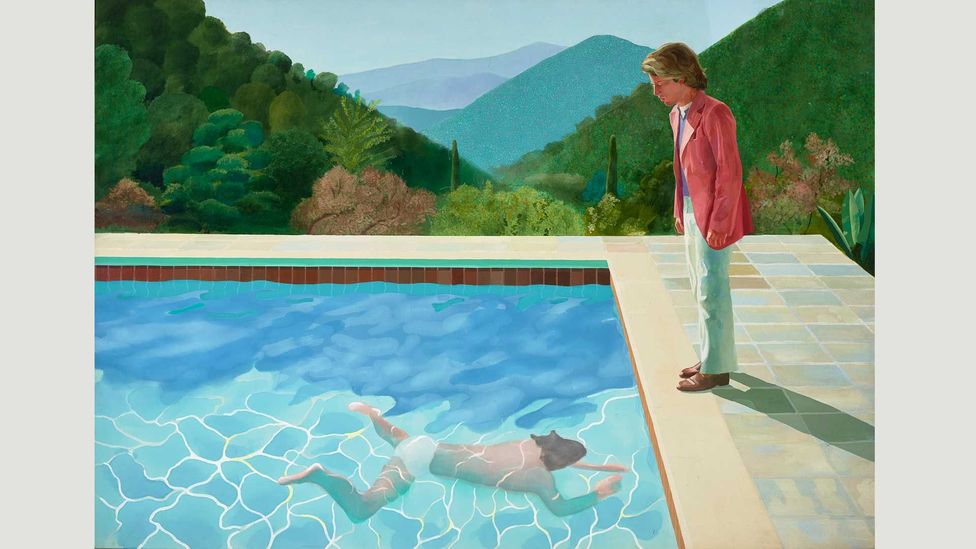 Hockney offeres a queer take on the canonical (and heterosexual) artistic tradition of depicting bathers (Credit: David Hockney/ Art Gallery of New South Wales / Jenni Carter)
In addition, the pool pictures provided Hockney with a forum in which he could explore technical, formalist concerns – and even engage in dialogue with contemporary abstraction.
"The paintings," Wilson explains, "are about how you represent the immaterial: water and light, transparency, different kinds of liquidities. And they are interested in the conventions of picture-making. The way Hockney paints water in his swimming pools employs abstract strategies, like [those in] paintings by Bernard Cohen, Jean Dubuffet, or Helen Frankenthaler. He uses [abstract] techniques to paint something as impossible to fix as light on water or the passage of bodies underwater."
Wilson is adamant that anyone who dismisses Hockney's pool paintings as superficial is making a mistake. "There is a feeling: how can Hockney be a 'serious' artist, when all he paints are swimming pools? I don't agree with that at all. In the same way, you could say that large swathes of Matisse's output are superficial." (Matisse, incidentally, created his own important pool picture: a late paper cut-out called The Swimming Pool (1952), depicting a frieze of frolicking female swimmers, which took form on the walls of his dining room in Nice.)
Wilson pauses. "Actually, I think Hockney is making incredibly profound paintings. Yes, he is painting LA, a land of surfaces. But he's interested in surfaces being penetrated – light penetrating glass, penetrating water – and he's fascinated with how you picture that in an emotional and feeling way. These aren't cold-hearted paintings, by any stretch of the imagination. They're about humanity. And that's why they connect with people."
Alastair Sooke is art critic and columnist of the Daily Telegraph.
This story is a part of BBC Britain – a series focused on exploring this extraordinary island, one story at a time. Readers outside of the UK can see every BBC Britain story by heading to the Britain homepage; you also can see our latest stories by following us on Facebook and Twitter.
If you would like to comment on this story or anything else you have seen on BBC Culture, head over to our Facebook page or message us on Twitter.
And if you liked this story, sign up for the weekly bbc.com features newsletter, called "If You Only Read 6 Things This Week". A handpicked selection of stories from BBC Future, Earth, Culture, Capital, Travel and Autos, delivered to your inbox every Friday.