Xiaoxiao Xu photographed amateur aeronauts building their own aircraft in backyards and sheds. She tells Fiona Macdonald how she was inspired by farmers with dreams of taking to the sky.
"All over the countryside in China, in the most unexpected places, farmers are striving to build their own aircraft. They don't work in fancy hangars with all the equipment one could wish for, they simply play around in their backyards, recycling scrap metal and using household tools. They are self-educated, self-employed and penniless." In the foreword of the photobook Aeronautics in the Backyard, Dutch artist Gover Meit describes the people tinkering with machines in pictures taken by photographer Xiaoxiao Xu. "They proudly call themselves 'aeronauts'.'"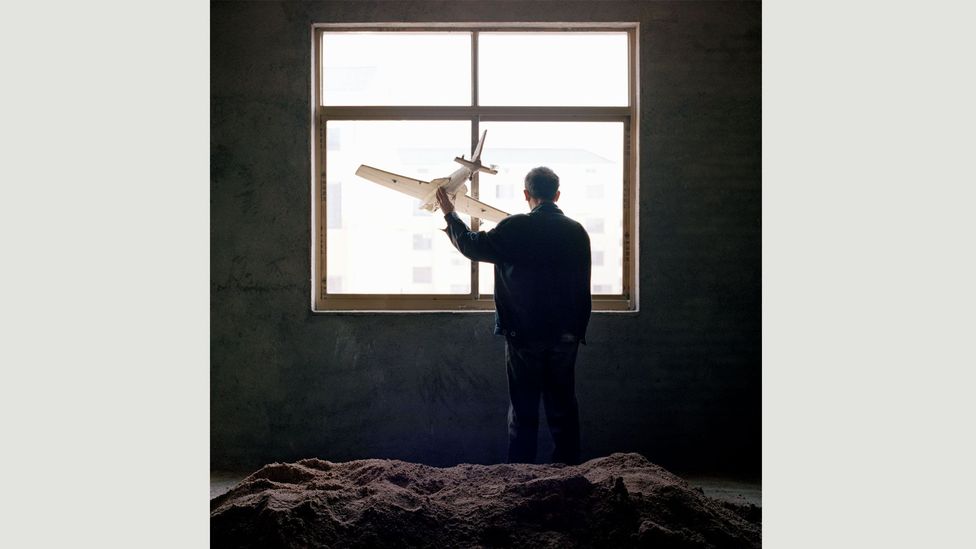 Yuan Xiangqiu has built eight planes in the past decade, all of which have been sold as scrap metal (Credit: Xiaoxiao Xu)
In 2015, Xu travelled across China, seeking out those aeronauts. She had read about them in a Dutch magazine, and was inspired to find out more. "I was deeply touched by the playfulness, inventiveness, flexibility and optimism of the aeronauts… and fascinated by the magical and fairytale qualities of the subject," Xu tells BBC Culture. "Fascinated by the rich imagination of these people and their romantic pursuit in contrast to their poor existence. I wanted to know how they deal with the conflict between their dazzling imagination and their reality; what motivates them to continue; where does their persistence come from and where do their dreams lead them?"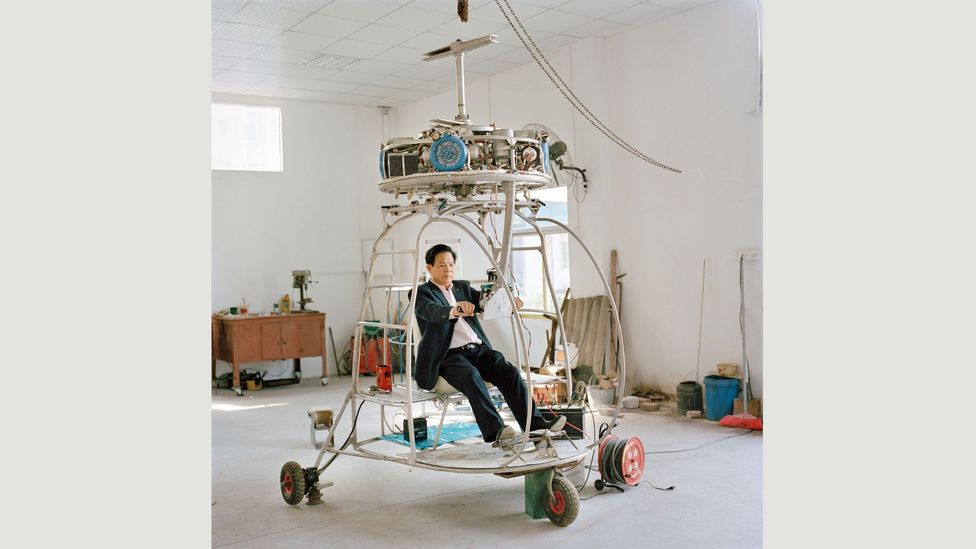 After the 2008 Sichuan earthquake, Zhang aimed to build a helicopter that could fly among trees: his latest, with four aeromotors, is still in its test phase (Credit: Xiaoxiao Xu)
One of the aeronauts Xu photographed, Zhang Dousan, was born into a poor family in Chaozhou, Guangdong Province, and started working as a rock-breaker at the age of 13. Seeing planes on TV inspired him to build his own: according to Xu, "all his friends burst into laughter when they heard his crazy dream, and his wife was always concerned that his test flights would fail". Despite not finishing primary school, Zhang studied the planes at a local airport and travelled to Beijing to buy parts at the aircraft factory.
He retrieved an engine from the wreckage of a light aircraft destroyed in a typhoon, and in 1998, the first plane he built flew continuously for 500km. It was a light two-seater aircraft with a 6m-long frame, and Zhang wrote "I'm from Chaozhou. No striving, no win!" on the aerofoil. He has built four more aircraft since, including one named Holy Eagle: its aeromotor is a converted car engine, and its control panel was taken from an abandoned plane. His plan is to design a helicopter that can fly through forests and valleys to reach more people in rescue efforts. Zhang told Xu: "I love creating. I wouldn't build an aircraft that already exists; I want to create my own designs and inventions."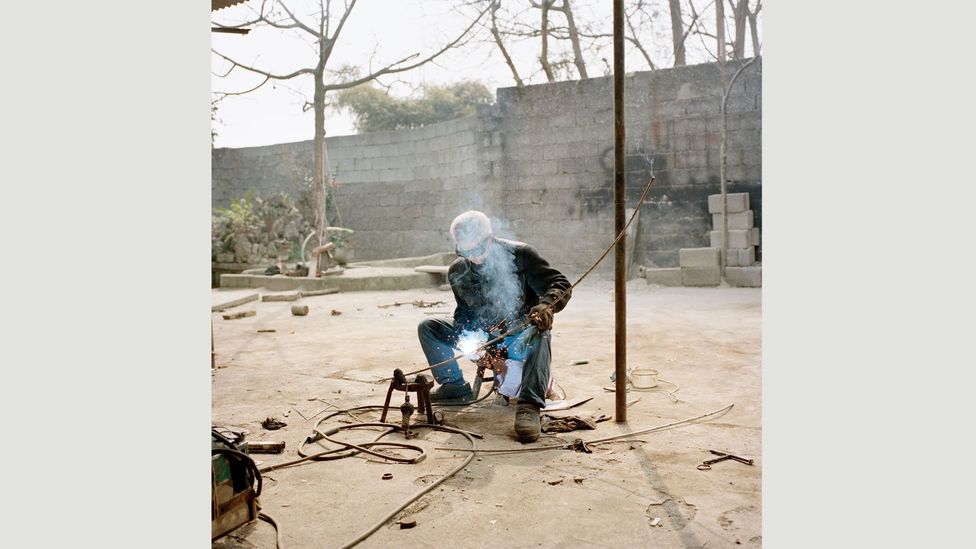 After a thief stole his airframe and engine to sell as scrap iron, Cao Zhengshu has a bed in his shed and sleeps there every night to watch over his aircraft. (Credit: Xiaoxiao Xu)
Xu's photos show the makeshift materials used to construct the flying machines. Workbenches are piled high with secondhand cogs; aluminium tubes lean against a wall, waiting to be hammered together for fuselage. In one, there are three rusting wheels discarded on a concrete floor, all that's left of an aeronaut's decades of effort. Another of Xu's images shows a machine with an engine from an old car and wheels from children's bicycles, the creation of Cao Zhengshu.
From their perspective, it's not about spending 30 years of their lives in order to fly 30m, it's about spending 30 years of their lives turning the impossible into something tangible – Gover Meit
The 75-year-old farmer from Mianyang in Sichuan Province has built a dozen aircraft since he began working on them in 1984 – as of yet, none have flown. Because he's illiterate, the design process has been challenging – one model was based on a pigeon he bought in his village. Yet he remains undaunted, telling Xu: "To me, making aircraft is a sort of entertainment, in the same way other people love playing Mahjong. I just feel so happy when I make an aircraft." His dream is that one day his aircraft will fly high enough to pass over a field of canola flowers.
Aiming high
"The aeronauts don't care about the risks or chance of irredeemable failure. The mere notion that they might succeed, that they can enrich their lives in pursuit of their fantasies, is enough to drive them to build and fly aircraft until the day they die," says Meit. "They call this way of living 'the aeronautics of life'; from their perspective, it's not about spending 30 years of their lives in order to fly 30m, it's about spending 30 years of their lives turning the impossible into something tangible." Xu's photos reveal both the heartbreak and the determination of the aeronauts, many of them lost in concentration as they fit parts into place.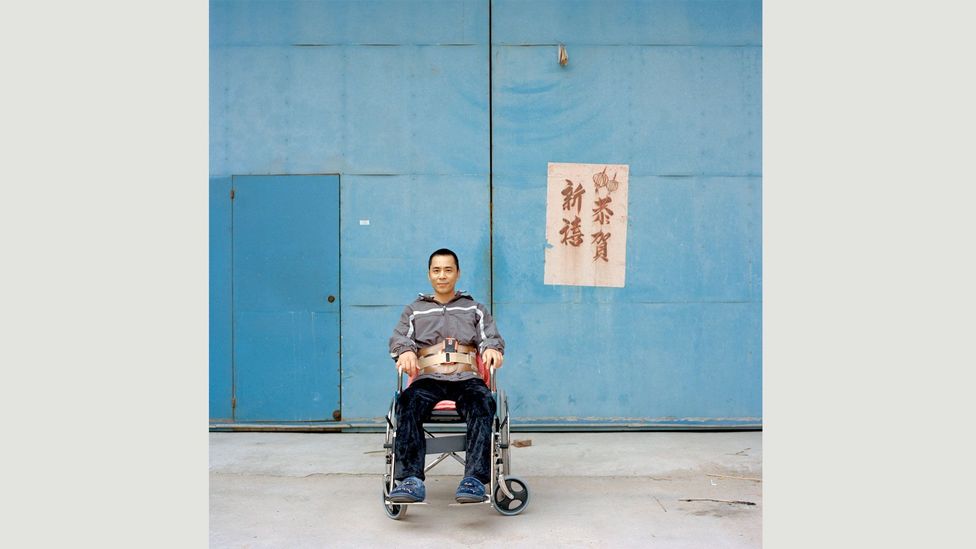 In 2012, Su Guibin tried to fly a self-made rotorcraft to an altitude of 5km. But at 4.8km he had to abort the flight when temperatures dipped to -40°C. (Credit: Xiaoxiao Xu)
The images also reveal the dangers of flying handmade aircraft, based on knowledge cobbled from years of trial and error. As Meit writes, "some dreamers have been hurt so badly that they'll never walk again. Some even laid down their lives for their hobby. While many of the 'lucky' ones – who still live to tell the tale – have spent decades without ever even experiencing the sensation of defying gravity."
Su Guibin – also from Chaozhou – had worked as a lift mechanic and in IT before becoming obsessed with aircraft. Challenging himself to build his own helicopter, he pieced the parts together from unexpected sources: the joystick was taken from a video game console. It was not without risk: in 2014, while flying an aircraft built by a fellow aeronaut, Su crashed into a telegraph pole, leaving him paralysed from the waist down.
"I've been bedbound for three years," he told Xu. "My toes have recently regained some feeling. However, the doctor said full recovery is still not guaranteed. The only thing I can do is wait in bed. A day in bed seems like a year to me." Even so, according to Xu, "the first thing he plans to do after recovery is fly his aircraft". Her photos of him are not downbeat – he lies in bed, or sits in his wheelchair, with an expression that is hopeful rather than defeated.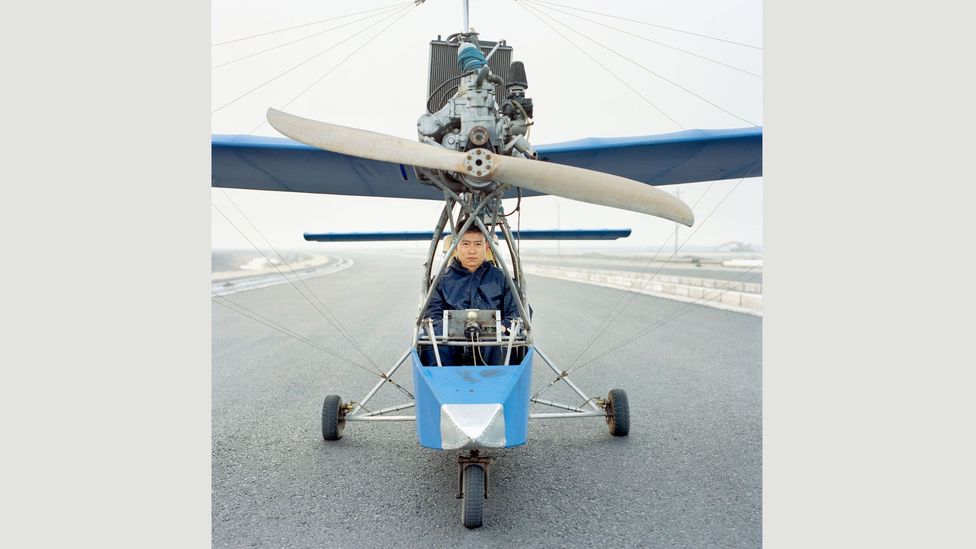 Wang built model planes out of bamboo from the forest behind his house – which were burnt as firewood by his mother – before constructing his first aircraft (Credit: Xiaoxiao Xu)
Wang Qiang has also been in several accidents while flying his aircraft. The barbershop owner from Cixi, Zhejiang Province attempted his first test flight in 2005, at an old airport in the suburbs of Mianyang. After getting the aircraft ready for hours, he made his attempt at dusk. "I taxied out, pulled the rod and the front wheel lifted off the ground," he told Xu. "Though the aircraft flew quite low – only 2m from the ground – the crowd were thrilled. I was also taken aback by this moment; it was just so much fun, I was overjoyed."
The best thing about aeronauts is that we're bold. We're willing to test things out, even if it's illegal. Who else would dare to do it? – He Dongbiao
Yet later flights weren't so smooth. "Once I flew to 300m and the engine suddenly shut down.
 I attempted to glide safely back to land. However, before I was able to steer it towards the runway, the aircraft crashed into the river. I had to swim to the bank and then try to salvage the aircraft." Another time, the engine failed just after lifting off and Wang crashed in the middle of a construction site. "The aircraft ended up with its wheels pointing towards the sky and its back facing the earth: I was stuck there, upside down. Fortunately, I had fastened the safety belt so I didn't have any injuries."
Despite that, he's undeterred. "Am I afraid after all these accidents? Yes, but this fear is trivial. More importantly, I feel increasingly steady and confident. Every time I had an accident, I made some adjustments that improved the aircraft and made the test flights safer."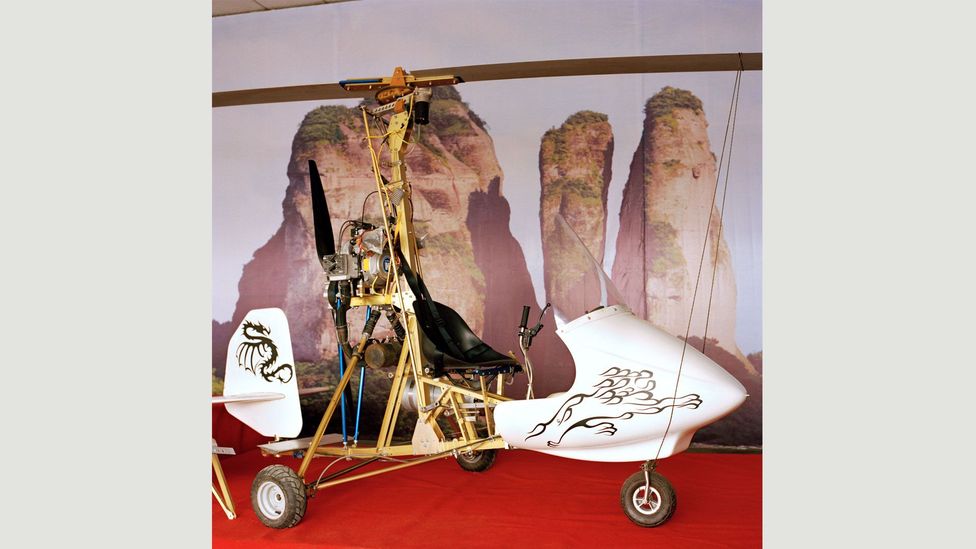 Xu's autogyro next to a poster of nearby Jianglang Mountain: "I love flying [there]… I make it to the edge of the mountain and then hover along its ridges." (Credit: Xiaoxiao Xu)
Xiaoxiao Xu's approach is understated, piecing together images of each aeronaut with the same care that they take when welding together their recycled parts. Alongside her portraits, the book features earlier photos taken by family members as well as blueprints, some computer-generated with intricate technical details, others just a scribble on a piece of crumpled paper. We can see Xu Bin's history as an aeronaut, with photos showing him when he first started building helicopters at the age of 20. "Because of the small size of our backyard," says the son of a machinist and a farmer from Jiangshan, Zhejiang Province, "I decided to make a helicopter – a handy option, given they don't need a runway to take off."
Highs and lows
There are also blurry snapshots of Xu Bin crashing in a field – and a photo of an aeronauts' aviation museum that he opened in 2014. The aeronauts have lofty ambitions – Wang told Xiaoxiao Xu: "China boasts such a vast territory and huge population… there are a lot of aviation amateurs. If every one of us could fully develop our own innovations and designs, we could further promote our work as aeronauts together – it would be like there was blossom everywhere."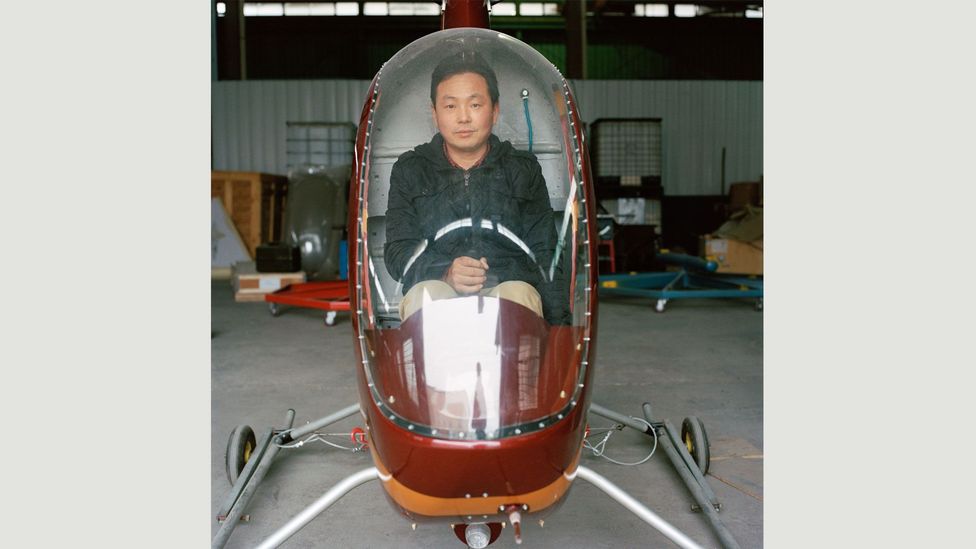 "The best thing about aeronauts is that we're bold," says He Dongbiao. "We're willing to test things out, even if it's illegal. Who else would dare to do it?" (Credit: Xiaoxiao Xu)
Xu Bin has started to make a living from his hobby. "Companies in Guangzhou and Wenzhou have invited him to help with their aerial photography," says the photographer. "He sells autogyros and their parts, and also modifies autogyros into crop dusters."
Gover Meit writes that "some are so successful that their hand-drawn designs get picked up by the commercial market, granting them jobs as aircraft engineers. Others design mind-blowing new models that neither Nasa nor Hollywood could ever have thought of. Not only are these farmers able to achieve the impossible, their unimpeded way of thinking is now helping science to discover more efficient and user-friendly ways to fly." Xu's photos capture that sense of adventure: on one level, the aeronauts are pioneering engineers; on another, they are still the children who stared wild-eyed at the birds in the sky above and dreamt of joining them.
At the end of her travels, the photographer took a flight with Xu Bin. "My heart pounding, I got into his two-seater autogyro… I cautiously put on my helmet and safety belt," she says. "Before long we were flying at 200m altitude. For a moment I held my breath. The aircraft has an open design, I felt the wind through my hair and saw the houses, mountains, fields, and lakes passing by below my feet; a feeling of dizziness took hold of me.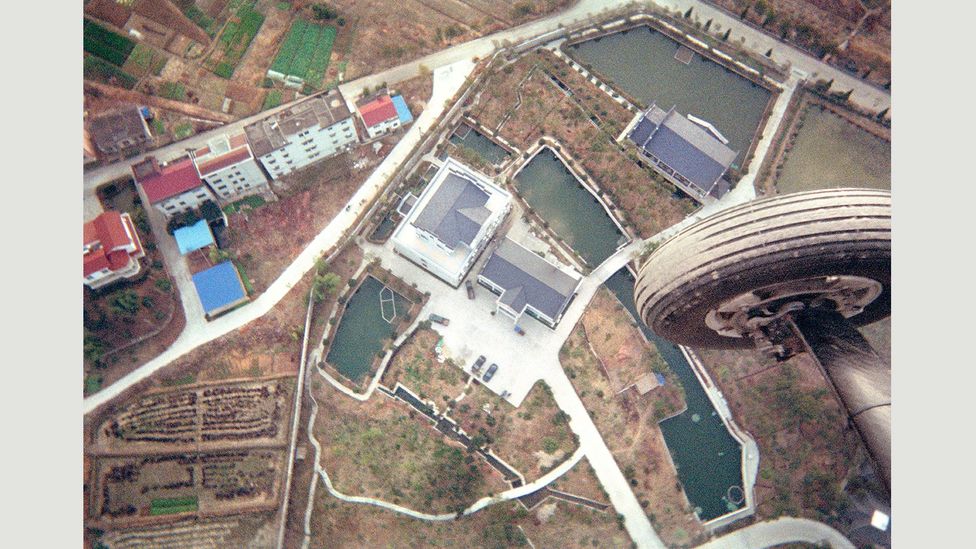 Xu Bin taught himself how to fly by attaching an autogyro to a moving car with a rope: he's now chief test pilot for local aeronauts. (Credit: Xiaoxiao Xu)
"Fear set in, and I started to picture how exactly we were going to crash. But then I spotted Xu Bin looking down below with the curiosity of a little boy. He shone with intense happiness. I began to appreciate just how much enjoyment he gets out of flying, from taking to the skies. Despite the noise of the propeller, I almost reached a moment of Zen. My fear faded, and I looked out… The lakes below were reflecting the light of the setting sun, everything seemed to glow and soften. We made a few rounds in the sky, sometimes flying low, sometimes high up, over the fields and mountains. Fifteen minutes later we had landed again, safely."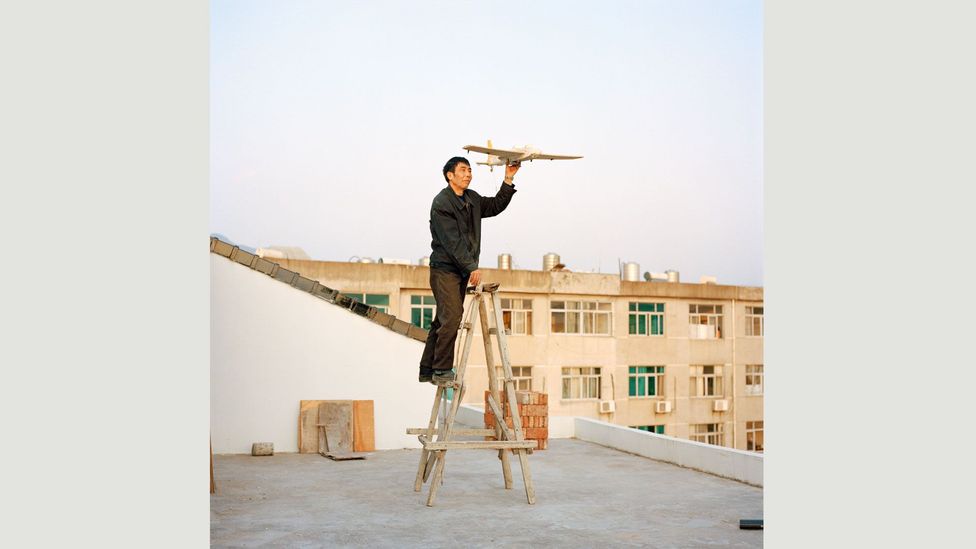 "It has antagonised… and inspired humankind," says Meit. "The sight of birds flying wherever they please, while not being able to lift off ourselves." (Credit: Xiaoxiao Xu)
Xu captures this sense of boyhood curiosity most in her images of Yuan Xiangqiu. Growing up in poverty in Tiantai, Zhejiang, he taught himself carpentry before being drawn to aircraft. "I can't give any specific reasons for why I want to build aircraft," he told Xu. "I remember when I was a kid there was a big camphor tree next to our house. The tree was home to hundreds of birds. I was fascinated by these birds – their flight was so beautiful, and I wanted to experience the feeling of being airborne too." He has always believed he can build an airplane. "Airplanes are similar to birds: wings, body, an engine, and then you can fly."
"While we in the West are still waiting for some prodigal scientists to invent and develop a James Bond-style jetpack, these Chinese farmers might just be the genuine heroes who enable personal air trafficking in the coming years," says Meit, acknowledging a universal human impulse. "We all still dream of flying. Not by having to buy an expensive ticket and sit in a metal box for hours among hundreds of fellow passengers, but by simply jumping up and taking off to whichever place we'd like to visit, not having to care about traffic jams or financial restraints. We still long to fly freely, just as birds do."
If you would like to comment on this story or anything else you have seen on BBC Culture, head over to our Facebook page or message us on Twitter.
And if you liked this story, sign up for the weekly bbc.com features newsletter, called "If You Only Read 6 Things This Week". A handpicked selection of stories from BBC Future, Earth, Culture, Capital, Travel and Autos, delivered to your inbox every Friday.