The image of Emily Dickinson as a reclusive spinster and 'patron saint of the shy' has endeared her to generations of young people. But it's an idea that gets Emily Dickinson all wrong, writes Hephzibah Anderson.
T
There's no denying that Cynthia Nixon looks the part as Emily Dickinson, star of Terence Davies' stunning new film A Quiet Passion. It's not just the way she wears her hair – that emphatic central parting, the braided bun – or the ribbon round her neck. The actress seems to share something of the poet's facial features too. But in other respects, Nixon's portrayal is full of surprises. You can see it even in the trailer, in which Dickinson and her mischievous proto-feminist friend, Vryling Buffam, eye up men while fluttering their fans. Is this Dickinson or Sex and the City's Miranda Hobbes in olden days' garb? It certainly isn't how you'd imagine literature's most famous recluse conducting herself.
The cult of the 19th-Century American poet has coalesced around a very precise image, one that tells us a lot about how we view poets and how we view women poets in particular. It's pieced together from the most outlandish details of Dickinson's biography: her penchant for dressing in white, her reluctance to leave her bedroom, her habit of addressing visitors through a door rather than face to face.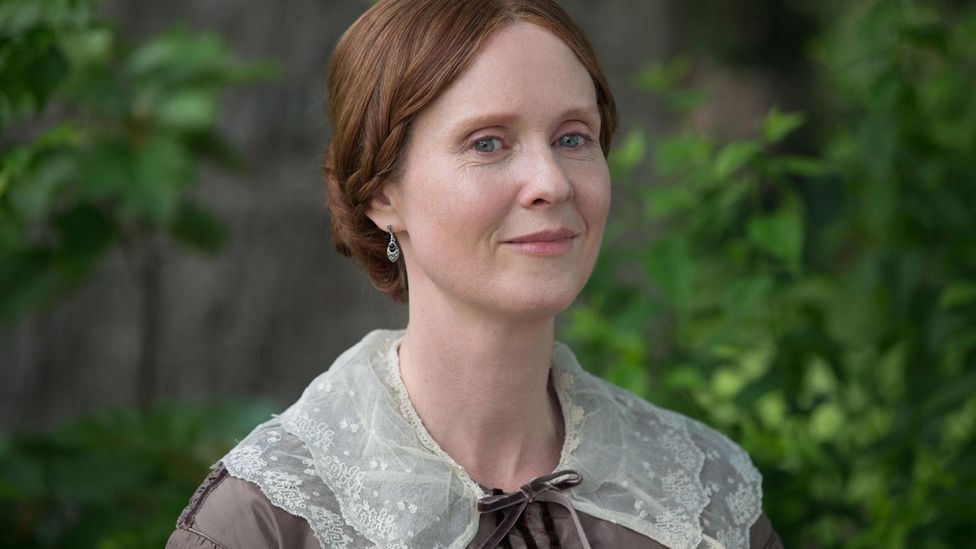 Sex and the City's Cynthia Nixon plays Emily Dickinson in Terrence Davies' new film of the poet's Life, A Quiet Passion (Credit: Alamy)
It seems to have taken hold almost as soon as her poems found their audience. Though Dickinson wrote nearly 1,800 poems, just 10 were printed during her lifetime. Significant publication came only after her death, aged 55, in 1886, at which point her work immediately attracted an ardent fan base. Women readers were especially devoted, and started to make pilgrimages to the Homestead, the Dickinson's home in Amherst, Massachusetts, which is now a museum. Since then, the idea that such poems could have been penned by a secluded spinster toiling in recluse has proven irresistible – especially to generations of gauche, overwrought teenagers. As Nixon puts it, Dickinson is the "patron saint of shy persons". It's only part of the story, however, and Davies' film is just one of a series of creative projects seeking to show other sides of Emily Dickinson. 
Truth told slant
"We were taught that she was this reclusive spinster who lived with her family, dressed all in white, and wrote in her room all day", recalls artist Rosanna Bruno of her high school introduction to the poet in the 1980s. Even then, Bruno felt that the mythology of the poet didn't really mesh with the poems. "It seemed so incongruous to what she wrote", she says. "Have you ever heard Helen Mirren reading Wild Nights!? You really have to rethink Dickinson as a reclusive spinster after that rendition." 
A new book imagines Dickinson's OKCupid profile: 'Ethnicity: white as alabaster'
Bruno drew a cartoon of one of Dickinson's best-known poems, Because I could not stop for Death, and when she found herself reading Dickinson's work again while on a fellowship at the Yaddo artists' colony in Saratoga Springs more than 20 years later, more drawings came. The result is The Slanted Life of Emily Dickinson, a graphic novel that offers speculative glimpses of Dickinson's social media feeds, and is published in March.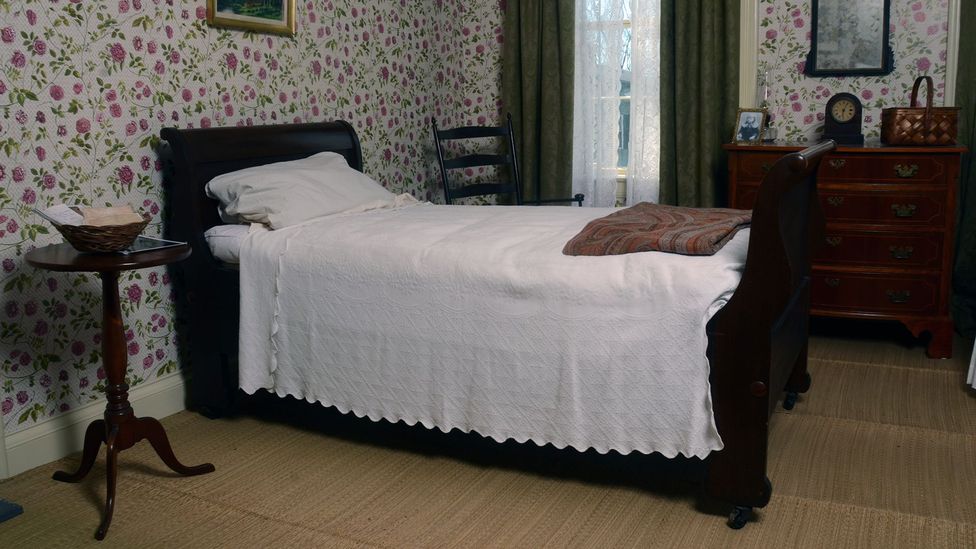 The bedroom of Emily Dickinson in her home in Massachusetts – myth suggests that, like the teenagers who love her, she was reluctant to leave it (Credit: Michael Mederios)
Among cartoons that imagine Dickinson's Instagram account ("@recluse1830") and OKCupid profile ("ethnicity: white as alabaster") are fake scholarly tomes whose titles send up our fascination with Dickinson's personal life: Her Daily Bread: Emily Dickinson's Silent Struggle with Gluten Intolerance, and Emily Wiccanson: The Poet and Her 'Craft', exploring her possible involvement in witchcraft.
It's not true that she lived in a vacuum – Carolyn Vega
Dickinson the social media star may be the stuff of satire, but as a young woman, the poet was indeed socially active. Even later in life, she maintained and formed new friendships through her correspondence, some of which is currently on show in New York at the Morgan Library's exhibition I'm Nobody! Who Are You? The Life and Poetry of Emily Dickinson. (An accompanying program of events features a reading and recital by Patti Smith and her pianist daughter.) Its curator, Carolyn Vega, is a long-time Dickinson fan. "While it is true that she did retreat from society, it is also true that she was deeply connected to her world through family, friendships, and literary mentors and editors. She also read widely and was aware of political realities, including the American Civil War, that were going on around her. It is not true that she lived in a vacuum", Vega says. Nor did Dickinson write in one: as the exhibition shows, she also sent out hundreds of poems to a coterie of carefully chosen friends and editors. "She was not shy or reticent about sharing her work with them."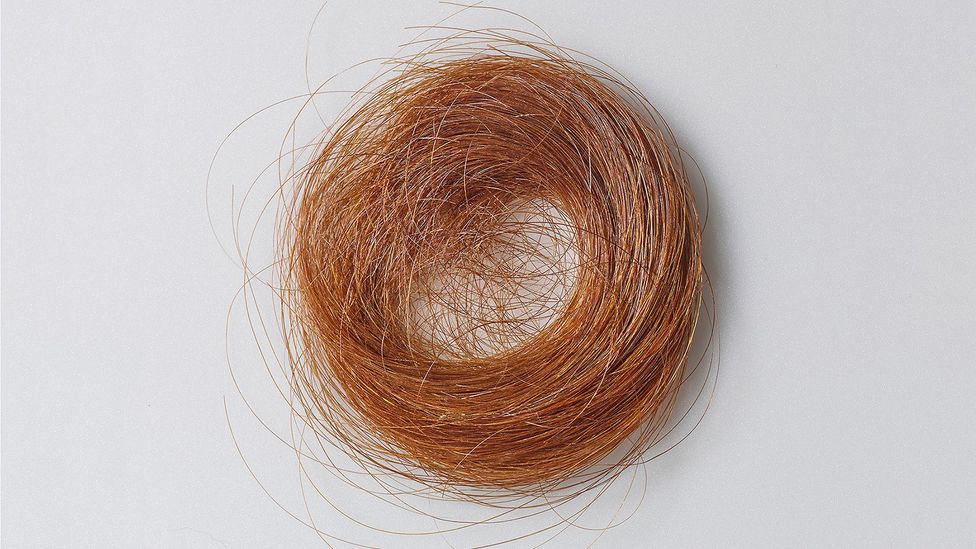 A lock of the poet's hair is among the personal effects, manuscripts and other items currently on display at the Morgan Library in New York City (Credit: Amherst College Archives)
To the extent that she did later opt for physical isolation, it would be a mistake to read timidity into that choice. As Paul Hetherington, a Dickinson expert and professor of writing at the University of Canberra, notes: 'The image of her as being a reclusive eccentric overshadows, and skews our reading of her work because it separates her from the mainstream and casts her in the role of perennial bridesmaid, unsuited to a more robust life and always working at the margins". In fact, he says, holing up in her father's comfy home gave her licence, in a staunchly patriarchal society, "to speak openly about love, desire and various ideas of devotion in a way countenanced by no other 19th-Century writer. She is in this way perhaps the first truly modern poet in the English language."
'Poster girl'
Writer and academic Dr Cassandra Atherton agrees. "Dickinson's mythology is often misread by scholars and teachers. Far from being trapped in her father's house, she was a subversive and brilliant poet whose rebellion can be seen in her battle against patriarchal society and its attempted containment of her as an intellectual female."
Like Bruno and Vega, Atherton was an early convert to Dickinson's poetry. "Emily Dickinson was my poster girl", she says of her teen self. She would even go to school dressed in white with her hair parted and pulled back like the poet. "Dickinson was a fierce observer – a role in which I felt cast as a teenager, and she took up themes concerning the importance of self, as well as pain and suffering, love and death, all essential to my experience growing up." That infatuation hasn't waned with adulthood – she even owns (and uses) an Emily Dickinson cookie cutter.
A constructed public image can wholly obscure the true meaning of an artist's work – Madeleine Olnek
For others, the myth is off-putting. Playwright and film-maker Madeleine Olnek lost all interest after hearing in middle school that Dickinson was agoraphobic. As a single university graduate, she'd tell anyone who asked that she hoped to become "the Emily Dickinson of comedy" – the joke being that Dickinson wasn't funny. Or so she thought. "Later, when I started researching her, I was very, very surprised to learn that she was funny – things she said were laugh out loud funny. And she wrote very funny things too," she says. "It was fascinating to me as a writer that the truth of Emily Dickinson's life was so different [from] what the world was told about her. This struck me as a story about the marketing of an artist, and how a constructed public image can wholly obscure the true meaning of an artist's work."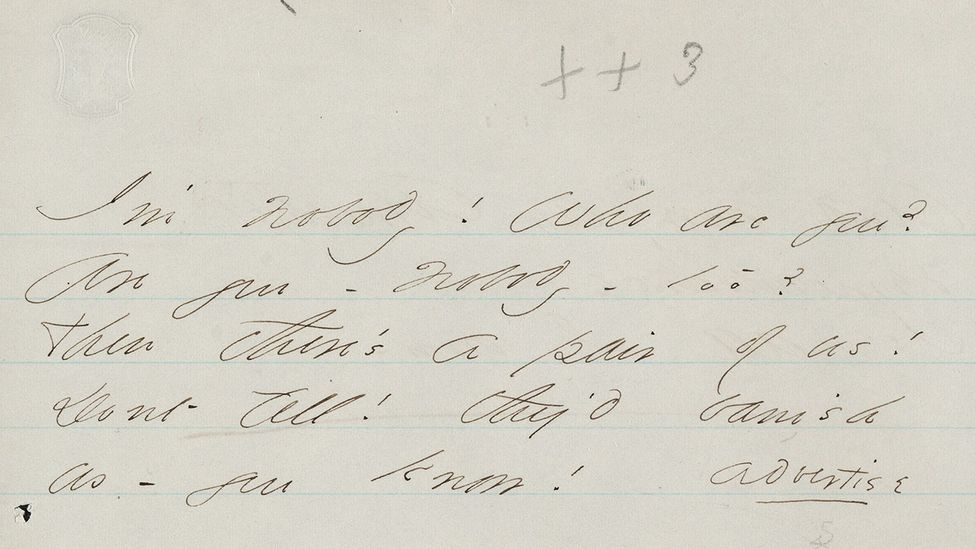 I'm Nobody, Who Are You? is a poem first published in 1891, shown here in Dickinson's own hand (Credit: Houghton Library, Harvard University)
Olnek has already had a play about Dickinson staged, and a film is currently in production, scheduled to wrap by early 2018. "I don't want to give too much away, but the movie explores the meaningful relationships that Emily forged and maintained throughout her life. She's always been portrayed as a loner who never came out of her room, but in fact she had loving and satisfying relationships," she says. It's a drama with comic moments and Dickinson is played by none other than Saturday Night Live's Molly Shannon. "Molly is a performer who is sui generis, with a quick, lively mind, just like Dickinson herself. It took a lot of nerve to write poems, to put your mind on paper – especially in the way Dickinson did, so far ahead of her time she was creating new forms – there's an audacity to it, a subversiveness, and a willingness to cross boundaries."
Olnek's research, which is funded by a Guggenheim fellowship, was inspired by the use of infrared technology to access crossed out and erased words in Dickinson's papers. Much of this heavy editing is the work of Mabel Todd, the mistress of Dickinson's brother, Austin. In particular, Todd was keen to delete mentions of Dickinson's friend – and possibly more, according to Olnek – Susan Gilbert, who also happened to be Austin's wife.
Tantalising though these discoveries are, they're also a reminder to stick with what Dickinson left behind: her words. And what words they are. They're perhaps best summed up by a quote that the Morgan Library's Vega likes to offer from one of Dickinson's own letters: "If I feel physically as if the top of my head were taken off, I know thatis poetry."
If you would like to comment on this story or anything else you have seen on BBC Culture, head over to our Facebook page or message us on Twitter.
And if you liked this story, sign up for the weekly bbc.com features newsletter, called "If You Only Read 6 Things This Week". A handpicked selection of stories from BBC Future, Earth, Culture, Capital, Travel and Autos, delivered to your inbox every Friday.