Designers are inventing new ways to stay under the radar, including textile patterns that baffle facial recognition software. Bel Jacobs takes a look at stealth fashions.
I
Imagine you're living in a dystopian future. Surveillance cameras scan the streets to recognise and record the faces of passersby – but you're wearing a HyperFace scarf. Amid a kinetic assortment of grid-like structures printed on the fabric, black squares suggest tiny eyes, noses and mouths. The cameras' facial recognition algorithms are confused. Your identity is secure; your privacy, protected.
Unveiled in January, the HyperFace textile print was designed by the Berlin-based artist Adam Harvey and Hyphen-Labs, an international, all-female design team formed to explore meeting points between technology, art and science. Harvey has form in anti-surveillance design; a previous project, CV Dazzle, envisaged hair and make-up designs that would foil facial recognition software and heat-reflecting garments that deter drones.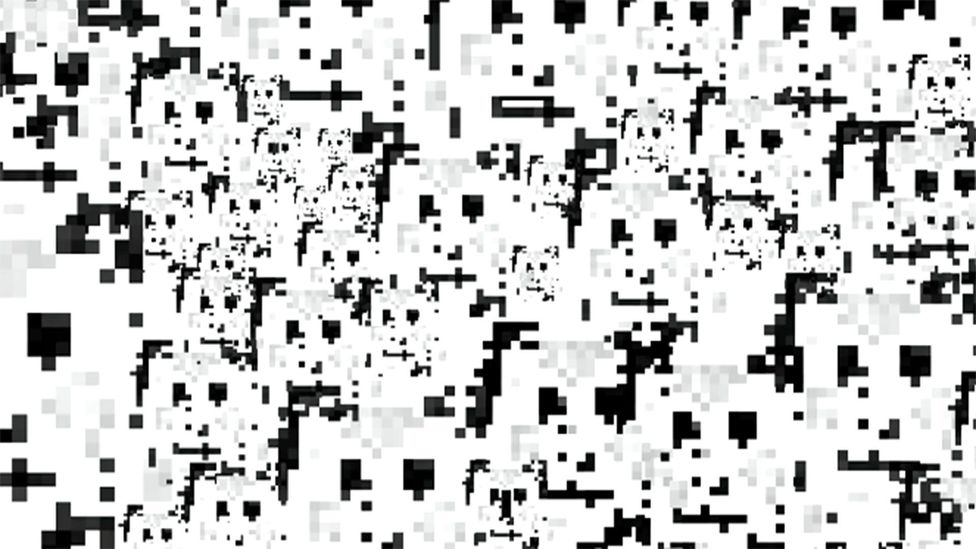 The HyperFace print range features patterns suggesting eyes, noses and mouths to confuse facial recognition algorithms (Credit: Adam Harvey)
When worn, HyperFace gives a computer about 1,200 possible facial options – Harvey was inspired by false colouration in the animal kingdom. "Instead of imagining camouflage as a means to reduce personal visibility, HyperFace re-thinks the relationship between foreground and background," Harvey tells BBC Culture. "The aim is to reduce the confidence score of a true face, by introducing a background comprising false faces."
Our political climate is making it necessary for us as artists, researchers and creators to explore themes of surveillance – Ashley Baccus-Clark
"Surveillance is a topic that has been top-of-mind at Hyphen-Labs for some time now," says Hyphen-Labs member Ashley Baccus-Clark, speaking about the project's inspiration. "It started with thinking through issues of security, privacy, and visibility as it relates to black women and black communities. Then, as the events of the past few months have unfolded, our message became more global."
The election of US president Donald Trump has made liberal-minded creatives, among others, twitchy. "Our political climate is making it necessary for us as artists, researchers, and creators to explore themes of surveillance," says Baccus-Clark.
Body politics
While celebrities like Kim Kardashian make a career – and arguably an art – of increasing personal visibility, many of us would prefer to stay under the radar. And while the internet abounds with tips on protecting digital security, designers are coming up with protecting a new battleground: the body. The inventions are potent mixes of fashion, art and technology that tell us a lot about the world in which we live.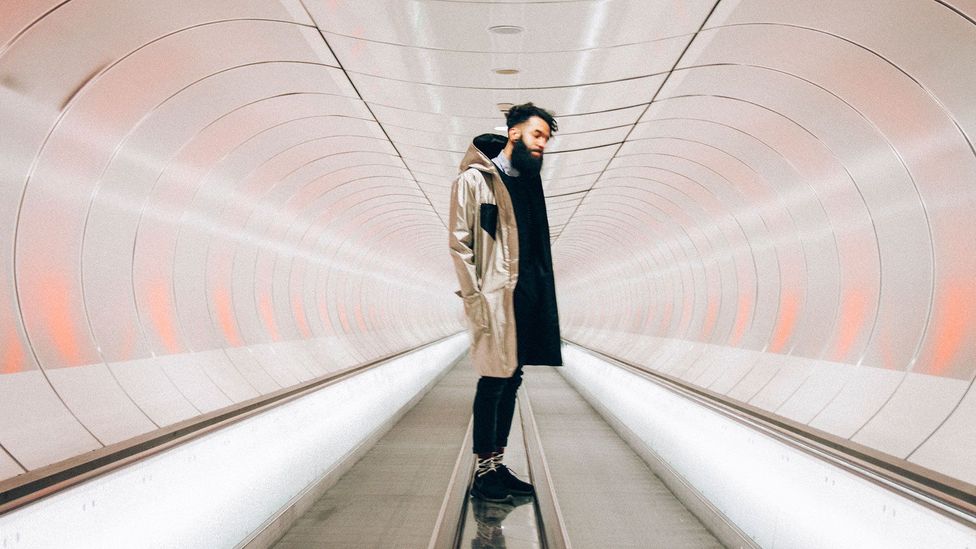 The Dutch design duo Project KOVR has designed the Anti-Surveillance Coat, cut from metallic fabric to protect our personal information (Credit: Project KOVR)
Surveillance has been high on the news agenda since mid-2013, when the US National Security Agency contractor Edward Snowden blew the lid on just how much the NSA could find out about us. Since then, revelations have come thick and fast: Facebook, Google and Microsoft have handed over customer data under secret NSA programmes; Gemalto, one of the world's largest manufacturers of Sim cards, has also said it believes its systems were hacked US and UK cyber-surveillance agencies. Artists have been quick to respond: a new exhibition, Watched! Surveillance, Art and Photography, which opened recently at the C/O Galerie in Berlin, rounds up some of the contributions international artists are making to the debate about privacy in the wake of the NSA revelations.
On a more practical level, Dutch design duo Project KOVR has focused on ways to shield the library of personal information people carry about with them on a day-to-day basis. From the data in our phones to the tiny computer chips commonly embedded in passport, ID cards and bank cards, the minutiae of our lives exist in Tron-like virtual universes. Project KOVR's response is the Anti-Surveillance Coat, a silvery trench cut from metallic fabric that acts like a sartorial Faraday cage, rendering computer chips in bank and ID cards unreadable and mobile phones untraceable. The designers call their work "a wearable countermovement", urging us to "stay human in an information-driven environment".
Becoming invisible
The ability to choose when and how to divulge information about ourselves is one of the things that make us human, argues graphic designer Leon Baauw, who co-founded Project KOVR with performance artist Marcha Schagen. He says their research – which included Yevgeny Zamyatin's dystopian novel, We, and Jeremy Bentham's theory of the circular prisons and the related works of philosopher Michel Foucault – "was based upon the question 'what does it mean for a human being to always be visible'? How would we change the way we behave?"
Clothing has always protected us against possible threats from the biosphere –  why not the infosphere? – Leon Baauw
The possibilities of clothing are transforming, says Baauw, from those of decoration, expression and shelter from the elements to ones of maintaining privacy and ultimately, individuality. "Clothing has always protected us against possible threats from the biosphere; why not the infosphere, that nearly invisible network of connectivity in which we are proven to be vulnerable?" he asks. "Designers have a great responsibility in designing a better future. It's motivating to see more and more projects emerge with the goal of protecting us as well as reminding us that our data and therefore our personality is out there and up for grabs by anyone or anything."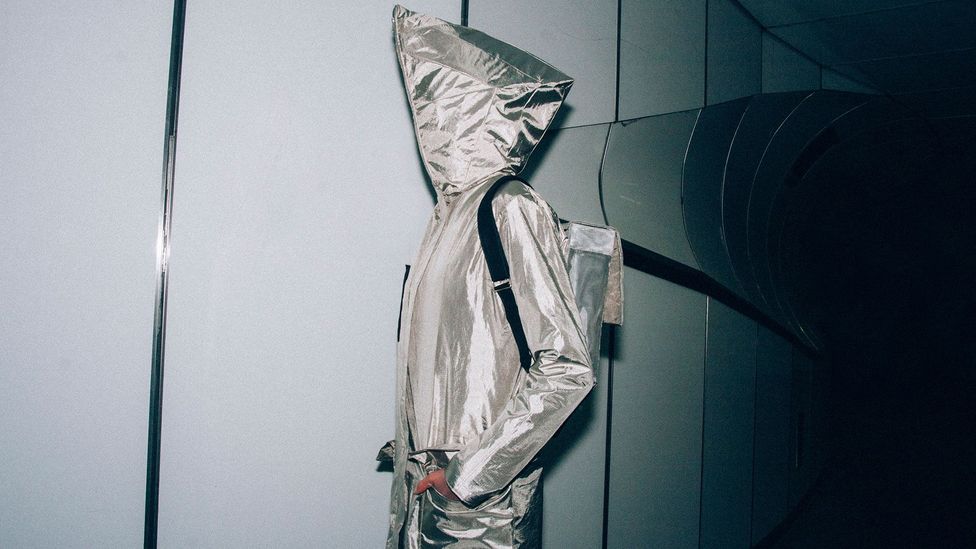 The Anti-Surveillance Coat acts like a sartorial Faraday cage, rendering computer chips in bank and ID cards unreadable (Credit: Project KOVR)
Facial recognition and digital scanning might currently appear to be the acme of surveillance – but more sinister technologies have been imagined. In one of their projects, Treviso-based communications research centre Fabrica posits a future in which neuroimaging technology is able to scan minds for suspicious thoughts. In this Orwellian future they imagine, simply thinking about mutiny could get you into trouble.
Designs that shock
Fabrica's Anti-NIS Accessories are objects that belong to art as much as fashion, addressing that final frontier, privacy of thought. Each of Fabrica's pieces provoke a sensory reaction that will attract the wearer's attention, suddenly changing brain activity. So if brain scanning were ever to become reality, they would offer a way to keep your thoughts from being read.
The wearer's thoughts are more likely to be read as "blimey, what's that?" than plans for insurrection
Prototypes, crafted out of laser-cut felt and wood, include a hat that transmits sound pulses through the skull, a collar that administers a gentle electric shock and a mask that distracts the user with flashing lights. So if a brain scan were attempted, the wearer's thoughts are more likely to be read as "blimey, what's that?" than plans for insurrection. If the prospect of being randomly zapped at any moment seems unattractive, Fabrica's work envisages a society where the alternative is more dangerous.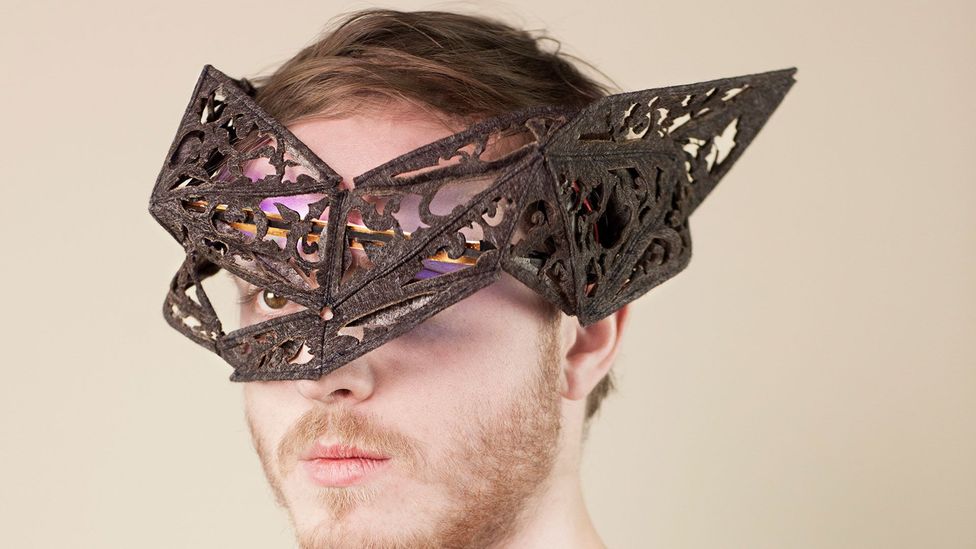 Fabrica's Anti-NIS Accessories are art as much as fashion, imagining a time when our thoughts can be scanned (Credit: Fabrica)

The idea of neuroimaging surveillance technology still seems like science fiction but Fabrica's designs, as well as the work of Harvey and Project KOVR, express genuine concerns among designers about just what the future may look like. Harvey, for example, is keen to point out that HyperFace is "only an introduction to a larger project about computer vision camouflage".

"When it comes to new technologies, some consumers rightfully feel that most tech companies fail to implement security and privacy measures," says Mano ten Napel, managing editor of fashion technology website FashNerd. "This has ignited a need to protect ourselves – which logically translates into the design of the technology we wear. It's easy to imagine a future where staying connected will not automatically violate our privacy."

Of course, you could make your resistance more obvious. Shocked by the paparazzi who once drove his friend, supermodel Kate Moss, to cower in a corner at LAX airport in LA, influential fashion photographer Nick Knight designed a black t-shirt that, when hit by camera flash, lit up with a phrase too offensive to repeat here. The message? If you can't beat them, tell them to get lost.

If you would like to comment on this story or anything else you have seen on BBC Culture, head over to our Facebook page or message us on Twitter.

And if you liked this story, sign up for the weekly bbc.com features newsletter, called "If You Only Read 6 Things This Week". A handpicked selection of stories from BBC Future, Earth, Culture, Capital, Travel and Autos, delivered to your inbox every Friday.

;