BBC Culture is partnering with Magnum Photos for their second annual photography awards. As the competition opens, we've picked previous winning images that reframe the world.
B
BBC Culture is partnering with Magnum Photos, the international photographer's co-operative, for its annual awards, which open today. Any photographer – professional or amateur – interested in entering can apply here: the competition closes on 16 May, and winners will be announced on 18 July. The competition will once more be hosted through LensCulture, and this year's jury includes Magnum photographers David Hurn, Susan Meiselas and Alec Soth, as well as National Geographic Magazine's director of photography Sarah Leen.
We'll be sharing outstanding submissions on Facebook throughout the competition – to see them, like our page if you don't already. Once it's over, we will publish a series of features on selected winners. In addition, all the winners, finalists and jurors' picks will be digitally exhibited at the Photographers' Gallery in London. To celebrate the launch of the competition, we've picked images from winners and finalists last year. Warning: some of the images may cause distress.
Liquid Mountains of Lake Erie by Dave Sandford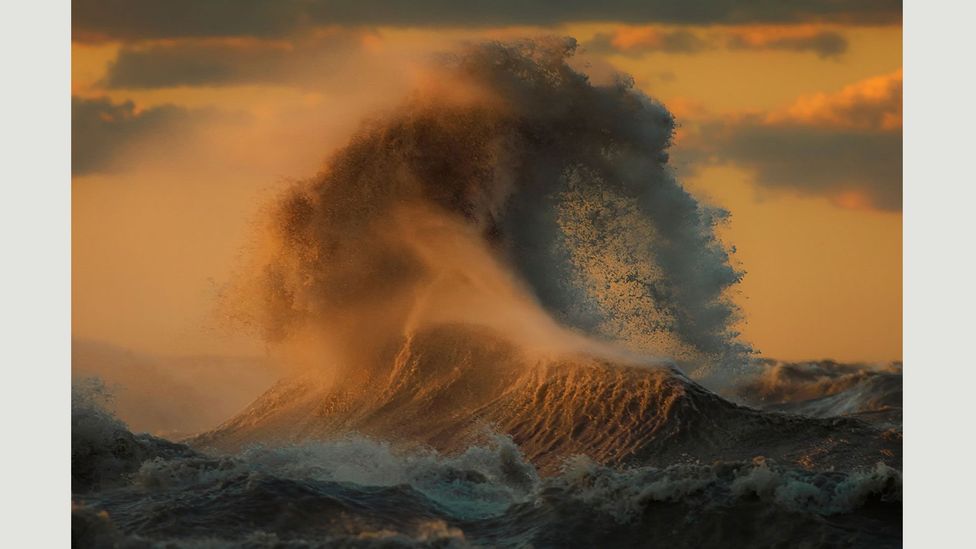 Dave Sandford has christened the waves he's captured on camera with imposing names such as The Punisher, The Sandstorm and Bane of the Great Lakes. This one is called Lake of the Cat: Sandford shot his images on Lake Erie in Ontario, which takes its name from a native tribal word erige (cat) because of its unpredictable nature. "When the violent wind storms of Lake Erie whip up, the lake becomes like a giant washing machine," says Sandford. "There is no pattern, like the swell from ocean waves. These waves move in almost any and every direction."
The Canadian photographer – a finalist in the 2016 Magnum Awards – visited the lake throughout the autumn months, sometimes for eight hours a day, sustaining wind speeds of up to 65 mph (100 km/h). Wave heights reached 25 feet (7.6m). "It is on days like these that most people stay away from the lake. But it is days like these when Erie comes alive, showing its true power. These are the days I can't wait to get to the lake and create my images."
His images have also helped others who work on the lake to connect with it in a new way. "I have had a number of people contact me about my work, including ship captains of 40 years, fishermen who spent their career on the lakes, and those who grew up on the shores. All of them tell me the same thing: they thank me for capturing the raw, violent power that the lake displays."
Otsuchi Future Memories by Alejandro Chaskielberg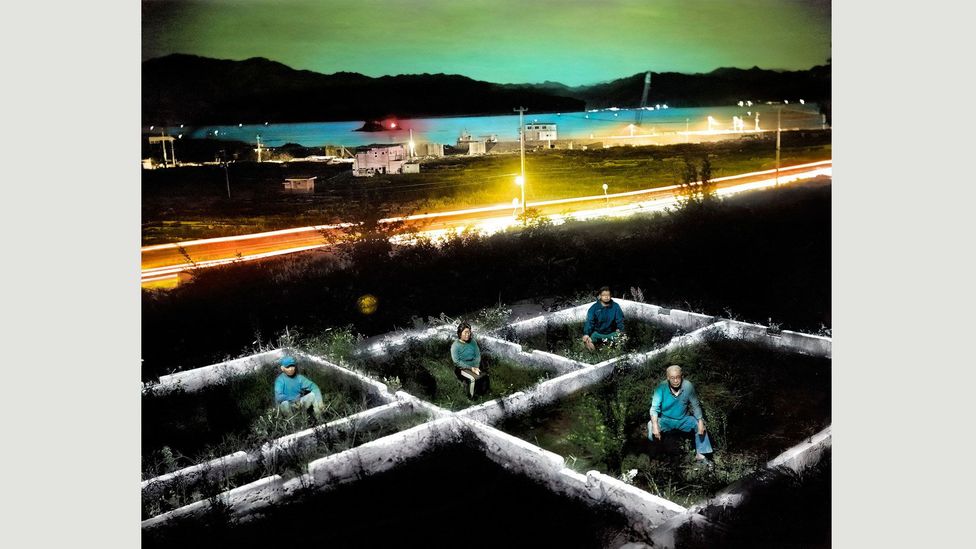 (Credit: Alejandro Chaskielberg)
Another project – chosen by Magnum Photos president Martin Parr in the jurors' picks category – reveals the power of waves in a haunting way. Imbued with watery tints, as though they themselves have been washed away, the photos of Alejandro Chaskielberg show inhabitants of Otsuchi Town, Iwate Prefecture a year and a half after the massive tsunami of 2011 hit Japan.
They huddle in family groups of multiple generations or teams of co-workers (including the Second Squad of the Otsuchi Volunteer Fire Department), in the places where they lived or worked before they were destroyed. Other images show waterlogged family albums or single snaps marbled by the sea. In this photo, four members of the same family – Takuji Sasaki, Miyoko Abe, Hitoshi Abe and Nichirou Abe – sit in the ruins of their house that was flooded and then consumed by fire.
Nilin by Cris Toala Olivares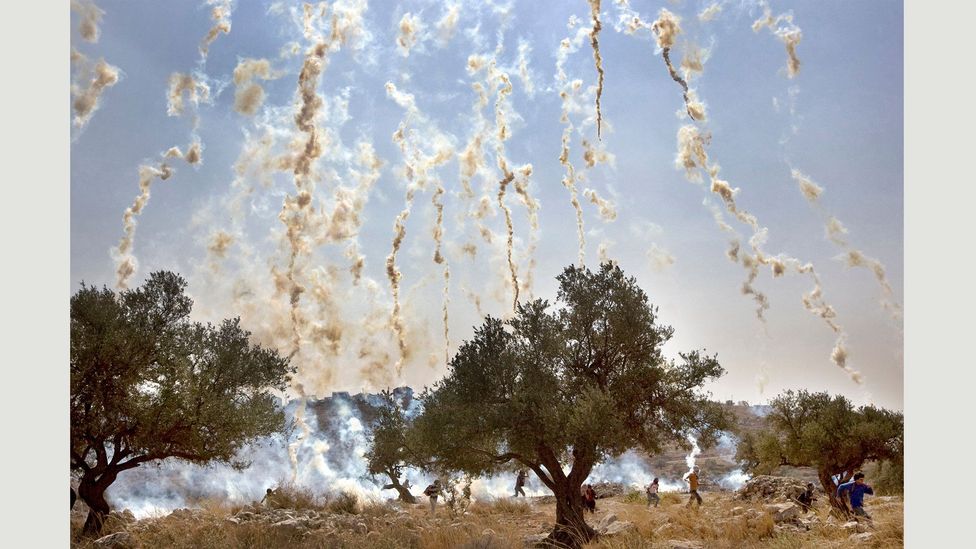 (Credit: Cris Toala Olivares)
Cris Toala Olivares was born in Ecuador and trained in medicine in the Netherlands, but changed profession after feeling that bureaucratic red tape got in the way of offering proper patient care. Since then, he has photographed volcanoes worldwide as well as an intertidal zone on the Dutch, German and Danish coasts. He was a documentary single image winner in the Magnum Awards for something more human: a photo showing Israeli soldiers shooting tear gas during a demonstration against Israel's separation barrier in the West Bank village of Nilin.
There Are No Homosexuals in Iran by Laurence Rasti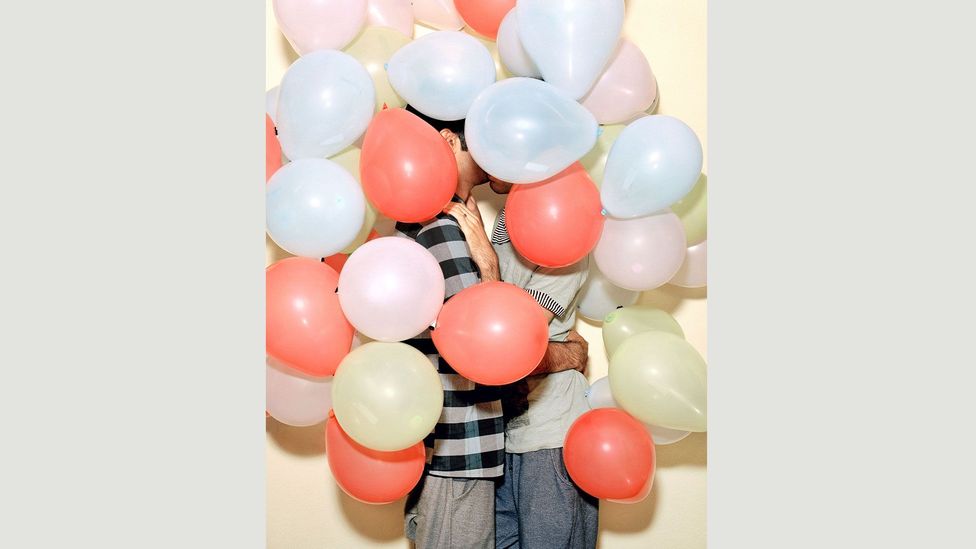 Swiss photographer Laurence Rasti quotes Mahmoud Ahmadinejad – speaking at Columbia University in 2007 – in the text accompanying her images. "In Iran, we do not have homosexuals like in your country," said the former Iranian President. In Iran, homosexuality is still punishable by death. "Their only legal options are to leave the country, hide their sexuality, or choose transsexuality, a practice tolerated by law but also considered pathological," says Rasti.
She photographed gay Iranian couples in the small town of Denizli in Turkey. "Hundreds of Iranian gay refugees have put their lives on pause while waiting to join a host country where they can freely live their sexualities," she says, feeling that anonymity was the best protection but offering it in often surprising ways through her photographs. Some are hidden behind veils; others partially obscured by roses. She claims that the series "tries to give back to these people a face that their country has temporarily stolen".
Daesh by Asger Ladefoged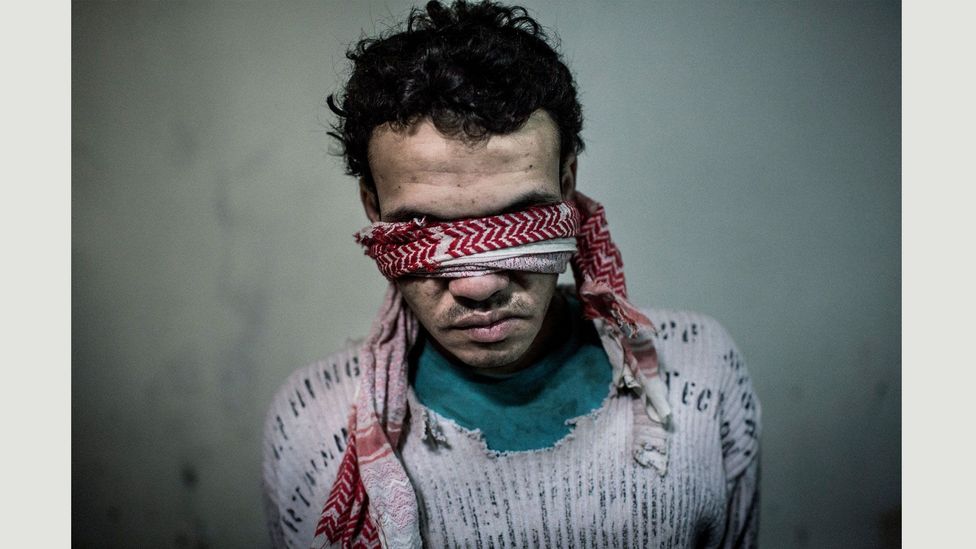 (Credit: Asger Ladefoged)
Danish photojournalist Asger Ladefoged has covered the terror attacks and the refugee crisis in Europe, as well as conflict in Syria, Iraq and Ukraine. This photo – which was a single image winner in the open category – shows Ahmad, a young man in his early twenties. According to Ladefoged, he is a member of Isis: "In February 2015, Kurdish YPG militia arrested him after he was seen and revealed in their territory in the northeastern part of Syria."
Palm Wine Collector, Kunene Region, Namibia by Kyle Weeks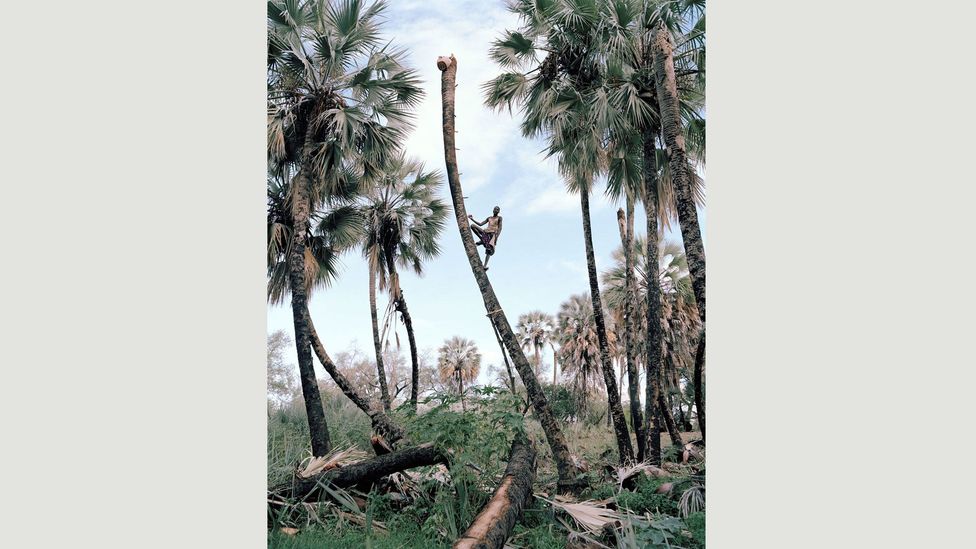 This photo – a single image winner in the fine art category – shows a Himba man who has selected, prepared and maintains a Makalani palm during the sap-tapping process. According to Namibian photographer Kyle Weeks, "the Himba people from this area have utilised this plant family for generations, passing down the knowledge and technique needed to carry out the process of obtaining the liquid".
The tradition runs against recent environmental protection efforts. "Although the Makalani palm is a protected tree in Namibia and the tapping of palms a banned practice, the Ovahimba firmly believe that it is their right to continue," says Weeks. "They argue against Western law, instead following ancient cultural traditions that respect these palms in their utilisation and in turn promote their conservation on a cultural level."
At the Last Second by Valery Melnikov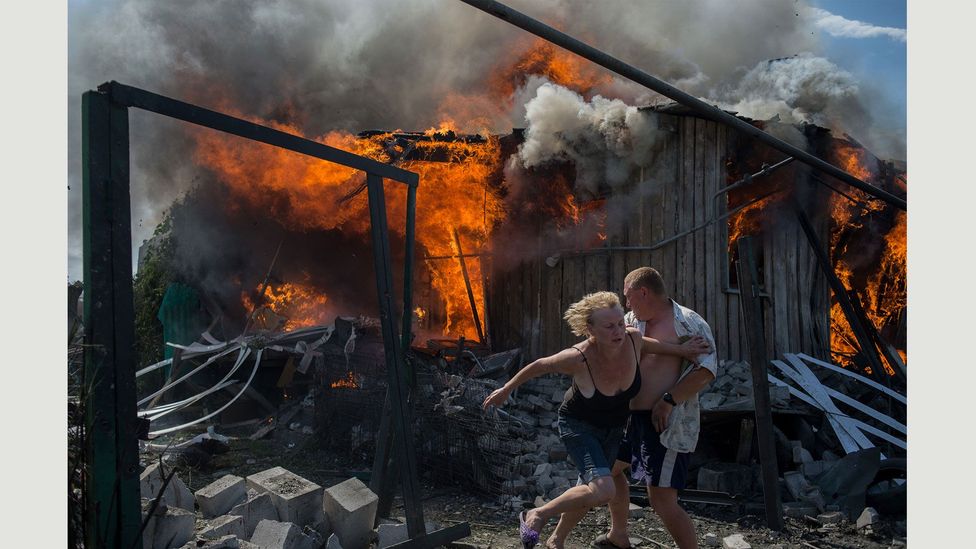 (Credit: Valery Melnikov)
The Russian photographer Valery Melnikov was a World Press Photo winner before becoming a photojournalism single image winner in the 2016 Magnum Awards for this photo. He has covered the Chechen war, the conflict between Georgia and South Ossetia, and the Syrian civil war, and began documenting the war in Eastern Ukraine in 2014.
He took this photo on 2 July 2014, just as two civilians escaped from a fire at a house destroyed by an air attack in Donbass, eastern Ukraine. His current ongoing project, Black Days of Ukraine, is about "ordinary civil people who became the participants of the military confrontation against their will", and he aims to record "the political and social life of societies in conflict".
Refugees by Mauricio Lima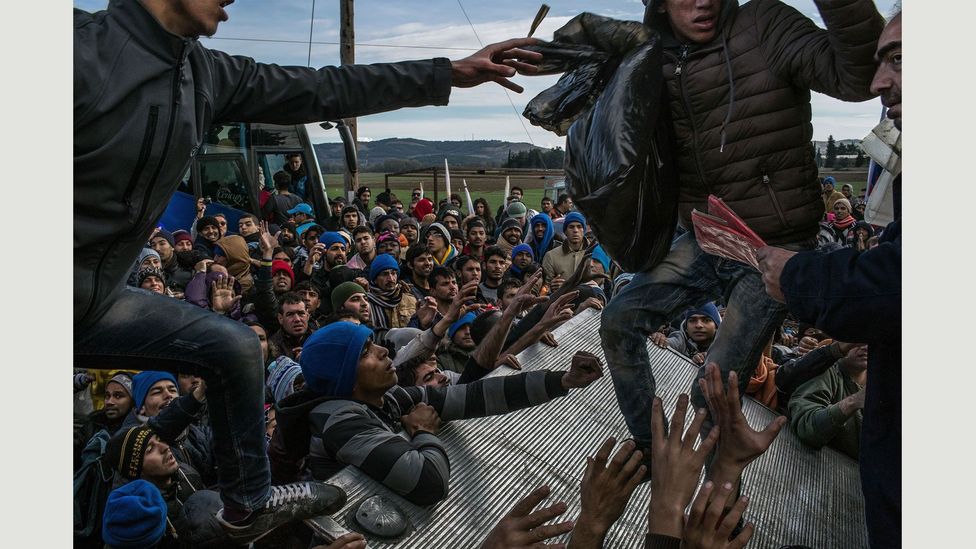 Brazilian photographer Mauricio Lima found a way to personalise what is considered the biggest human exodus since the end of World War Two, winning the Pulitzer Prize for Breaking News Photography. In 2015, he followed the Majid family, after they had left Syria, for 29 days as they travelled through seven countries − from Serbia to Sweden. The resulting project was the documentary series winner in the Magnum Awards, its photos offering glimpses of the realities at each step of the journey.
In one, adults and children are piled on top of each other as they sleep on a bus floor; another shows Iranian refugees sitting on a rail track in protest after only asylum seekers from Afghanistan, Iraq and Syria were allowed to cross the Greek border into Macedonia. This image captures the struggle as refugees barred from crossing the border try to grab donations of water, blankets and nappies after ten days encamped next to a train station in Idomeni, Greece.
Fire of Hatred by Asghar Khamseh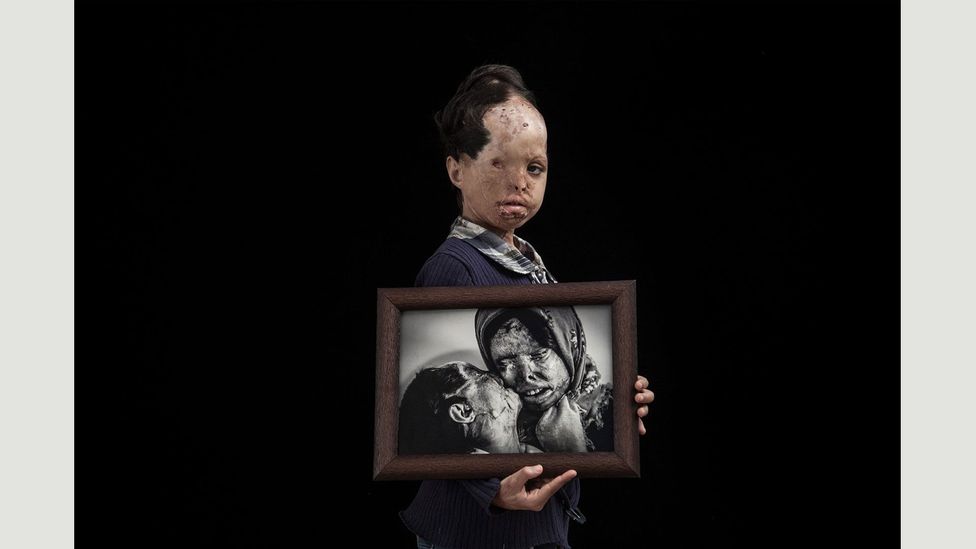 A finalist in the Magnum Awards, Iranian photographer Asghar Khamseh has created a series of heartbreaking portraits showing the victims of acid attacks. Often taking place in family conflicts – whether rejected marriage proposals, divorce requests or prompted by envy – they aim to create "cultural destitution and intolerance", according to Khamseh. "In addition to physical and psychological damage, the victims face the experiences of social stigma and blame."
In this image, Raana Mehri holds a photo of herself and her mother Somayeh. When Somayeh requested a divorce, her husband threw acid on her face and body as well as on Raana. They were disfigured and both lost their right eyes. Somayeh survived for four years, suffering through numerous operations. In April 2015, due to side effects from the attack, including lung scarring, she died in a Tehran hospital.
One of the images that originally appeared in this story has since been removed due to uncertainty over the age of one of its subjects.
If you would like to comment on this story or anything else you have seen on BBC Culture, head over to our Facebook page or message us on Twitter.
And if you liked this story, sign up for the weekly bbc.com features newsletter, called "If You Only Read 6 Things This Week". A handpicked selection of stories from BBC Future, Earth, Culture, Capital, Travel and Autos, delivered to your inbox every Friday.