The beloved food is the star of a new exhibition of still lifes. Cath Pound extolls the virtues of cheese in art history, from the Dutch Masters to the present day.
"Cheese," as the US intellectual Clifton Fadiman put it, is "milk's leap toward immortality." And what milk began, generations of artists have been keen to develop. The humble food stuff has been muse to some of the greatest artists from the Dutch Golden Age to the 21st Century.
There is no denying the fact that it is the star of the Mauritshuis's new exhibition, Slow Food : Still-Lifes of the Golden Age. The canvases overflow with sumptuous edibles and tableware, from lobster and candied fruits to delicate façon de Venise glasses and elegant golden tazze, but it is the cheeses that draw the eye.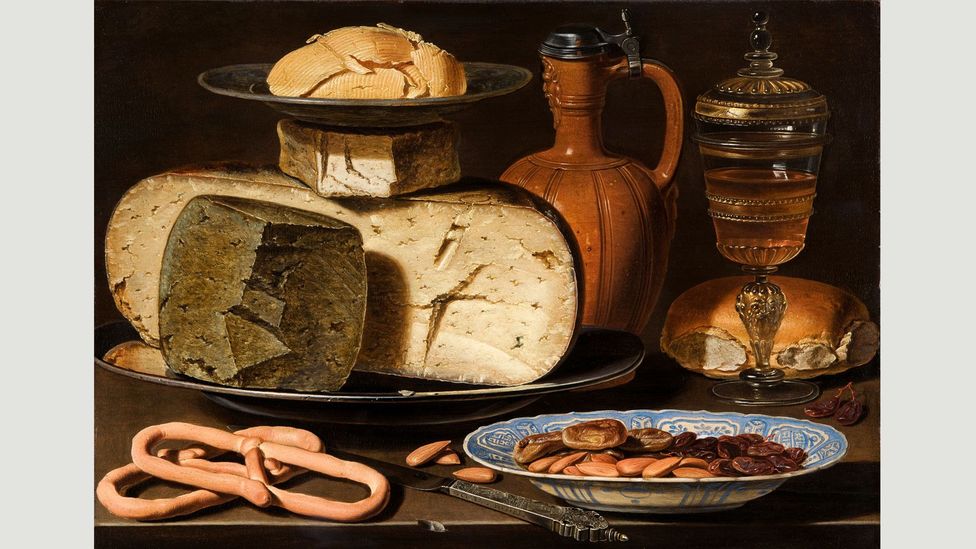 Clara Peeters' Still Life with Cheeses, Almonds and Pretzels presents a halved Gouda in fine detail as a knife points enticingly outwards (Credit: Alamy)
Depicted in exquisitely detailed stacks or arranged enticingly in straw baskets, they demand to be savoured, as Quentin Buvelot, the Mauritshuis's infectiously enthusiastic curator is well aware.  "That is why we called the exhibition Slow Food. With a meal you have to take your time to consume it and we say take your time to consume the paintings."
And consume is certainly what the viewer yearns to do when confronted with Pieter Claesz's basket of cheeses, a dish of butter curls balancing precariously on top of them. One can sense the delight this masterly painter took in depicting the crevices left by a knife as it cut through the truckle, leaving a trembling flake which demands to be plucked off and eaten by hungry fingers.
Watch the video above to learn how cheese became art's greatest muse
Physicians recommended its consumption at the end of a meal to 'close the stomach'
Perhaps unsurprisingly some tried to see a warning against gluttony in the sensual depiction of texture, but Julie Hochstrasser, an expert in Dutch art and trade, firmly believes this is not the case. "The depictions are so luscious and enticing that I couldn't believe it was simply a warning of what not to do," she tells BBC Culture. Having uncovered contemporary physician's manuals, which extolled the digestive properties of cheese and recommended its consumption at the end of a meal in order to 'close the stomach,' she found that in many detailed respects the paintings were simply following their recommendations.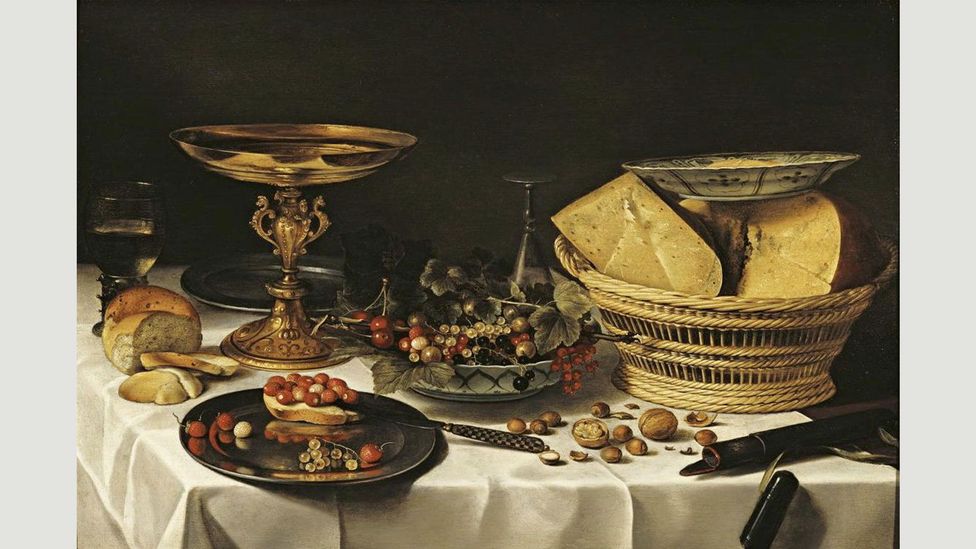 A dish of butter curls rests precariously on Pieter Claesz's basket of cheeses (Credit: Alamy)
The fact that the export of cheese played such an important role in the Dutch economy opened the way to an alternative interpretation. "Not as a warning against, but as a declaration of pride in the prosperity of this newly founded country."
This is most certainly evident in the stack of cheeses by Floris van Dijck. Dominating the canvas, they are rendered with the gravitas of rock, their economic value emphasised by the fact that they are placed on a table covered in red damask, an exceptionally expensive product at the time.  "Just seeing it you know you're in a rich household," says Buvelot.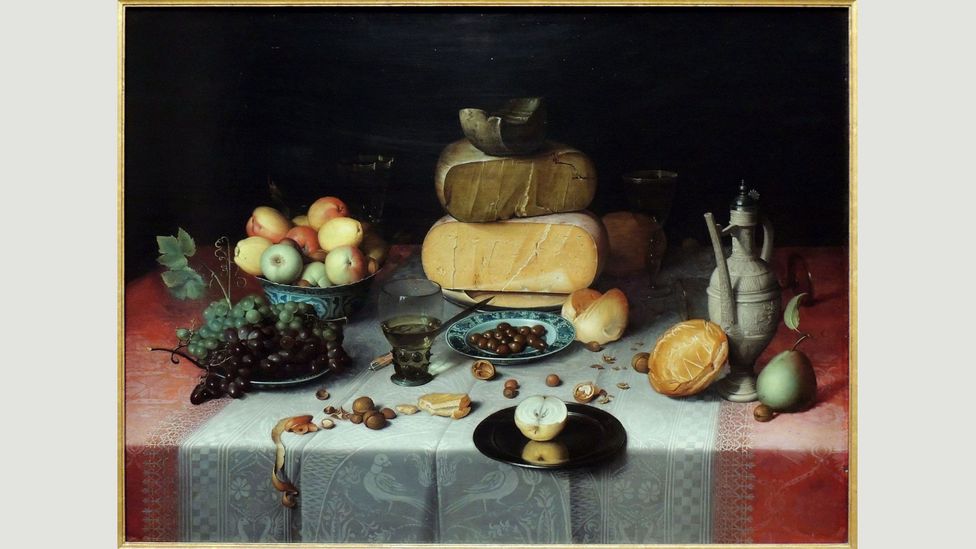 Floris van Dijck's stack of cheese is rendered with the gravitas of rock, placed on a table covered in a rich red damask cloth (Credit: Alamy)
The highlight of the exhibition is undoubtedly Clara Peeters' Still life with Cheeses, Almonds and Pretzels.  The large halved Gouda at the rear is portrayed in such astonishingly fine detail that one cannot help but desire to taste it, as indeed someone already has: the plugged hole left by a cheese taster's scoop is clearly visible.  In front sits a greenish cheese, probably from Edam, its peculiar hue attained from the horseradish or parsley juice added to the milk. The knife pointing out towards us offers enticement to try this extinct delicacy. It's a format that must have pleased buyers as she painted four other very similar versions. Buvelot himself has a copy of it in his office. Does it make him hungry? "It makes me happy," he laughs.
Grate expectations
A century after the paintings featured in the exhibition, Jean-Baptiste-Siméon Chardin, possibly France's finest still-life painter, was portraying cheese in his own uniquely refined manner. He does not let them dominate the canvas in the manner of his Dutch predecessors but his exquisite feeling for colour, texture and tone cannot help but draw the viewer's gaze. As Kenneth Bendiner, author of Food in Painting, puts it, "what makes Chardin different is his simplicity." The emphasis is on the formal beauty of these objects and in this he excels.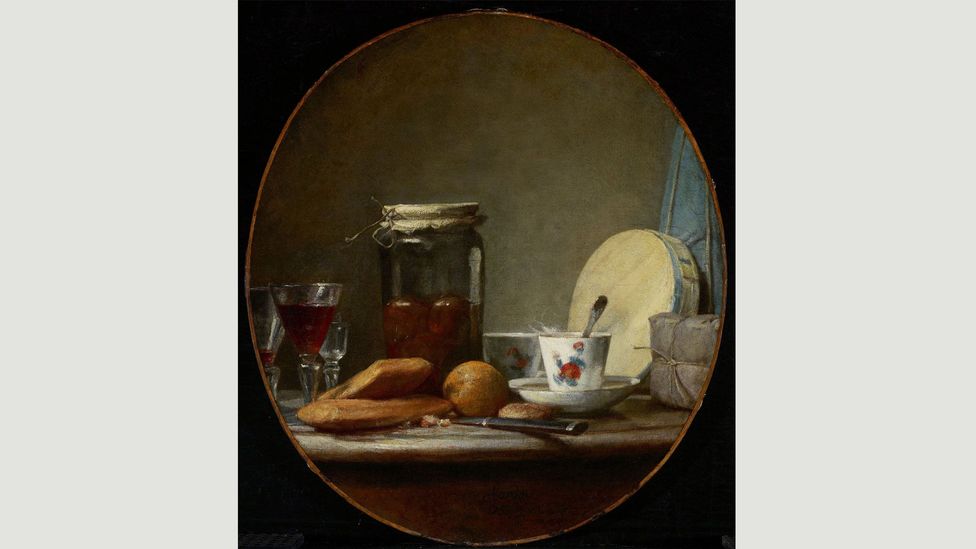 A century after the Dutch Masters, Jean-Baptiste-Siméon Chardin portrayed cheese in his uniquely refined manner, concentrating on its formal beauty (Credit: Alamy)
A boxed cheese lies propped up against a wall on a simple rustic table in Chardin's Jar of Apricots. Dainty cups and elegant wine glasses suggest it will be part of a simple yet refined afternoon tea, in tune with the culinary dictates of the day. In Still Life with Copper Pot, Cheese and Eggs he takes obvious delight in the texture of a small round cheese, a good third cut away to reveal its luscious golden interior.
Lichtenstein's Cheese Head is reportedly a critique of Ronald Reagan
In the 19th Century Raphaele Peale, the first still-life painter in the US, savoured the yellow tones of a half-devoured snack in Cheese with Three Crackers. Antoine Vollon, hailed as a second Chardin, revelled in the beauty of a Brie laid out on a simple straw mat. No-one could infer a symbolic meaning in his work. It is a pure celebration of texture, form and tone.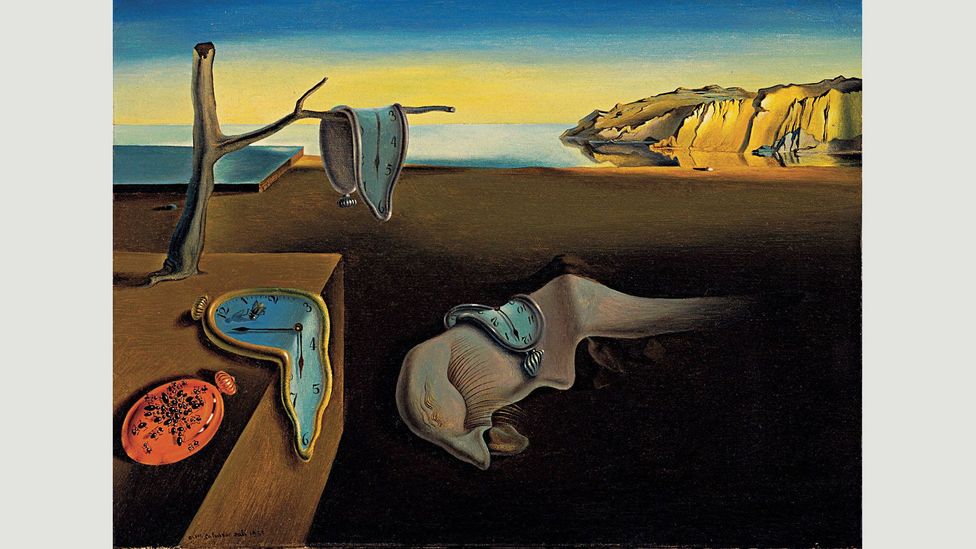 Salvador Dalí was inspired by an unctuous Camembert to create the clocks in Persistence of Memory (Credit: Wikipedia)
Until this point the portrayal of food, including cheese, was very much about enjoyment but in the 20th Century artists began to take a rather more experimental tone. René Magritte riffed on possibly his most famous work, Ceci n'est pas une pipe, by placing a framed painting of a Brie under a glass dome and declaring emphatically Ceci est un morceau de fromage ('This is a piece of cheese').  A few years later Salvador Dalí was inspired by a particularly unctuous Camembert to create the clocks in The Persistence of Memory, one of the most recognised images in art history. Some saw the influence of Einstein's Theory of Relativity in the work but Dalí insisted they were nothing but "the tender, extravagant and solitary paranoiac-critical Camembert of time and space."  
The sculptor Cosimo Cavallaro draped Twiggy in Cheese Whiz as a comment on the ephemeral nature of fashion (Credit: Cosimo Cavallaro)
Roy Lichtenstein adopted Swiss cheese as a recurring motif, most notably in Cheese Head, reportedly a critique of Ronald Reagan's comment that the poor should be given surplus cheese, and at the tail end of the century, the sculptor Cosimo Cavallaro draped Twiggy in cheese as a comment on the ephemeral nature of fashion. Somewhat more poignantly the video and installation artist Mona Hatoum used a giant cheese grater to reflect on her experiences of exile at the time of Lebanon's civil war.
Big cheese
Cheese as an object of beauty in itself has recently been rediscovered by Christian Furr, famous for being the youngest artist ever to paint the Queen. The two subjects couldn't be more different but he sees them as equally valid.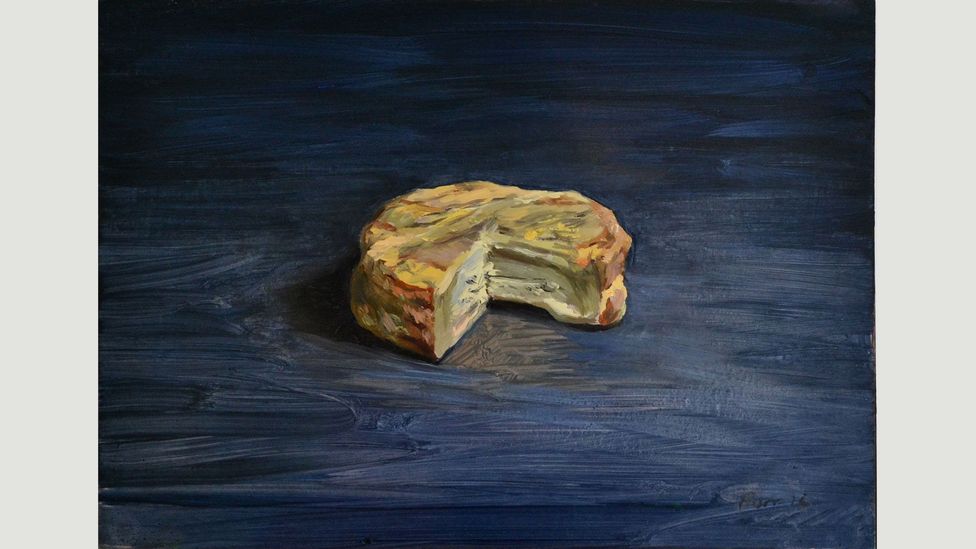 Christian Furr paints cheeses from oozing Epoisses to a solid Beemster against carefully chosen backgrounds (Credit: Christian Furr/Bridgeman Images)
Primarily drawn to their visual qualities he tells BBC Culture there is also an, "element of craft that I like to celebrate." He has painted everything from a solid Beemster to a gently oozing Petit Langres against plain backgrounds carefully chosen to compliment the rich range of textures and tones of the cheeses. Intriguingly he has also found inspiration in mass produced cheeses such as Dairylea. "They have this humour about them that I really like," he explains.  In these, other meanings can inadvertently creep in. He recalls placing a Babybel decorated with a Union Jack in the middle of his studio. "It was just after Brexit and it looked quite lonely."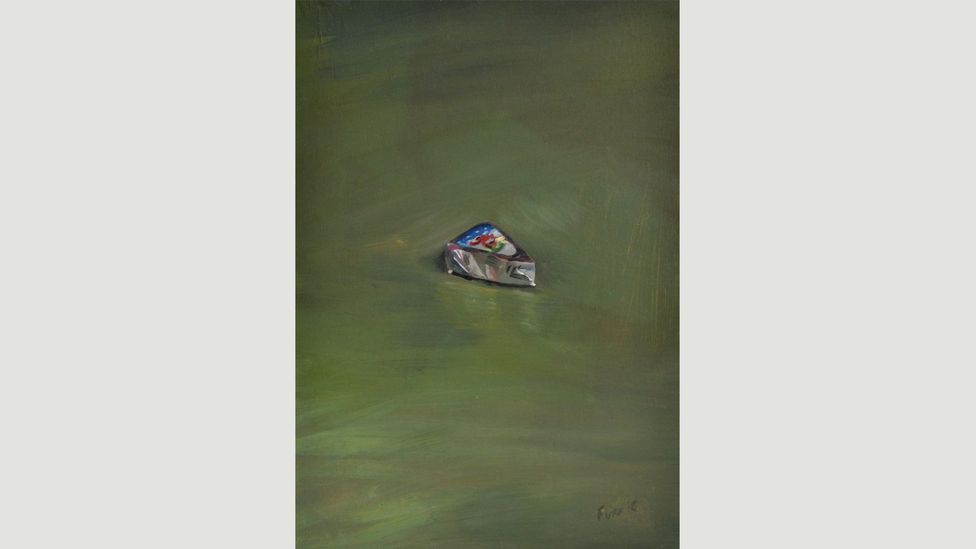 Furr also finds inspiration in mass-produced cheeses such as Babybel, Laughing Cow and Dairylea (Credit: Christian Furr/Bridgeman Images)
He has said that he wants his cheese paintings to express the full range of human emotions and also believes that you can tell a lot about someone from their taste in cheese. Sarah Lucas's is apparently Cheddar. "And when you look at her work, it's in keeping." Furr's own favourite cheese is mature Gouda which, as an heir to the Dutch masters, seems quite apt.
If you would like to comment on this story or anything else you have seen on BBC Culture, head over to our Facebook page or message us on Twitter.
And if you liked this story, sign up for the weekly bbc.com features newsletter, called "If You Only Read 6 Things This Week". A handpicked selection of stories from BBC Future, Earth, Culture, Capital and Travel, delivered to your inbox every Friday.