Radiohead's angst-ridden opus came at a time of prosperity and hope in mid-'90s Britain – but its anxious mood was also eerily prescient, writes Dorian Lynskey.
A
Among the titles Radiohead reportedly considered for their third album before settling on OK Computer were Ones and Zeroes and, less plausibly, Your Home May Be at Risk if You Do Not Keep Up Repayments.
A more apt choice, if Blur hadn't got there first, would have been Modern Life Is Rubbish. Blur meant "rubbish" as a noun, not an adjective: clutter, detritus, white noise, waste. The idea of too much information was a key '90s trope, from the data blitz of U2's Zoo TV to the brain-scrambling hyper-prose of David Foster Wallace's Infinite Jest.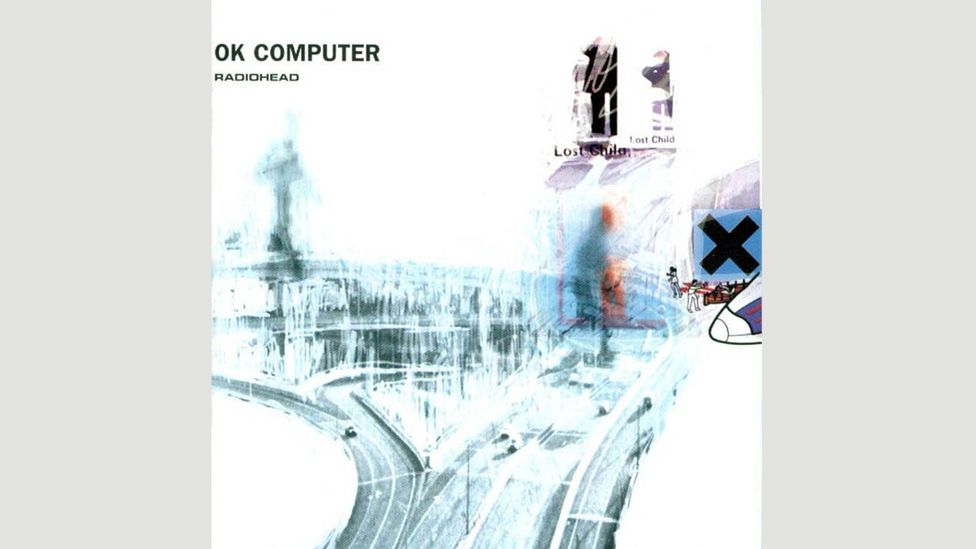 OK Computer channelled the sensory overload of the 1990s into a rock masterpiece (Credit: Wikipedia)
OK Computer was progressive, relevant, profound and genuinely popular
OK Computer channelled that sensory overload into the last archetypal rock masterpiece: progressive, relevant, profound and genuinely popular. "A lot of the album was about background noise and everything moving too fast and not being able to keep up," Thom Yorke explained at the time. Keen to move on from the introspection of The Bends, he said, he felt that "the outside world became all there was".
OK Computer is routinely described as 'dystopian' but that's not quite right. A dystopia is a nightmare of the future and there is almost nothing on OK Computer that wasn't true in 1997. Planes sometimes crash. So do cars. An airbag could save your life. People work jobs that slowly kill them. Ambition makes you look pretty ugly. Admittedly, aliens aren't really filming earthlings to entertain the folks back home but everything else is an accurate, if gloomy, reflection of how we lived then.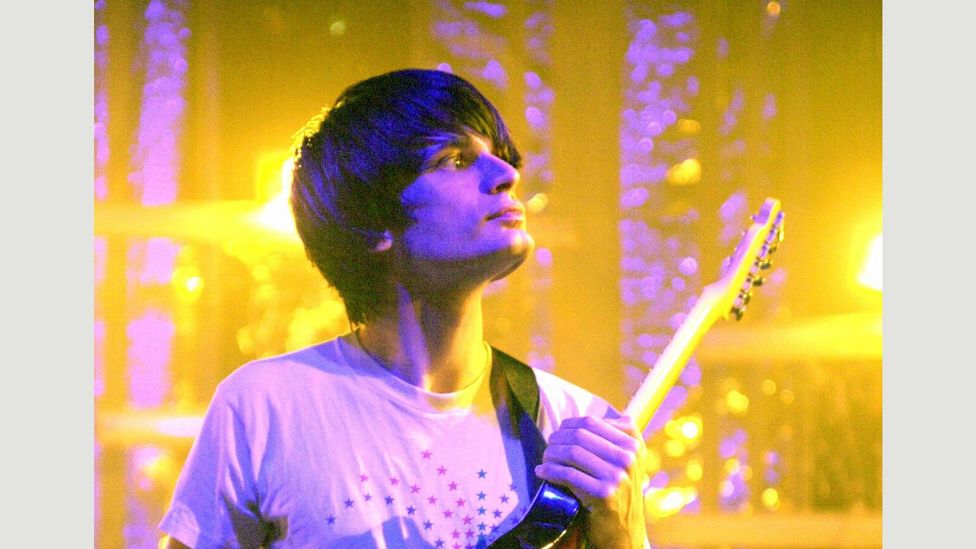 Guitarist Jonny Greenwood described the song Let Down as being about transit; there are frequent references to modes of transport on the album (Credit: Getty Images)
Being in a touring band was, to Yorke, a synecdoche for the modern condition: disorientation, alienation, rootlessness, exhaustion, lack of control, occasional derangement, constant motion
OK Computer also reflected how Radiohead lived then. Specifically, it documented how Yorke saw the world during the year that Radiohead were touring The Bends, hence the frequent references to modes of transport. Guitarist Jonny Greenwood said that Let Down was "about that feeling that you get when you're in transit but you're not in control of it — you just go past thousands of places and thousands of people and you're completely removed from it." Perhaps being in a touring band was, to Yorke, a synecdoche for the modern condition: disorientation, alienation, rootlessness, exhaustion, lack of control, occasional derangement, constant motion. By backgrounding his own identity, he avoided the tedious trap of moaning about success (at least until the claustrophobic 1998 tour documentary Meeting People Is Easy) and made those sensations universal.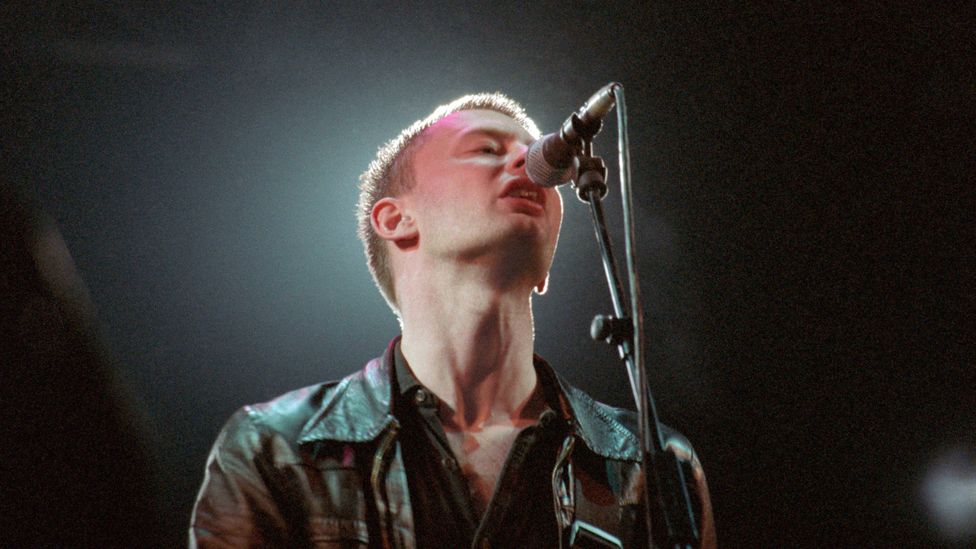 The images Thom Yorke wrote down manifested in the form of dreams, mantras, lullabies, litanies, curses, rants and panic attacks (Credit: Alamy)
Talking about his lyrical influences, Yorke cited John Lennon's fractured newsreel verses in A Day in the Life and Elvis Costello's ability to be "very emotional without being personal". Both are evident in Yorke's determination to be, as Christopher Isherwood said, "a camera". OK Computer is more reportage than commentary. "Stuff that meant anything to me came in the form of what I call Polaroids in my head," he told Vox. "The immediate external world became very bright and powerful, like it was on fire, and that was when I wrote stuff." Yorke's flight from autobiography led him to inhabit other voices, other lives. The images he wrote down manifested in the form of dreams, mantras, lullabies, litanies, curses, rants and panic attacks.
OK Computer's central axis is the contrast between noise and quiet, velocity and stability — an ambiguity illustrated by Stanley Donwood's half-obscured artwork, which represents a partially successful attempt to erase the clutter. "Please could you stop the noise?" Yorke begs at the start of Paranoid Android, the album's most crammed song. "Hey man, slow down," he warns on The Tourist, its most benign. The people he meets squeal like pigs and buzz like fridges. He's uptight, uptight. But peace and stasis are no remedy. No Surprises is a lullaby that sounds suspiciously like a suicide note and the computer-voiced interlude Fitter Happier makes slogans and self-help bromides about a well-balanced life resemble a prison sentence.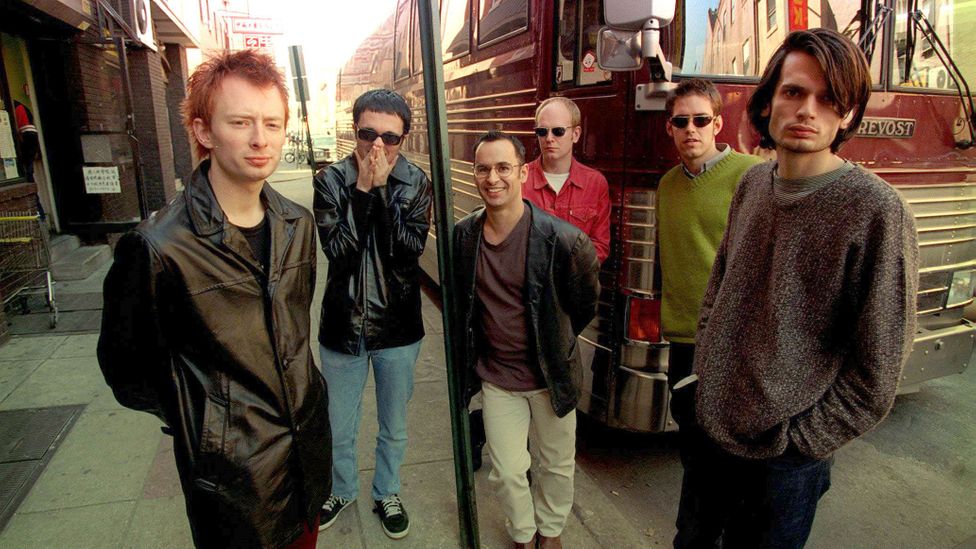 OK Computer specifically documented the year on the road the band spent touring The Bends (Credit: Alamy)
Struck by writer's block, Yorke was reduced to writing lists. He composed Fitter Happier in a fit of "incredible hysteria and panic", then fed it through a machine until it was chillingly neutral. As for the possibility of physical escape, we know where Romeo and Juliet end up in Exit Music (For a Film), and being abducted by a benevolent UFO on Subterranean Homesick Alien — a religious fantasy for the X-Files era — ends with the prospect of being disbelieved and institutionalised.
'Concerned but powerless'
One solution that certainly isn't available is a political one. In his book Capitalist Realism, the late critic Mark Fisher addressed "the widespread sense that not only is capitalism the only viable political and economic system, but also that it is now impossible even to imagine a coherent alternative to it". It is hard to even picture a form of escape. Yorke's various narrators represent what Fisher called "the consumer-spectator, trudging through the ruins and relics".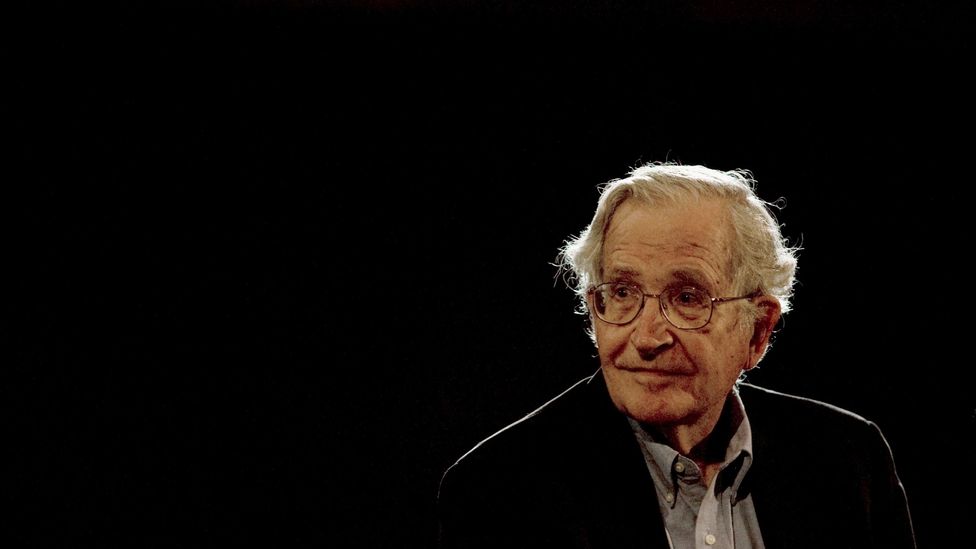 The song Electioneering channels Noam Chomsky's studies into a violent blurt (Credit: Alamy)
Simply by holding up a black mirror to the world, OK Computer qualifies as political but its protest is fundamentally impotent: "Concerned but powerless," to quote Fitter Happier. Never has a revolutionary cry sounded as hopeless as "Bring down the government/They don't speak for us" does on No Surprises. The more overtly political lyrics of Lucky were scrapped because they were pages and pages of 'bollocks', while Electioneering, the album's stroppy black sheep, reduces Yorke's Chomsky studies to a violent blurt: "Riot shields, voodoo economics/It's just business/Cattle prods and the IMF." No prospect of change is offered nor predicted. No Surprises was written when John Major was prime minister and released five weeks into the Blair years but the transition affects its message not one jot. "We live under a world banking system and media that make it almost irrelevant who is in power," said Yorke.
The mid-'90s were not all about feeling supersonic, things only getting better and football coming home
That was a dissonant, though not unique, sentiment in Britain in June 1997, when optimism was in the air. It's foolish to assign a single mood to any era. The mid-'90s were not all about feeling supersonic, things only getting better and football coming home. Tricky called an album Pre-Millennium Tension; even some Britpop albums had a subtext of anxiety and fragility. Still, it was a relatively peaceful, prosperous, upbeat time, when Britain's booming pop culture and the rise of New Labour mirrored and enhanced one another to forge a seductive narrative of progress. OK Computer rang the death knell for that optimism — indeed its final sound is a chime that might mean that time's up.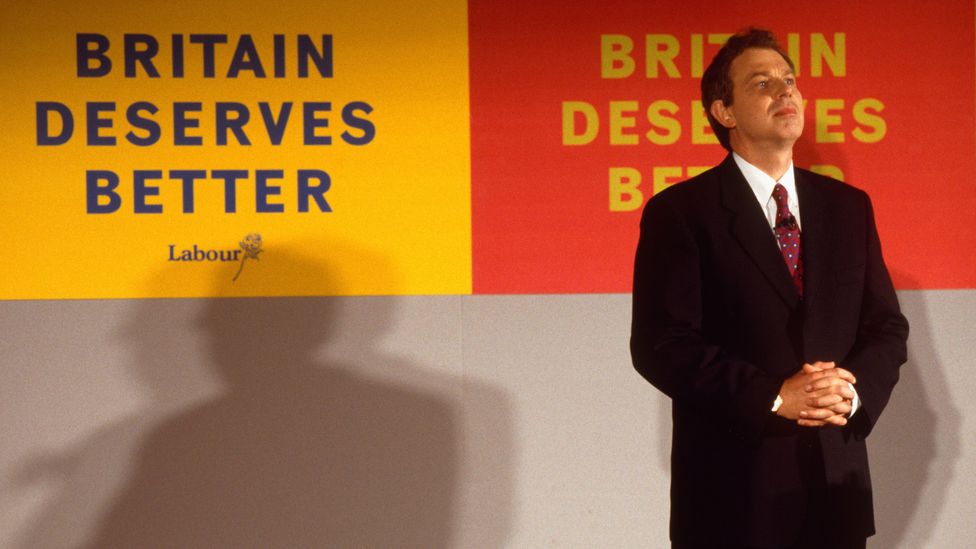 The rise of Tony Blair signalled a prosperous, upbeat time, when Britain's pop culture was booming (Credit: Alamy)
OK Computer is part of the shadow history of the '90s. In 1989, when everyone else was celebrating the fall of the Berlin Wall, Leonard Cohen began writing a brutally bleak prophecy that he eventually christened 'The Future'; its working title was If You Could See What's Coming Next. OK Computer played a similarly sobering role in 1997 with Yorke, like Cohen, the buzzkill at the feast. History, sadly, has proven the buzzkills right.
In his book The Age of Extremes, which influenced OK Computer in general and Climbing Up the Walls in particular, the historian Eric Hobsbawm wrote: "As the citizens of the fin de siècle tapped their way through the global fog that surrounded them, into the third millennium, all they knew for certain was that an era of history had ended. They knew very little else." What a perfect way to describe OK Computer — tapping its way through the global fog.
'The eeriness of the everyday'
For all its grim preoccupations, however, OK Computer is not a depressing record. The music is more often than not exceedingly beautiful, even if the beauty often carries sinister undertones. Its emotional range extends to moments of temporary elation such as the back-from-the-dead triumphalism of Lucky and Airbag. And there's a considerable amount of humour. The band have described aspects of Karma Police, Paranoid Android and Subterranean Homesick Alien as jokes — quoting Douglas Adams and punning on Bob Dylan is one way to puncture the darkness. The forthcoming reissue includes the first studio recording of fan favourite Lift, in which Yorke, rescued from an elevator, tells himself to "Lighten up, squirt". Like the coda of Karma Police ("Phew, for a minute there I lost myself") it shows that Yorke wasn't above making fun of his own pessimism.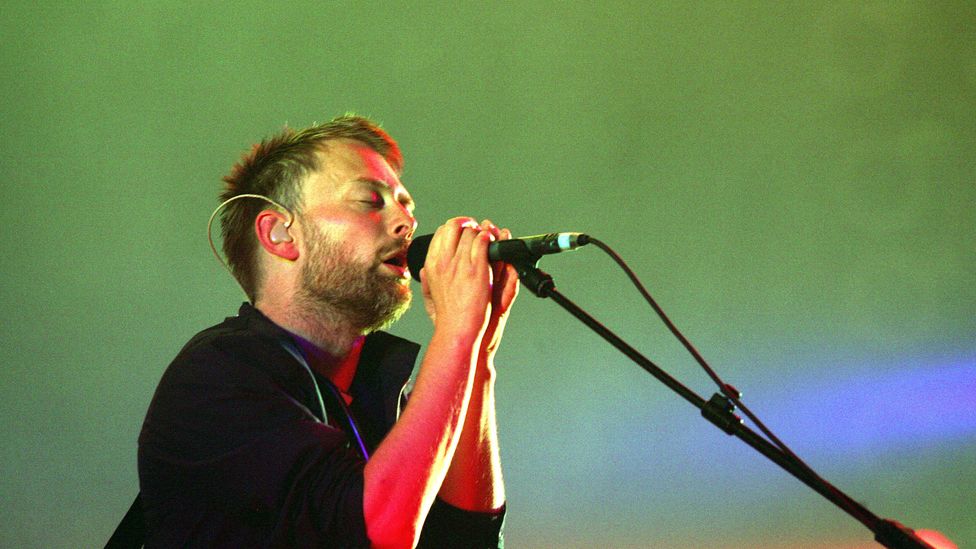 There are moments of humour in the darkness of OK Computer, and signs that Yorke wasn't above making fun of his own pessimism (Credit: Alamy)
Most importantly, OK Computer has a bedrock of compassion. When bass-player Colin Greenwood said that it "encourages you to try find your own space mentally in the contemporary world," he may have made it a sound a little too much like a meditation app, but he wasn't wrong. It is on the listener's side. Talking to Pitchfork recently, Jana Hunter of Baltimore band Lower Dens summed up many fans' intense affection for the record: "OK Computer delivered a sense of companionship in understanding what an insane world we lived in, and I was desperate for that company." In that solidarity there is a strange kind of consolation.
Twenty years on, it's still a valuable companion. Despite its reputation, OK Computer is not a very hi-tech record. It mentions motorways and tramlines but not mobile phones, nor, in fact, computers. Electronics are less prominent than guitars; Neil Young and The Beatles loom as large as Miles Davis and DJ Shadow. Perhaps that's why things that didn't exist when it came out feel like they could be part of its landscape: smartphones, social media, Google, YouTube, automated tills, self-driving cars, airport full-body scanners, AI voice assistants, metadata collection, fake news, trolling, drones.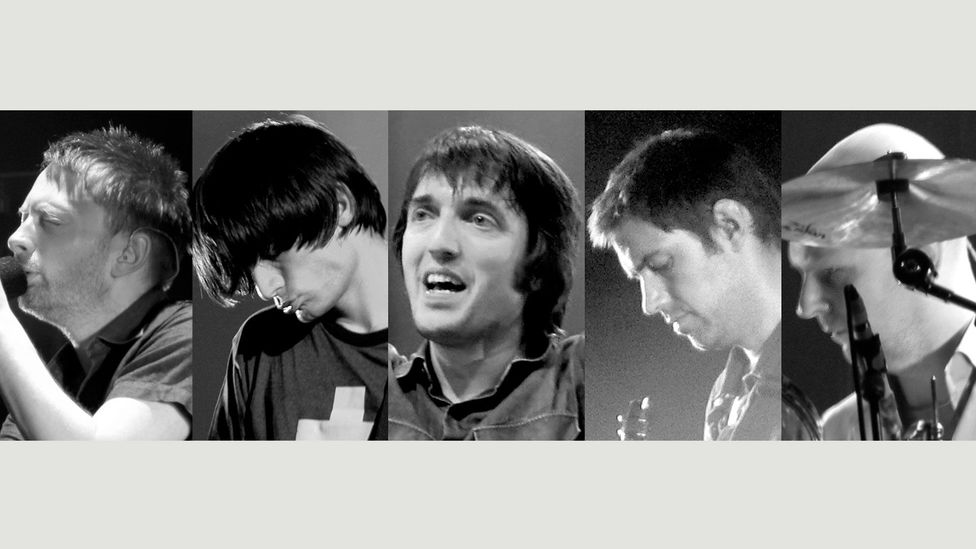 Radiohead's OK Computer isn't hi-tech – a more zeitgeist-chasing record would have dated badly (Credit: Wikipedia)
There are of course extremists when it comes to pondering the impact of technology on human beings, from Silicon Valley accelerationists to neo-Luddite refuseniks, but for everyone else ambivalence is a natural state. We constantly allow technology to bend the shape of our lives while wondering what exactly we've signed up for. The result is a vague, insoluble unease. We have to run in order to stand still. That feeling is at the heart of the record.
Notwithstanding occasional eruptions of extreme drama, OK Computer specialises in the eeriness of the everyday. It creeps up on me in moments of mundane dislocation: jetlagged on a travelator, scrolling mindlessly through Twitter in a hotel room far from home, flinching when an algorithm knows more about me than it should, hearing recorded voices tell me that there is an unexpected item in the bagging area or that my call is important to them. A more explicitly zeitgeist-chasing record would have dated badly — many have — but Radiohead concentrated on evoking a mood rather than delivering a message, and that decision made it both of its time and future-proof. OK Computer allowed us to see, and feel, what was coming next.
This story is a part of BBC Britain – a series focused on exploring this extraordinary island, one story at a time. Readers outside of the UK can see every BBC Britain story by heading to the Britain homepage; you also can see our latest stories by following us on Facebook and Twitter.
If you would like to comment on this story or anything else you have seen on BBC Culture, head over to our Facebook page or message us on Twitter.
And if you liked this story, sign up for the weekly bbc.com features newsletter, called "If You Only Read 6 Things This Week". A handpicked selection of stories from BBC Future, Earth, Culture, Capital, Travel and Autos, delivered to your inbox every Friday.