After a series of photos showing women in a cow mask went viral this week, Kelly Grovier looks at the masks that challenge the social order.
No one knows for sure who first uttered the phrase 'the camera doesn't lie'. But whoever it was (the Scottish novelist Robert Louis Stevenson was already referring to the saying as an "old melodrama principle" in 1896) wasn't being completely honest. From its very inception, the camera has relied on disguise and cover-up to expose the truth. "In the first experiments which I made for obtaining portraits from the life," according to John William Draper, the US inventor who is thought to have captured the very first photos of living subjects, "the face of the sitter was dusted with a white powder, under an idea that otherwise no impression could be obtained." In other words, in order to preserve a true likeness of someone, he or she first had to be fitted with a mask.
To this day, the camera and the mask continue to collaborate in the search for truths that are otherwise difficult to face. A series of images created as part of a photography project in India has gone viral this week, revealing just how potent a partnership the camera and mask still is. The striking photos are the brainchild of Sujatro Ghosh, a Delhi-based photographer, who believes that Indian society values the lives of cattle more highly than the lives of women.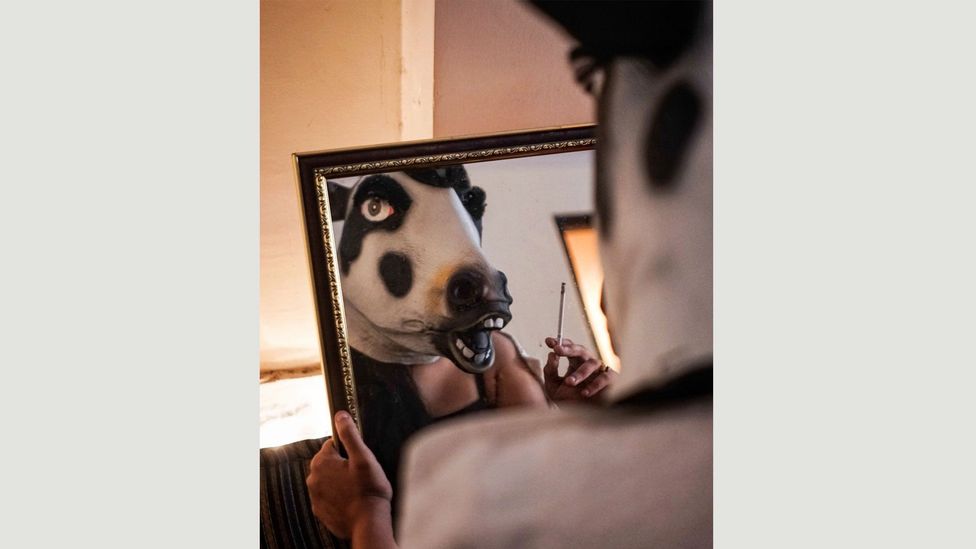 Sujatro Ghosh has been photographing women wearing a cow mask as "a silent form of protest" (Credit: Sujatro Ghosh)
In order to call attention to endemic misogyny that he feels disfigures cultural life in India (where authorities, Ghosh says, are more likely to punish the mistreatment of a cow than the abuse of a woman or a girl), the photographer invited his female friends to pose for photos wearing a cow mask that he bought from a party shop in New York. Now lounging on a bed, now staring out of a train window, now gazing coolly into a mirror while holding a starlet's long cigarette, Ghosh's models have adopted a range of postures that would seem otherwise unremarkable were it not for the oversized bovine skulls bulging surreally from the sitters' shoulders. Outraged defenders of the vigilante cow protection groups that are the main target of Ghosh's campaign responded with menacing hostility to his images, insisting that he and those involved in the photographs should be "slaughtered".
Consciously or not, Ghosh's photos echo earlier efforts by artists to expose the sexist instincts of cultural institutions. Preferring the visual pun provided by gorilla (as opposed to cow) masks, members of the all-female collective known as the Guerrilla Girls have, for the past three decades, been committed to raising awareness of issues of gender (and racial) bias in the international art world. Relying on street art to communicate their message, the anonymous activists are perhaps best known for a series of arresting posters from the 1980s that have become as recognisable as any works of contemporary art from the period. Among the most famous images generated by the group is a screenprint from 1989 entitled Do Women Have To Be Naked To Get Into the Met. Museum?, which anticipates the unflinching question Ghosh poses a generation later: "are women less important than cows in India?"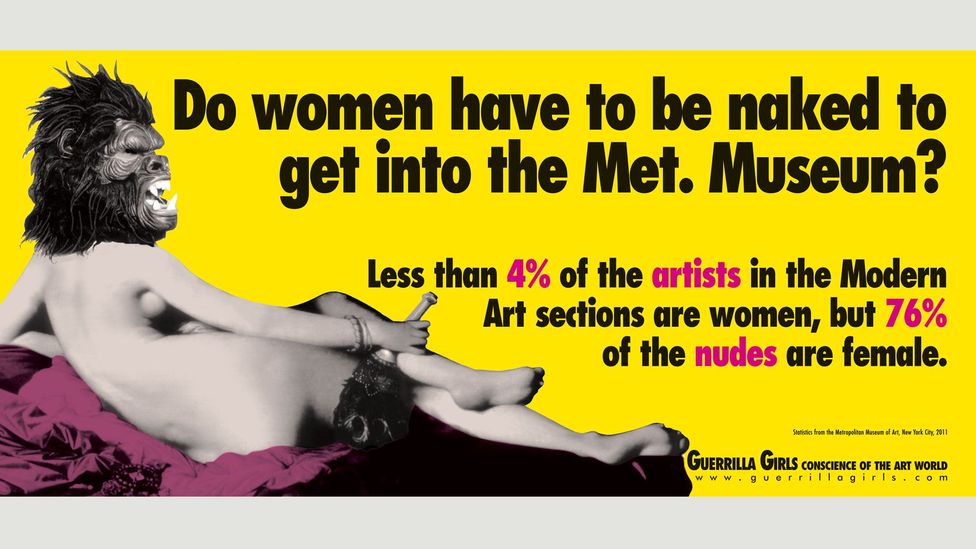 The Guerilla Girls – a group of anonymous activists – created this poster based on Jean-Auguste-Dominique Ingres's La Grande Odalisque (Credit: The Guerilla Girls)
The Guerilla Girls' provocative poster was rejected by city officials from display on New York transport on the grounds that it was too risqué. The banner satirises French artist Jean-Auguste-Dominique Ingres's lounging portrait of a concubine, La Grande Odalisque (1814), slipping an ape mask over her head and turning the image into one that is impossible to ignore. Placed alongside Ghosh's viral photos from this week, the Guerrilla Girls' memorable poster corroborates a recent claim made by another incognito icon, Banksy: "If you want to say something and have people listen, then you have to wear a mask."
If you would like to comment on this story or anything else you have seen on BBC Culture, head over to our Facebook page or message us on Twitter.
And if you liked this story, sign up for the weekly bbc.com features newsletter, called "If You Only Read 6 Things This Week". A handpicked selection of stories from BBC Future, Earth, Culture, Capital and Travel, delivered to your inbox every Friday.