Horror films have taken over the land of the samba, with queues of patrons in search of a fright stretching in front of cinemas, writes Ana Maria Bahiana.
T
Their titles practically shriek at you: Night of the Chupacabras, When I Was Alive, The Necropolis Symphony. Right away you can guess that these are films you might need to watch through your fingers, tales of horror to quicken the heart. But you might not know where they're from. Step aside Carmen Miranda and The Girl from Ipanema, these frightfests are from Brazil.
What evokes Brazilian cinema for many beyond a dancing lady in a fruit-covered hat?
Countries tend to brand the films they produce. Hear the words 'French cinema' and a low-key cool shrouded in the smoke of Gitanes will come to mind almost immediately. Japanese cinema evokes samurai and kaiju monsters and Ozu's domestic dramas. Hollywood cinema is all about glamour. But hear the words 'Brazilian cinema' and what do you think beyond a dancing lady in a fruit covered chapeau? Maybe the stylish violence of City of God or the earthy lyricism of Central Station.
A new view of Brazilian cinema is coming into focus. Inspired by the works of international filmmakers such as Guillermo Del Toro (The Devil's Backbone), Bong Joon-Ho (The Host), Julia Ducournau (Raw) and Robert Eggers (The Witch), a new generation of directors and writers are passionately embracing horror.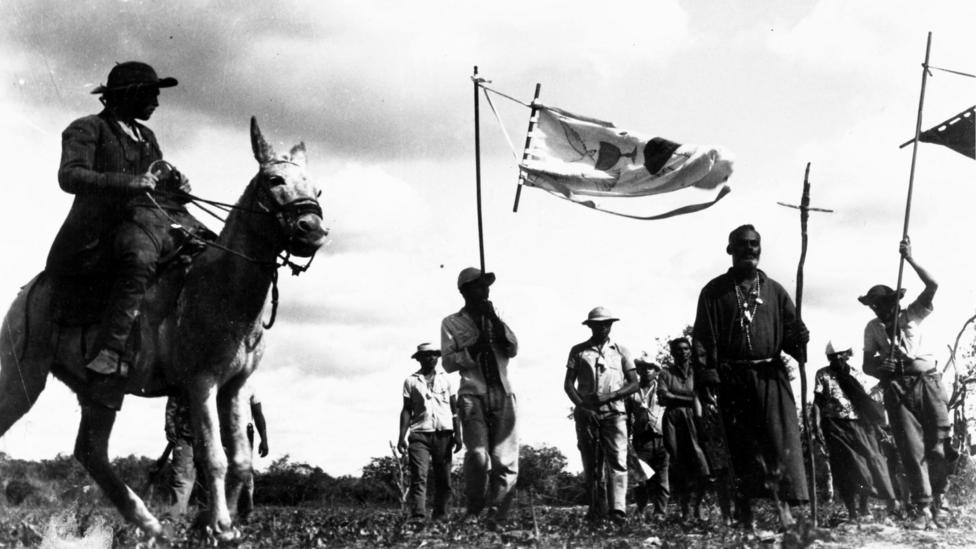 Even Brazilian arthouse directors have sometimes included horror elements in their films – Glauber Rocha's Black God White Devil features shocking infanticide (Credit: Kino)
Between now and next year, more than 10 new Brazilian horror movies will be released in the country, and there are more in development. Unlike Oscar-ready films with sociological concerns, such as City of God and Central Station, these horror films aren't being made to capture foreign recognition and awards – these are films made for Brazilian viewers, who embrace the pop and pulp trappings on the surface while the movies smuggle in commentary on Brazilian politics and social issues underneath.
It came from inside
Horror and other films with fantastical themes have historically been rare in Brazilian cinema – they pop up once every decade, in isolated efforts that can be traced back to 1908 and The Cooks' Duel, a silent film described by its director, one Antonio Leal, as "a comic picture in a fantastic mode".
Horror films commented on the military dictatorship that ruled Brazil from 1964 to 1985
The 1960s marked the true beginning of Brazilian horror, with the arrival on the scene of José Mojica Marins, an actor-director-producer responsible for the most successful horror character in Brazilian cinema: Coffin Joe. Born in a circus family and an avid fan of comics and pulp fiction, Mojica Marins discovered his true calling when he got an 8mm camera for his 12th birthday. Although some of his pictures are simple adventure stories he became famous for his gory, over-the-top and highly sexualised horror films, starting in 1963 with At Midnight I Will Take Your Soul and followed by a long series of equally explicit and bombastically-titled pictures: This Night I Will Possess Your Corpse, The Beast Awakens, Black Exorcism, A Fiend's Delirium. All featured Mojica Marins' alter ego Josefel Zanatas, aka Coffin Joe, a sinister master of horror with impossibly long, curled nails, a diabolical beard and a very satanic cape.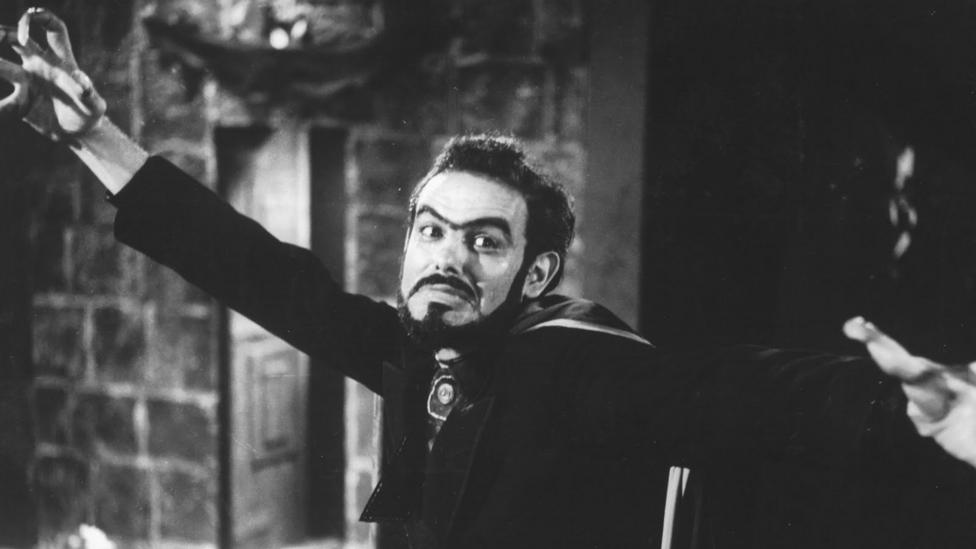 The villain Coffin Joe was always on the hunt for the 'perfect woman' to bear his child – the Coffin Joe trilogy spanned films from 1963 to 2008 (Credit: Anchor Bay)
None were blockbusters, but all had a devoted cult following, both in Brazil and abroad – in the 1990s Mojica Marins was discovered by horror fans in the US and his 1960s films were shown in festivals and released on DVD. Mojica's films also served as a template for another batch of thrillers in 1970s and '80s, the independent and highly politicised work of underground film-makers like Ivan Cardoso and poet Torquato Neto. Works like Nosferatu in Brazil, Red Terror and A Werewolf in the Amazon riffed on classic horror plots and characters – Nosferatu, Masque of the Red Death and The Island of Dr Moreau, respectively – to comment on life under the military dictatorship that ruled the country with an iron fist from 1964 to 1985.
The current wave of Brazilian horror films owes very little to these rarified roots. They are born straight from foreign films made increasingly more available to audiences since 2000, when the economy was stable, the pall of censorship was gone and multiplexes were being built all over the country. More recently Netflix, which chose Brazil as its first foreign market outside of North America, introduced Brazilian viewers to The Babadook, My Mother's Eyes, The Witch and Under the Shadow. Those films caused a minor stir in the US when they were released. But in Brazil they have shown film-makers how powerful stories can be even when told with tiny budgets.
Present terror
Most Brazilian directors and industry executives agree that, as far as inspiration within Brazil are concerned, the current wave of horror can be traced to two films: 2008's Black Swamp and 2011's Hard Labour.
Black Swamp, a tale of cannibal zombies terrorising locals and tourists at a beach resort, was the first film of self-taught special effects technician-turned director Rodrigo Aragão, then 30 years old. With a budget of $15,000 (£11,853) and using a vacant lot behind his house as the main location, Aragão's Swamp became an instant cult hit, and launched a mini-franchise: Aragão followed it with Night of the Chupacabras, Black Sea and Black Fables, all low budget, all shot locally in his home town of Guarapari, in the eastern Brazilian state of Espírito Santo – and all cult favourites.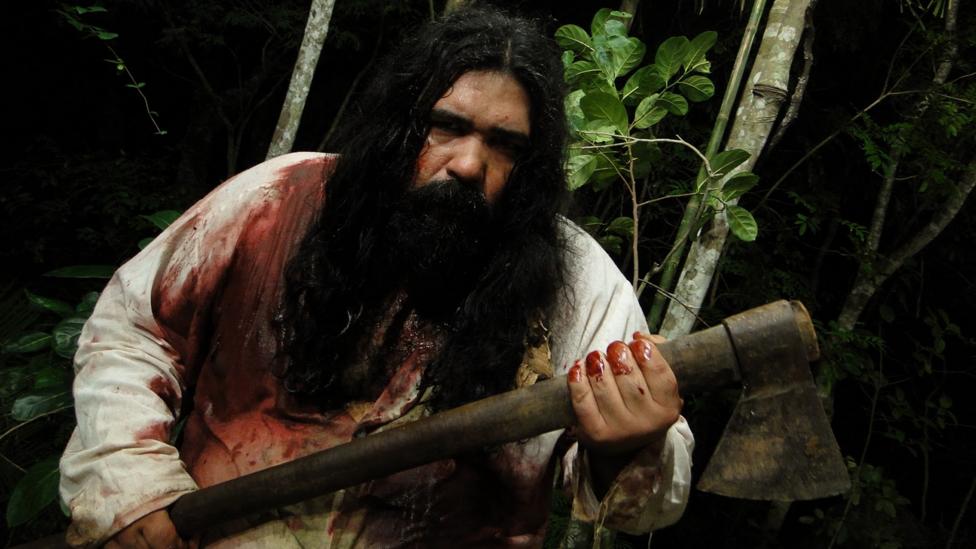 Rodrigo Aragão's cannibal zombie film Black Swamp spawned follow-ups such as Night of the Chupacabras (Credit: Fábulas Negras/EMS Films)
Hard Labour is a thriller about the crumbling life of a middle-class couple, directed by Juliana Rojas and Marcio Dutra, who had just turned 30 when this, their first feature, was picked by the Un Certain Regard sidebar at Cannes in 2011. The duo followed up with solo works in the same genre – Rojas with The Necropolis Symphony, a musical about the daily chores of a poet/gravedigger, and Dutra with When I Was Alive, a chronicle of ghosts and mental illness, both in 2014.
By that time festivals and mini-conventions dedicated to the local horror trend began sprouting in major Brazilian cities and the media started to take notice. Older film-makers of prestige pictures, such as documentarian David Schürman (who would direct Brazil's 2016 Oscar submission, Little Secret) and Andrucha Waddington (winner of a special mention Un Certain Regard award at Cannes for Me You Them in 2000) adhered to the trend. Schürmann shot Disappeared, about a group of stranded campers on a not-so-desert island, in the style of The Blair Witch Project. Waddington made Under Pressure, a thriller in a hospital setting that is now being turned into a TV series.
Dark future
Among the upcoming mini-tsunami of Brazilian horror films are Waddington's fantastical/psychological thriller The Judge, written by his go-to actress Fernanda Torres, Aragão's new instalment of his zombie franchise, Black Jungle, and the return of duo Juliana Rojas and Marcio Dutra with Good Manners, about a baby werewolf.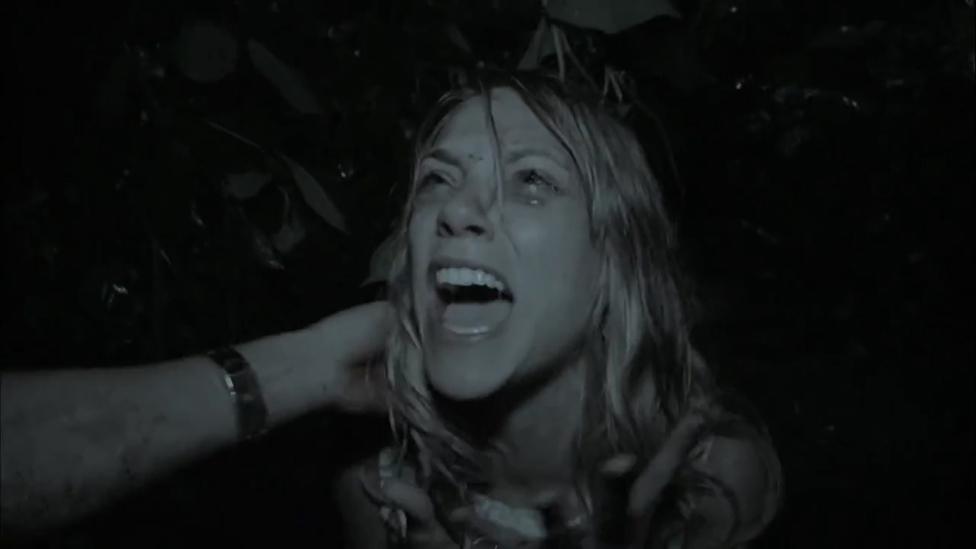 David Schürmann evoked The Blair Witch Project in Disappeared, about campers experiencing the vacation from hell (Credit: Schürmann Film Company/Teleimage)
But much like Hollywood, the Brazilian film industry throws the vast majority of its efforts into the production and promotion of blockbusters with healthy budgets – movies that are guaranteed to be hits simply because they are too big to fail. No Brazilian-made horror movie has ever reached the rarified atmosphere where tentpole spectacles live, such as the biblical drama The Ten Commandments (11.3 million spectators), the crime drama Elite Squad 2: The Enemy Within (11.2 million) and the body-switch comedy sequel If I Were You 2 (6.1 million). Horror films may not make as much money as these blockbusters, but since they're so much cheaper to produce the potential for profit is greater.
"The 1990s and early 2000s were [also] marked by a hunger for accolades and awards, with a particular anxiety towards the Oscars," says Pedro Butcher, editor of Brazil's main trade publication, Filme B. "The Witch had lines going around the block," says Diego Freitas, director of the horror film Davi's Secret. "It was like the theatre was showing a Marvel superhero film. Everybody was talking about it.")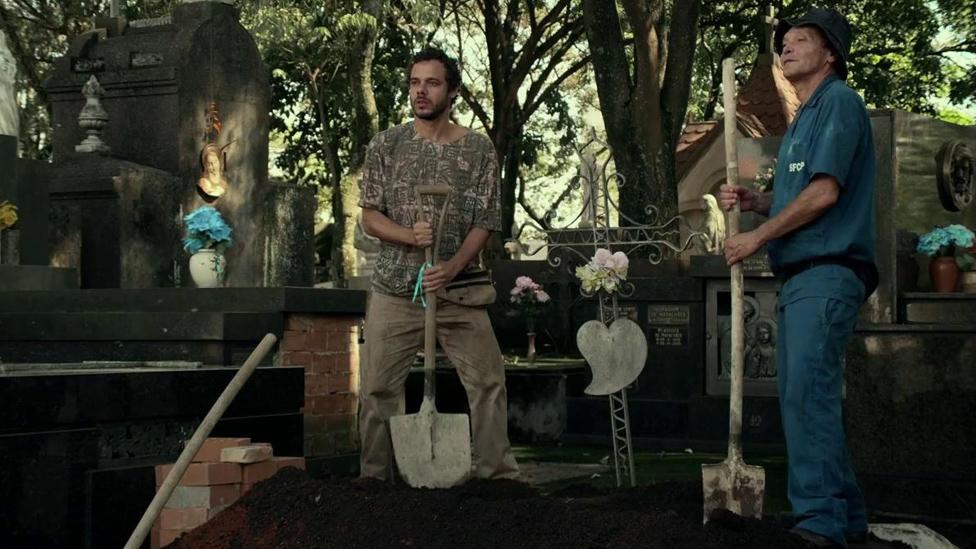 Many Brazilian horror films are deeply rooted in local environs, such as The Necropolis Symphony, a musical about a gravedigger (Credit: Filmes do Caixote/ Vitrine Filmes)
Executives in the Brazilian film industry still prefer popular blockbuster films, though – just like in Hollywood. "It was a long, hard process," says Andre Pereira, the writer-producer of the micro-budgeted horror film The Trace We Leave Behind, of the seven-year journey to get the movie funded and into production. Freitas and producer Luciano Reck have spent over five years trying to raise $500,000 to make Davi's Secret. It's a psychological thriller about a troubled young man who comes apart when he moves from a small town to the metropolis of São Paulo.
"Why should Spain, Mexico, Iran, France, Korea, Austria have their genre films and not us?" asks Freitas. "Genre allows us to express so much. The monster is such a powerful element. The monster is usually born out of the absence of love. I could have been Davi, easily, if I wasn't a grounded person. Moving to a huge city like São Paulo is terrifying. It can break anyone."
And, like most of them, Pereira and Freitas are using the genre to comment on the tribulations of Brazil in the 21st Century. "There's plenty of horrors, real horrors, around us," says Freitas. "That is great source material." Pereira says that his first draft of Trace was set in a traditional horror location – an isolated house in the country. But then, he felt the need to add "a particular, precise reference to the Brazilian experience. That's something we learned by watching foreign films – they're more potent when they incorporate local elements. That brought us to hospitals – comparing, say, a Danish hospital in Lars von Trier's Kingdom and the reality of a Brazilian public hospital… well, that's horror right there." That just proves that sometimes our greatest fears are not found outside but within.
Brazilians sometimes refer to their culture as a 'cannibal culture', a melting pot that synthesises a seemingly endless number of influences from European to African to Asian. These horror movies have their roots in other cultures too, but their lenses are trained squarely on Brazil, to show how easily beauty and violence can commingle. "And of course," Freitas says, "we just want to scare the hell out of you."
If you would like to comment on this story or anything else you have seen on BBC Culture, head over to our Facebook page or message us on Twitter.
And if you liked this story, sign up for the weekly bbc.com features newsletter, called "If You Only Read 6 Things This Week". A handpicked selection of stories from BBC Future, Earth, Culture, Capital and Travel, delivered to your inbox every Friday.