In his new book Watling Street, John Higgs explores one of Britain's oldest roads – and how it inspired countless stories, from the Canterbury Tales to Great Expectations to Star Wars.
C
Chaucer's Canterbury Tales, written in the late 14th Century, tells the story of a group of medieval pilgrims travelling from London to Canterbury. Six hundred years later, the Star Wars movies were filmed on the same thoroughfare. This road is Watling Street – and there is no road in the English-speaking world more steeped in stories.
We now think of Watling Street as the A2 and the A5 motorways, which run diagonally across Britain from Anglesey in north-west Wales to Dover in south-east England. But the road has existed throughout all of British history. It is one of the few permanent fixtures of this island and one of the first lines on the map. It has been a Neolithic pathway, a Roman road, one of the four medieval royal highways, a turnpike in the age of coach travel and the traffic-choked 'A road' of today. It is a palimpsest, always being rewritten.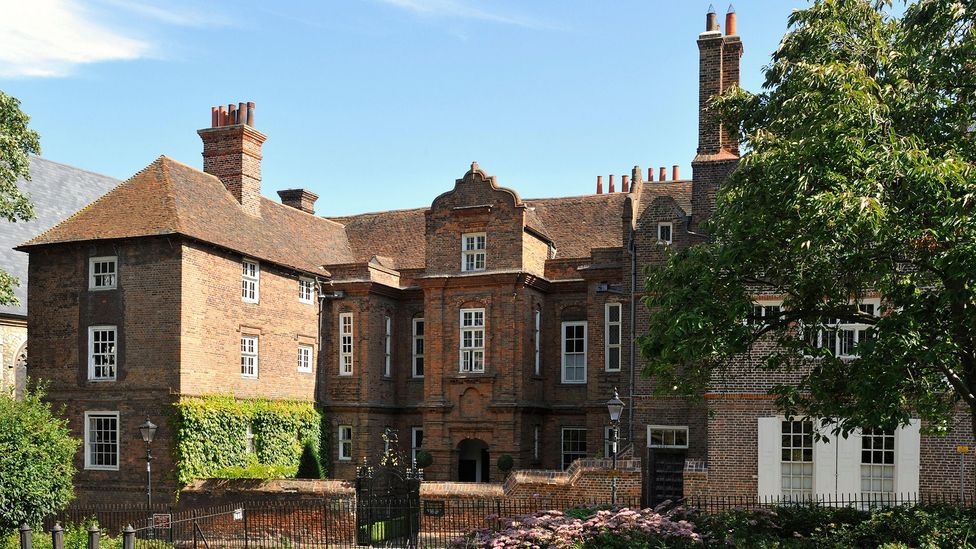 Restoration House in Rochester, the inspiration for Charles Dickens' Great Expectations, sits just off Watling Street (Credit: Alamy)
And, somehow, always inspiring writing itself, or storytelling at least. In fact, it is hard to find a character from the British imagination who cannot be linked to Watling Street in some way. James Bond drives along the road in Ian Fleming's novel Moonraker. Doctor Who pops up at different points along it in different historical eras. It is part of Robin Hood's plans in the medieval ballad A Little Geste of Robin Hood and his Meiny. Miss Havisham's decaying Gothic house in Charles Dickens' Great Expectations is based on Restoration House in Rochester, which stands just yards from Watling Street. In the 12th-Century Histories of the Kings of Britain, Geoffrey of Monmouth tells how a young Merlin released the dragons that caused King Vortigern's tower to fall. This was at Dinas Emrys in Snowdonia, on the route of the original, pre-Roman road through Wales.
Watling Street's origins are lost in the mists of prehistory, but it seems to already have been ancient already when the Romans straightened and paved the stretch between Dover to Wroxeter (a major Roman city that today is a Shropshire village). Even at the beginning, the road was entwined with stories: it was said that the route had been built by King Belinus, a mythical figure related to the pagan sun god Belenus.
Today, the road also runs alongside Elstree Studios, on the outskirts of London, where thousands of movies and television series have been shot over the last 100 years, from The Shining to Saving Private Ryan and The King's Speech. On the sound stages of Elstree, Indiana Jones found the Well of Souls in Raiders of the Lost Ark and Luke Skywalker searched for Yoda in a Dagobah swamp of The Empire Strikes Back. It is here that characters including Dracula, Sherlock Holmes, Batman, the Muppets and Paddington Bear have been brought to life. Fans of British soap operas also will know this place well – it is the home of Eastenders' Albert Square set.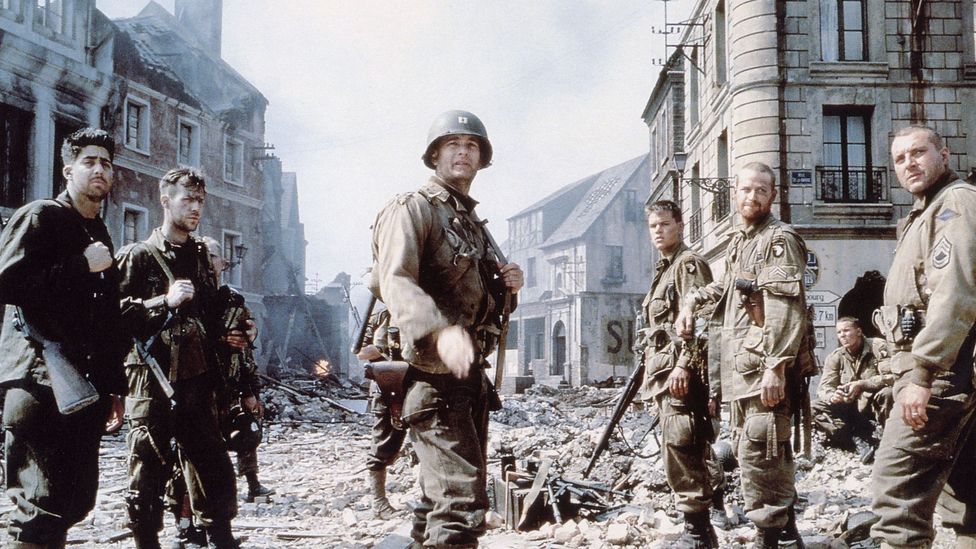 Saving Private Ryan was one of thousands of films to be shot in Elstree Studios on Watling Street (Credit: Alamy)
For many years it was believed that William Shakespeare wrote a play called The Widow of Watling Street; it was included in early collections of his work. It is now thought that the real author of that play was Thomas Middleton. But Shakespeare can still be connected to the road. Before the Romans bridged the Thames, the original route of Watling Street forded the river where Westminster Palace now stands. The route would have run close to where Shakespeare's Globe Theatre in Southwark later stood.
Literary landscape
In 1922 the French philosopher and Jesuit priest Pierre Teilhard de Chardin coined the term 'noosphere', which refers to the realm of immaterial things. The noosphere is the place where you'll find all our stories, as well as our laws, culture and philosophy. The word arises from the biosphere, the realm of all living things. The biosphere, in turn, emerges from the geosphere, which is the solid physical world.
De Chardin recognised that the world of myths, legends and stories are ultimately rooted in specific parts of the material world. They emerge from place just as much as they emerge from imagination.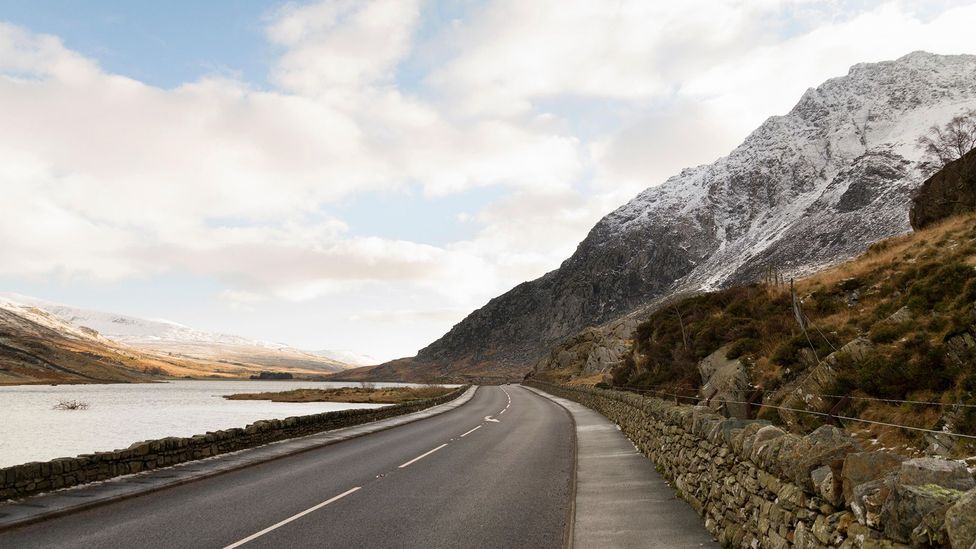 Watling Street, now the A5, dates back to the pre-Roman era in Snowdonia, Wales (Credit: Alamy)
In the 21st Century, the noosphere has been referred to as 'ideaspace', a term coined by the English comics writer Alan Moore and his mentor Steve Moore. Alan and Steve Moore both spent their lives living close to Watling Street, and the road appears in the work of both. As they see it, each of us has our own private estate in ideaspace, where our private thoughts and dreams can be found. But other parts of ideaspace are shared and public, and it is in these communal areas that widely known characters, stories and legends reside.
For the Moores, a walk across a landscape was as much a walk through the fiction, histories and associations of the area as it was a walk across the physical, material world. Seen through their eyes, a road as old as Watling Street – which is still used by hundreds of thousands of people every day – is essentially a machine designed to accumulate story upon story.
Among the most influential literary characters to walk Watling Street were the pilgrims of Chaucer's Canterbury Tales (Credit: Alamy)
Not long after the M6 Toll road opened in 2003, a family driving along it saw what they first thought were animals. Drawing nearer, they came to believe that they were looking at the ghosts of about 20 Roman soldiers. This sighting was near Lichfield in Shropshire, which is where the M6 Toll crosses over the old Roman road section of Watling Street. Intriguingly, the ghosts' legs weren't visible, and they waded "through the tarmac as you would through water", according to one of the witnesses, Sue Cowley.
When the M6 Toll opened, the building supplies company Tarmac Group announced that its surface was made out of asphalt, tarmac and 'two and a half million pulped Mills & Boon novels'. Those Roman ghosts were not just wading through the physical accumulation of centuries, but the immaterial accumulation as well: the road is literally built out of stories. Populist, throwaway stories, admittedly – but then, romance is always the best genre to build roads from.
Watling Street: Travels Through Britain's Ever-Present Past by John Higgs is published by W&N on 13 July 2017.
This story is a part of BBC Britain – a series focused on exploring this extraordinary island, one story at a time. Readers outside of the UK can see every BBC Britain story by heading to the Britain homepage; you also can see our latest stories by following us on Facebook and Twitter.
If you would like to comment on this story or anything else you have seen on BBC Culture, head over to our Facebook page or message us on Twitter.
And if you liked this story, sign up for the weekly bbc.com features newsletter, called "If You Only Read 6 Things This Week". A handpicked selection of stories from BBC Future, Earth, Culture, Capital and Travel, delivered to your inbox every Friday.