As the film-makers of the new live-action remake of Aladdin struggle to cast their hero, Sophia Smith Galer looks at the troubled history of the Disney classic.
F
For many, Disney's 1992 film Aladdin conjures up images of innocence: star-crossed lovers on a magic carpet, a benevolent pet tiger and a comedic genie who would grant every heart's desire.  Less well known is the fact that the film sparked a racial controversy, one that is still reverberating today.
This week saw the death of Dr Jack Shaheen, one of the most respected and loudest critics of the vilification of Arabs in Hollywood, who successfully campaigned for offensive lyrics to be changed in the original Aladdin soundtrack. Now only days after his death, the live-action Aladdin remake has been questioned over its casting woes.
The film-makers – including director Guy Ritchie – are on the hunt for leads who can live up to the animated film's loveable street urchin Aladdin and Princess Jasmine. It's been revealed that they're struggling to wrap up their months-long search because of a difficulty in finding a singing, dancing actor who is Middle Eastern or Indian to play the title role. Disney have not commented on the search, and although it has been suggested that the lengthy casting process is due to the studio's commitment to finding the right actors, some are critical of the studio's struggle.
The abhorrent Arab stereotype is as ubiquitous as Aladdin's lamp – Dr Jack Shaheen
"Nobody in their right mind can state that it is impossible to find a young male South Asian or Middle-Eastern actor who can dance, sing and act," says Academy Award nominated director Lexi Alexander, who is half German, half Palestinian. "Bollywood is an entire industry made up of talents like this and the Middle East has equally as much talent. It's a convenient system that insists actors-of-colour need to be household names to be cast, while nobody wants to give them a break." Alexander posted a list of potential actors on Twitter, asking Guy to "give me a call."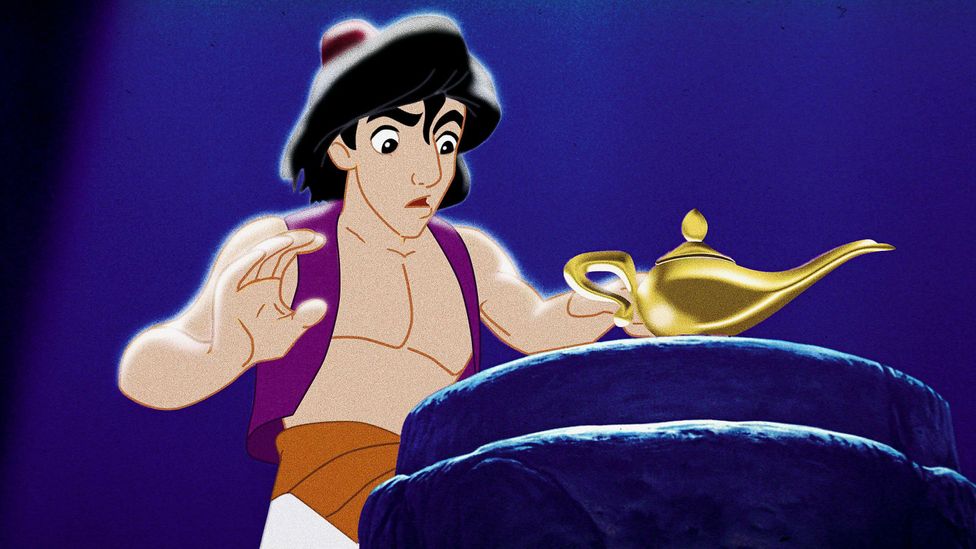 The well-loved soundtrack for the 1992 animation is actually an edited version of the one that was heard in cinemas (Credit: Alamy)
This isn't the first time that Disney has been criticised in relation to Aladdin. The well-loved soundtrack for the 1992 animation - A Whole New World notably won Disney an Academy Award, along with another Oscar for the entire score - is actually an edited version of the one that was heard in cinemas. The original lyric in the first verse of the song Arabian Nights described Arabia as "Where they cut off your ear if they don't like your face".
"Aladdin is not an entertaining Arabian Nights fantasy as film critics would have us believe," wrote Jack Shaheen in 1992, then a professor of mass communications at Southern Illinois University, "but rather a painful reminder to 3 million Americans of Arab heritage, as well as 300 million Arabs and others, that the abhorrent Arab stereotype is as ubiquitous as Aladdin's lamp."
The film was criticised for perpetuating Orientalist stereotypes of the Middle East and Asia. The American-Arab Anti Discrimination Committee saw light-skinned, Anglicised features in the heroes Aladdin and Jasmine that contrasted sharply with the swarthy, greedy street merchants who had Arabic accents and grotesque facial features.
Shaheen warned that these images would perpetuate negative stereotypes that "literally sustain adverse portraits across generations." He argued: "There is a commanding link between make-believe aberrations and the real world," and warned of the negative portrayal of Agrabah, the film's fictionalised city that he called "Hollywood's fabricated Ayrabland."  It appears that for some, this warning wasn't unfounded: in 2015 it was revealed that 30% of Republican voters in the US would vote in support of bombing Agrabah.
After Shaheen protested against the film alongside the American-Arab Anti-Discrimination Committee, Disney agreed to alter the lyrics in Arabian Nights for Aladdin's video release in 1993, and defended it, as it was a rare film to feature an Arab hero and heroine.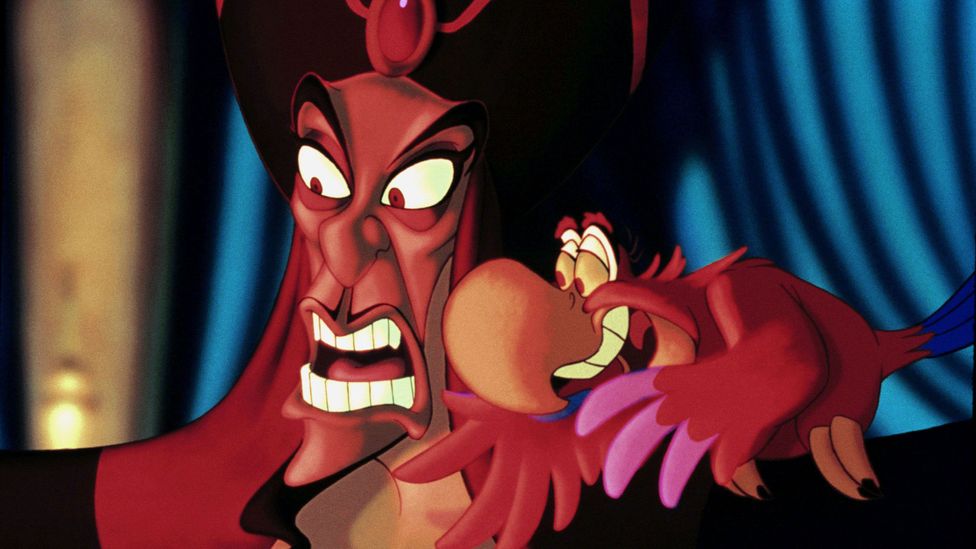 Aladdin was criticised for perpetuating Orientalist stereotypes of the Middle East and Asia (Credit: Alamy)

Daniel Newman, professor of Arabic at Durham University, acknowledges that Western portrayals have come a long way from the lotus-eating, Orientalist fantasies of yesteryear, but "barring a few exceptions, what has happened is that one cliché has been replaced by another; from the scimitar-wielding lascivious Arab, we have gone to the bomb-wielding terrorist Arab." While some 'moderate' characters have been introduced in shows such as Homeland, he says, "the pervading feeling is one of 'threat', based primarily – if not exclusively – on religion."

"I'd ask the animators to add benevolent market-vendors and heroic guards who befriend Aladdin," Shaheen said of the 1992 Aladdin, conscious of the image of Middle-Eastern people that might be made on the film's young viewers.  He also asked the producers "to respect Islam and to add a humane character, Aladdin's mother, an Arab woman willing to sacrifice everything for her son's happiness." 

Whether the new film-makers choose to stand in the old guard or vanguard remains to be seen. Back in 1992, Shaheen cited "cable television and videocassettes" as making it easy for stereotypes to travel far and wide. That is even more important in an era of mass media, all-you-can-watch online streaming. It might be worth asking ourselves when the new film is released: what would Jack Shaheen think?     

If you would like to comment on this story or anything else you have seen on BBC Culture, head over to our Facebook page or message us on Twitter.

And if you liked this story, sign up for the weekly bbc.com features newsletter, called "If You Only Read 6 Things This Week". A handpicked selection of stories from BBC Future, Earth, Culture, Capital and Travel, delivered to your inbox every Friday.

;