This year's Magnum Awards have just been announced. The documentary series winner, Nick Hannes, gives an insight into his project revealing how Dubai's super-rich live.
"Dubai is both fascinating and controversial. It has fans and critics. I don't like to decide what viewers should think when looking at my work; they should fill in the story according to their own visions and knowledge." Photographer Nick Hannes has just won a Magnum Award for his series Bread and Circuses, which "showcases Dubai as the ultimate playground of globalisation and capitalism" – but he's not offering any kind of judgement. Instead, his images are ambiguous, and often witty, glimpses of a lifestyle that can seem alien to many.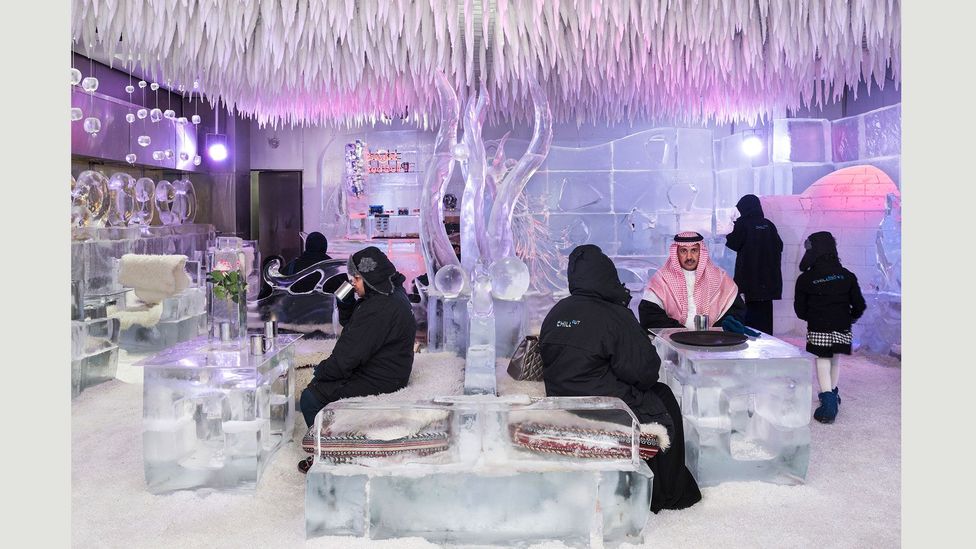 Saudi tourists having a hot chocolate at the Chillout Ice Lounge, the first subzero ice lounge in the Middle East, 6 January 2016 (Credit: Nick Hannes)
"The rapid transformation of Dubai from a dusty fishing town in the '60s to the ultramodern metropolis of today fascinates both supporters and critics," Hannes writes in the project description; many of his photos almost force a double take, poking at the surface to show a different angle.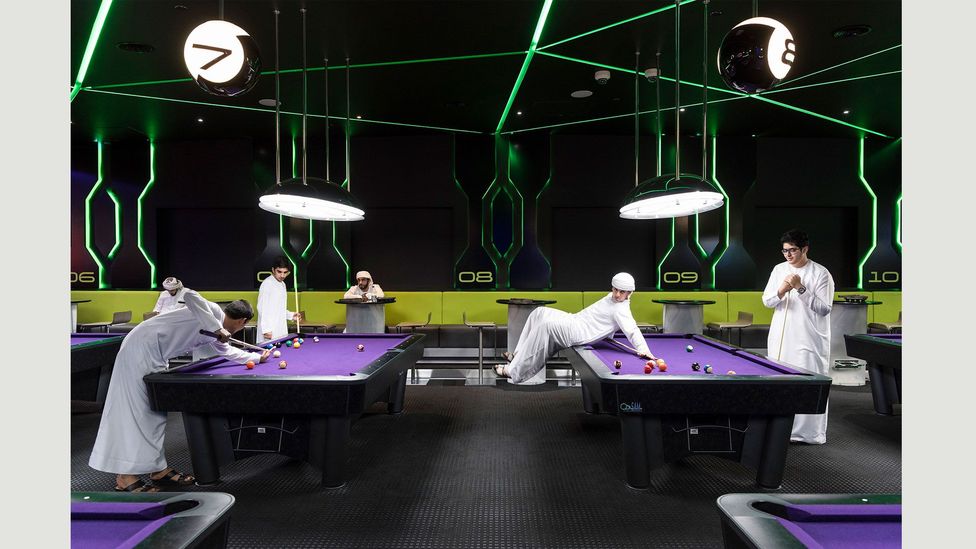 Emirati boys playing a game of pool at City Walk shopping mall's gaming and entertainment complex Hub Zero, 5 January 2017 (Credit: Nick Hannes)
"Ninety per cent of the population of Dubai are expats," Hannes told BBC Culture. "Within this extremely heterogeneous group I decided to focus primarily on the upper middle class – the wealthier segment of society. I went to the places the members in this group go to have fun: nightclubs, beaches, theme parks, hotels, malls." With its artificial islands and buildings replicating world landmarks, Dubai can be seen as a kind of theme park for the wealthy: but Hannes looked beyond fast cars and couture logos.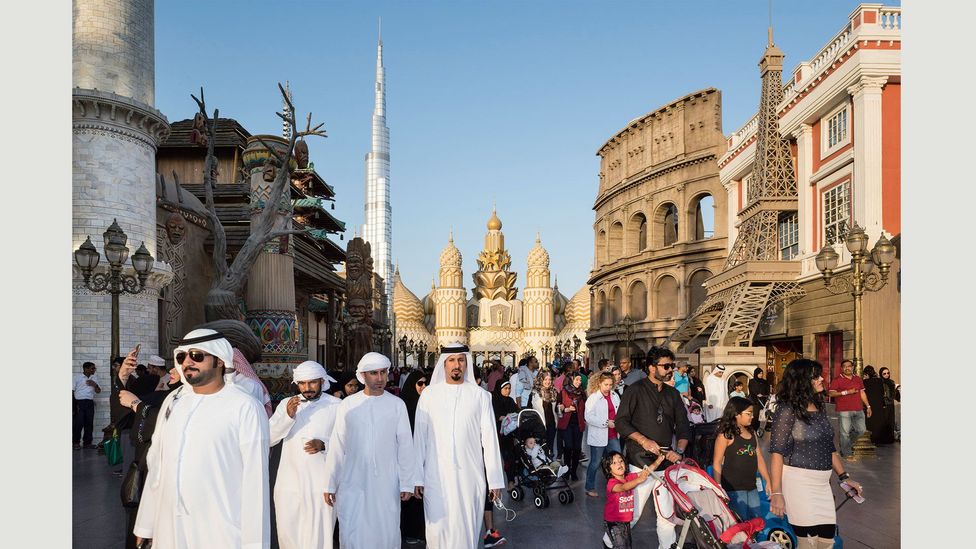 Global Village, a shopping and entertainment park, with 32 pavilions representing 75 countries, 7 January 2017 (Credit: Nick Hannes)
"A very important source of inspiration for the Dubai series is The Capsular Civilisation, a book by Belgian philosopher Lieven De Cauter. It also provided a theoretical framework," he says, explaining that De Cauter "imagines an extreme dual society: the first world is an archipelago of shielded islands or 'capsules', where it's pleasant to live; the second world is all the rest: an ocean of chaos and poverty."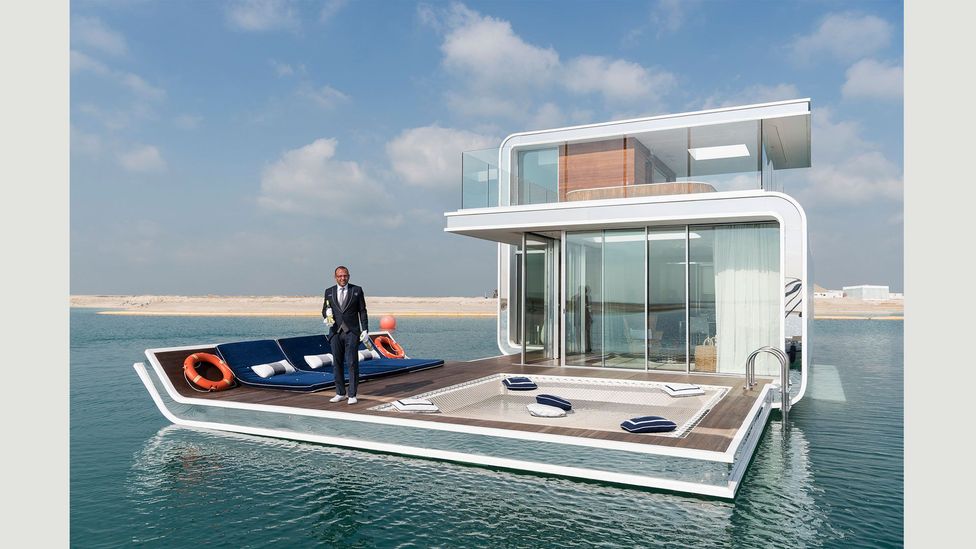 Prototype of the Floating Seahorse underwater holiday villa with butler at the Heart of Europe, a man-made archipelago in the Persian Gulf. 16 January 2017 (Credit: Nick Hannes)
He sees parallels in his latest project. "The process of urbanisation in Dubai strikingly resembles the phenomenon of 'capsularisation' as defined by De Cauter. On a local scale, there is the segregation between the expats and the migrant workers. On a global level, the United Arab Emirates can be considered as one big 'capsule', a safe haven in the unstable Middle East."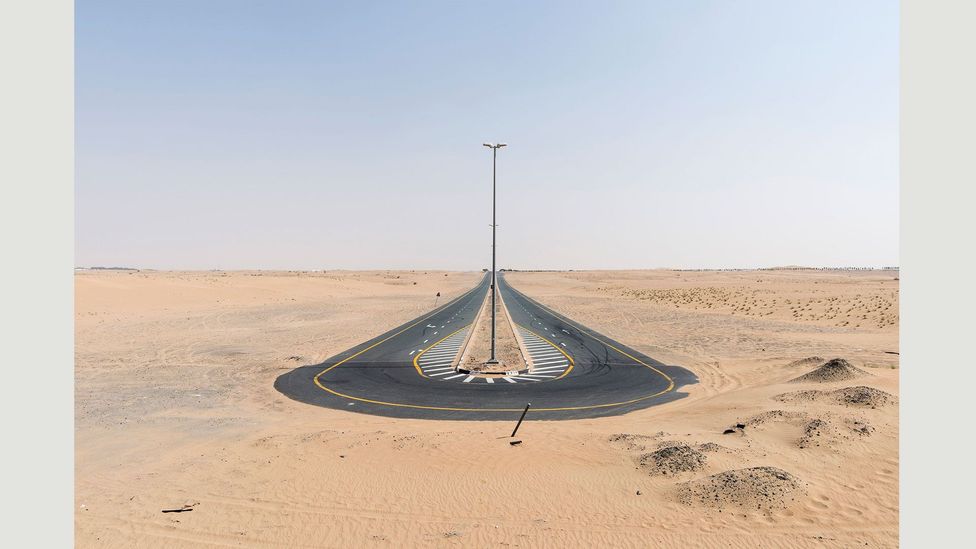 A desert road in Dubai, 20 September 2016 (Credit: Nick Hannes)
Yet again he is keen to point out his photos don't adhere to any definitive viewpoint. "I have no monopoly on truth, and therefore it's not my intention to give answers. I'd rather raise questions about sustainability, inequality, the economisation of society, authenticity, greed. I hope this will lead to self-reflection."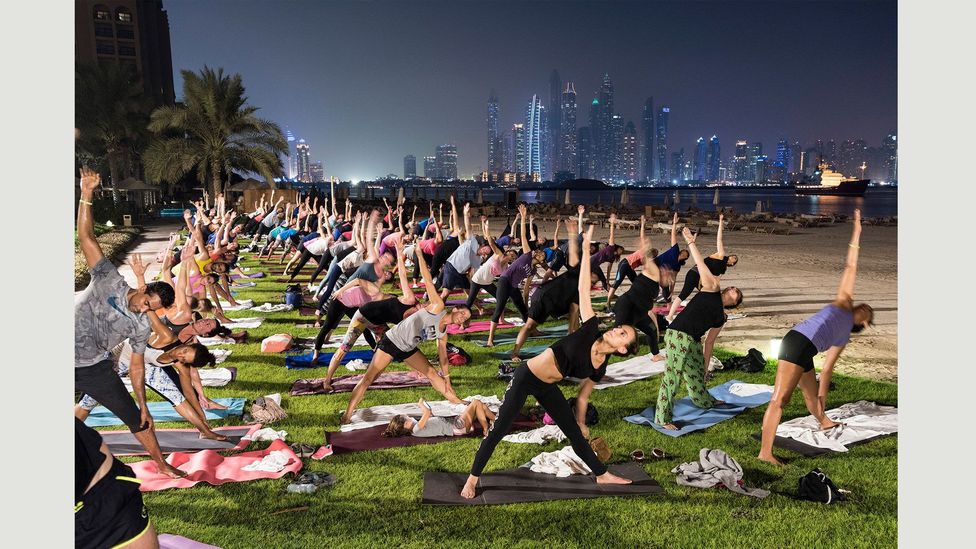 Full Moon Yoga at Fairmont The Palm Hotel, on the world's largest man-made island, shaped in the form of a palm tree, 17 September 2016 (Credit: Nick Hannes)
Many of his photos appear like odd tableaux, their subjects lost in some kind of reverie. "Lots of these places seem surreal and dreamlike, as if it all happens in a parallel world where everybody is happy. However, when you take a closer look, there's a lot of ambiguity in my work."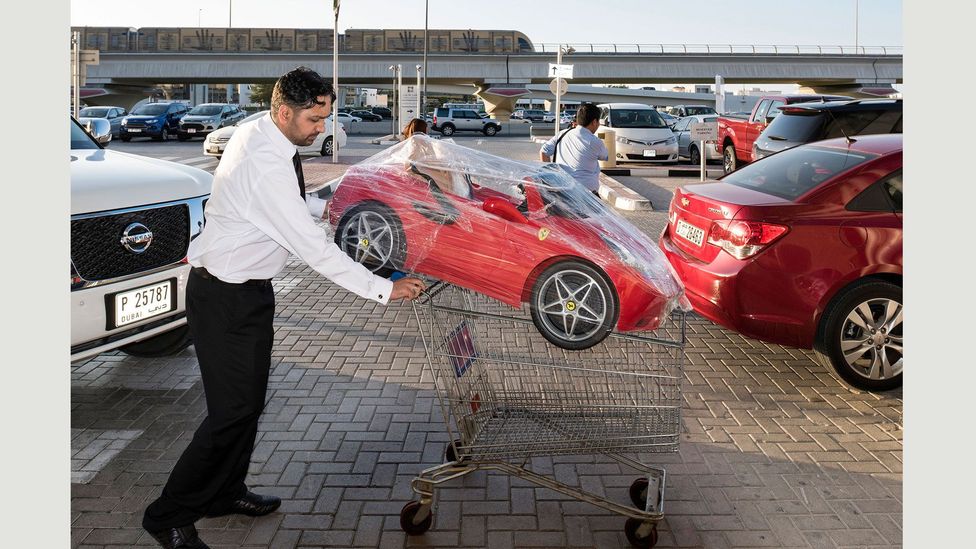 Oasis Mall, 6 January 2016 (Credit: Nick Hannes)
Hannes visited Dubai in 2016 and 2017. "As I got used to this new environment, I found everyday life rather predictable and conventional. There's a lot of things to do, from skiing to desert safaris; but I missed spontaneity and surprise in the modern part of the city. For a walk I much more enjoy Deira, the historic centre of Dubai, where mostly Asian and African communities live."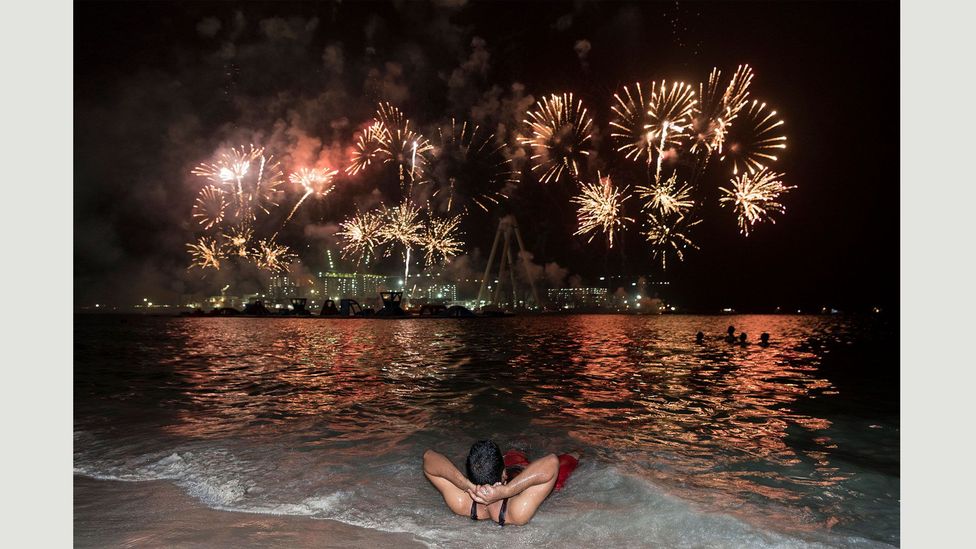 Eid al-Adha fireworks above the artificial Bluewaters Island, 14 September 2016
He was inspired to document Dubai after an earlier project. "Working on my latest book Mediterranean: The Continuity of Man, I started to get interested in artificial urban development and its impact on society," he says, drawn to the tension between tourism and environmental protection. "For my next project I wanted to dive deeper into this subject – my curiosity drove me to Dubai, a very famous example of excessive and market-driven urbanisation."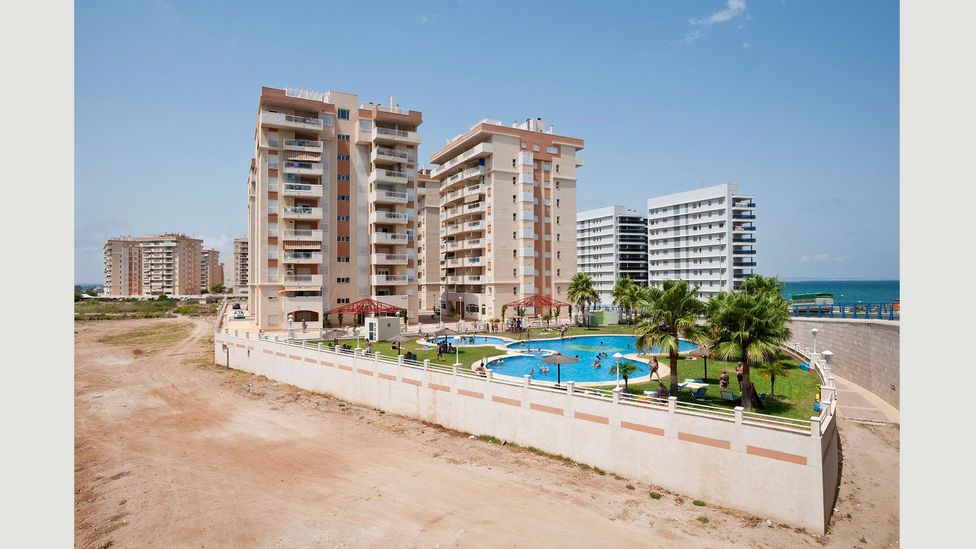 La Manga del Mar Menor, Spain (Credit: Nick Hannes)
Many of his Mediterranean photos reveal sharp contrasts, offering Technicolor takes on darker subjects. "Humour is a powerful tool to get people's attention," says Hannes. "Good humour surprises and makes people look closer and longer. I use humour and irony in my photographs, but at the same time I also try to go beyond. My photographs aren't just visual jokes, but often put our behaviour towards the world we live in into question."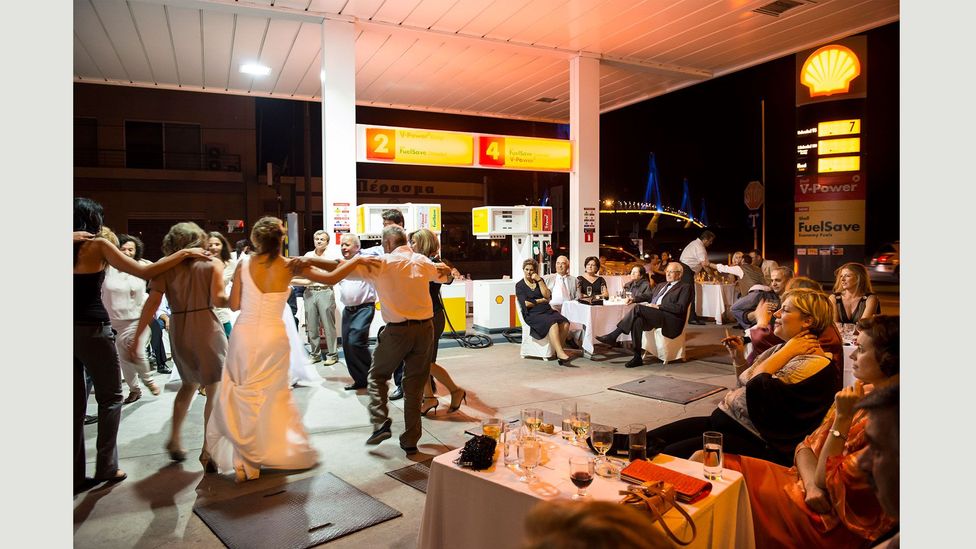 Gas station wedding, Rio, Greece [Mediterranean #16] (Credit: Nick Hannes)
Hannes took this photo in 2012, as part of his Mediterranean series. "The owner of the gas station got married that day and decided to have the party at his workplace instead of renting a party hall or restaurant," he says. "This picture shows the economic crisis in Greece in another way than the stereotypes we often see (beggars, food distribution, riots in Athens…). I happened to be there by coincidence, and spent the whole night with them. Truly the best and most touching wedding party I have ever attended."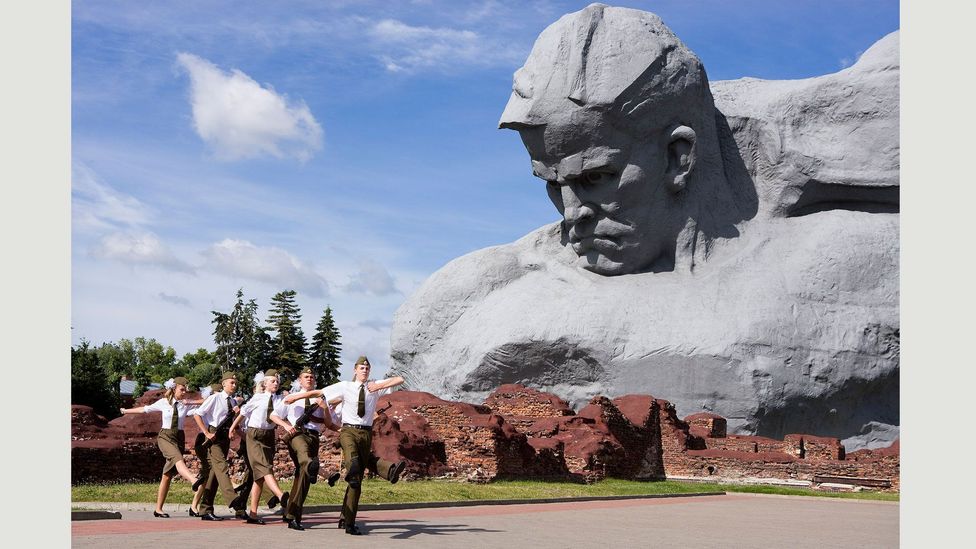 Brest, Belarus, 2008 [Red Journey #58] (Credit: Nick Hannes)
Like a scene from a Wes Anderson film, this image was taken during a year-long journey through the former USSR, in 2008. "The sculpture is part of a memorial 'hero fortress' complex," says Hannes. "Youngsters (born long after the fall of the USSR) are practising the changing of the guard at the eternal flame in full USSR-tradition, including the costumes." He has a keen eye for a snapshot that is impeccably composed, simultaneously baffling and amusing the viewer. "As a student I was highly influenced by Henri Cartier-Bresson and the older generation of black-and-white documentary photographers. His legacy (the decisive moment, well-balanced compositions) still plays a role in my photography. I also feel a great affinity with film-maker Jacques Tati, when it comes to composition and the use of humour."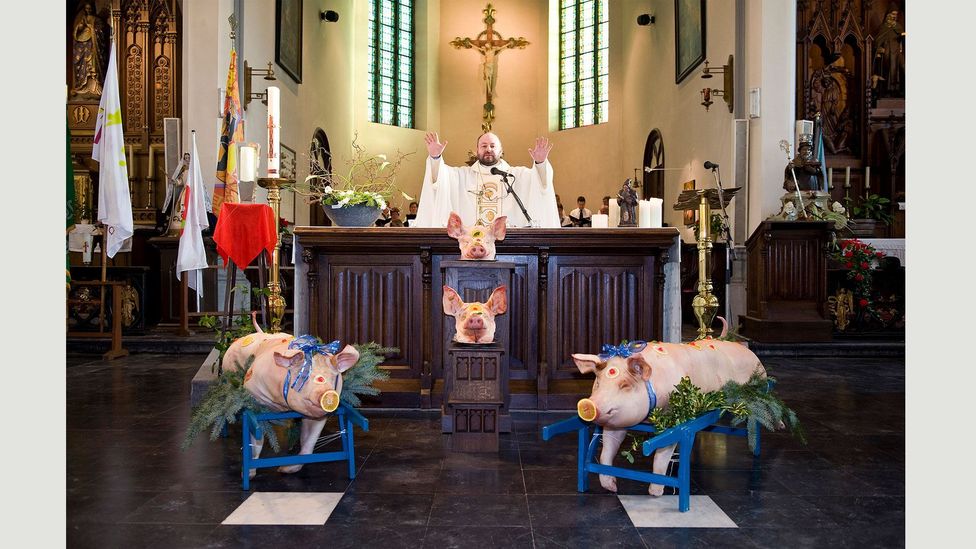 Saint Anthony celebration, Ingooigem, 17 January 2010 [Traditions #10] (Credit: Nick Hannes)
In Hannes's work, humour is a conduit to something deeper and more profound, as in this photo taken in 2010 on assignment for a book about traditions in Belgium. "Saint Anthony is the patron saint of the pig farmers," he says, explaining that before the pig meat is sold at auction, it is displayed at a mass. "When people laugh at first sight, but then realise what they see is actually not funny, it can make them feel confused. Confusion is good. Rather than giving answers I'd like to raise questions." 
 The 2017 Magnum Awards winners were announced on 18 July.