Shahria Sharmin has just been named as a jurors' pick in this year's Magnum Awards. She discusses her photos of people who describe themselves as mermaids.
"I feel like a mermaid. My body tells me that I am a man but my soul tells me that I am a woman. I am like a flower, a flower that is made of paper. I shall always be loved from a distance, never to be touched and no smell to fall in love with." Heena, 51, is a hijra: a term, according to Bangladeshi photographer Shahria Sharmin, that has "no exact match in the modern western taxonomy of gender".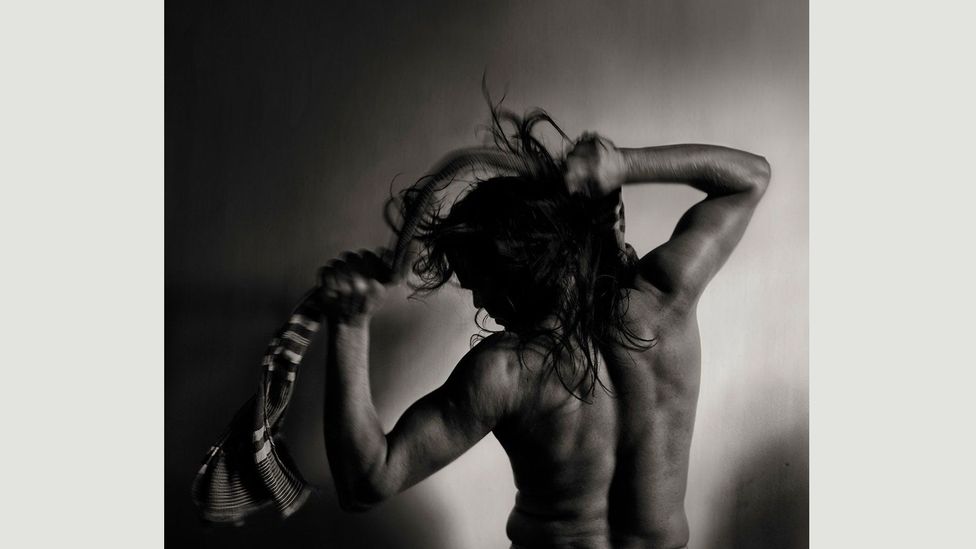 Heena (51): "I feel like a mermaid. My body tells me I am a man and my soul tells me I am a woman" (Credit: Shahria Sharmin)
Sharmin has just been chosen by Magnum photographer Susan Meiselas as her juror's pick in this year's Magnum Awards, for her images of hijra communities in Bangladesh and India. "They are often mislabeled as hermaphrodites, eunuchs, transgender or transsexual women in literature," Sharmin tells BBC Culture, arguing that "hijras can be considered to fall under the umbrella term transgender, but many prefer the term third gender". She describes hijras as people designated as male at birth but with feminine gender identity, who eventually adopt feminine gender roles.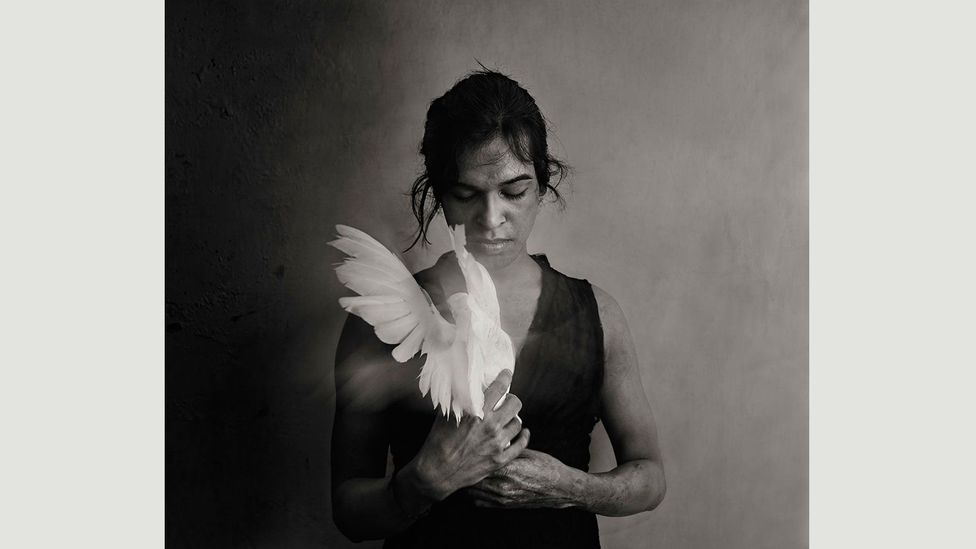 When Mohona (29) turned 10, identifying as female, her father locked her up for three years to hide her. She broke out and eloped, ending up in Delhi (Credit: Shahria Sharmin)
Sharmin's images are deeply personal portraits – often revealing a level of intimacy that can be difficult to reach between photographer and subject. She refers to the process of taking their pictures as "slow and time-consuming", explaining: "I never rush. Normally I spend considerable time with a particular subject and most of the time I don't even shoot. I hang around with them for the whole day."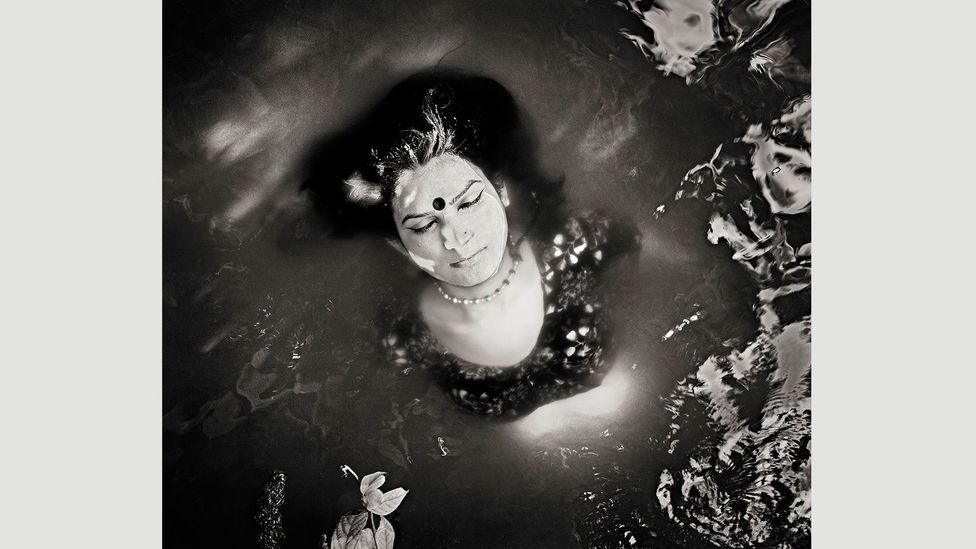 Tina (21): "I am giving an exam. I don't know what the result will be…" (Credit: Shahria Sharmin)
"Trust … evolves when we argue and justify different social issues and identify their values. Then slowly, I try to figure out what are the expressions which they wanted to share with others and in what form?" After discussing how she plans to photograph them, and taking guidance from them, she says "I haven't noticed much anxiety among them … rather I found them quite confident on what they are looking for and normally I do not deviate from their intentions. I have proven myself to be a trustworthy person among their community."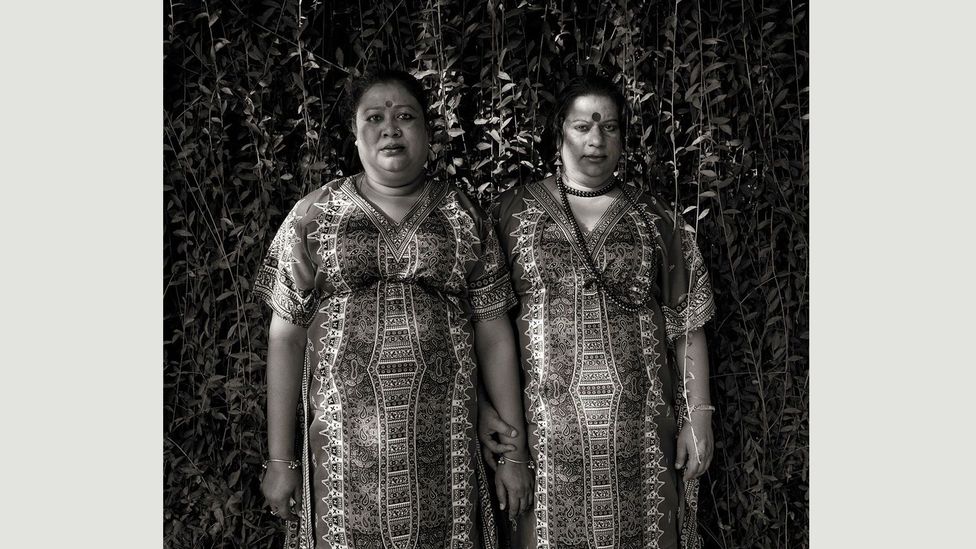 Poppy (47, left) and Kesri (45, right) left their families years ago, but they have found a friendship that is close to replacing unconditional love (Credit: Shahria Sharmin)
For many hijras, that community has come to replace their family – and it has a defined group structure. "Hijras have developed a culture where they live under a guru who provides them with social safety, shelter, and basic necessities in exchange for money and in some cases, recognition," says Sharmin. "They start to nurture a family with a leader almost like a sorority house. Their daily earnings are all collected by the guru who then provides them with their necessities and the rest is saved for future investment including safety, event planning, travel and in some cases, they fund and help for sex changes."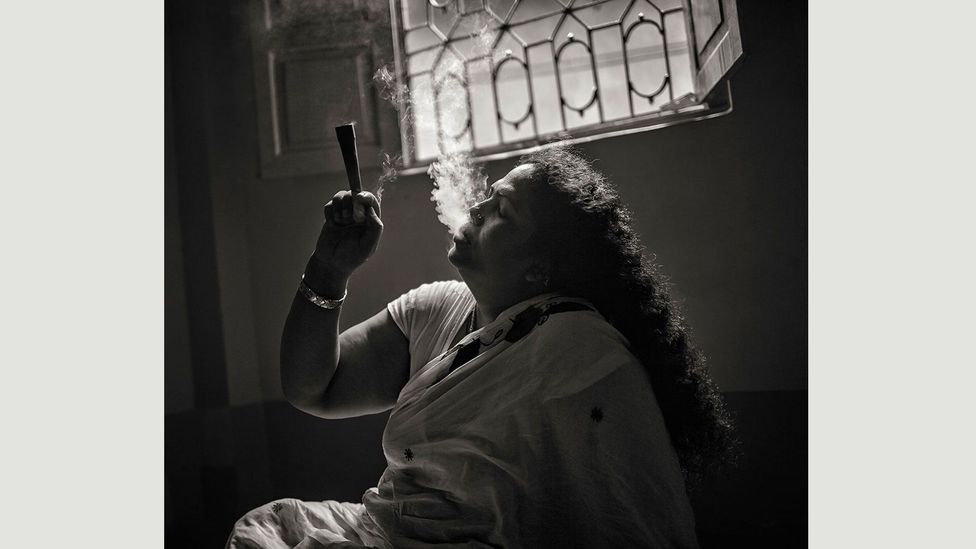 Moyna (54) was left dealing with the real world after her guru died. She left home 40 years ago but "dreams of a death in her motherland: Bangladesh" (Credit: Shahria Sharmin)
The gurus take on a significant role in the lives of hijras. "They are almost like guardians to them, taking the place of their parents. If one fails to live up to the guru's expectation, they are forced to leave their clan. Different gurus have different expectations or rules. In most cases, they are subjected to very strict rules. They must earn a certain amount or provide a particular service to be deemed capable."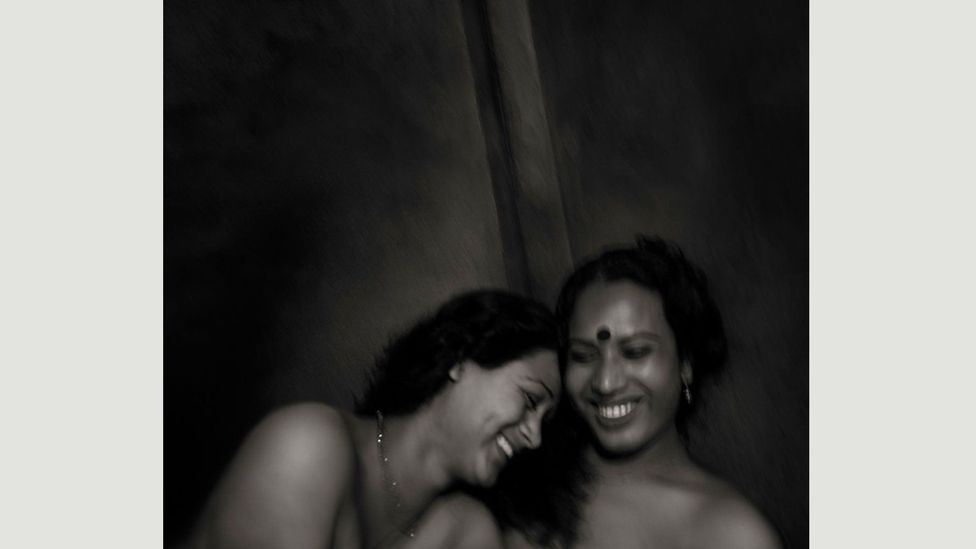 Unable to return to their family homes, Shumi (22) and Priya's (26) new life is subject to the rules of a guru – obedience in exchange for a new home (Credit: Shahria Sharmin)
While joining a hijra group offers stability, choosing their new identity means making themselves vulnerable in a society that increasingly sees them as outcasts. "Transcending the biological definition, hijras are more of social phenomena as a minority group and have a long-recorded history in South Asia," says Sharmin. She notes that "traditionally, hijras held semi-sacred status and were hired to sing, dance, and bless newly married couples or newborns at household parties. They used to earn their living based on the cultural belief that hijras can bless one's house with prosperity and fertility."
Yet that has changed over time, and "hijras have lost their admired space in society… outside the group, they are discriminated against and scorned almost everywhere. Now they make a living by walking around the streets collecting money from shopkeepers, bus and train passengers or by prostitution."
Panna (52) waiting for her client on a winter evening (Credit: Shahria Sharmin)
Many hijras in Bangladesh choose to migrate to India, where they are more accepted. "Growing up in a conservative family, this wasn't something we talked about at the dinner table," says Sharmin. "There has always been a strong prejudice and a stigma about hijras. There seemed to be a negative connotation to the word 'hijra'. I grew up knowing that hijras were social outcasts."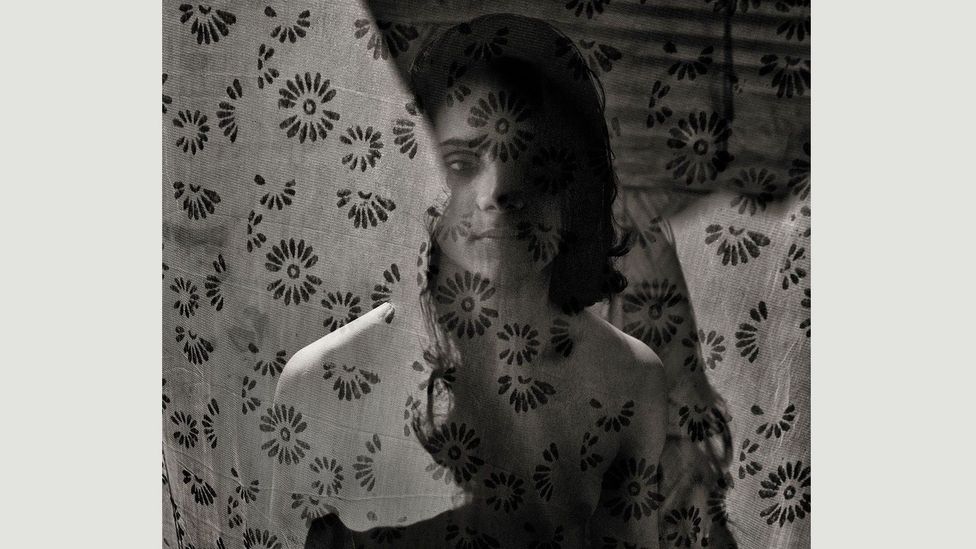 Nishi (21) is "waiting for the man of her dreams", according to Sharmin (Credit: Shahria Sharmin)
"I, like almost everyone else in my society, grew up seeing them as less than human," says Sharmin. "Their habits, way of life, and even looks marked them as different and deviant, as if a living testimony of biological aberration. Then I met Heena, who showed me how wrong I was. She opened her life to me, made me a part of her world and helped me to see something beyond the word hijra."
Call Me Heena was her response to that, and she says that she "hoped to photograph in a way which represents them as individuals without the obvious superficial biases". Meiselas praised Sharmin for her treatment of those she photographed, saying that her project "brings us closer to a highly stigmatised minority… she honours their distinctive qualities by portraying a quiet pride in their uniqueness."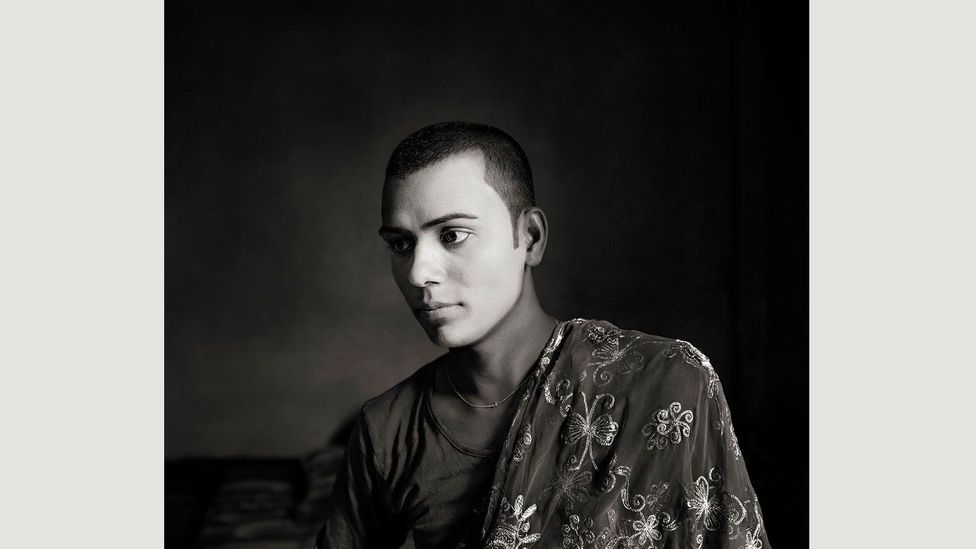 At dawn Nayan (24) goes to work at a garment factory and earns what is seen as an honest income by her family. At dusk, she returns to her community (Credit: Shahria Sharmin)
"I have never really physically experienced how it feels to be a part of an actual minority group," says Sharmin. "I grew up in Bangladesh, as a woman. Sure, there are limitations and restrictions… but what real struggle can be when the question of identity and emotions comes into the picture is something I had wondered about."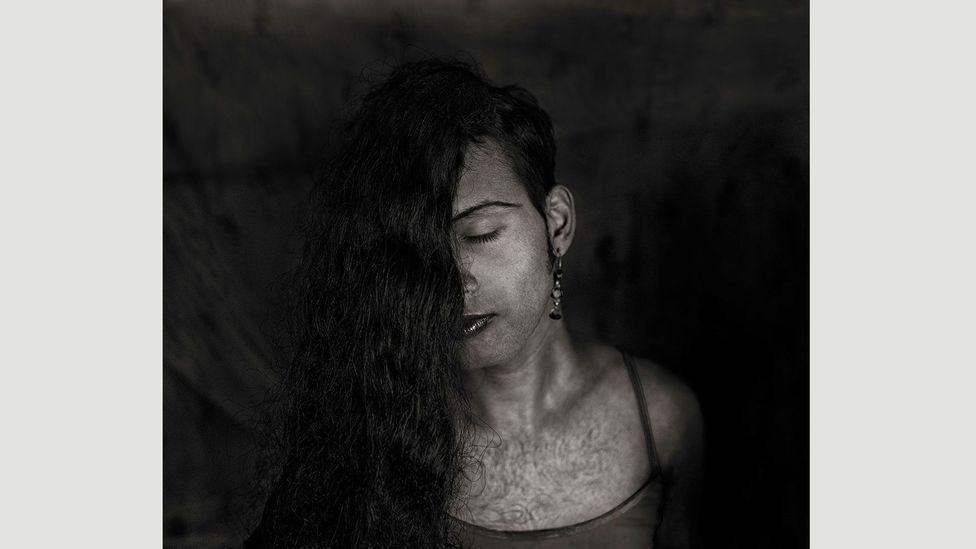 Zorina (25): "I wish I woke up one day only to find that I have become a woman. I am so soft and tender!" (Credit: Shahria Sharmin)
Photographing the hijras has broken many of Sharmin's own biases. "Every time I meet them they surprise me with a whole new story that captivates me. They have become a role model for me, breaking thought stereotypes to enjoy whatever life holds for you."
In 2014, the supreme court of India ruled that hijras would be recognised on official documents under a separate 'third gender' category, allowing them access to government jobs and college places. "What makes them unique is their beautiful integration of their femininity and machismo," says Sharmin. "Their willingness to help and be contributing members of society in spite of the revolting hate, negligence and discrimination is truly inspiring. How they manage to live a fruitful life in an extremist conservative society … is an important lesson that we all can benefit from."
Arguing that photography is a way to "unleash a different reality to the world", Sharmin aims to continue documenting the lives of the third gender in different countries. She hopes that her work can help hijras to "find a breathing space in a claustrophobic society".
The 2017 Magnum Awards winners were announced on 18 July.
If you would like to comment on this story or anything else you have seen on BBC Culture, head over to our Facebook page or message us on Twitter.
And if you liked this story, sign up for the weekly bbc.com features newsletter, called "If You Only Read 6 Things This Week". A handpicked selection of stories from BBC Future, Earth, Culture, Capital and Travel, delivered to your inbox every Friday.