A 15th-Century collection of erotic stories called The Perfumed Garden challenges Western perceptions about sex and the Arab world, writes Joobin Bekhrad.
W
When it comes to lust and literature, there is often a tendency to conjure particular images: shades of grey, a little girl named Lolita, or a writhing Lady Chatterley perhaps, and little birds fluttering about every which way. Far before the likes of Nabokov and Nin, however, and before The Joy of Sex was ever a thing, there was the Kama Sutra, the ancient Sanskrit text attributed to Vãtsyãyana and often considered the sex book par excellence.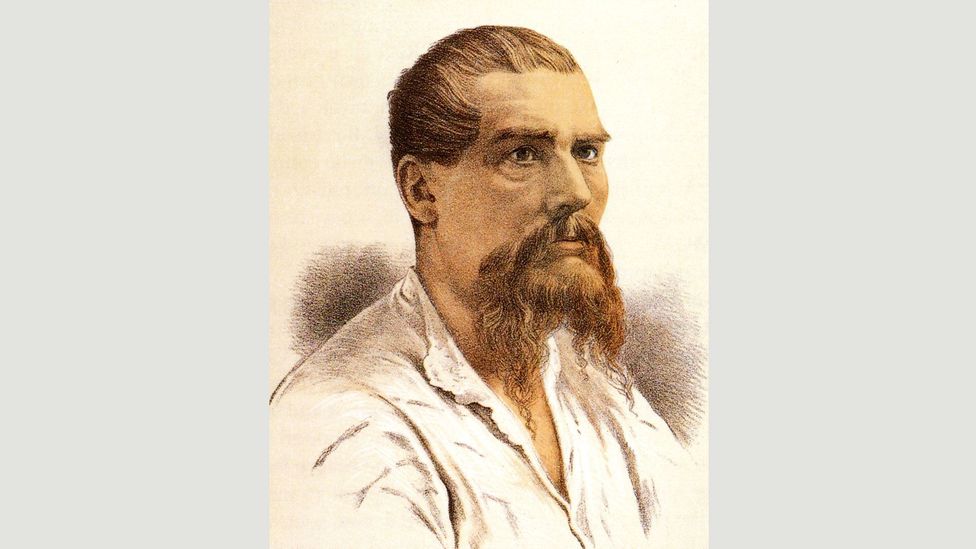 The Orientalist adventurer Sir Richard Burton introduced English readers to the Kama Sutra and The Perfumed Garden (Credit: Alamy)
Even to those prudish and uninitiated in the ars amatoria, the Kama Sutra is a household name; so well-known is Vãtsyãyana's slim volume that it has become nearly synonymous with erotica. Despite its legendary status, however, there are some who would regard it with little more than a grin. 'Move over, ye bejewelled, bare-chested beauties', they might say, gazing at a Mughal miniature depicting a saucy scene in the book, 'and make way for the Sheikh!'
The obscure religion that shaped the West
The Perfumed Garden, while edifying readers, places a heavy emphasis on entertainment
In addition to his famous translation of the Kama Sutra, the redoubtable Orientalist-cum-adventurer Sir Richard Francis Burton (not that Richard Burton) also introduced to English readers a 15th-Century text attributed to one Sheikh Nefzaoui of Tunisia. Produced from an earlier French translation of the Arabic original, The Perfumed Garden presents a series of stories, all of which deal with (in vivid detail) the practice of lovemaking – or, as Burton's translation elatedly refers to it, "coition!"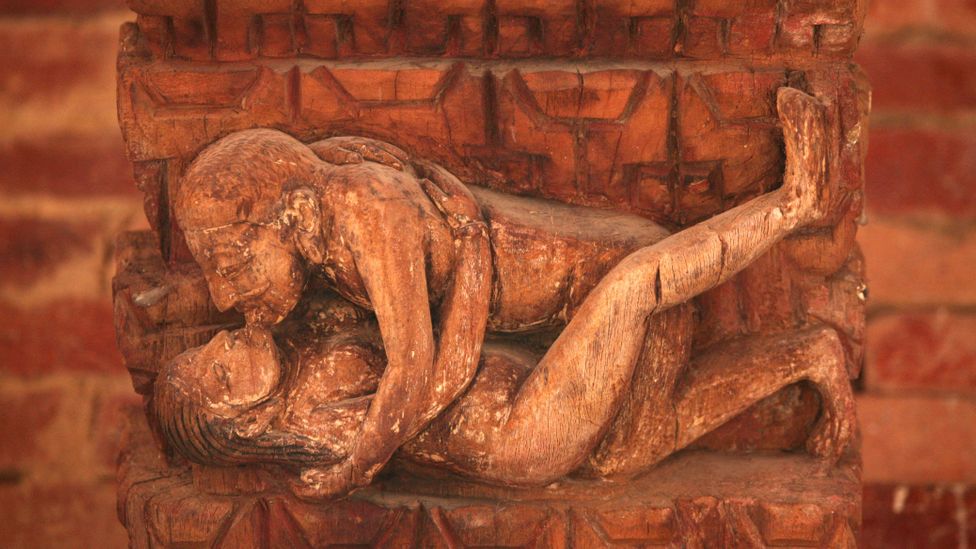 The Kama Sutra – represented here in an engraving in Kathmandu, Nepal – is a household name (Credit: Alamy)
Unlike the Kama Sutra, which some might look at as largely educational, The Perfumed Garden, while edifying readers on various subjects, such as alternatives for the enlargement of male genitals and "everything that is favourable" regarding sex, also places a heavy emphasis on entertainment. The stories are narrated in a lively manner akin to those of the One Thousand and One Nights and one might argue that its explicit descriptions of all manners of sexual intercourse could put even Vãtsyãyana to shame.
The French manuscript Burton referenced contained a twenty-first chapter on homosexuality and pederasty absent in the extant edition, which Petronius would have doubtless relished. According to various accounts, Burton intended to include it in a revised edition, titled The Scented Garden; however, he died before being able to do so, and this unadulterated edition – along with many of Burton's other writings – were later burned by his wife Isabel.
'Spectrum of misperceptions'
Today, in an Arab world that is often portrayed as a sex-free zone and where the very subject of sex is taboo, works such as The Perfumed Garden may appear as freaks of nature or one-offs at best. Such books – "filled with joyous and highly explicit descriptions of sex" – even had heaven's blessings, according to the academic Sarah Irving: "Far from being some kind of underground medieval Arab porn," she writes on the ArabLit blog, "these erotic books were religiously approved, their advice seen as part of God's gifts to humankind".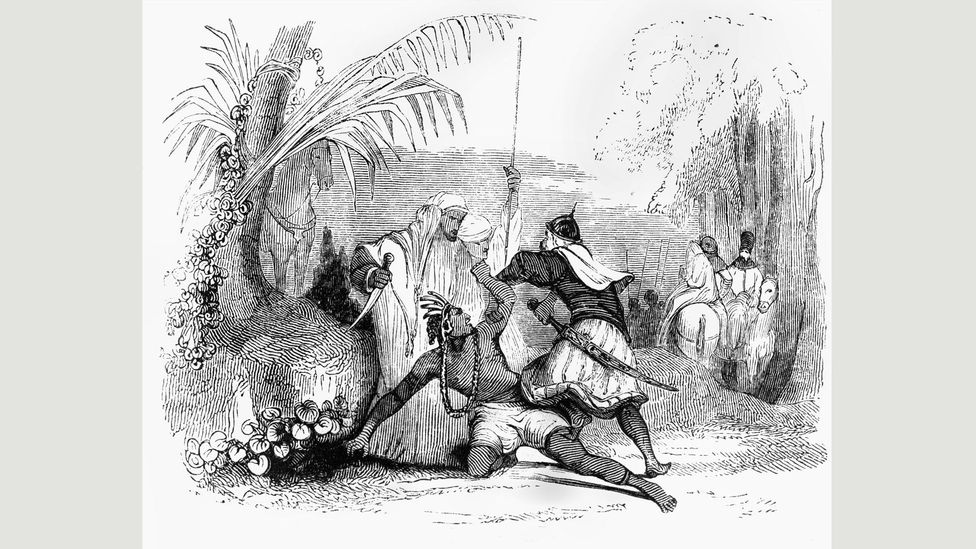 Similar to the book of the One Thousand and One Nights, The Perfumed Garden is narrated in a lively style (Credit: Alamy)
The Perfumed Garden can arguably be placed alongside such classics of Arabic literature as the One Thousand and One Nights
On the other end of the spectrum of misperceptions concerning the region is its depiction by Orientalists (in the Saidian sense) as a sexual playground where Western fantasies run wild. In their hyper-sexualised Arab world, Flaubert boasted of sleeping with the Egyptian dancer Kuchuk Hanem, and the "Lustful Turk" (an Algerian, in fact) had his distended appendage sliced off and safely preserved by his captive in a way even Sada Abe would have approved of. Both ideas of the Arab world - as sterile and oversexed - are, of course, greatly skewed; but it is the former that is perhaps more risible, especially given the way sex has been viewed in Arab culture throughout the ages.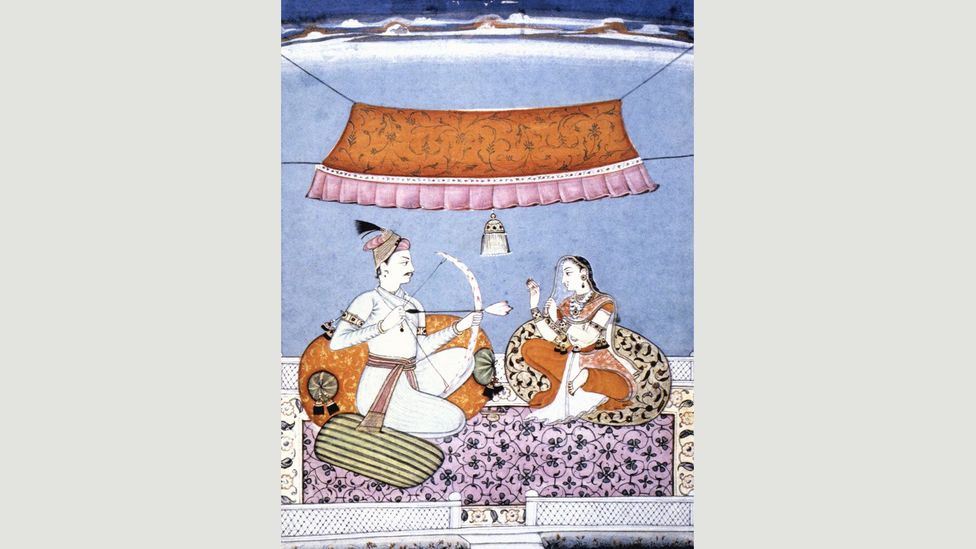 Where the Kama Sutra is largely educational, The Perfumed Garden concerns "everything that is favourable" regarding sex (Credit: Alamy)
To again turn to Burton, The Perfumed Garden can arguably be placed alongside such classics of Arabic literature as the One Thousand and One Nights (Alf Layla wa Layla), of which Burton authored a notable translation. Misleadingly titled The Arabian Nights by Burton (the stories in fact derive from a Middle Persian text called Hezar Afsaneh/Thousand Tales, and have Persian, Indian, Arabic, and Greek origins, in addition to others that have been noted), their very basis is sexual.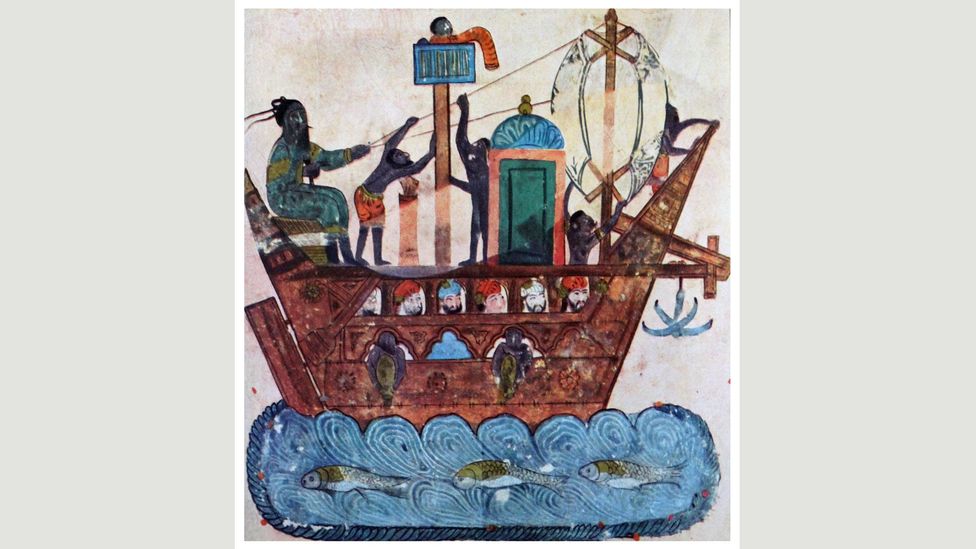 These erotic concerns are paralleled elsewhere in Arabic literature – such as The Assemblies of al-Hariri (World History Archive / Alamy)
In the famous frame story, the Persian prince Shahryar murders his wife after learning of her infidelity. An embittered misogynist, he resolves to bed a new virgin bride every night and have her put to death the following morning, such that she will not have the opportunity to bring dishonour upon him. Eventually, his vizier's daughter Shahrzad (or, Scheherazade, as she is known to Western readers) is given as Shahryar's bride. In the prince's bedchamber, the clever Persian noblewoman spins tale after tale, much to his entertainment and edification. So awed is Shahryar that he urges Shahrzad to tell her stories night after night, until she ultimately wins him over and is pardoned as his wife.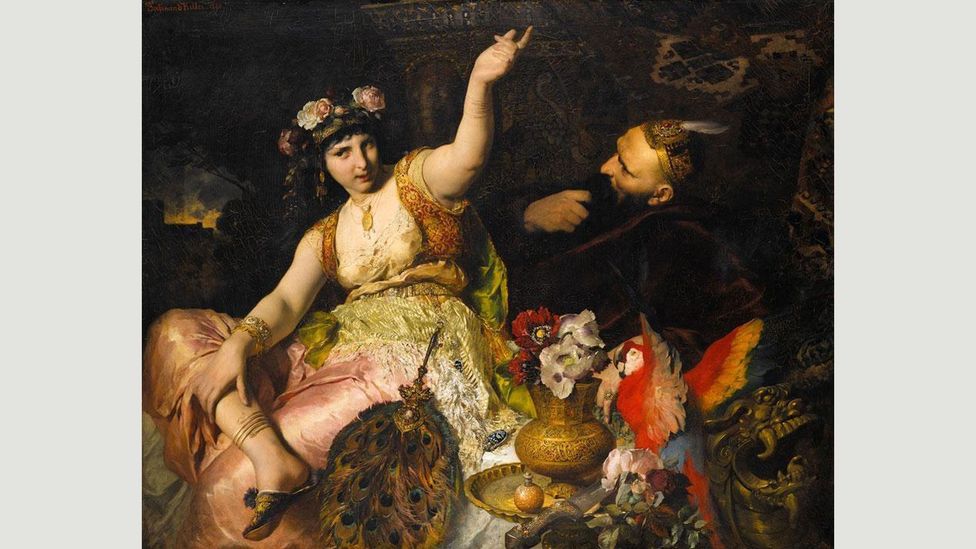 Scheherazade and Sultan Schariar (Keller, 1880) – in the famous story, Shahrzad (Scheherazade) wins over the murderous prince Shahryar (Credit: Wikimedia Commons)
While some of the best-known stories that found their way into the collection have been turned into children's films and cartoons (eg Aladdin, Sindbad the Sailor, Ali Baba and the Forty Thieves of Baghdad), the originals are anything but innocent. Simmering in Shahrzad's stories are saucy scenes of lovers in throes of passion, during times "when sons forget their mothers". Pier Paolo Pasolini, it could be said, was one of the few who realised and appreciated the erotica inherent in the stories. To date, the most famous scene of his 1974 film The Flower of the Thousand and One Nights (partly shot in Iran and Yemen) is that of a young Ninetto Davoli aiming, in the nude, a phallus-shaped arrow at his beloved's crotch. Priapus, eat your heart out.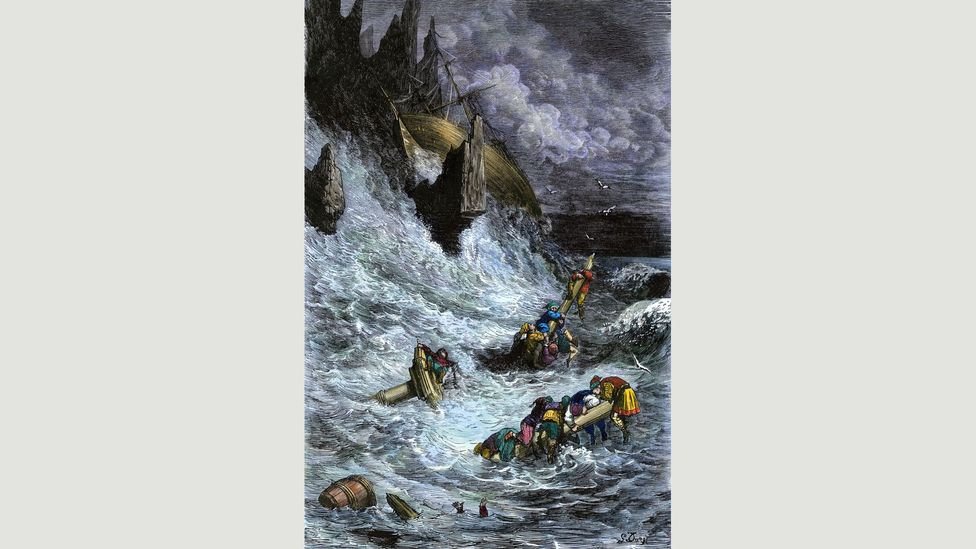 Some of the One Thousand and One Nights' best-known stories, such as Sindbad the Sailor, have been turned into children's books (Credit: Alamy)
New generations of Arab writers have been pushing the boundaries of erotica and keeping it aflame
"It is clear that the strong, sensual, even pornographic, content of the Nights can be paralleled elsewhere in Arabic literature", writes scholar Robert Irwin in his 2010 commentary on the One Thousand and One Nights. Indeed, beyond the garden and the nights of Shahrzad, one can point to other works dealing with erotica, such as the writings of Abbasid scholar Al-Jahiz on the ways of young men and women, Al-Katib's 10th-Century Encyclopaedia of Pleasure, and even the Assemblies of al-Hariri, a text from the Seljuk empire with passages on homosexuality. In addition, while Persian and not Arab, the 13th-Century polymath Nasireddin Tusi's Arabic-language writings on sexual stimulants and various positions have recently become available to English readers as The Sultan's Sex Potions.
Modern Love
Arabic literary erotica is, however, by no means confined to the Middle Ages; if anything, new generations of Arab writers have been pushing its boundaries and keeping it aflame. Leïla Marouane's The Sexual Life of an Islamist in Paris (2010), for instance, tells of the humorous misadventures of an Algerian virgin and his interrupted sexual encounters. Similarly, Ammar Abdulhamid's Menstruation (2001) relates the story of the son of an imam with a unique olfactory talent who becomes embroiled in a racy affair with a married woman. In 2005 The Almond, penned under the pseudonym 'Nedjma' was published and which was referred to at the time as the 'first erotic account written by an Arab woman'. And, while not necessarily falling under the umbrella of erotica, one can nonetheless point to classics replete with risqué moments like Tayeb Salih's Season of Migration to the North (1966), Turki al-Hamad's Hisham al-Abir trilogy of novels (banned in his native Saudi Arabia), and the autobiographical writings of Morocco's Mohamed Choukri, brimming with detailed passages about prostitutes and venereal diseases.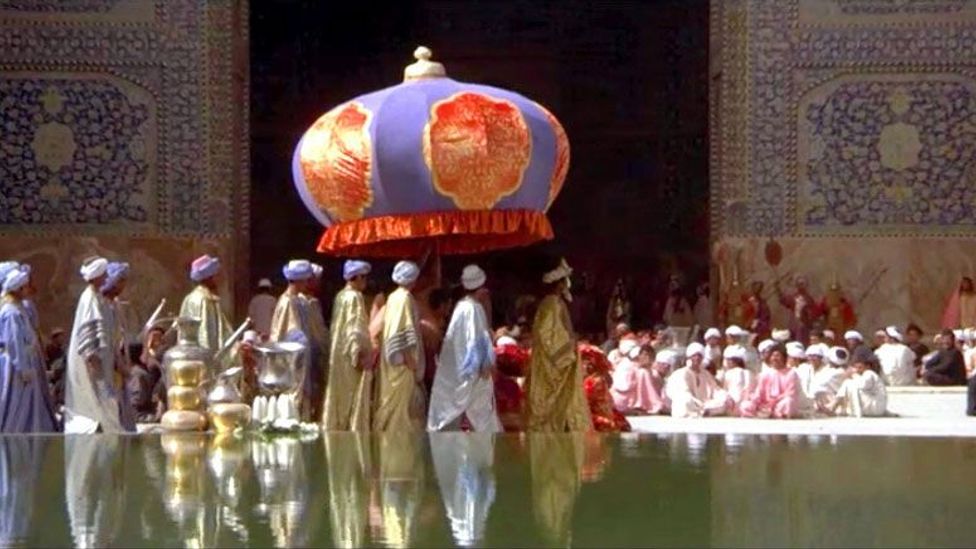 Pasolini's 1974 film The Flower of the Thousand and One Nights realises the erotica inherent in the stories (Credit: United Artists)
Should non-Arab audiences be surprised at the very existence of such titles, both historical and contemporary? According to Syrian scholar and writer Salwa Al Neimi, not at all. "Arabic is the language of sex", her passionate protagonist declares in her novel The Proof of the Honey (2009). Indeed, contrary to the misbelief that sex is taboo in Islam and Muslim Arab societies, Al Neimi – like those before her – demonstrates that not only is it not, but that it is celebrated, too. Although social norms and religion may dictate what happens in public, behind closed doors in the Arab world (and on the pages of steamy tomes), boys will be boys, and girls will be girls.
This is not to imply that the Arab world is the site of some sort of secret salacious sex-fest, like the one European writers and painters often portrayed it as, but rather, that it is far from being the sensual abysm it is often perceived to be today. While the Kama Sutra may take the cake in terms of popularity, a taste of The Perfumed Garden and the juicy fruits it – along with the One Thousand and One Nights and other classics of Arabic erotica – spawned might be enough to make even the most ardent of Vãtsyãyana's disciples turn as red as a beetroot. If Arabic be the language of sex, read on.
If you would like to comment on this story or anything else you have seen on BBC Culture, head over to our Facebook page or message us on Twitter.
And if you liked this story, sign up for the weekly bbc.com features newsletter, called "If You Only Read 6 Things This Week". A handpicked selection of stories from BBC Future, Earth, Culture, Capital and Travel, delivered to your inbox every Friday.