Whether you're a fully-fledged culture vulture or a novice, these podcasts will enrich your life, as recommended by our team and BBC Culture readers.
T
THE SILVER SCREEN
Who this is for: Nostalgists harking back to the glamorous movie age of yore. This storytelling podcast narrates the secret and forgotten stories of the first century of Hollywood. 
Episode to try: Marilyn Monroe: The Persona
Black Men Can't Jump (In Hollywood)
Who this is for: Film lovers concerned about Hollywood whitewashing. This excellent podcast reviews the films of leading black actors and discusses them in the context of Hollywood's race issues.
Episode to try: Girls Trip
Who this is for: People who REALLY know their films. This renowned film podcast has garnered fame for its fantastic analyses of cult cinema and the movies time forgot.
Episode to try: Watermelon Man
Who this is for: Overactive imaginations. Mike Spring and Phil Edwards imagine what happens to your favourite movie characters after the film has ended.
Episode to try: Inception & The Three Amigos
The BBC's Mark Kermode and Simon Mayo have recently interviewed Christopher Nolan about his latest film Dunkirk (Credit: Alamy)
Kermode and Mayo's Film Review
Who this is for: Movie buffs who want to keep up with the latest releases. The BBC's Mark Kermode and Simon Mayo chat about all things film, and interview famous directors.
Episode to try: Christopher Nolan: Dunkirk
A BEAUTIFUL WORLD
Who this is for: Critics who already know their art history and want to keep updated on the latest in the art world. Tyler Green's podcast has been called "one of the great archives of the art of our time."
Episode to try: On Trump's attempt to eliminate federal arts spending
Who this is for: People that want to up their Instagram game and have their shots taken seriously. Ben Smith talks to a range of fellow photographers, from world-class veterans to the up-and-coming.
Episode to try: Robin Maddock  
Who this is for: Fashionistas who accept that fashion is a totally barmy world. Abby, Evan and Katie all work in the industry and give an honest rundown of the runway, magazines and designers.
Episode to try: Sewing wins and woes
Who this is for: Design fans. This podcast digs deep into the most random and wacky areas of design and architecture.
Episode to try: The Modern Necropolis  
Gustav Klimt's painting The Kiss has been given a probing historical treatment by Janina Ramirez in her Art Detective podcasts (Credit: Alamy)
Who this is for: Art buffs who commute. These bitesize chunks analyse famous artworks and put them in their cultural and historical context, led by the enthusiastic and down to earth Dr Janina Ramirez.
Episode to try: The Kiss – Gustav Klimt
WORD POWER
Who this is for: Voracious readers. The world's greatest (living) authors talk about their most famous novel.
Episode to try: Malorie Blackman – Noughts and Crosses
Who this is for: Owners of wide vocabularies who are keen to expand them even more. Appealing to your inner word nerd, Helen Zaltzmen explores the depths of the English language – everything from etymology to emojis.
Episode to try: Continental
Who this is for: Littérateurs with one foot in the dreamy land of books and another in the more dismal world of news. Here, writers who are published in the London Review of Books get to read their own work – and it's utterly fascinating.
Episode to try: From Medusa to Merkel – Mary Beard
Who this is for: Those who want to see the impact that books can actually have in the real world. Mostly Lit is about a group of twenty-somethings living in London who discuss the intersection of literature, millennial wellness and black pop culture.
Episode to try: A Queer, Wilde Time
Learn the history behind your favourite (or most reviled) swear words with Matt Fiddler (Credit: Alamy)
Who this is for: Naughty humans. Discover the history behind your favourite swear words with Matt Fidler.
Episode to try: WTF FCC?
BACH TO BASICS
Who this is for: Pop and indie nerds who want to see the bare bones of their favourite songs.
Episode to try: KT Tunstall – Suddenly I See
Who this is for: Those who want to be more impressive at dinner parties. This is an absolute treasure trove where you can find an archive of explainers for all the famous operas.  
Episode to try: Madama Butterfly
Who this is for: Consider this a level up from the better-known Desert Island Discs. Rather than interviewing out-and-out celebrities, Michael Berkeley asks artists, intellectuals and other notable characters about the influence of music on their lives.
Episode to try: Alan Bennett
The Jazz Session with Jason Crane
Who this is for: Polymaths. Is there anything Jason Crane can't do? He's a poet, journalist and, oh, latin/funk/blues/jazz saxophonist. This podcast has been downloaded more than 2.5 million times and is much loved for its in-depth interviews with musicians.
Episode to try: Hilary Gardner
Who this is for: Tastemakers. Hosted by Tyler Barstow, this podcast from the record-of-the-month club Vinyl Me, Please scours out the best new music (not just on vinyl) as well as asking the bigger questions in the industry today – such as the recommendation on the best rap stars to have ever lived (below).
Episode to try: Snoop Dogg Really Didn't Ever Leave
IF YOU COULD TURN BACK TIME
Who this is for: The open minded. Malcolm Gladwell gives the past a second chance by looking back at history's great who were overlooked and misunderstood. It shows how the passage of time can change our understanding of the world. 
Episode to try: The Prime Minister and the Prof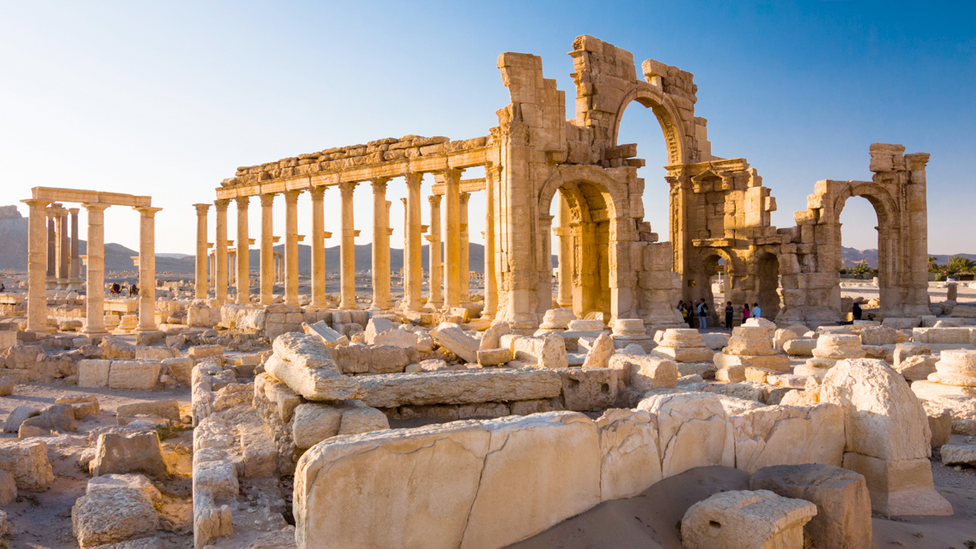 The ransacked ruins of Palmyra – just one of the ancient and now looted or destroyed cities featured by Radio 4 in its Museum of Lost Objects podcast (Credit: Alamy)
Who this is for: People concerned about living history and what we're leaving behind for future generations. This series traces the histories of antiquities and landmarks that have been destroyed or looted in Iraq, Syria, India and Pakistan.
Episode to try: The Genie of Nimrud
The History of Philosophy without any gaps
Who this is for: Deep thinkers with A LOT of time on their hands. This podcast is as thorough as they get and has brilliant episodes on the influences of the Islamic world and India on Western culture.
Episode to try: Non-violence
Who this is for: Her-storians. This podcast focuses on the often-obscured history of half the world's population.
Episode to try: Mulan
Who this is for: Historians who enjoy the odd tipple. In each episode, co-hosts Julia and Amanda have a drink and talk about mythology, legends and lore.
Episode to try: Krampus
Still not enough? Explore BBC Radio and World Service podcasts for more fantastic podcasts about the world we live in.

If you would like to comment on this story or anything else you have seen on BBC Culture, head over to our Facebook page or message us on Twitter.
And if you liked this story, sign up for the weekly bbc.com features newsletter, called "If You Only Read 6 Things This Week". A handpicked selection of stories from BBC Future, Earth, Culture, Capital and Travel, delivered to your inbox every Friday.