Don't dismiss Austen's novels as satires of another era. From how her characters 'game' the system to their desire to marry for love, her plots, and advice, remain highly useful today.
J
Jane Austen had good reason to be so enamoured of the marriage plot. Put plainly, marriage was a colossally big deal in early 19th-Century England – considerably more so than it is for many of us today. With divorce almost impossible, a hasty choice of spouse came with decades of leisure at which to repent. Pity poor Mr Bennet in Pride and Prejudice, for instance; so "captivated by youth and beauty" was he that he was blinded to his future wife's altogether less comely character. Five daughters on, he is stuck with her inane chatter across the breakfast table.
For a woman, accepting the wrong proposal (and it always was a case of accepting, rather than initiating) could prove still more devastating. Forbidden from inheriting and faced with towering obstacles if they sought to earn their own living, middle-class Regency women – even those blessed with large dowries – had to hand control of their financial, social and emotional wellbeing over to their husbands. They had few legal rights as singletons. But once married, in the eyes of the law they ceased to exist altogether, becoming possessions instead of individuals. A spinster, meanwhile, was forever dependent upon the goodwill of (male) relatives.
You might also like:
• The Jane Austen novel you don't know
• How a single scene in Pride and Prejudice changed everything
• The racy side of Jane Austen

If debutantes devoted themselves to husband-hunting to the exclusion of all else, it was because this was their one shot at steering their own destinies. To quote Mary Crawford in Mansfield Park, marriage was "a manoeuvring business".
But while we may shake our heads over women's disenfranchisement and marvel at the quaintness of a world in which the most physical a courtship gets is when a gentleman takes a lady's hand on the dance floor – with a layer of glove to separate their sweaty palms – similarities between dating then and now abound. The rules may be less explicitly stated today. Still, the pursuit of a mate in the age of the television show Love Island remains riven by many of the same snobberies, cynicism and prejudices that circulated at the Netherfield Ball.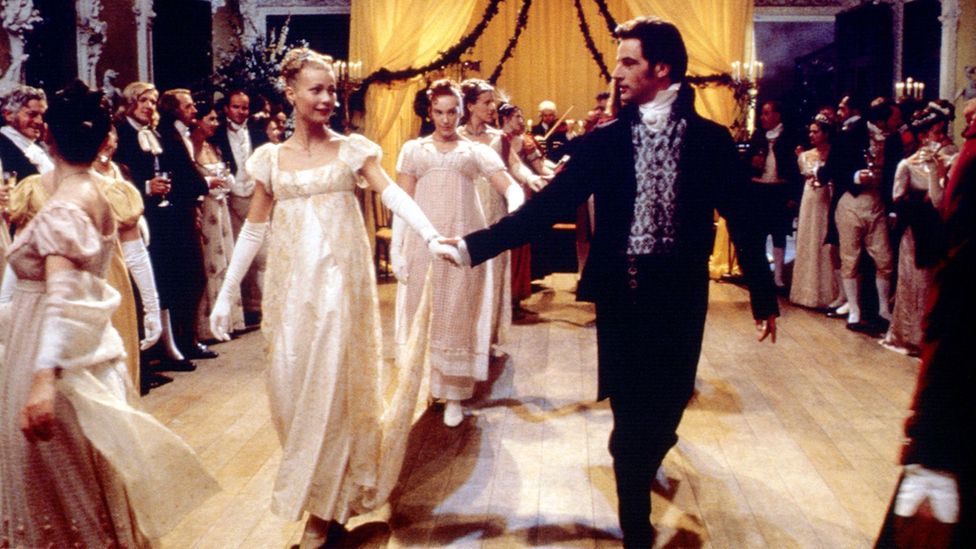 While many aspects of Regency-era courtship seem quaint today, others are surprisingly similar (Credit: Buena Vista/Alamy)
Romance rules
For one, women marry young in Austen's novels. Of the Bennet sisters, Lydia weds at 16 and Mrs Bennet talks of Jane's power to ensnare an eligible gaze at just 15. Catherine Morland, along with Sense and Sensibility's Dashwood sisters and Mansfield Park's Fanny Price, are all engaged as teenagers. In Pride and Prejudice, Charlotte Lucas is widely considered over-the-hill at 27.
The notion that a woman's allure carries an expiration date has proven tough to shake. Today, it's more likely to be at the age of 37 – but the cliff-edge remains, buttressed by declining fertility if nothing else. While Emma Woodhouse and Marianne Dashwood both marry men almost two decades their senior, in all of Austen's novels, there's just one wedding at which the bride is older than the groom – Charlotte Lucas, who has a scant two years on Mr Collins. (This despite the fact that, as UCL's Professor John Mullan has observed, three of Austen's own brothers married older women.)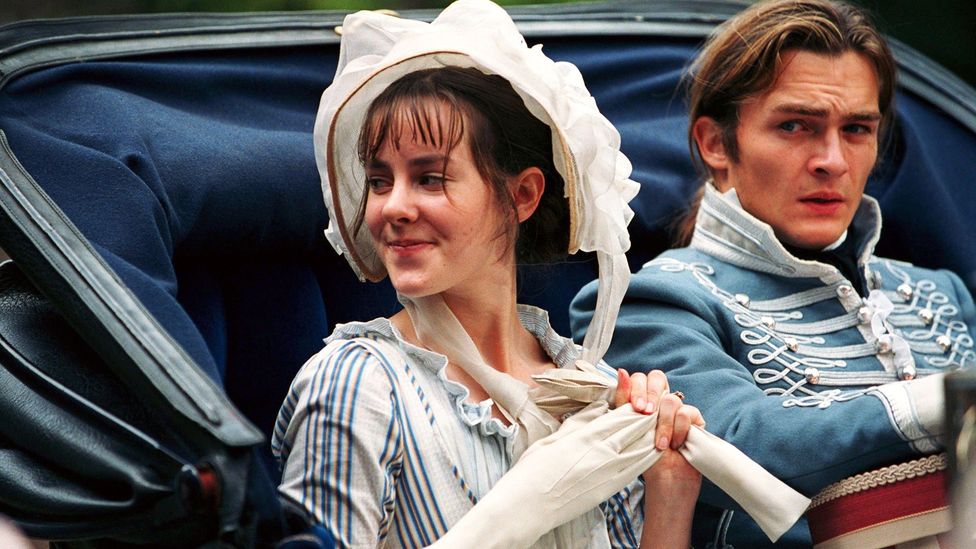 Marrying at 16 years old gives Pride and Prejudice's Lydia Bennet reason to feel triumphant, particularly over her older sisters (Credit: Focus Features/Alamy)
There was also a very public aspect to the dating game. An unmarried couple would never have been allowed to spend time together unchaperoned. Even writing to someone of the opposite sex was frowned upon unless you happened to be engaged.
Today, in our own social-media-strutting, reality-TV era, we willingly surrender our right to conduct what passes for courtship in private. Digital dating encourages us to advertise our wares and trumpet our ideal match's attributes. And if the obsession with financial assets that fuelled so much banter in Regency drawing rooms seemed to commodify men and women, it has nothing on the conveyor belt of faces (and hopes and desires) that we're encouraged to swipe our way through on our phones.
Similarly, no amount of interference from the likes of Emma's eponymous heroine can have 'gamified' the search for love to the extent of apps like Coffee Meets Bagel.
These apps also reinforce another aspect of dating that would have been all too familiar to Austen. Increasingly, their algorithms stratify users to ensure that they only view prospective dates in their own 'tier'. Bank balances and acreage may no longer be overt factors in determining placement – but popularity and attractiveness are just as elitist as markers.
Meanwhile, traditional snobbery lives on. Aside from their servants, Austen's characters rarely met folk from lowlier sections of society, and the Marriage Act of 1753 guarded against marrying beyond one's rank. Elizabeth Bennet succeeds in 'marrying up' a notch when she weds Darcy, but that's about as radical as cross-class marriages come.
We imagine what would happen if Jane Austen characters used dating apps...:
If Jane Austen characters used dating apps...
Today, for all that we live in a nominally egalitarian society, how many people marry outside of their socioeconomic brackets? To the extent that it does happen, it's a one-way street: a man will marry up but a woman is reluctant to 'date down'. One of the most frequently cited reasons for the growing number of single college-educated women is that they outnumber male graduates and are unwilling to consider mates with an inferior academic track record.
Single track
We also should consider those who've simply had enough of dating. How much easier is it to be single nowadays than in Austen's time?
Here in the West, the single woman's lot is certainly vastly improved. She may inherit property and follow almost any career path she chooses. Yet the tyranny of two persists. As Kate Bolicks's 2015 book Spinster so articulately pronounced, society still looks suspiciously on the single woman. It is presumed – as it so famously was of Mr Darcy – that you want and indeed need to be married. Single men and women both experience prejudice when it comes to everything from booking a holiday to filing their tax return.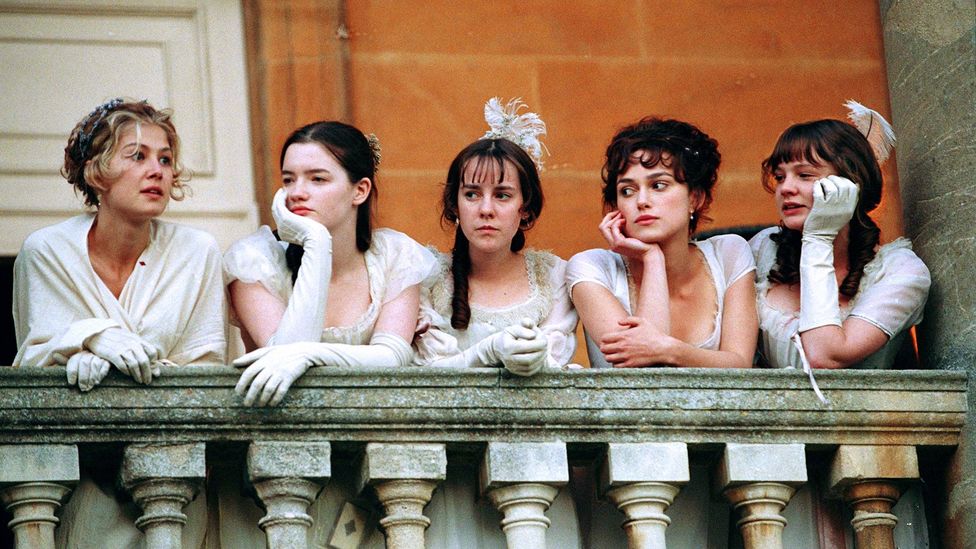 At the start of Pride and Prejudice, all five Bennet sisters are single – a problem seen as large enough to drive the entire plot (Credit: Focus Features/Alamy)
So while the rules have changed, the game essentially remains the same. If this leaves you feeling downcast, remember that ultimately, Austen advocates marrying for love. It's the move that all her novels champion. It also reinforces what Austen-lovers have always known: you can't go wrong by asking yourself "What would Lizzie Bennet do?"
If you're still feeling sceptical, consider the case of Devoney Looser, author of The Making of Jane Austen. Looser's own love life was directly shaped by Austen when she met her husband of 20 years over an argument about Mansfield Park. "I think you can learn a great deal about a date from his or her views on Austen's fiction. It's a kind of window onto each other's values or desires, allowing you to grasp your date's own character through his/her sense of Austen's characters and scenes," she says.
"But even if your date hasn't read Austen, her plots can be useful in contemporary courtship situations. Austen's heroines don't settle. They don't let parents dictate their choice of partner. They don't let false, self-interested friends influence their romantic choices. Her heroes unfailingly appreciate women with strength of mind or strength of character. Austen's hero-heroine couples are just about the closest thing you'll find to relationships of equals in the literature of her day. Marriage may look like something far different in the 21st Century than it did in the 18th — and thank goodness for that — but the sorts of paths more likely to lead to greater romantic happiness still share a great deal with Austen's fictional vision."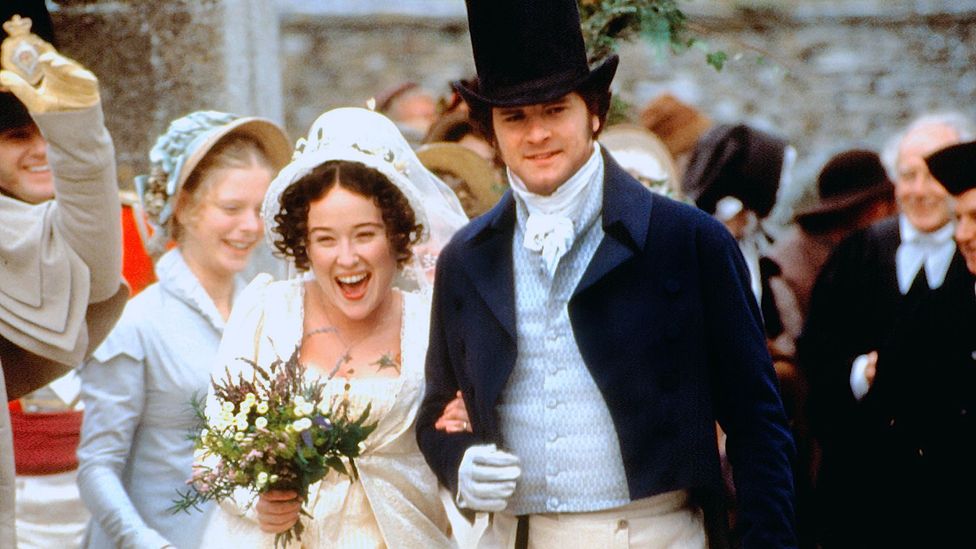 The relationship between Elizabeth Bennet and Mr Darcy was as close to a 'marriage of equals' as was conceivable in Austen's day (Credit: BBC)
Plus, read at a safe distance of several centuries, there's an added dimension to the delight we find in the pages of Austen's novels: comfort. Like all sports, husband-hunting came with rules. Ask anyone who's been 'ghosted' by their latest Tinder fling and they're likely to confide that there is something just a bit reassuring in the notion of rules writ so clearly.
This story is a part of BBC Britain – a series focused on exploring this extraordinary island, one story at a time. Readers outside of the UK can see every BBC Britain story by heading to the Britain homepage; you also can see our latest stories by following us on Facebook and Twitter.
If you would like to comment on this story or anything else you have seen on BBC Culture, head over to our Facebook page or message us on Twitter.
And if you liked this story, sign up for the weekly bbc.com features newsletter, called "If You Only Read 6 Things This Week". A handpicked selection of stories from BBC Future, Culture, Capital and Travel, delivered to your inbox every Friday.