A generation of photographers from Germany transformed photography in the 1980s and 90s, and credit is due to their two teachers, writes Alastair Sooke.
I
It is one of the most famous images in contemporary photography: a monumental print, 2m high and more than 4m across, depicting Paris's largest block of flats, in Montparnasse, on the Left Bank of the Seine. Seemingly, the panoramic composition presents a single façade of this striking Modernist building, which was constructed between 1959 and 1964.
Read more like this:
- Striking images of America's dark side
- Heartstopping photos of beauty, joy and loss
- Striking photos of Tokyo commuters
From afar, the overriding impression is of a grid-like geometric pattern, created by the block's austere architecture. This is offset by rippling chromatic accents, provided by the many curtains and blinds visible in the windows of some of its 750 apartments. The effect is beguiling: a stunning mosaic of colour.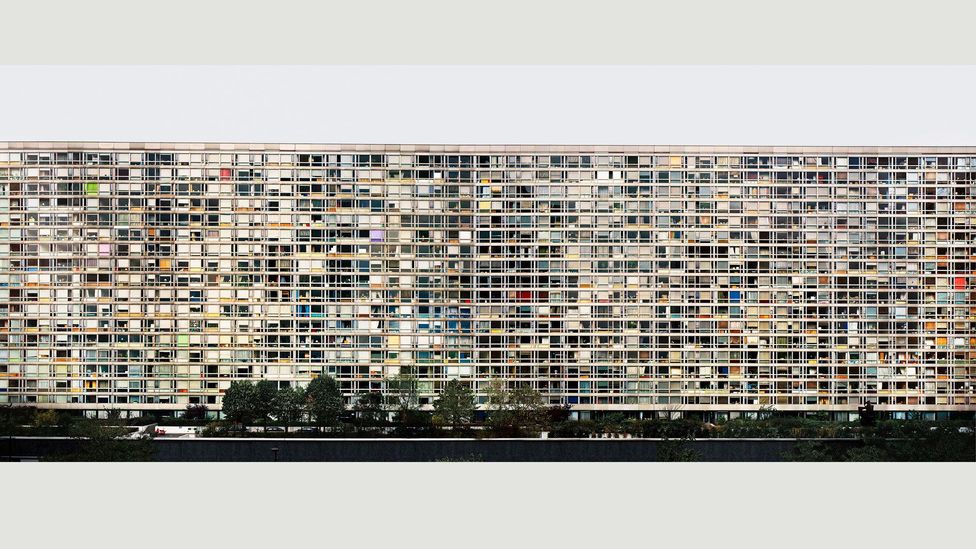 Andreas Gursky's photograph of a Montparnasse tower block is a stunning mosaic of colour (Credit: Andreas Gursky)
Up close, though, we lose any sense of the photograph's underlying structure, and become involved, instead, in the individual human dramas, and signs of life, being played out in each flat. 
This push and pull, between macro and micro views, animates the image, since it is impossible fully to appreciate both perspectives at the same time. 
In fact, to make Paris, Montparnasse (1993), which exists in an edition of five plus two artists' proofs, Andreas Gursky, the celebrated German photographer, digitally stitched together a couple of separate shots. Four years ago, in 2013, one of the artists' proofs sold at auction for nearly £1.5 million.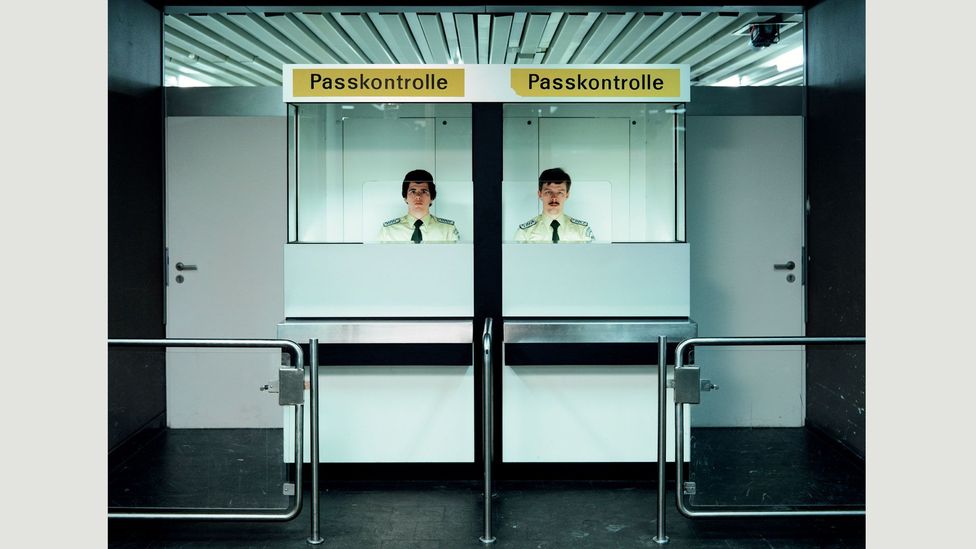 In the 90s, collectors started going wild for the photography that Gursky and his contemporaries were creating (Credit: Andreas Gursky)
Extraordinarily, for Gursky, this was nothing special: two years earlier, another picture by Gursky, an austere view of the River Rhine, went at auction for £2.7 million, making it, then, the most expensive photograph ever sold.
You see, Gursky, who will be the subject of a major retrospective at the Hayward Gallery in London early next year, belongs to a generation of superstar photographers from Germany, who transformed the medium in the late 1980s and 90s, and put it on a par with painting.
The Düsseldorf School
As an  exhibition featuring their work at the Städel Museum in Frankfurt recently made plain, before the emergence of Gursky and his contemporaries, including Thomas Ruff and Thomas Struth, photography was typically seen as something small-scale and black-and-white. Its status as contemporary "art", i.e. as work that could stand shoulder to shoulder with painting in museums and auction houses, was still a matter of debate.
During the 90s, though, curators and collectors started going wild for the sort of photography that Gursky and his peers were producing: massive, scintillating compositions, like Paris, Montparnasse, printed in full colour, and often presented, in the manner of serious paintings, in heavy wooden frames.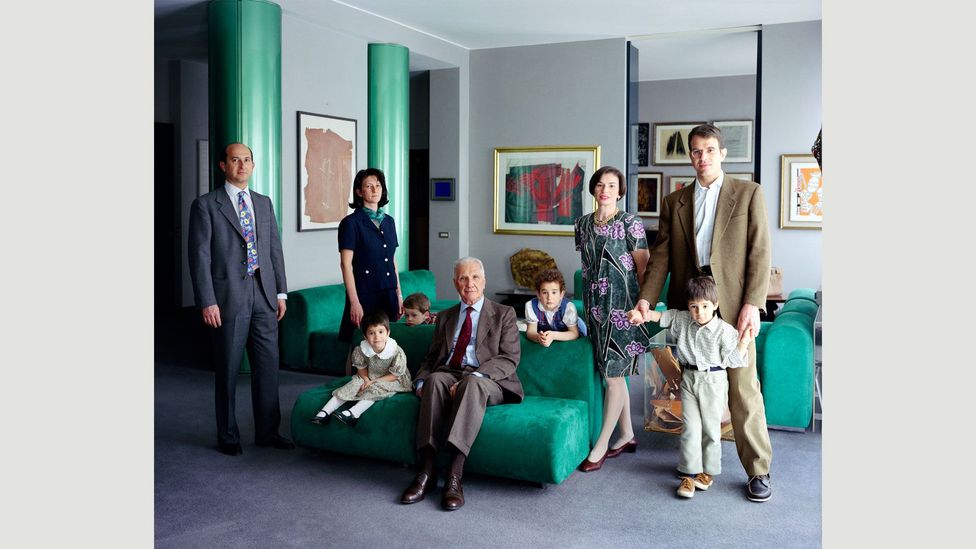 Gursky's peers include Thomas Ruff and Thomas Struth, whose photograph The Consolandi Family is pictured (Credit: Thomas Struth)
Thanks, in large part, to Gursky and his fellow German photographers, few people today would question photography's legitimacy as contemporary art
These were exciting images that seemed not only to document our world, but also to interpret it. Thanks, in large part, to the efforts of Gursky and his fellow German photographers, few people today would question the medium's legitimacy as contemporary art.
Together, the photographers at the heart of this movement, who also include the artists Candida Höfer and Jörg Sasse, are known as the "Düsseldorf School", because that is where they studied during the 70s and 80s.
In fact, according to Martin Engler, who has curated the exhibition at the Städel, their education at Düsseldorf's famous Arts Academy, where Joseph Beuys was appointed professor of sculpture in 1961, is one of the key things that links this group of eight or nine artists, because, in other respects, they are remarkably diverse.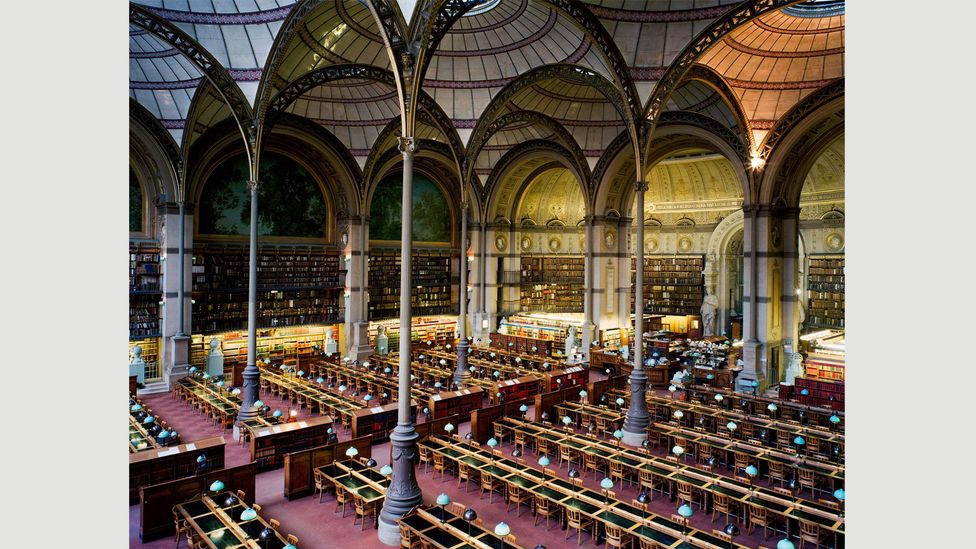 Candida Höfer was also a student of Bernd and Hill Becher – her photo of the Bibliothèque Nationale de France Paris is pictured (Credit: Candida Höfer)
At the heart of Engler's exhibition is the following question: how important, as an influence upon this special generation, were their teachers in Düsseldorf, the German photographers Bernd and Hilla Becher? The answer, it transpires, is: extremely important. If you aren't already familiar with the Bechers, then it's time to become acquainted with two crucial figures in the history of photography. 
Draconian and dispassionate
It was 1976 when Bernd Becher (1931-2007), who had trained as a painter, was appointed professor of photography at the Academy of Art in Düsseldorf. His wife and artistic partner, Hilla (1934-2015), was never given a formal role at the institution, but she always worked closely with her husband, who often taught at home, and was an equally important influence upon his students until 1996, when Bernd left the faculty.
They had met as students, themselves, at Düsseldorf's Kunstakademie in 1957, and began collaborating two years later, before getting married in 1961. During the 60s, they spent time in New York City, where they encountered avant-garde art, and mixed with Conceptual and Minimalist artists such as Carl Andre. "Their experience in New York totally changed the way they perceived photography," Engler says.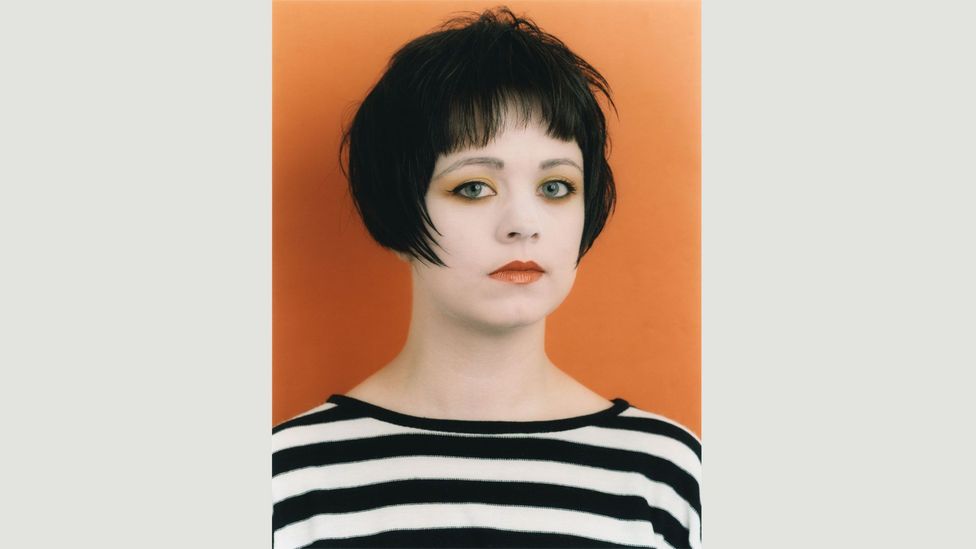 Thomas Ruff's series of portraits demonstrates the Becher influences in their large scale and inscrutability (Credit: Thomas Ruff)
Upon their return, they started to present their work not as single images but, rather, as series, arranged in grids of nine, 12, or 15 photographs - "a bit like a Carl Andre floor piece," explains Engler.
Typically, their subject matter was the disappearing architecture of heavy industry - blast furnaces, water towers, coal bunkers, gas coolers, lime kilns, storage silos, factories, warehouses, and the like. "To begin with, they were interested in old industrial plants that weren't being used anymore – it was clear, already, that these structures belonged to an industrial history that was becoming lost," Engler says. "Following their American experience, though, this nostalgic idea of preserving memories changed totally."
In 1990, the Bechers received a prestigious award at the Venice Biennale not for photography, but for sculpture
The Bechers started presenting their industrial photographs according to type - and, consequently, referred to each grid of images as a "typology". One such typology, consisting of a grid of photographs of nine different water towers executed around 1980, was sold earlier this year at an auction in New York for $75,000 (£58,000). The work is called, simply, Water Towers.
Subject matter and mode of presentation aren't the only distinctive things about the Bechers' photographs; a draconian, dispassionate style is a hallmark of their work, too. Influenced by the so-called Neue Sachlichkeit ("New Objectivity") photography of Germans August Sander and Karl Blossfeldt, they always documented their subjects in a scrupulously objective fashion: shooting from the same height and at the same time of day, and ensuring that nothing but milky, opaque grey sky was visible in the background. They also believed that fine-art photography had to be black-and-white. "Their style is very reduced, very strict," Engler says. "You could call it austere."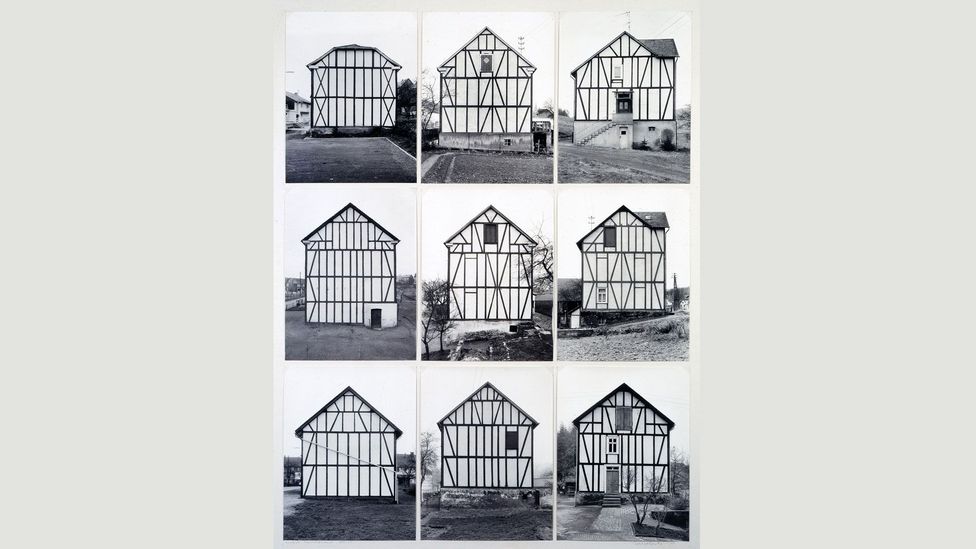 They organised their images – including these Half-Timber Houses – according to type, and referred to each grid of images as a 'typology' (Credit: Estate Bernd & Hilla Becher)
The Bechers saw themselves as Conceptual artists, first and foremost, rather than photographers: the title of their first photography book, published in 1970, was Anonymous Sculptures. Controversially, in 1990, they received a prestigious award at the Venice Biennale not for photography, but for sculpture.
"The funny thing is," says Engler, "that they never did anything else, apart from their typologies. When Bernd died, Hilla continued their work - not making photographs, anymore, but rearranging and making new typologies from material that they had shot together over the previous 40 years."
A grand scale
Why, then, did these two artists, who were responsible for such a strictly controlled body of work, prove so influential upon Gursky's expansive, ambitious generation? 
The Bechers changed our idea of what the photographic image could be – Martin Engler
"The Bechers changed our idea of what the photographic image could be," Engler explains. "They tried to give an idea of the complexity of their time, by showing that perception isn't based on one image, but always on a series of images. This was very influential."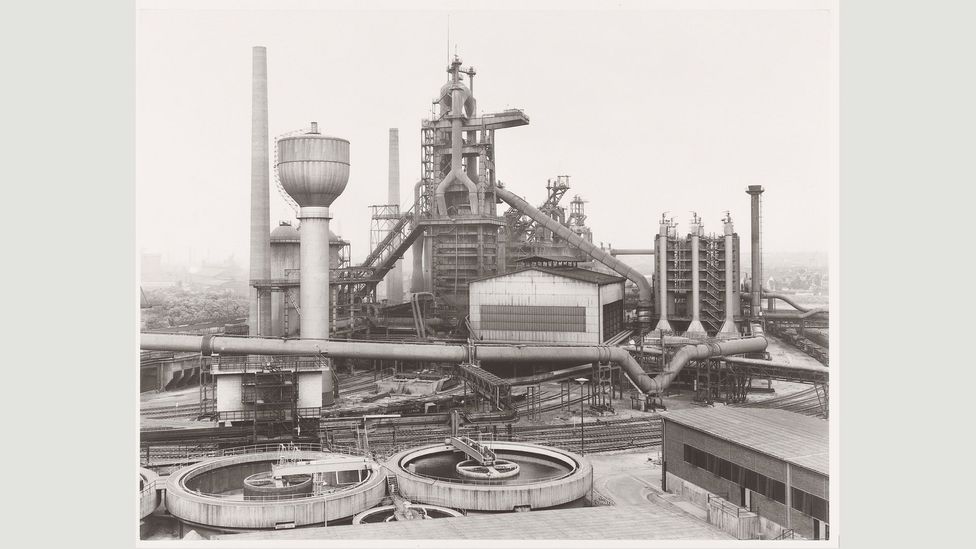 The Bechers documented their subjects – often the architecture of heavy industry – in a scrupulously objective fashion (Credit: Estate Bernd & Hilla Becher)
On a simple level, a Becher "typology", while made up of individually small photographs, occupies a lot of wall space – and scale is, of course, something to which Gursky and his peers were drawn. "The big portraits of Thomas Ruff, say, which are 2m x 1.5m, have the same format as the typologies of the Bechers," Engler points out. "They really compete with painting."
Moreover, the severe, unsentimental objectivity of the Bechers' work influenced the understated tone and atmosphere of the output of the Düsseldorf School. Their photographs are rarely intense or passionate – "They don't depict highly emotional scenes, such as car crashes," says Engler. Rather, they are often melancholy, alienated and, in many cases, literally devoid of people, just like the Bechers' work.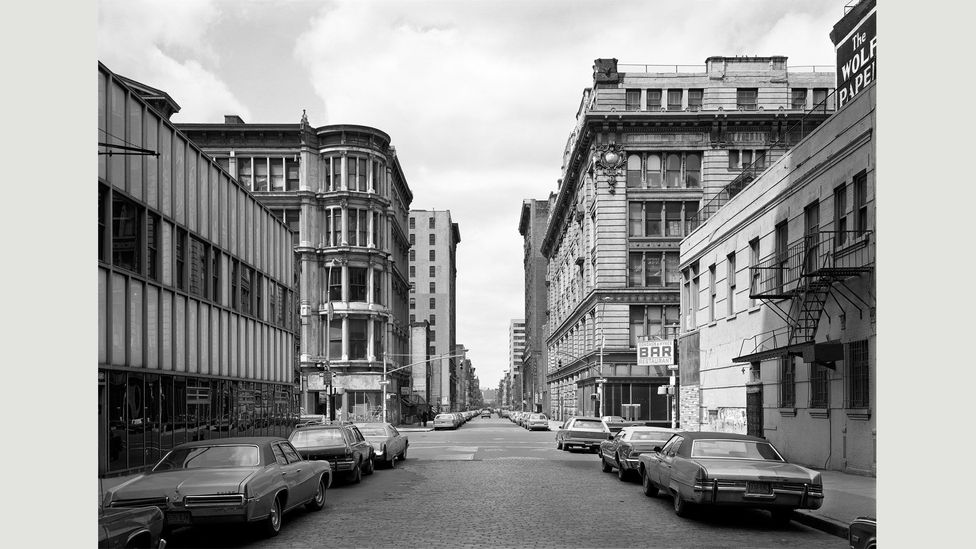 Thomas Struth's early street shots show the influence of his teachers; he also explored museums, religious cult sites and families (Credit: Thomas Struth)
Engler gestures to Paris, Montparnasse to illustrate the Bechers' influence. "In a way, this image is very like a Becher typology," he says. "It's an austere building, depicted in a strict and unemotional way. And, of course, we can never quite perceive the whole thing. You must go close to understand what's inside these little apartments, which all look the same. But you also have this movement backing off from the artwork, to understand the totality."
Even Ruff's famous series of large portraits of people exhibits Becher-like tendencies, aside from scale. "Ruff photographed all his friends at the academy in Düsseldorf," Engler says. "Traditionally, the idea of portraiture was to give psychological insight into a person. What Ruff was saying, with these larger-than-life portraits, was that, the closer you get, the less you know a person. In a way, they, too, become like the façade of a building." 
He points at one of Ruff's portraits, of a famous artist from Georgia. "You can see her huge eyes, even little wrinkles. But you don't learn anything more about her." He pauses. "You are left only with the surface, and a longing for more."
Alastair Sooke is Art Critic of The Daily Telegraph
If you would like to comment on this story or anything else you have seen on BBC Culture, head over to our Facebook page or message us on Twitter.
And if you liked this story, sign up for the weekly bbc.com features newsletter, called "If You Only Read 6 Things This Week". A handpicked selection of stories from BBC Future, Earth, Culture, Capital, Travel and Autos, delivered to your inbox every Friday.