The South African comic brings a global view on American politics that's powered The Daily Show to new heights, writes Jennifer Keishin Armstrong.
T
Trevor Noah was aware Donald Trump could be president much earlier than most Americans. Back in October 2015, about a week after Noah took over anchoring The Daily Show from the wildly popular Jon Stewart, the South African comedian brandished his secret weapon: the international perspective that distinguished him from his predecessor and other late-night comedy hosts in the US.
He went on to match Trump with Idi Amin, Robert Mugabe and Muammar Gaddafi
As the Daily Show writing staff continued to insist during their daily meetings that Trump could never be president, Noah realised he saw things differently from his new US colleagues. Everyone kept asking him why he didn't seem more shocked by Trump's behaviour on the campaign trail. "I see why people are so taken by him," Noah tells BBC Culture. "Because where I'm from, there are many leaders like Donald Trump. That was me beginning to understand that my point of view is what will always shape the show. I do not have the same point of view as other late-night hosts because I don't come from the same world."
- When political comedy is a case of life or death
- Where did canned laughter come from?
After a debut the previous week that had critics sighing and shrugging – "inoffensive but also mostly flat," said one typical review on Deadline.com – Noah delivered the first of his speeches that had viewers suddenly paying attention – and sharing the video on social media. In this segment, he showed that Trump acted precisely like several African dictators. Noah juxtaposed clips of then-US presidential candidate Trump bashing foreigners as criminals with clips of South African President Jacob Zuma also bashing foreigners as criminals. "Light xenophobia," he described it, "with just a dash of diplomacy."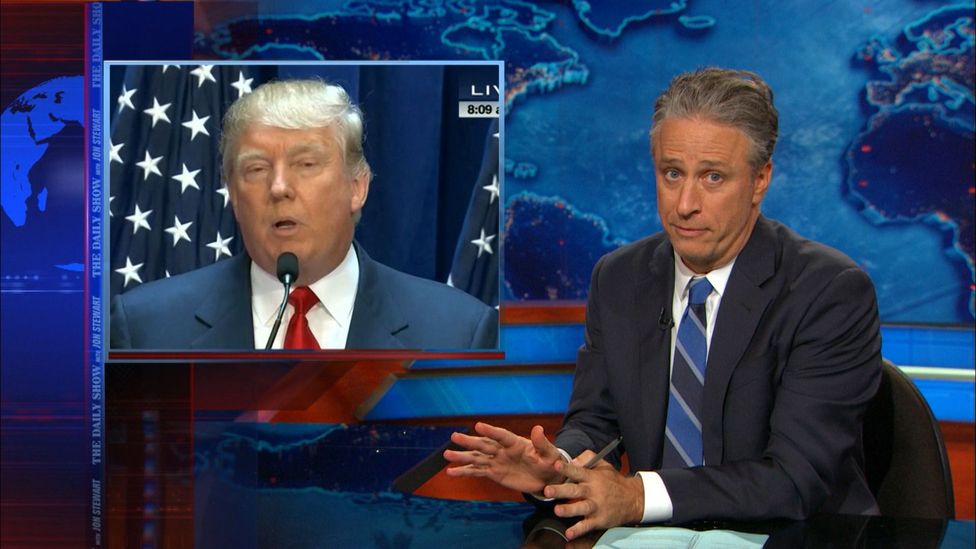 Jon Stewart's reaction to Trump announcing his candidacy was one of mock joy – because it would invariably be rife with comic possibility (Credit: Comedy Central)
"I don't see what's unpresidential about Donald Trump," Noah continued. After another clip of Trump, backed by no evidence, equating vaccines with autism, Noah quipped, "Was that factual? No. But was it presidential? Depends where you come from." He went on to match Trump's distinctive characteristics and quotes point-for-point, sometimes down to using the exact same words, with those of Idi Amin, Robert Mugabe and Muammar Gaddafi: his lies, his bragging, his "weird hair," his lavish lifestyle and his questioning of President Barack Obama's origins.
It surprised me how much people want to insulate themselves in a bubble – Trevor Noah
Noah brought it home by mock-praising the idea of electing America's "first African president" in Xhosa, a South African language, ending in one clear English phrase: "Mexican rapists."
This marked Noah's first breakthrough moment. And it showed something that comedy in the US sorely lacked: global perspective. Much hand-wringing was done by American political pundits about why the polls were so wrong in the lead-up to the 2016 election – and much of that hand-wringing has led to those pundits flagellating themselves with the notion they live in a bubble and should have done more to understand Trump supporters outside liberal US cities.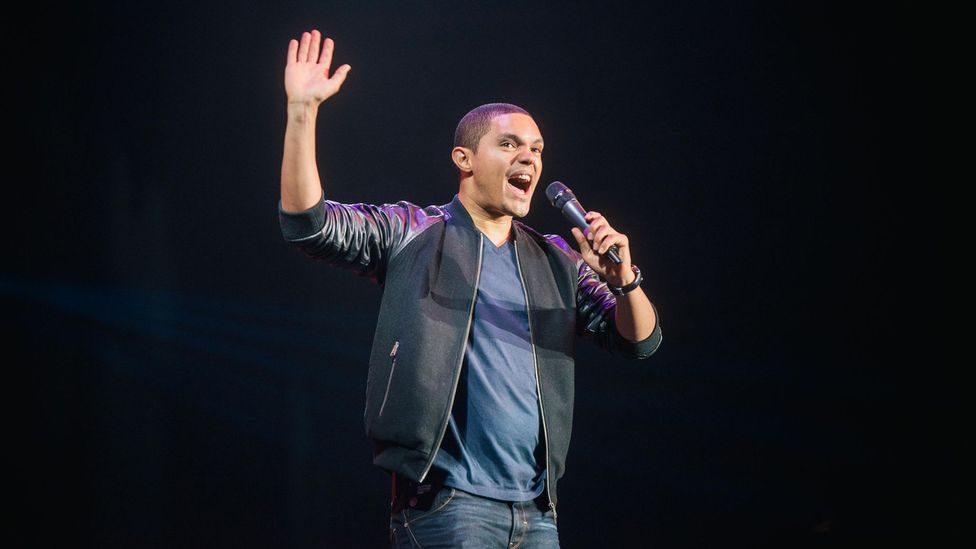 Noah has continued to perform standup in the US and around the world while hosting The Daily Show (Credit: Alamy)
"It surprised me how willing people in the US are to insulate themselves in a bubble of information and proceed with that," Noah says. But those hand-wringing pundits also forget they live in another bubble: a US-centric one that assumes American culture is global culture and excludes awareness of what's happening elsewhere in the world. Because he came from a different background altogether, Trevor Noah saw the Trump presidency coming when very few in the US, even among Trump supporters did. That's a stark difference from Noah's predecessor, Jon Stewart, who greeted Trump's candidacy as if he was overjoyed because it was such great material for comedy – The Daily Show would write itself! – and would surely lead nowhere. Noah's outsider view allows the US to better see itself, and his comedy is so funny because it's that much more true. Earlier this week, he brought an international perspective to the mass shooting in Las Vegas, commenting in a segment on his show: "I've never been to a country where people are as afraid to speak about guns." The clip has had more than 3m views in three days.
Coming to America
Noah's Daily Show is now the number one programme on the late-night schedule among young people in the US, and online viewing of his clips is up 200% – a stunning turnaround (how his ratings were down 37% from Stewart's eight months into taking over the show). Perhaps Americans couldn't fully appreciate Noah's international perspective until America really did elect its "first African president." As Noah tells me, "I don't listen to Donald Trump with the same ear as Americans. I come from a place where English is not the first language. I don't come from a place where I judge how a person speaks English. I judge what you're saying. When you listen carefully, you start to realise, 'Oh, Trump's saying certain things that people don't listen to because they're getting hung up on the fact that he doesn't speak English the way they would like him to.'" Appropriately enough, Noah's found that when he travels to Africa, as well as to the Middle East, many people he talks to like Trump: "People are like, 'He's a strong leader.'"
America is a continent masquerading as a country – Trevor Noah
But Noah doesn't operate from a position of shaming US viewers into becoming more aware of what happening outside their own borders. "America is a continent masquerading as a country, if we're honest about it," Noah says. "It's 50 little countries that said, 'Let's come together and operate under one flag, for now.' And so, I don't blame anybody in the US. I used to judge America before I got here, then I realised it's really hard to focus on what Latvia is doing when you've got Ohio and Alaska embroiled in something. There are 50 states." There is a risk of people in the US living in an echo chamber, though. "It's interesting to see how people in the US have reinforced their views and as soon as they encounter a piece of information that questions the fundamentals of what they believe in, they just ignore it."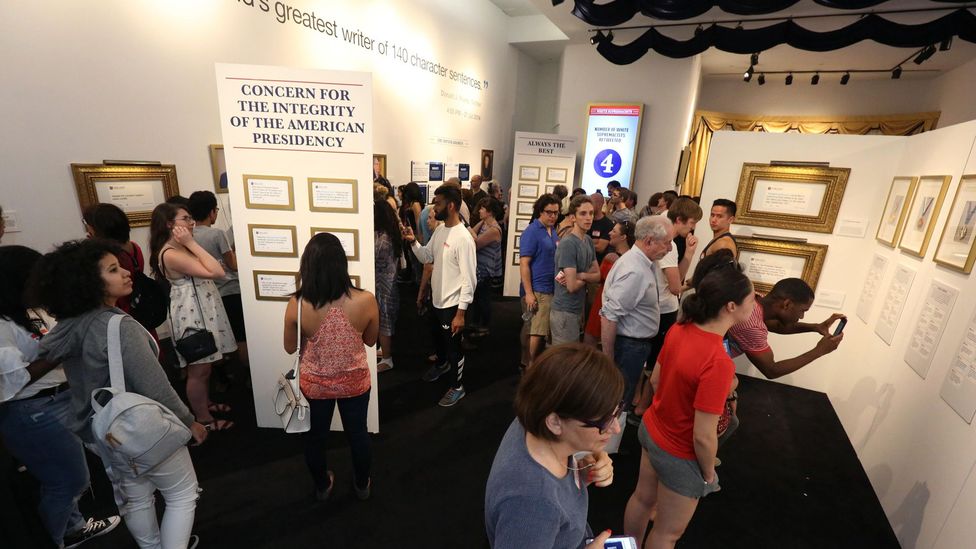 One of Noah's most inventive stunts was the Trump Presidential Twitter Library, a 'fake museum' in which Daily Show producers hung framed printouts of Trump tweets (Credit: Alamy)
Naturally, Noah's South African upbringing shapes his comedy more than any other factor. His dead-on impressions, for example, stem, in part, from learning six languages in his youth, and switching among them to fit into his surroundings. And when mentioning his favourite comedians – Eddie Izzard, the Australian comics Carl Barron and Kitty Flanagan and Haiti's Wil Sylvince among them – he gives shout-outs to South African funny-people Shkumba and Celeste Ntuli. Noah continues to perform stand-up comedy during his off weeks, touring throughout America and Africa this summer and continuing to line up dates into next year. Much of his stand-up material is observational, about how he as an 'outsider' experiences aspects of US society that Americans take for granted: dealing with airport security, his first experience eating a taco, his surprise at why some Americans are insistent upon not learning a language other than English.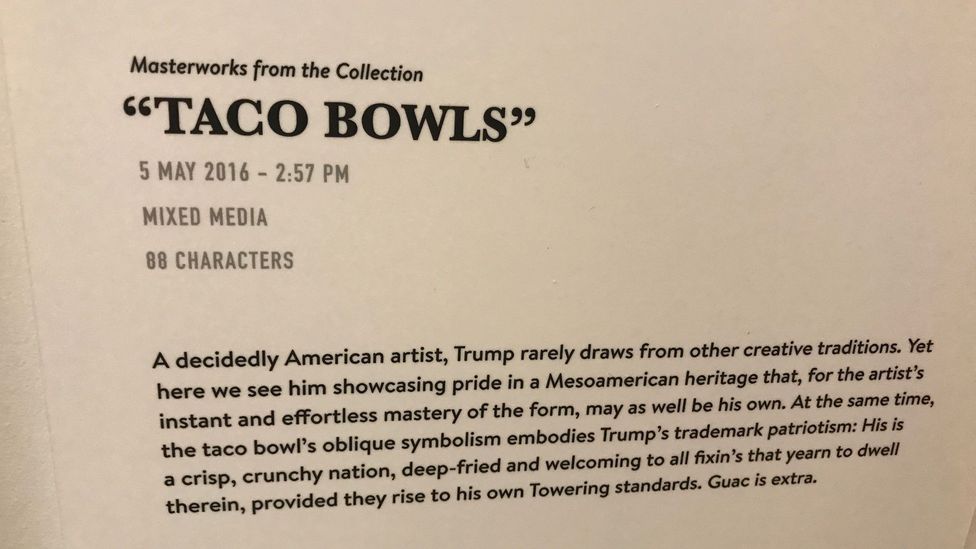 The attention to detail at the Twitter Library by Noah and his team was extraordinary, right down to elaborate museum curator-style captions (Credit: Christian Blauvelt)
So far, he's not worried about censorship in the US. "I'm always wary when people throw the term 'censorship' out flippantly," he says. "Maybe it's because I grew up in a country where there is genuine censorship. When people say 'censorship,' I go, 'Do you mean consequence?' There's a difference." He's speaking particularly of instances such as the outrage over comedian Kathy Griffin's photo shoot with a severed Trump head: there's a difference between being prosecuted for such an act and simply bearing the predictable negative reaction. "That's really one of the liberties that America is founded on, so I think people often make the mistake of thinking that the First Amendment is a complete shield from any criticism," he says. "If you say something that people don't like, they have a right to tell you how they feel. They can fire you. They can cancel your gigs. What they can't do is stop you from speaking."
Noah himself shows no sign of stopping anytime soon. His Daily Show has become a safe place for many Americans in the Age of Trump. And during every show taping he also records a segment geared just at non-American viewers around the world as a kind of comedic global outreach. "Come to The Daily Show because you want to remember it's not the end of the world," he says. "Come to The Daily Show because we're not alarmists. Come to The Daily Show because we're going to laugh. When you search for the joke, you search for the truth, because the best comedy is based on truth. We're going to laugh all the way because if you're not laughing, you're afraid."
If you would like to comment on this story or anything else you have seen on BBC Culture, head over to our Facebook page or message us on Twitter.
And if you liked this story, sign up for the weekly bbc.com features newsletter, called "If You Only Read 6 Things This Week". A handpicked selection of stories from BBC Future, Earth, Culture, Capital and Travel, delivered to your inbox every Friday.