As two museums dedicated to Yves Saint Laurent open in Paris and Marrakech, Dominic Lutyens explores the wild life and legendary genius of the iconic designer.
D
Decades after Yves Saint Laurent first set up his haute-couture house in 1961, a fascination with the late, legendary designer persists. Two biopics – Jalil Lespert's official Yves Saint Laurent and Bertrand Bonello's unauthorised Saint Laurent – were released in 2014. And the recent death of the designer's longstanding partner Pierre Bergé brought further attention to the astonishing legacy of the Algerian-born Saint Laurent.
Meanwhile, preserving the label's brand integrity inspires fierce loyalty among fashionistas. In 2012, when its name was truncated to Saint Laurent, hip Paris store Colette issued T-shirts bearing the slogan 'Ain't Laurent Without Yves'.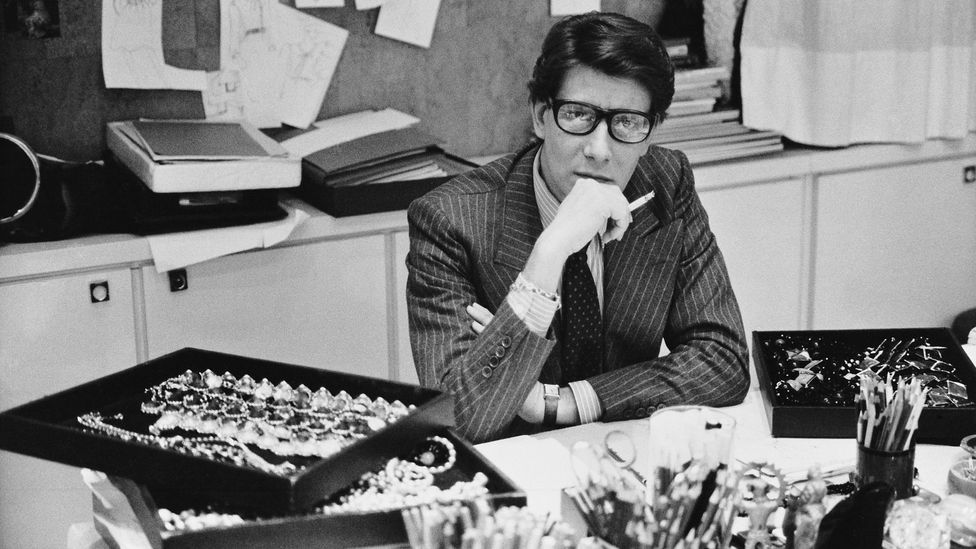 Saint Laurent, seen here in his studio in 1986, has retained his cult appeal decades later (Credit: Musée Yves Saint Laurent Paris/DR)
Now Saint Laurent's life and work are to be immortalised further by two museums opening this month. The Musée Yves Saint Laurent is housed in Paris's Fondation Pierre Berge-Yves Saint Laurent at 5 Avenue Marceau, the couture house's HQ from 1974 to 2002, while the Musée Yves Saint Laurent Marrakech is a 4,000 sq m (43,055 sq ft) new-build near Jardin Majorelle, the Edenic garden of water lilies and cacti that fronts the cobalt blue Islamic Art Museum. In 1980, Saint Laurent and Bergé bought Jardin Majorelle and Villa Oasis, another building there. It was one of their many homes.
The museum provides a more personal insight into Saint Laurent's life
Saint Laurent – previously head designer at Christian Dior – was the first fashion designer to archive his work systematically, allowing both museums a wealth of examples to put on display.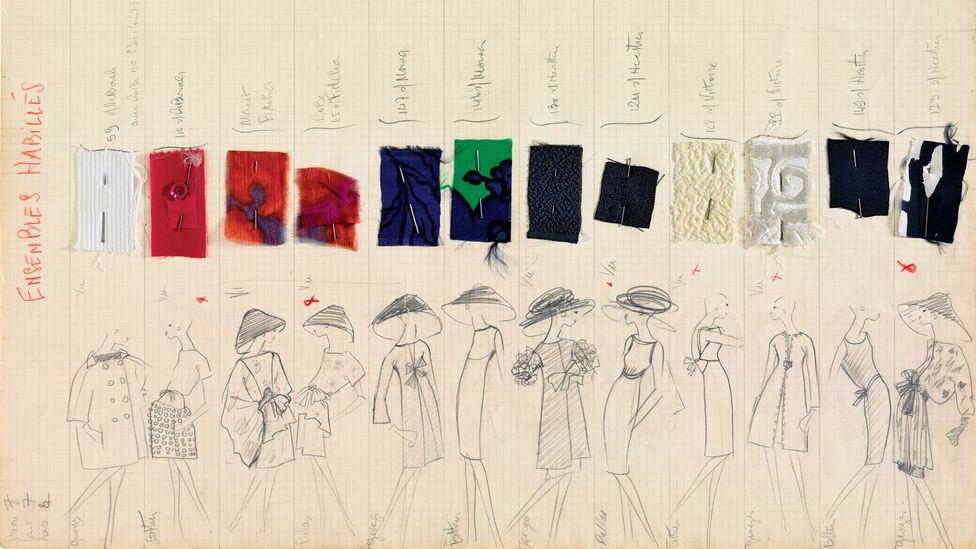 Among the exhibits at the new Paris museum are sketches for the haute-couture collection, spring/summer 1962 (Credit: Fondation Pierre Bergé – Yves Saint Laurent, Paris)
The Paris museum alone houses 5,000 haute couture garments, 15,000 accessories and thousands of sketches, atelier specification sheets detailing fabric and colour references, collection boards, toiles, textile samples, videos of catwalk shows and press cuttings. "Our idea is to give visitors an understanding of the entire creative process behind designing a garment," its director, Olivier Flaviano, tells BBC designed.
All about Yves
The museum provides a more personal insight into Saint Laurent's life, too. It displays his and Bergé's private photographs and images of their various homes, which have attracted almost as much interest among Saint Laurent fans as his clothes. His original studio has also been faithfully recreated: "We have the simple table he worked on," says Flaviano. "Other objects include a pair of bronze lions which Saint Laurent, who was superstitious, owned because his star sign was Leo, a portrait of him by Bernard Buffet, photos of his dogs and a walking stick once owned by Dior."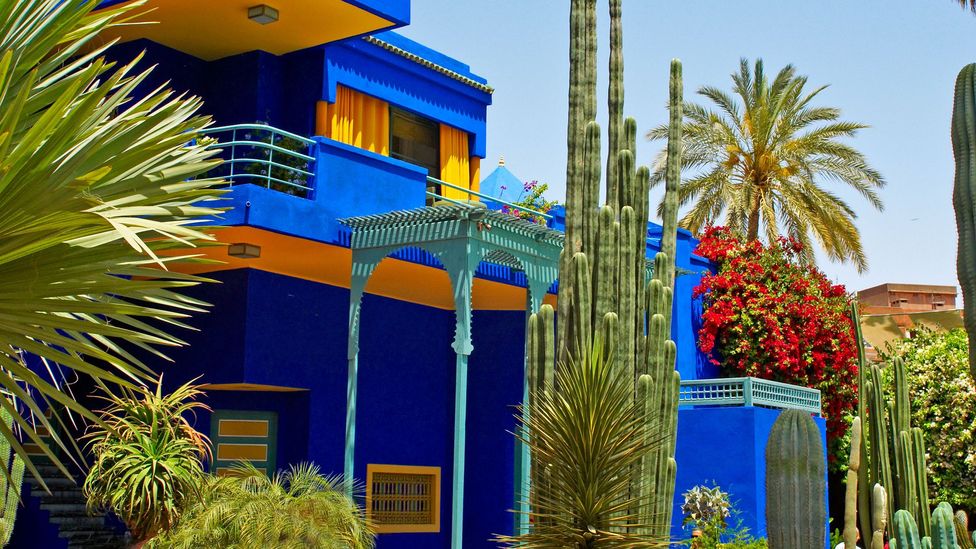 The Majorelle Garden in Marrakech was designed in 1924, and was acquired by Yves Saint Laurent and Pierre Bergé in 1980 (Credit: Alamy)
The Paris museum's inaugural show spotlights Saint Laurent's 1962 collection. This famously included a pea coat, a seminal example of one of his most groundbreaking ideas - the co-opting of utilitarian men's clothing as womenswear. Its exhibition space has been expanded and reconfigured by set designer Nathalie Crinière and veteran interior designer Jacques Grange, who created the famously eclectic, daring, 70s interior of Saint Laurent and Berge's Paris apartment on rue de Babylone. This teamed opulent Art Deco furniture by Eileen Gray and Emiles-Jacques Ruhlmann with pop elements — Warhol portraits of a pensive Yves and sheep-shaped stools by French sculptors du jour François-Xavier and Claude Lalanne.
Marrakech was a paradise where, from the late '60s, he (literally) let his hair down
The Marrakech museum, which showcases 1,000 Saint Laurent couture garments lent by the Paris foundation, comprises a permanent exhibition space designed by Christophe Martin, a temporary one, a research library housing books about Morocco's history and arts, an auditorium where designers and fashion historians will give lectures, a bookstore and a café. The windowless, hermetic looking façade of the museum, designed by French architects Studio KO, is partly practical, says Björn Dahlström, its director. "There are no windows to protect the clothing from direct sunlight," he explains. "In Marrakech, the difference in temperature between night and day is big. The room temperature must be between 20 and 25°C."
A tale of two cities
It's appropriate that the museums are in these two cities, since the designer divided most of his time between them. Saint Laurent first visited and fell under the spell of Marrakech in 1966. For him, the city offered a bolt-hole from his comparatively disciplined professional life in Paris.
Moroccan style was a big influence in Yves Saint Laurent, who in the 1970s grew his hair long and frequently sported a kaftan (Credit: Reginald Gray)
It was a paradise where, from the late '60s, he (literally) let his hair down, growing it to a Jesus-like length, partying with his hedonistic friends, smoking pot and donning hippy-chic kaftans, faded jeans and shirts open to the waist. Saint Laurent equated Marrakech with intoxicating exotica. "In Morocco, I realised the range of colours I use was that of its zelligs [mosaics], zouacs [elaborate paintwork], djellabas and kaftans. The boldness in my work I owe to this country, to its audacious combinations," he once said.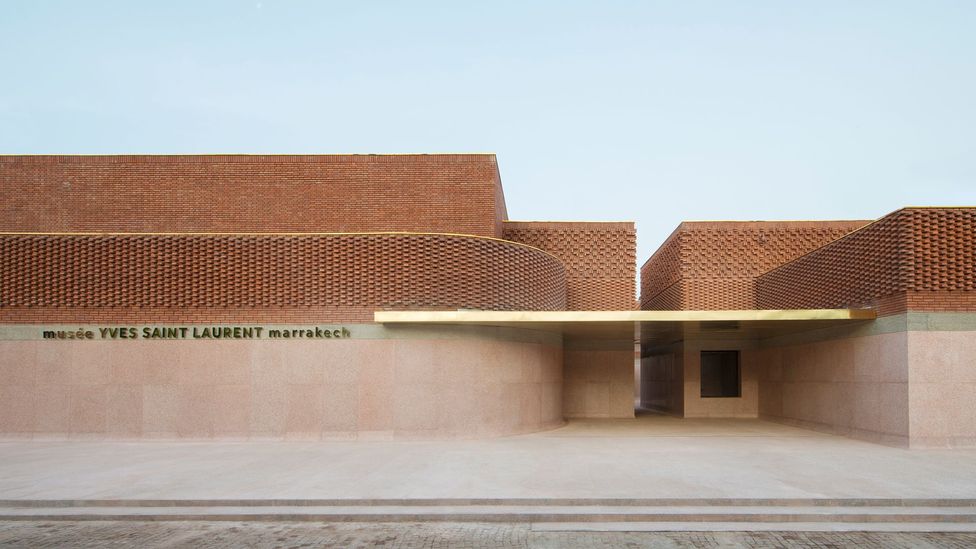 The Musée Yves Saint Laurent Marrakech is a 4,000 sq m new-build near the Jardin Majorelle (Credit: Musée Yves Saint Laurent Marrakech)
This in turn kick-started an obsession, from the 1970s onwards, with sumptuous costumes from far-flung countries that inspired some of his most iconic collections, from his swashbuckling 1976 Russian collection that drew from cossacks, peasant wear and Diaghilev's Ballets Russes to his sumptuous 1977 homage to Chinoiserie that boasted lacquer-red coolie hats and pagoda-inspired shoulders.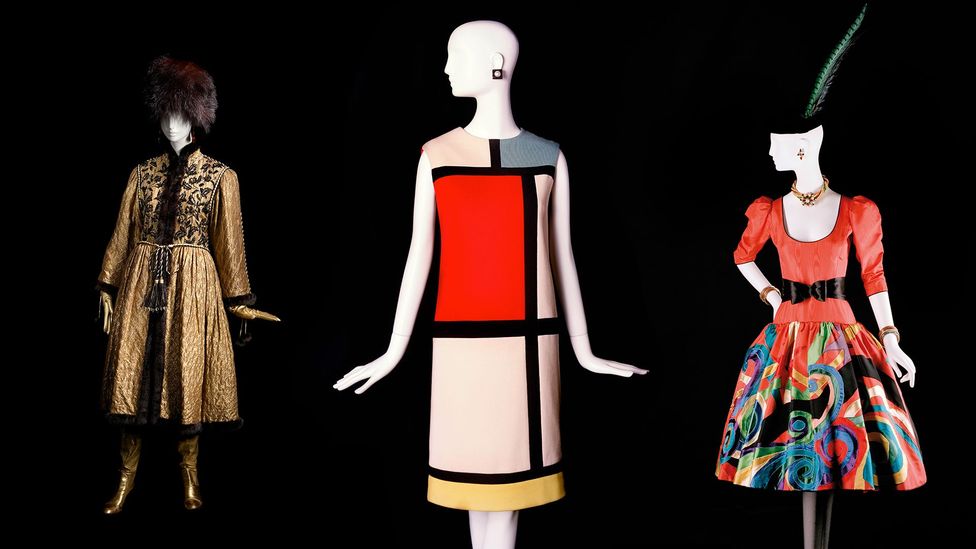 Saint Laurent's designs for Ballet Russe, 1976; Mondrian dress, 1965; homage to Picasso, 1979 (Credit: Fondation Pierre Bergé – Yves Saint Laurent, Paris/Alexandre Guirkinger)
If these collections sound retrograde, it's important to remember that Saint Laurent made his mark as a rebellious, avant-garde designer. At Dior, he had flouted the house's trademark hourglass silhouette with his 1958 trapezoid dresses and his swansong there, in 1960, was a predominantly black, beatnik-themed collection. In 1966, he created his signature, androgynous Le Smoking tuxedo, which helped to free women from gender-stereotyped dressing, as did his trouser suits and jumpsuits.
That year, he was also the first couturier to launch a ready-to-wear line. His democratic outlook was informed by his sympathy for the May 1968 anti-Establishment protests in Paris. And, by posing naked for the 1971 advertising campaign for his first men's fragrance, he cannily proclaimed his support for sexual liberation.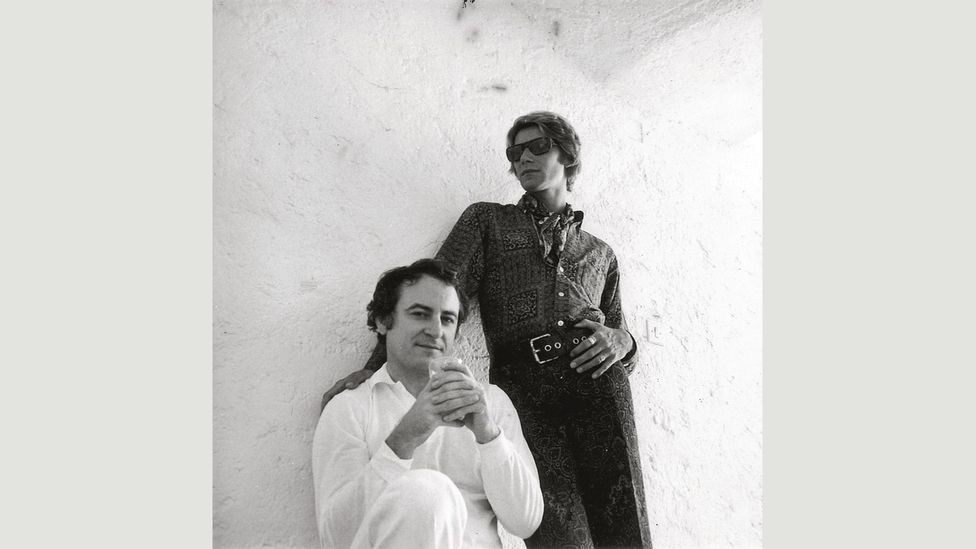 Yves Saint Laurent and Pierre Bergé were lovers and then business partners for many decades (Credit: Fondation Pierre Bergé – Yves Saint Laurent, Paris)
Part of his appeal today springs from his associations with such style icons as Paloma Picasso, who designed accessories for him, and Loulou de la Falaise, as well as with New York's famous Studio 54 crowd. Saint Laurent first decided to archive his work in 1964, says Flaviano. "I asked Bergé about this. He said it started when Saint Laurent said of a brown cocktail dress, 'This is so beautiful I want to keep it'.
Saint Laurent equated Marrakech with intoxicating exotica
"As the years went by, he kept more and more pieces. At first these were kept in trunks — in the '60s, there was no idea of having an archive space with clothes stored in the right conditions." From 1982, Saint Laurent would write 'M' or 'Musée' to denote that he wanted particular designs archived. And from 1997, these were kept in specially created storage facilities in La Villette, Paris.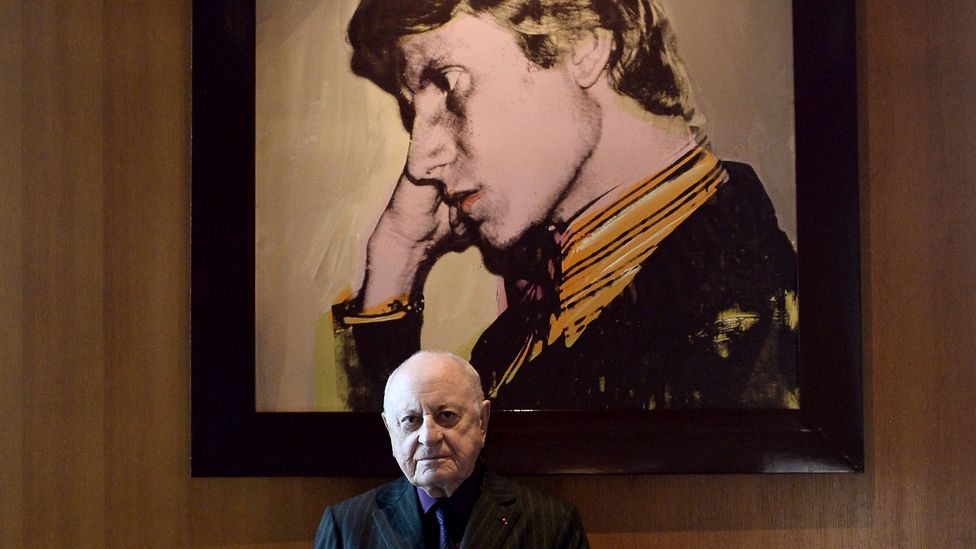 Saint Laurent's partner Pierre Bergé poses in front of an Andy Warhol portrait of the designer (Credit: Stephane de Sakutin/AFP/Getty Images)
Despite being shy and tormented by depression in later years, Saint Laurent had an unshakeable self-belief and was acutely conscious of wanting to preserve his work for posterity. Perhaps his passion for the arts – he and Bergé owned an impressive art collection, while his designs were often inspired by artists – made him feel that his work blurred the boundary between art and fashion.
Still, it was chiefly Bergé who promoted Saint Laurent. It was he who proposed a retrospective of his work at New York's Metropolitan Museum of Art in 1983. He also invited such literary heavyweights as Marguerite Duras and Bernard Henri-Lévy to write monographs on Saint Laurent, thereby conferring intellectual status on him. The two museums represent the acme of such ambition.
Musée Yves Saint Laurent Marrakech will open on October 19. Musée Yves Saint Laurent Paris, opens on October 3.
To comment on and see more stories from BBC Designed, you can follow us on Facebook, Twitter and Instagram. You can also see more stories from BBC Culture on Facebook and Twitter.
If you liked this story, sign up for the weekly bbc.com features newsletter called "If You Only Read 6 Things This Week". A handpicked selection of stories from BBC Future, Culture, Capital and Travel, delivered to your inbox every Friday.