Hollywood often stereotypes India – but films made in India can paint a clichéd portrait of the West, and of Indian emigrants too, writes Laya Maheshwari.
I
In 2015, President Barack Obama was invited to be the guest of honour at India's Republic Day parade. One thing kept his team up all night in the days leading up to the event. The members of his staff conducted hours of research, tried different alternatives and – once an option was finalised – painstakingly coached Obama through it.
What was the issue disturbing them? Deciding which Bollywood line the President should quote in his speech.
It was no laughing matter. His Indian counterpart, Prime Minister Narendra Modi, had set a high bar when, a few months earlier, he had brought the house down at Madison Square Garden in New York by bidding the audience goodbye with "May the Force be with you." That Modi delivered a Star Wars line while ­X-Men star Hugh Jackman stood next to him on stage, trying to be a sport, made the line even funnier.
This one moment was what thousands of emigrant Indians had been dying to see
That Obama's team ultimately went with a quote from Dilwale Dulhaniya Le Jaayenge (The Braveheart Will Take the Bride, but widely known in India as DDLJ, for short) reveals much about the legacy of this 1994 romance starring Shah Rukh Khan and Kajol, arguably Bollywood's most successful on-screen pairing.
- The daring comedians pushing boundaries
- The 100 greatest comedies of all time
In the opening scene of DDLJ, Baldev Singh, the stifling patriarch played by Amrish Puri (the Thuggee villain in Indiana Jones and the Temple of Doom), is standing in London's Trafalgar Square, feeding pigeons as the grey skies loom over him. In his mind, he is standing in his village back in Punjab, with its green and yellow fields as music swells up in the background.
Dilwale Dulhania Le Jayenge telegraphed the corrupting influence of Western society by having its male lead wear a Harley Davidson jacket (Credit: Yash Raj Films)
With that one scene, director Aditya Chopra laid out what DDLJ was about – and what thousands of emigrant Indians around the world had been desperate to see.
Going global
For decades, Indians had been migrating to countries such as the United Kingdom, the United States, Malaysia and South Africa; many of them wrestled with the dichotomy of trying to retain their 'Indian values' while integrating into a different society.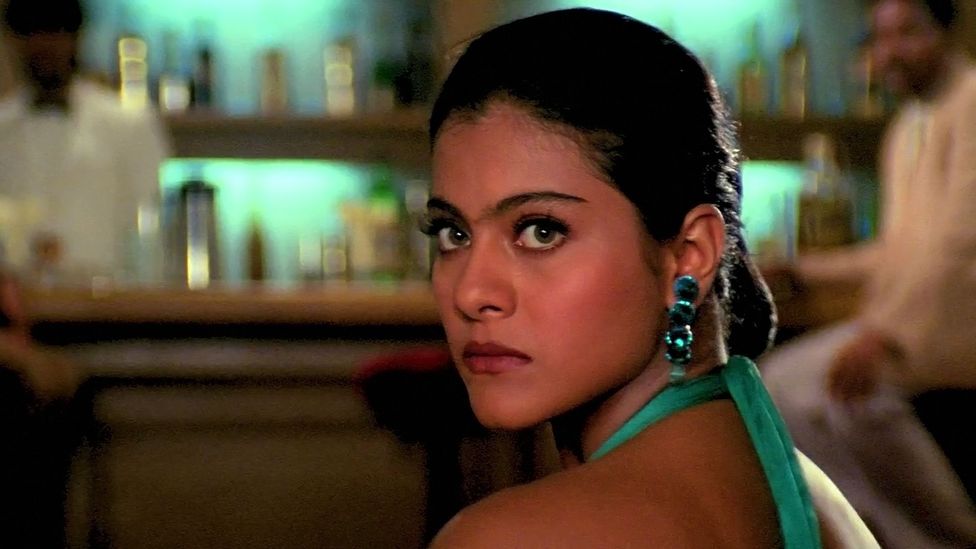 DDLJ placed 12th on the British Film Institute's list of the greatest Indian films of all time – and it is the longest running film in Indian history (Credit: Yash Raj Films)
Meanwhile, back in India, people looked at these former-neighbours-turned-outsiders with a mix of curiosity and scepticism. How Indian could they still be once they had left for foreign shores and become members of those notoriously loose Western societies?
The film is so popular it's been playing nonstop at a Mumbai cinema for 20 years
In mainstream Bollywood cinema, non-resident Indians (NRIs) had mostly been depicted as caricatures or villains – people who had lost connection to their roots. DDLJ's decision to portray them as sympathetic protagonists was novel and massively influential. It sets out to be an ego-boosting crowd-pleaser for both the NRIs heading to their neighbourhood theatre in 'Little India' and to the audience back home in India.
The 1997 film Pardes specifically deals with the experience of Indian expatriates living in America, with Amrish Puri playing stern patriarchal figure (Credit: Mukta Arts)
For the emigrants, DDLJ argues that 'Indianness' is not a geographic label as much as it is a portable set of values that one only need carry in their soul. The film's love-struck protagonists, first-generation British Indians Raj and Simran, are always concerned with upholding Indian traditions of chastity, parental respect and selflessness. For Indians back home, DDLJ was sufficient proof that no matter where one went, they would always crave the mores, colour and happiness of India.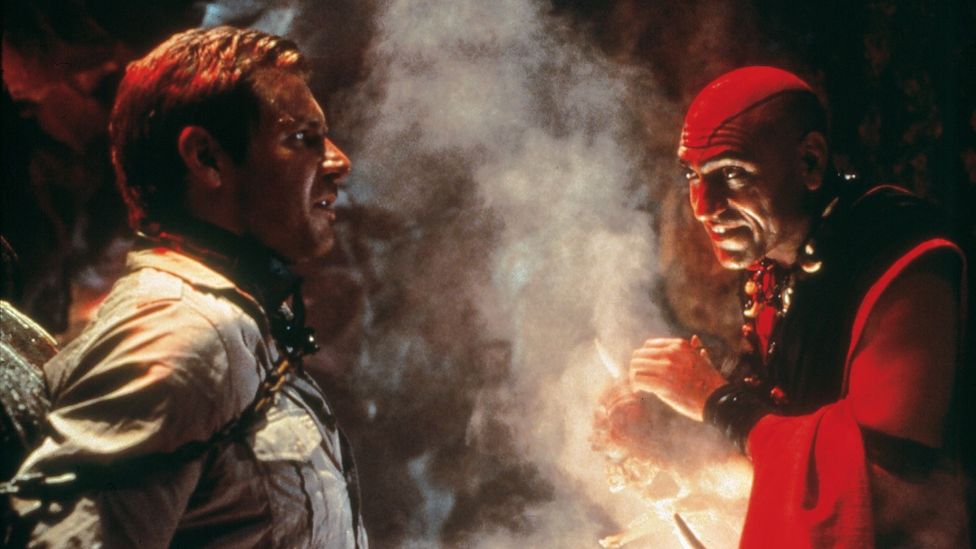 Puri might be best known to Western audiences as the Thuggee villain in Indiana Jones and the Temple of Doom – an example of Hollywood stereotyping India (Credit: Paramount)
As of today, DDLJ is not just one of the most successful Indian films of all time but also among the longest-running films in history. The film is still screening at the Maratha Mandir cinema in Mumbai 20 years after its release. It spawned a generation of imitators. Their geographical setting and subject matter may have differed; but they almost always wrestled with, thematically, the definition of 'Indianness' and, financially, the need to placate foreign and domestic audiences.
From the US with love?
While the UK dominated Indian diaspora stories for a while (as in Kabhi Khushi Kabhie Gham… from 2001), it quickly ceded ground to the US, which has become the preferred ground for Indian emigration over the last few decades. Films such as Pardes (1997) dealt explicitly with the corrupting influence of American society, manifested in the antagonist's proclivity towards cigarettes, alcohol, unfaithfulness and disregard for others. Meanwhile, the protagonist, again played by Shah Rukh Khan, successfully holds on to his Indian values and thus will not go against the family's elders or besmirch the honour of any woman. Not to put too fine a point on it, but at one point the US-residing, India-loving patriarch – again played by Amrish Puri – literally breaks out into a song called I Love My India.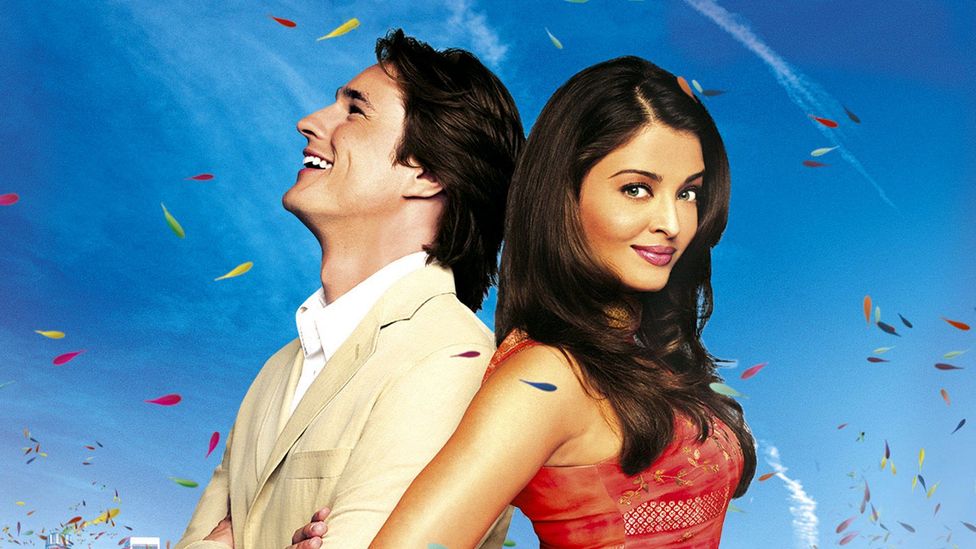 British-Indian director Gurinder Chadha initially presents the stereotype of Westerners as fuddy-duddies in Bride and Prejudice, but subverts it later in the film (Credit: Pathé)
What in Indian cinema is at best an expression of an acute emotion of longing can, in its worst form, turn into a kind of cultural jingoism. In 2017, more than two decades after DDLJ, Aditya Chopra directed Befikre (Carefree), a brash romance about two Indian-ethnicity 'global citizens' who meet in Paris and have a no-strings-attached fling that – shocker – turns into something more. The reason Paris is still fair game in this essay about the UK and US is that for mainstream Bollywood, Western locations are often indistinguishable from each other. Apart from swapping the Statue of Liberty for the Eiffel Tower in the backdrop of a musical number, the approach taken to France is the same taken towards the US in films such as Kal Ho Naa Ho (Tomorrow May Never Come).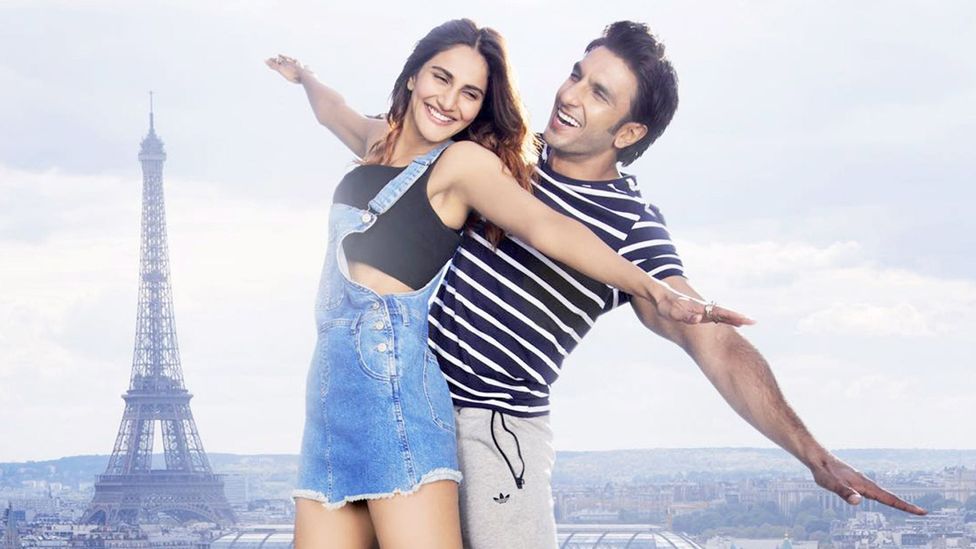 The 2016 film Befikre exemplifies a problem in Bollywood – that depictions of Western milieus, whether of the US, UK or France, feel interchangeable (Credit: Yash Raj Films)
Nostalgia for the colour and vivacity of India turns into a snobbish belief that 'Indian culture' is inherently more fun and cheerful than the drab and lifeless world in France, the US, or the UK. The rule-conforming nature of Western society is seen as antithetical to 'living it up', which our exuberant protagonists are wont to do. Western weddings cannot match up to Indian ones; nor is Western food anywhere as tasty as Indian food. People residing in Western societies are just not as street-smart as our Indian protagonists. It's also troubling how these societies are almost always white; black people are rarely used as anything except offensive window-dressing, including being played by Indian actors in blackface. As the culture writer Isha Aran notes, "In the rare instances when actual black people portray black characters, they still fulfill astoundingly harmful stereotypes… In the 2014 film Fashion, for example, starring Priyanka Chopra, the main character realises she's hit rock bottom when she has an alcohol-fueled one-night stand with a black man."
While the perspective of DDLJ may have been okay for the 90s, the myopia of many mainstream Bollywood films is becoming more of a shortcoming as the Indian diaspora everywhere matures and undergoes its own generational cycles. A patriarch's melancholic yearning for India appealed to the original migrating adults. The young protagonists' desire to maintain their Indian roots satisfied Indian audiences back home. But the Indian-Americans or British Indians who were born and brought up in these foreign lands haven't been finding their lived experiences reflected on screens populated by Shah Rukh Khan or Akshay Kumar. They would be right in finding it bizarre that the characters of these Bollywood films speak mainly in Hindi, that their English is laced with heavy Indian accents, and that their friend groups are not reflective of an equivalent Indian-American at all. Neither Hollywood's predominantly-white nor Bollywood's far-too-often regressive output have catered to them.
This is why the success of films such as The Big Sick, The Namesake and Meet the Patels is so important. These films highlight an experience that is devoid of sentimental jingoism or rose-tinted nostalgia. They bring to the fore dilemmas that Bollywood is presently unconcerned with addressing. They give a face to a group that for long hasn't had one.
If you would like to comment on this story or anything else you have seen on BBC Culture, head over to our Facebook page or message us on Twitter.
And if you liked this story, sign up for the weekly bbc.com features newsletter, called "If You Only Read 6 Things This Week". A handpicked selection of stories from BBC Future, Earth, Culture, Capital and Travel, delivered to your inbox every Friday.