Thanks to a daring new wave of up-and-coming designers, Eastern Bloc style is rocketing in popularity across the globe.
F
Fashionistas and designers from the Eastern Bloc once clamoured for information about Western style, while many inhabitants hankered after clothing from the far side of the Berlin Wall. Often force-fed traditional designs from authorities promoting communist ideals, local clothing was just too 'party' for most.
Now, a new generation of designers is turning to this era of history and looking back to the Eastern Bloc to inspire contemporary couture. The term 'post-Soviet fashion' has been coined for designs that take inspiration from this collective cultural and political history, using the aesthetics and textiles that ruled during the Cold War.
Designs by Gosha Rubchinskiy, the poster boy for post-Soviet fashion, have caught the eye of fashion houses ranging from Comme des Garçons to Burberry (Credit: Getty Images)
At the forefront of the movement is designer, photographer and post-Soviet fashion poster boy Gosha Rubchinskiy. If high-end collaboration deals are a marker of success in today's fashion world, Rubchinskiy has hit the big time.
His designs, inspired by post-communist youth culture, have caught the eye of fashion houses ranging from Comme des Garçons to, most recently, Burberry, which teamed up with the designer for a two-week exhibition that ran alongside its autumn/winter 2017 collection. The man-of-the-moment has also teamed up with Adidas for a number of collaborations that will be released in the lead up to the 2018 football World Cup, to be held in Russia.
The new-found appeal of Eastern Bloc-inspired fashion is also reaching beyond high-end couture to the high street. Last month, after much promotion and hype, Polish clothing brand Reserved opened a massive store on London's Oxford Street, with Kate Moss the face of its British launch.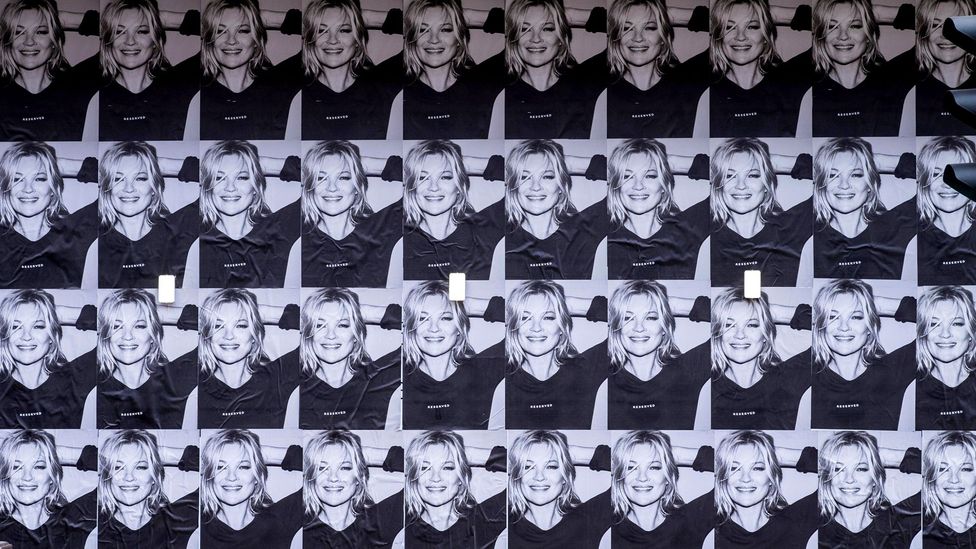 Last month, following much hype, Polish clothing brand Reserved opened a massive store on London's Oxford Street, with Kate Moss the face of its British launch (Credit: Alamy)
The brand is owned by Polish juggernaut LPP, which was started by CEO Marek Piechocki in 1991, two years after the end of 44 years of communist rule, as political liberation prompted huge demand for new textiles, garments and styles in eastern Europe. The brand's designs apply an Eastern European twist to Western trends, with a nod to its heritage.
Freedom to create
Polish fashion designer Gosia Baczyńska spent the first half of her life under communism, and the second part experiencing the free world. She even learned to sew from a Russian couture manual. "It was like learning to design a rocket," she says.
After the fall of the Berlin Wall marked a symbolic end to communism in Poland and other Eastern Bloc regions, she worked as a seamstress in London, travelling there by bus, arriving with no money and barely able to speak English. Her efforts paid off. On a recent visit to Poland, the Duchess of Cambridge wore one of her designs. Baczyńska has also shown at Paris Fashion Week, alongside other international designers.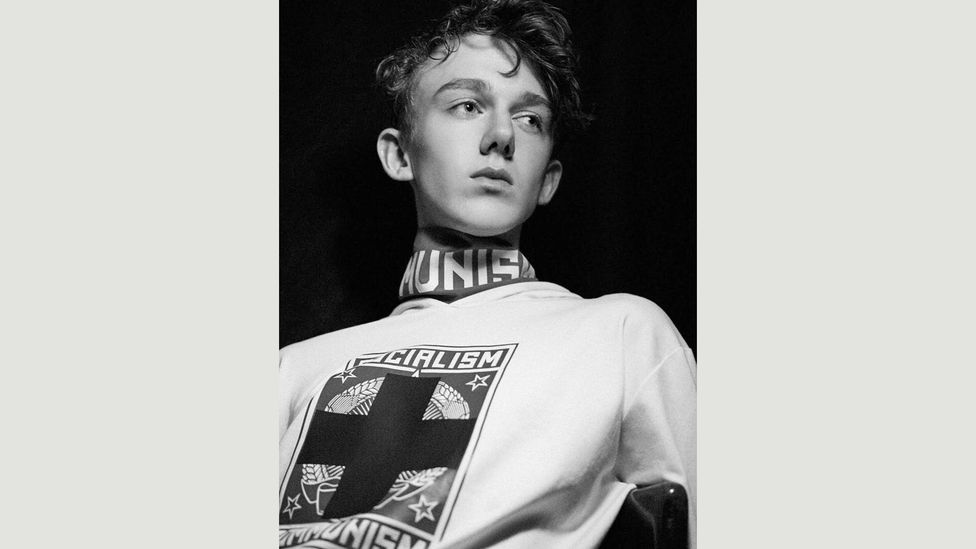 The new wave of designers is feeding off the energy and creativity they experienced as children, watching their nations open up from communist rule (Credit: Yulia Yefimtchuk)
Baczyńska remembers the past well.
"During communism, there were different periods in different countries; it's difficult to compare every country. In general, designers were trying to create new forms of clothing," she recalls. "Poland was called 'the happiest barrack in the camp' because communist rules were not as strict here. It was like Paris for Russia."
  Fashion is forever hungry, as shown in the current interest in young Russian designers and the ex-Soviet republics - Dr Djurdja Bartlett
Still, she says: "There was a lack of everything. People tried to live normally. Designers tried to design according to Western norms, rather than communist, [but] everything was not available from the West, so we had to use our imagination more."
Until blue jeans flooded the market around 1989, Western clothing was not only hard to find but difficult to replicate. A New York Times article, from the late 1950s, complained about "clumsy copies." 
A burst of energy

"Fashion is forever hungry, as shown in the current interest in young Russian designers and the ex-Soviet republics," says Dr Djurdja Bartlett, Reader in Histories and Cultures of Fashion at the London College of Fashion. Bartlett is the author of FashionEast: The Spectre That Haunted Socialism.
"The sudden arrival of neo-liberal capitalism allowed for a burst of creativity and energy, and opened communication channels with the West," she says. "Having grown up during that time, Rubchinskiy and other young designers, feed on that raw energy."
Once, Russian fashion meant buying a T-shirt at Moscow airport bearing an image of Stalin's face. Post-Soviet fashion designers have moved beyond that. They like splashing Cyrillic words across a hoodie instead. But the imprint of this history upon fashion is actually much broader.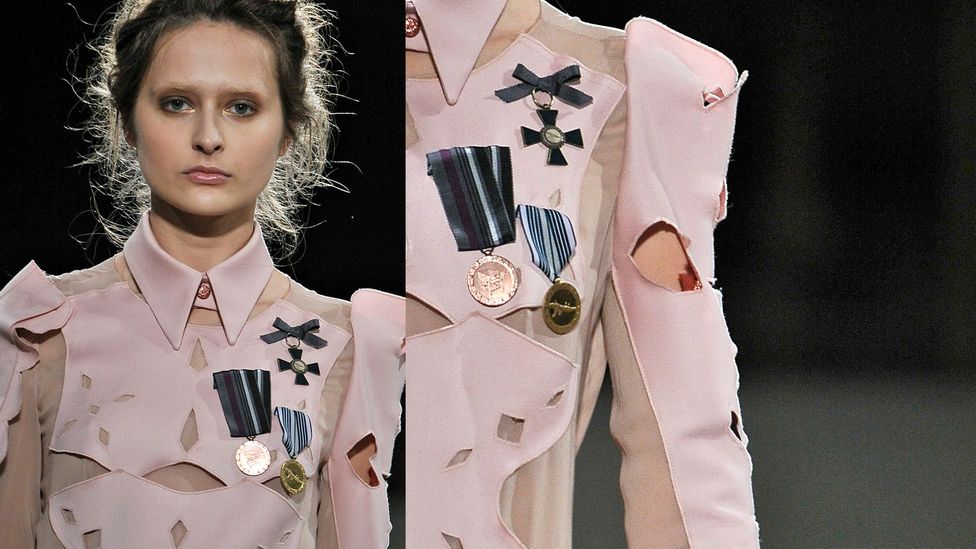 "In Russian culture, they had so many medals there was no room for more on a jacket," jokes Gosia Baczyńska, who includes medals in some of her designs (Credit: Gosia Baczyńska)
Baczyńska's collection for autumn/winter 2014 was called Yalta, after the site of a major allied conference during the Second World War. "It is where Stalin and his contemporaries met, and our borders were changed," she explains.
There were generals present, so her collection includes women's shirts with medals. "It's a sort of joke about communism. If Yalta - then war, and medals," she says. "The medals were like communism and a joke and history all put together. In Russian culture, they had so many medals that there was no room for more on a jacket. But it's also a tragedy about our culture."
Experimenting with the ideal
"I'm interested in the history of the East Bloc as an interesting experiment about an ideal world which crashed for different reasons," says Ukraine's Yulia Yefimtchuk. Her work is among the boldest. The word 'communism' is written on the arms of dresses and military-style sashes for her spring/summer 2017 collection. 'Socialism' is written on the collar of a top that recalls gritty black-and-white images of the Soviet military.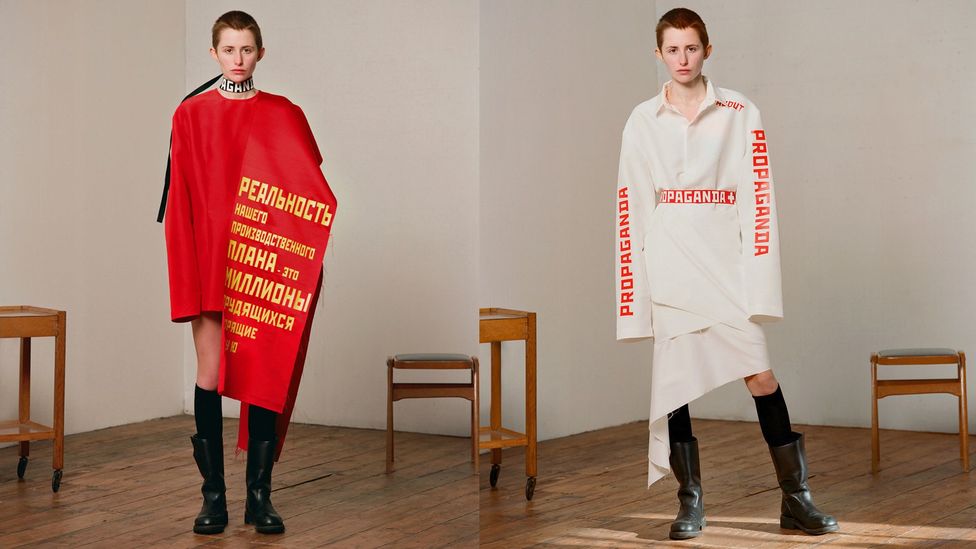 Yulia Yefimtchuk heavily references Soviet propaganda and graphics in her work, including the words COMMUNISM and SOCIALISM written across various items (Credit: Yulia Yefimtchuk)
"I am keen on the artistic heritage of the East Bloc. The art bears a strength and a sense which I find inspirational, always," she says.
Yefimtchuk is not alone. "This is now popular," she adds. "Many designers are digging into this history. It is hard to judge who is interpreting it better. Among the most interesting are Gosha Rubchinskiy, Demna Gvasalia (Vetements, Balenciaga), and Nina Donis."
"Her [Yefimtchuk's] work heavily references Soviet propaganda and graphics. She does a lot of historical research but she uses the past to consider modern social issues," says Niamh Tuft, a programme manager for the British Council, who is working on the International Fashion Showcase that hosts such designers.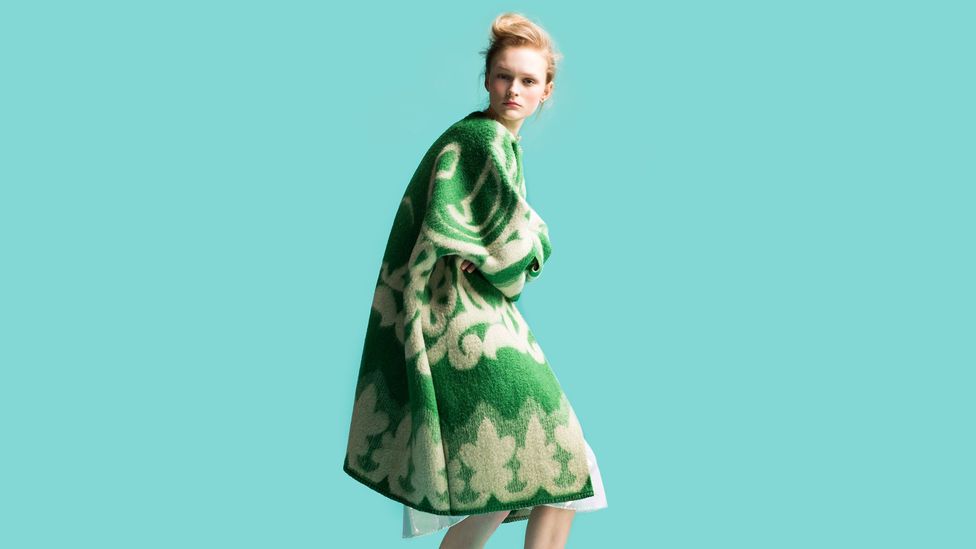 A return to textiles once considered frumpy is found in the work of Estonian Marit Ilison, who used Soviet blankets for her collection Longing for Sleep (Credit: Marit Ilison)
A return to textiles once considered frumpy is found in Estonian Marit Ilison's work. She used Soviet blankets for her collection Longing For Sleep. "It started from my conceptual art project combining my personal feelings, cultural background and sustainable design," she says.
Russia's Ekaterina Tkachenko was inspired by Russian Inuits (or Chukchi) for L'Enfant Roi, her 2013 collection marking her graduation from Italy's Polimoda fashion school. Her designs featured outlandish faux fur on suits, and drawings of the "notorious figure of Russian President Putin".
"It was an attempt to see Putin from a cultural point of view," she says. "His personality has acquired a cultural and historical context, making him not only a politician, but also a cultural phenomenon. His controversial figure has almost become a part of contemporary pop culture."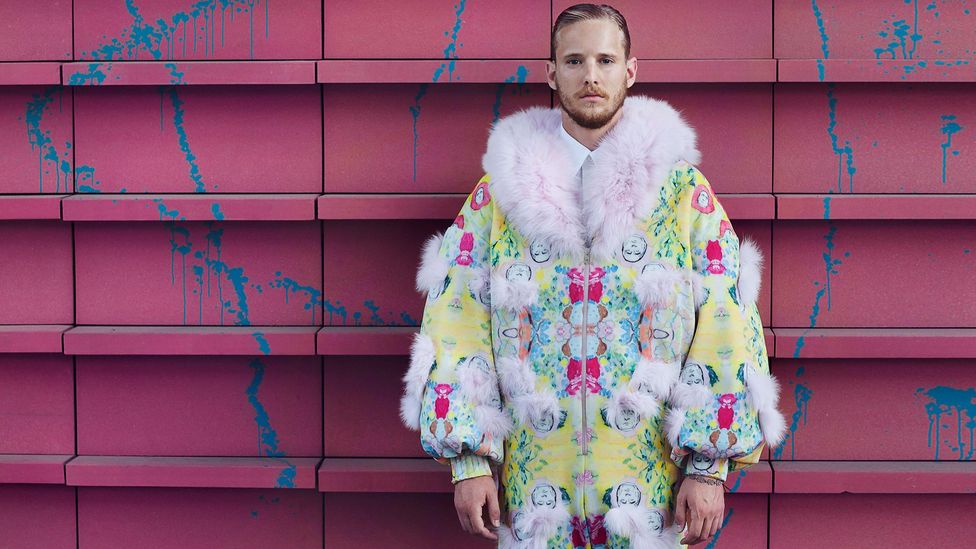 Ekaterina Tkachenko's designs feature outlandish faux fur on suits, and drawings of Russian President Putin (Credit: Ekaterina Tkachenko)
Rubchinskiy, meanwhile, turned his attention for spring/summer 2016 to Aleksander Rodchenko, a Russian artist who played a key role in the constructivist movement, an artistic philosophy which rejected art 'for art's sake' and favoured art as a practice for social purposes.
"In the 1920s, constructivist artists engaged in dress and textile design, like Rodchenko, Varvara Stepanova (his wife) and Liubov Popova, embodying Bolshevik anxieties concerning fashion as a carrier of status and gender difference," says Bartlett. Contemporaries like Alexandra Exter created Art Deco style dresses while Popova worked on a socialist flapper dress, she notes, adding that none were made due to economic instability.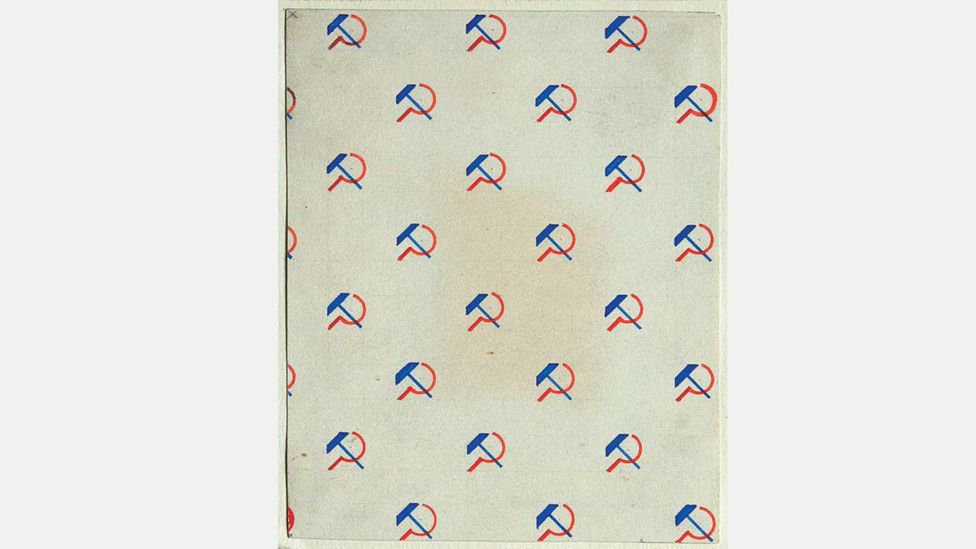 Rubchinskiy often takes inspiration from the iconic designs of constructivist artists including Liubov Popova (Credit: Alamy)
"The rise of Stalinism, "crashed the Bolshevik utopian project", she continues. "From the 1930s on, the new stylistic expression was socialist good taste, which embellished the original proletarian austerity with new categories of modest prettiness and conventional elegance."
Personal histories
For some of the designers focusing on this era, their interest is in disappearing worlds, with personal histories and national pride often interwoven heavily into their designs.
Featured in dark photographs, socialist workers were the focus for Slovakia's Jakub Straka for his collection in 2016. He looked to artist Dominik Skutezk. "At the end of his long career he focused on showing the working class. The Slovak painter Ladislav Mednyánszky, and his work about iron workers, was also inspirational," he says.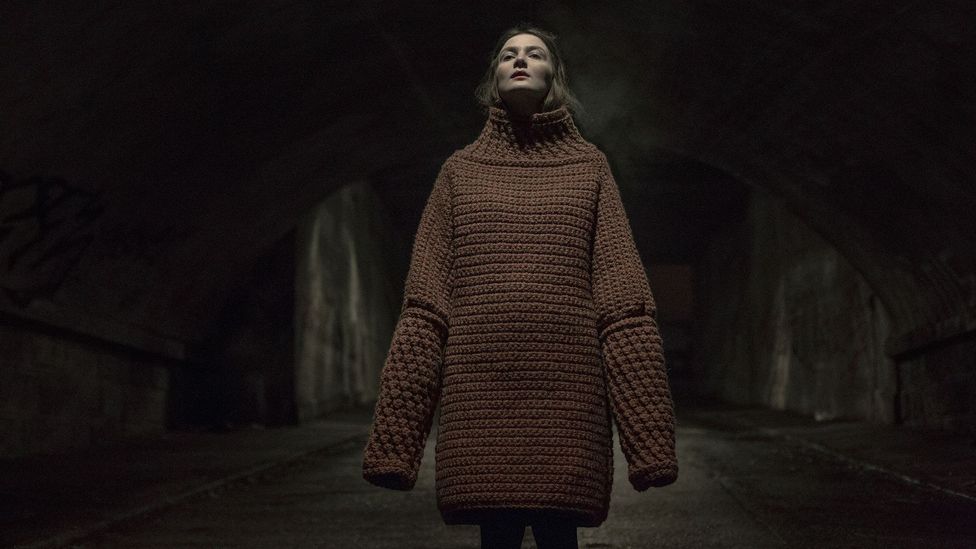 Depictions of socialist workers by the artist Dominik Skutezk were the inspiration behind a 2016 collection from Slovakia's Jakub Straka (Credit: Jakub Straka)
In the Czech Republic, Tereza Rosalie Kladošová's nostalgic 2015 collection, Cottages, included bright pieces inspired by tradition and kitsch. "The Czech holiday cottage is an architecture of dreams and boundless possibilities," she says. "It's also a vanishing Czech phenomenon."
My collections have a deep relation with our culture and history - Dora Zsigmond
"My collections have a deep relation with our culture and history," says Hungarian designer Dora Zsigmond. For her autumn/winter 2016 collection, she established a relationship between a 1960s Hungarian film, The Roundup, and the Hungarian Revolution of 1956. Her contemporary, Dóri Tomcsányi, "draws from childhood memories of happy days in the Eastern Bloc," invoking the Labour Day parades from Socialist Hungary for spring/summer 2017 and the retro glamour of the former national airline Malév for autumn/winter 2017.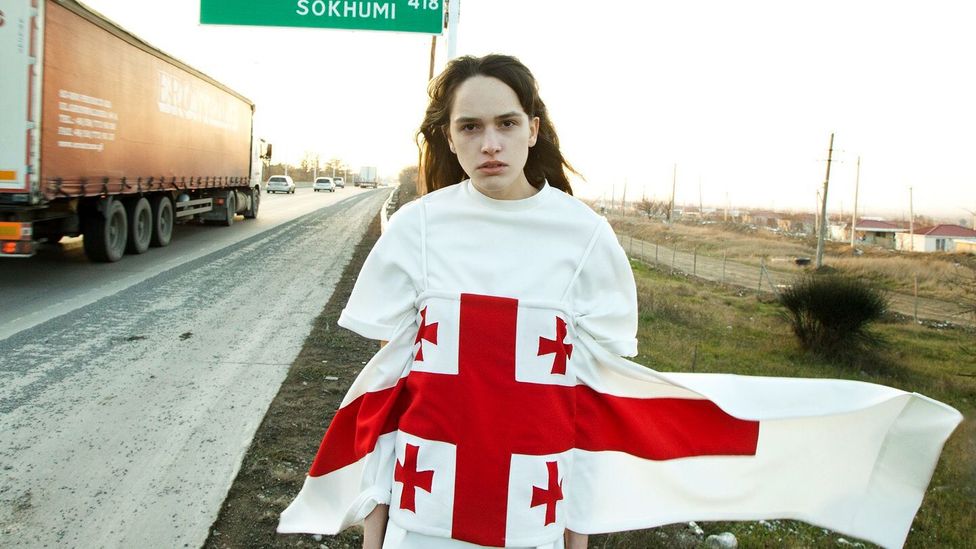 Georgian brand Situationist used the national flag in a 2015 collection, in a nod to Mother Georgia and the work of Georgian women (Credit: Grigor Devejiev/Situationist)
For spring/summer 2015, fashion brand Situationist used a Georgian flag in a nod to Mother Georgia, a symbol of its home nation. "Georgia has a rich history and culture. Our character is unique, due to our history of resistance," says Situationist designer Irakli Rusadze. "Georgian women did incredible things before, during and after the fall of the Soviet Union. Strength and resistance fit my work, so does the Georgian flag. It is also my way to address social problems facing Georgian women today."
In a touching turn to the past, Lithuanian brand D.efect's autumn/winter '18 collection draws on photographs from 1970s Soviet Lithuania from creative director Egle Ziemyte's mother's collection, explains Ieva Zu, the founder of Fashion Bloc, an agency representing independent brands. "The 1970s in the Soviet Union, although politically disturbing, can also bring warm childhood memories," says Zu. "Especially aesthetically with a sepia-like colour palette drawing on the past."
To comment on and see more stories from BBC Designed, you can follow us on Facebook, Twitter and Instagram. You can also see more stories from BBC Culture on Facebook and Twitter.
If you liked this story, sign up for the weekly bbc.com features newsletter called "If You Only Read 6 Things This Week". A handpicked selection of stories from BBC Future, Culture, Capital and Travel, delivered to your inbox every Friday.