Inspired by fashion but driven by medical invention, Canaria is an ear cuff that collects vital information about the wearer and their surroundings.
A
Alex Sorina Moss is an artist and a model, but that's just a side hustle for her main ambition – to design an ear piece that could transform medicine and space travel forever.
Moss's idea has already shot her team to stardom, winning a 2016 Nasa prize for the Best Use of Hardware.  But what's more, it signals an uplifting new direction for wearable tech.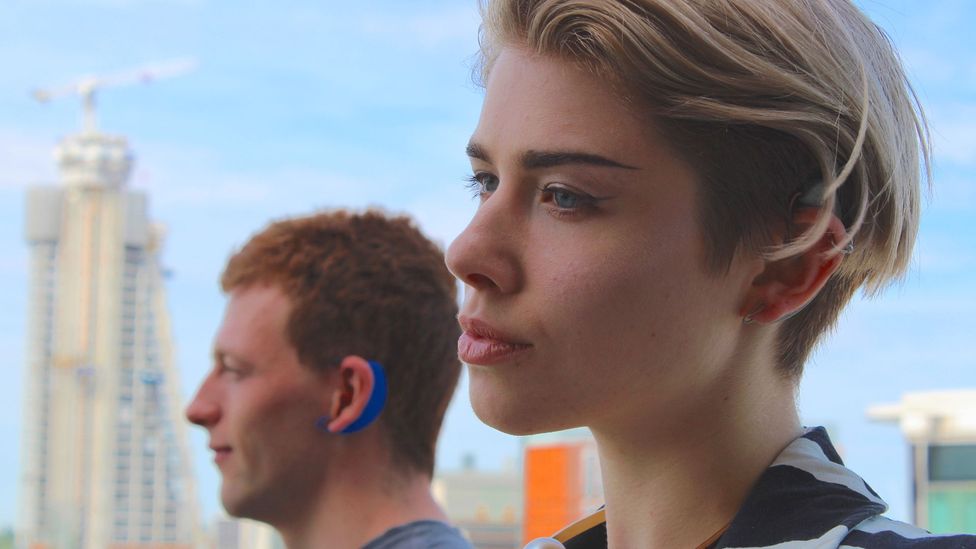 Moss and Canaria's Chief Technical Officer James Lynn wearing their invention (Credit: Sophia Smith Galer)
Canaria is a small cuff worn on the ear which measures vital bodily statistics, as well as other metrics such as levels of certain gases in the air around the wearer. Where other well-known biometric wearables target consumers looking to keep fit, Canaria is being prepped as a medical grade instrument.
Accurate, comfortable, stylish and potentially life-saving, this new technology looks like it could be the first step in turning us all into cyborgs. But how exactly did it all come about – and could it ever really catch on?
A startup with style
"I used to wear really extravagant, huge, Alexander McQueen, weighs-half-your-head-down ear cuffs," Moss explains as she sits with her colleague James Lynn, an electronic engineer and Chief Technical Officer of Canaria. On her ear, she is wearing her creation, a slick prototype.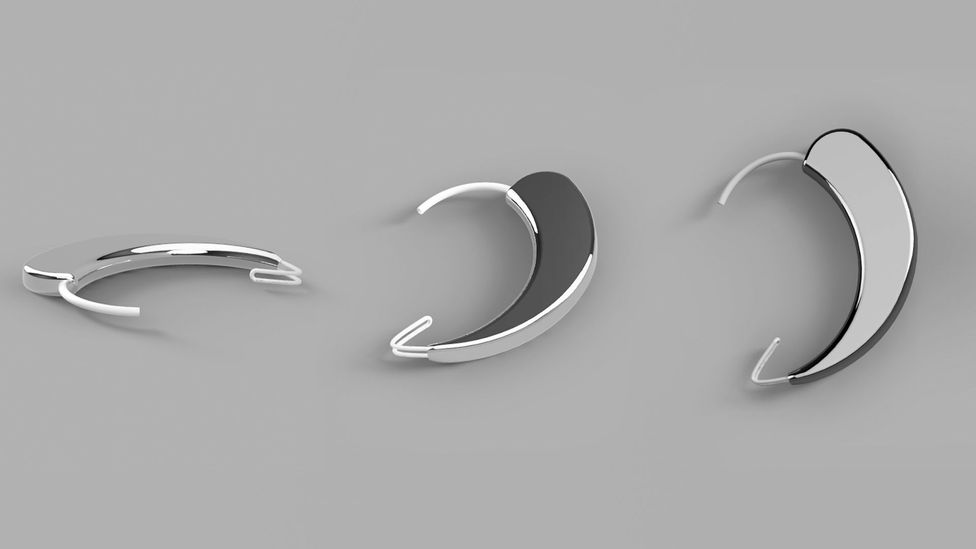 Moss's creation has already garnered high-profile praise, winning a 2016 Nasa prize for the Best Use of Hardware (Credit: Canaria)
"I realised that if you got one which was well designed enough, you could wear it for a few weeks, or the whole duration of a music festival, without taking it off."  
It was this idea that Moss brought to a Nasa space apps hackathon – not the place you would normally expect an artist and model to hang out, but she had been learning about technology and neurology and how she could incorporate these elements into her design.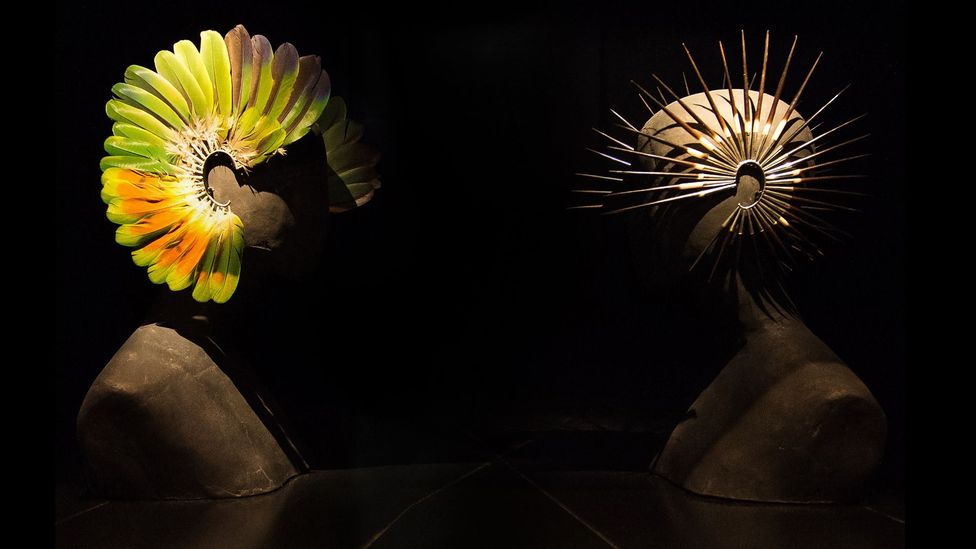 Already a successful artist and fashion model, Moss took inspiration from "extravagant, huge" Alexander McQueen-designed ear cuffs (Credit: Getty Images)
Rocket pockets
Nasa presented those who signed up to its challenge with a huge task to tackle – carbon dioxide in spacecraft. Due to zero gravity conditions in space, air doesn't move around like it does down here on Earth. That means that, if an astronaut spends too much time in one place, they can find themselves in a harmful bubble of carbon dioxide, potentially inhaling the poisonous gas.
"There was a sudden moment where I put two and two together," says Moss. "Ear pieces are so comfortable because there are loads of nerve endings on the lobe but not around the concha," which is the central, cavernous part of our ear, she explains.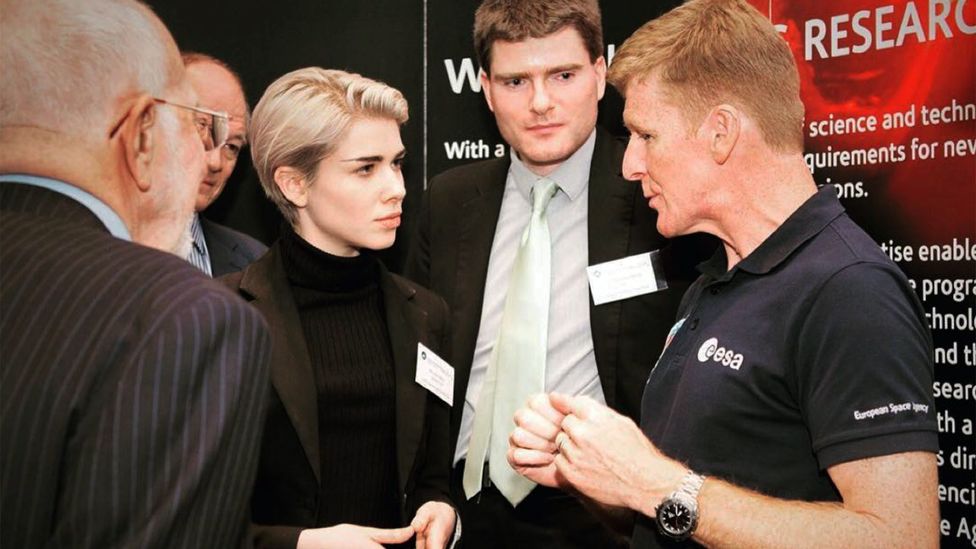 Moss meets astronaut Tim Peake, discussing Canaria's health data gathering system (Credit: Alex Moss via Instagram)
"So, the problem I was trying to solve was: can you put a carbon dioxide monitor on something that is wearable, which gives you more accurate readings of the gas pockets and that you can wear for months at a time?"
Expanding applications
What Moss hadn't realised was that her ear piece could solve so much more than just the carbon dioxide problem. Dr Rob Finean, an electronic engineer who had already worked on a successful start-up, had been developing some projects with the UK's National Health Service and knew that pulse oximetry could be integrated into the design. In other words, a person's vital signs – from blood oxygen levels to heart rate – could be meaured. Finean is now Director of Product Development at Canaria.
I realised that if you got one which was well designed enough, you could wear it for a few weeks – Alex Sorina Moss
"Tim Peake went up recently and most of the experiments he was doing were based on his body," says Lynn. "Even then, his vital signs were only being measured once every two weeks." The reason for this, he adds, is that at the moment there is no wearable suitable enough for the job; the current continuous measuring method involves wearing a really tight, uncomfortable vest. "After two days, they tear it off and say 'I'm not wearing that'."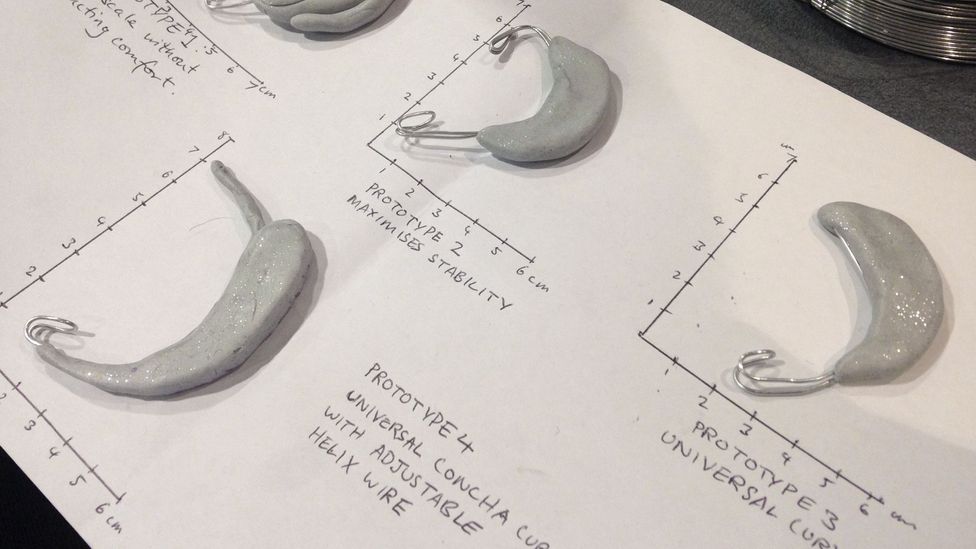 Canaria's technology had to be unobtrusive and non-invasive, so the wearer would not be tempted to take it off (Credit: Alex Moss via Instagram)
Today's Canaria doesn't just detect harmful gases; its LED lights will turn it into a pulse oximeter, meaning it can also measure an astronaut's blood oxygen level and heart rate, much like the clips that can be seen on patients' fingers in intensive care. It also charges remotely, meaning its wearer doesn't have to keep taking it off – an important step in solving the current dearth of biometric data for space travellers.
One day we might see a world where patients could all wear a Canaria
The potential that Canaria has for other industries is vast; the team are now in Australia marketing their tool to miners who face similar problems with gas detection and vital signs monitoring. Fatigue is also a huge problem in the industry and Canaria has the potential to vibrate and warn drivers that their biometrics are suggesting they'll fall asleep soon and need to take a break.
One day – if the instrument is allowed into hospitals – we might see a world where patients could all wear a Canaria, providing doctors with a constant data feed of their vital signs. As the scarcity of hospital beds becomes an increasing problem, such a potent dataset could give doctors the confidence to discharge certain patients more quickly.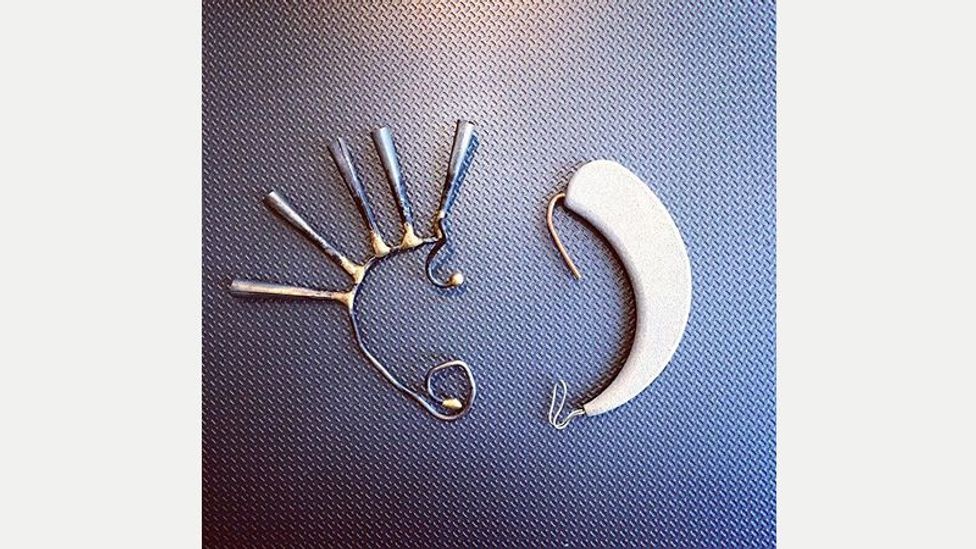 A comparison of Canaria's early prototype casing with a punk jewellery ear cuff, one of the inspirations behind the distinctive design (Credit: Alex Moss via Instagram)
There's a trope in tech start-ups that every burgeoning team needs a hipster, a hacker and a hustler. While Canaria does in fact involve three team members, it would be far too reductive to give each of them such a label. Canaria is about high fashion – fine art, even – working together with science. It's a symbiotic, fruitful relationship and one day this prototype, which is already being trialled, just might save your life.
You can learn more about Canaria at www.canaria.co.uk.
To comment on and see more stories from BBC Designed, you can follow us on Facebook, Twitter and Instagram. You can also see more stories from BBC Culture on Facebook and Twitter.
If you liked this story, sign up for the weekly bbc.com features newsletter called "If You Only Read 6 Things This Week". A handpicked selection of stories from BBC Future, Culture, Capital and Travel, delivered to your inbox every Friday.