Some say each type of household room has a Platonic ideal – and 'in nowhere else do living habits require organising' like the kitchen, says Jonathan Glancey in the first of a series on the spaces in which we live.
I
Inspired by Frederick Winslow Taylor, the American mechanical engineer whose book The Principles of Scientific Management (1911) was swallowed hook, line and sinker by Henry Ford, Christine Frederick, a Boston home economist, wrote a series of hugely influential articles based on the same rational principles for Ladies Home Journal. These culminated in her book Household Engineering: Scientific Management in the Home (1919).
It seemed logical that the 20th Century kitchen might disappear altogether
In Europe, Fredrick found a keen follower in Margarete Schütte-Lihotzky, a young Austrian architect who in 1926 was asked to join a design team led by the German architect and city planner Ernst May to shape some 15,000 new working-class homes in Frankfurt. Her best-known contribution was the Frankfurt Kitchen, a model of minimalist Bauhaus-style design. "Housing," said Schütte-Lihotzky, "is the organised implementation of living habits," and nowhere in the home did these habits need more organising than in the kitchen.
Inspired, too, by the compact kitchens of railway dining cars, Schütte-Lihotzky, a future heroine of the Austrian Communist Resistance against Hitler, had produced a design for tiny, efficient kitchens that was to resonate in housing estates worldwide for the next half century. As new technology progressed apace, it seemed logical that the 20th-Century kitchen would continue to shrink and perhaps even disappear altogether.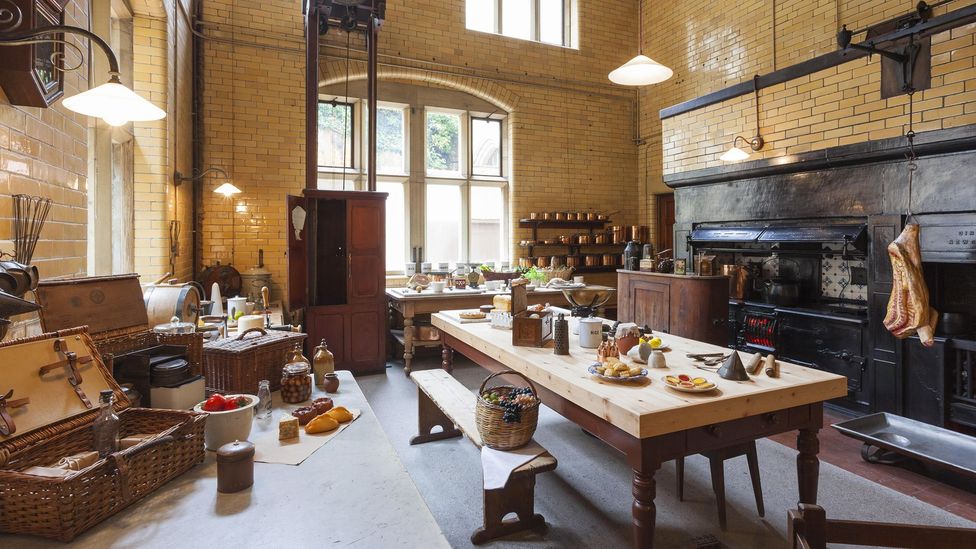 The kitchen at Cragside in Northumberland was the first to be powered by hydroelectricity – the adoption of chimneys had increased the gap between classes (Credit: Alamy)
In London, the English architects, Peter and Alison Smithson, displayed a 'house of the future' at the 1956 Daily Mail "ideal home exhibition". Projected 25 years into the future, it featured transparent plastic walls, folding Perspex chairs and air conditioning, but no kitchen. An infrared cooking and serving trolley took its place. Electric power was "drawn from a nearby atomic power station," while food "bombarded by gamma rays" could be stored unrefrigerated on open shelves. Dressed in bizarre nylon clothes that might have inspired costumes in Ed Wood's camp horror classic Plan Nine from Outer Space, the wife served atomic food from the trolley while the husband sat and read the paper.
The invention of the chimney divided living spaces and increased the gap between social classes
The Frigidaire Dream Kitchen of Tomorrow shown at the 1957 Paris Exhibition of the Future demonstrated how, with the help of an IBM punch-card recipe file and online TV ordering, a meal could be dispensed automatically under a transparent dome on the kitchen counter. Soon enough, we – especially women – would be liberated from the kitchen, the chore of having to cook, and from time wasted eating. Along with Nasa astronauts we would pop food pills instead.
Back in style
And, yet the opposite happened. Today, the kitchen is, perhaps, the most valued room in the majority of contemporary homes, compact or ambitious. This is where families and friends gather, a new form of living room where cooking is a hobby as well as a necessity, where children do their homework, dogs snooze and, increasingly, where aspirational home-owners display their wealth and social status through costly kitchen furnishings, superfluous technology, pricey pots, fashionable pans, vast multi-door fridges dispensing fizzy water and cookers big enough to serve the Ritz restaurant and, very probably, with more computing power than Nasa had to land Neil Armstrong and Buzz Aldrin on the Moon.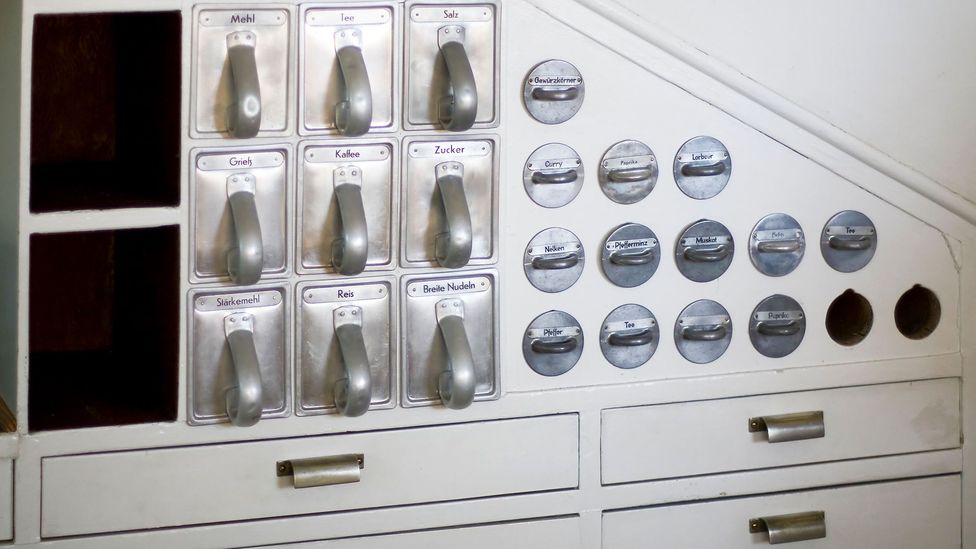 The Frankfurt kitchen, such as this in Saxony's Haus Schminke, economised space and emphasised efficiency with its little, highly functional compartments (Credit: Alamy)
Although often gleaming like urban Range-Rovers innocent of fields and sodden country lanes, and built to do little more than heat up home-delivery food most days of the week, the 'Trophy Kitchen' takes us back to the spirit of the very first kitchens in which people sat around an open hearth, open to the sky, and talked as they cooked. Children were there, too, as were dogs.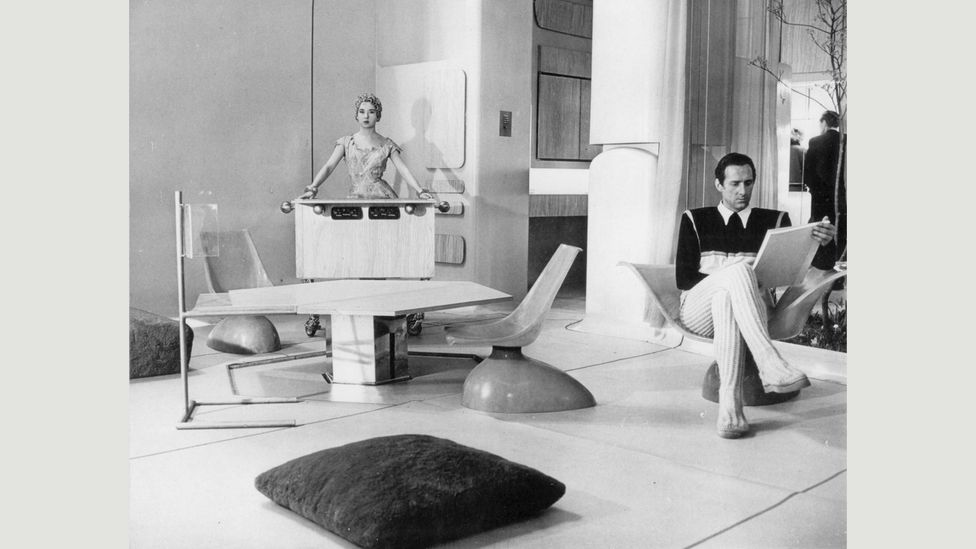 In Alison and Peter Smithson's 'house of the future' from 1956, a trolley that could irradiate food would serve in place of a kitchen (Credit: Alison and Peter Smithson)
One of the technological developments that ended this age-old domestic ritual in much of the world was the invention of the chimney. The chimney wall encouraged the division of space within houses, the separation of food preparation from its consumption and the widening of the physical gap between social classes. By the 18th Century, England was well known for its grand country houses where industrious kitchens, their smells and servants, could be a very long walk indeed from gracious dining rooms.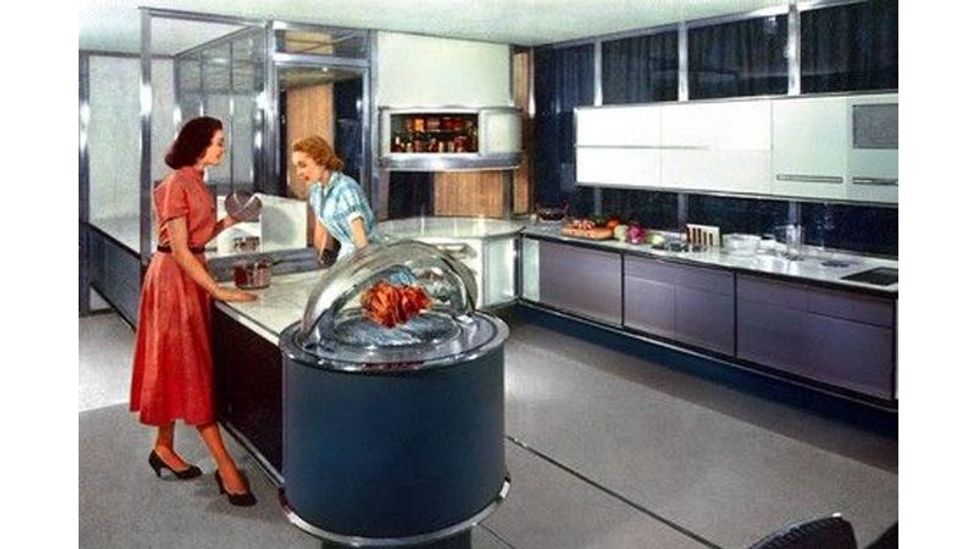 The Frigidaire Dream Kitchen of Tomorrow suggested that an IBM punchcard could be entered into a machine that would automatically prepare the desired food (Credit: Frigidaire)
There have been glorious kitchens that tourists adore today. In England alone, the magnificence of the 14th-Century kitchen at Glastonbury Abbey, the opulent top-lit kitchen of Castle Drogo, Devon, designed by Sir Edwin Lutyens, and the early electric kitchen at Cragside, Northumberland, home of the armaments manufacturer Sir William Armstrong, and complete with its hydro-electric rotisserie, hold great appeal for architectural enthusiasts and amateur chefs alike.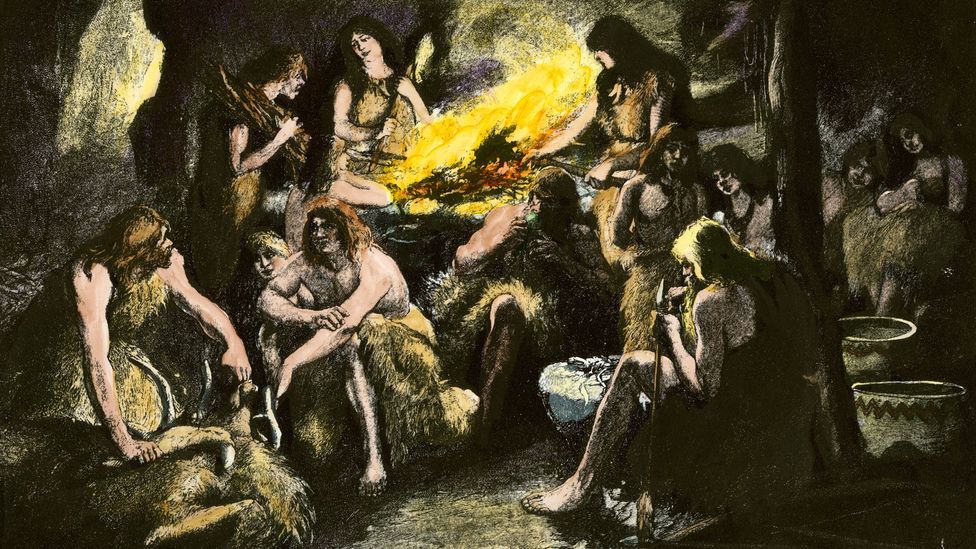 Dating back to prehistoric times, kitchens were all-encompassing spaces, whether in caves or in actual dwellings, that served as social spaces (Credit: Alamy)
A world of rampant consumerism, social aspiration, TV cooking programmes, celebrity chefs, Terence Conran, men learning to cook, enticing kitchen shops, domestic goddesses and the notion of cookery as domestic theatre has seen off the idea of the tiny, scientifically managed Frankfurt Kitchen. And yet, as Margarete Schütte-Lihotzky told an Austrian journalist, "I never cooked myself. At home in Vienna my mother cooked. In Frankfurt, I went to the pub."
To comment on and see more stories from BBC Designed, you can follow us on Facebook, Twitter and Instagram. You can also see more stories from BBC Culture on Facebook and Twitter.
If you liked this story, sign up for the weekly bbc.com features newsletter called "If You Only Read 6 Things This Week". A handpicked selection of stories from BBC Future, Culture, Capital and Travel, delivered to your inbox every Friday.