As two major museums have scrapped plans to show controversial pieces this month, Kelly Grovier takes a look at the history of censorship in the art world.
I
Is anything more deserving of censorship than censorship? Controversial decisions taken in recent days and weeks by some of the world's premier art institutions to cancel from public display a clutch of provocative works have been met with outrage by advocates of free expression, concerned about the trajectory of the trend. The contentious actions taken by the museums provide the perfect opportunity to reflect on which works in modern history, while considered by some observers to be unacceptably shocking, have changed the way we think about art.
In response to protests by animal-rights campaigners, New York's Guggenheim Museum cancelled the installation of two brutal videos (one featuring tattooed pigs copulating; the other of snarling pitbulls facing off) as well as of a large wood-and-mesh enclosure showcasing a menacing menagerie of hungry geckos and grasshoppers, crickets and cockroaches, trapped in a real-death survival-of-the-fittest exhibit entitled Theater of the World. The banned works are the creation of contemporary Chinese artists and had originally been selected to appear as part of the exhibition Art and China After 1989, which opened on 6 October.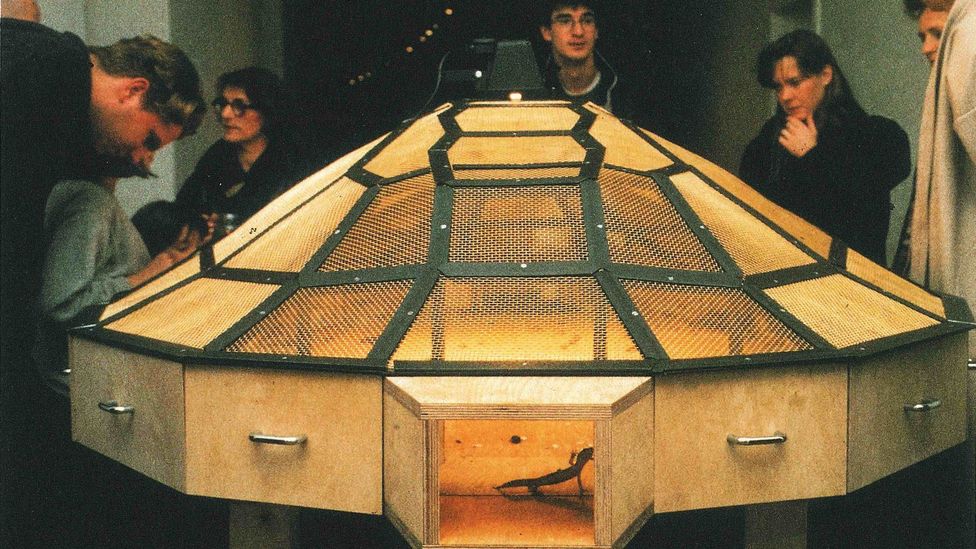 Theater of the World by Huang Yong Ping (Credit: Huang Yong Ping/Guggenheim Museum)
In the same month, the Louvre announced that it was scrapping plans to display a work that risked sparking outrage – a sexually explicit sculpture by the Dutch artist and designer Joep Van Lieshout.  A crude, 40ft (12m) tall Lego-like structure that appears to depict a man having sex with a four-legged creature, Domestikator was due to feature in the Jardin des Tuileries in Paris, alongside the Louvre, as part of the annual International Contemporary Art Fair. (The Pompidou Centre has subsequently agreed to show the work.)
Appalled by the initial censure of his Domestikator, van Lieshout (who insists his sculpture is not fundamentally sexual in theme, but a comment on man's interference with nature) condemned as hypocritical the Louvre's late decision. "In the Louvre", he points out, "there are paintings and sculptures where there are nude women, rape and bestiality, that are much more explicit than my piece." Whether or not one is offended by van Lieshout's sculpture, there is no denying that the Louvre does indeed have its share of racy works – from Fragonard's painting The Shirt Withdrawn, which features a bedroom tussle between a winged nymph and a naked woman whose bottom appears to be freshly spanked, to Ingres's portrait of a concubine, La Grand Odalisque – scurrilous when it was first exhibited in 1814.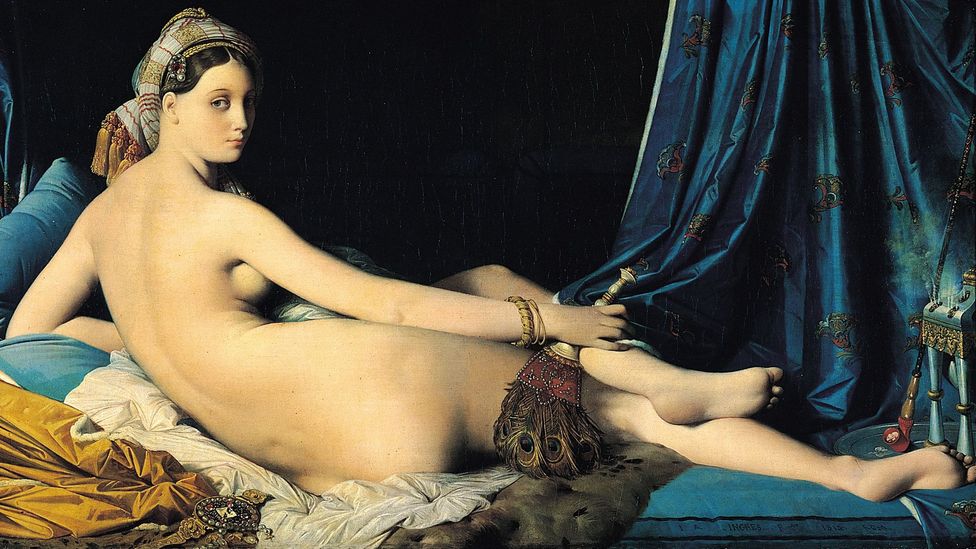 La Grande Odalisque by Jean-Auguste-Dominique Ingres (Credit: Wikipedia)
But who now blushes at the sight of either Fragonard's or Ingres's work, however shocking they may have seemed when first created? Students of art history will no doubt appreciate the timing of the recent controversies, coinciding as they do with the centenary of one of the most famous instances of censorship in modern cultural history – the decision taken in 1917 by The Society of Independent Artists in New York to violate its own bylaws in banning from display Marcel Duchamp's groundbreaking conceptual sculpture, Fountain, a urinal that the French artist had turned on its side and cryptically signed "R Mutt".
In the century since Duchamp's controversial 'readymade' caused a stir, the story of art has been punctuated by a string of scandalous works that inflamed public debate and forced gallery goers to reflect on what is and isn't worthy of critical regard. What follows are 10 works that shocked contemporary sensibilities and helped redefine the very essence of art.
Erased de Kooning Drawing, Robert Rauschenberg, 1953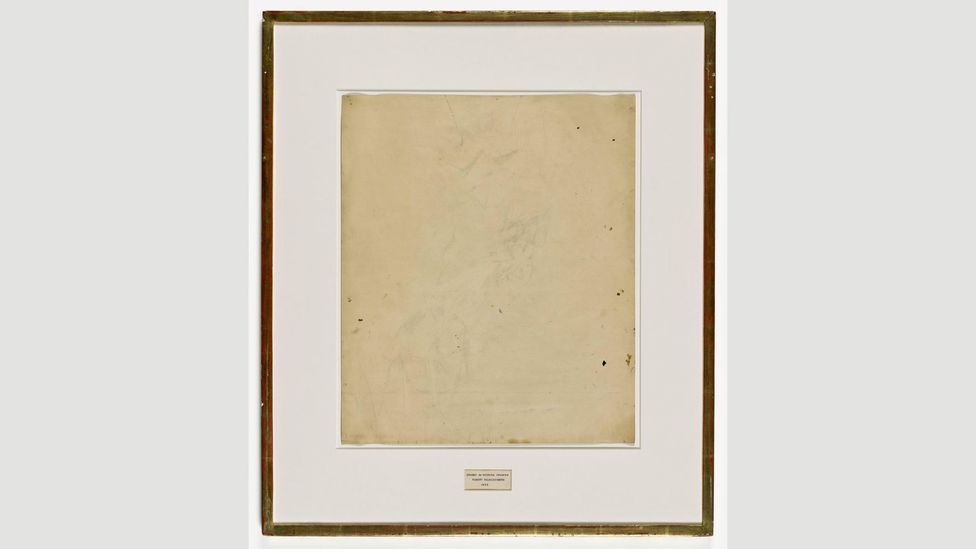 Erased de Kooning Drawing, Robert Rauschenberg, 1953 (Credit: Wikipedia)
Detractors of Duchamp's Fountain, who felt his urinal represented the flushing away of art altogether, would have found it difficult to rally behind American artist Robert Rauschenberg's irreverent Erased de Kooning Drawing, undertaken in 1953. Curious to know if a work of art could be created by removing marks from a surface with an eraser, rather than adding them with pencil, brush or chisel as artists conventionally do, Rauschenberg convinced his friend, the Dutch-American abstractionist Willem de Kooning, to sacrifice a recent drawing of his to the experiment. The result is a paper scrubbed free of any discernible picture, challenging observers to decide whether the image-less image is an image at all, or whether the real work on display is the empty frame that surrounds the absence – a sculptural holding place for endless artistic loss.
Piero Manzoni, Merda d'Artista, 1961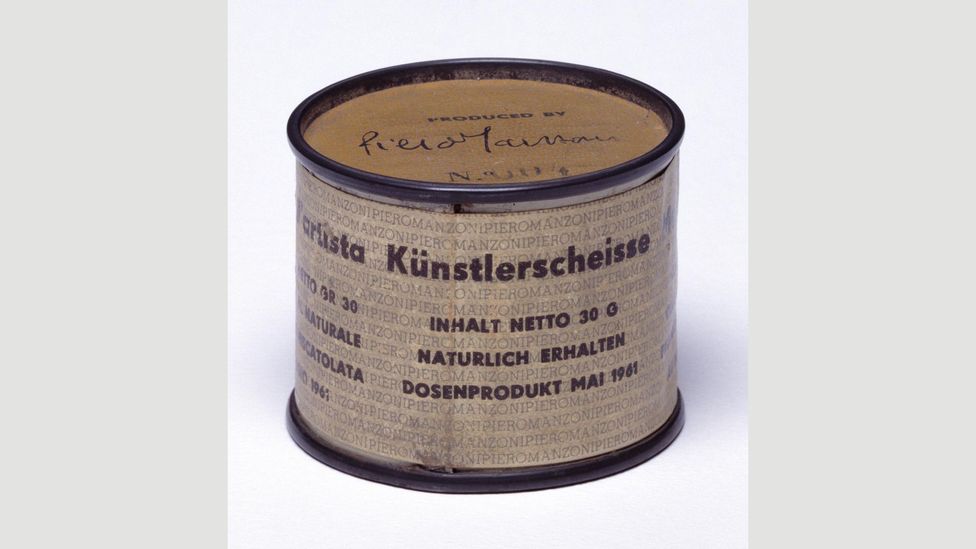 Piero Manzoni, Merda d'Artista, 1961 (Credit: Tate)
If Duchamp's unused receptacle of human waste could be embraced by the art world as an aesthetic object in its own right, it is perhaps unsurprising that, at some stage, an artist would experiment with excrement itself and attempt to pass it off as a work of art. In 1961, Italian avant-garde artist Piero Manzoni (who, a year earlier, left observers aghast when he presented a balloon filled with his own breath as a work of art), did just that – cramming into 90 tin cans, 2700 grams of his own faeces. The work is thought to be an elaborate response to a derisory comment that his father, who owned a canning factory, once made to him, likening his work to excrement. Last summer, one of his son's crappy cans sold at auction for €275,000 (£245,000) .
Allen Jones, Chair, 1969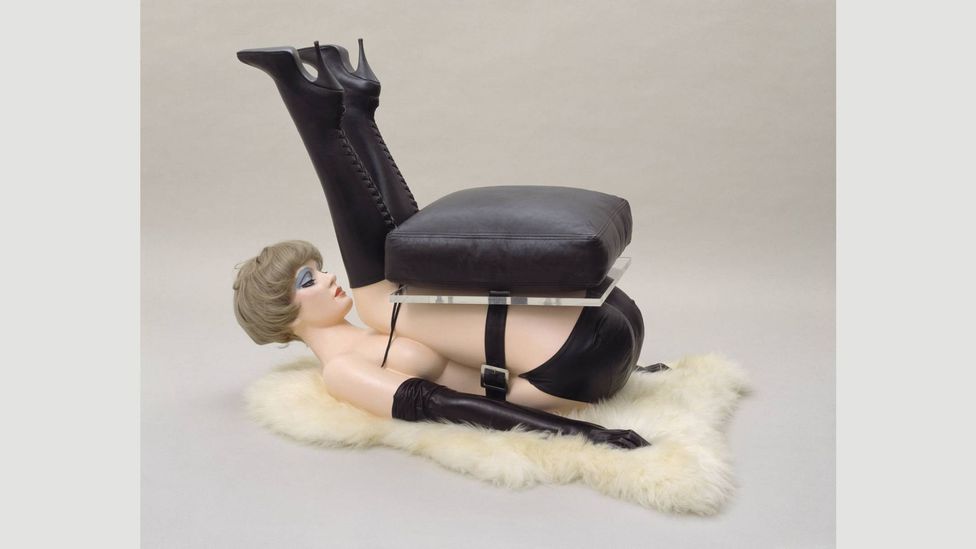 Allen Jones, Chair, 1969 (Credit: Tate)
Unveiled to accusations that its creator, British Pop artist Allen Jones, treats objects like women and vice versa, Chair (along with companion pieces Hatstand and Table) contorted scantily clad female mannequins into an un-ergonomically engineered suite of scurrilously lewd furniture. On International Women's Day in March 1986, the work was doused with paint stripper by a pair of activists appalled by the sculpture's chauvinist sensibility. The acid ate away at the face and neck, melting the awkward somersault in which the PVC work was forever frozen into a desperate duck-and-roll.
Judy Chicago, Dinner Party, 1979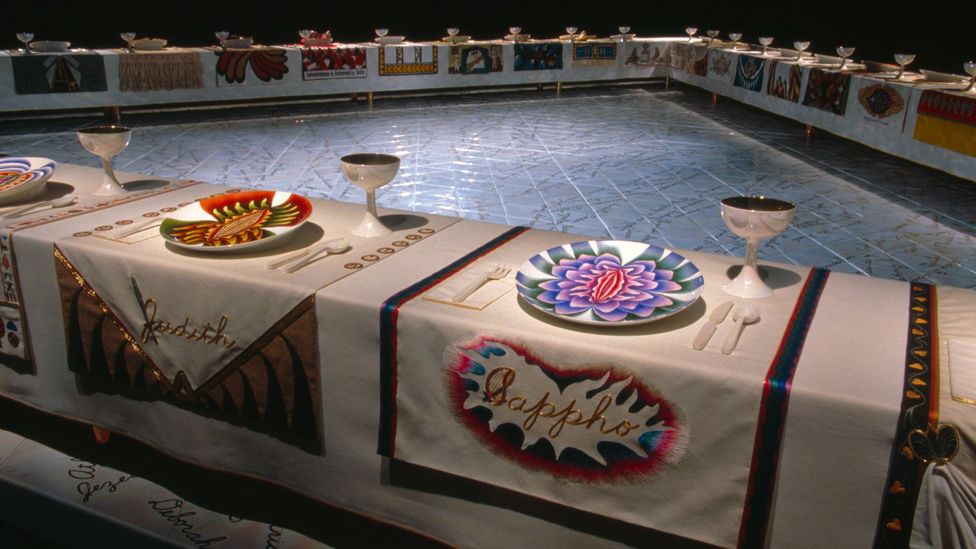 Judy Chicago, Dinner Party, 1979 (Credit: Judy Chicago)
Consisting of 39 place settings commemorating the contribution of women to cultural history (from Sappho to Virginia Woolf), US artist Judy Chicago's triangularly constructed banquet table has been both acclaimed for its pioneering perspective and derided for its shocking vulgarity. The work is dominated by almost two score hand-painted china plates, many of which are decorated with a blossoming vulva-like butterfly symbol. Believing that the work has "too many vaginas", contemporary British artist Cornelia Parker scorned the installation in The Guardian as "all about Judy Chicago's ego rather than the poor women she's supposed to be elevating". "We're all reduced to vaginas, which is a bit depressing."
Richard Serra, Tilted Arc, 1981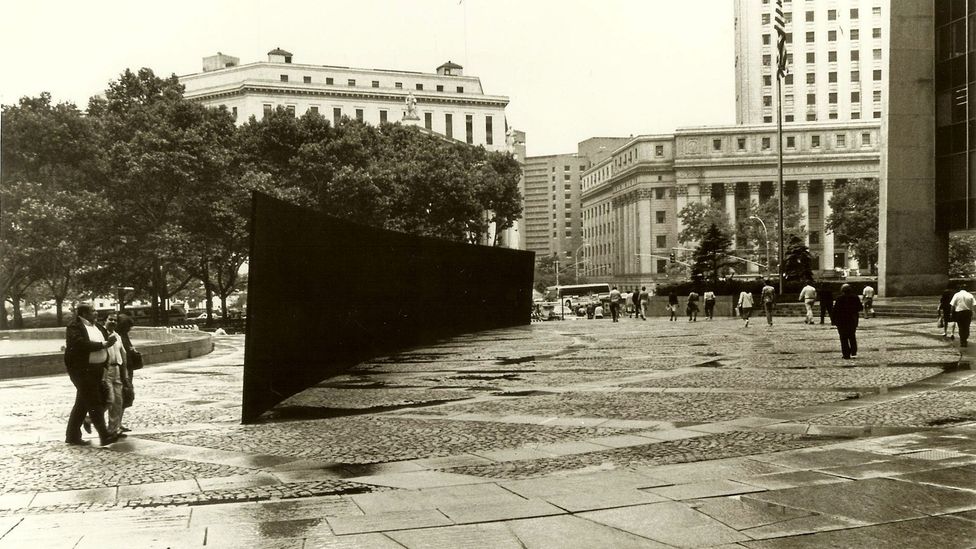 Richard Serra, Tilted Arc, 1981 (Credit: Alamy)
More than one iconic wall fell in 1989. In the dead of night on 15 March, eight months before sledgehammers began pounding the Berlin wall, a team of construction workers descended on Federal Plaza in New York City to slice into pieces a 120ft (36m)-long, 12ft (3.6m)-high, controversial barricade of steel that had been erected eight years earlier. Contending that the work, a ground-breaking sculpture by the American artist Richard Serra, provided shelter for terrorists, vermin and vandals alike, a jury concluded the minimalist sculpture should be removed and hauled off to a warehouse.
Christo and Jeanne-Claude, Surrounded Islands, 1983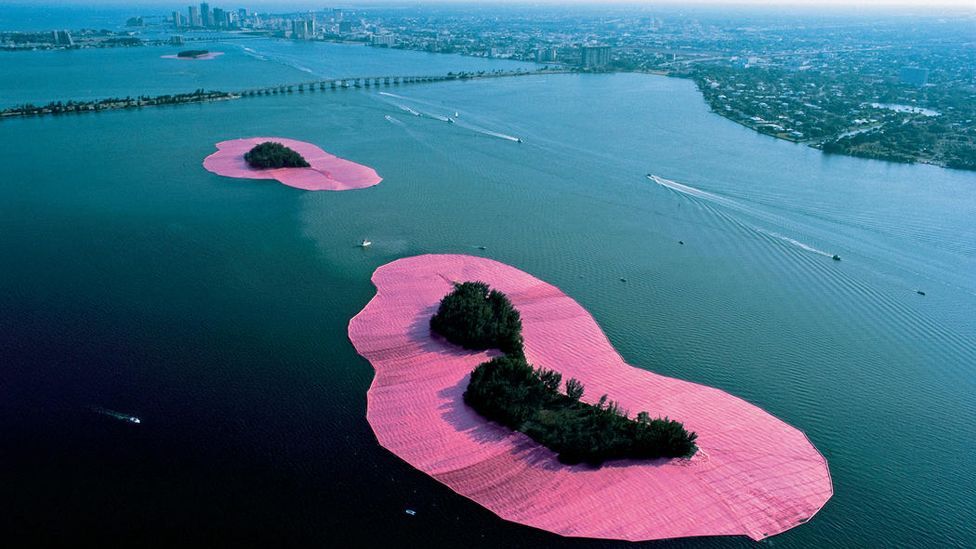 Christo and Jeanne-Claude, Surrounded Islands, 1983 (Credit: Christo and Jeanne-Claude)
Not everyone who looked upon the 11 islands in Miami's Biscayne Bay, skirted surreally in pink polypropylene fabric for two weeks in May 1983 by the artists Christo and Jeanne-Claude, was seduced by its fairytale magic. Environmentalists protested the work's installation, worried about the long-term effect of the 6.5m square feet (603,870 square meters) of synthetic plastic stretched across the habitats of manatees and nesting ospreys. The dialogue that constructing the work generated, which forced local officials and residents to discuss the fragility of the environment in which they lived, was among the artists' aims.
Marc Quinn, Self, 1991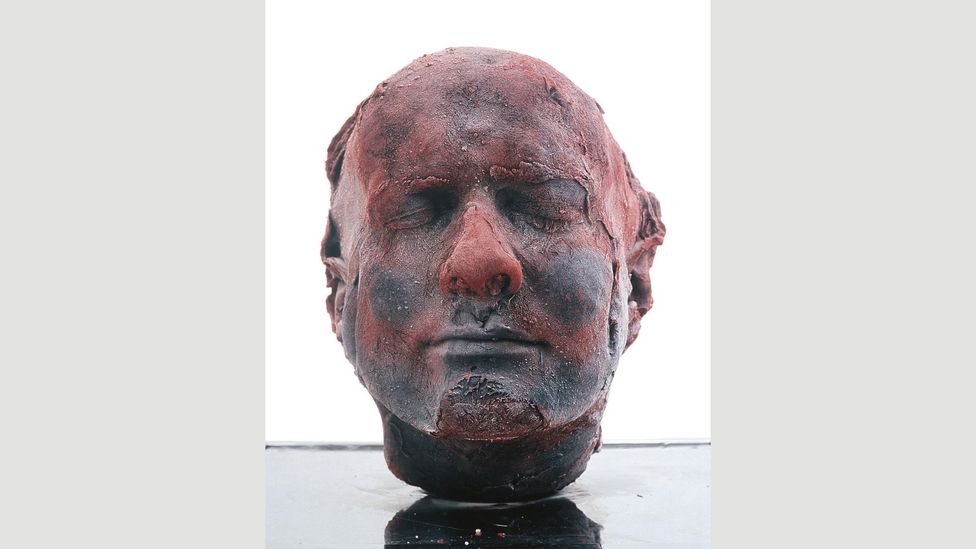 Marc Quinn, Self, 1991 (Credit: Marc Quinn)
Every five years, over the course of five months, British artist Marc Quinn siphons off five litres of his own blood and spills them into a translucent, refrigerated mould of his face. The result is an ever-emerging series of self-portraits into which the artist can legitimately claim to have poured more of himself than any artist that came before him. For some observers, Quinn's ongoing series Self is nothing more than a gruesome and vampiric stunt. For others, the work embodies a poignant and daring contribution to the tradition of self-representation to which such great artists as Rembrandt, Van Gogh and Cindy Sherman have contributed – one that profoundly highlights the fragility of being.
Tracey Emin, My Bed, 1998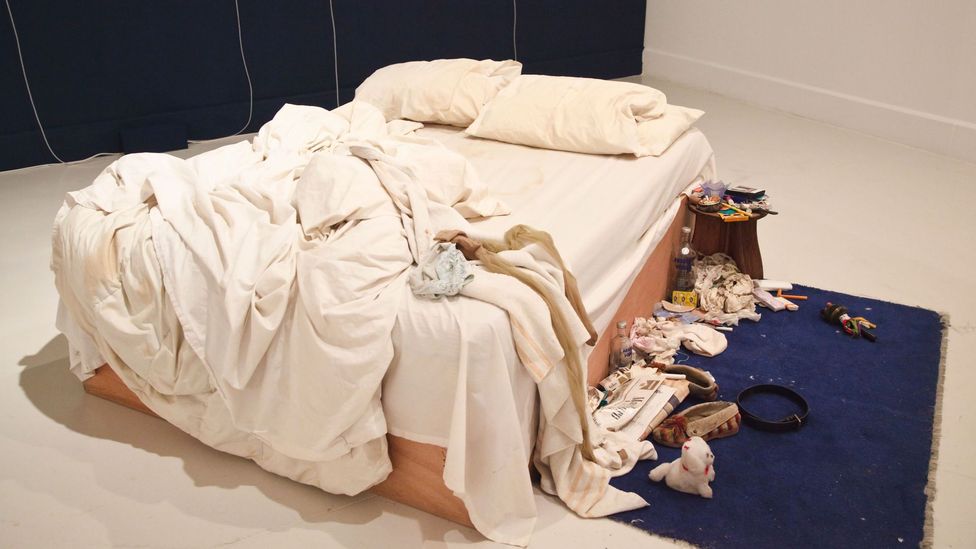 Tracey Emin, My Bed, 1998 (Credit: Alamy)
Though the bed, as an archetypal object, has served as an indispensable prop in some of the greatest works of Western art – from Titian's Venus of Urbino to Van Gogh's Bedroom in Arles, from Goya's alternately nude and dressed Majas to Henry Fuseli's devilish The Nightmare – public outrage at the installation by British artist Tracey Emin of her dishevelled My Bed for the 1998 Turner Prize Exhibition was intense and sustained. The site of a depressive episode in the artist's life, surrounded by the material debris of a tousled psyche, the rumpled bed quickly became Exhibit A for those contending that contemporary art had lost its way. Defenders of the work were surprised that, more than 80 years after Duchamp's urinal, a messy bed could spark such outrage and wondered whether the real objection was that a woman should so brazenly set up residency in a man's museum.
David Černý, Shark, 2005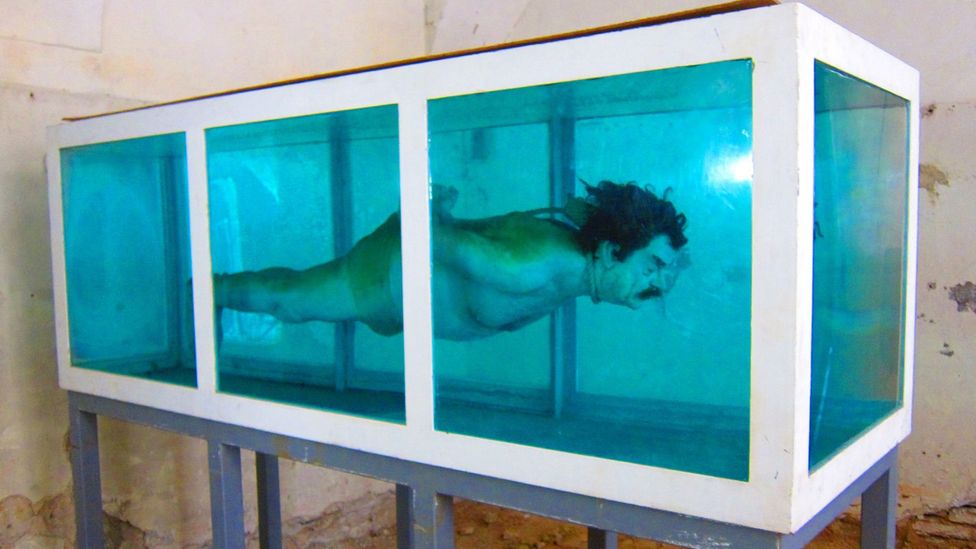 David Černý, Shark, 2005 (Credit: David Černý)
Riffing off of British artist Damien Hirst's audacious installation The Physical Impossibility of Death in the Mind of Someone Living (1991), which featured a howling shark suspended in a formaldehyde solution, Czech artist David Černý's arresting vitrine dared to float before visitors a hogtied sculpture of the deposed Iraqi dictator Saddam Hussein. For some, the work came too close to casting Hussein in the role of victim. For others, the piece was gratuitously graphic. The scheduled exhibition of the controversial work at a museum in Middelkerke, Belgium, in early 2006 was ultimately cancelled, by decree of the town's mayor Michel Landuyt, out of fear "that certain population groups would find the work too provocative".
Paul McCarthy, Tree, 2014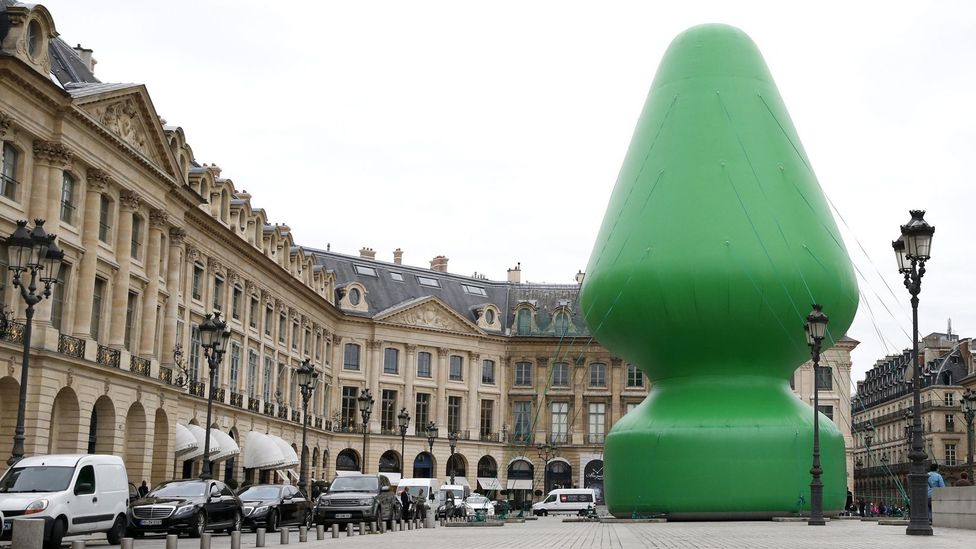 Paul McCarthy, Tree, 2014 (Credit: AFP)
Occasionally, the urge to censor a controversial work has been acted upon by offended observers rather than cautious curators. Such was the case in October 2014, when American artist Paul McCarthy's huge inflatable sculpture Tree, erected as a Christmas display on the Place Vendôme in Paris, was fatally toppled by vandals and subsequently deflated. Once the sculpture's close resemblance to the shape of a sex prop, the butt plug, was pointed out by commentators – a kinship that was, then, impossible to un-see – there was no protecting the colossal work from assault. Nor did the artist himself escape unscathed. An outraged attendee at the sculpture's installation confronted McCarthy and slapped his face three times before zipping off, like a popped balloon, into the crowd.
If you would like to comment on this story or anything else you have seen on BBC Culture, head over to our Facebook page or message us on Twitter.
And if you liked this story, sign up for the weekly bbc.com features newsletter, called "If You Only Read 6 Things This Week". A handpicked selection of stories from BBC Future, Earth, Culture, Capital and Travel, delivered to your inbox every Friday.