The comedian Hari Kondabolu is trying to wake up TV viewers to how generally accepted this questionable portrayal has been, writes Christian Blauvelt.
"After a while, you'd watch The Simpsons on a Sunday and you'd get a sense of how you'd be made fun of at school on Monday, based on what Apu did in the latest episode."
Hari Kondabolu doesn't mince words about the impact the character on the long-running animation had on his own life. "Kids in the playground would always mimic the accent and say 'Thank you, come again!' or 'Hello, Mr Homer!'" the Indian-American comedian tells BBC Culture. "Sure, growing up in New York City everyone tries to be funny. If you grow up there you learn to make jokes and how to make comebacks, but it's hard to counter an accent – what's your comeback for an accent?"
He is a stereotype that exists to provoke a laugh
For years Apu Nahasapeemapetilon was the only person of South Asian descent depicted on US TV at all – a problem because he is a broad stereotype whose clownishness is his singular purpose. He exists to provoke a laugh. He is a cartoon literally and figuratively. What's especially troubling about Apu as a stereotype is that, until recently, very few viewers in the US outside of the Indian-American community have addressed, talked about, or even recognised that Apu is a stereotype. "I used to write for [African-American comedian] W Kamau Bell's show Totally Biased and he told me, 'No one's discussed Apu. You and your community have discussed this for two decades, but no one else in America thinks Apu is problematic.'"
- India's fight for freedom onscreen
- How India is shaping Hollywood
- The daring comedians pushing boundaries
In order to highlight the issue, Kondabolu became the mastermind - and star - of a new film, The Problem With Apu, directed by Michael Melamedoff, which is broadcast on 19 November on the US television channel TruTV. That problem exists for several reasons, one of which is that The Simpsons is one of the most popular US programmes of all time and has produced more than 600 episodes over nearly 30 years. It has profoundly influenced subsequent comedians, and comedy as a whole – much in the way Monty Python did in the UK.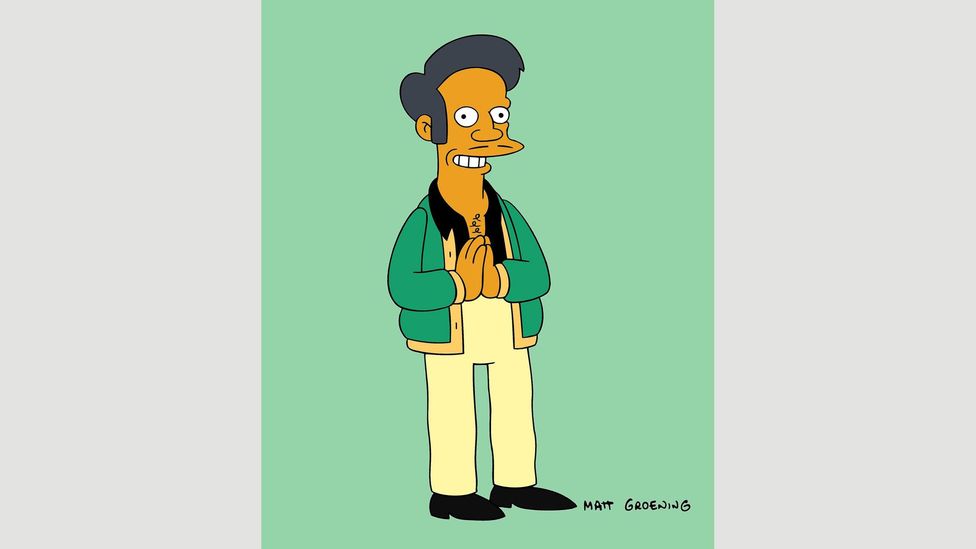 Apu was a Simpsons regular from almost the very beginning – he first appeared in 1990 in the series' eighth episode (Credit: Alamy/Fox/Matt Groening)
"The Simpsons is an important work of art that has influenced so many, including myself," Kondabolu says. "Apu was the only Indian we had on TV at all so I was happy for any representation as a kid. And of course he's funny, but that doesn't mean this representation is accurate or right or righteous. It gets to the insidiousness of racism, though, because you don't even notice it when it's right in front of you. It becomes so normal that you don't even think about it. It seeps into our language to the point we don't even question it because it seems like it's just been that way forever."
It's like a white guy doing an impression of a white guy making fun of my father - Kondabolu
Apu manages Springfield's Kwik-E-Mart - an occupation that in itself is a send-up of the perception that many Indian immigrants to the US worked as shop managers – he journeys at one point to the original Kwik-E-Mart in the Himalayas. This despite the fact he has a PhD in computer science, perhaps a commentary on the lack of opportunities afforded to immigrants in the US. "He's defined almost entirely by his job," Kondabolu says. "But he also happens to have eight kids, a joke about India having so many people, and he has an arranged marriage via this weird matchmaking system that's almost like football draft picks."
In one dimension
A problem with all these character details is that they're filtered through a white lens: The Simpsons' writers have been largely white, and the actor who voices Apu is a white man named Hank Azaria, who's won three Emmy Awards for the role. Kondabolu once said in a segment about the representation of Indian-Americans on TV for Totally Biased, that Azaria's voice acting of Apu is like "a white guy doing an impression of a white guy making fun of my father."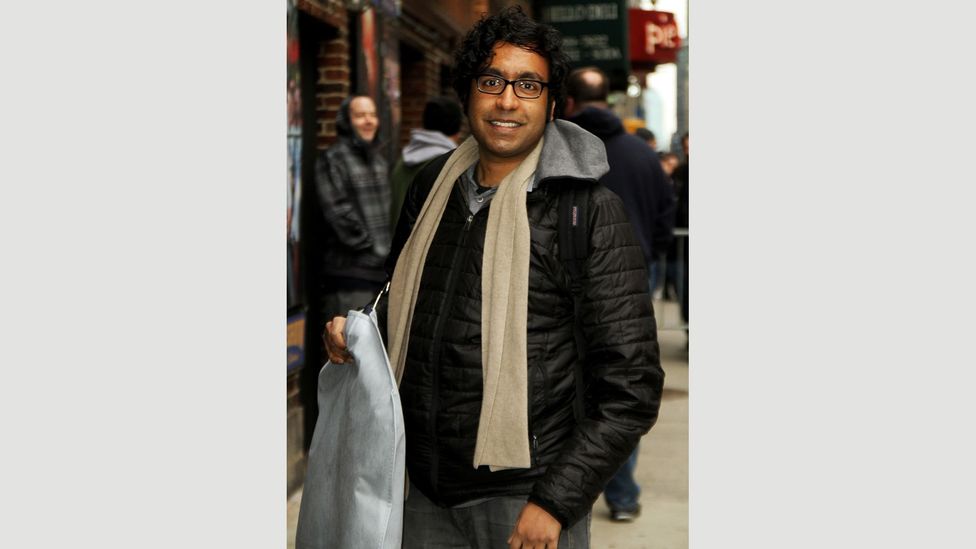 Comedian Hari Kondabolu says he likes The Simpsons and it had a huge influence on his own comedy – but he was bullied as a child because of Apu (Credit: Alamy)
For his part, Azaria has expressed that he himself initially indicated to The Simpsons' producers that the voice they wanted him to do was stereotypical: "It's not tremendously accurate. It's a little, uh… stereotype," Azaria recalled he said to the writers, "And they were like, 'Eh, that's all right.'" Azaria himself told Vulture's Mallika Rao that he had never actually known anyone of Indian descent when he first came up with the accent.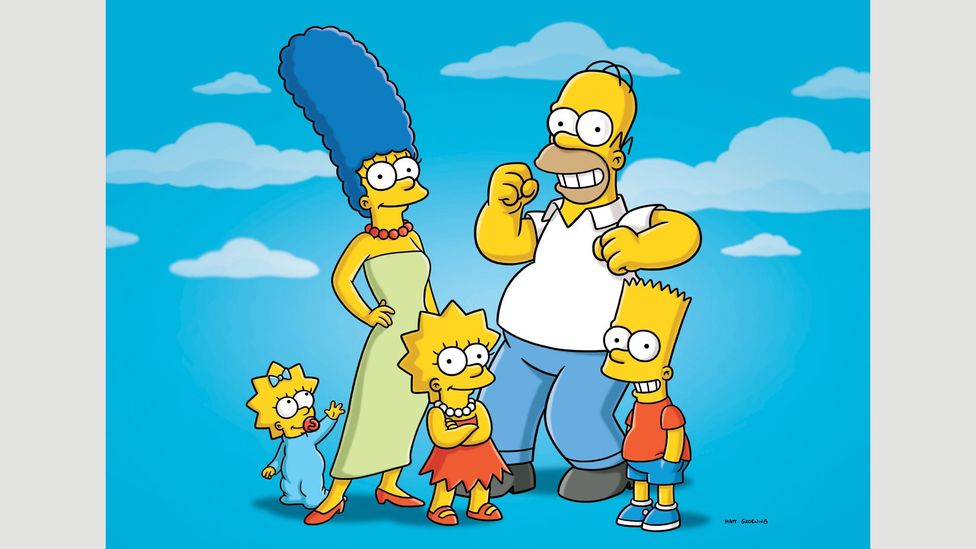 The Simpsons is the longest-running scripted primetime programme in US television history (Credit: Alamy)
"And even though some may defend Apu with 'Well, he's a small business owner, and he's a key part of the community and he's loved,' he's still so limiting, because he's never grown," Kondabolu says. "I mean, some Simpsons characters have changed – some have died, Flanders became a widow. But the only Indian in town has always been a convenience store owner." But as The Guardian's Manish Vij noted in a 2007 article that was among the first ever to examine Apu as a stereotype, "The plain fact is that most viewers are laughing at Apu, not with him."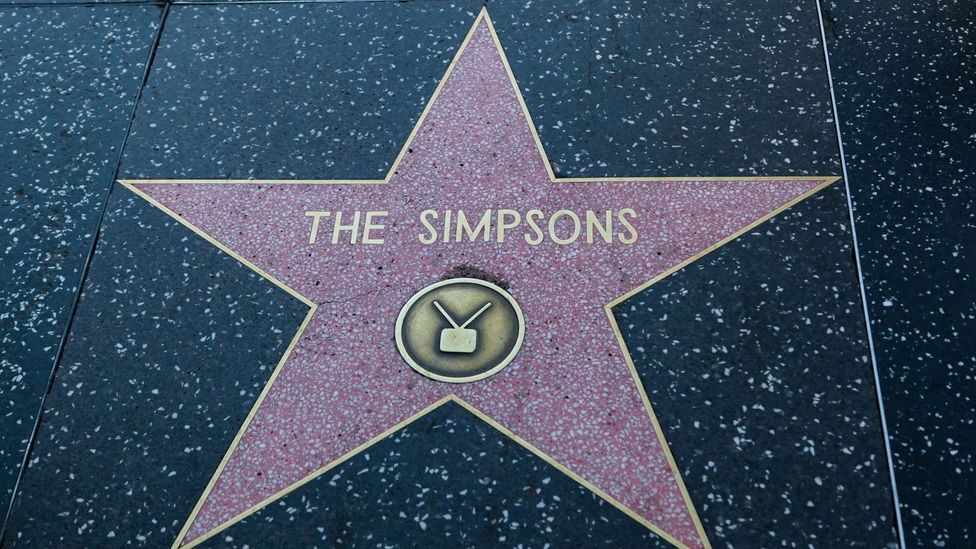 The show is so influential it even has a star on the Hollywood Walk of Fame (Credit: Alamy)
Perhaps one of the reasons Apu is overlooked as a stereotype by non-Indian Americans is that he's a 'soft stereotype'. He is a nice, lovable character, not the kind of stereotype Hollywood usually presents for people from South Asia or the Middle East: bloodthirsty terrorists, tyrants or religious zealots – or decadent brahmins eating monkey brains (and possibly endorsing child slavery) as in Indiana Jones and the Temple of Doom. "After 9/11, I was getting a lot of terrorist roles," Indian-American comic Aasif Mandvi told Entertainment Weekly. "I was getting called for more roles as an Arab even though I wasn't an Arab." Kondabolu adds: "I think it's also giving some Americans too much credit that they know the difference between a Muslim and a Hindu and an Arab or a Pakistani, even if it's just down to schoolyard bullying – but also, the first people who were killed in hate-crimes targeting Muslims post-9/11 were actually Sikh men."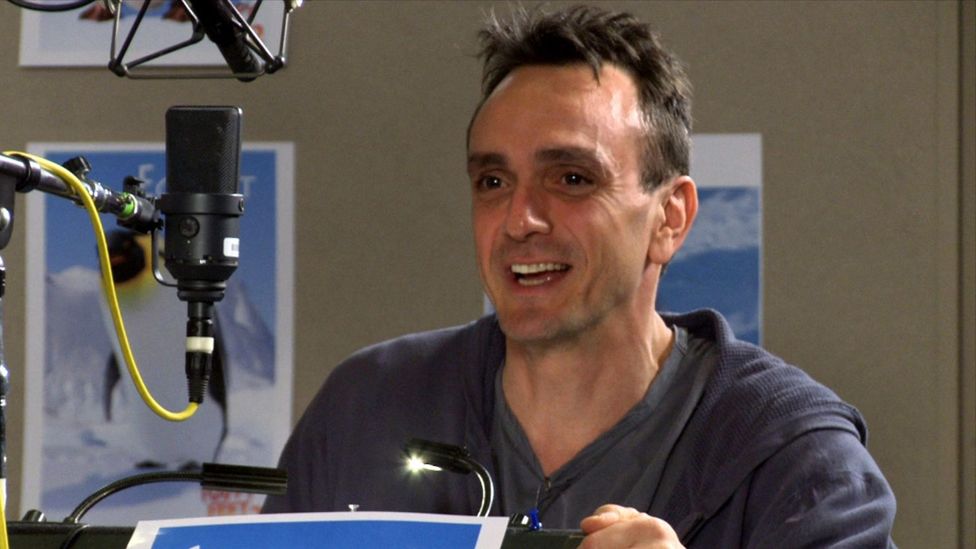 Greek-American comedian Hank Azaria has been the voice of Apu since the character made his debut (Credit: Alamy)
Saying that Apu is less problematic because he's a nice character would be like protesting the images of violent African-Americans hellbent on abuse and sexual assault in The Birth of a Nation but saying the subsequent decades in which African-Americans were relegated to movie roles as good-hearted servants was progress, when those roles were problematic in a different way. "But when you're part of an Indian immigrant community in the '80s and '90s, you're not in power, so if Apu is the only image, who's going to challenge it?" Kondabolu says, adding that his biggest feeling of guilt regarding Apu is that the character made him worry that school friends would make fun of his parents and the way they spoke. "Apu is part of the self-hate industrial complex in the US. Self-hate so you want to change yourself can be monetised – it can involve buying a product or clothes. There are even skin lightening ointments for South Asian women. Or the cost can be cultural, it can mean giving up your heritage so you can assimilate."
New stories, new perspectives
Apu is not a stereotype of Kondabolu's generation, of Indian-Americans born in the US, but of his parents', of immigrants who came to the US in the '60s and '70s. "They didn't have a voice as immigrants in a new country trying to get by. So as my generation got older we were able to be like, 'This isn't the way it is.' But for a long time South Asian actors would have to take whatever roles were open because there were no options."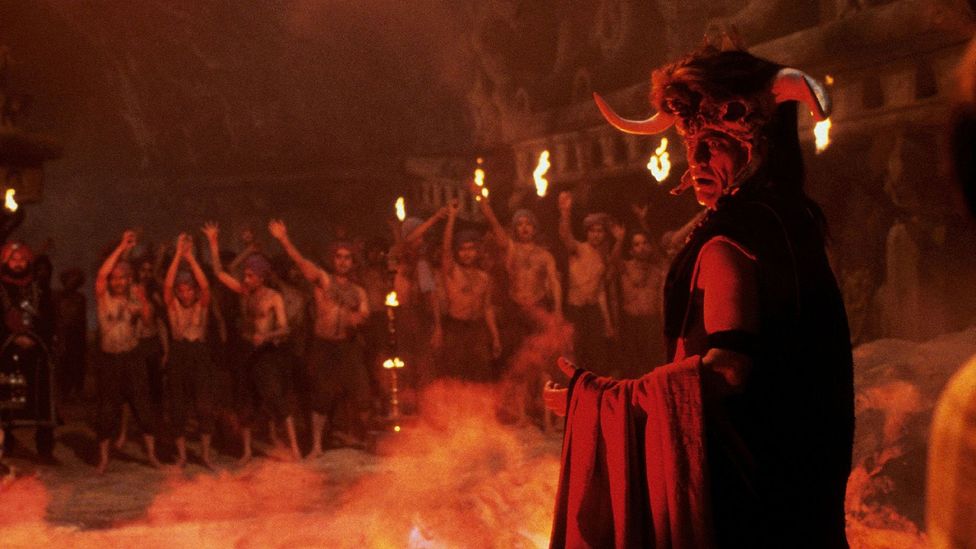 In Indiana Jones and the Temple of Doom, the villains are an Indian Thuggee cult that performs human sacrifices which involve ripping out a victim's heart (Credit: Alamy)
Now there are starting to be more options, and more images to counter Apu, with several actors of South Asian descent giving acclaimed performances in US TV and film, from comedians like Mindy Kaling, Aziz Ansari and Kumail Nanjiani to dramatic actors like Priyanka Chopra, Irrfan Khan and Dev Patel. Perhaps Apu wouldn't have been as upsetting if he simply hadn't been the only representation of Indians or Indian-Americans on US TV for years. Kondabolu notes that in India itself TV viewers who are familiar with The Simpsons are aware of Apu but he doesn't have the same negative impact because there are countless other images of Indians to counteract it.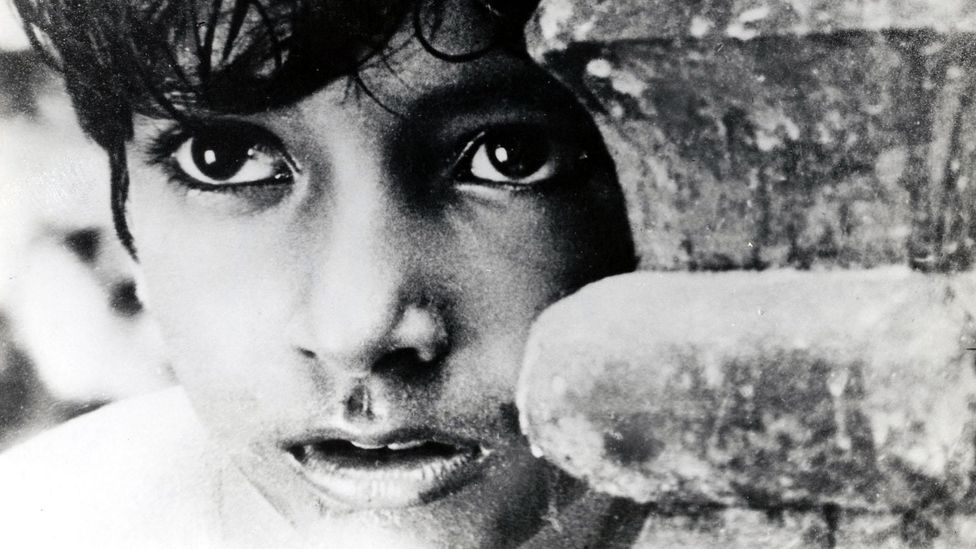 The Simpsons creator Matt Groening has said he took the name Apu from the lead character in Satyajit Ray's Apu Trilogy, which began with Pather Panchali in 1955 (Credit: Alamy)
And last year The Simpsons itself examined Apu head-on. Utkarsh Ambudkar, an actor who's appeared in Pitch Perfect and The Mindy Project, played Apu's nephew Jamshed (though he prefers to be called "Jay"). Ambudkar had previously said about Apu to The Huffington Post, "I hate that guy." And he had also had Apu quotes thrown at him as insults by bullies. But in this episode, titled Much Apu About Something, Ambudkar's Jay spends of much his time on screen pointing out how much of a stereotype his uncle Apu is, at one point even saying, "You're my uncle and I love you, but you're a stereotype, man. 'Take a penny, leave a penny. I'm Indian, I do yoga.' Why don't you go back to the Temple of Doom, Dr Jones!"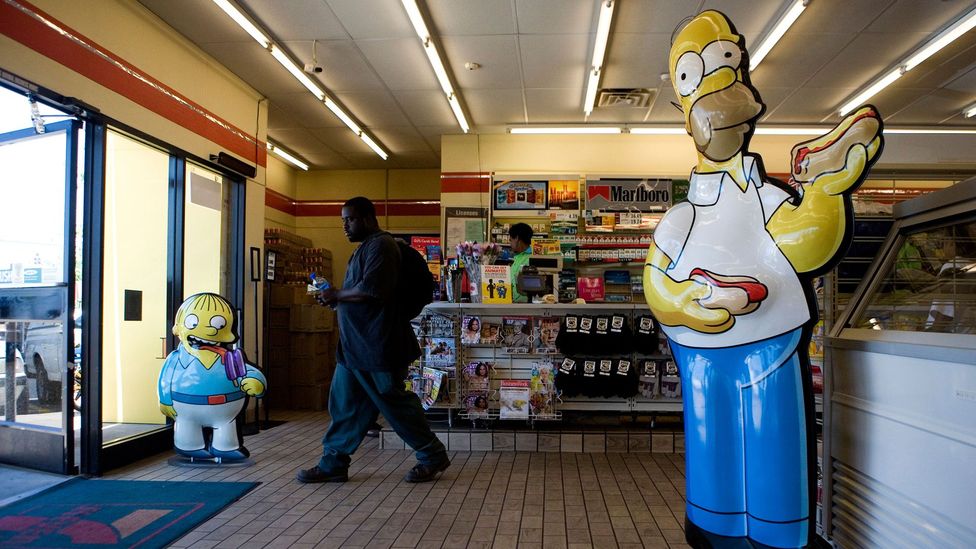 In 2007 the convenience store chain 7-Eleven remodeled 11 of its locations in the US to appear as Kwik-E-Marts, in honour of The Simpsons Movie (Credit: Alamy)
What can the producers of The Simpsons do about Apu? Probably pointing out the problematic nature of the character on the show via other characters, as Ambudkar's Jay did, is the best way to go. And at least viewers in the US now have other images of Indians on their screens that can tell different kinds of stories – stories that perhaps will wake more of us up to the problematic nature of the Kwik-E-Mart proprietor. Apu may not change, but we can.
If you would like to comment on this story or anything else you have seen on BBC Culture, head over to our Facebook page or message us on Twitter.
And if you liked this story, sign up for the weekly bbc.com features newsletter, called "If You Only Read 6 Things This Week". A handpicked selection of stories from BBC Future, Culture, Capital and Travel, delivered to your inbox every Friday.