There is something uniquely refreshing and indulgent about bathing in the faded grandeur of an Art Deco swimming pool. BBC Designed shows you the world's best.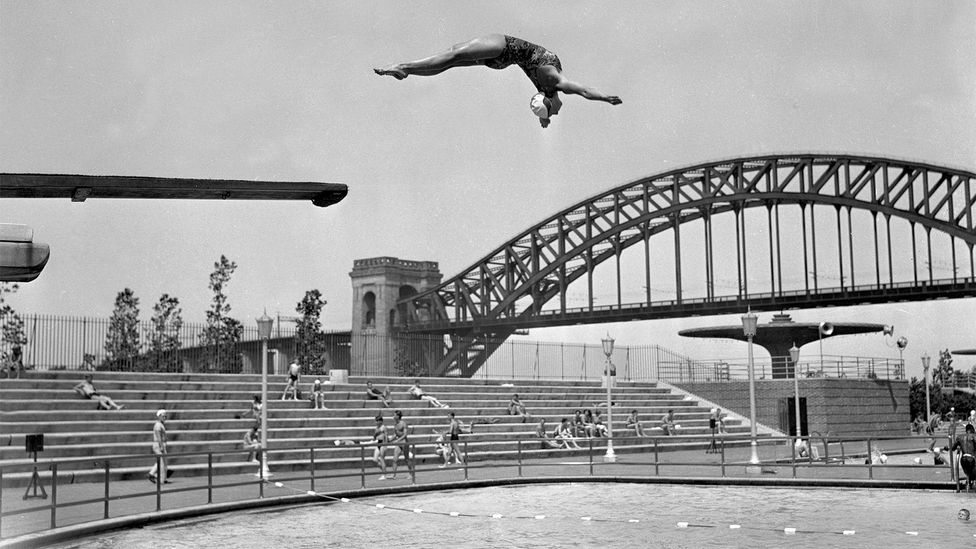 (Credit: New York Daily News Archive/Getty Images)
Astoria Park Pool, New York, US
Eleven swimming pools were built in the Big Apple in 1936, when a bathing programme, launched at the turn of the century, evolved to focus on recreation rather than hygiene. The pools were built in a range of styles, including Romanesque Revival and Art Deco. "New Yorkers still enjoy 11 Art Deco pools built during the Great Depression," says Anthony Robins, Vice President of the Art Deco Society of New York and the author of New York Art Deco: A Guide to Gotham's Jazz Age Architecture.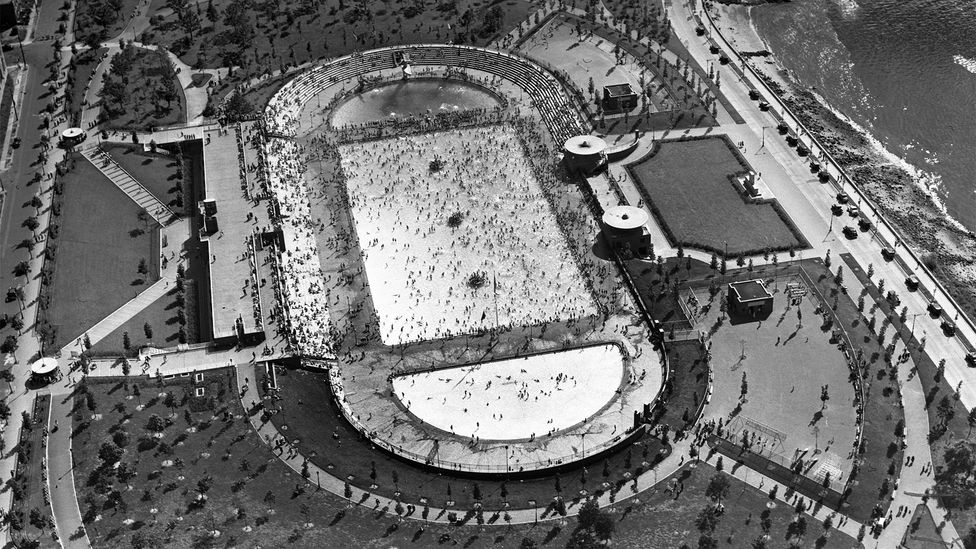 (Credit: New York Daily News Archive/Getty Images)
"Municipal architects designed these handsome structures - marked by geometry, blockiness, curving, open-brickwork balconies, and playful sculpture- to last," he adds. This vast pool complex is particularly striking against its backdrop of the Hell Gate and Robert F Kennedy bridges.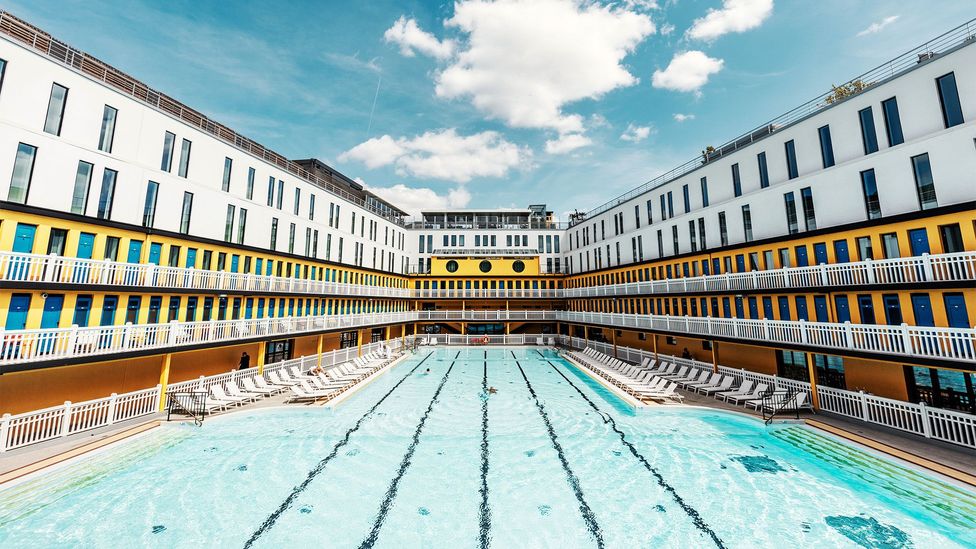 Piscine Molitor, Paris, France
The legendary Piscine Molitor (1929), often credited with kick-starting the international Art Deco pool fad, has since been rebuilt from scratch. It closed in its original iteration in 1989.
In May 2014, it re-opened as a private club and hotel. Earlier this month, another renovated historic bath, Les Amiraux, which appeared in the 2001 film Amélie, reopened for public use.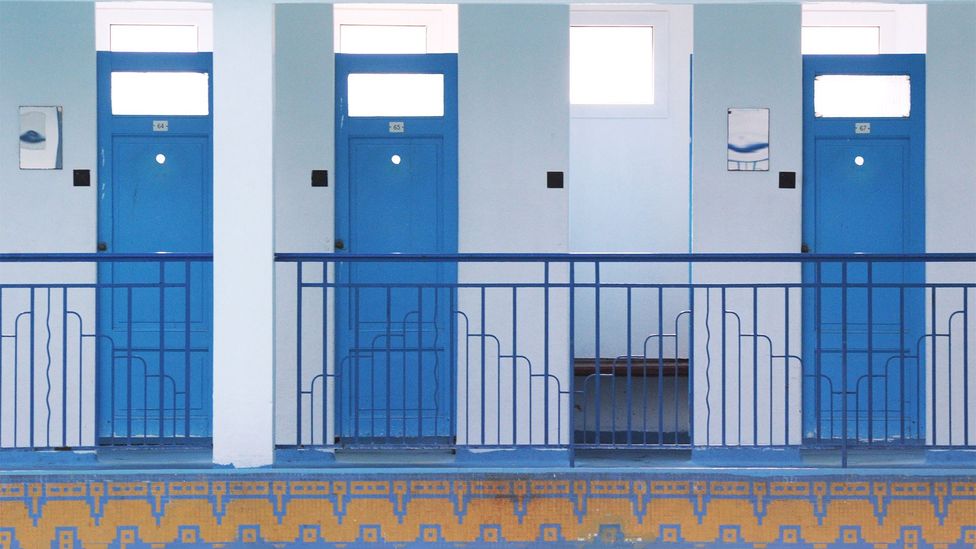 (Credit: Piscine Pailleron)
Piscine Pailleron, Paris, France
The understated Piscine Pailleron (1933) was restored and integrated into a sports complex that opened in 2006, 16 years after the 33m pool shut its doors. Another Parisian swimming institution, Piscine Pontoise (1934), in the heart of the Latin Quarter is overlooked by rows of open walkways with old-fashioned cabins for private hire.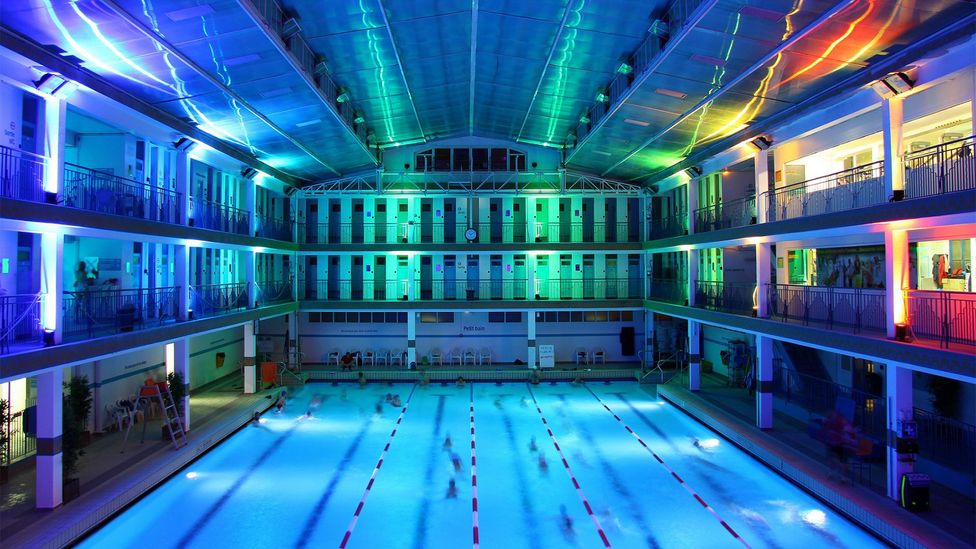 (Credit: lequartiersport.fr)
Piscine Pontoise, Paris, France
Built in 1933, it has retained its Art Deco appeal, and is a listed historical building. After dark, soft lights illuminate the water, and visitors can enjoy music while swimming. In 2008, Jean Paul Gaultier even hosted a party here in partnership with Evian.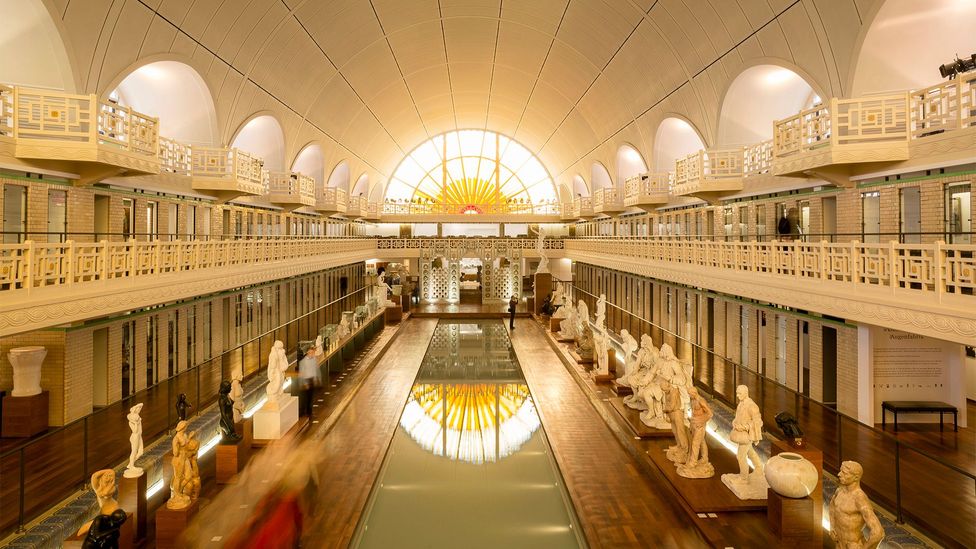 (Credit: Thierry Monasse/Getty Images)
La Piscine Museum, Roubaix, France
Further north in Roubaix, near Lille, an Art Deco pool is the site of a museum of art and industry. Opened in 1932 according to the plans of architect Albert Baert, the pool closed over safety concerns in 1985. It now forms La Piscine Museum, which opened in 2001.
The figures around this pool may now be made of stone, but the unique splendour of the site provides an unusual setting for the works of art.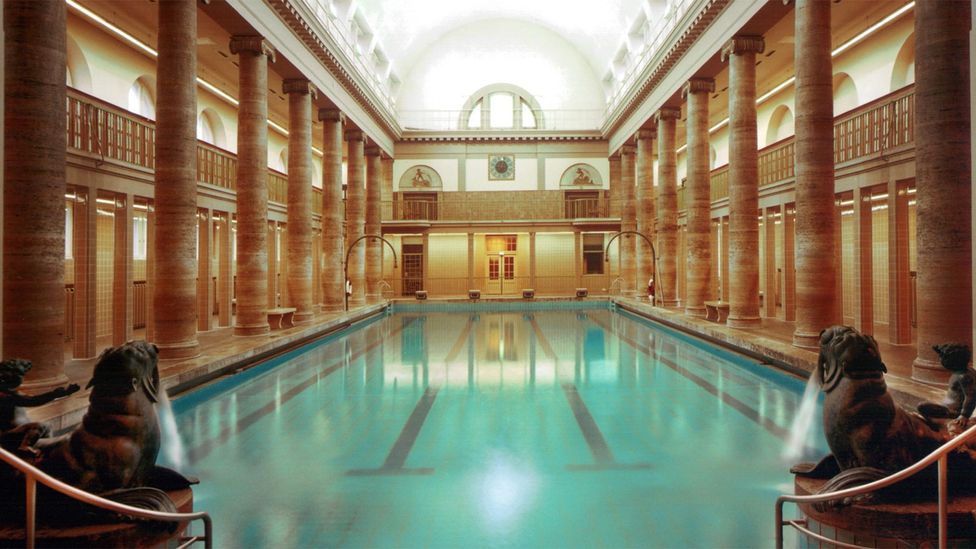 (Credit: berlinerbaeder.de)
Stadtbad Neukölln, Berlin, Germany
Like the lidos of London and the piscines of Paris, Berlin's bäder are among the finest Art Deco pools to be seen globally.
Built slightly later and in a more lavish style, the city's Neukölln baths are hugely popular thanks to their elaborate embellishments: dramatic columns, mosaic decorations and bronze walruses that act as water fountains. Bathing here, you could feel as though you were on a film set.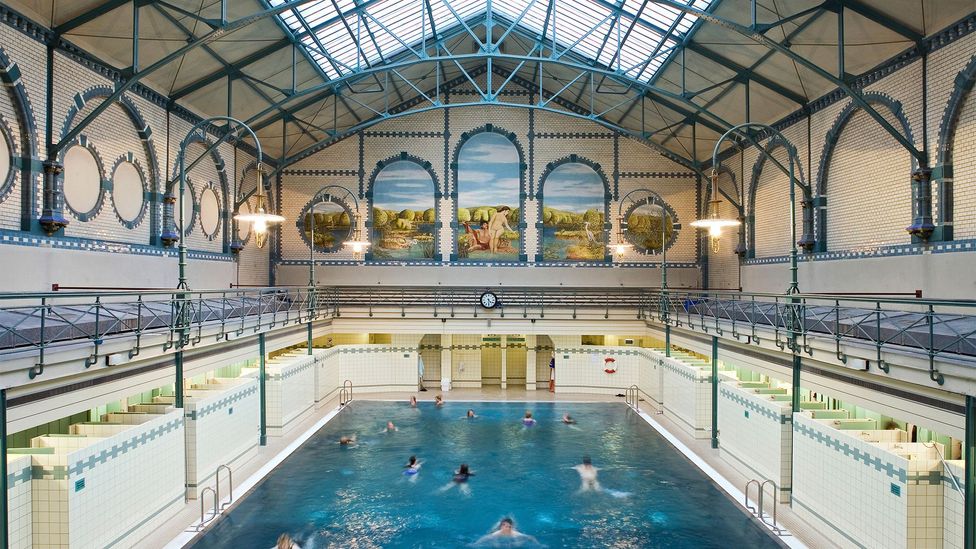 Stadtbad Charlottenburg, Germany
The Stadtbad Charlottenburg in Berlin, a listed building, is elaborately decorated with stylistic tiling. It was reopened to the public after a careful restoration in February 2009.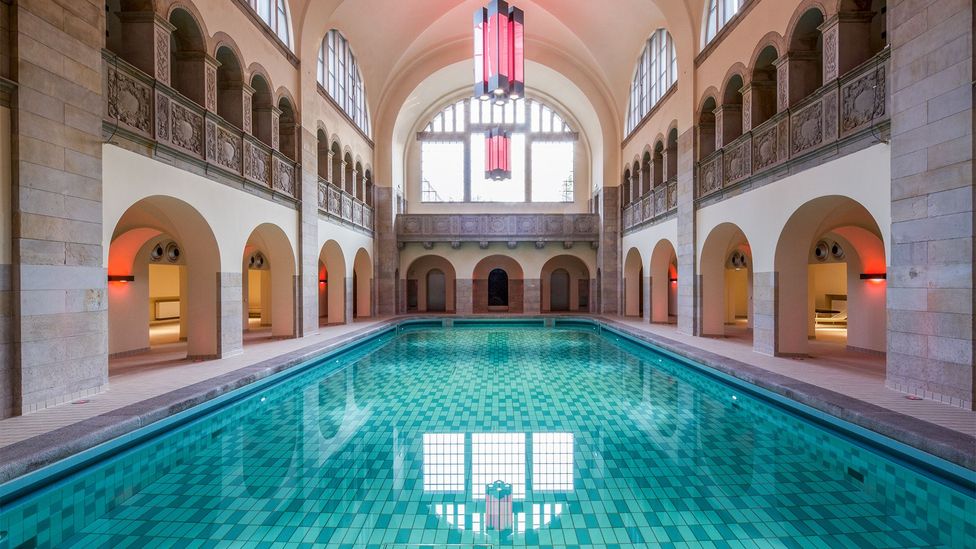 (Credit: hotel-oderberger.berlin)
Stadbadt Oderberger, Berlin, Germany
Stadtbad Oderberger, Berlin, Germany
After being out of service for three decades, the beautiful and historical Oderberger baths have been renovated within a hotel, their simple elegance restored.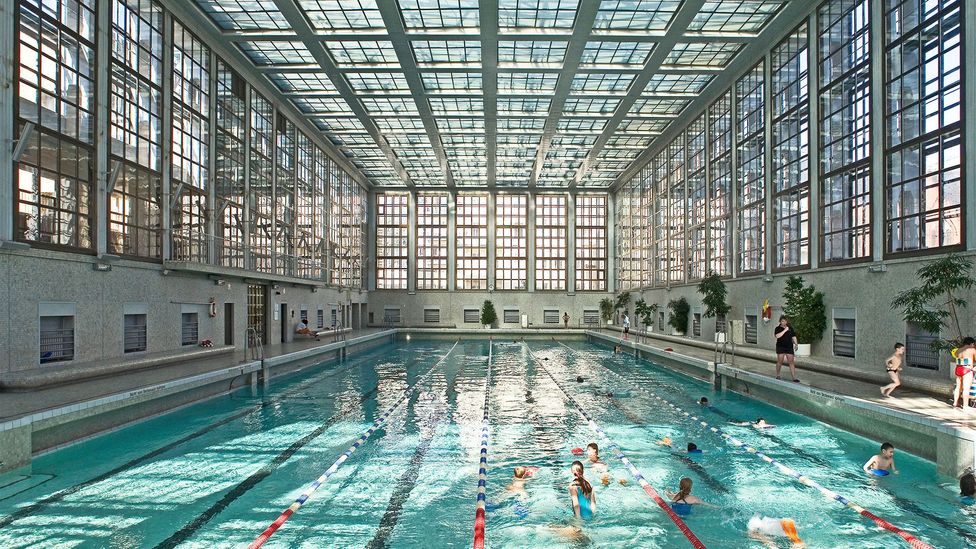 Stadbadt Mitte, Berlin, Germany
The Stadtbad Mitte in Berlin is a textbook example of functional Bauhaus design. Flooded with light on account of the many industrial-style windows, it was Europe's first 50m pool when it opened in 1930.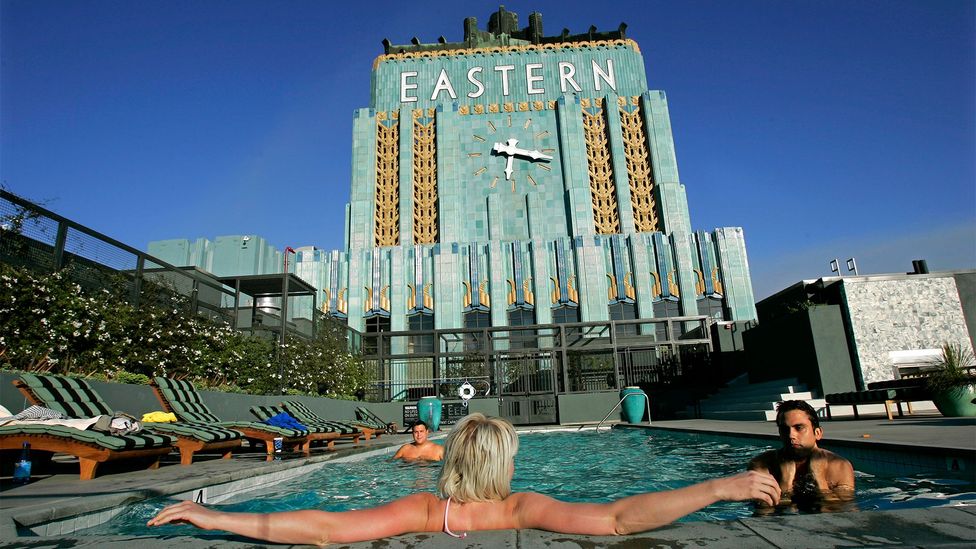 Eastern Columbia Building, Los Angeles
Downtown LA's Eastern Columbia Building gained a pool when it was converted into condominiums in 2006. The building first opened in 1930, serving as a headquarters and a clothing store for the Eastern Outfitting Company and the Columbia Outfitting Company. The pool might not be Art Deco, but the view from it of what's considered by many to be LA's finest Art Deco structure, is.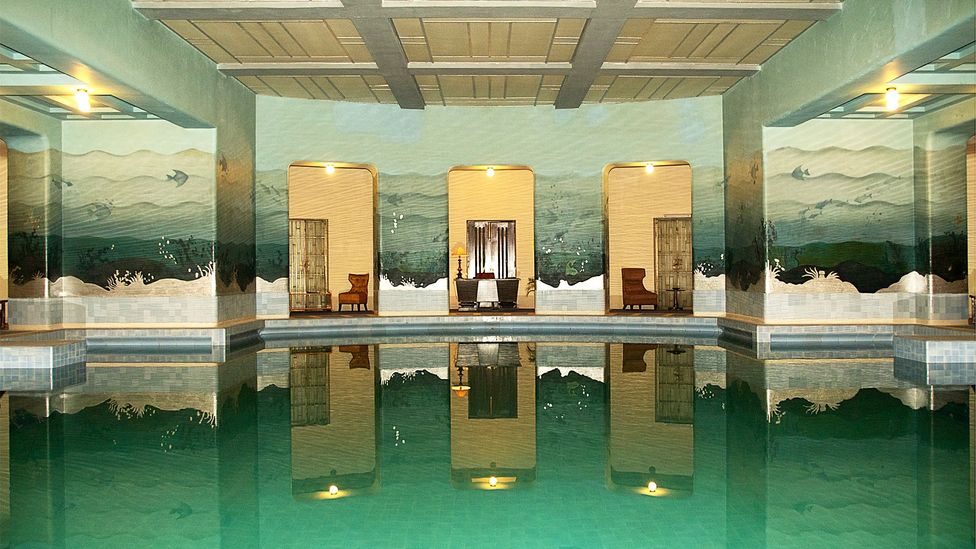 (Credit: Sandra Cohen-Rose/Colin Rose)
Zodiac Pool, Umaid Bhawan Palace, India
India boasts some beautiful Art Deco pools. Consider the Zodiac Pool at the Taj Group's Umaid Bhawan Palace hotel in Jodhpur, built between 1929 and 1943. Polish artist Stefan Norblin decorated the pool with hand-painted motifs. It is now the centerpiece of the hotel's Jiva Grande Spa. Meanwhile, Sea Face Park, a residential complex that became Mumbai's first gated Art Deco community when it was completed in 1942, according to the Art Deco Society of Mumbai, contains an outdoor Art Deco pool designed, along with the complex, by leading architects of the time, Master, Sathe and Bhuta.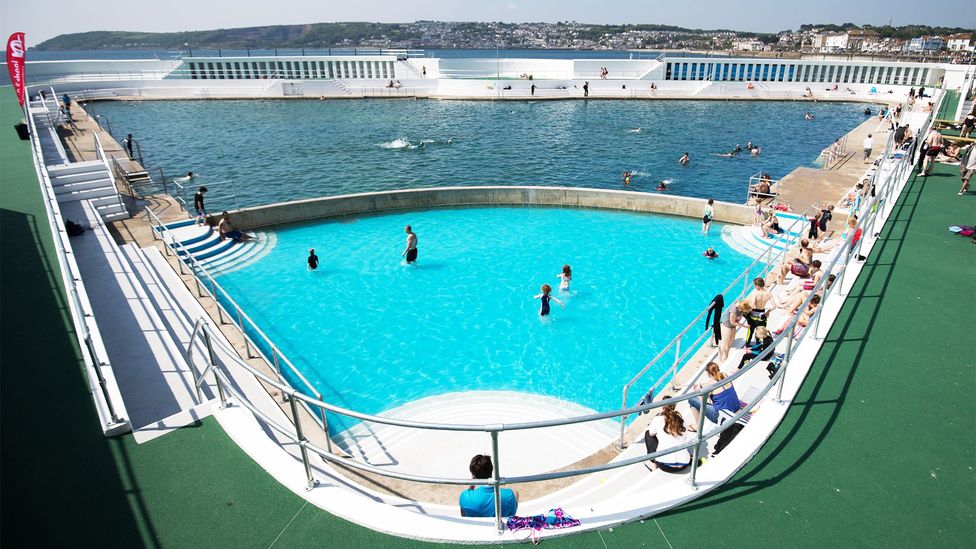 (Credit: Matt Cardy/Getty Images)
Jubilee Pool, Penzance, UK
Built when Britain's seaside towns were capitalising on a newfound enthusiasm for swimming and sunbathing, the Jubilee Pool opened in 1935 to draw visitors to the last station on the Cornish Riviera. Considered one of the country's oldest Art Deco pools (purists may say it is actually 'Art Moderne' thanks to its streamlined style), the lido's curving walls jut into the sea, protecting the triangular pool, which is filled with two million gallons of seawater. The lido fell into disrepair in the 1990s, when it closed for two years, and shut again due to storm damage in 2014. It re-opened in May 2016.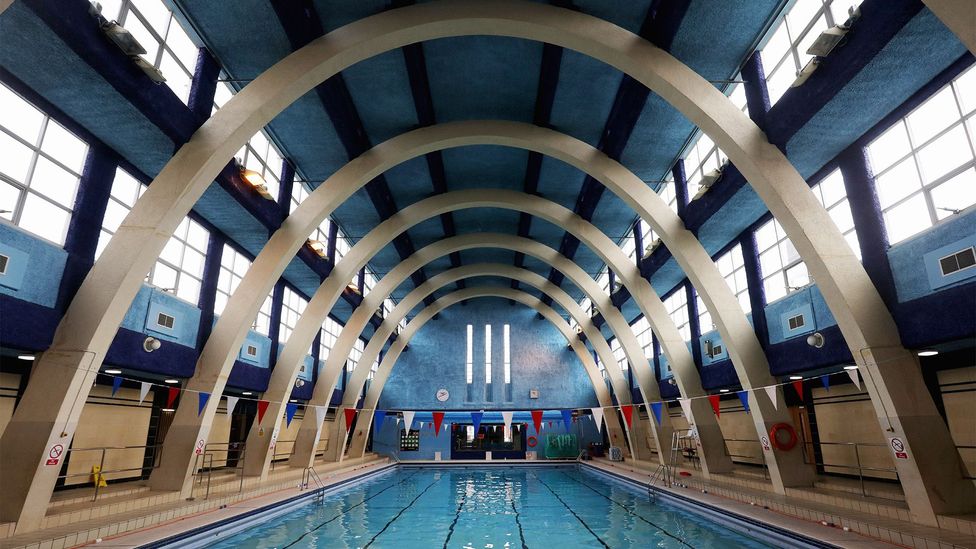 (Credit: Christopher Furlong/Getty Images)
Mounts Baths, Northampton, UK
Mounts Baths, built in 1936 with its parabolic arches, is a celebrated indoor Art Deco pool. According to Gill Wright, founder of Historic Pools of Britain, Art Deco is more commonly found in the UK's outdoor pools, making this one somewhat rare. Many British Art Deco pools have closed, but holdovers include Broomhill Lido in Ipswich, Brockwell Lido in London, Hilsea Lido in Portsmouth, Tinside in Plymouth, and Saltdean, near Brighton, which re-opened in June 2017. There are campaigns to save Tarlair pool in Banff, Grange-over-Sands at Morecambe Bay, and Bon Accord Baths in Aberdeen, among others. "We have lost a lot of our Art Deco swimming heritage," says Wright.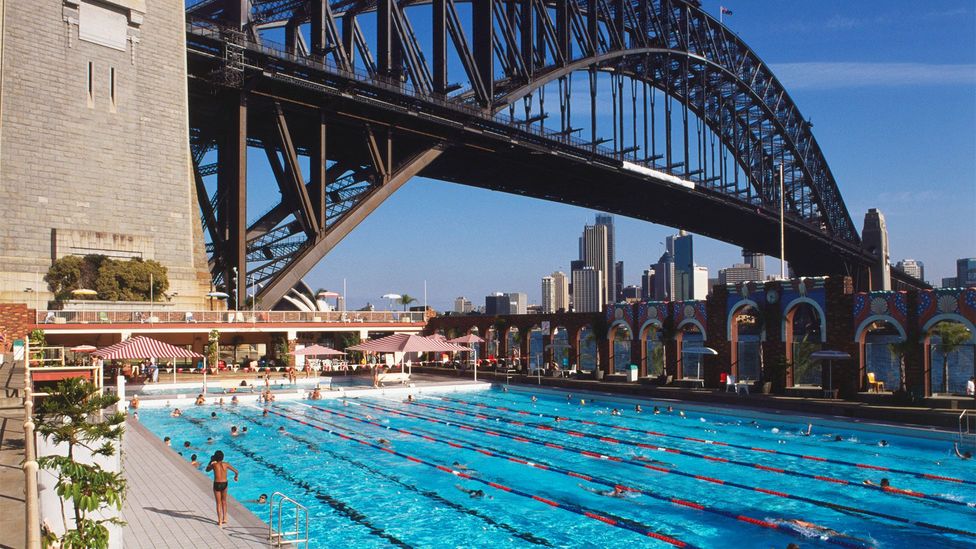 North Sydney Olympic Pool, Australia
Before this pool was built, swimmers braved the muddy waters of Sydney Harbour, says historian Ian Hoskins. Situated between the Harbour Bridge and Luna Park, this was the site of the 1938 Empire Games, and is one of the last remaining 1930s amusement parks. Scores of world records have been set there. "It is situated on foreshore land left vacant after the dismantling of the Sydney Harbour Bridge workshop," explains Hoskins. "The north pylon of the bridge looks over the pool and makes backstroke wonderful." But is it really Art Deco? Although this pool is often referred to as Art Deco, "it is really Inter-war Stripped Classical, rather than Art Deco," he says.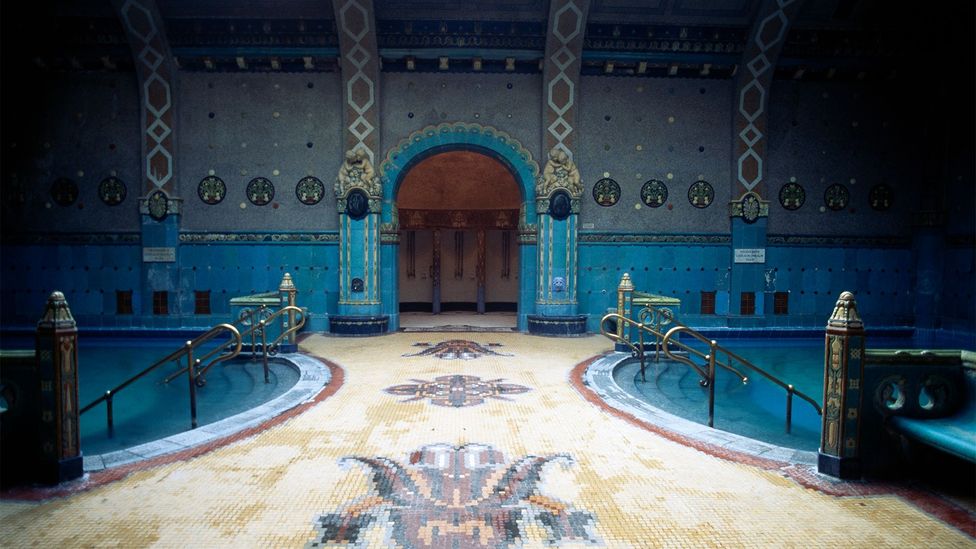 Gellért Baths, Budapest, Hungary
Though categorically Art Nouveau in style, having been founded in 1918, the Géllert Baths and Spa in Budapest deserve an honourable mention for their sheer sense of indulgence. Soon to be 100 years old, one can easily while away a whole day in the 10 various pools, outdoor and indoor. A soak in the geothermal waters that come from deep under Géllert Hill is thought to have numerous healing qualities.