How designers Wallace Sewell use hand-looming, geometry and an eye for colour to create their unique aesthetic for London's trains, tubes and buses.
T
The phrase 'hand-looming' has a quaint, cottage-industry ring to it. So it's a surprise to hear that the creators of most of the seating textiles on London's vast public transport network rely heavily on such an old-fashioned method.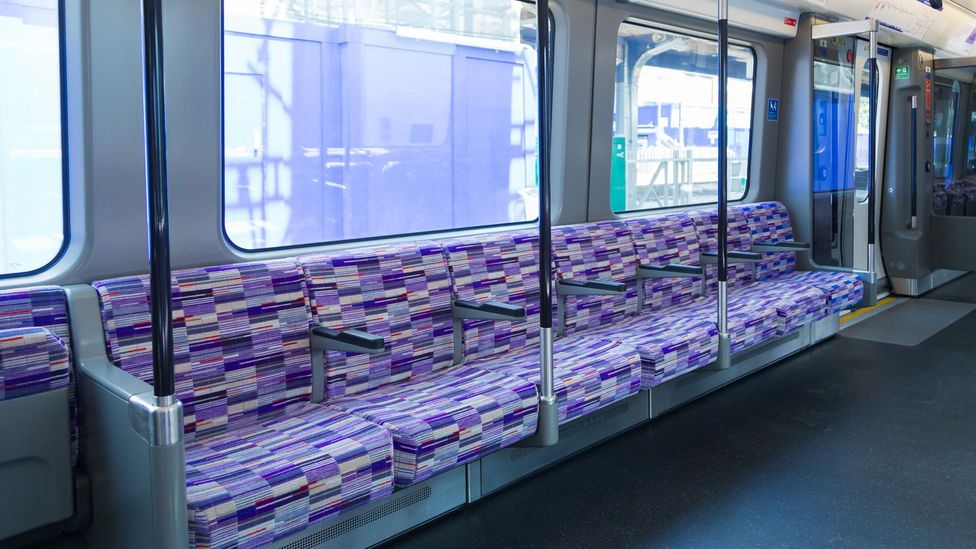 Wallace Sewell create the designs for the seating on most of London's transport, including the new Crossrail (Credit: Crossrail)
If you have ever travelled on London's tubes, trains or buses, you have sat on something created by British duo Wallace Sewell, whose unique, rich colour palettes and eye for geometry and pattern have brought global recognition. Despite their traditional craft methods, their output is anything but small-scale.
Emma Sewell is one half of the design duo, whose work is currently the subject of an exhibition at London's Fashion and Textile Museum. She explains the process to BBC Designed: "We start in a very analogue fashion, sampling ideas as small swatches on our handlooms, exploring colour, woven structure and patterning or winding yarn around strips of card to create stripes.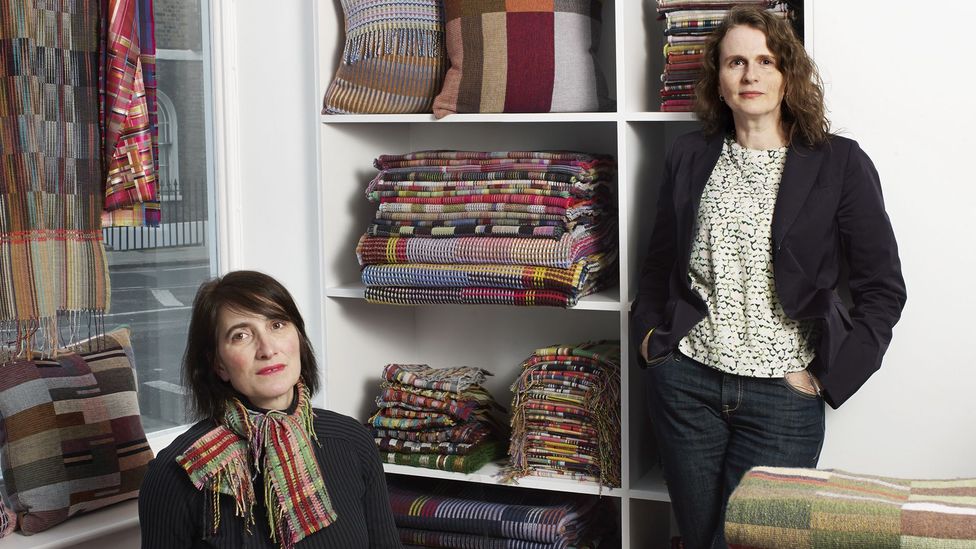 Textile designers Emma Sewell and Harriet Wallace-Jones met at art college, then joined forces to form Wallace Sewell
"We then develop these ideas into designs for full scarves or throws, deciding on the composition and proportions of all the elements. Once these are set, we then create the specs, which are just words and numbers, and email these to the mill, who follow these instructions to weave the specific cloth, without seeing any of the designs or samples. It's quite amazing."
It has to perform in the public domain, identifiable yet in the background, so semi-invisible – Emma Sewell
Sewell met her business partner Harriet Wallace-Jones at art college, and they set up their brand shortly afterwards. Now, 25 years on, they create the many moquettes (thick-pile fabric used for carpets or upholstery) for Transport for London, as well as for the overground network, Croydon tram service and the new Crossrail trains.
Travel in style
Transport is a great area to work in, says Sewell: "It has such a design heritage, with an amazing array of textiles designers who have created patterns in the past. It is also a real contrast to the style of designing for our own brand, which is quite flamboyant with many colours, contrasting yarns and textures and large scale repeats; whereas 'moquette' fabrics have tight parameters."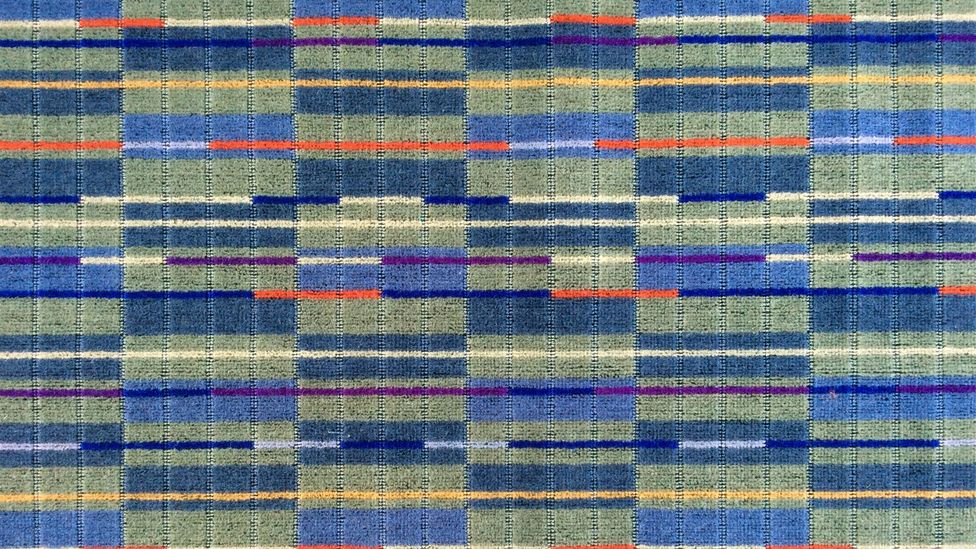 The Interim Crossrail design was originally created as a fabric for trains running from Liverpool to Shenfield, with inspiration taken from the buildings along the route
The requirements are uniquely specific. "There's a need for a complex pattern in order to camouflage wear and tear, plus it has to reinforce the branding of the transport company, in our case TFL," explains Sewell. "And it has to perform in the public domain, identifiable yet in the background, so semi-invisible."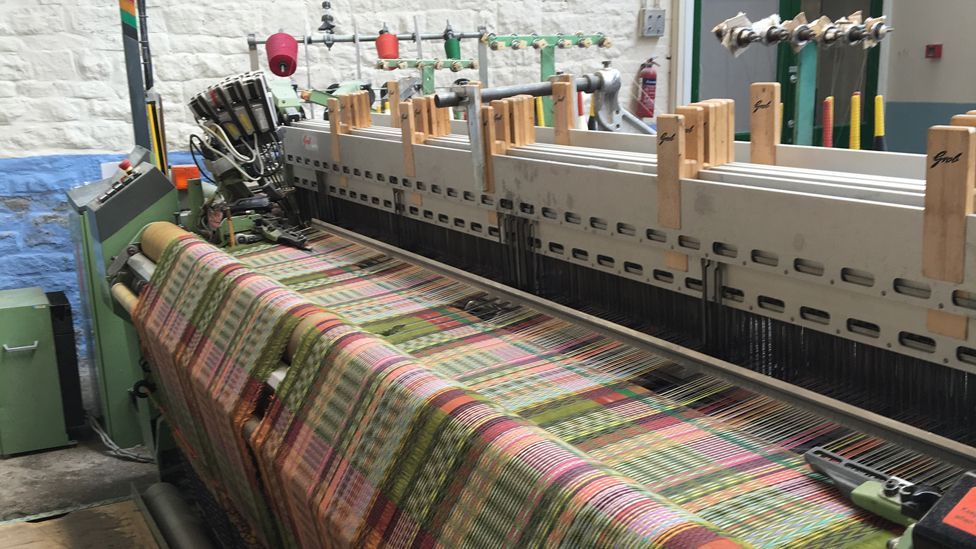 After the hand-looming process, the Wallace Sewell textiles are then woven at a family-run mill in Lancashire
If you look closely enough, the shapes of London landmarks can be spotted in the geometry of some of the designs. "The nature of our style of weaving, which is 'dobby' weaving, doesn't allow us to create complex shapes, we are restricted to stripes and blocks of colour, plus small-scale patterns. This means that we have to abstract our inspiration sources, which could be anything from a landscape or figurative painting, to a sculpture," says Sewell.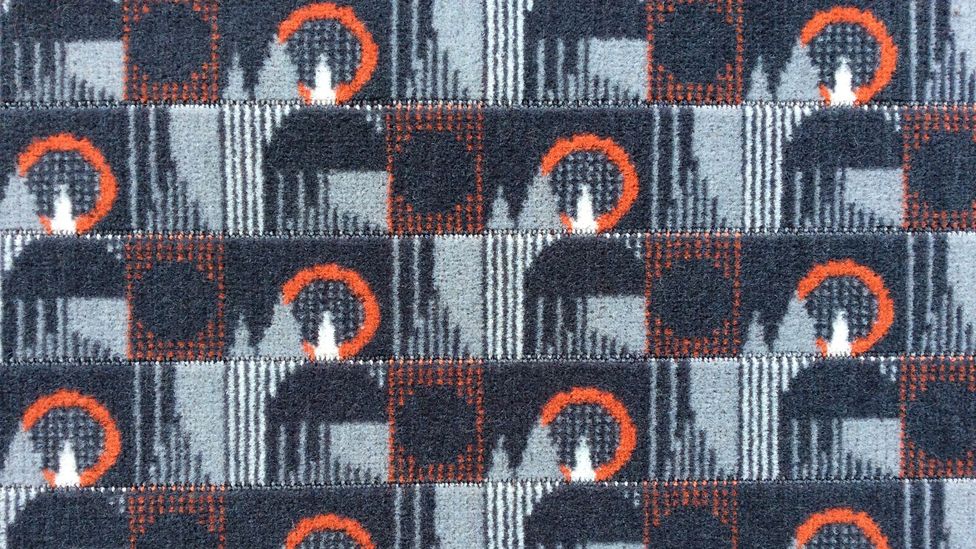 The design for the tube's Bakerloo-line moquette fabric is typical of the Wallace Sewell style, combining strong geometric pattern with a distinctive colour palette
Over the years, the duo has created rugs, throws and cushions for the likes of retailers Anthropologie and West Elm, and the Tate and MoMA museum shops, as well as for their own London store. They even recreated Jimi Hendrix's bed spread for his London house, now turned museum. The designers have also created some richly-hued scarf designs, such as the Verbana wool-crepe scarf which has a sculpted surface and is made from 'high-twist' crepe, so that the fabric springs back by itself into its crinkly shape after washing.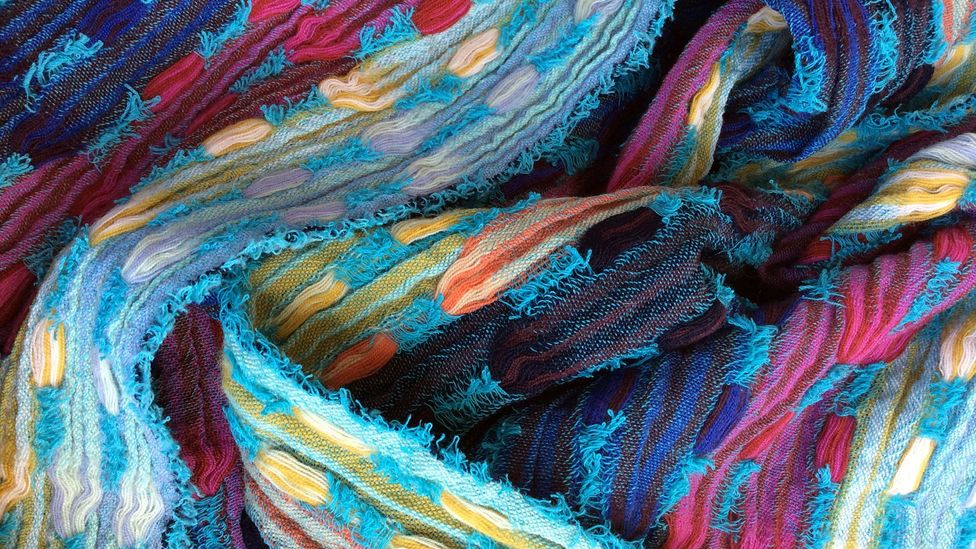 The Verbena scarf has a sculpted surface created with a 'high-twist' crepe wool, and is designed to be crinkly in texture (Credit: Wallace Sewell/ Fashion and Textile Museum)
The two business partners have a shared passion for colour and a love of Bauhaus design. "We use many references as colour inspiration for our work," says Sewell.  "From paintings and art to our surroundings, both urban and rural, to an ongoing exploration of colour palettes, where one might include an unusual colour just for the fun of it."
We believe that two heads are better than one – Emma Sewell
Having worked together since the late 1980s, the duo is able to "work through ideas very quickly" and "discuss details in shorthand." They then divide up the design work between them, each playing to their own strengths.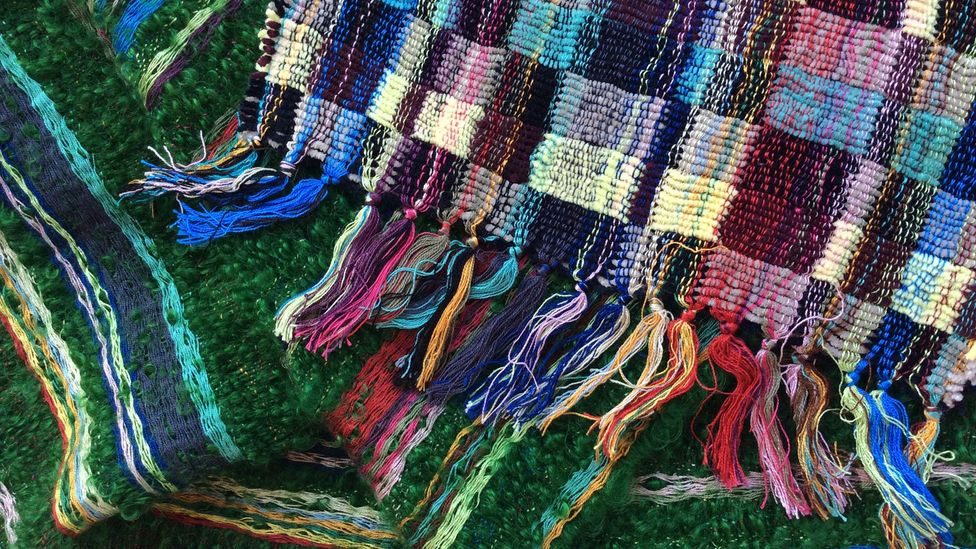 The Monastery scarf uses 'doublecloth' structures woven with cotton chenille, and helped inspire the designers' rectinilinear 'moquette' designs
So what would Sewell say have been the main pros and cons of working in a partnership? "Our styles of designing were very different," says Sewell. "Harriet's interest was compositional ideas aimed at interiors, whilst mine was the structure of woven cloth and performance yarns, creating fabrics with sculpted surfaces, aimed at fashion. This meant that we had a broader portfolio of work, though this was always linked by our equal passion for colour." In fact, the pair say they can't even think of any disadvantages to working as a pair.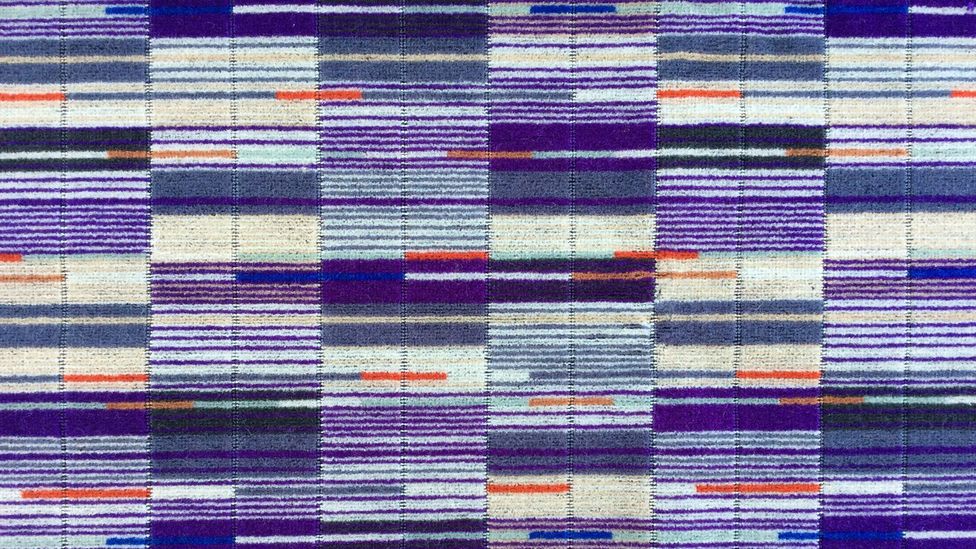 The specifications for the Crossrail Elizabeth design were precise: "It had to have an emphasis on purple and incorporate a lot of white and pale colours," says Emma Sewell
"In the early days, the companionship and moral support were invaluable, yet we have always had equal creative and business goals," says Wallace. Plus being in a partnership allows "a wider creative input." And the geographical distance between the two women – Sewell lives in London, Wallace-Jones in Dorset – also encourages their individual creativity.  "We're not precious, we can always come to a compromise without falling out. From the outset we believe that two heads are better than one."
To comment on and see more stories from BBC Designed, you can follow us on Facebook, Twitterand Instagram. You can also see more stories from BBC Culture on Facebook and Twitter.
If you liked this story, sign up for the weekly bbc.com features newsletter called "If You Only Read 6 Things This Week". A handpicked selection of stories from BBC Future, Culture, Capital and Travel, delivered to your inbox every Friday.