The gods of science, speed and industry have always had their followers. Jonathan Glancey explores their impressive, imperious places of worship.
E
Each year, more than 100,000 visitors trek through and around a cluster of solemn, hauntingly impressive late-18th Century buildings on the hem of England's Peak District National Park. This is Cromford Mill, Derbyshire, founded in 1771 by the entrepreneurial inventor Richard Arkwright. Here, long before Henry Ford was born, mass production began.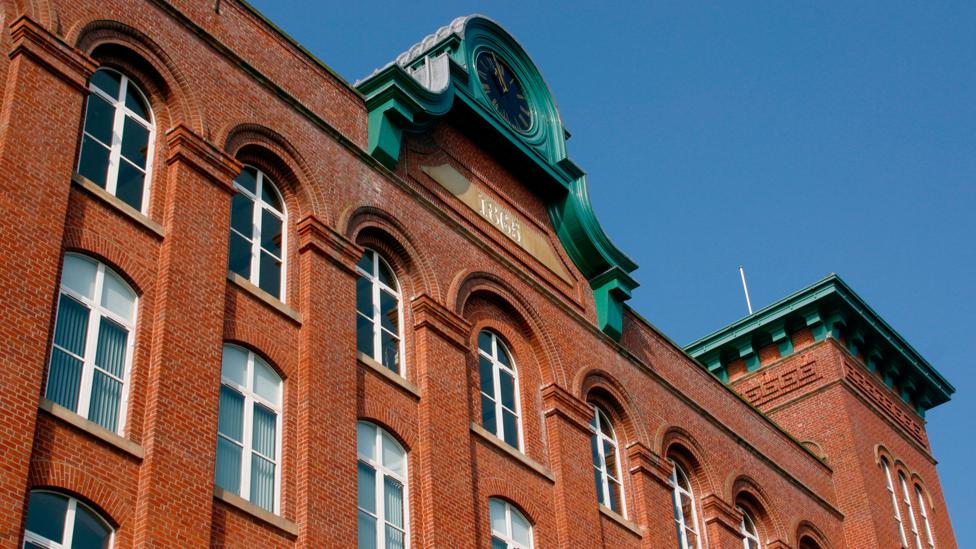 One of the mightiest early temples devoted to industrial technology was the ambitious Houldsworth Mill in Cheshire, England, founded in 1865 (Credit: Alamy)
In these buildings - their floors free of partitions and with windows on all sides - water-mills powered looms that spun reams of cotton, 24 hours a day, the chattering machinery attended by children as young as seven, working 12-hour shifts. Cotton ceased spinning here in the 1840s as the great mills in and around Manchester took on the challenge of making and shipping cotton to the world. The massively ambitious Houldsworth Mill in Reddish, designed by Abraham Stott, was one of the mightiest temples yet devoted to industrial technology when it opened in 1865.
Its entrance featured statues of Roman-style goddesses representing 'Science' and 'Speed'
Cotton mills lost their purpose as foreign competition grew after World War One, although Cromford Mill was reborn as a popular visitor centre and Houldsworth Mill as a hive of shops, flats, offices and arts spaces. The cotton mill's place as a temple of technology was taken, at first by the thunderous locomotive works that boomed from the 1840s as railways span their worldwide web of iron, steam and steel.
The North British Locomotive Company shipped its steam engines from Glasgow as far afield as Newfoundland and New Zealand, South America and sub-Saharan Africa and the Middle East and Malaysia. In 1904, the company built a new headquarters, an imperious Edwardian Baroque temple designed by the Scottish architect James Miller. Its entrance featured a sandstone steam locomotive which appeared to burst from chains and pulleys through a split red sandstone pediment between statues of Roman-style goddesses representing 'Science' and 'Speed'.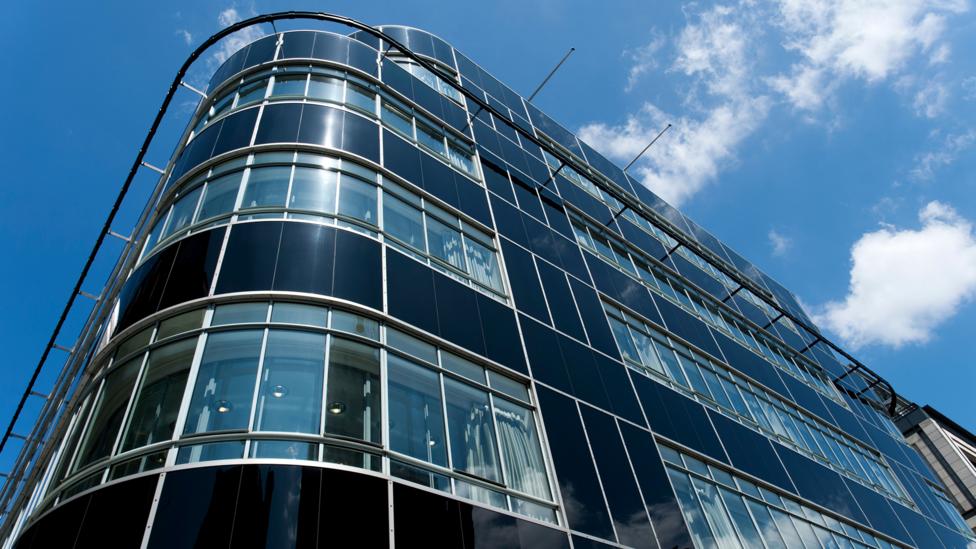 The 1930s 'Streamlined Moderne' office of the Daily Express was, when it was built, a fitting tribute to the burgeoning newspaper industry (Credit: Alamy)
Failing to make a successful commercial transition from steam to diesel and electric, the North British Locomotive Works closed in 1962. Like the Cromford and Houldsworth Mills, Miller's imposing headquarters building found a new use, as home to Glasgow Kelvin College where mechanical engineering is taught today alongside computing.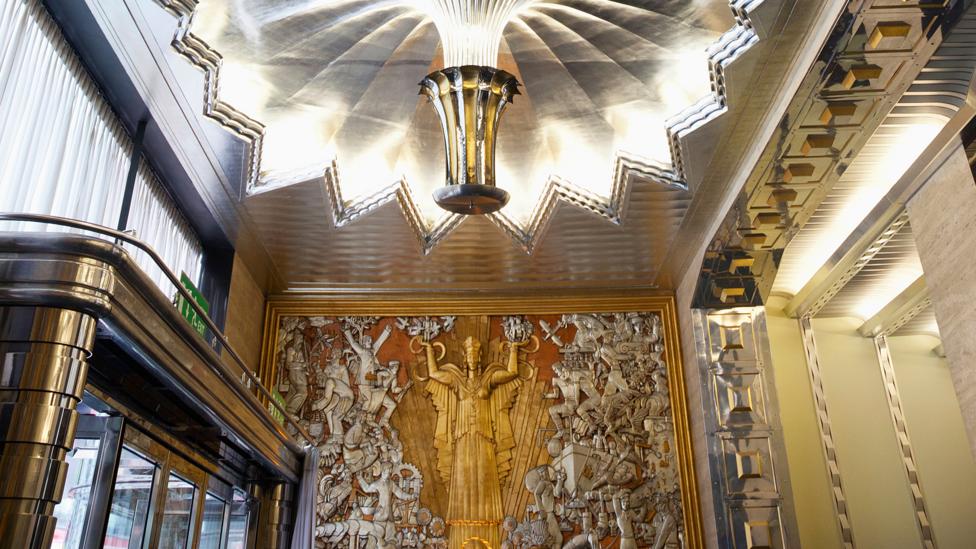 The 1930s Daily Express building in London's Fleet Street was built as a dazzling homage to the print industry, the 'tech' of its day (Credit: Alamy)
If cotton and railways spread their industrial gospel from Britain worldwide, so did news, printed on reams of paper in the undercrofts of, for example, the Daily Express, founded in 1900 and at several points in its chequered career Britain's bestselling newspaper. It was the first to carry news rather than adverts on its front page. Its second proprietor, Max Aitken (the future Lord Beaverbrook) had a passion for architecture. The new 'Streamlined Moderne' office he built in Fleet Street at the outset of the 1930s - all black Vitrolite windows offset by bright chromium detailing - was dazzling, yet the Manchester office and printing press that followed was something else again, a magnificent modern design, lit up at night so that passers-by could gawp at newspapers reeling from the up-to-the-minute presses at truly express speed.
New forms of sleek architecture appeared that came to represent the all-embracing world of digital technology and communications
This temple of technology, completed to designs by the engineer Sir Owen Williams in 1939, was to make a lasting impression on the young Norman Foster, cycling around his home city before he took up architecture, and half a century before his global practice, Foster and Partners, was asked by Steve Jobs to design a new Californian headquarters for Apple. Opened in 2017, it is surely the most celebrated 21st-Century 'temple of tech'.
Towering ambition
It was in the period between the decline of steam, the peak of the newspaper as a printed object and the rise of the workaday computer that new forms of sleek and sophisticated architecture emerged, in different ways in Britain and the US, that came to represent the all-embracing world of digital technology and communications.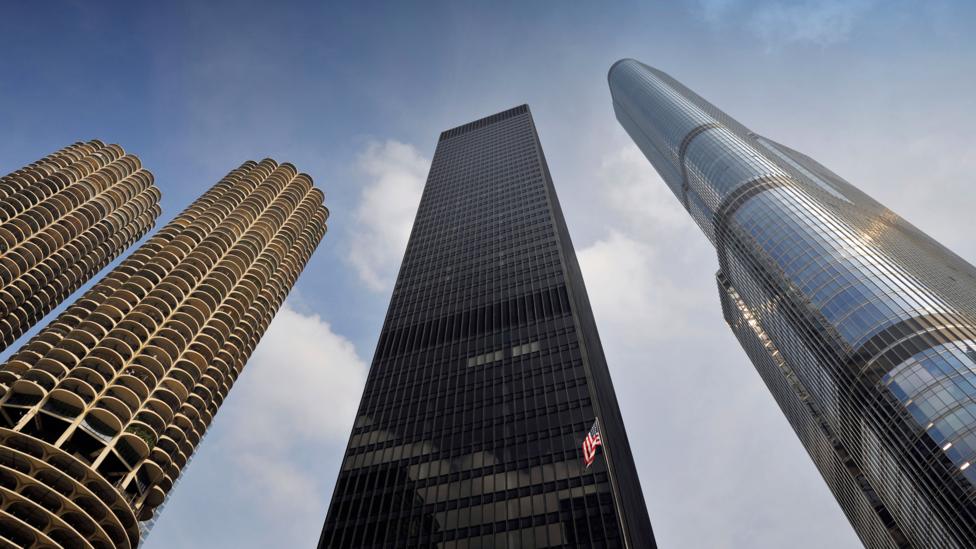 Mies van der Rohe's skyscraper for IBM was created as a 'statement' building, a towering 52-storey monolith, dedicated to the brave new world of technology (credit: Alamy)
It is hard, for example, to separate the severe steel, aluminium, bronze and glass architecture of Mies van der Rohe from the world of IBM and a generation of mainframe computers notably the System/360 that played key roles in Nasa's 1969 Lunar Mission and the Mad Men TV series (2007-15). It seemed fitting that Mies's last building, completed in 1972 after his death, was the IBM Plaza in Chicago (the company has since left the building), with its monolithic 52-storey temple to contemporary computer technology.
Apple and other tech companies have their cult followers, too
As sleek as Mies's IBM Plaza, Foster's Apple Park in Cupertino is a monument to the era of the iPhone and instant personal and global communications. By chance, the area contained within the principal ring-like building is, at 260,000 sq m (2,798,616 sq ft), a near identical size to Stockport's Houldsworth Mill. This is very big indeed, with Apple Park providing seven cafés for its 12,000-strong workforce, and as many parking spaces, along with gyms, swimming pool and two miles of walks and running tracks through newly planted parkland. Like monks in a monastery, employees could spend their lives here, assuming they are allowed to sleep under whatever they call their desks.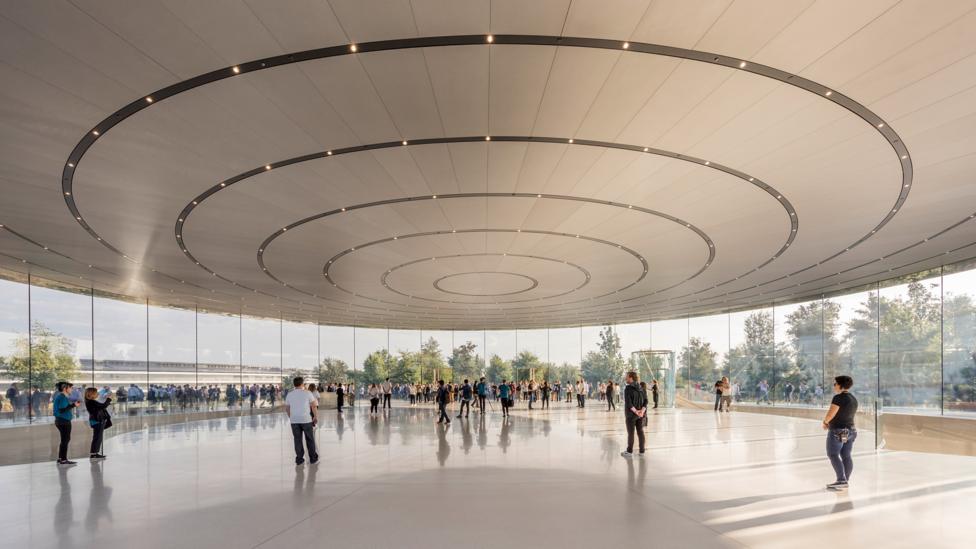 The Steve Jobs Theater acts as a shrine at the Apple Campus temple to tech, designed by Foster + Partners (Credit: Nigel Young/ Foster + Partners)
And, just as a temple needs a shrine, at Apple Campus, chosen visitors make their way to the highest point on the site to the Steve Jobs Theater. Its lobby is a 20-ft-high glass cylinder shaded by a metallic carbon-fibre roof. Down below, underground, is a 1,000-seat auditorium for press conferences, product launches and the adulation that goes hand-on-smart-phone with these cult-like events.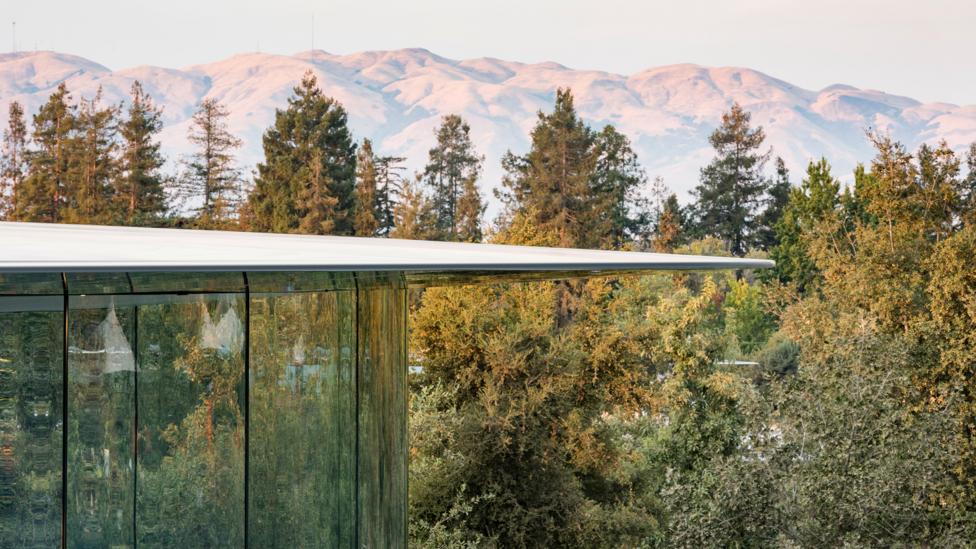 The Steve Jobs Theater is located at the highest point of the Apple Campus and is a central gathering place for staff (Credit: Nigel Young/ Foster + Partners)
If steam-age railways were a religion of sorts to millions of railway enthusiasts around the world, many of whom would make pilgrimages to locomotive works and depots, Apple and other tech companies have their cult followers, too. Queues of the faithful line up outside digital gadget shops desperate for the latest electronic gewgaw- as if they were penitents seeking the absolution of some visiting guru or religious leader.
What makes a number of 21st-Century temples to tech seem different from their predecessors - from Arkwright to IBM and from Foster, Jobs and Apple - is the idea that these are meant to be somehow light-hearted, youthful and fun, fun, fun.
Both Google and Facebook appear to like offices resembling kindergartens, whether in California or central London. Both have hired architects and designers - Frank Gehry, Bjarke Ingels, Thomas Heatherwick and OMA - noted for whimsical and wayward buildings. And, yet, whether earnest or superficially playful, both approaches to new tech headquarters demonstrate that these hugely ambitious companies revel in the idea of vast, solid buildings even while peddling a dream of ethereal global digital communication.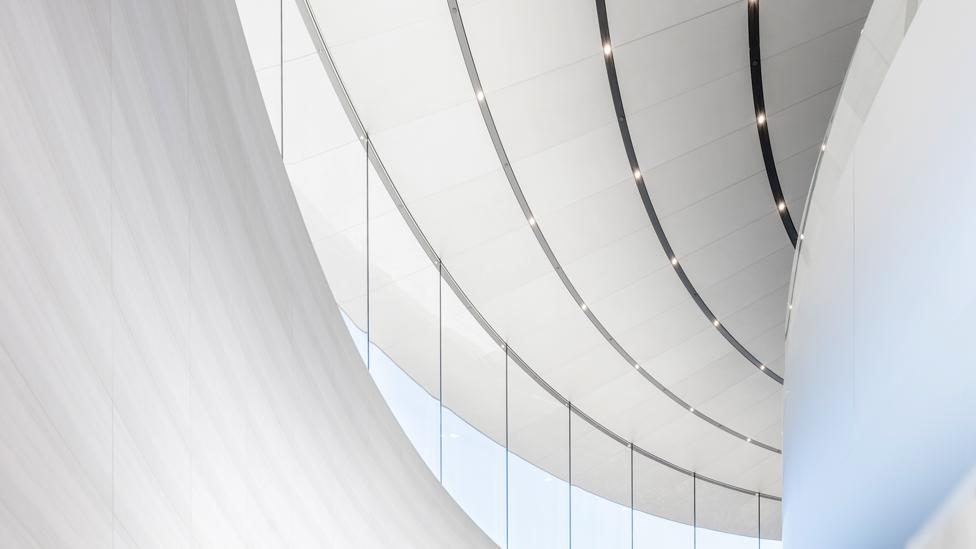 The Apple Campus has a playful look about it, with curvaceous lines and space-age touches (Credit: Nigel Young/ Foster + Partners)
The line of beauty
There are, though, alternative temples of technology that, while wired up with the latest digital technology, do connect the invention and design of new products with their making. Together, the McLaren Technology Centre (2003) and the attendant McLaren Production Centre (2011) on the outskirts of Woking, Surrey, form one of the world's most forward-looking and elegant factories. Designed by Foster + Partners for the makers of Formula One and ultra-high-speed sports cars, the factory can feel like a cross between an ultra-modern clinic and equally contemporary Zen temple. The interconnected buildings - pristine, smooth, gleaming - are set low in the landscape beside an artificial lake that, aside from looking good, is an integral part of the plant's cooling system.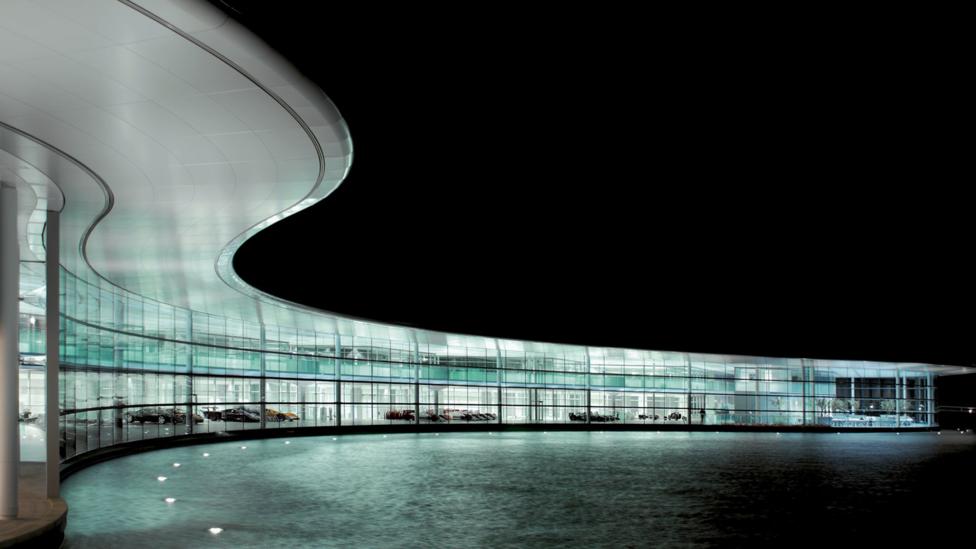 The gleaming, interconnected buildings of the McLaren Centre in Surrey, UK, have been designed with a forward-looking, elegant approach
Inside, cars are assembled in immaculate white galleries. Any computer tech company, Apple included, might be forgiven for mistaking the McLaren set-up as belonging to one of their rivals. This, though, is how 21st-Century factories can be, far removed from the sweat and grime of a 19th-Century railway works, yet staffed by skilled mechanics and engineers who make on site what their company designs, with the aid of the latest digital technology.
The McLaren venture is echoed by the Rolls-Royce factory - a subsidiary of BMW - opened in 2003 in a corner of the Goodwood Estate, West Sussex that has been designated an Area of Outstanding Natural Beauty. Designed by Grimshaw Architects, the low-lying building is clad in limestone and cedar, hidden under a green roof and surrounded by 400,000 plants and trees. As with McLaren, the interior is enough to stop the most ambitious art gallery directors in their tracks. You could just as well display valuable sculpture here as assemble costly cars.
In 2002, Volkswagen opened its Gläserne Manufaktur (factory made of glass) in a park in central Dresden. Initially designed, by the architect Gunter Henn, for the production of the VW Phaeton - a luxury model since discontinued - a part of the idea was to show passers-by that car production could be a spotless activity carried out in art gallery-like conditions that 19th and 20th Century factory workers could only have dreamed of.  And, quite remarkably, parts and equipment for the Gläserne Manufaktur are delivered by cargo trams that run between their passenger counterparts through the historic streets of Dresden.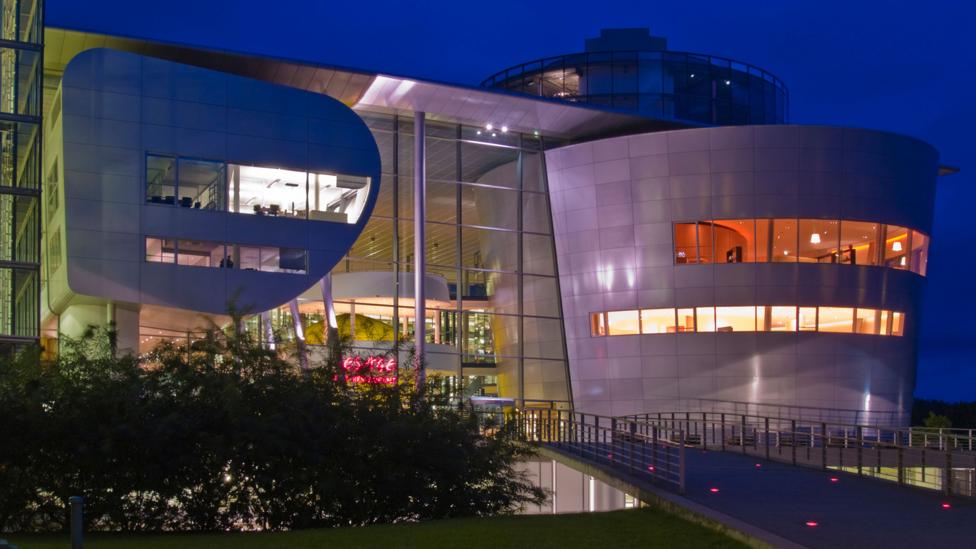 The Gläserne Manufaktur (factory made of glass) is situated in a park in Dresen, and is a sleek showpiece
Significantly, tech companies continue to be intrigued by forms of electric cars that will stretch digital technology to new limits. If, though, they were to come up with a successful, radically new car, would they separate design from manufacturing as they do now in their temples of tech, or might they yet follow the example of these other companies, whose locally-based temples of technology can be built in English country estates and might even enhance a National Park?
To comment on and see more stories from BBC Designed, you can follow us on Facebook, Twitter and Instagram. You can also see more stories from BBC Culture on Facebook and Twitter.
If you liked this story, sign up for the weekly bbc.com features newsletter called "If You Only Read 6 Things This Week". A handpicked selection of stories from BBC Future, Culture, Capital and Travel, delivered to your inbox every Friday.