As its latest season comes to an end, Jennifer Keishin Armstrong looks at how Curb Your Enthusiasm changed the medium in ways you might not even realise.
T
The very first scene of the HBO show Curb Your Enthusiasm concerns itself deeply, to an obviously absurd degree, with the crotch of star and creator Larry David's trousers. It bunches, you see. It tents, really. It tents so much that an innocent bystander might confuse the tenting with something more shocking. His wife insists that this is fine, normal even. No one would confuse bunching, or tenting, with what he thinks they might. It's just in his mind! Right?
It solidified the idea that the creative voice behind a show is the greatest star of all
The essence of Curb Your Enthusiasm was contained in this first scene. The show would be like its predecessor, the show David created with comedian Jerry Seinfeld, the phenomenon of the 1990s known as Seinfeld: it would obsess over the minutiae of everyday life. But it would take many aspects of Seinfeld a step further. It would portray the worst aspects of its star to their greatest comedic effect. It would make awkward humour the biggest trend in television comedy for the following decade. And it would solidify the idea that the creative voice behind a show is the greatest star of all, elevating TV creators to the same status as on-camera talent.
- Ten TV shows to watch in December
- How Trevor Noah conquered US comedy
- The daring comedians pushing boundaries
Curb returned on 1 October for a ninth season after six years off the air, joining a TV landscape much changed – packed with quality, innovative programming. But much of that landscape owes a creative debt to Curb itself. If Curb seems unremarkable now, it's largely because of changes it helped to bring about. It's hard to think of a comedy programme that it hasn't shaped in some way; and it's even had a hand in a number of dramas.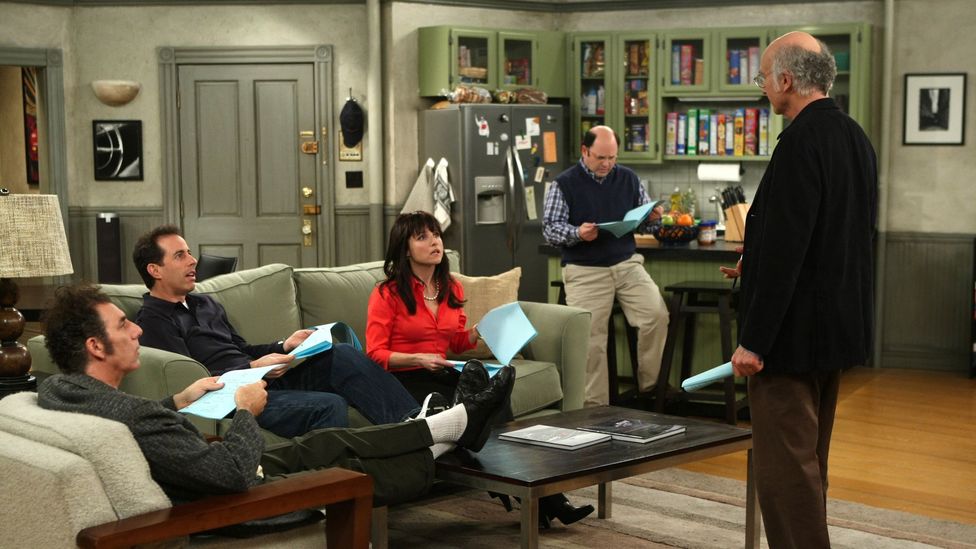 Seinfeld, for which Larry David was a creative mastermind, anticipated the style of Curb Your Enthusiasm – a Seinfeld reunion occurred in Curb's seventh season (Credit: HBO)
Curb Your Enthusiasm premiered in October 2000, just two years after Seinfeld ended. And from the beginning, it made little effort to hide its Seinfeldian roots. Not only is David's character, a version of himself, acknowledged in the show as the wealthy creator of the 1990s sitcom phenomenon, but every episode is structured precisely like a Seinfeld instalment: several specific, seemingly unrelated everyday annoyances (Larry's shoes are stolen at the bowling alley, Larry makes a typo in an obituary) bedevil David throughout the half hour until they gracefully dovetail for an unexpected conclusion. David invented this structure several episodes into writing Seinfeld; he noticed two unrelated plotlines coincidentally crossing paths in the second-season episode The Busboy, and from then on he aimed to put this effect into every script. He refined the technique to a precise art throughout the show's nine years on the air. On Curb, he decided to use this structure to torture his curmudgeonly character.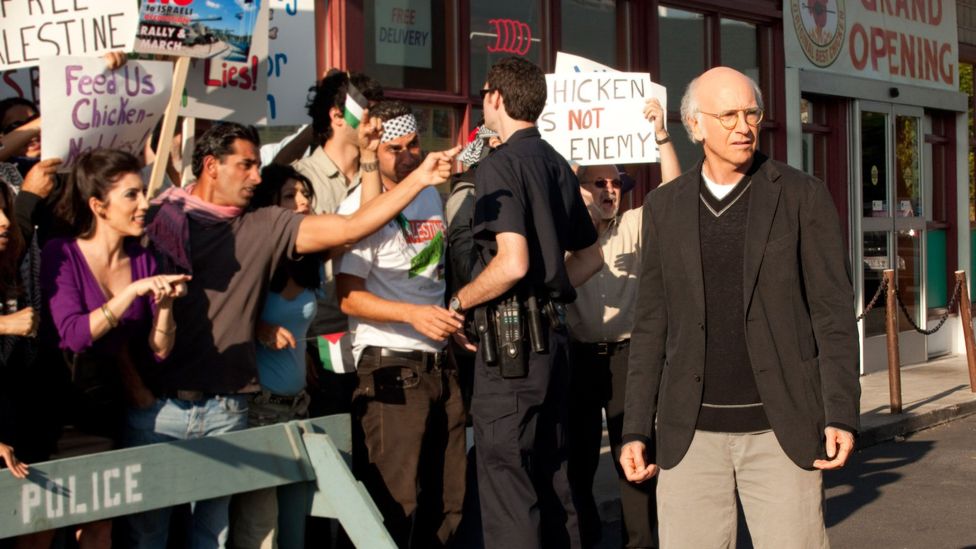 One of the most talked about Curb Your Enthusiasm episodes was Palestinian Chicken from 2011, which was an allegory for the Israeli-Palestinian conflict (Credit: HBO)
Curb also allowed David to push boundaries in ways far beyond anything Seinfeld could accomplish on US network television. The looser standards of cable pay TV have allowed him to run roughshod over organised religion – particularly his own Judaism – as well as race, sex, gender, cancer and disability. In its last previous season on the air, in 2011, Curb was on top of its anti-PC game with an episode in which Larry crossed an age-old line to eat at a spectacular, but blatantly anti-Semitic, Palestinian chicken restaurant. It alluded to a controversy in the US at the time about an interfaith Islamic cultural centre that was to be built near the site of the former World Trade Center, often referred to in the US press as 'The Ground Zero Mosque'.  Attorney Alan Dershowitz sent a DVD copy of the episode to both Israeli prime minister Benjamin Netanyahu and Palestinian president Mahmoud Abbas.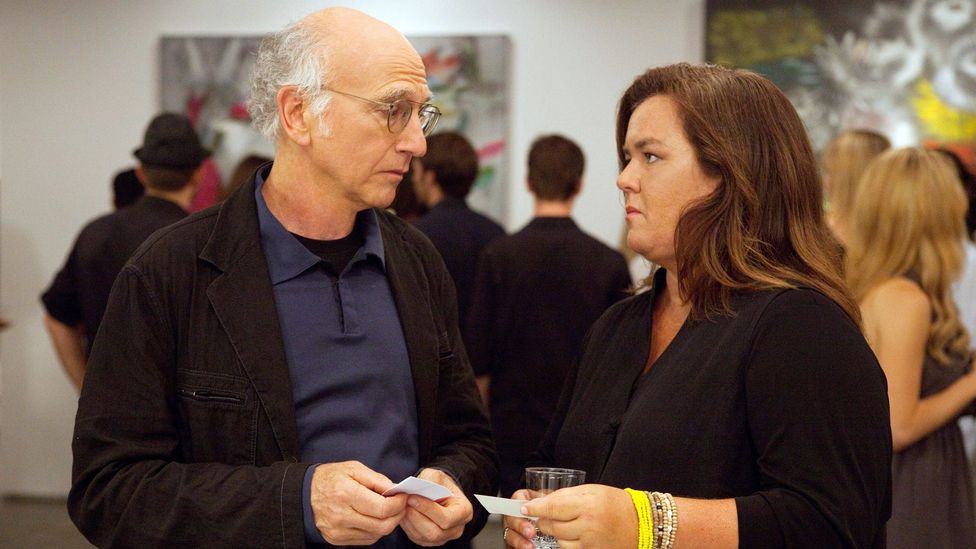 Curb Your Enthusiasm has featured many guest stars playing themselves, such as Rosie O'Donnell, who competed with Larry for the affections of a bisexual woman (Credit: HBO)
The New York Daily News praised the episode, particularly a sequence in which Larry has sex with a woman whose turn-on is hurling anti-Semitic insults at him, calling it "so far beyond tasteless that all the viewer can do is laugh". The female character has returned in the new season, during which David's desire to write a musical-comedy about Salman Rushdie's experience of receiving a fatwa from the Ayotollah of Iran results in him getting a fatwa as well – until it's revoked due to his decision to involve the universally beloved Lin-Manuel Miranda in the project. One of Curb's secret weapons is David's relentlessly "merciless" portrayal of his own character, as The Washington Post's Tom Shales once wrote. By going hard on himself, David earns the right to take others down with him.
Infectious laughter
Now, many of these aspects of Curb, once nearly unheard of in TV comedies, permeate everywhere: Broad City obsesses over the minutiae of the everyday lives of two young women from Brooklyn, and Atlanta does the same with a young African-American man – much like Curb, which once built an episode around the etiquette of how much caviar to put on one's cracker. Lead Balloon has often been described as the British Curb for its focus on a misanthrope and his quotidian irritations – a portrayal that owes much to David, who once suggested in an episode of Curb that he would be willing to abandon a reconciliation with his wife after he learned she'd left a circular stain on a wooden table with a coaster-less glass.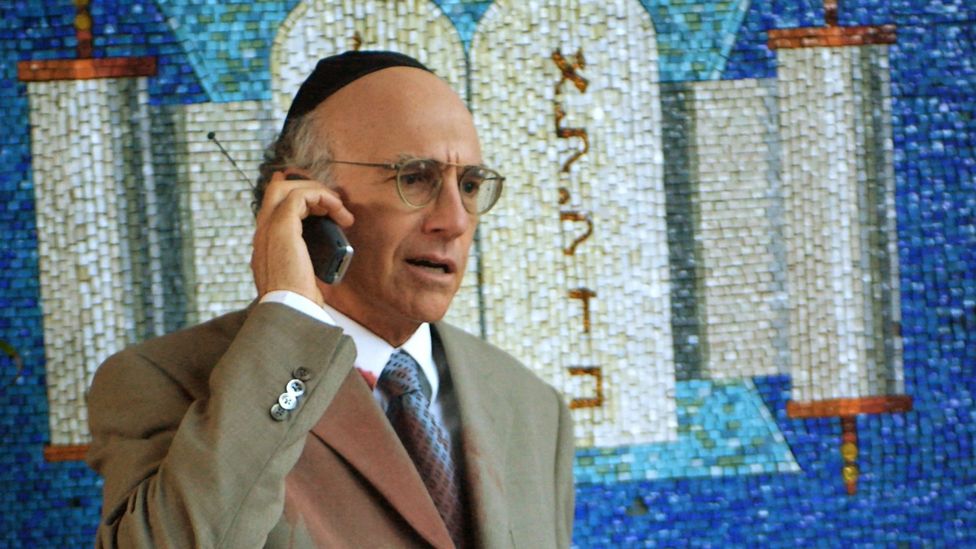 Much of the comedy on the show is derived from Larry's Jewish heritage and his scepticism about religion in general (Credit: HBO)
Stars portraying skewed, dark, flawed versions of themselves have become the norm – Mark Maron on Maron, Matt LeBlanc on Episodes, and many, many more. The animated Netflix series Bojack Horseman focuses on a cynical former TV success story, too – this one just happens to be an animated horse. Curb's parade of guest stars also playing themselves would become a staple on Louie.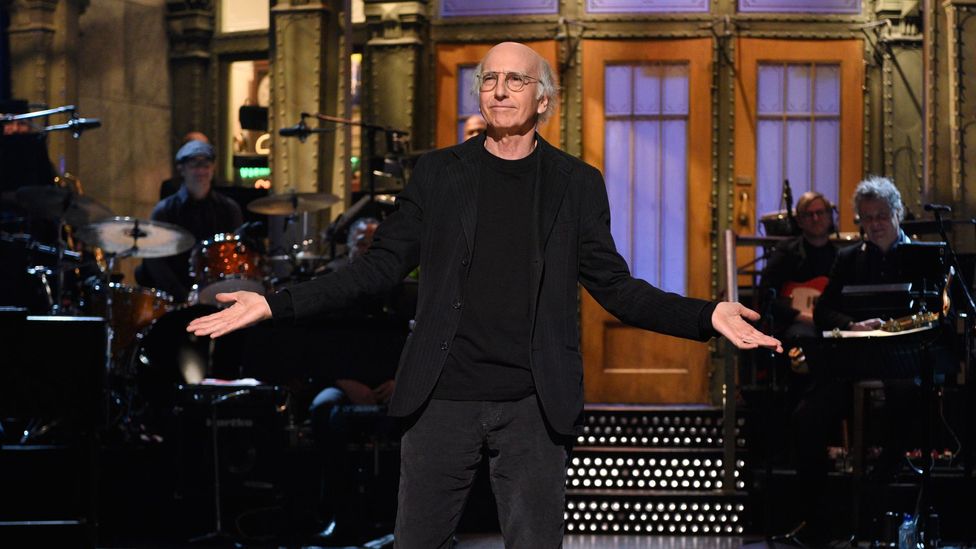 David incited controversy with an opening monologue on Saturday Night Live in November 2017, in which he made jokes about sexual harassment and the Holocaust (Credit: HBO)
Larry David's style of awkward humour has become the norm on US television as well, starting with both the British and American versions of The Office and spreading from there to The Comeback and Catastrophe. And a similar strain of dark humour found in Curb also pops up in episodes of dramas like Black Mirror and even Breaking Bad. The way jokes would be set up and then boomerang around quite some time later, sometimes spanning several episodes, anticipated Arrested Development. Its loose, bantery, improvisational style permeates the TV and film franchise The Trip – David loved to do impersonations well before Steve Coogan and Rob Brydon took on Michael Caine and Roger Moore.
David's sensibility also aligns perfectly with this hyper-politicised moment – one gag involves him refusing to have sex with Broadway actress Cady Huffman after he finds out she admires George W Bush. If Seinfeld reached as large an audience as practically any TV show in US history, Curb Your Enthusiasm went in a decidedly more niche direction with topical jokes that set the stage for the urgent, of-the-moment comedy of Black-ish.
So much flattery in the form of imitation would surely irritate the Larry we know as the star of Curb Your Enthusiasm, if the show chose to go even more meta than it already has and acknowledge its own lasting influence. Even David's own 23-year-old daughter, Cazzie, now makes a web series, Eighty-Sixed, that has been called "Curb Your Enthusiasm for millennials". Or perhaps, for once, David could just enjoy life as it comes and admit that his legacy, in his recurring catchphrase, is "pre-tay, pre-tay good".

If you would like to comment on this story or anything else you have seen on BBC Culture, head over to our Facebook page or message us on Twitter.
And if you liked this story, sign up for the weekly bbc.com features newsletter, called "If You Only Read 6 Things This Week". A handpicked selection of stories from BBC Future, Culture, Capital and Travel, delivered to your inbox every Friday.