Is this the new age of the train? Dominic Lutyens explores the brave new world of futuristic rail travel.
"Train travel is often regarded as the poor relation to air travel," says Paul Priestman, co-founder of London-based design studio PriestmanGoode, which specialises in transport. "There's been a lot less investment in train design."
Still, although trains were invented before speedier, more technologically-advanced jet aircraft, today train travel looks set to overtake air travel in terms of its appeal. One reason for this is circumstantial: trains usually require neither check-in nor security, reducing journey times (especially for shorter distances), and no schlepping to out-of-town airports on congested roads.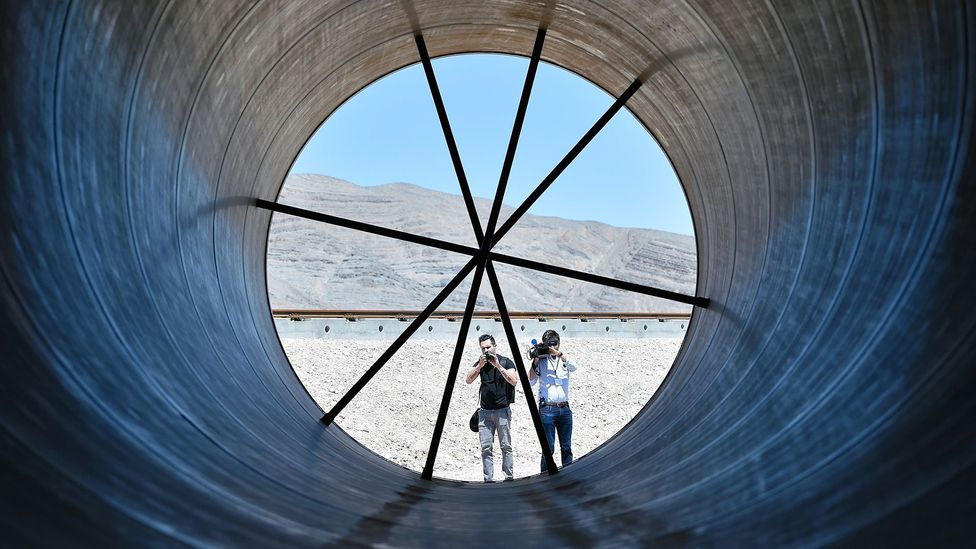 Designed to glide above a track inside a tube, the Hyperloop uses passive magnetic levitation, or 'maglev' (Credit: Getty Images)
More thought is being given to their design, too. In this field, aesthetics are closely allied to comfort and convenience. Factors that make train travel more pleasant include greater privacy, more luxurious materials, attractive signage, considered lighting, a smooth, quiet journey and, above all, space. "One area which can be greatly improved in our overcrowded trains is to give passengers more space," says Priestman.
High-speed rail travel is encouraging highly experimental design concepts
High-speed rail travel is also encouraging highly experimental design concepts. For example, PriestmanGoode has dreamt up the ultra-futuristic idea, Hyperloop, for Hyperloop Transportation Technologies, working with a concept launched by entrepreneur Elon Musk, founder of Tesla Motors and space-exploration company Space X.
Unveiled this year at the London Design Festival, Hyperloop is a train comprising linked pods that Priestman likens to a "sleek spaceship". It glides above a track inside a tube at more than 1,000 km per hour using passive magnetic levitation — 'maglev' for short. Magnets fixed to the underside of the pods cause them to levitate, while linear motors propel them forward. "It travels in a controlled environment, free of climatic influences," says Priestman. "Trains are normally subject to bad weather or to trees falling across the track."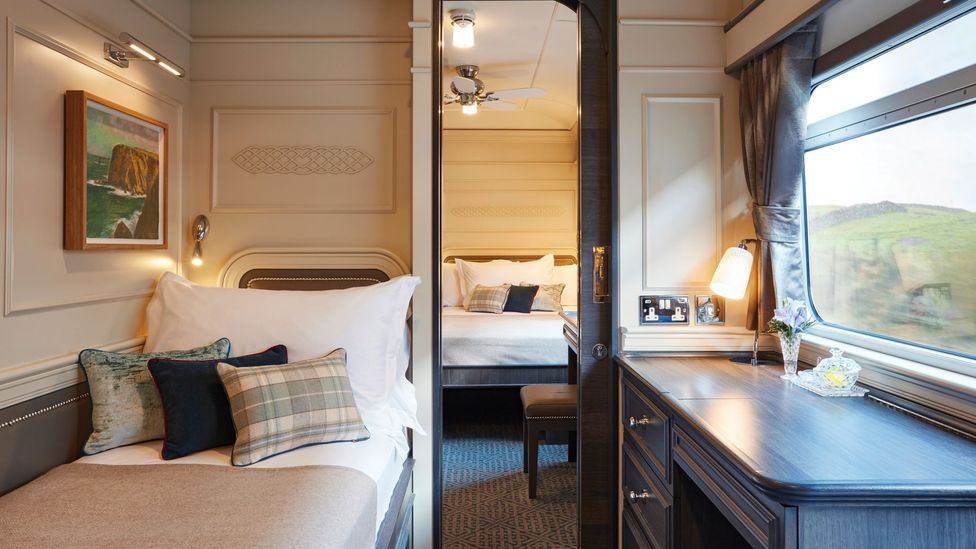 The sleeper cabins on the Belmond Grand Hibernian train, that travels throughout Ireland, are comfortable and roomy (Credit: JPA Design)
Maglev systems are also being developed in China. Take the Shanghai Maglev Train, the world's fastest commercial high-speed electric train. "It accelerates smoothly. You don't feel the jolts and judders you do in a normal train," says Priestman. "China is investing heavily in train design, partly because of its big distances and because it's very open to new ideas."
Station to station
Then there's PriestmanGoode's Moving Platforms concept. "This involves taking a tram to a moving high-speed train. As the tram approaches it, the train slows down so the two connect and, via a docking system, passengers can board the train," explains Priestman. "This infrastructure would allow them to travel seamlessly across an entire continent, say, from San Francisco to New York." It's another example of a centre-to-centre journey that is more convenient than air travel.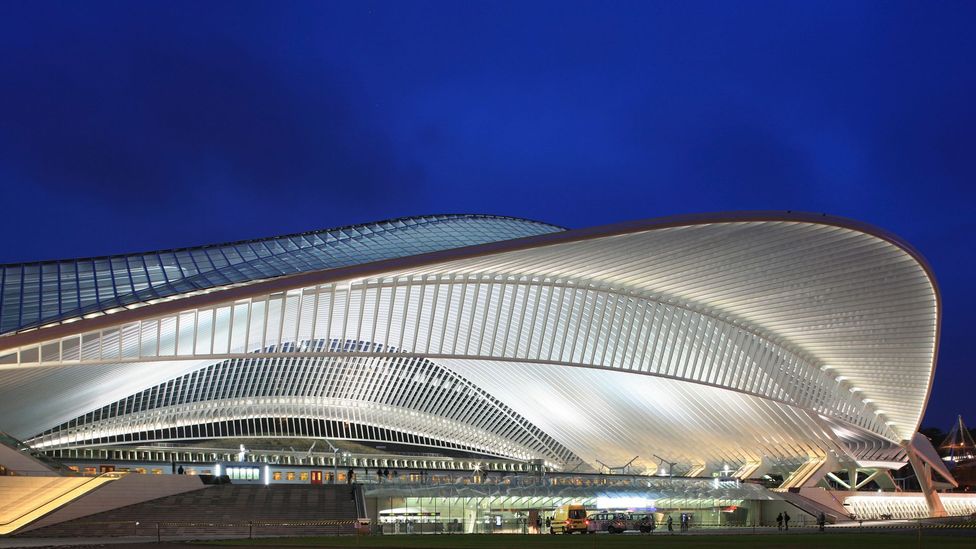 The Liège-Guillemins station by architect Santiago Calatrava is one of a new generation of boldly-designed train stations (Credit: Getty Images)
What's more, high-speed rail travel is spawning a new generation of audaciously designed train stations. A seminal example is architect Santiago Calatrava's 2009 Liège-Guillemins station, says James Park, founder of JPA Design, a transport and hospitality design firm formed in the 1980s to refurbish the Venice Simplon-Orient-Express. Comprising a vast steel-and-glass canopy, this caters to Belgium's high-speed rail network. Many others have since followed, another being Zaha Hadid Architects' recently opened Napoli Afragola station near Naples — a striking serpentine structure with a Corian-and-glass roof that floods its interior with light.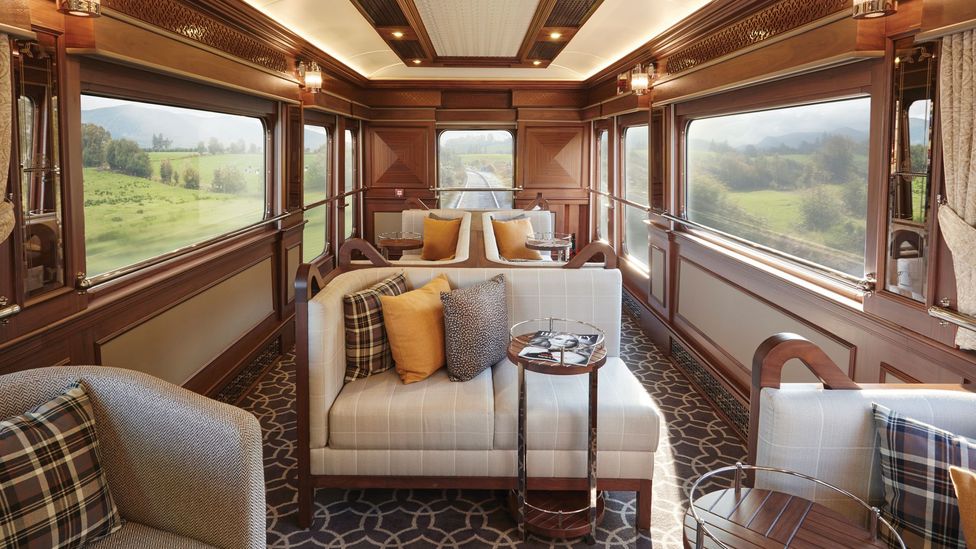 The interior of the Belmond Grand Hibernian train has been designed to echo the elegance of the old Orient Express trains, but to still look contemporary (Credit: JPA Design)
Last year, JPA Design created the interior of the Belmond Grand Hibernian train, which travels throughout Ireland. It has 20 sleeper cabins with en-suite bathrooms and two spacious dining cars, the roomy interiors of which channel the elegance of the old Orient Express trains, yet still look contemporary.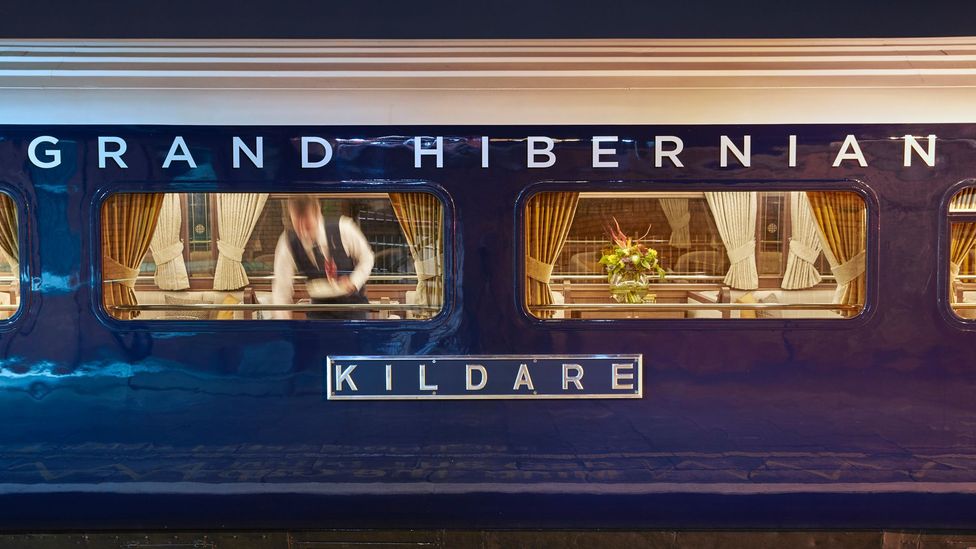 The designers of the Belmond Grand Hibernian combined sleek elegance with futuristic touches (Credit: JPA Design)
According to Park, "innovations we can expect in the future include four or five inches of extra leg room between seats, since backrests are being designed to be thinner; directional-sound entertainment systems that project sound along a narrow beam so, when your ears are within it, you don't need headphones, and intelligent seating with cushions that mould to a person's body shape."
In stations, corridors will have curved contours that make spaces flow better
Another European project is PriestmanGoode's proposed interiors for ÖBB (Austrian Federal Railways). Its 'Nightjet' overnight service would offer rooms for up to four people and two-bed sleeping compartments with en-suite washrooms. Passengers' convenience has been considered down to the smallest detail; for example, a ramp is incorporated into the steps used to enter the train, so that luggage can be easily wheeled on board.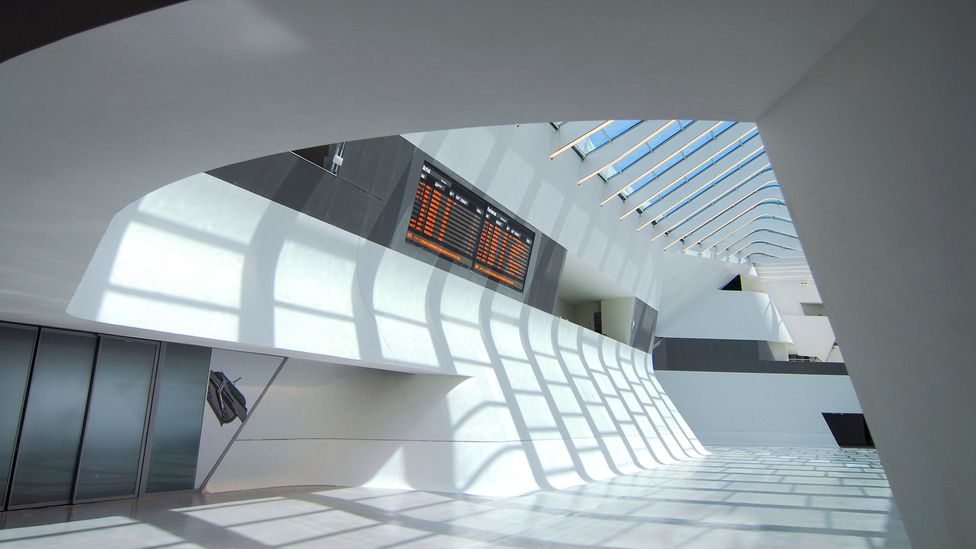 The Napoli Afragola train station by Zaha Hadid Architetcts serves four high-speed intercity lines, and is a light-filled, serpentine structure (Credit: Alamy)
Design is high on the agenda in public transport, too. Creating a greater sense of space is a key concern of London's £14.8 bn Crossrail project, which will be officially called the Elizabeth line when it opens next year. "Personal space has been an important factor in our design process," says Jon Hunter, design lead for Transport for London. "We've introduced larger, double armrests so no one has to compete."
Other factors that enhance a sense of space on the Elizabeth line include walk-through carriages, with no doors separating, and double doors to make it easier and quicker for passengers to get on and off trains. In stations, corridors and other spaces will have curved sprayed-concrete contours that make spaces flow better.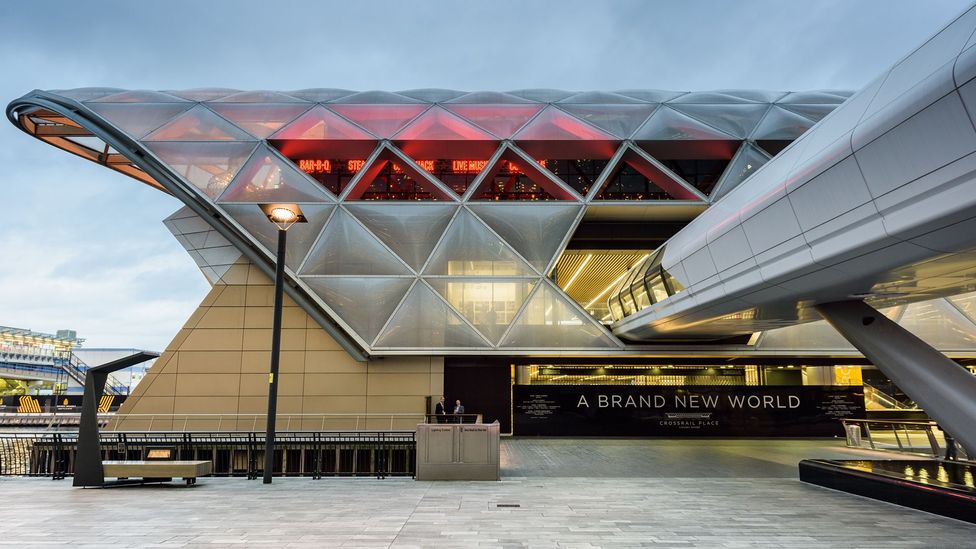 The sleek public roof garden above the Canary Wharf Crossrail station in London (Credit: Crossrail)
Meanwhile, the stations' new designs reflect their context. The eastern ticket hall at the Tottenham Court Road station will have a dark, nocturnal-looking interior with moody black fittings to reflect Soho's night-time economy, while its eastern ticket hall will feature a pristine white look — a nod to the futuristic aesthetic of nearby 1960s London landmark Centre Point.
To comment on and see more stories from BBC Designed, you can follow us on Facebook, Twitter and Instagram. You can also see more stories from BBC Culture on Facebook and Twitter.
If you liked this story, sign up for the weekly bbc.com features newsletter called "If You Only Read 6 Things This Week". A handpicked selection of stories from BBC Future, Culture, Capital and Travel, delivered to your inbox every Friday.