From the salons of Versailles to today's clean lines, for a clear depiction of the mindset of your time, you need look no further than your nearest living room, says Jonathan Glancey.
L
Louis XIV's Palace of Versailles, shaped from the 1680s for the absolutist French monarch, was vast, indulgent and magnificent. No one, however, could call this former hunting lodge comfortable.
Court life at the Sun King's Versailles was a public pageant, a world of extreme etiquette and protocol. Was there a single room in which one could really relax? No.
Curiously, it was here that the idea of the living room emerged alongside theories concerning ways domestic architecture might adapt to what, from the 18th Century, was described as the "modern" world.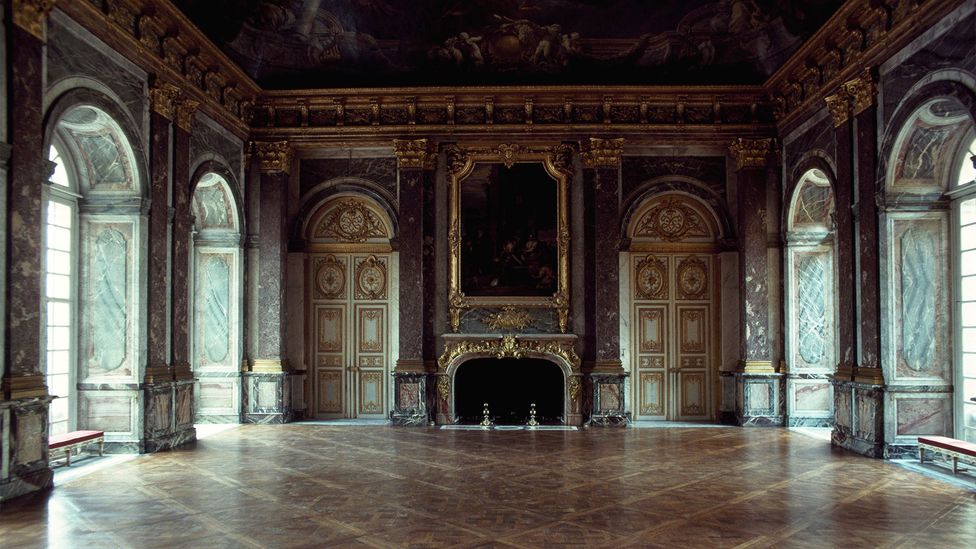 The Salon d'Hercule, one of the many elaborate and extremely formal rooms within Louis XIV's Palace of Versailles (Credit: Getty Images)
Finding his predecessor's way of life uncomfortably formal, Louis XV adapted a suite of rooms into a parallel private world. The younger king, whose name is forever attached to the glamorous Louis Quinze style of furniture and décor, established a balance of sorts between rigidly formal and relatively informal living.
In 1691, when Louis XIV was in his pomp, the Parisian architect Augustin-Charles d'Aviler published his Cours d'architecture (Lessons in architecture) in which he spelt out the difference between appartments de parade, or formal rooms like the king's, and newly desirable appartements de commodité, rooms in which home owners could relax and be themselves.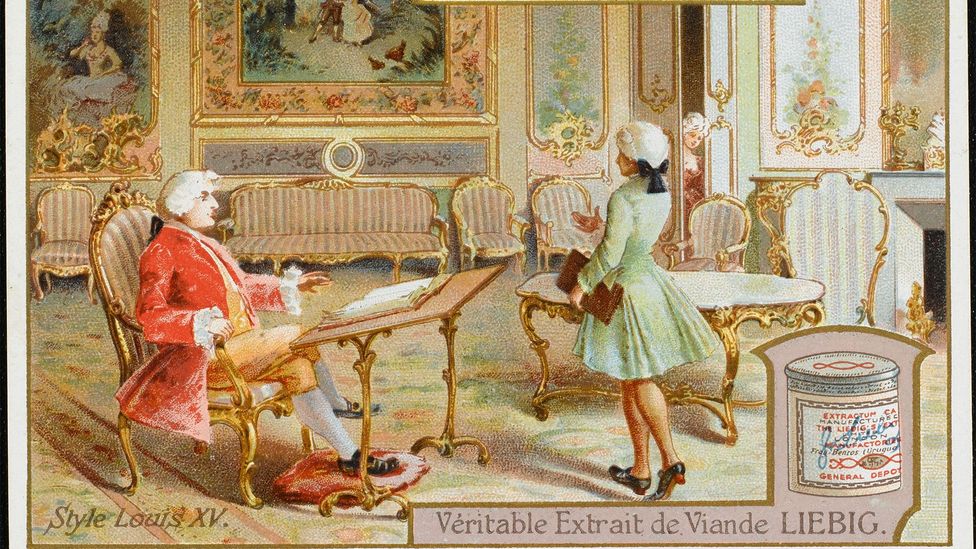 The Louis XV style combined formality with a new level of comfort (Credit: Alamy)
By the time, Charles Étienne Briseux - a master of the Louis Quinze style - published his L'Architecture moderne in 1728, comfort had become an obsession. At first in Paris, and then across Europe, an interior world of sofas and silks, cotton and chaises longues and small tables for sewing, card games and snacking became the vogue.
This was not true, of course, in the homes of the poor which, if not hovels, were essentially functional. Yet from the Industrial Revolution onwards the idea of domestic comfort grew as did, for those with time on their hands, the concept of leisure. Together, leisure and luxury encouraged the emergence of the living room. Here, at last, was a domestic space - the generalist among rooms - serving no specific functional purpose.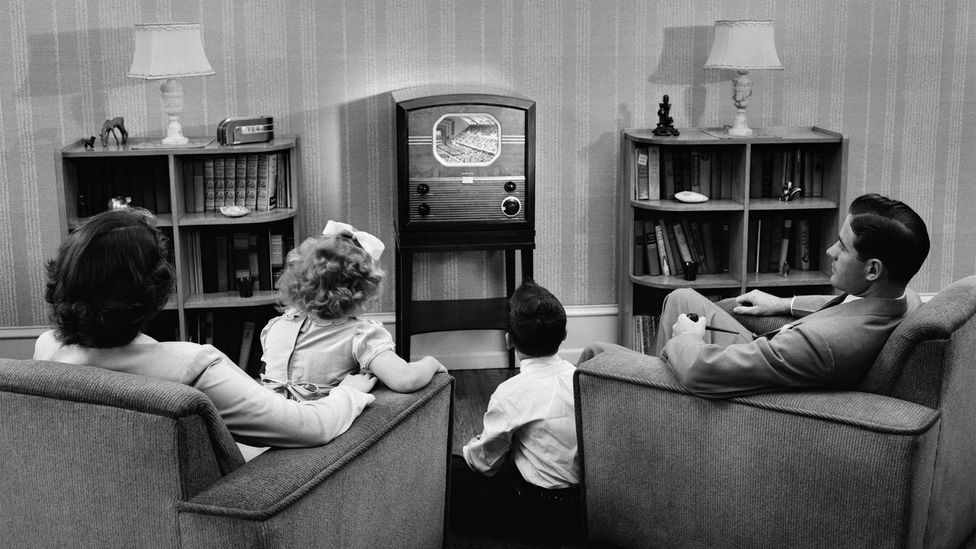 The 1940s and 50s brought entertainment into the living room, with new technology making it the lively hub of the modern home (Credit: Getty Images)
In the 20th Century, the future of this nebulous, yet increasingly desirable room became something of a hot topic especially in the United States. The Living Room of Tomorrow, sponsored by RCA (Radio Corporation of America) at the New York World's Fair of 1939, was heavily publicised. It did much to establish the idea that living rooms would be focussed on new technologies bringing radio, television, films and newspapers by an early form of fax machine, into the heart of the home. This is where the all-American family of the future would gather as they once had in the parlours of farmhouses.
In a 1967 episode of CBS's The 21st Century presented by the news anchor Walter Cronkite, a face familiar in the living rooms of millions of Americans, viewers were introduced to the 'living room of 2001', complete with a central control console that, at the touch of NASA-style buttons and switches, would transform living rooms into all-round family entertainment venues.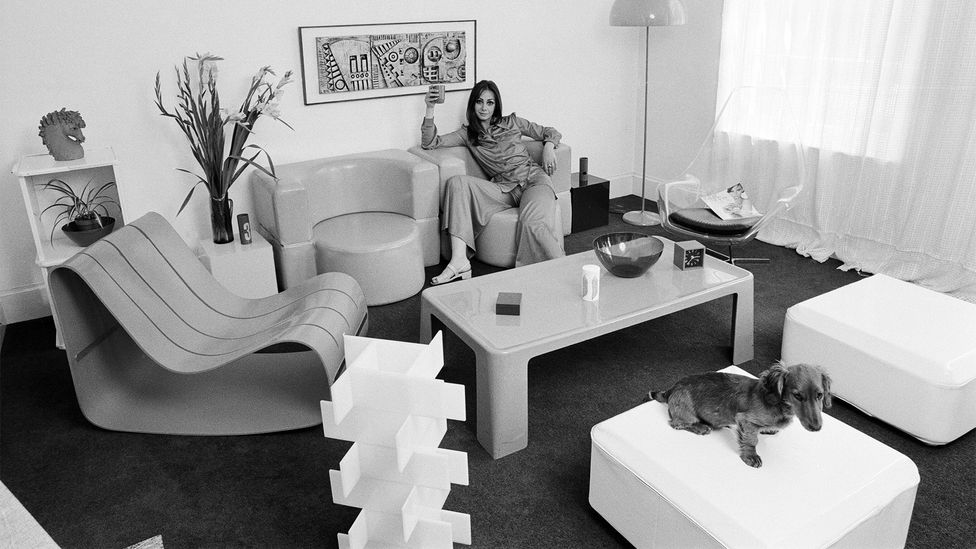 In the 1960s, the living room became a place to display artistic taste and cultural nous, with many items of furniture of the time considered works of art (Credit: Alamy)
The living room featured futuristic Pop Art furniture including an inflatable see-through plastic armchair, a modular orange sofa, a floor-to-ceiling television screen and one of Peter Murdoch's nominally disposable Polyethylene-coated laminated cardboard "Spotty" chairs that sell for £2,000 in international auction rooms today. The living room of the future was clearly entertaining, fun and open to rapid change.
In countless American soap operas viewed worldwide – from I Love Lucyand The Dick Van Dyke Show to The Brady Bunch and, later, The Cosby Show – the living room was clearly the heart of the contemporary home. Perhaps, an entire house might be one big, playful living room.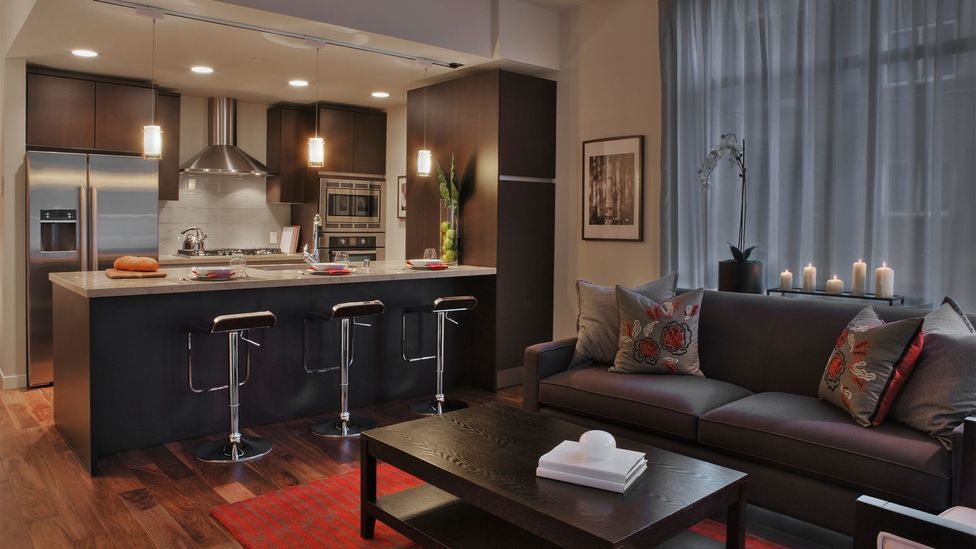 As cities become more and more overcrowded, a room dedicated to relaxing and socialising has become a luxury few can afford (Credit: Getty Images)
In Help!, a 1965 film starring The Beatles and directed by Dick Lester, the fab four are seen stepping inside what appear to be four identical modest terraced houses. Inside, these merge to form one big living room featuring an Arne Jacobsen Egg Chair, an Arco Lamp by Achille Castiglioni, a Black Vinyl G Plan 6250 armchair, meals from a slot machine and a sunken bed pit for John Lennon. Ray Simms, the film's production designer, was clearly having fun, and yet half-a-century on, the idea remains in tune with that of many people's dream living room.
In many abodes today, the kitchen has either taken over from the living room as the hub of the home, or merged with it. As urban populations grow at unprecedented rates, a dedicated room for lounging has become an expensive decadence for many.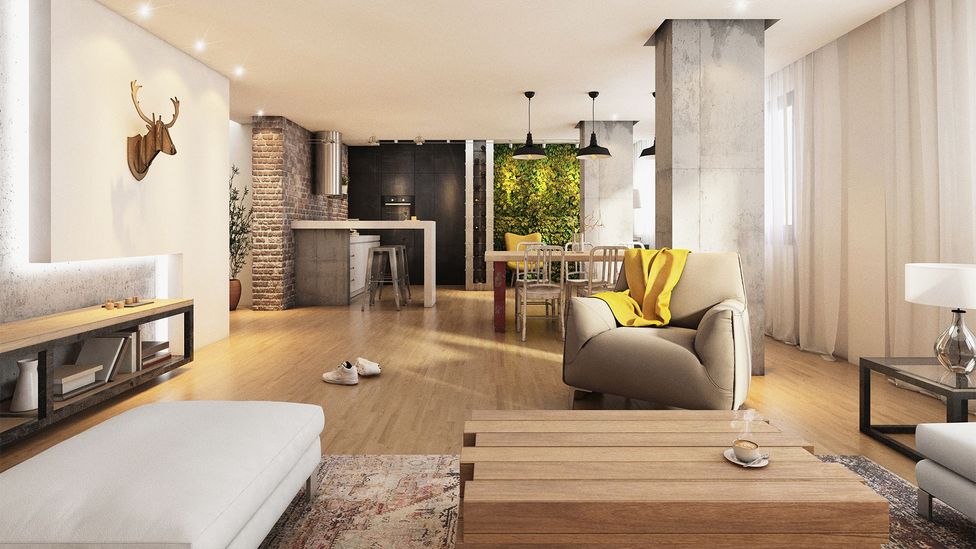 In recent decades, flashy and loud motifs and items have given way to an understated and muted aesthetic when it comes to mainstream living room design (Credit: Getty Images)
Meanwhile, the trend for open plan living shows few signs of abating, with interiors magazines filled with giant swooping spaces that serve to function as multi-purpose living areas. All, of course, filled with the latest mod cons again, although these days these are likely to be concealed in clever ways, as loud and flashy interiors give way to an enduring trend for understated luxury.
A perfect balance between formality and informality, modernity and timelessness can be found in the influential Miller House in Columbus, Indiana designed by the Finnish-American architect Eero Saarinen. Since 2000, it has been a National Historic Landmark in the care of the Indianapolis Museum of Art, for the industrialist J Irwin Miller.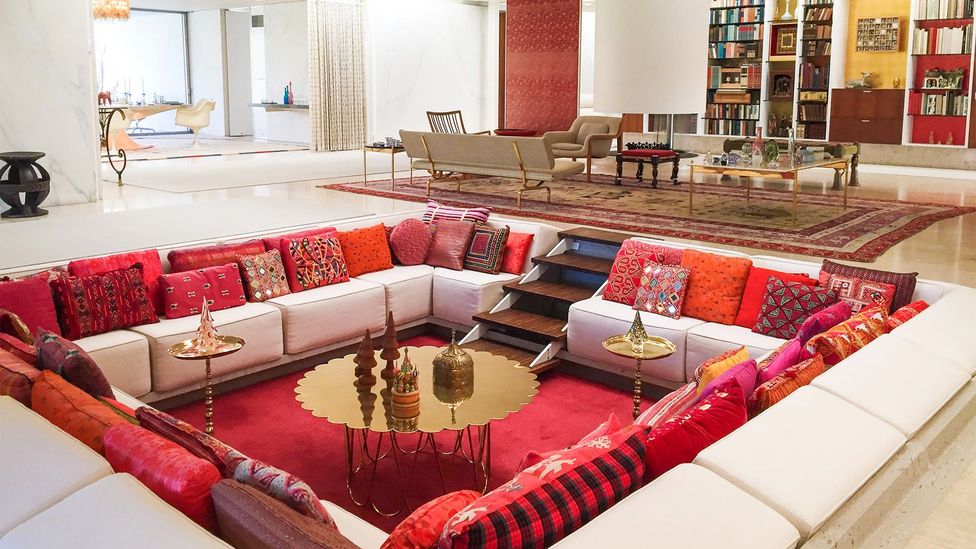 With its famous conversation pit, the Miller House is an icon of living design (Credit: Pivot Marketing)
The exquisite Mid-Century Modern living room is the work of Alexander 'Sandro' Girard. It features a "conversation pit", its cushions changed with the seasons, a perfectly framed view of Dan Kiley's geometric gardens, fine fabrics, a lack of clutter and an abiding sense that you could hold court here one moment yet relax totally the next. Here is a living room where you could invite Louis XV around to chat, and watch The Brady Bunch.
To comment on and see more stories from BBC Designed, you can follow us on Facebook, Twitter and Instagram.