The Ramayana is an ancient epic poem celebrated across Asia. Vasantha Yogananthan has headed to its Indian heartlands to reignite the Sanskrit text for modern times.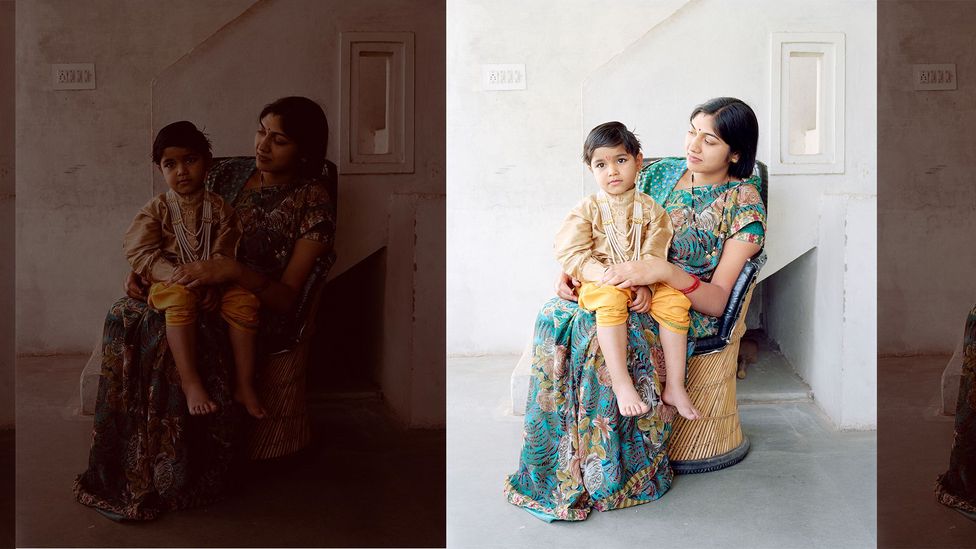 Kashalya and Young Rama. Maheshwar, Madhya Pradesh, India, 2015. (Credit: Vasantha Yogananthan)
Paris-based photographer Vasantha Yogananthan first encountered the Ramayana in comic books during his childhood, given to him by his Sri Lankan father. "It was mainly to look at the pictures, because it was in English," he tells BBC Culture. "I forgot the story until my first trip to India a few years ago."
The Ramayana tells the story of Prince Rama, a legendary figure destined for greatness; he marries the beautiful Sita and from there the tale involves much exile, demon-killing and tragedy. Perhaps it was his father's introduction to the Ramayana in the form of comic books that unwittingly magnified to Yogananthan the visual potential for such a fantastical tale that began as a wordy 24,000-verse Sanskrit poem.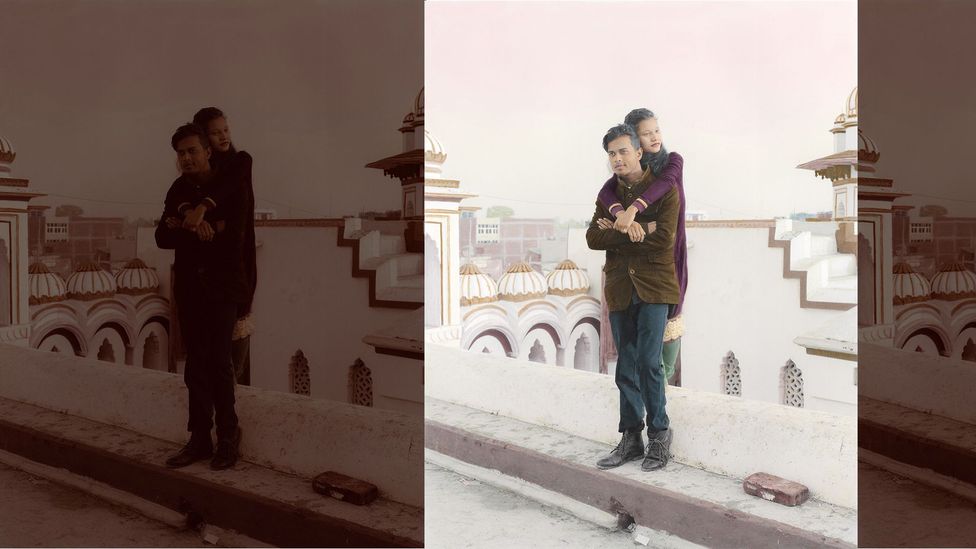 The Promise. Janakpur, Nepal, 2016. (Credit: Vasantha Yogananthan and Jaykumar Shankar
The first two chapters of the series – which focus on Rama's childhood and his wedding with Sita – are currently on show at the Illuminating India exhibition at the Science Museum in London. They sit in a collection of images that span Indian photography from the 19th Century to the present day, but Yogananthan's pictures seem to be suspended in a time warp.
"I wanted to find a particular palette for the project that would come with the feeling of the passing of time. It was written back in the 4th Century BC and the story has been crossing time. In the last few years they've even started video games of the Ramayana, so the way that they're receiving the story is evolving with time. Following that idea I wanted the pictures to not be stuck in a particular timeframe. When you see the show it can be difficult to know if these pictures were shot two years ago or 15 or 50 years ago. That's something I wanted to achieve – to lose the readers."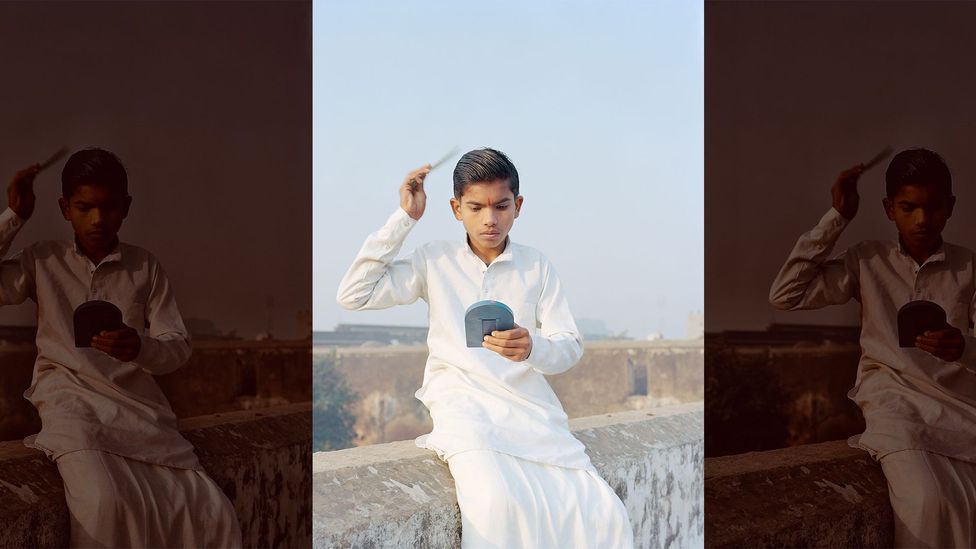 Rama Combing His Hair. Ayodhya, Uttar Pradesh, 2015. (Credit: Vasantha Yogananthan)
Many of Yogananthan's photographs – particularly those later on in the series – are staged portraits. "My assistant and I would go out and look for people who would fit some of the characters, so it's like walking as a movie director. You have a script and a storyboard and you know what part of the story you want to tell.
"You're finding people that are not actors, obviously, they're all locals. You're trying different stuff and as all of them know the story very well it's a very fun process. They get very excited about the process of staging something together."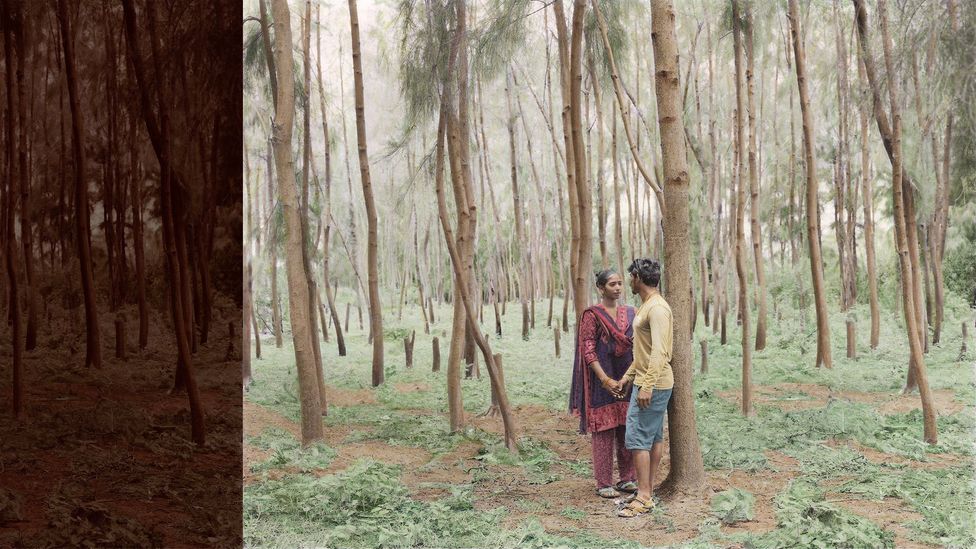 Farewell. (Credit: Vasantha Yoganantham)
"In most parts of the countryside in India it's difficult to shoot a woman. It's also very difficult to shoot couples for a lot of reasons. People don't really like to see the neighbours looking at them being shot by foreigners, so a lot of people say no, or we'll spend a whole day talking to a woman or a couple telling them about a project.
"For example, in one photograph there is a couple in a forest, and this couple was not yet married. They were kind of seeing each other secretly. That shot had to happen very quickly outside of the village. In the countryside it's still not very usual to see people together if they're not yet married."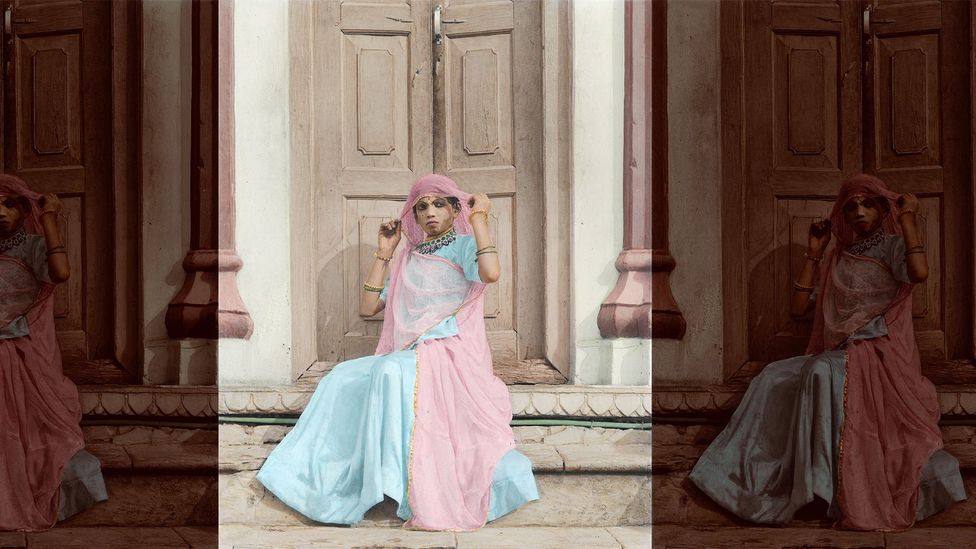 Boy Playing Girl. Janakpur, Nepal, 2016. (Credit: Vasantha Yoganantham and Jaykumar Shankar)
This photograph was shot in the north, on the border between India and Nepal, where a festival celebrating the wedding of Rama and Sita is held annually. Tens of thousands of people take part in the festivities.
"In that part of India women are still not allowed to play in theatres. So boys are playing the women and this boy is playing a young woman.
"The story behind the picture still shows that in these parts of the countryside the women, sadly, are still supposed to stay at home. It's very difficult for them to get a job and be able to do a lot of things that we in the West consider as completely normal."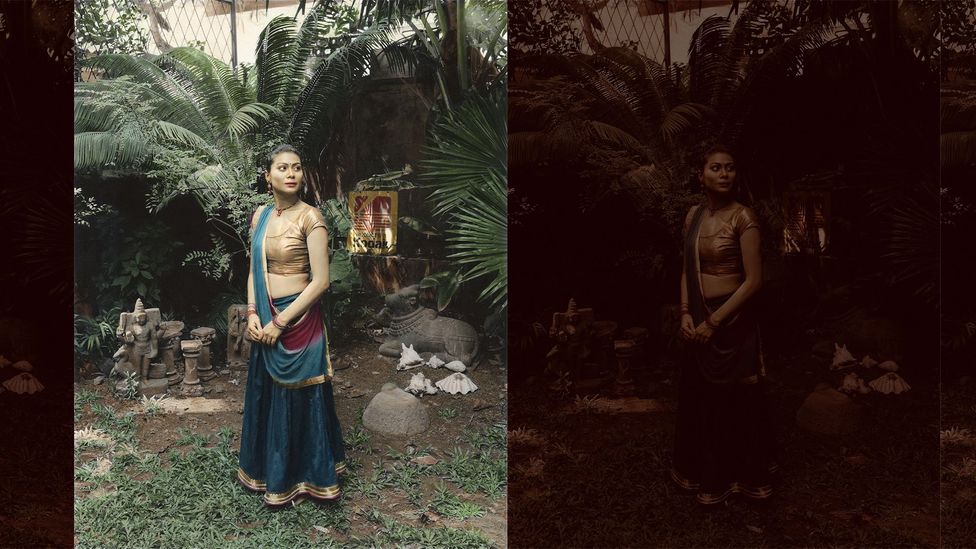 Caption: Garden Romance (Sita). Mumbai, India, 2015. (Credit: Vasantha Yoganantham and Jaykumar Shankar)
As the story darkens with war and tragedy, so too will Yogananthan's photographs. The next book to be published will feature images that are entirely shot at night. "This is the book where the real drama begins, it will be a very different chapter altogether. Much, much darker.
"At the end of the Ramayana, Rama thinks that Sita has been raped, so there is a part of the story which is very sad and is actually saying a lot about that issue which is a very contemporary view. A lot of the parts of the story for me relate to modern India and what is actually happening in the country. I use parts of the story to grow the Ramayana a bit further, to elaborate it."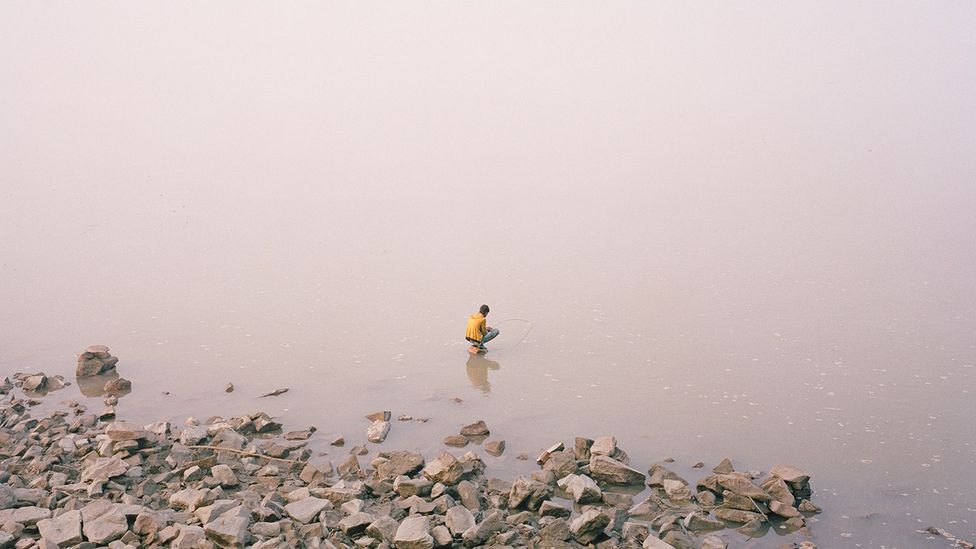 Despite the contemporary issues that his project raises, Yoganantham's photographs don't attempt to demystify the fantastical tale. Instead, his work seems to be remystifying the story of the heroic Rama and his beloved wife once more, entwining the complex attitudes of modern India with the story's age-old messages of love and wisdom and the dreamy clouds of its soft-hued skies.
Dandaka, the next chapter, will be out in May 2018.