From thrillers to comedy and foreign drama, Eddie Mullan rounds up the most exciting programmes on the small screen over the next 12 months.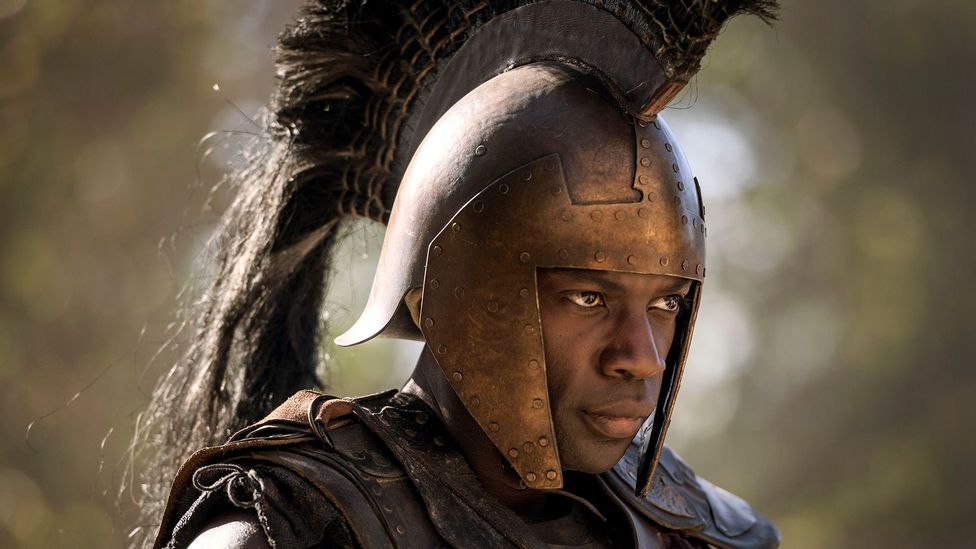 David Gyasi as Achilles in Troy: Fall of a City (Credit: BBC One)
An epic tale of mortals and gods gets the big-budget treatment in Troy: Fall of a City (BBC One/Netflix), starring David Threlfall, Frances O'Connor and Chloe Pirrie. The Night Manager writer David Farr's sweeping narrative is  told from the perspective of the Trojan royal family at the heart of the siege: the judgement of Paris and his scandalous love affair with Helen, which plunges Greece and Troy into war and threatens to bring both empires to their knees.
Empires have fallen, but what would you do if you learned the entire world will end in five years? That's the dilemma faced by detectives Elaine Renko (Agyness Deyn) and Robert Hicks (Jim Sturgess), who stumble upon the truth about a mysterious cosmic event, inpre-apocalypticcrime drama Hard Sun (BBC One/Hulu) written by Luther creator Neil Cross. Set in contemporary London, the pair are pursued by the Security Services, while trying to enforce the law and protect their loved ones – but what's the point of justice when you are facing Armageddon? Speaking of which, Neil Cross has had a busy time of it, as Idris Elba will once again dust off the famous overcoat of reckless detective John Luther for a fifth season of crime drama Luther, which returns to BBC One for four more episodes.
Take a wild journey among the warrior women and druids of 43AD Britain, with playwright Jez Butterworth'sTV debut Britannia (Sky Atlantic/Amazon Prime Video), which stars Kelly Reilly, David Morrissey, Zoë Wanamaker and Mackenzie Crook. The Roman army has returned to crush the Celtic heart of Britannia, but the Celts will stop at nothing to protect themselves, and their most dangerous weapon are the druids – a mystical tribe whose immortality makes them a force unlike any the Romans have faced before.
FX will be hoping to repeat the success of miniseries The People v OJ Simpson, as the true-crime anthology continues by exploring the events surrounding the slaying of fashion designer Gianni Versace (Edgar Ramírez) outside his Miami home in 1997. The Assassination of Gianni Versace: American Crime Story (FX/BBC Two) centres on the manhunt of serial killer Andrew Cunanan (Darren Criss), and stars Ricky Martin as Versace's partner, with Penélope Cruz in the role of his sister Donatella.
Set over the course of four days, Collateral (BBC Two/Netflix) explores the spiralling repercussions surrounding the fatal shooting of a London pizza delivery man. Refusing to accept it as a random act of senseless violence, tenacious detective Kip Glaspie (Carey Mulligan) is determined to discover if there is a darker truth behind the killing.  Support comes Mulligan's way with John Simm, Billie Piper and Nicola Walker. 
Old favourites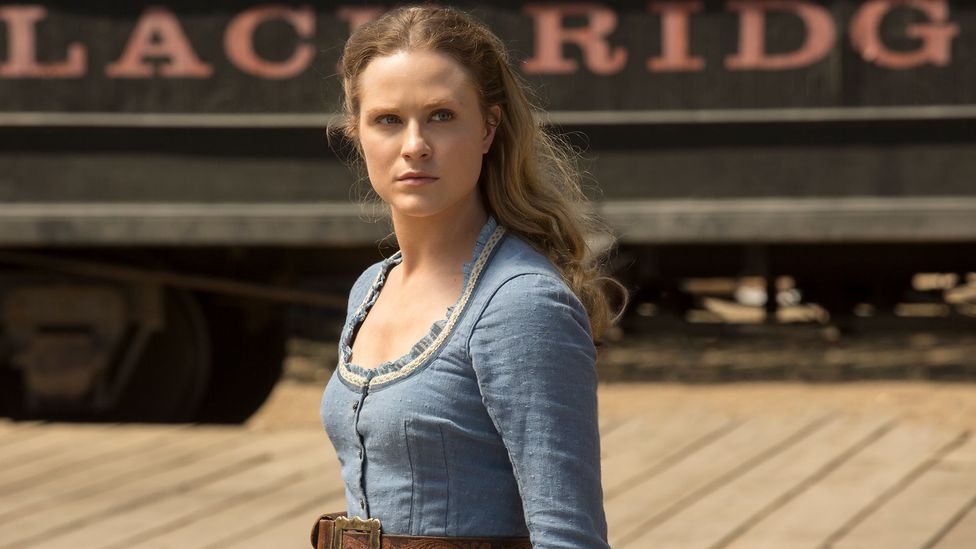 Evan Rachel Wood as Dolores Abernathy in Westworld (Credit: HBO/Sky Atlantic)
Sci-fi fans frequently get excited at the prospect of a crossover between worlds – and following season one's thrilling finale of Westworld (HBO/Sky Atlantic), it's possible the robots-run-amok will have a Samurai World to explore in the next instalment. Evan Rachel Wood returns in season two as revolutionary robot Dolores, alongside Thandie Newton and Jeffrey Wright, picking up with the hosts threatening to take control of the futuristic theme park.
After a 20-year hiatus, a nostalgic Roseanne (ABC) revival brings the US's beloved working-class family back to our screens on 27 March. The Conners' couch isn't the only thing that's the same in this reboot, as Roseanne Barr joins the original cast, including John Goodman, Big Bang Theory's Johnny Galecki and Scrubs' Sarah Chalke – and ignores the fact that her husband Dan died of a heart attack in the final season's divisive plot twist.
Blessed be the fruit, as The Handmaid's Tale (Hulu) continues beyond Margaret Atwood's source material for its second season in April, after pregnant handmaid Offred (Elizabeth Moss) openly rebels against Gilead's oppressive theocracy in season one's open-ended finale. We've been through a lot with the handmaids, and who wouldn't want to see how things turn out for Offred and her masters The Waterfords, who have their own conflicts about the totalitarian world they've helped create.
Jodie Whittaker takes over the keys to the Tardis from Peter Capaldi as the next Time Lord in Doctor Who (BBC One/BBC America), the 13th Doctor and first woman in the iconic role. Whittaker will be joined by an all-new regular cast of companions to help save the world - including Bradley Walsh - in the hit show.
Foreign drama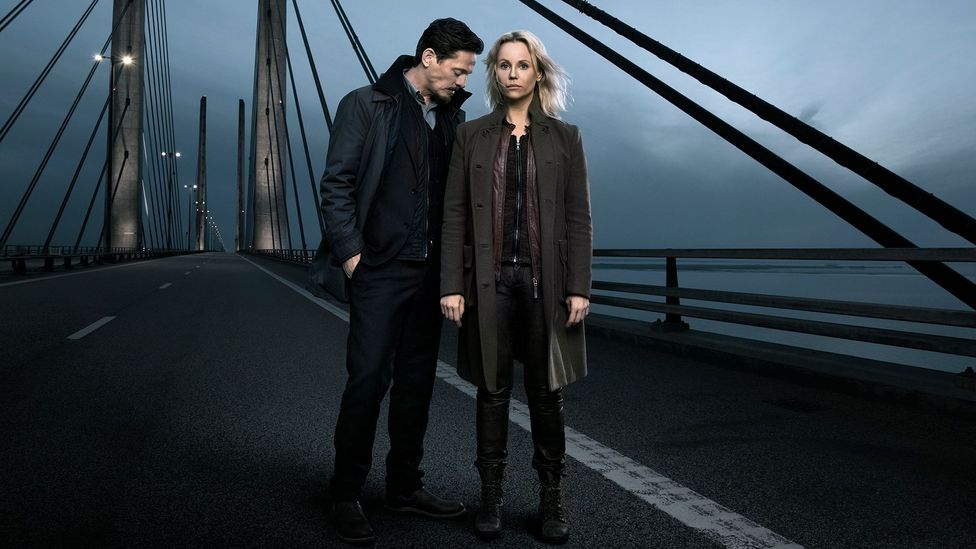 Thure Lindhardt and Sofia Helin in The Bridge (Credit: SVT/DR)
Swedish detective Saga Norén (Sofia Helin) takes her vintage green Porsche across the Øresund Bridge for one last trip to Copenhagen, to investigate a macabre crime in the final instalment of hit Scandinavian series The Bridge (DR1/SVT1/BBC Two). Set two years after the last season, Saga is coming to terms with the consequences of being accused of killing her mother, while her Danish partner Henrik Sabroe, (Thure Lindhart) continues in a desperate search for his children. While this particular saga must end, Netflix's first Danish original series is just beginning, with The Rain following two siblings on a dangerous journey, trying to find safety 10 years after a brutal virus has wiped out most of the population of Scandinavia. Guided by their father's notebook and the hazards of this new world, the survivors must quickly realise that the greatest danger they will face comes from within.
Bleak Icelandic sleeper hit Trapped (RÚV) will return in winter 2018. The crime drama, which follows the actions of police trying to solve a murder as a storm hits in a remote town, became the sleeper hit of 2016. The show will again be in the company of police officer Andri Ólafsson (Ólafur Darri Ólafsson) and his colleagues, as they examine an even more complex and challenging murder case.
Reminiscent of David Fincher's film Se7en but with more plot twists, Belgian thriller 13 Commandments (Walter Presents), gets its UK premiere later this year. A jaded police officer and his ambitious young partner as they get caught up in a hunt for a murderer, which despite the cruelty of his crimes becomes increasingly popular with the public­­. Calling himself Moses, the killer punishes ruthlessly in his aim to restore long-departed moral standards. Another crime drama with its UK premiere in 2018 is the Swedish thriller Before We Die (Channel 4/Walter Presents). When her partner and colleague Sven is abducted, Stockholm police officer Hanna Svensson must take over an undercover investigation of a criminal biker gang and protect an informant. Things get more complicated though, when it turns out that Hanna's estranged son – who she arrested for drug-dealing – is somehow involved.
Comedy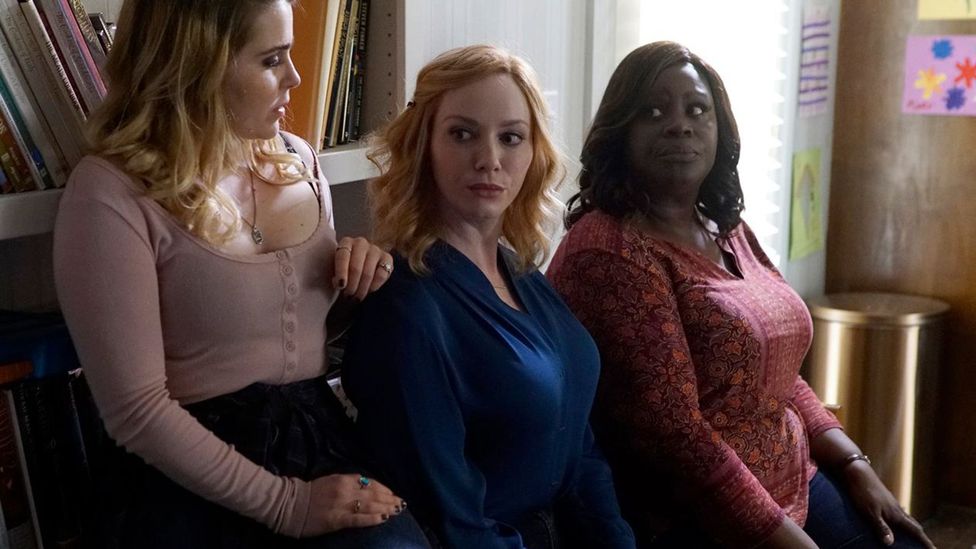 Mae Whitman, Christina Hendricks and Retta in Good Girls (Credit: NBC)
Described as part Breaking Bad, part Thelma and Louise, the story of Good Girls (NBC) sees three suburban mothers (Christina Hendricks, Retta and Mae Whitman) tired of trying to make ends meet, decide it's time to stick up for themselves. But when they rob the local grocery store, the manager catching a glimpse of them and the haul is far more than they expected, so it doesn't take long for the three best friends to realise that getting away clean will be harder than they thought.
If Mike Judge made a dark TV version of his cult 90s film Office Space, it might look a lot like Corporate (Comedy Central). So, if you ever wanted an insight into life as a junior-executive-in-training, at the mercy of a tyrannical CEO in a soulless, multi-national corporation, put on your out-of-office responder, because here's your chance.
Based on the 1988 cult film of the same name, Heathers (Paramount) is a black comedy anthology set in a present day high school, where Veronica Sawyer (Grace Victoria Cox) takes on a very different, but vicious clique of girls named Heather. Original Heathers cast member Shannen Doherty is set to drop in as a guest star. Another blast from the past ­– almost 40 years on from Fawlty Towers, John Cleese makes his BBC sitcom comeback in Hold The Sunset (BBC One). The Monty Python legend stars as a man whose dreams of marrying and moving abroad with old flame Edith (Alison Steadman), are put on hold when her 50-year-old son Roger (Jason Watkins) returns home after leaving his family and job. W1A star Jessica Hynes features as Roger's abandoned wife Wendy.
Literary adaptations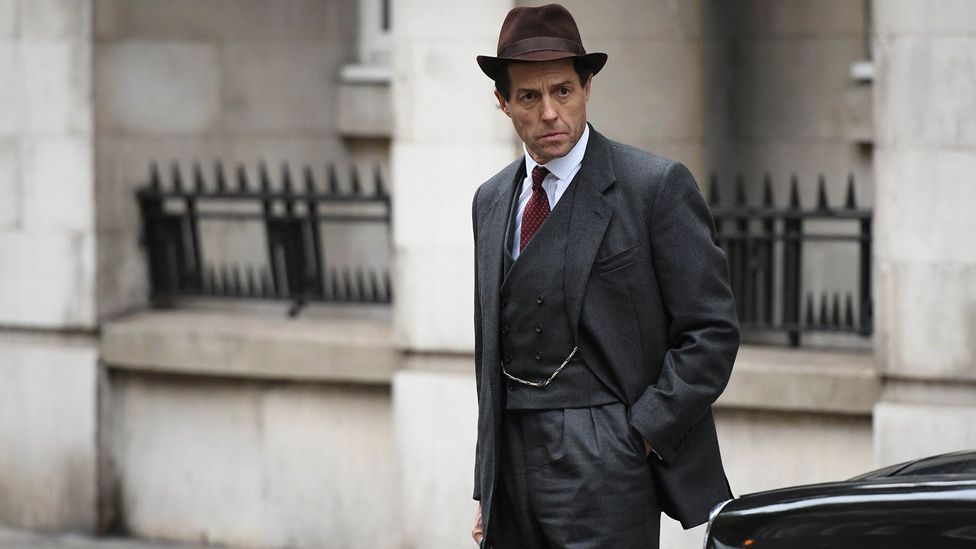 Hugh Grant as Jeremy Thorpe in A Very English Scandal (Credit: BBC One)
BBC One's ground-breaking new international thriller McMafia (BBC One) is an eight-part series created by Hossein Amini and James Watkins and inspired by Misha Glenny's best-selling book. It charts Alex Godman's (James Norton) journey as he is drawn deeper and deeper into the world of organised crime. 
Following on from the wildly successful The Night Manager, the next John Le Carré adaptation The Little Drummer Girl (BBC One/AMC) will be directed by Old Boy film-maker Park Chan-wook, marking his television debut. A brilliant young actress Charlie (Florence Pugh) strikes up an acquaintance with an intriguing stranger (Alexander Skarsgård) while on holiday, who entangles her in a complex and high-stakes plot that unfolds as she takes on the role of a lifetime in the world of espionage.
JJ Abrams creates a psychological-horror series about the residents of Stephen King's fictional Maine town of Castle Rock (Hulu) where so many of the legendary writer's iconic stories have been set. Reimagining the themes, places and characters uniting the entire King canon – including It, Cujo and The Shawshank Redemption – could make Castle Rock an interesting place to visit.
Based on the cult cyberpunk novel by Richard K Morgan, Altered Carbon (Netflix) is a set in a dystopian future, when society has been transformed by technology and the rich can live forever by downloading their personality into new human bodies. Takeshi Kovacs (Joel Kinnaman) is a detective brought back to solve a murder – that of the wealthy man who brought him back from the dead.
Sherlock star Benedict Cumberbatch takes on the role of aristocratic playboy Patrick Melrose (Sky Atlantic/Showtime), based on the Edward St Aubyn novels, telling the semi-autobiographical story of the antihero growing up in a highly dysfunctional upper-class English family, coming to terms with childhood trauma and substance abuse.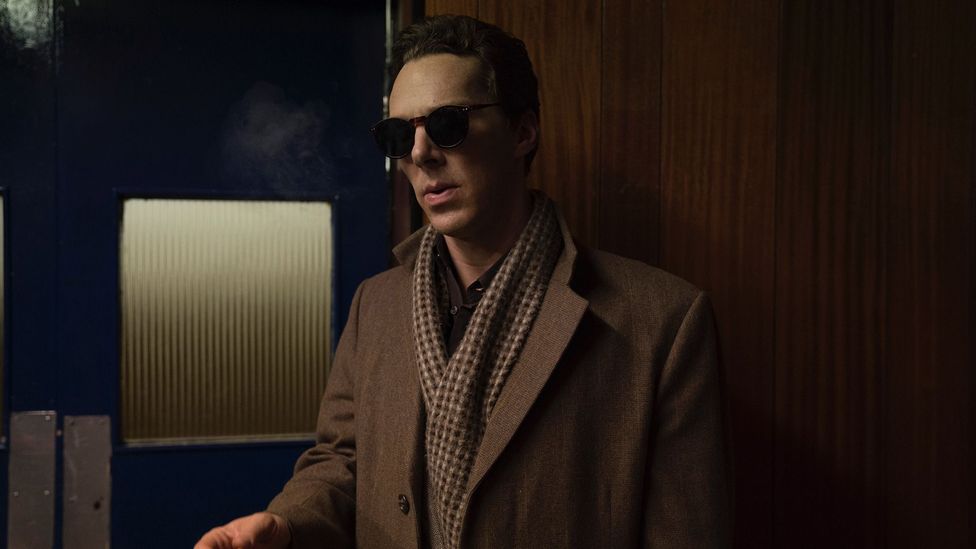 Benedict Cumberbatch as Patrick Melrose (Credit: Sky Atlantic/Showtime)
In Sharp Objects (HBO/Sky Atlantic), Amy Adams stars as crime reporter Camille Preaker  who is forced to revisit her troubled past when she returns to her hometown to investigate the murder of two girls. It's an adaptation of the debut novel from Gone Girl writer Gillian Flynn.
Hugh Grant returns to British television screens for the first time since the early 90s as disgraced MP Jeremy Thorpe in A Very English Scandal, (BBC One) in the shocking true story of the first British politician to stand trial for conspiracy and incitement to murder. Based on the book by journalist John Preston, the drama sees Ben Whishaw star opposite Hugh Grant as Thorpe's lover.
An innovative interpretation of Richard Adams's bestselling book Watership Down (BBC One/Netflix) follows a band of rabbits on their flight from the intrusion of man and the certain destruction of their home in a four-part animated mini-series. An all-star roster of actors will lend their voices to the story, including James McAvoy, Nicholas Hoult, Sir Ben Kingsley, John Boyega, Gemma Arterton and Olivia Colman.
From Peter Harness comes the first British television adaptation of HG Wells's novel War of the Worlds (BBC One). Horsell Common in Surrey is struck by a huge meteor, and the inhabitants of Earth slowly fall victim to a vicious invasion. The three-part drama follows one man's attempt to escape the ruthless Martians, determined to destroy all human life.
Gwyneth Hughes's adaptation of William Makepeace Thackeray's Vanity Fair (ITV/Amazon) is set against the backdrop of the Napoleonic Wars, and follows timeless heroine Becky Sharp (Olivia Cooke) as she attempts to claw her way out of poverty and scale the heights of English Society. Her story takes her all the way to the court of King George IV, breaking hearts and losing fortunes as she goes.
If you would like to comment on this story or anything else you have seen on BBC Culture, head over to our Facebook page or message us on Twitter.
And if you liked this story, sign up for the weekly bbc.com features newsletter, called "If You Only Read 6 Things This Week". A handpicked selection of stories from BBC Future, Culture, Capital and Travel, delivered to your inbox every Friday.