A new generation of theatre buildings with an eclectic, characterful aesthetic is taking over from the neutral 'black-box' concept, says Dominic Lutyens.
T
The 20th Century witnessed radical experimentation in theatre design. Such eminent theatre directors as Tyrone Guthrie and Zelda Fichlander, for example, rejected the simplistic picture-frame stage, taking inspiration instead from the in-the-round and thrust stages – the latter projecting, jetty-like, into the auditorium – of ancient Greece and Rome.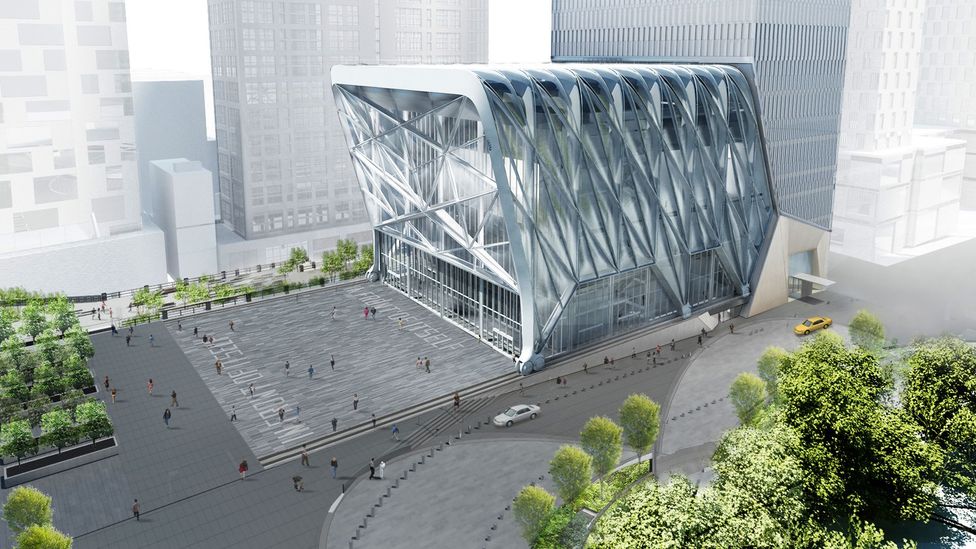 The Shed in New York is an ambitious, bold project (Credit: Diller Scofidio + Renfro / Rockwell Group)
In the 1970s, director Peter Brook tore up the rulebook further, producing plays in African villages, quarries and the formerly run-down but atmospheric Théâtre des Bouffes du Nord in Paris, which he took over for several decades from 1974 with French producer Micheline Rozan.
But the 1960s and 1970s also saw the rise of the ultra-minimalist black-box theatre painted entirely in black whose supposedly neutral setting was regarded as easily adaptable to different productions. Stark and pared-down, it seemed to signify intellectual rigour, while its neutrality symbolised the idea of theatre as universally appealing.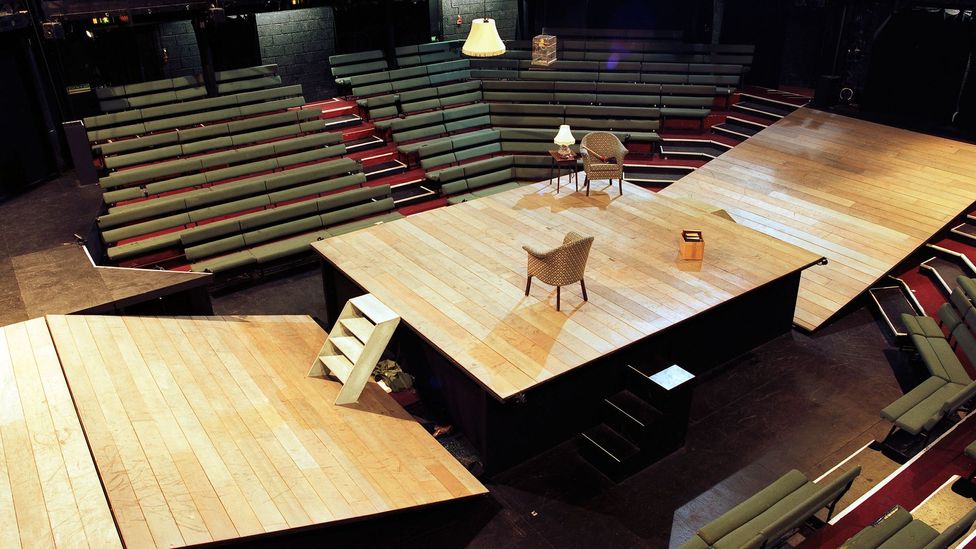 The Young Vic in London shows how a theatre can be remodelled to increase flexibility (Credit: Alamy)
It might have been considered uncompromisingly avant-garde at the time, but today many cutting-edge architects and theatre consultancies see it as reductive, hackneyed and bland. The black-box backlash is giving rise to a new generation of theatres with an eclectic, even maximalist aesthetic.
Following in Brook's footsteps, many theatres have opened in characterful old buildings, says Gavin Green, co-founder of theatre and acoustics consultancy Charcoalblue, which has collaborated with the architects of such venues as St Ann's Warehouse and The Ronald O Perelman Performing Arts Center in New York, Storyhouse in Chester and the Young Vic in London. The last of these, refurbished in 2004 in conjunction with Howarth Tompkins Architects, is widely seen as a seminal example of a theatre remodelled to increase flexibility (a third performance space was added to it).
  There's a reaction against the black box's neutrality, which I see as analogous to the white-cube gallery in the art world – Jeff Day
"There's a reaction against the black box's neutrality, which I see as analogous to the white-cube gallery in the art world," says Jeff Day, a founding principal of US architecture firm Min | Day, which redesigned the Bluebarn Theatre in Omaha, Nebraska. "In the theatre world, reasons for the waning interest in it include its ubiquity, with audiences tiring of its austerity, and directors no longer feeling the need for pure neutrality. Another reason, perhaps, is a postmodern rejection of modern theatre as an abstract space divorced from its social context. As designers, we're motivated by a desire for warmth and a welcoming atmosphere."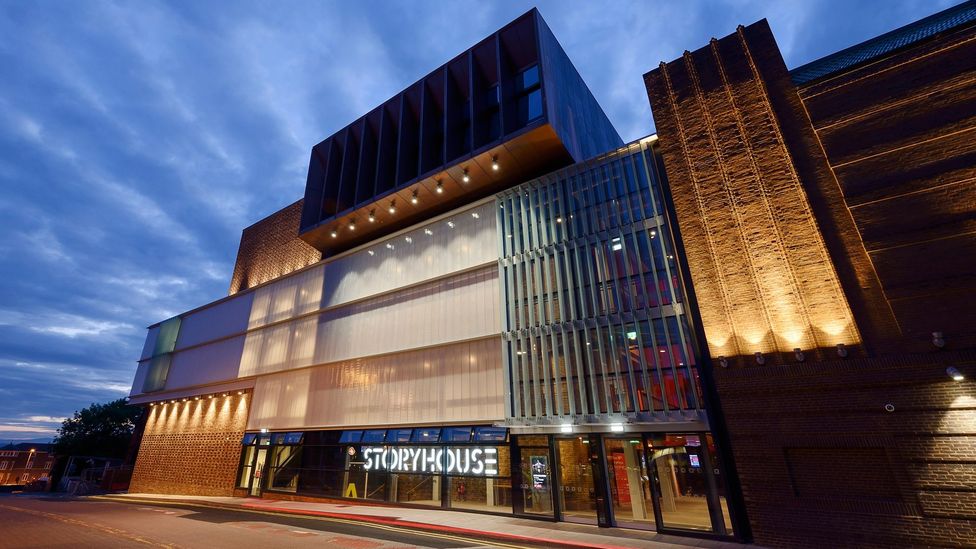 Storyhouse arts venue in Chester, UK, is an extension of a remodelled 1930s cinema, and was designed by Bennetts Associates (Credit: Getty Images)
At Bluebarn, Min | Day deployed a rich palette of materials: its façade is clad in Cor-Ten steel that rusts when exposed to the elements, while its interior has walls and floors in salvaged wood, cobalt-blue ceilings, and reclaimed, burnt-orange velvet auditorium seating.
Another major trend is for theatres that acknowledge their context. A theatre at Horris Hill Preparatory School in Berkshire, created by Jonathan Tuckey Design and scheduled for completion later this year, has a roof clad in terracotta cement boards that tone with the surrounding brick buildings. Its interior is lined with pale, cross-laminated spruce. "We wanted it to be the antithesis of a bland black-box space," says founder Jonathan Tuckey. At the rear of the auditorium is an amphitheatre, while a nearby courtyard caters to outdoor performances.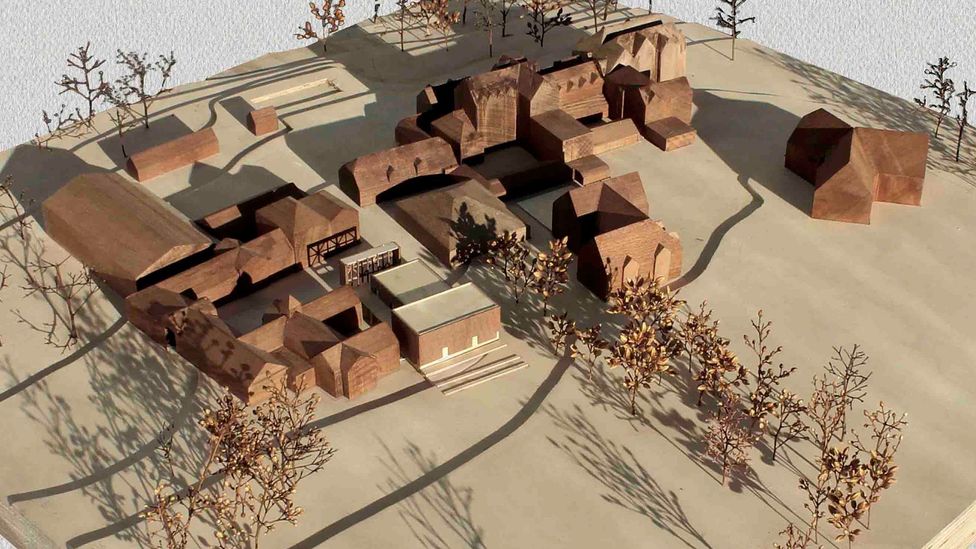 The theatre at Horris Hill Preparatory School in Berkshire will have an amphitheatre and a courtyard for outdoor performances (Credit: Jonathan Tuckey Design)
A further development, says Green, is for "theatres in old buildings or for purpose-built ones to have the atmosphere and texture of found spaces." St Ann's Warehouse by Marvel Architects, for example, occupies a renovated 1860s tobacco warehouse, that makes a virtue of its industrial yet weathered materials – bricks, steel and plywood. Meanwhile, the intimate 100-seat Yard Theatre in east London is situated in a disused warehouse with an auditorium fashioned from reclaimed scaffolding boards and chairs from a defunct restaurant.
Flexible friend
Storyhouse, part of a regeneration scheme in Chester, occupies a new extension to a Grade II-listed 1930s Odeon cinema, which closed down in 2007. Remodelled by Bennetts Associates, the main building now includes a new library and cinema. Its original bold, cream Art Deco plasterwork can be seen from the scarlet passage linking the theatre to the adjoining building.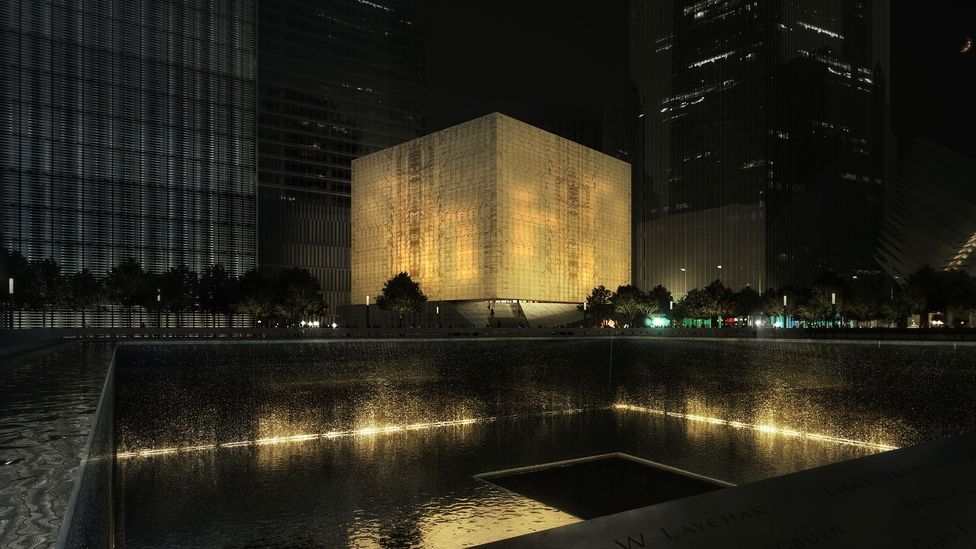 The Ronald O Perleman Performing Arts Center in New York, at the site of the former World Trade Center, will be clad in translucent marble (Credit: Rex / Luxigon)
Storyhouse embodies another development, too: the relatively static black-box concept is being replaced by multidisciplinary arts centres that require flexible spaces for use by all genres of performance. Many of these boast theatres that can be subdivided into smaller ones or whose seating and staging can be thoroughly reconfigured. Storyhouse has an 800-seat proscenium that can be converted into a 500-seat thrust stage. "Directors and designers now are interested in far more flexibility and adaptability, in being able to radically reconfigure an auditorium," says Green.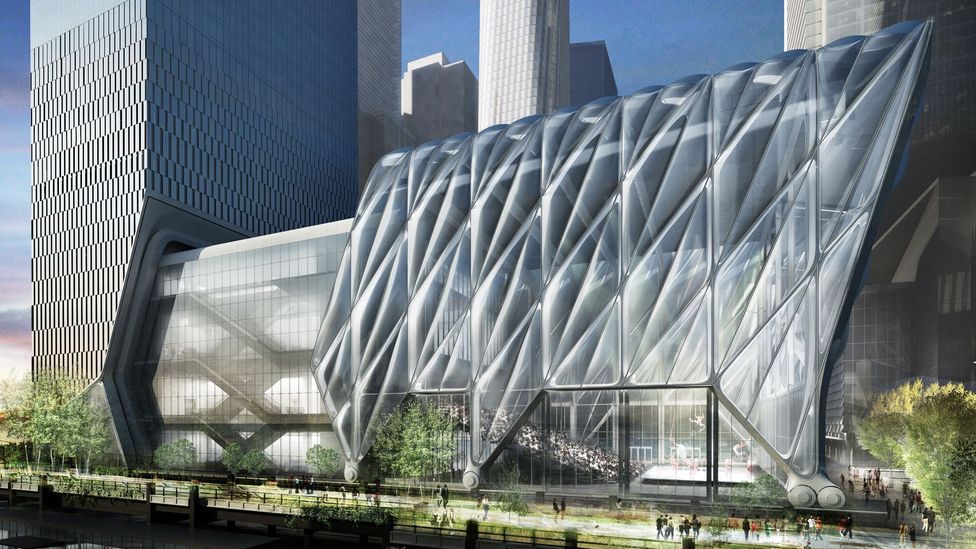 The Shed in New York, which is due to open next year, will be encased by a telescopic structure (Credit: Diller Scofidio + Renfro / Rockwell Group)
The Shed in New York, designed by Diller Scofidio + Renfro in collaboration with Rockwell Group, which opens next year, is not so much flexible as veritably kinetic — it is encased by a telescoping structure that doubles the building's footprint and augments its performing space; it seats 1,200 people. Inspired by the industrial history of the nearby High Line and West Side Railyard, its mobile component glides along tracks on wheels, like those on railway carriages.   
The flamboyant exteriors of many of today's theatres highlight the fact that they contain performance spaces
Architecturally, theatres today often bridge their indoor and outdoor spaces in a bid to be more accessible and democratic. This chimes fortuitously with the fact that theatres are becoming more popular because, reasons Green, "they bring people together. Younger people especially crave more lived, shared experiences in our age of social media."
The Fosun Foundation arts centre, Shanghai, has an opulent façade with layers of tassel-shaped tubes inspired by Chinese weaving (Credit: Heatherwick Studio and Foster + Partners)
In Shanghai, the multi-purpose Fosun Foundation arts centre, designed by Heatherwick Studio in collaboration with Foster + Partners, embodies many current trends in theatre design: it combines a performance venue and galleries and boasts an opulent, semi-transparent façade that knits together the building and its environs. Its theatrical curtain-like façade drips with three layers of bronze-coloured, tassel-shaped tubes, which, inspired by Chinese weaving, nod to local tradition. Described by the architects as a 'veil,' its layers move along tracks independently, separating to reveal a stage visible to passers-by or overlapping to form an opaque, organ-like wall.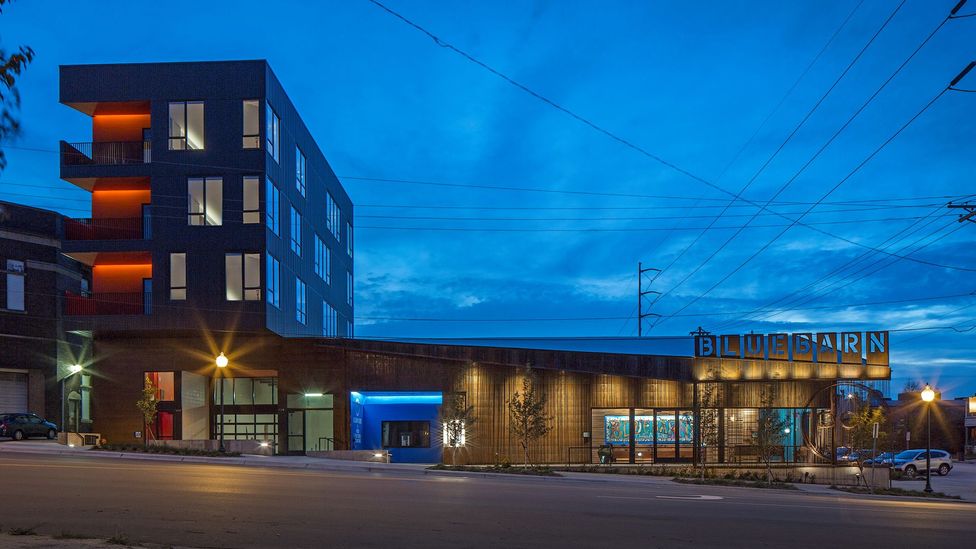 The Bluebarn theatre in Omaha, Nebraska, was designed by US architecture firm Min | Day (Credit: Tom Kessler)
Theatre Peckham in London, which adjoins a mixed-use arts centre in the redeveloped Southwark Town Hall, is a new-build with a flamboyant façade covered with iridescent porcelain tiles. "The tiles reflect light which varies depending on weather conditions, creating an interesting, ever-changing façade," says Jude Harris, director of Jestico + Whiles, which designed it. And The Ronald O Perelman Performing Arts Center, created by Brooklyn practice REX on the site of the former World Trade Center, will be clad in veined, translucent marble which, illuminated at night, will be animated by flickering silhouettes of visitors and actors.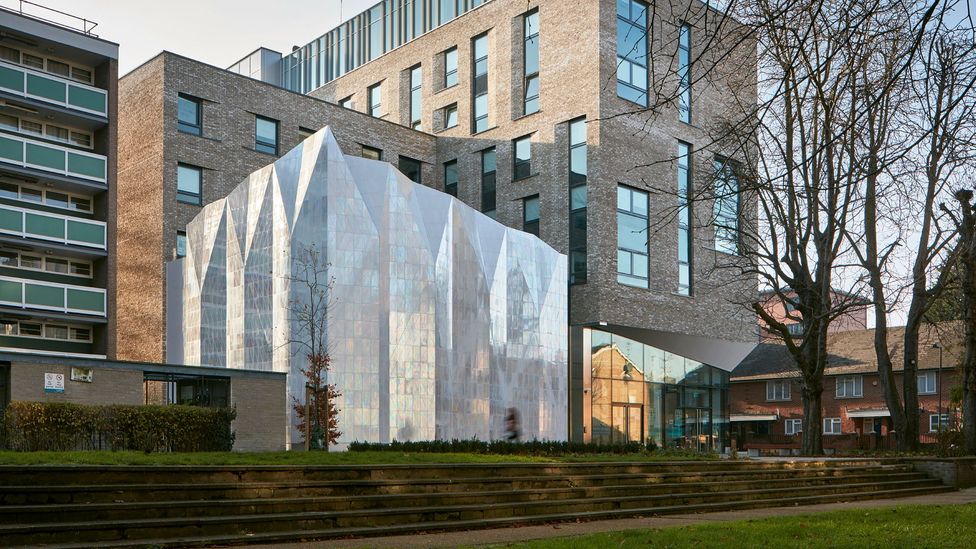 Theatre Peckham in south London has a striking façade covered with iridescent porcelain tiles (Credit: Jestico and Whiles)

The flamboyant exteriors of many of today's theatres highlight the fact that they contain performance spaces. As Harris puts it: "the design of Theatre Peckham is a place of public performance, and the external appearance of our design aims to reflect this." 

To comment on and see more stories from BBC Designed, you can follow us on Facebook, Twitter and Instagram.

;