A new book has gathered the memories of 'Kriegskinder', next to portraits of them as they are now. Photographer Frederike Helwig reveals how they remember childhoods in Nazi Germany.
T
The memories have the patina of childhood: fragmented, vivid, without resolution. They place us, as readers, immediately there. And next to them, portraits of the elderly people whose childhoods we're glimpsing. These are the Kriegskinder, or 'war children': so-called because they grew up in Nazi Germany during World War Two.
"One day I am at the Wilhelmsaue, a small pond in Berlin," remembers Brigitte, who was born in Dortmund in 1937. "A dead woman is floating on the water, face down. Her skirt has ballooned, wind blowing into it and she is sailing across the pond."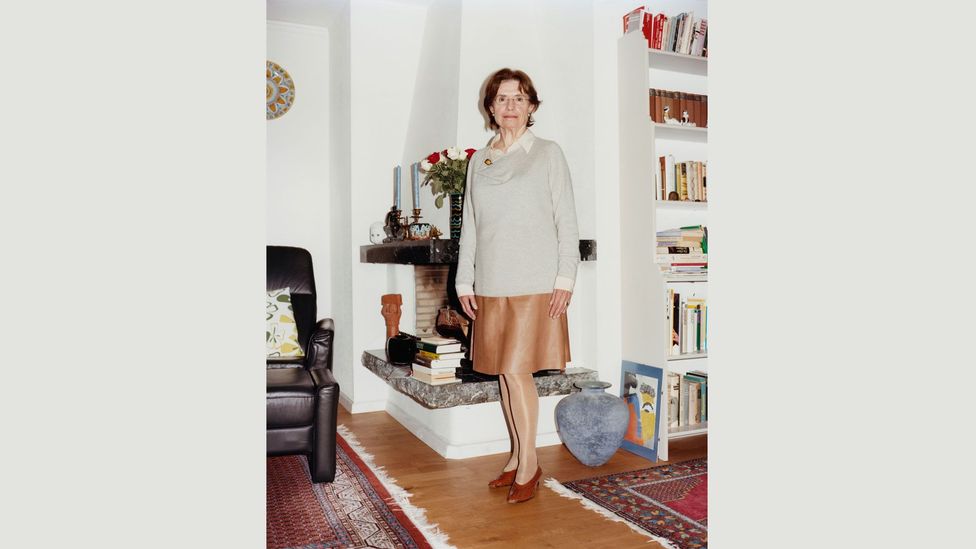 Brigitte, born in 1937 (All images: Frederike Helwig)
Forty-four photos and accompanying anecdotes are gathered in the new book Kriegskinder. Photographer Frederike Helwig captured the images and Anna Waak collected the memories, some of them spoken for the first time; viewed through the filter of a child's eyes, they are by parts humdrum and shocking. The glowing tip of a cigarette; the clatter of pebbles being thrown into a dead man's mouth; two tomato plants on the balcony of a home that has been destroyed. Small details that bypass the intellect, offering a different way into a subject widely covered by historians.
"My access to this subject was on the emotional side, not through history or statistics – the numbers, and what they did and how they did it, which we all grew up with and know," Helwig tells BBC Culture. "The problem with that is the perpetrators are always 'the others' – we're trying to establish that this happened in most German families, and how can that happen?"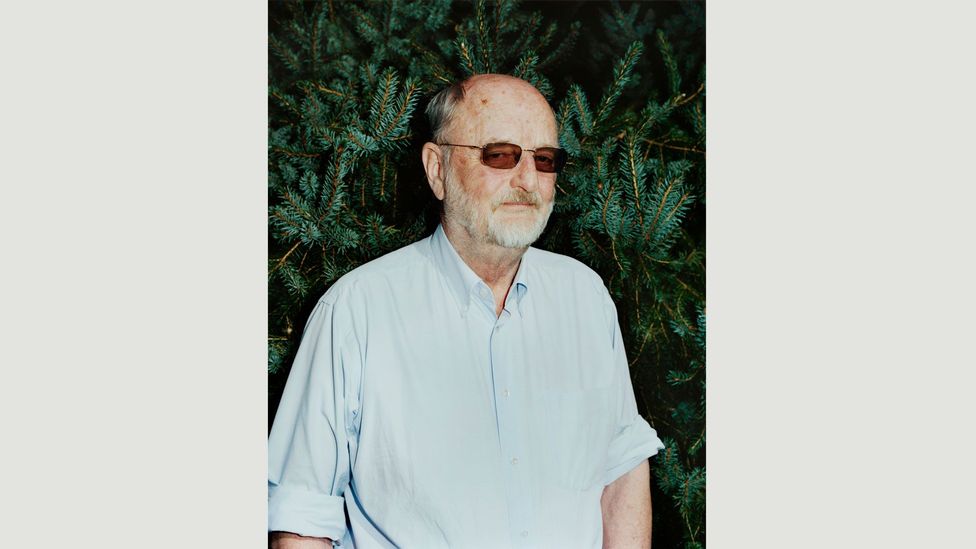 Niklas, born in 1939, wrote a memoir about his father Hans Frank, the Nazi Governor-General of Poland, called In The Shadow of the Reich (Credit: Frederike Helwig)
One of her subjects has had to confront that more than most. Born in 1939, Niklas Frank is the son of Hans Frank, the Nazi Governor of Poland, and he travelled through Europe with the human rights lawyer Philippe Sands in the acclaimed documentary My Nazi Legacy: What Our Fathers Did. His memory in Kriegskinder is from a childhood shopping trip with his mother and nanny. "We are driving through the Krakow Ghetto where my mother buys her furs and scarfs for a price of her own choosing. I am standing in the back of the Mercedes, my nanny Hilde sitting next to me, in front next to the driver my mother," he recalls. "I am wearing a black and white Pepita suit.
"The people look on sadly. I stick out my tongue to an older boy. He turns around, walks off, I feel like I won. I laugh triumphantly, but Hilde pulls me silently back into my seat." Although it describes a juvenile encounter, it's a disturbing memory. "Most of the first-hand accounts in the book are quite anecdotal," says Helwig. "What they say is interesting – but also what they don't say."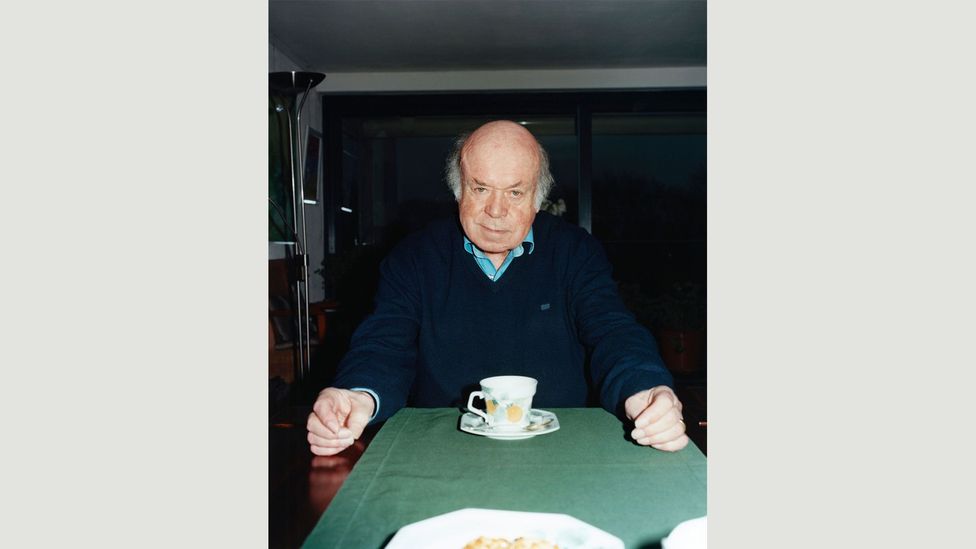 Many describe death in the only way they could comprehend it, as children. "One day a hanged man is lying in front of our house in Berlin. A German. He had tried to hide from the war in a ruined building and they hung him from the crossbar of the lamp post," says Werner. "When he was dead they cut him loose. He lies there for days with his mouth open and we children throw pebble stones into it.
"Eventually they take him away and bury him on the side of the road. Because no dead bodies can lie in the city streets trucks arrive, dig him and others up and throw them onto the trucks. We children watch. Then we have to go and have lunch. It's maize porridge for lunch, but I can only think of the corpses with their tattered clothes and bones sticking out and I feel sick."
Replayed through their senses, remembered via taste or sound or smell, the memories of the Kriegskinder bring past events into the present. "To this day, many remember the air raid shelters, the bombing raids, the fear of the adults around them, the dead and wounded, the hanged and the suicides, the bombed houses and playing in the rubble," writes Alexandra Senfft – the grand-daughter of a Nazi war criminal, and author of The Long Shadow of the Past: Descendants Face their Nazi Family History – in the foreword for Kriegskinder. "Clear or hazy, many have images of flight, and of the 'Russians'; they still feel the hunger and taste the chocolate given to them by American soldiers."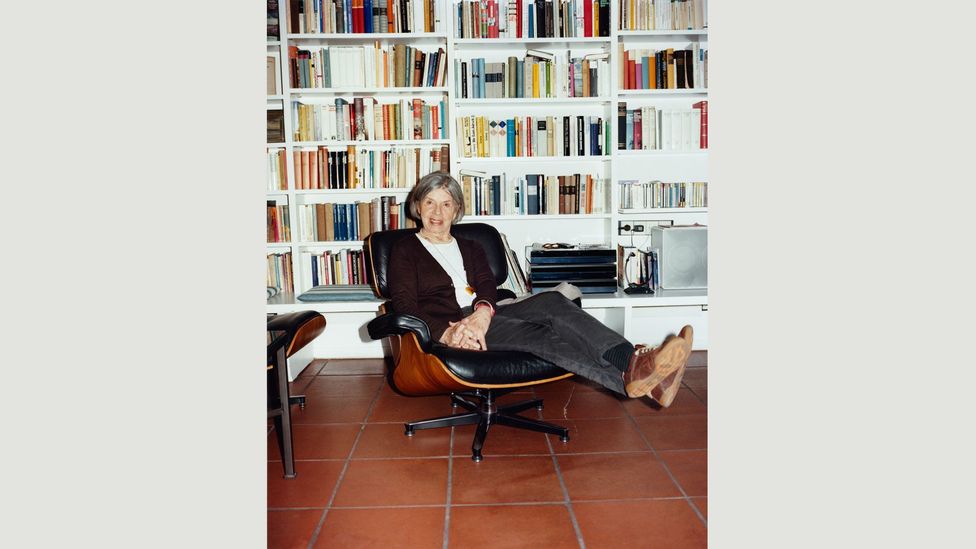 Anneliese, born in 1938: "Then I can hear it: above, in this bright blue sky, the bombers, silvery, in formation, really high up, deafeningly loud"
To read these memories is to be brought closer to a place of understanding: by seeing them as children, even as we look at them as old people, we acknowledge the ambiguities of who they are. "To recognize perpetrators in one's father or mother and to reconcile this recognition with one's love towards them is an act full of ambivalence and unbearable tensions," writes Senfft. "Often, the concealed crime weighs so heavily on the descendants' psyche that they can hardly process it: how can a beloved and loving father have been a murderer at the same time?
"A minority manage to differentiate between the perpetrator and the loved parent and to integrate both, to let each stand alongside the other. Yet the majority either deny the misdeed or break with their parent." Although a generation has passed since the war, what took place lives on in family dynamics.
"What the Kriegskinder did not come to terms with they passed onto us grandchildren," writes Senfft. "Psychologists have found that many grandchildren internalized their grandparents' experience even if the Nazi era was never spoken of. Grandchildren thus often possess the family memory without having experienced the events themselves."
Helwig found this when she had children herself. "It took me becoming a parent to actually be able to really empathise with my parents having witnessed World War Two at the ages of five and six," she says. "The idea for this book came when I was talking to my friends, asking them how are we going to teach our children about this history, and how do we keep them interested in it – or how do we teach them the responsibility which comes with it?
"Through those conversations with my peers, came also the realisation that our parents were probably a little bit odd at times, and they have these behavioural patterns which show us that they grew up during the war. It opened up a whole dialogue between us."
This was her real aim – initiating a conversation. "Every German knows about the Holocaust, we're educated with it, it's been documented at large, but what hasn't really been talked about in German families is what did the great-grandfather do, or what exactly happened – there still seems to be a taboo there."
That isn't necessarily because the Kriegskinder want to remain silent. "That generation is now at a time where they've carried all this for a long time and a lot of the people we interviewed were actually quite open about it, but said that many people were not really interested in what they had to say."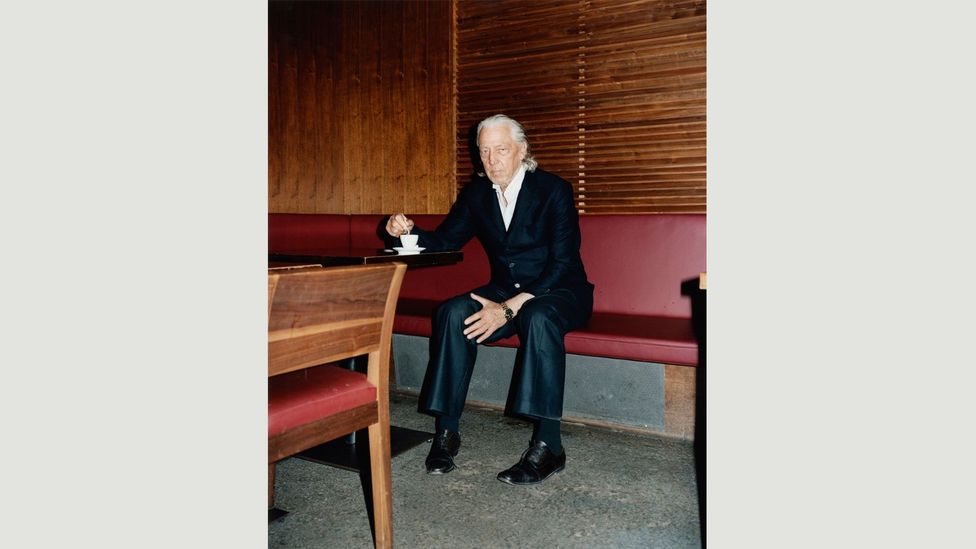 Charles, born in 1941: "Since the end of the war two prisoners of war from Silesia have been working for us, a married couple my father's age… Before dinner we pray, always"
Helwig hopes that by bringing together recollections from childhoods in Nazi Germany with portraits of a generation whose memories will soon vanish, her book can help change that. "There's an emotional process happening, and through that emotional process hopefully it creates a curiosity to ask more questions and to have frank conversations, to be able to access that time," she says. "It's not about victimising this generation, it's important to try and encourage the generations to start talking to each other."
The book ends with a quote from Israeli psychologist Dan Bar-On: "Violent conflicts create zones of silence in a society. The deeds and responsibility of the perpetrators are concealed. Thus also the suffering of the victims, the role of the spectators... The silence is often passed on to the next generation."
Kriegskinder is published in a climate that gives a renewed urgency to these conversations. "The book wants to raise a certain awareness that, yes, it was a long time ago but that doesn't mean it couldn't happen again," says Helwig. "When we started this project in 2014, we lived in a very different world from today. I told friends in Germany that I was doing this book about the Kriegskinder, and the response was 'oh interesting, but do we need to talk about that still? Look at Germany today' – it was at the height of Merkel and Obama – and suddenly, two years later, Germany and Europe and America are faced with very different scenarios."
In her foreword, Senfft acknowledges how collective silence can infect wider groups. "Research … has shown that trauma and severe stress can be hereditary; that which is not dealt with can be passed on to the next generation." And it leaches out beyond the family. "What is not brought to light and engaged with individually and within the family finds its way into society and politics."
The exhibition Kriegskinder is on view at F3, Berlin from 2 February to 8 April 2018.
Below is a selection of six portraits from the book, which is out now, published by Hatje Cantz.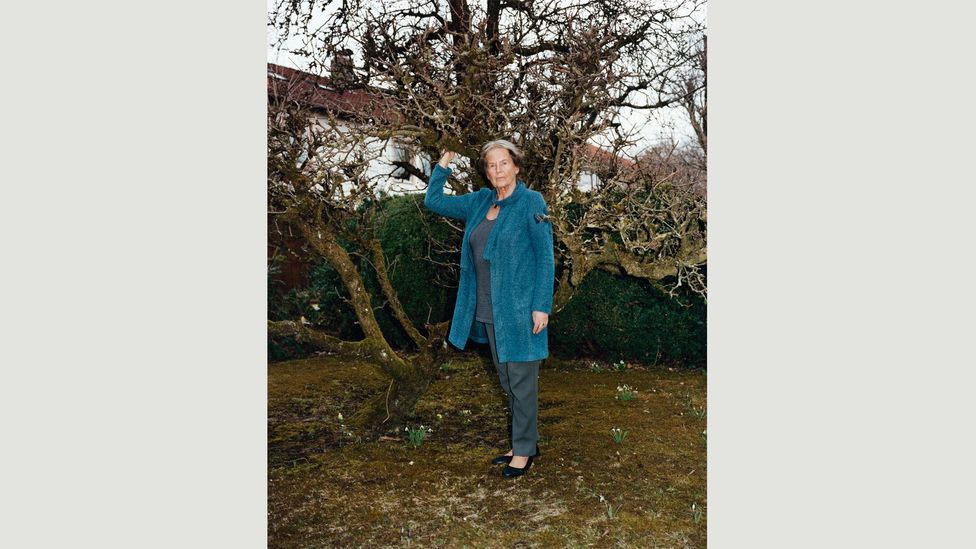 Renée, born in 1937 (Credit: Frederike Helwig)
"Because I'm malnourished I am sent to my great aunt in Switzerland. She is married to an upholsterer; it has a nice smell of leather, but ants run through the apartment. My aunt puts down herring heads to divert the ant trails. In the apartment, there is a gorgeous sofa and on it are some small booklets. Because my aunt is often in Zurich during the day I've got time to look at them. I suffer the worst shock when I realize that they are about concentration camps and that those camps were in Germany. Those pictures...One time in the middle of the street in the village someone slaps me in the face and yells: 'You nasty German!' and I cry."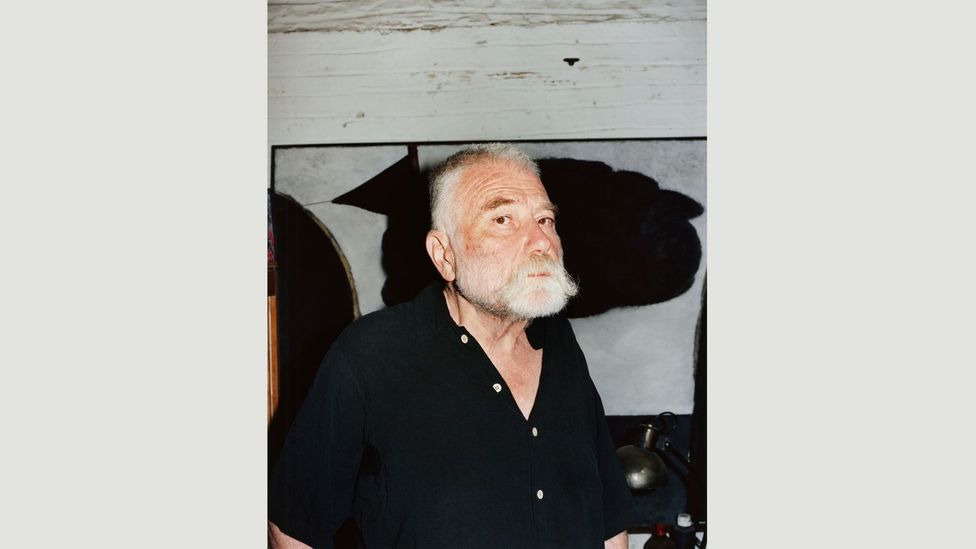 Peter, born in 1941 (Credit: Frederike Helwig)
"The Russian soldiers – they are really small and ride ponies – occupy the farm where we live. They shoot the big Keeshond who lives there with us because he barked. He was my friend. One of the soldiers places me on his horse and rides with me through the village. On my birthday in 1945, my mother decides to try and flee to the West with us children, my grandmother and a few other relatives.
"In the rush she mixes up my left and right shoe. We walk the entire day, for miles, and she does not hear what I am trying to tell her. Dead people and horses lie on the roadside, all mixed up. We sleep in barns, abandoned factories, in trains, in camps where they have delousing showers and thin soups from field kitchens. Sometimes they bomb us. In the course of this my grandmother and other relatives die. Only my mother, my sister, and I survive."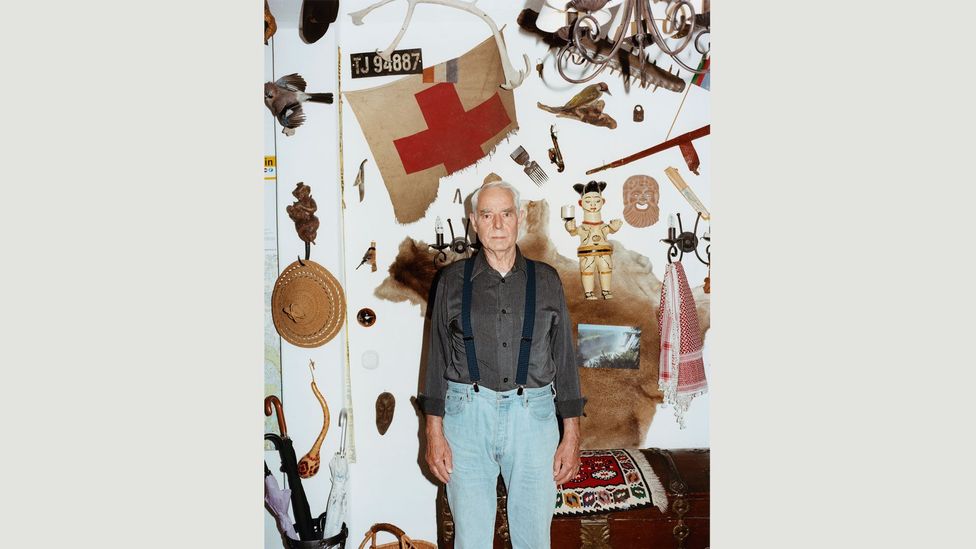 Wolf-Dieter, born in 1941 (Credit: Frederike Helwig)
"When the Russians come, our girl Lisbeth climbs into a box full of Hitler-pictures. All the glass panes shatter. My mother sits with us children in a sand pit at a playground because she thinks this way nothing is going to happen to her. When a soldier comes out of the basement I grab his trouser leg and shout: 'You damned Russian, let my Lisbeth alone!' He doesn't do anything to me.
"In the villa opposite we hear a tremendous noise so my grandmother walks over resolutely. There the mother and daughter lie on the bed, naked, raped with their throats cut. My grandmother shouts at the drunken Russian until they leave. My mother, who's a doctor, declares both women dead and buries them in the garden."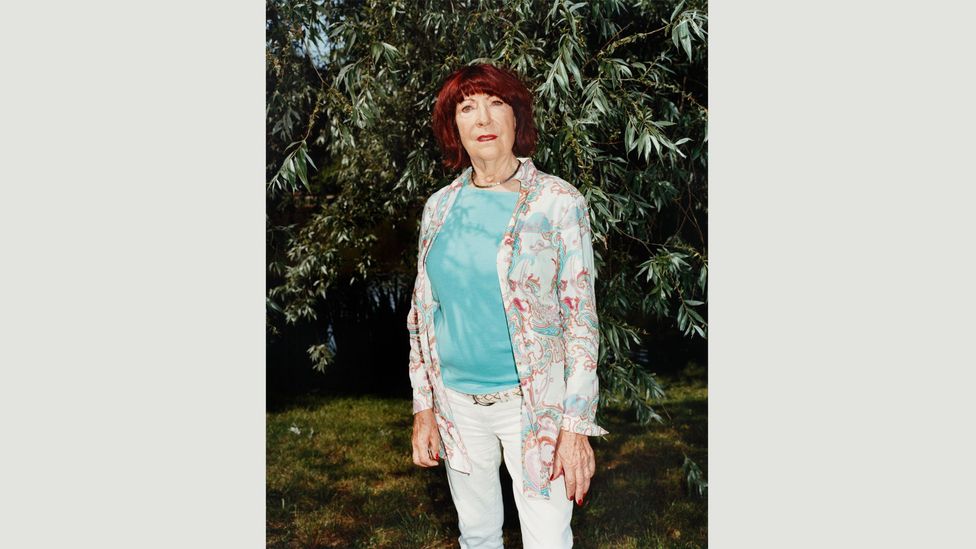 Gisela, born in 1939 (Credit: Frederike Helwig)
"Already for days people have been passing by on the road in front of our house. When we hear on the radio that Silesia must be vacated we join the crowd heading east. Every evening when it gets dark the road must be vacated and everyone has to look for somewhere to sleep.
"One evening we find shelter with an elderly woman who's got many cats. We are sitting with her at dinner when the animals jump wildly across the table and chairs. My grandmother finds cats disgusting and is appalled. But the woman forces us out of the apartment and into an old mine. Panic breaks out when the air raid sirens go off. More and more people push into the mine, some fall and are stamped to death. The cats have warned and saved us."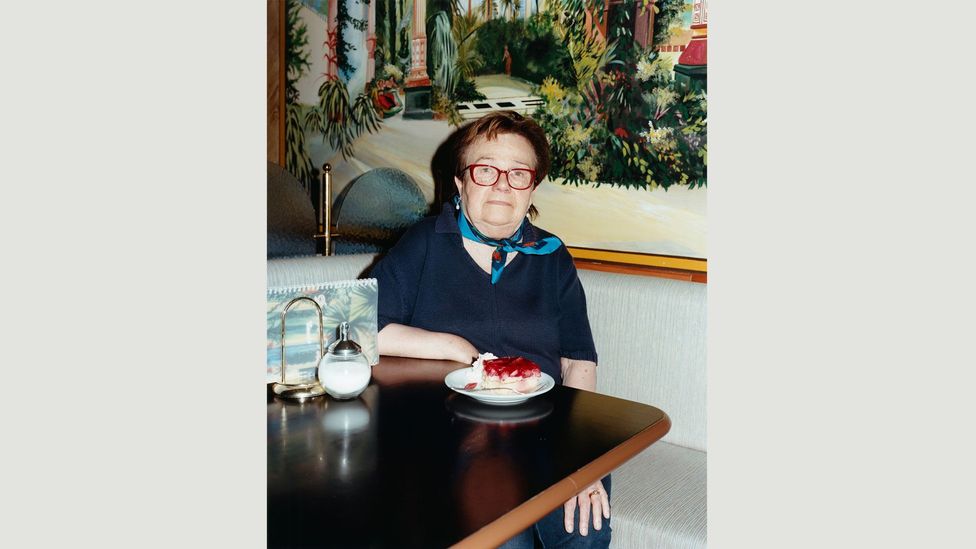 Hannelore, born in 1936 (Credit: Frederike Helwig)
"My mother has a stomach ache but she waits so long that a neighbour has to bring her into hospital. The doctors can only observe that the appendix has burst and the pus has already reached the abdominal cavity. They say the only thing that may help is Penicillin. This is only available on the black market. My youngest aunt somehow manages to secure the medicine, but it is too late.
"My mother is pushed about between corridor, bathroom and some other small rooms in the hospital. She is enveloped in a smell of putrefied flesh. When she says she is thirsty I run from one bar to the next in tears to buy her lemonade. Soon after she dies."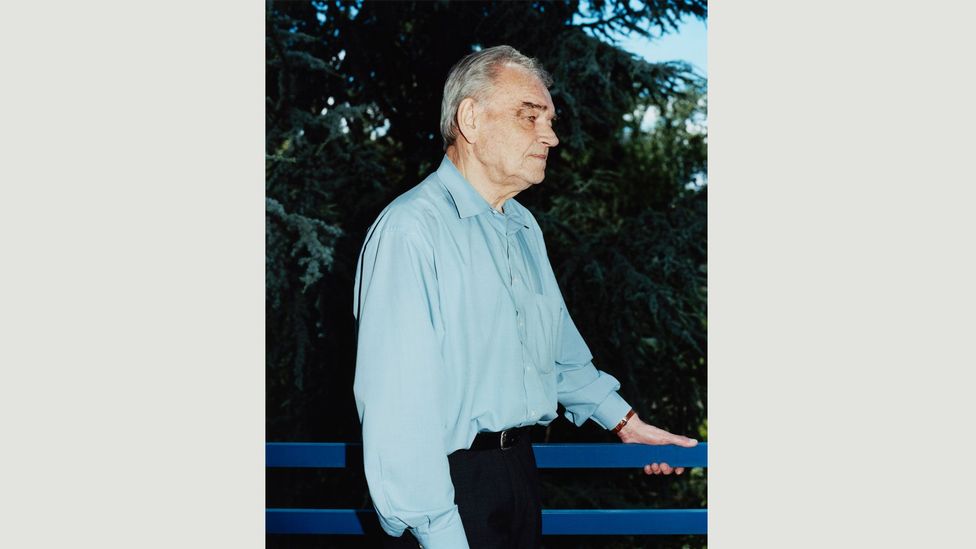 Horst, born in 1941 (Credit: Frederike Helwig)
"The winter is so cold that ice floes drift on the Rhine. The city lies in ruins, an adventure playground. On the way to school I pass the Gereonskirche. One of the two steeples is destroyed, in the other the bells still hang. Near the central station I walk beneath the railway bridge. Everything is in ruins. My mother tells me that here used to be the hospital in which I was born. Only the exterior walls are still standing; the same is true for our house in Blumenthalstrasse in which we lived prior to the war. I discover the remnants of my pram in the iron skeleton of the balcony.
"The Cologne Cathedral does not seem to be damaged much. Only in one spot a bomb or grenade must have hit it. They've inserted a brick filling there to keep the tower from collapsing. Hohenzollern Bridge is completely destroyed and lies in the Rhine. At the bastion, American soldiers have built an auxiliary bridge, the so-called Patton Bridge. Patton was an American general. When cars go over it, especially lorries, the wooden planks rattle and create a lot of noise. I take the tram to school. The doors are open, inside it's crammed and outside people stand on the footboard, me too. There is a new O-bus line. It seems a miracle that an omnibus can drive quietly without engine noise. It only rattles a bit when it drives over potholes."
If you would like to comment on this story or anything else you have seen on BBC Culture, head over to our Facebook page or message us on Twitter.
And if you liked this story, sign up for the weekly bbc.com features newsletter, called "If You Only Read 6 Things This Week". A handpicked selection of stories from BBC Future, Culture, Capital and Travel, delivered to your inbox every Friday.