From Marlon Brando and James Dean to 'Cancel Brexit', the T-shirt has long been a rebel with a cause. Joobin Bekhrad looks into a history of slogans and subversion.
W
When a virile, brooding Marlon Brando shouted "Stella!" in the 1951 film adaptation of A Streetcar Named Desire, he wasn't just beckoning his lover, but also heralding – at the top of his lungs –  the birth of a fashion icon. While the T-shirt has indeed come a long way from its rise to popularity in the 50s, it has also, in more ways than one, remained the same.
Nearly 70 years after Brando sported one as Stanley Kowalski, and over a century after its advent, what is now a universal fashion staple is the focus of Cult – Culture – Subversion, a major new exhibition at London's Fashion and Textile Museum. A collaboration between the museum and The Civic in Barnsley, it takes a comprehensive look at the evolution of the T-shirt from its early days to the present, through a plethora of garments, photographs, ephemera, and other archival material sourced predominantly from private collections.
"[The T-shirt] is a really basic way of telling the world who and what you are." – Dennis Nothdruft
While the garment's history is a highlight of the exhibition, it isn't the focus; rather, curator Dennis Nothdruft and team have decided to showcase – as per the show's title – the various subcultures that have surrounded the T-shirt, as well as its power as a socio-political medium. "It feels quite relevant … it was a matter of the personal as politicised," says Nothdruft in reference to the exhibition's premise. "[The T-shirt] is a really basic way of telling the world who and what you are."
Better out than in
Although T-shirt-like garments, such as the tunic, date back to ancient times, it was only recently (relatively speaking) that the T-shirt as it is now known first appeared. Its origins lie in the 'union suit', a sort of button-down onesie worn by both men and women (but particularly male workers) towards the end of the 19th Century in the US. Effective at keeping one toasty in colder temperatures, it wasn't exactly suited towards heat or warm weather. Frustrated with its design, workers cut them in half, tucking the top bit into the bottom.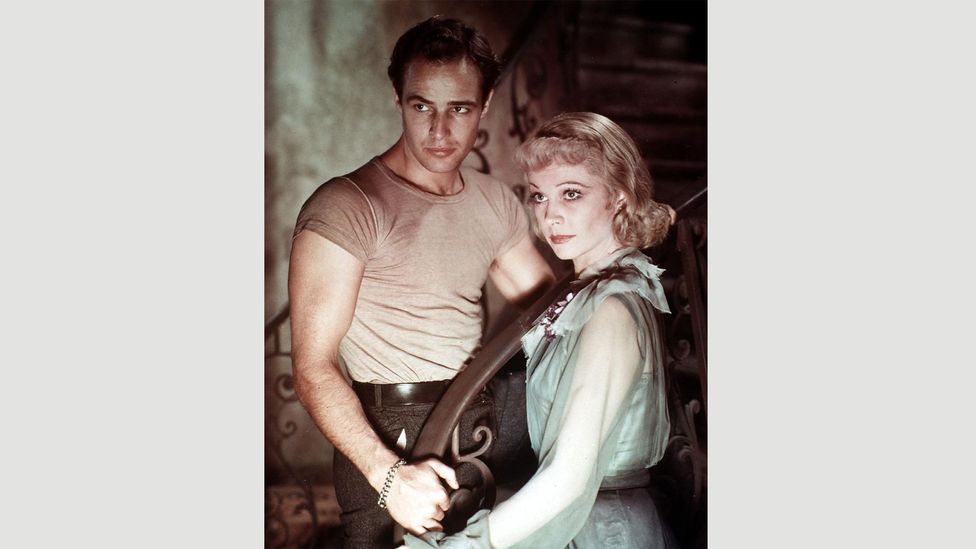 Marlon Brando helped to popularise the T-shirt when he wore one in the 1951 film A Streetcar Named Desire (Credit: Alamy)
Shortly afterwards, the Cooper Underwear Company began marketing the tops — sans buttons — as 'bachelor undershirts' (as there was no need to resew buttons back into place), and in 1913, they became a part of the uniform of the US Navy, where they were known as 'lightweight short-sleeve white cotton undervests'.
Until the 20s, the T-shirt was called by every name but its own. Things changed, however, with the publication of F Scott Fitzgerald's 1920 novel This Side of Paradise, which marked the first-ever appearance of the name. In the same year, it also happened to find its way into Merriam-Webster's dictionary. "So early in September Amory," the author wrote of his protagonist, "provided with 'six suits summer underwear, six suits winter underwear, one sweater or T-shirt, one jersey, one overcoat, winter, etc,' set out for New England, the land of schools."
Although the tees worn by Amory could, in the 30s, be found in department stores throughout the States, as well as seen all around American high-schools in the 40s, it wasn't until heart throbs like Brando in A Streetcar Named Desire and James Dean in 1955's Rebel Without a Cause rocked them on the silver screen that the T-shirt truly became the T-shirt, no matter how plain and simple it still was.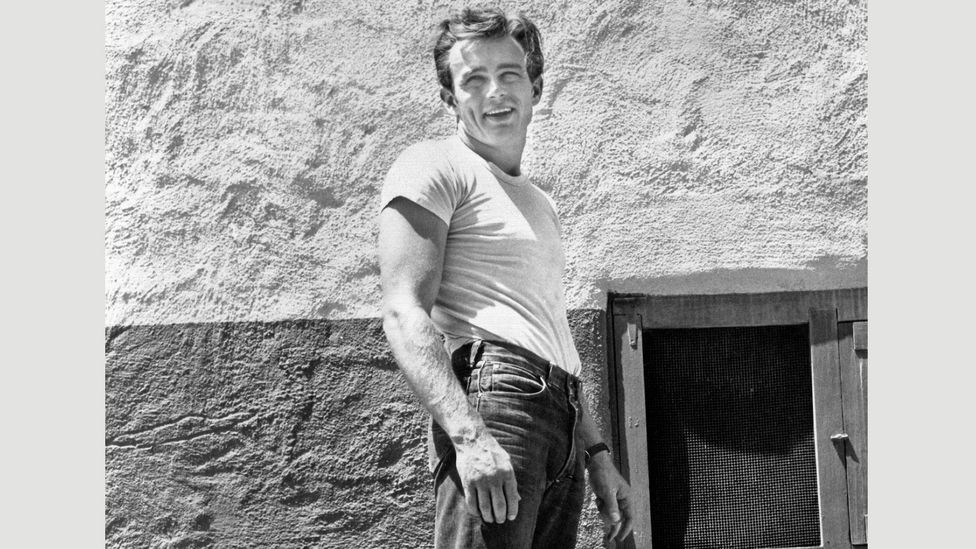 As heart-throbs like James Dean appeared in films during the 1950s wearing a T-shirt, it became a symbol for youthful rebellion (Credit: Alamy)
Prior to this, the T-shirt was, by and large, an undergarment meant to be worn beneath one's 'proper' clothes, and was seldom regarded as an article in its own right. "It's just a white T-shirt, but it already has that kind of disruptive potential," Nothdruft says of the kind worn by Brando and Dean. "It was rebellious, because [T-shirts] were actually undergarments … It was a tough political statement." More than they could have ever imagined, Brando and Dean nailed the style and spirit of what had thitherto been an unassuming piece of underwear to a tee.
Getting shirty
The plain white T-shirt may have caused a stir in America in the 50s, but it had miles to go in realising its full potential for, as Nothdruft terms it, 'disruption'. By the time A Streetcar Named Desire screened in cinemas, graphic tees were already a thing. T-shirts with the name 'Oz' emblazoned on them appeared in 1939's The Wizard of Oz, and – perhaps inspired by the wonderful wizard's minions in Emerald City – Republican candidate Thomas E Dewey used the first-ever slogan T-shirt in his 1948 'Dew it with Dewey' presidential campaign. While Dewey lost to Truman, he'd still made history, albeit in a very different context.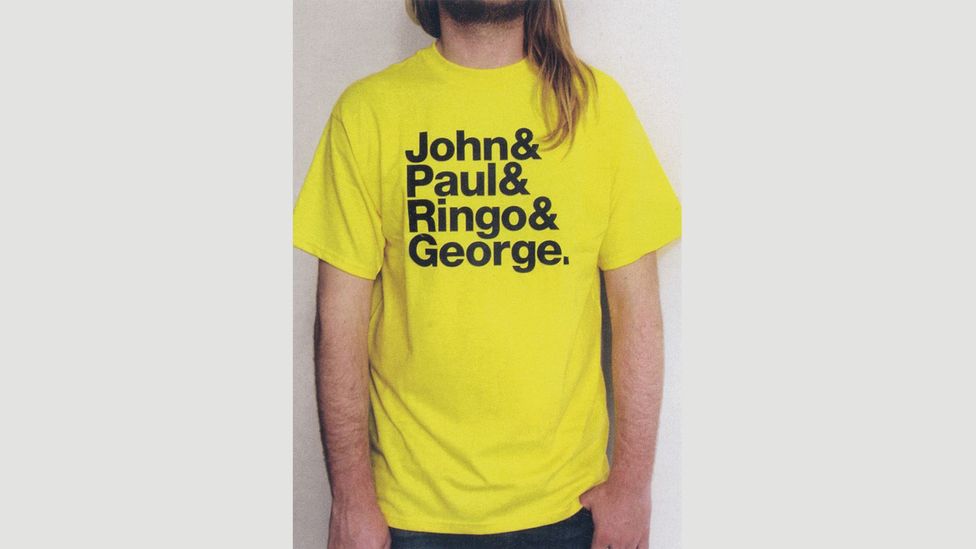 Graphic T-shirts are still popular, 70 years on – as with this design by Experimental Jetset for 2K Gingham (Credit: Boneshaker Photography)
Shortly afterwards, a company by the name of Tropix Togs obtained the exclusive right to print official Disney T-shirts after Disneyland opened in the mid-50s, realising the immense profits to be made from graphic tees. By the early 60s in America, improvements and innovations in printing technology, such as the proliferation of the silkscreen method popularised by Andy Warhol, as well as an overall surge in popularity, had firmly entrenched the graphic T-shirt in not only the fashion world, but also popular culture as a whole.
Across the pond, the story was somewhat different. In the early and mid-60s, the T-shirt (in all its iterations) had yet to become popular amongst the masses in Britain. They certainly couldn't be seen in high-schools across the island, as was the case in America in the 40s, and still had a way to go in becoming socially acceptable.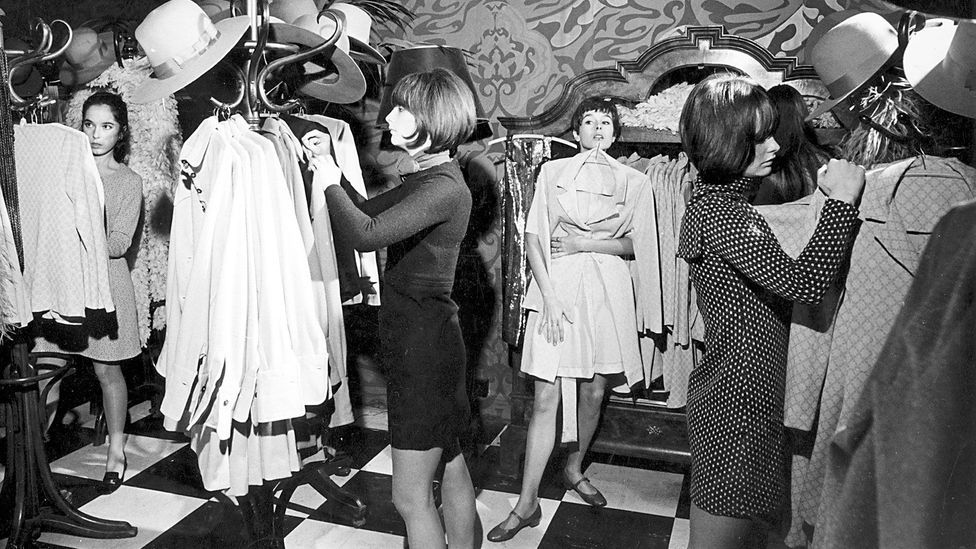 Barbara Hulanicki sold T-shirts through her Biba shops (Credit: Alamy)
Fashion designers like Barbara Hulanicki, however, were bent on breaking the status quo and marketing the T-shirt to fashion-conscious youth. "They were very new," she says, also noting that they were considered too casual to be worn in certain places, such as offices. That didn't stop Hulanicki from pursuing her ideals, though. "[We started selling them] in 1964, just before we opened the first shop," she says of her massively popular brand Biba, which first began selling clothes via mail-order catalogues.
Less than 10 years later, with the opening of the 'Big Biba' department store on Oxford Street, the story would be entirely different. By then, the T-shirt had become a fixture in British fashion, and the cult brand's graphic tees featuring its signature Art Nouveau typography were essential elements of its offering. "The T-shirt was sort of our lifeline," she candidly remarks.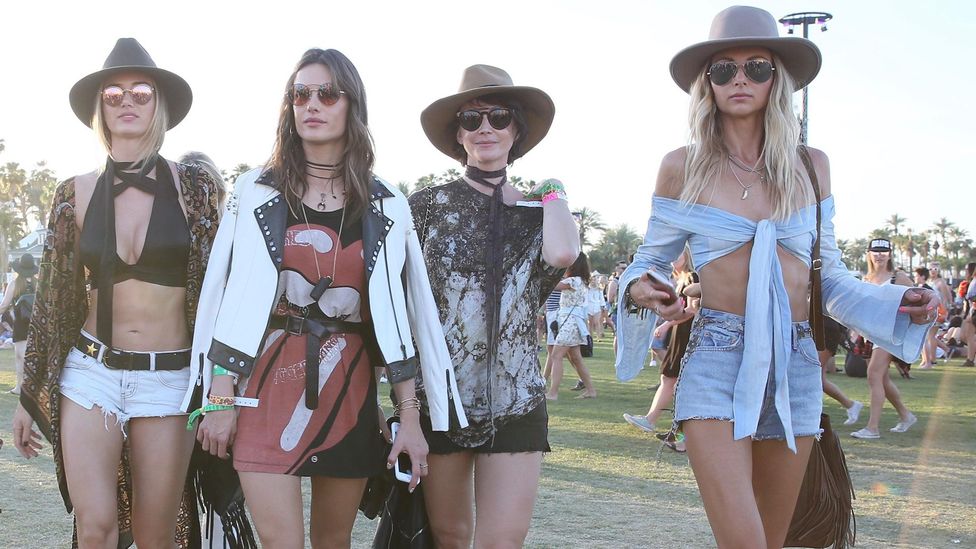 Festival-goers today still like to wear their musical tastes on their T-shirts (Credit: Alamy)
Although the story begins, more or less, in the early 50s, it was in the 70s that the T-shirt truly emerged as something revolutionary. The rising popularity of band logos, such as John Pasche's tongue and lips for the Rolling Stones, as well as concert tees, saw fans expressing their musical inclinations and affiliations across their chests.
The T-shirt also became a way to protest against issues such as the Vietnam War, and, on a lesser scale, the 1971 obscenity trial surrounding London's OZ magazine. So effective was the graphic T-shirt as a form of expression that, in 1973, The New York Times dubbed it 'the medium for the message'. Similarly, Nothdruft looks at it as a "blank canvas … [that] associates you with a specific cultural movement or tribe".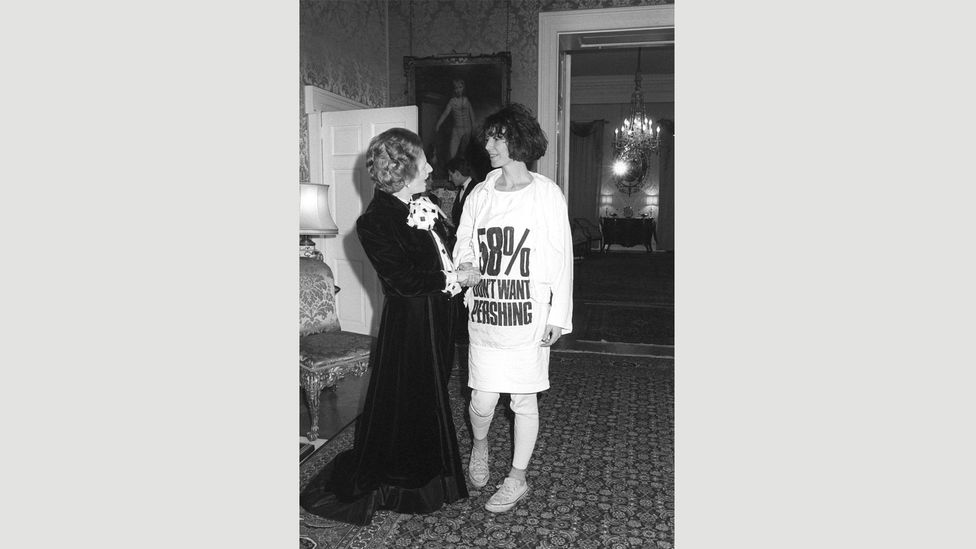 Katharine Hamnett wore a T-shirt with an anti-nuclear message when she met Margaret Thatcher in 1984, calling it "one of the original selfie photo-ops" (Credit: Press Association)
None of this was lost on Vivienne Westwood and her then-partner in crime Malcolm Maclaren, whose T-shirts – both in terms of graphics and tailoring – effectively encapsulated the ethos of the punk movement taking place in Britain in the late 70s. Nor did veteran designer Katherine Hamnett fail to appreciate the subversive potential of three stitched-together pieces of cotton. "It seemed as if democracy was slipping through our fingers," she says regarding the late 70s, when she first began producing her signature slogan T-shirts. "[The slogan T-shirt was] something to give you a voice … something to believe in that you could wear on your chest that could be read from two-hundred yards [away]."
Appetite for disruption
It is, more than anything else, the subversive potential of the T-shirt and its power as a medium for expression that the exhibition at the London Fashion and Textile Museum examines. While the Elton John heat-transfers and pug-face children's tees are certainly part of the 'story', it's perhaps the designs by Hulanicki, Westwood, and Hamnett, amongst other contemporary ones, that highlight the garment's revolutionary aspect.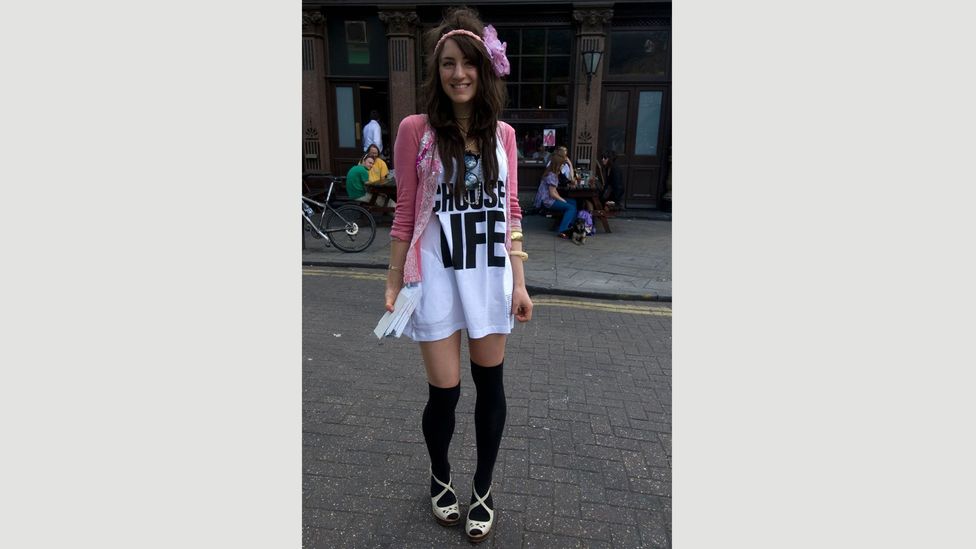 Hamnett's first slogan was 'Choose life', the central tenet of Buddhism (Credit: Alamy)
Of particular note is Hamnett's iconic 'Choose Life' T-shirt (immortalised in Wham!'s Wake Me Up Before You Go-Go promo and the Trainspotting series) and the 'Frankie Says Relax' Hamnett copy; Westwood and Maclaren's controversial 'tits T-shirt'; Jamie Reid's punk slogan tees (including 'Accidental Anarchist' and 'A Brick Will Do the Trick'); and a Keith Haring Aids awareness design from the early 90s.
Amongst the more recent items, the Guerrilla Girls' 'Advantages of Being a Woman Artist' tee, designs from Westwood's climate change-themed S/S 2013 collection, and Dior's head-turning 'We Should All Be Feminists' outfit from 2017 demand attention, especially in light of current movements and trends. "It completely caught the mood of the moment," says Nothdruft of the Dior t-shirt, whose sentiments echo those of Hamnett. "I love that they're doing it … more, more, more."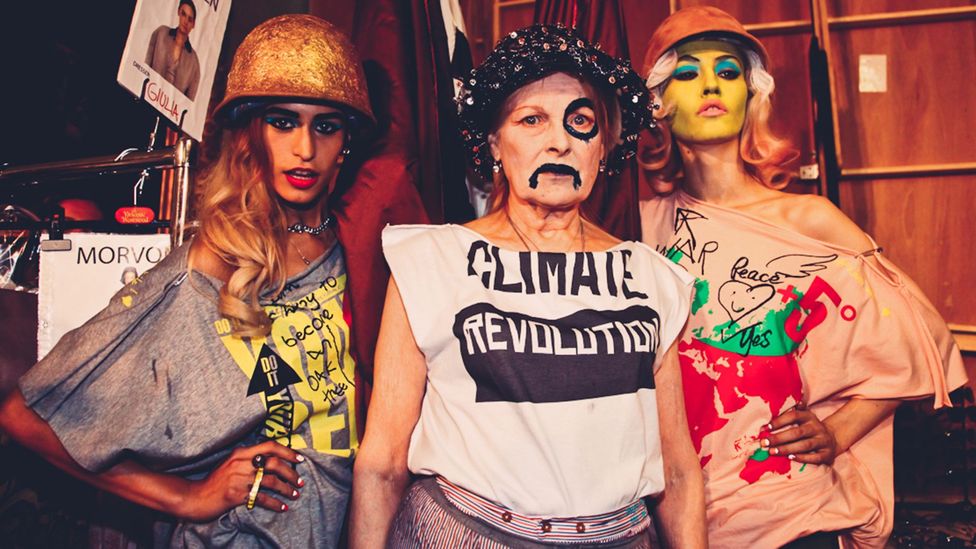 Throughout her career, Westwood has been an activist as well as a designer (Credit: Marta Lamovsek)
Naturally, in such a comprehensive exhibition, one is forced to consider the longevity of the T-shirt and its enduring appeal. What makes the T-shirt so special, and why has it been around for so long? Aside from its disruptive capability, Nothdruft makes note of its simplicity. "It's simple … and in its basic form, it's not gendered," he remarks. "In its most pure form, it's the most democratic garment."
Similarly, Hulanicki points to the T-shirt's 'wearability' and casualness, as well as what she calls an "emotional connection", particularly where graphic tees are concerned. And, when asked how she would have communicated her ideas had the T-shirt not existed, the otherwise outspoken Hamnett finds herself at a loss for words. "I don't know. I can't think of anything better, really … I don't know what else I would have done." She continues to speak out about political causes through T-shirts today, launching a 'Cancel Brexit' design in September 2017.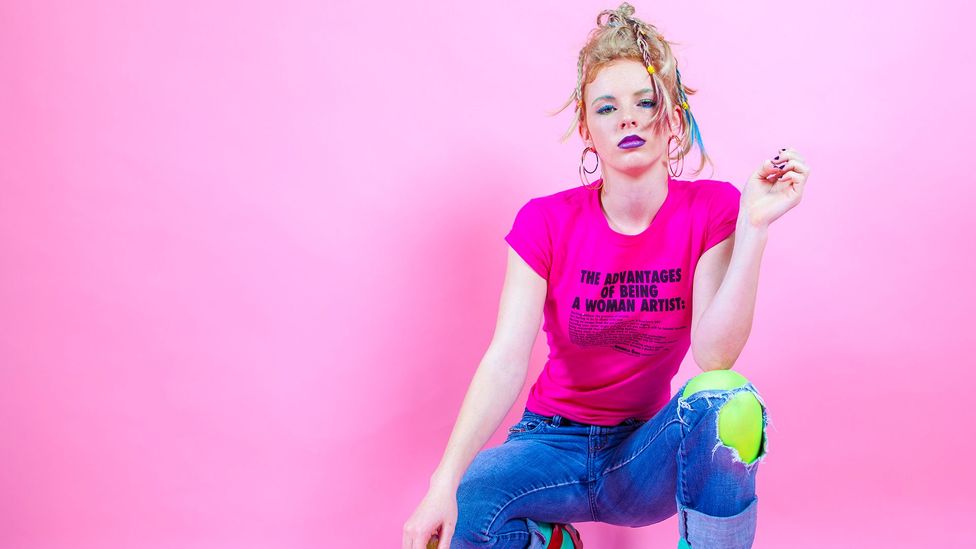 Dubbing themselves the 'conscience of the art world', in 1985 the Guerrilla Girls began a poster campaign that has found its way onto T-shirts (Credit: Boneshaker Photography)
But where, one may rightly ask, are we heading? Although brands like Cutecircuit are pushing the boundaries with digital interfaces, the T-shirt, more or less, has remained true to its original form for over a century. It is also interesting to note that, with the availability of three-dimensional and digital printing, as well as the retro appeal of silkscreens, the DIY attitude of the punk era is in vogue once again.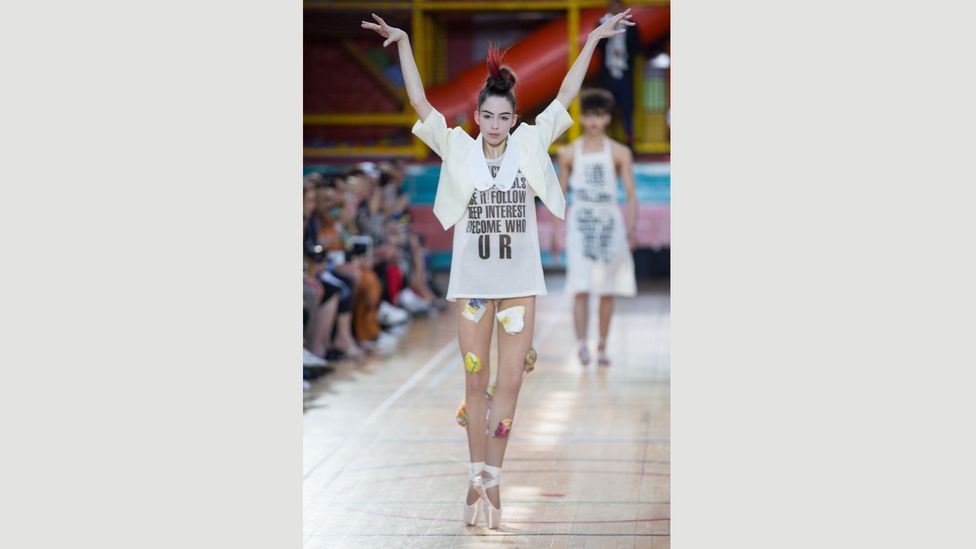 The latest collection from Westwood emblazons slogans on T-shirts – and aprons (Credit: Alamy)

While one can't say for sure what the future holds in store for the T-shirt, one thing, perhaps, is certain: it's here to stay. "I don't think it will ever go," says Nothdruft. "It's ubiquitous." Hulanicki lets out an "Oh no!" when asked if the T-shirt will ever become a thing of the past – something Hamnett can't envision, either. "I think they'll live on forever," opines the latter. "I don't think you can take them away … [they're] unbeatable."

If you would like to comment on this story or anything else you have seen on BBC Culture, head over to our Facebook page or message us on Twitter.

;