Gustav Klimt and Egon Schiele were two titans of Viennese art who shared a firm friendship and an artistic free will that scandalised many, writes Cath Pound.
A
At first glance there is little to suggest a connection between Gustav Klimt and Egon Schiele. Klimt was the archetypical sensualist who portrayed Vienna's elite in gilded finery whilst Schiele, almost three decades his junior, was a tortured egoist whose twisted depictions of the human body shocked and scandalised contemporary audiences. And yet the two men shared a lifelong mutual appreciation and friendship, determined to follow their own artistic visions whatever the cost, until the flu epidemic of 1918 claimed both their lives.
You might also like:
-        Wally Neuzil: The secret life of Schiele's muse
-        The mysterious muse of Gustav Klimt
Klimt turned his back on the conventions of academic painting. Disillusioned with the stifling restraints of the Künstlerhaus, the artists' society which all Viennese artists felt obliged to belong to, he and a number of other artists broke away to form the art movement known as the Vienna Secession.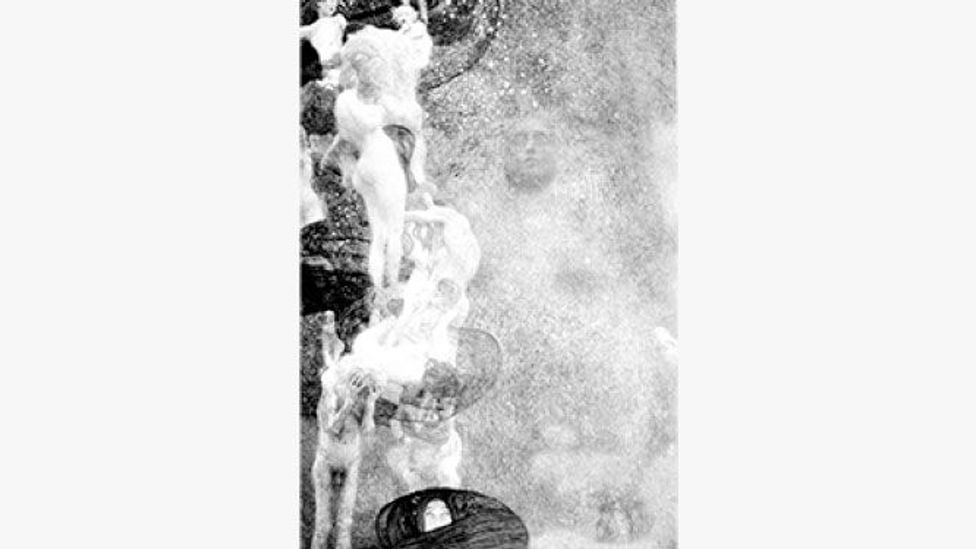 The university reacted in horror when Klimt's Philosophy, with its tumbling naked figures, was revealed (Credit: Alamy)
His new attitude was provocatively outlined in the 1899 work Nuda Veritas, which Sandra Tretter of the Klimt Foundation sums up as "the Künstlerhaus versus the Secession."  A naked woman holds up the mirror of truth while the snake of falsehood lies dead at her feet. Above her in gilded letters is a quotation from the German dramatist Schiller: "If you cannot please everyone with your deeds and your art, please a few. To please many is bad."
There was certainly no danger of pleasing many when Klimt accepted a commission to provide paintings for the ceiling of The Great Hall of The University of Vienna, which was clearly unaware of his new-found direction.
Klimt's depiction of a large writhing naked woman saw him accused of pornography
"The university wanted a feast of enlightenment and science," explains Diethard Leopold, curator of The Leopold Museum in Vienna, which is holding a number of exhibitions on Klimt, Schiele and their contemporaries this year. They reacted in horror when they saw the tumbling naked figures and drowsy moon-like head he had chosen to illustrate Philosophy. Within days, 87 members of the university had protested publically and petitioned the Ministry of Education to cancel the commission.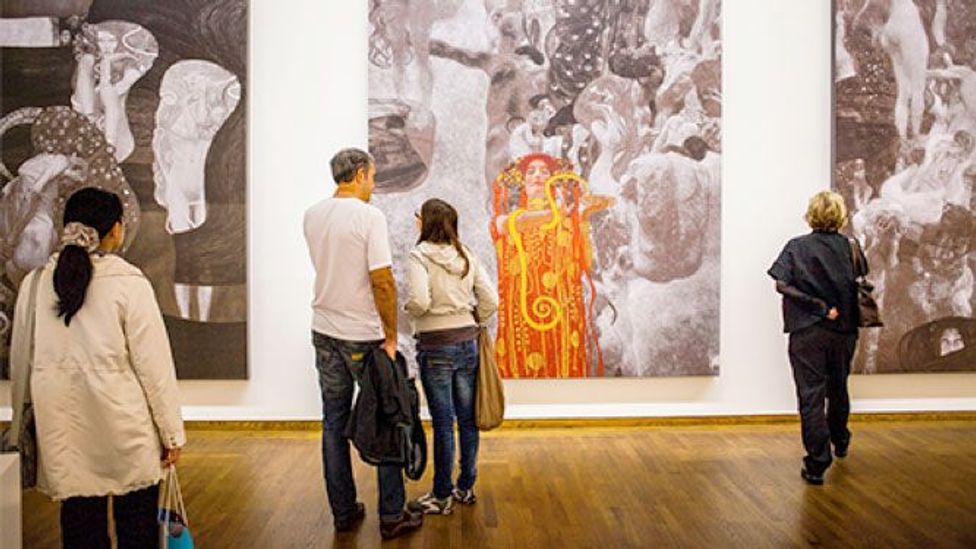 Further uproar was caused by Medicine's writhing naked woman (shown here with Philosophy and Jurisprudence) (Credit: Alamy)
Further uproar came when Medicine was revealed.  Klimt's depiction of a large writhing naked woman, whose prominent pudendum would be only more evident when viewed from below, saw him accused of pornography and the public prosecutor was called in. Although he felt it unnecessary to remove the painting, the controversy continued and was even debated in parliament, the first time a cultural issue had been raised there.
Klimt made his view of his detractors abundantly clear in 1902 with Goldfish, in which a woman insolently displays her bottom to her audience. It is said he would have preferred to call the painting 'To my critics'.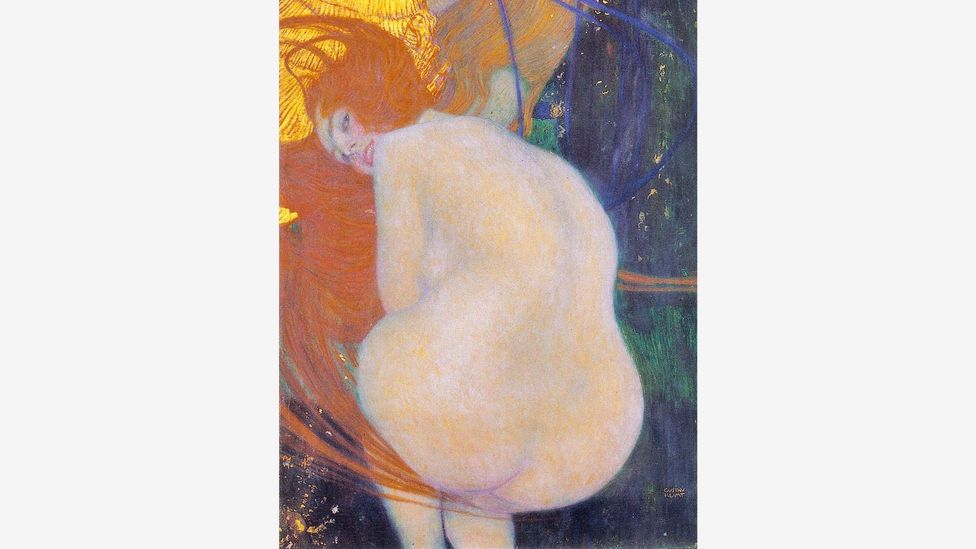 It is rumoured that Klimt would have preferred to call his painting Goldfish (detail shown here) 'To my critics' (Credit: Alamy
Although the ministry stood by him when Jurisprudence, which featured a penitent encircled by a formless squid-like creature, caused further disquiet, a decision was made to permanently display the paintings in a gallery rather than on the ceiling. Klimt was furious and insisted on returning his advances and keeping the paintings. The request was refused but after a dramatic standoff in which Klimt allegedly held off removal men with a shotgun, the Ministry eventually capitulated.
Tragically the paintings were destroyed by retreating SS forces in 1945 and all that remains are hazy black and white photographs.
Klimt would never again seek a public commission. "He started to focus on landscapes and portraits," explains Tretter, including the glittering society portraits which would secure his fame.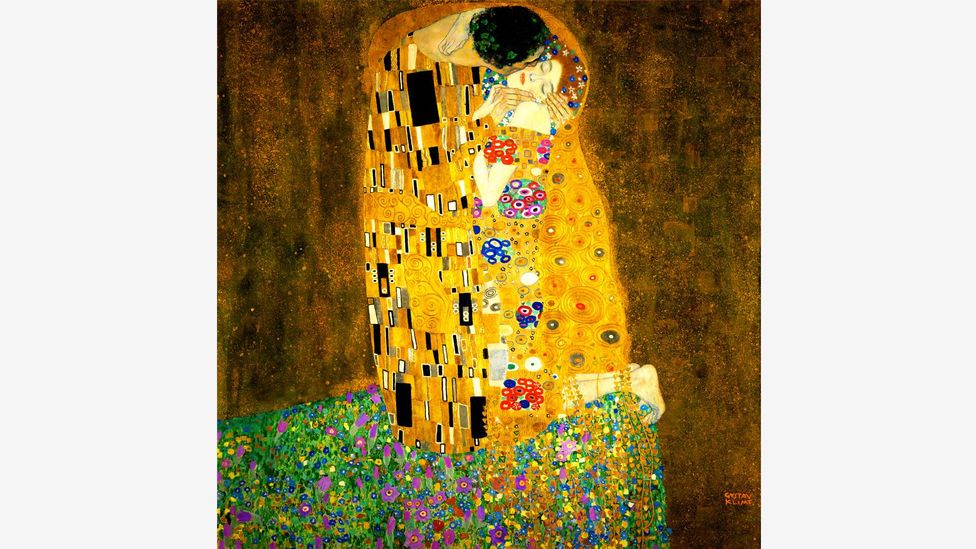 Klimt's famous Kiss contains a harsh, violent reality hidden beneath its romantic, gilded surface (Credit: Alamy)
Here Klimt would hint at the tarnished reality which lay beneath the gilt, a world of adultery and prostitution in which men indulged their needs whilst publically condemning the women who provided them. Even his famous Kiss is not what it at first seems. "If you look closely the neck of the man is very ugly and it depicts his erect penis. The man is the personification of sexual want while on the surface it is a very sensitive, lovely painting," explains Leopold.
A body of work
Klimt's uncompromising attitude appealed to the young Schiele, who sought out the artist in 1907 when he was still a student at the Academy of Fine Arts and finding the academic discipline frustrating.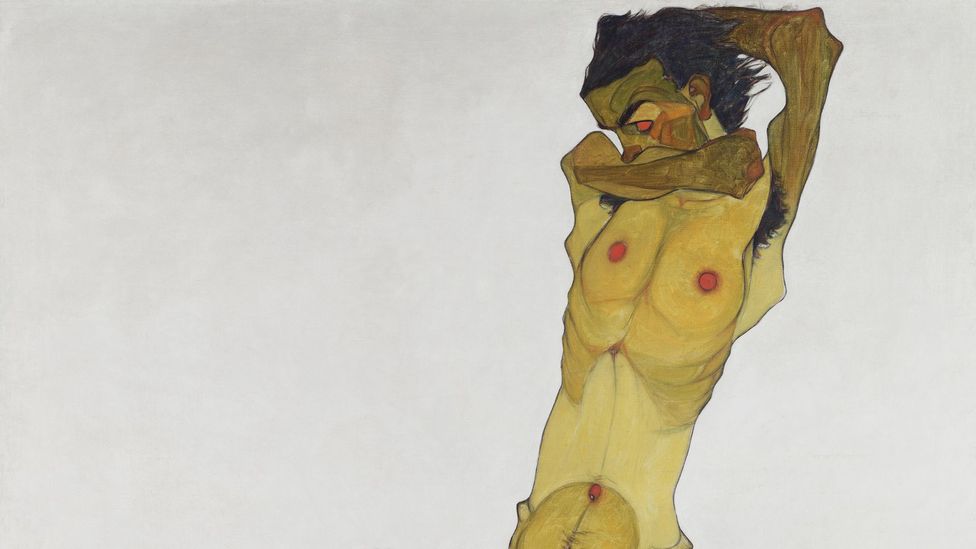 Schiele's graphic and grotesque representation of his own naked body was unprecedented in the history of art (Credit: Leopold Museum)
A precociously gifted artist, Schiele had revealed his talent as an adolescent by sketching his younger sister in the nude, much to his parents' horror. For Leopold, also a trained psychotherapist, this fascination with adolescent girls was in part a reaction to his ambivalent relationship with his mother, and would go on to cause great scandal.
Schiele turned to his own body for inspiration in a manner unprecedented in the history of art
Schiele's undoubted talent appealed to Klimt and he took the young man under his wing, providing models and inviting him to exhibit at the 1909 Kunstchau, although Schiele's four paintings, all very much in the style of his master, failed to make much impact. Klimt also introduced him to members of the design collective Wiener Werkstätte but when Schiele offered some watercolours to them as postcard designs, they were rejected for not having the required fluidity for the decorative arts.
Seeking new means of expression Schiele turned to his own body for inspiration in a manner unprecedented in the history of art. In his first nude self portrait from 1907, based on the notorious female figure in Medicine, he had portrayed himself as helpless and fragile, isolated from the rest of humanity.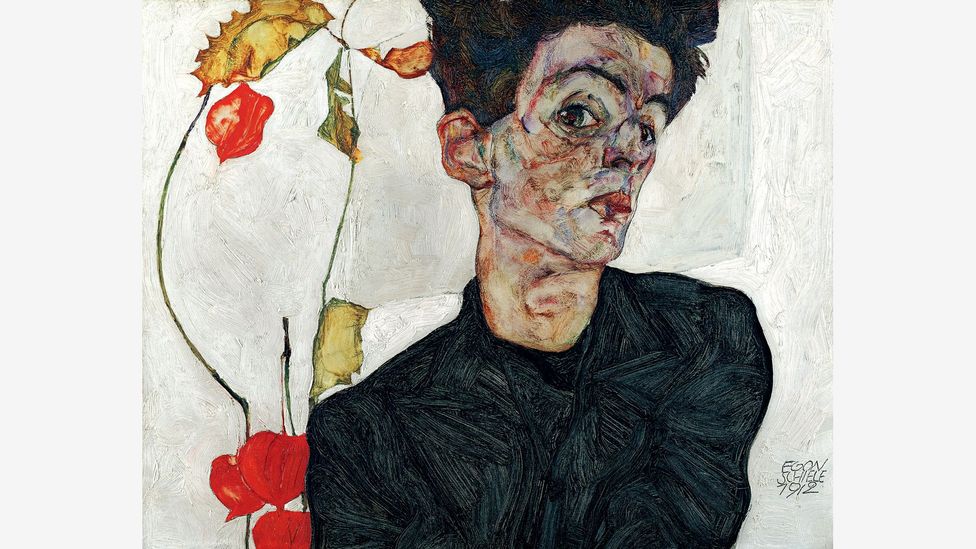 Schiele's tortured, contorted figures found little appreciation in Vienna (Credit: Leopold Museum)
His stylistic experiments now progressed rapidly but the tortured, contorted figures which emerged found little appreciation in Vienna.
Frustrated by the response to his work Schiele sought refuge in the small town of Krumau, accompanied by his partner Wally, a former model of Klimt's. The couple immediately raised eyebrows and Schiele did nothing to dispel the attention. The youth of the town flocked to them and Schiele used the opportunity to draw the young bodies that so fascinated him. Gossip spread and when he was discovered sketching a young girl naked in the garden he was forced to leave town.
Further scandal followed in Neulengbach when a young girl ran away from home and sought refuge with Egon and Wally, provoking her father to have Schiele charged with abduction. When police came to the house they confiscated a nude watercolour and 125 other works. After questioning, Schiele was charged with abduction of a minor and incitement to debauchery. In court the abduction charge was dropped but the watercolour, as it had been clearly visible to the youth who visited him, led to a sentence of three days' imprisonment on the latter charge.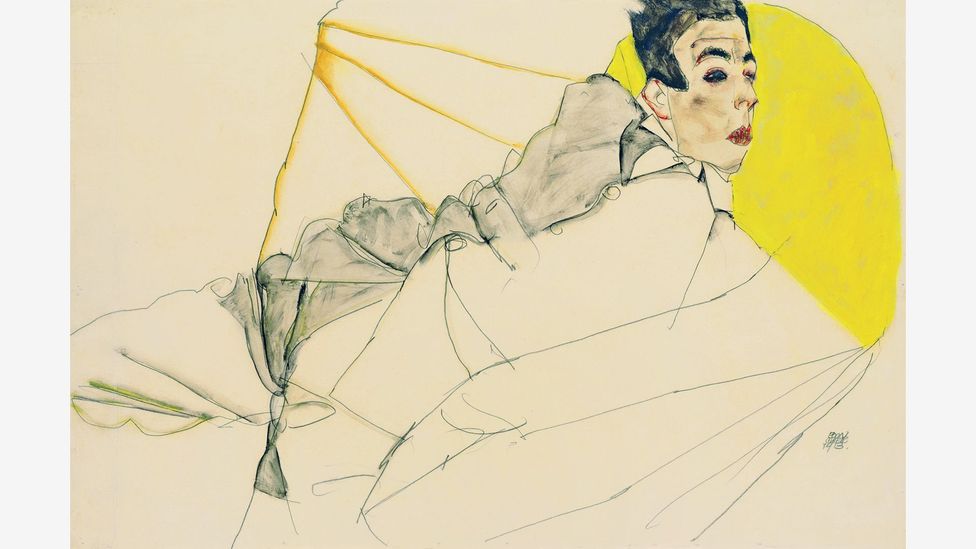 Schiele's interest in painting youths raised eyebrows and attracted the attention of the law (Credit: Leopold Museum)
The prison sentence seems to have been a turning point for Schiele, who would never again paint adolescent nudes. A concerned Klimt introduced him to clients who provided new work as a portrait painter. The war years and marriage to the more socially acceptable Edith Harms heightened his maturity.
Post war, he dreamt of a new society in which artists could help rebuild the fractured world around them. An unfinished work from 1918 entitled Friends celebrated the artistic brotherhood he had hoped to create, with Klimt and Schiele seated at a table together with six other artists.
Klimt's death In February put paid to these dreams. A devastated Schiele drew him on his death bed and, when he was invited to organise the Secession's Spring exhibition, reworked Friends as the exhibition's poster design with Klimt's seat now poignantly empty.
With his master dead and his new works achieving unprecedented success Schiele was poised to become the dominant artistic figure in Vienna, but only eight months later he too had succumbed to the flu. It is both tantalising and frustrating to imagine what might have been.
If you would like to comment on this story or anything else you have seen on BBC Culture, head over to our Facebook page or message us on Twitter.
And if you liked this story, sign up for the weekly bbc.com features newsletter, called "If You Only Read 6 Things This Week". A handpicked selection of stories from BBC Future, Culture, Capital and Travel, delivered to your inbox every Friday.