It's all down to the holistic concept of 'Gesamtkunstwerk', says Dominic Lutyens, as he meets the architects behind an ambitious renovation project in Copenhagen.
D
Danish architect and designer Arne Jacobsen (1902-1971) is best known for his classic chairs, notably his Ant or No 7 chair of 1952 and the capacious yet cocooning Swan and Egg chairs of 1958. Lesser-known, but still coveted by design buffs, are such Jacobsen pieces as his 1967, stainless-steel Cylinda-Line tableware for Stelton and perennially sought-after Vola taps, created for the National Bank of Denmark in 1968.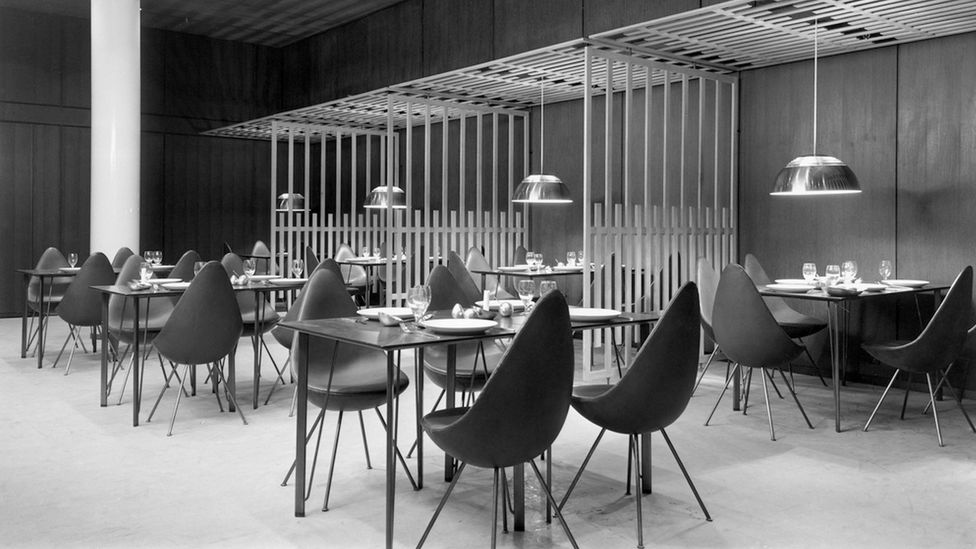 The Jacobsen-designed restaurant of the Royal Hotel as it looked originally (Credit: Fritz Hansen)
Some of these designs can soon be seen under one roof at the Radisson Collection Royal Copenhagen in central Copenhagen. Originally called SAS Royal Hotel, the building and its interiors were created by Jacobsen for Scandinavian Airlines System (SAS) in 1960. Many of its guests also flew with SAS and, conveniently, the airline's departure lounge adjoined the building; the airport was a 20-minute drive away. At the time, transatlantic air travel was the height of sophistication, and the hotel's luxurious lobby with its spiralling staircase seemingly ascending to the skies was commensurately glamorous.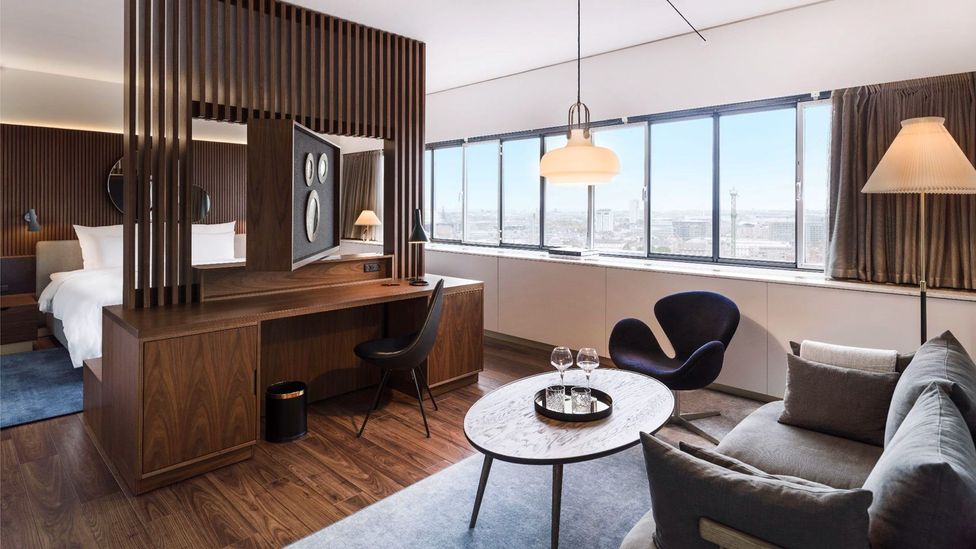 The restoration of the hotel is being carried out with a meticulous eye for detail by design studio Space Copenhagen (Credit: Joachim Wichmann)
The hotel's interior is currently undergoing an extensive refurbishment by multidisciplinary Danish design studio Space Copenhagen, which will be completed in the spring. Jacobsen designed the Swan and Egg chairs, manufactured by Fritz Hansen, for its lobby and its restaurant's pared-down cutlery, made by Georg Jensen.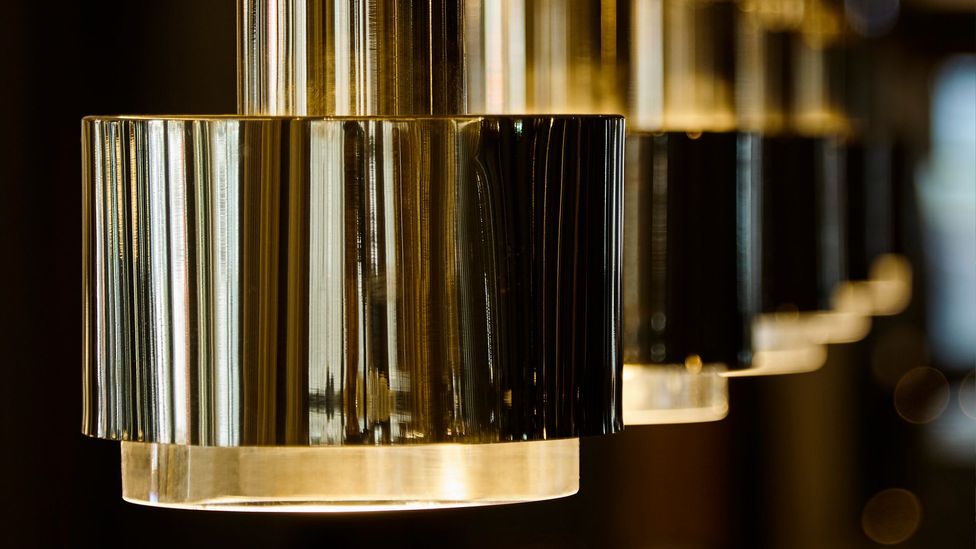 Jacobsen favoured organic-yet-spare shapes and sweeping lines in his design aesthetic (Credit: Joachim Wichmann)
Now original, reupholstered versions of the chairs will be reunited with more obscure Jacobsen pieces, also created for the hotel, including his Giraffe dining table, rescued from the hotel basement, and teardrop-shaped Drop chairs. In the spirit of much mid-century design, which espoused organic forms, Jacobsen often named his furniture after animals and natural phenomena and based his shapes on them, in an abstracted, stylised way.
What made Jacobsen stand out is that his influences weren't just local. He was curious and cosmopolitan – Bundgaard Rützou
Jacobsen's interest in furniture sprang from a passion for the notion of Gesamtkunstwerk  – a German word  meaning an all-embracing, comprehensive work of art  – which saw many architects from the 18th Century onwards create every aspect of a building, down to its lighting and cutlery. For the SAS Royal Hotel, Jacobsen also designed his AJ lights for Louis Poulsen, ashtrays and even airport buses.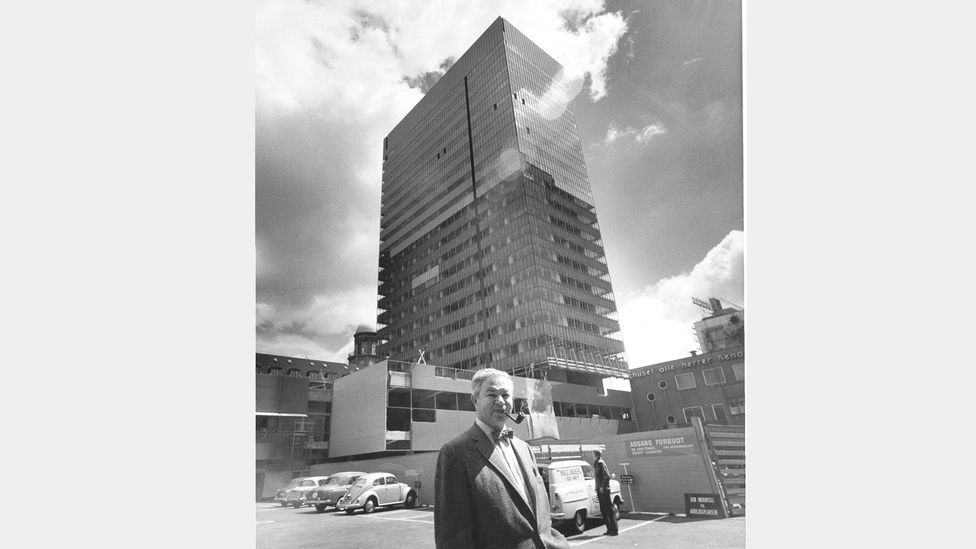 Modernist design master Arne Jacobsen stands outside his landmark creation, the Royal Hotel, Copenhagen (Credit: Radisson Blu Royal Hotel)
Arguably, Jacobsen was one of the most radically modernist Danish architects of his day. His well-known contemporary, Hans Wegner – who oversaw the furniture for the 1941 Aarhus City Hall, co-designed by Jacobsen and Erik Møller – created wood-based chairs, which, inspired by ancient styles, looked more traditional.
Founding principle
For Copenhagen-born Jacobsen, an inveterate modernist, a truly inspiring example of Gasamtkunstwerk was the Bauhaus, of which a major founding principle was unifying architecture with other art forms. In the 1930s, while studying architecture at the Royal Danish Academy of Fine Arts under Danish functionalist architects Kay Fisker and Kaj Gottlob, Jacobsen visited Germany where he admired the architecture of Bauhaus founder Walter Gropius.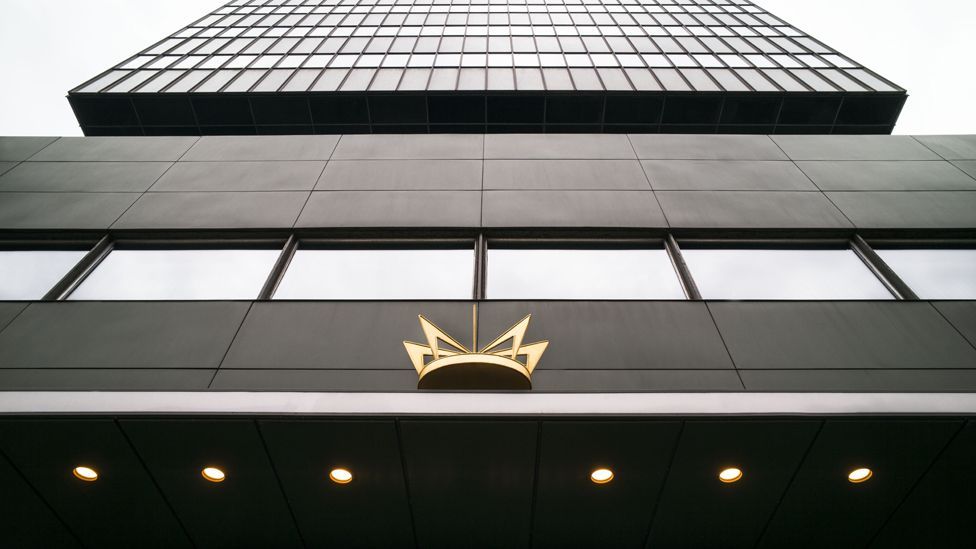 The hotel's exterior remains intact with clean, modernist lines (Credit: Radisson Blu Royal Hotel)
Architecturally, the futuristic SAS Royal Hotel was divided into two rectangular slab-like forms, one horizontal, the other vertical — the latter inspired by an airport watchtower. It was Copenhagen's first skyscraper and is still one of the tallest buildings in the city, where height restrictions apply.
The lobby had been carved up and was barely recognizable…luckily the staircase was untouched — Bundgaard Rützou
When sketches of the 21-storey, 259-room hotel were published in Danish newspapers in the 1950s, critics carped that it would disfigure the city's skyline. When one glibly sneered that its tower looked like a 'punch card', Jacobsen's wry riposte was: "That's funny: that is what it looks like when the windows are open on a hot summer's day".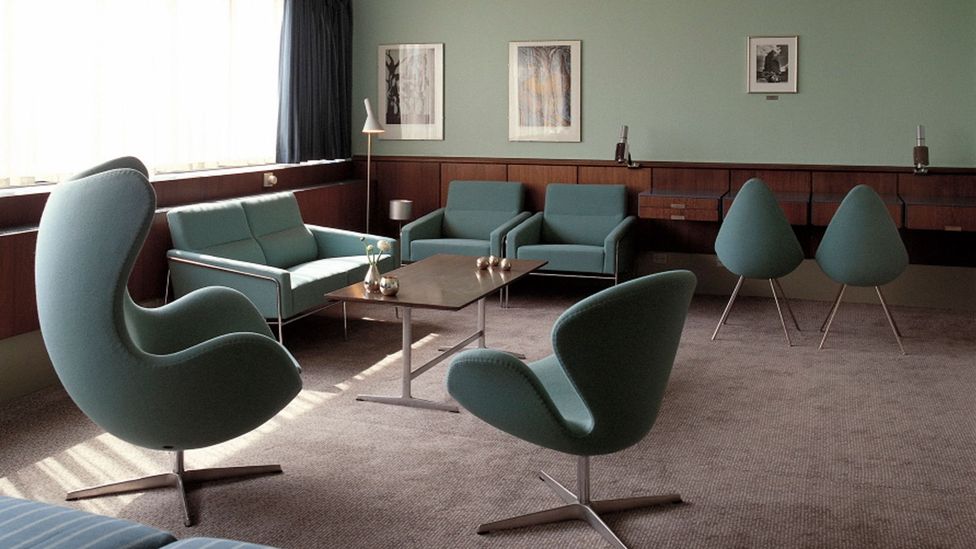 Room 606 of the hotel has been preserved intact since the 1960s, complete with Jacobsen's Egg and Swan chairs in the 'modern garden' green hue (Credit: Fritz Hansen)
Over the years, piecemeal alterations to SAS Royal Hotel's interior have gnawed away at its meticulously coherent design, earning it the forlorn nickname, Jacobsen's Lost Gesamtkunstwerk. However, Room 606, on the sixth floor, has been preserved as it originally was. Its green furniture was part of the hotel's predominantly green scheme, inspired by a 'modern garden' theme chosen by Jacobsen, who also worked then as a landscape architect. "Some time in the 1980s, the general manager informed the staff that the hotel was to be entirely renovated," explains Brian Gleeson, current general manager. "But someone suggested that one room be kept intact as a tribute to Jacobsen. Thankfully, the management agreed."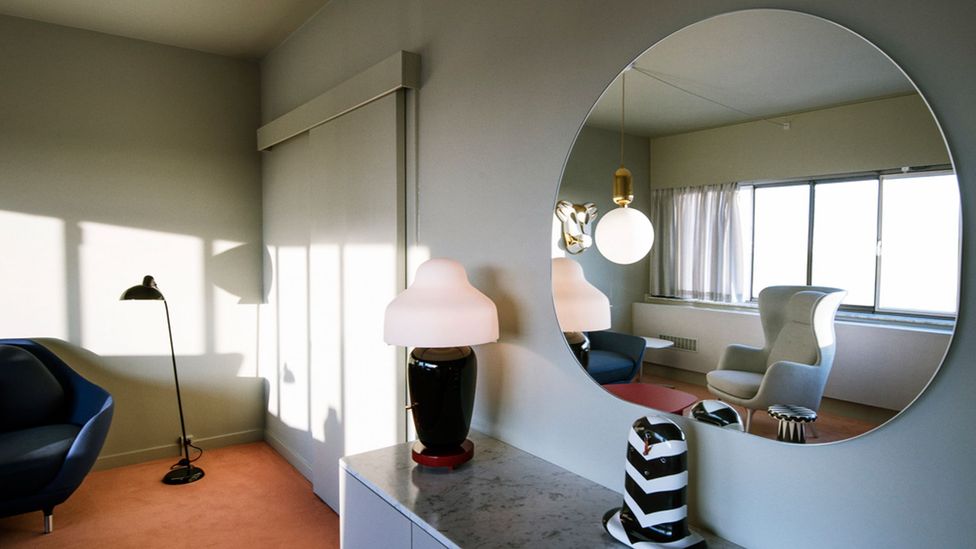 Modernist lighting, furniture and other details create a strong look in the hotel's interior (Credit: Fritz Hansen)
By contrast, "The lobby had been carved up and was barely recognizable," says Peter Bundgaard Rützou, who co-founded Space Copenhagen with Signe Bindslev Henriksen. "There was a wall separating the restaurant from the lobby. Parts of the lobby were leased out to businesses, including a supermarket and fitness centre. Luckily the staircase was untouched."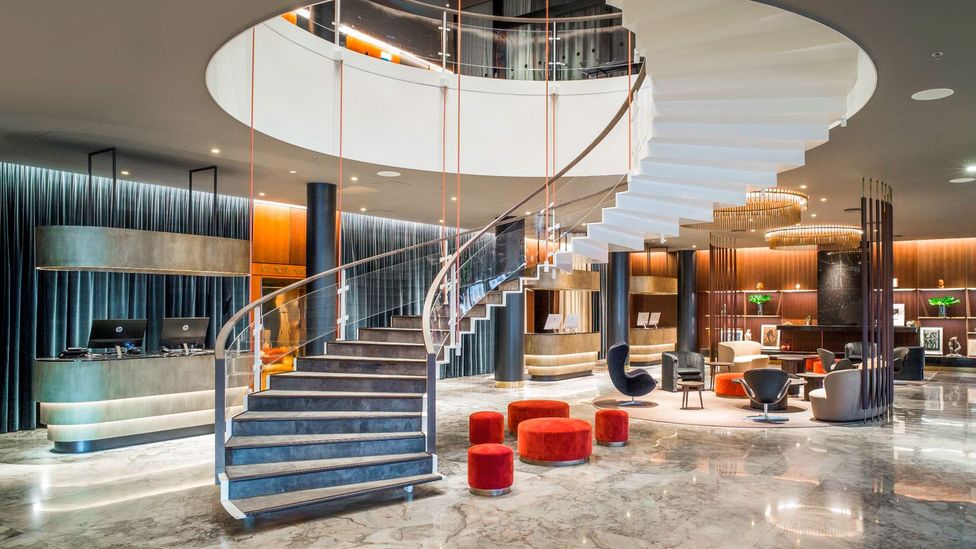 The original, elegant staircase in the lobby is the hotel's most spectacular and glamorous feature (Credit: Joachim Wichmann)
"One major challenge was refurbishing the hotel while the building remained open for business," he adds. "The plumbing and electrics have been modernised: electric heaters once clogged up the guest rooms' deep windowsills, but these are now lined with marble whose tactile surfaces are designed to draw people to the windows and panoramic views of the city."
Jacobsen intended the lobby to be an open-plan, sociable space. Accordingly, Space Copenhagen has moved a bar that was in a dark corner of the lobby to a brighter spot by the restaurant and removed a redundant retail space. "The original marble floor has been reinstated. It still has scratches once left by a piano to add a feeling of authenticity," says Gleeson. The lobby now includes multifunctional seating areas where guests can either relax or work. The restaurant is visible from the lobby, separated only by semi-transparent screens made of vertical wooden rods.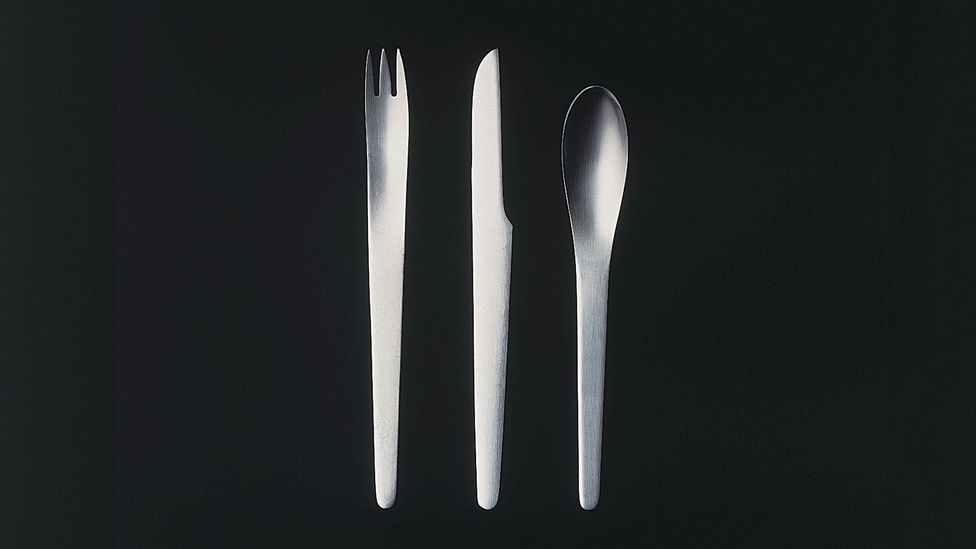 The Arne Jacosben-designed silverware has been recreated (Credit: Radisson Blue Royal Hotel)
Space Copenhagen is known for fusing the organic-yet-spare aesthetic of Danish mid-century design with warm materials, such as brass and leather. It has added some of its furniture to the interior, including its plush Stay sofa. "We hired Space Copenhagen because of its understanding of Denmark's design heritage, which is important as we are creating a hotel for locals as well as international guests," says Gleeson.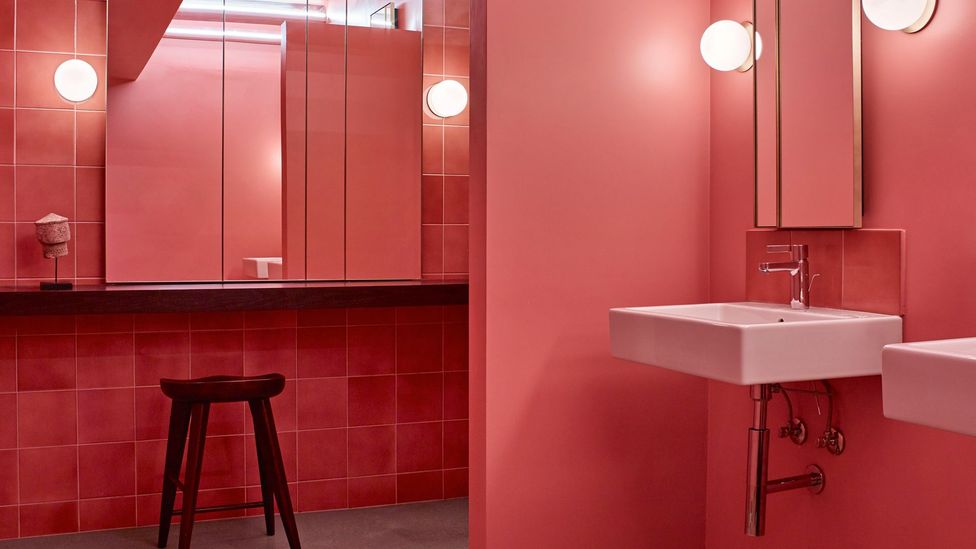 The hotel has been restored and modernised by design studio Space Copenhagen (Credit: Joachim Wichmann)
Jacobsen was a major inspiration for the Space Copenhagen duo. "We both met as students and our tutor, Kjeld Vindum, was part of Jacobsen's generation and wrote a book about him," says Bindslev Henriksen. "What made Jacobsen stand out is that his influences weren't just local. He was curious and cosmopolitan. He met designers Charles and Ray Eames in the US, and their bent-plywood designs inspired him to make the Ant chair. It was made of nine, indestructible layers of steam-bent wood. You can literally jump on to the chair and it won't break."
To comment on and see more stories from BBC Designed, you can follow us on Facebook, Twitter and Instagram. You can also see more stories from BBC Culture on Facebook and Twitter.
If you liked this story, sign up for the weekly bbc.com features newsletter called "If You Only Read 6 Things This Week". A handpicked selection of stories from BBC Future, Culture, Capital and Travel, delivered to your inbox every Friday.